Covered with Crusty Yam Biscuits: the perfect harvest meal
Another Sunday…. but no one is home, except Vanja and Ragan. That is usually how Sundays are around our house. I like to have mom and dad over, or the entire family. Sundays are a day for home food when there is no company: a comforting, delicious, nutritious, seasonal meal. And I like to make enough for Monday's supper. That makes Monday a day for me when I can be a little more creative in the kitchen and not worry about the evening meal.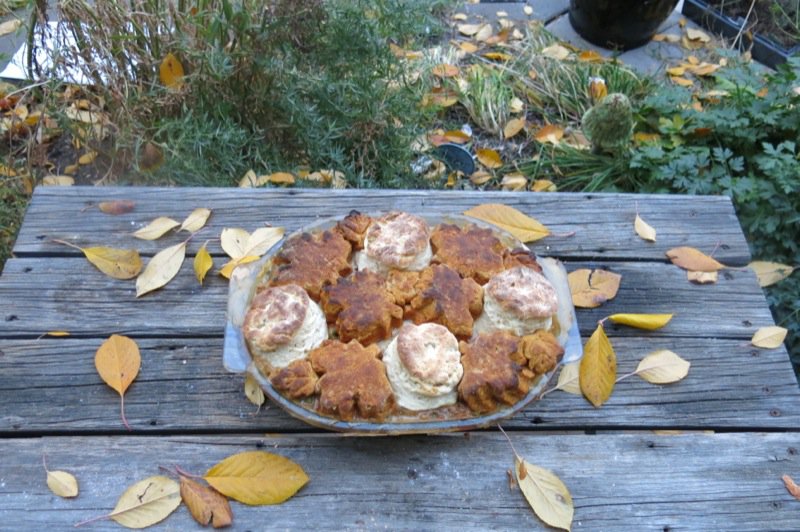 Jan Scott wrote about making her family a similar meal during a weekday, awhile back, that just looked too homey for me to pass up. Oh, the lists I have…yet, I got to this one as it was the yam biscuits that were the draw atop my traditional prairie chicken stew. Do you hear it call your name? My family did. Just out of the oven, without any summons, they appeared in the kitchen, washed and ready. That makes me smile.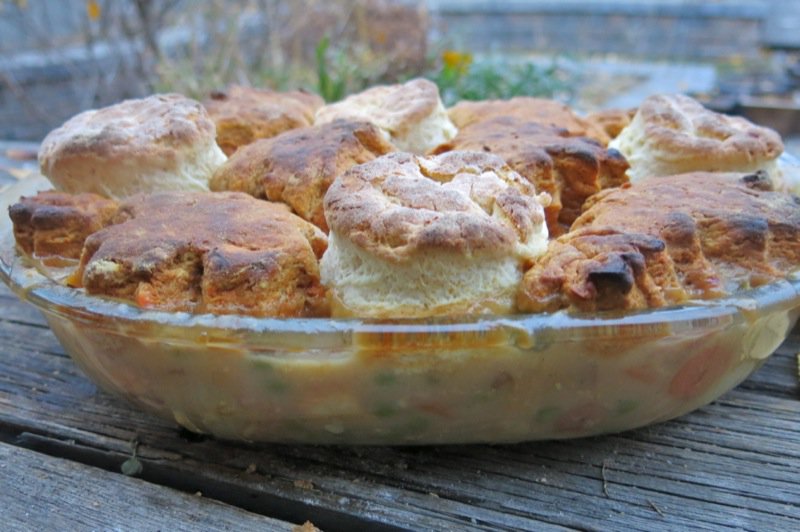 The idea of topping a chicken stew, or chicken-pot-pie filling with biscuits really had not crossed my mind. Brought up with Chicken 'n Dumplings. Chicken Pot Pie and the fundamental Canadian Prairie Baking Powder or Buttermilk Biscuit, the idea didn't come to me at all. Spying Jan's post was all it took: "Otta-gotta-gunna-done"!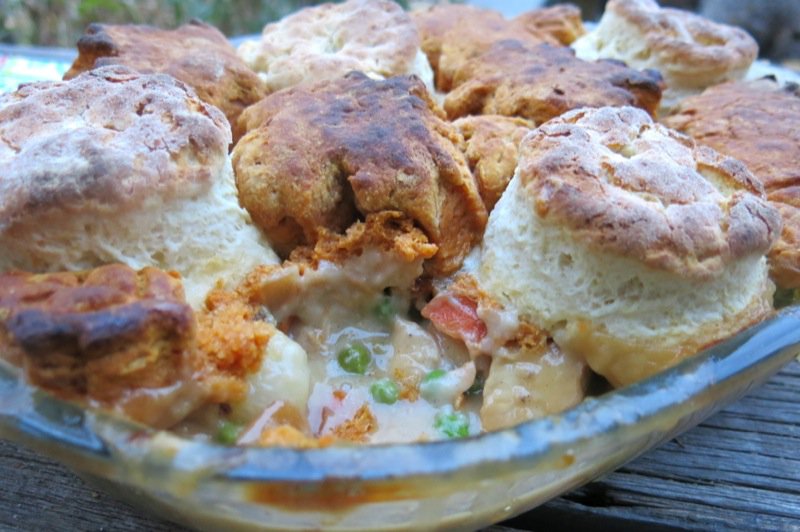 This was my first experience with Yam Biscuits. I have most definitely made many a turkey pot pie and too many baking powder biscuits … or, is that possible?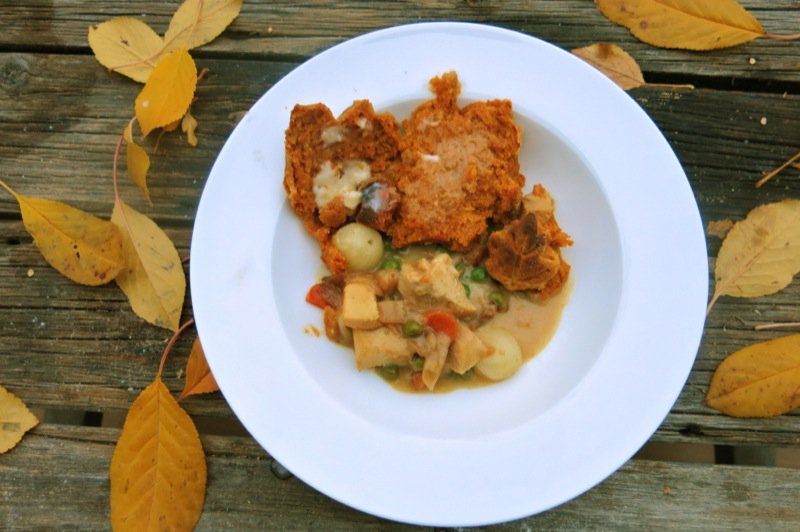 The meal was well received. A 7.5 out of 10 from Vanja which is rare to surpass unless I am making one of his mother's recipes. (I know.)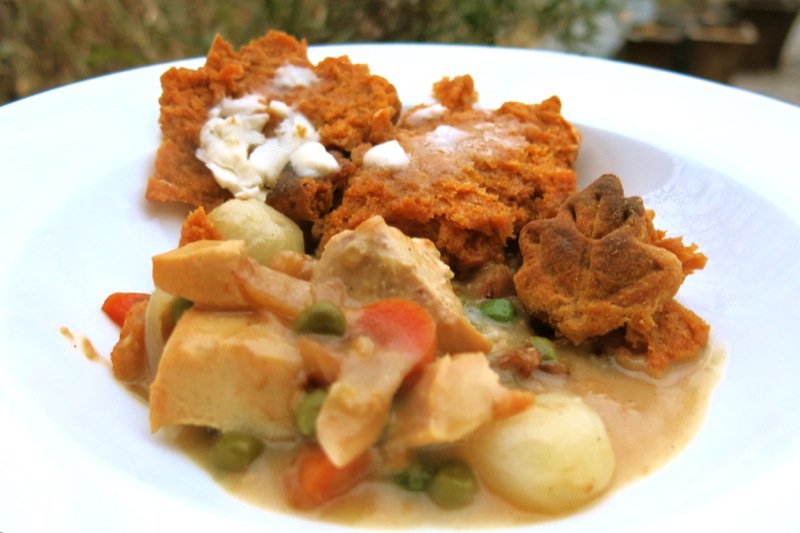 We get free range organic grass fed whole chickens from Nature's Green Acres every fall, so I rarely use breasts or individual pieces in recipes anymore, yet there are several places at the Farmer's Markets that I can get them for such favourite family recipes. These juicy, flavourful breasts were so delicious and tender that I could even digest them which is rare and was such a treat. I savoured the flavour as I tasted a strip off of the bone. Mmmm. Seasoned, baked, and succulent. Bone-in a skin-on make all the difference to the depth of flavour when baking or cooking chicken.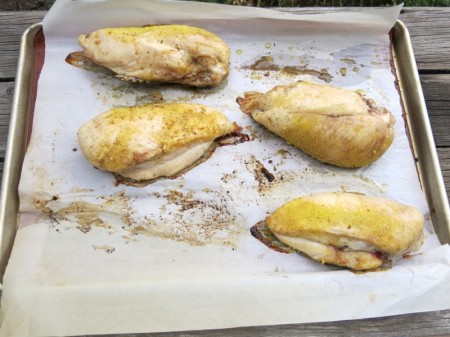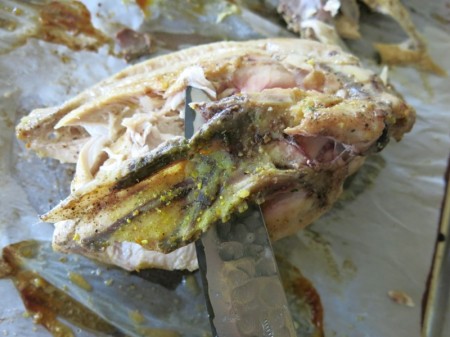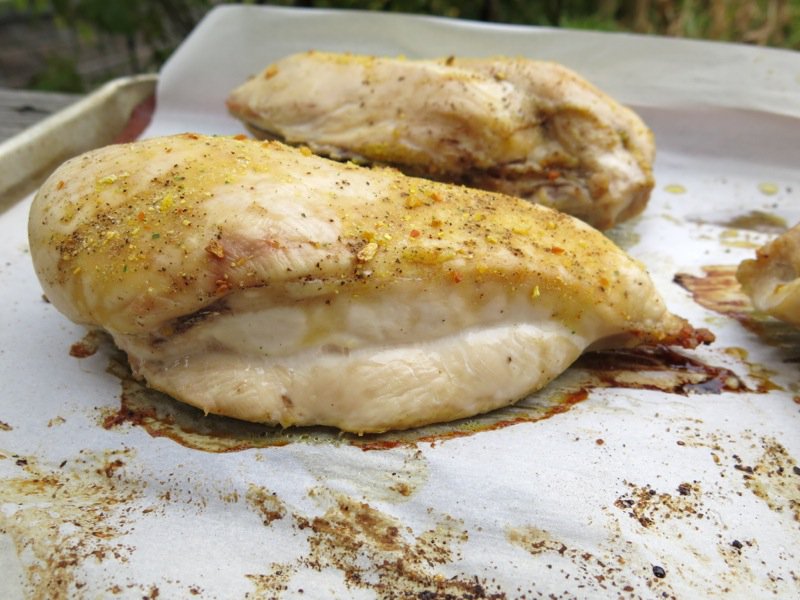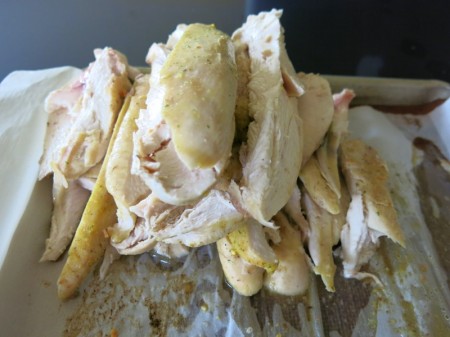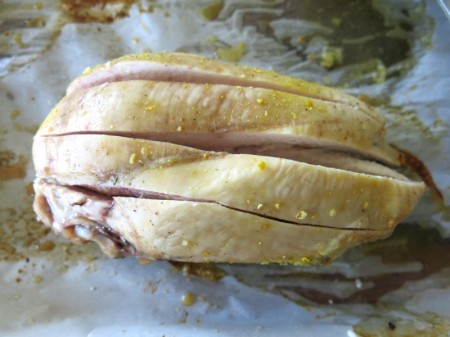 I was thinking about my dad. Sitting beside him meal after meal after meal at the hospital, I pledged to make him food he loves. He has so few pleasures: warm blankets and good food. Just hearing him groan a little pleasurable croon when wrapped in a heated blanket or upon the first bite of a meal that tasted good to him was such a joy. He particularly enjoys saucy flavourful stews and pastas. His food needs to be in small bites and easy to digest. I was hearing him croon as I was stirring the roux….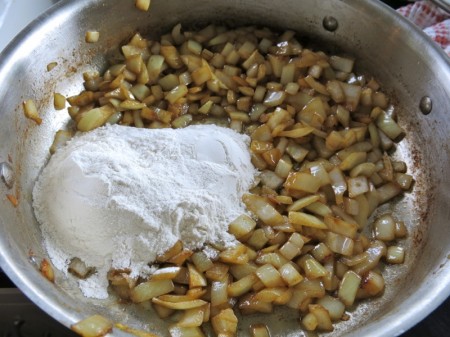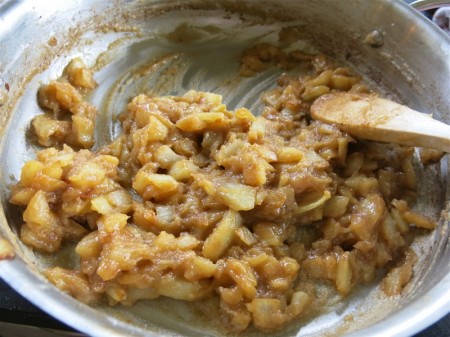 Making a roux is easy: equal part fat to equal part flour. Cook until it forms a ball in the pan add, then add liquid slowly, stirring constantly, to desired consistency. In this case, there was an onion base to the roux. Thyme or other herbs can be added, but not if I want Vanja to enjoy the meal. I can picture his squiggled up nose and hear, "Why did you add this green stuff?"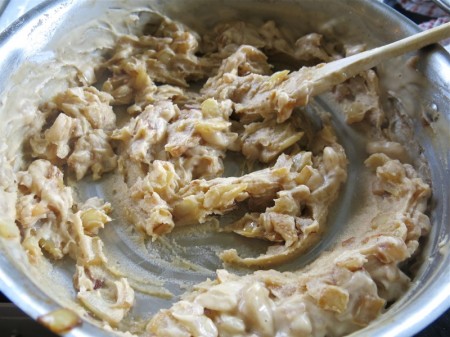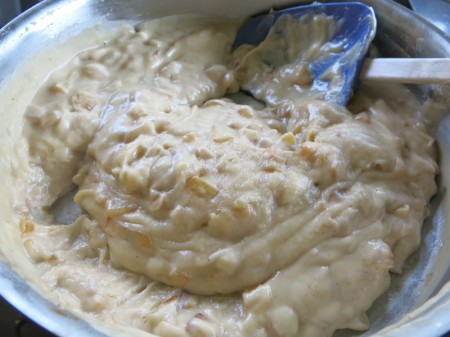 The decadence of the sauce is apparent. The flavour is deadly delicious. This is not a dish that is light and lively. This meal wraps itself around you in a warm blanket of homey pleasure from the very tip of your head to the tips of your toes. MMMMmmm.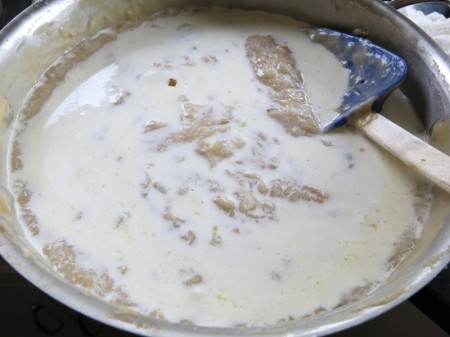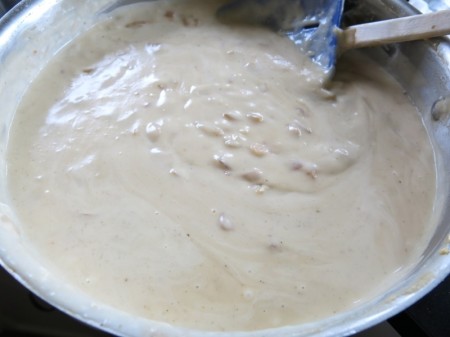 The roux may appear too thin, but it will thicken over time and there is a lot to be added to this sauce. This looks perfect.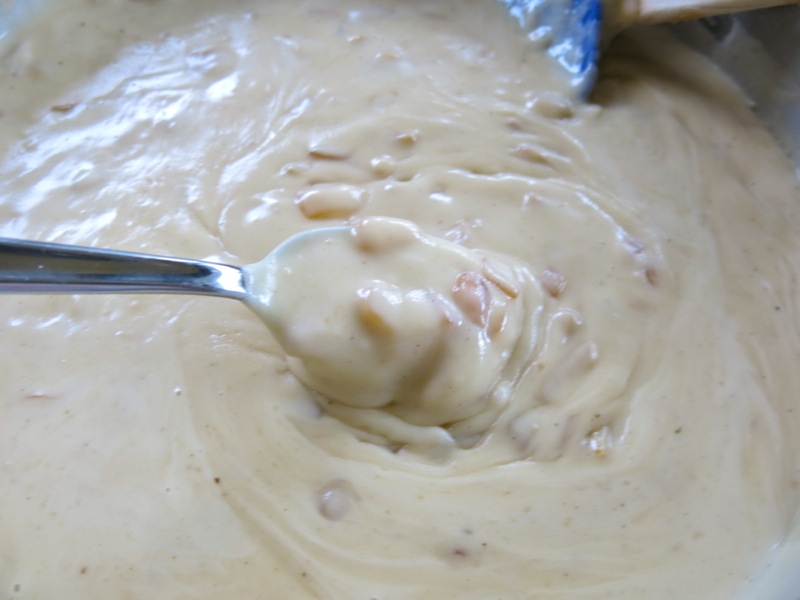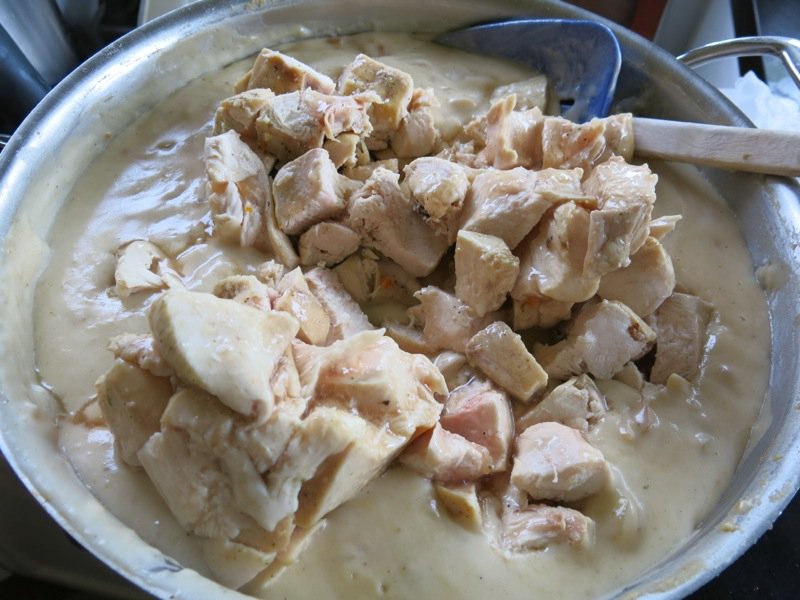 The cubed freshly cooked chicken is added, followed by the frozen peas, blanched carrots and blanched round pearl onions. At this point, it is seasoned well with salt and freshly ground pepper.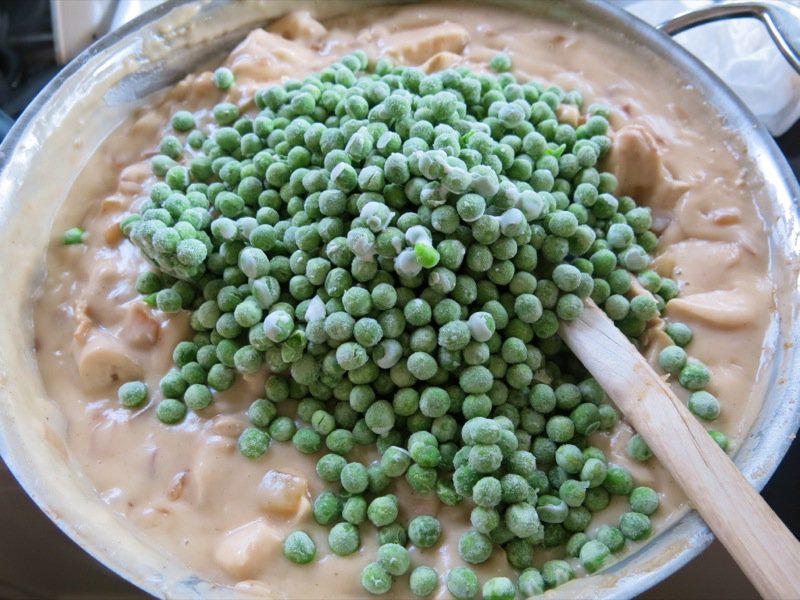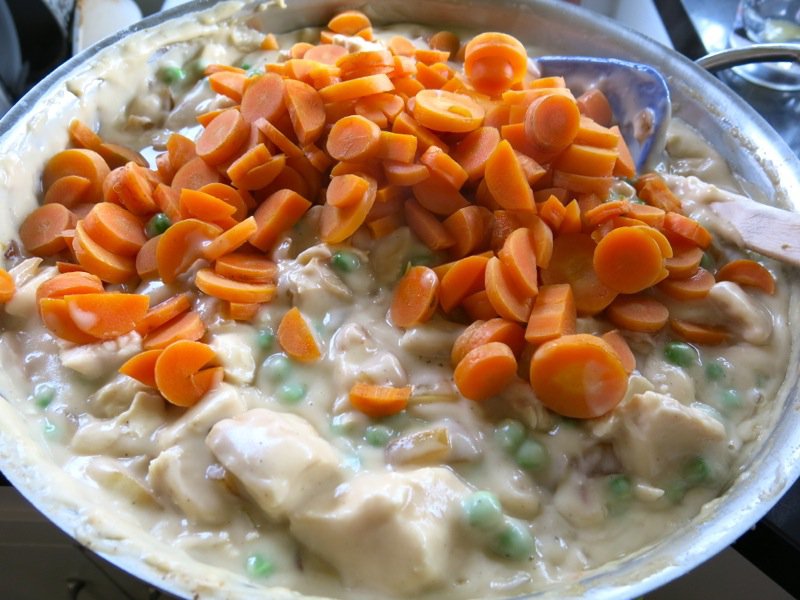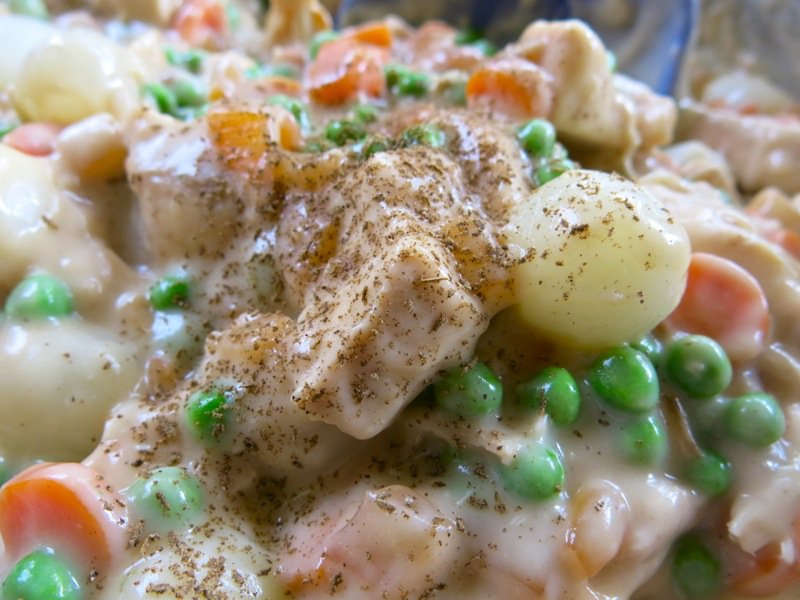 A bowl of the stew would be perfectly delicious right off of the stove top. This could be a filling for several pot pies. Instead, I portioned it out into three casserole servings, each to be topped with biscuits. Had I more time, I would have made a couple of individual pies, as well. The round one was taken to mom and dad's for dinner as dad still can't get out of the house for meals; the large one was prepared for us.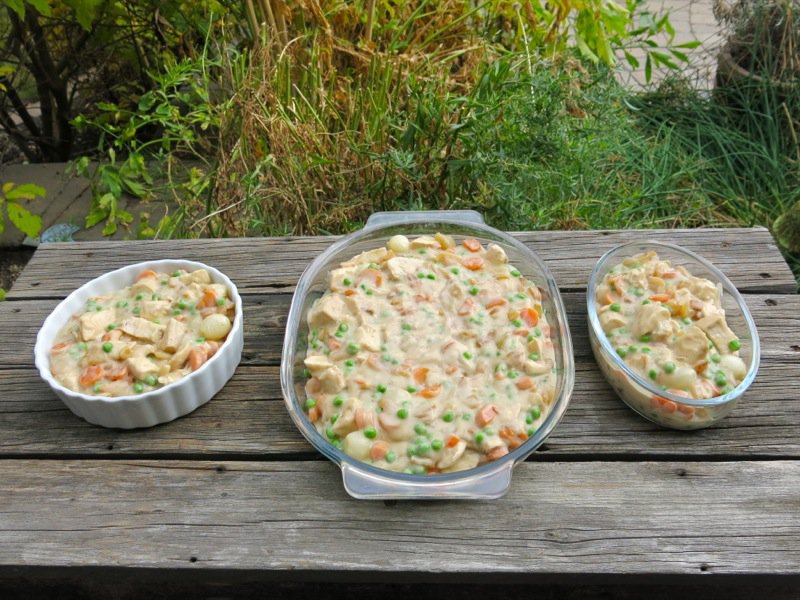 That left one for the freezer. It was amazing to see how many meals I could get from these four breasts. You may ask why the pearl onions when there is already so much onion in the roux? The answer: the texture of the pearl onion in the stew adds a pleasurable dimension that is so important to the pot pie or stew experience. I wouldn't think of leaving them out, and the addition of the onions in the roux provides another different layer of flavour built into the stew. Each simple ingredient brings itself forward complimenting the others.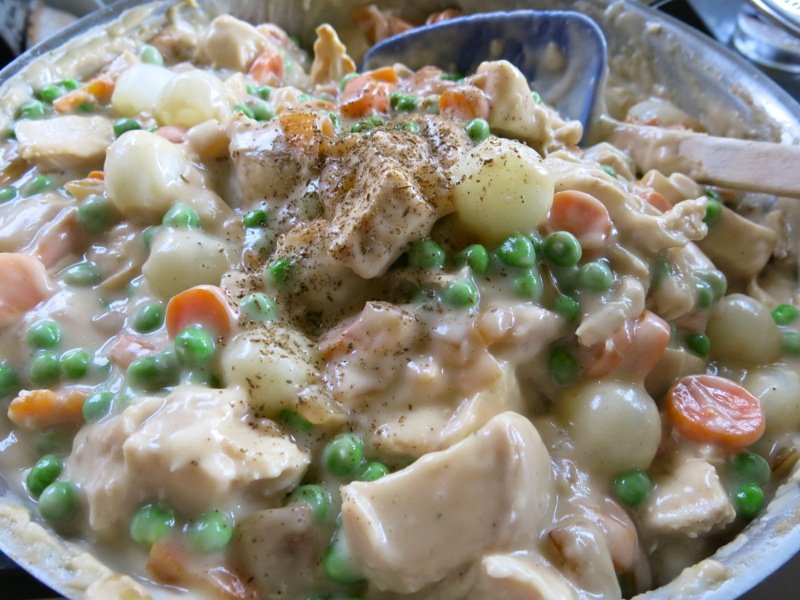 One's first time is not always the best. I made the biscuits and decorated the stew. Ragan took it over to mom and dad's for their dinner. These biscuits were made with whole wheat flour and placed on the stew to bake together: two mistakes. Well, three, if you count dad's question: "Why did she cut the chicken into such large chunks?"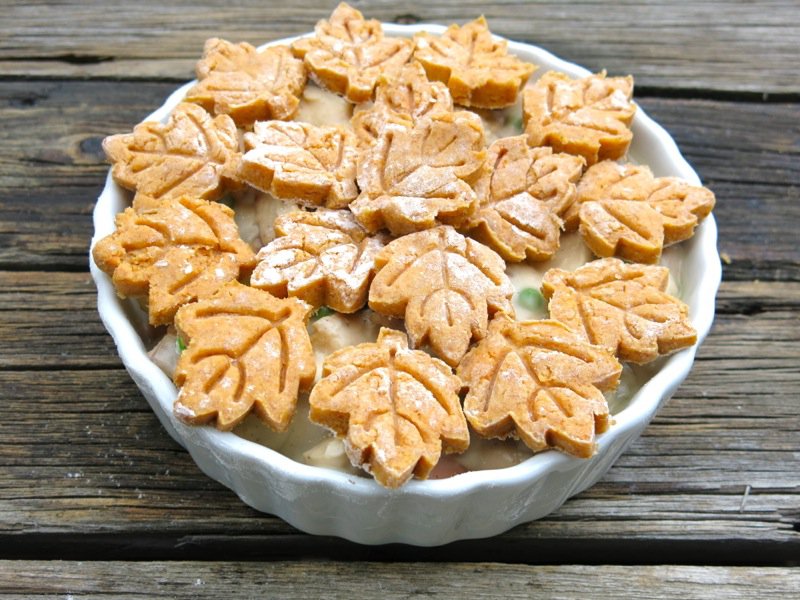 The biscuits were a little over done. I learned to place them on top during the last 15 minutes. (Just common sense, really.) I learned to use regular flour to bring out the yam flavour in the biscuits. Isn't it pretty? I was delighted by the presentation these little autumn leaves added to the meal. Ah, whimsey.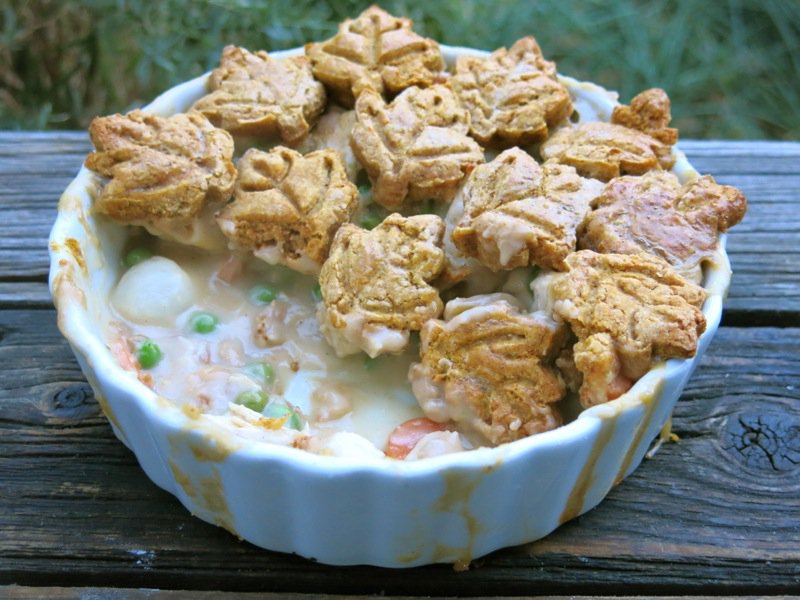 I also learned that this was too many biscuits for the amount of stew in the bowl. Yet, they all got eaten.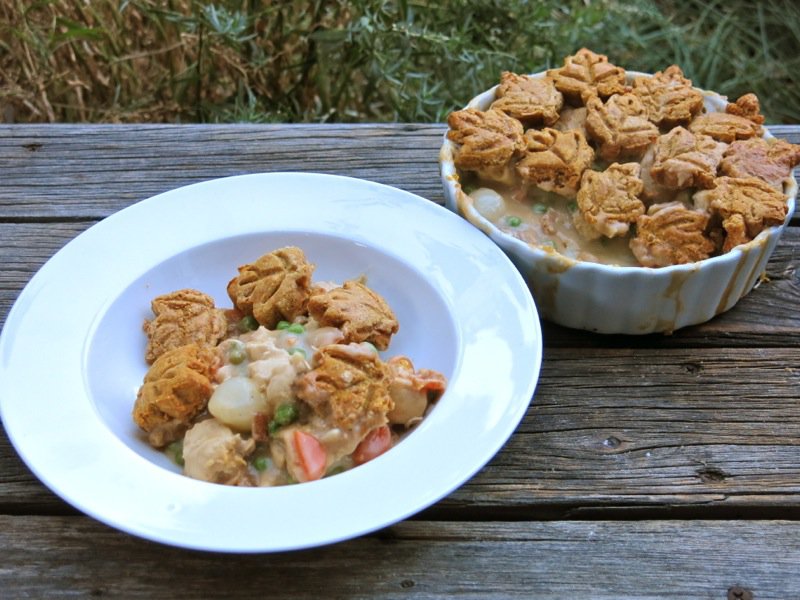 Vanja is home. I knew that a Yam Biscuit was not going to be welcome by my uber-carnivore-give-it-to-me-plain husband. I made both biscuits for our Sunday supper and crowned the stew with them.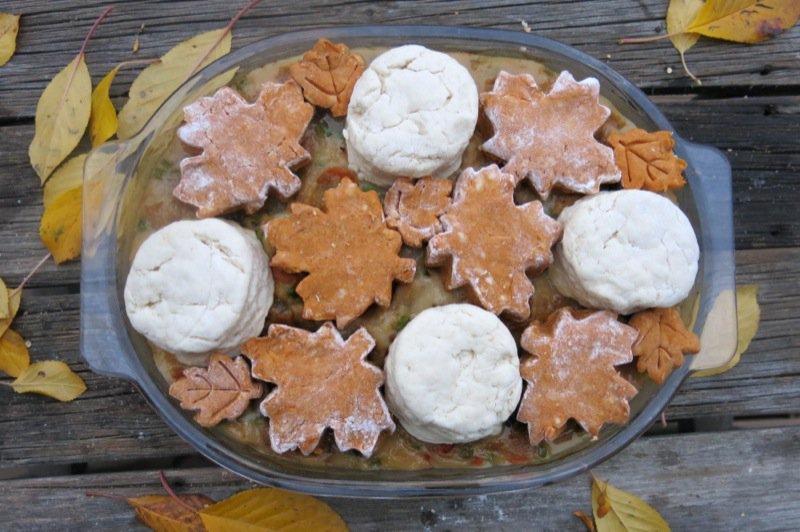 Both Ragan and Vanja preferred the traditional, old fashioned buttermilk baking powder biscuits with the stew. Ragan did agree that using the white flour and the paprika added a much needed clarity to the yam biscuits. I thought they rocked. But, I should not have made them both with one meal. It wasn't meant to be a comparison of apples to oranges and that is really what it is like comparing these biscuits to one another. The stew is a traditional family recipe that I have made for years.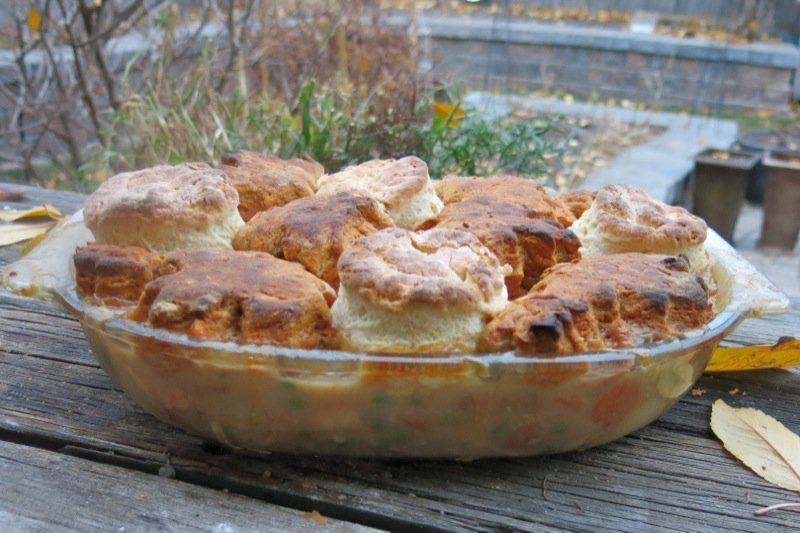 I most often make it with left over turkey for turkey pot pies after Christmas. They freeze and warm the soul on a cold January or February mid-week evening. Curious to know how your family chicken stew or chicken pot pie compares to this one and if you have ever had biscuits on top of it? Certainly, it is novel on the Canadian prairies, yet odd, as both biscuits and stew are heritage recipes. Do chime in!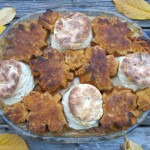 Canadian Prairie Chicken Stew
Home Food: Prairie Pot Pie in a bowl with biscuits. Nothing says home more.
Total Time
1
hour
10
minutes
Ingredients
3-4

whole chicken breasts

, bone in, skin on

3

tablespoons

olive oil

Kosher salt and freshly ground black pepper

5

cups

homemade chicken stock

12

tablespoons

(3/4 cup) unsalted butter

2

cups

chopped yellow onions

(2 small onions)

3/4

cup

flour

1/4

cup

heavy cream

2

cups

medium-diced carrots

(4 carrots), blanched for 2 minutes

1 10-

ounce

package frozen peas

(2 cups)

1 1/2

cups

small whole onions

, frozen or cleaned and par-boiled

One batch of Yam Biscuit dough or

One batch of Buttermilk Biscuit dough

(Baking Powder Biscuits, or Tea Biscuits)

egg wash

(optional)
Instructions
Preheat the oven to 375 F

Place the chicken breasts on a parchment covered cookie sheet pan, rub with olive oil and season with salt and pepper

Bake for 35 to 40 minutes, until cooked through

Remove meat from bones and discard skin when cool

Dice chicken into cubes (you should have 4 to 6 cups of cubed chicken)

In a large heavy pan, melt butter and saute onions over medium-low heat for 10 to 15 minutes, until translucent; add flour and cook over low heat, stirring constantly for 2 minutes

Add chicken stock to roux; simmer over low for 1 more minute, stirring, until thick

Add 2 teaspoons salt, 1/2 teaspoon pepper, and the heavy cream with the cubed chicken, carrots, peas, and onions

Mix well; place in a 10x12 casserole and refrigerate

Make the biscuits and refrigerate on a parchment lined cookie sheet, covered with plastic wrap

An hour before service, place casserole dish on top of a cookie sheet lined with parchment paper

Bake the stew for 25 minutes; remove from the oven and arrange the biscuits on top of stew, brushing with egg wash (I didn't do this)

Increase heat to 400F

Bake for another 15-18 minutes, until crusty golden and bubbly

Serve immediately with butter for the biscuits
Recipe Notes
The stew can be frozen, thawed overnight and biscuits added as per recipe.