Apple Beet Soup with Feta is Course One of Larissa's Canadian Holiday Feast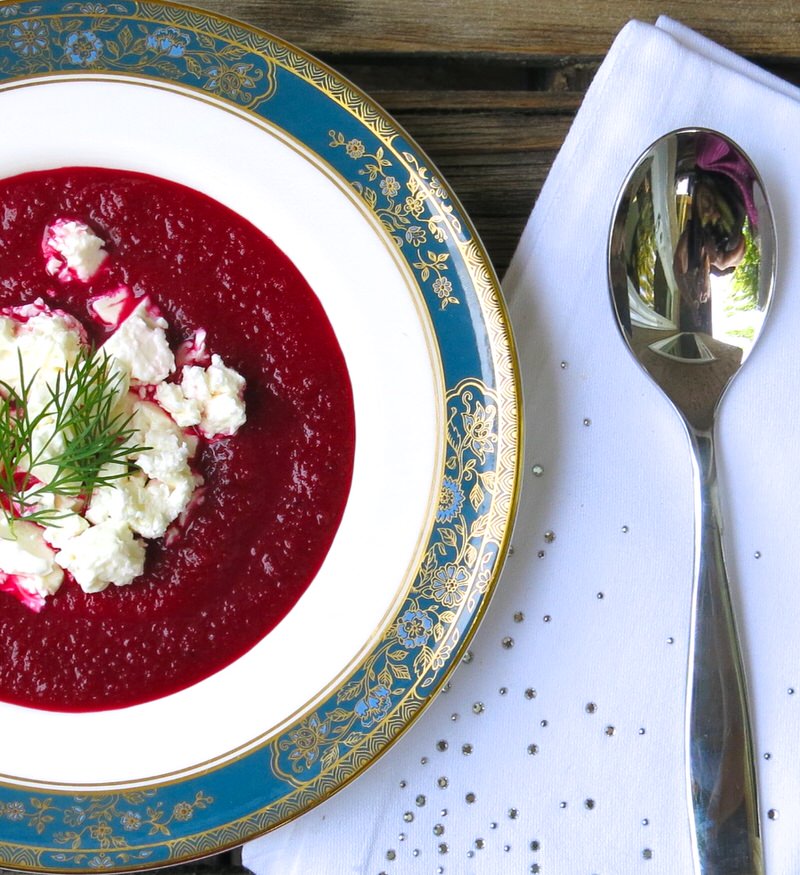 'Tis the season, eh? Beets are ready! Don't wait for the holidays. This Apple Beet Soup with Feta is a delicious, light and lively celebration of the harvest.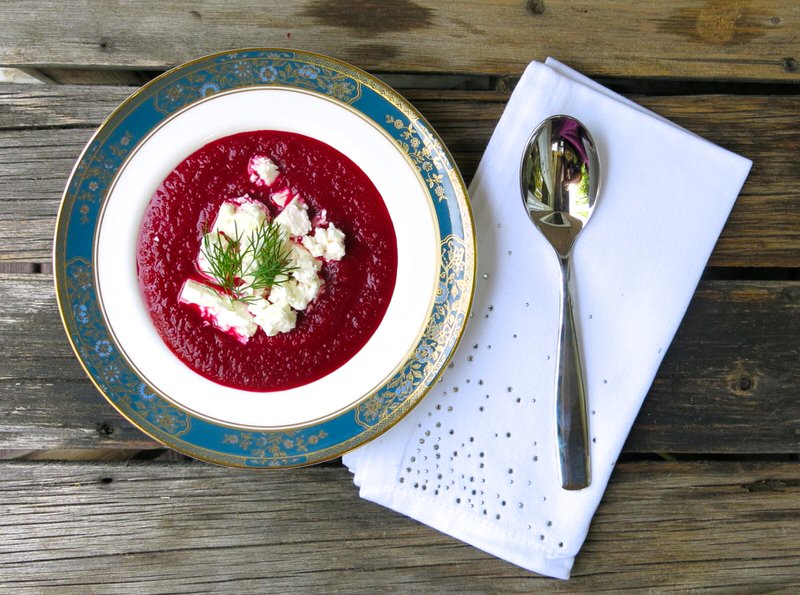 We Edmontonians on the Alberta prairies live in Borscht country. Beet soup means Borscht. Harvest season means Borscht. Ukrainian or not, good food is good food, and as our Ukrainian brethern settled here just over 100 years ago now, their food has made its mark on our regional food culture. However, let me introduce this new kid on the block: Apple Beet Soup with Feta!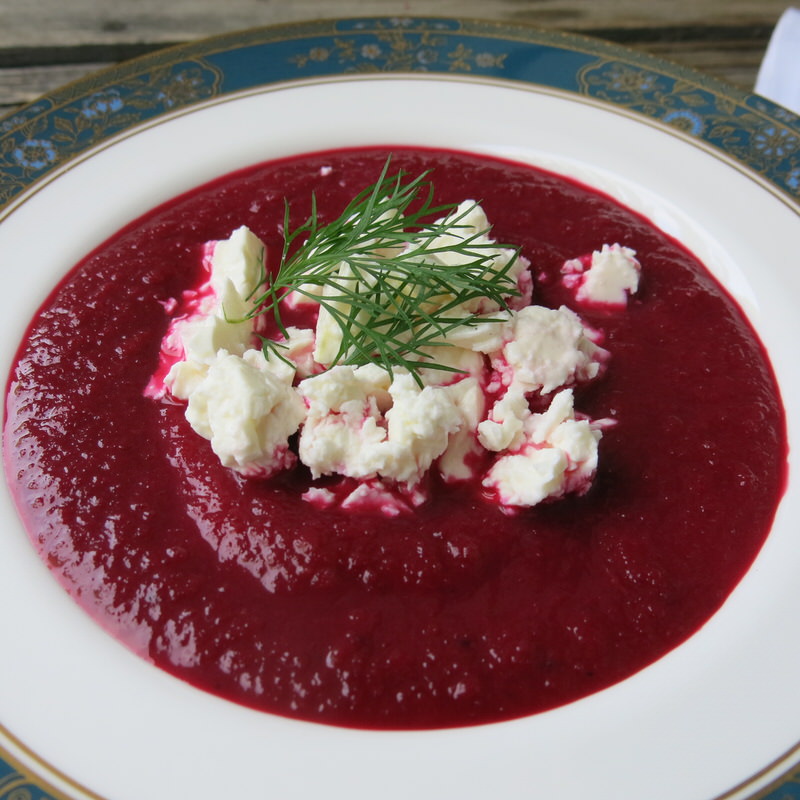 Thank you, Larissa, for sharing a completely different flavour profile for a harvest beet soup that celebrates the apple and beet harvest with the simplest of ingredients, crowning it with a tangy pop of feta.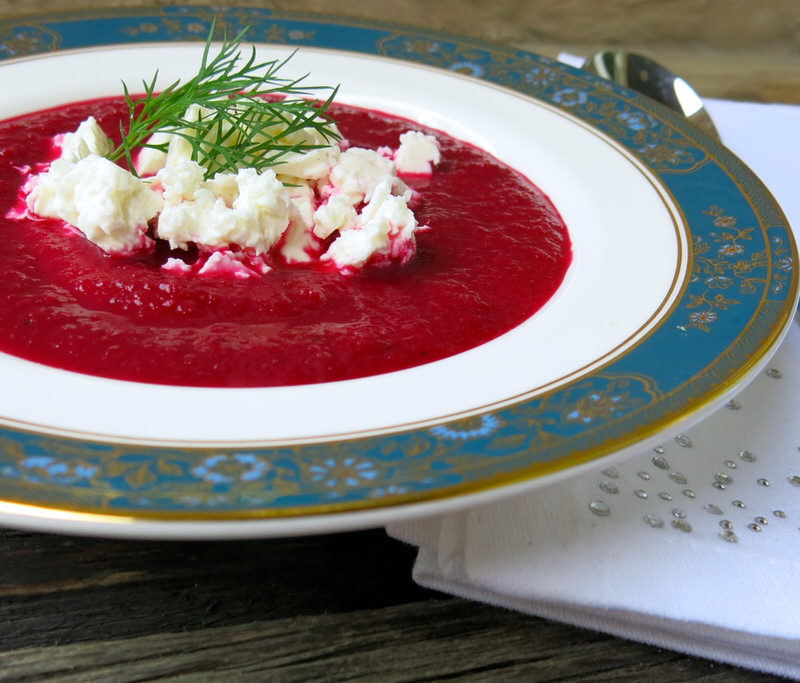 You can see my "pop" of feta is generous as I love feta and the flavour of this warm beet and apple soup combined with the cold creamy feta is a marriage made in heaven. Goat cheese and beets are a classic pairing. Whether this feta is cow, goat or sheep, this soup is scrumptious.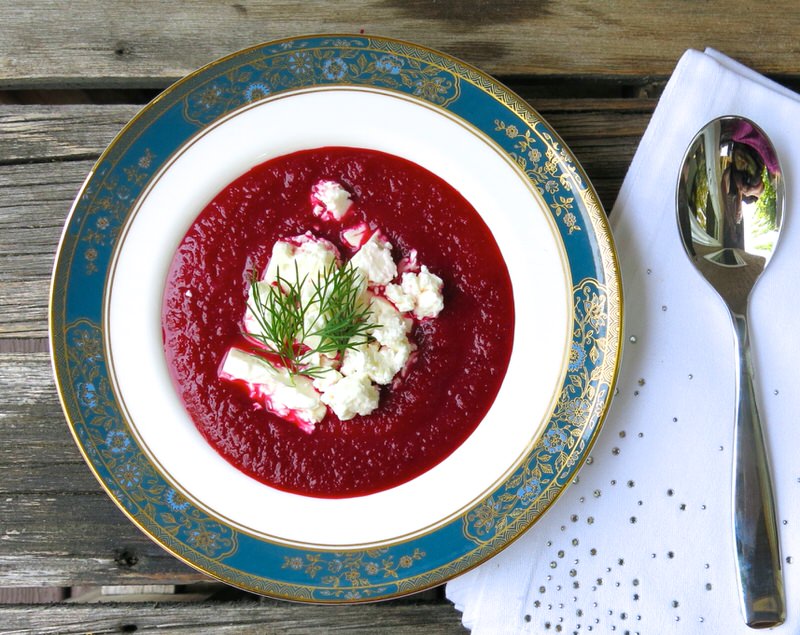 The addition of dill may reference the classic prairie borsch and I have found s chiffonade of mint to bring a completely different sparkle to this soup that works very well, too.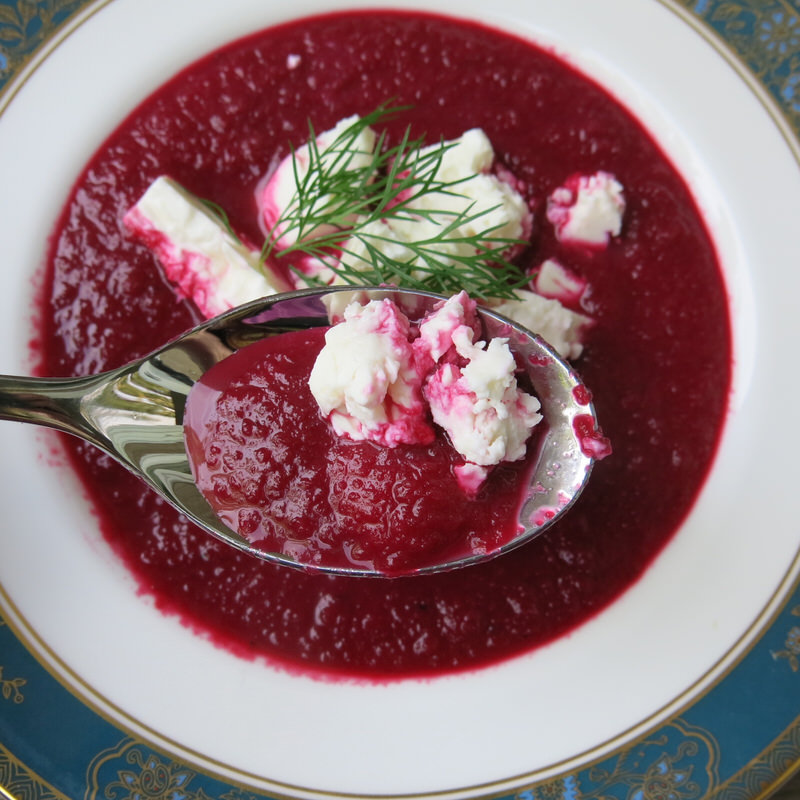 Apple Beet Soup with Feta: Introducing Larissa Trifonova Prouse
I met Larissa's husband, Tish, at the book signing for Feast, An Edible Road Trip in Edmonton at the end of February of this year. When I told him about my project, he immediately lit up and said his wife would love to cook with me. We connected and though I was initially hoping Larissa would share some of the Russian recipes from her home, she was passionate about sharing her new traditional Canadian holiday meal that she prepares every Thanksgiving, Christmas, and Easter, varying only a side vegetable that is seasonal. She found the recipes for her meal in the October 2012 issue of House and Home Magazine.
Like Loreto and Nicoletta, the story of Tish and Larissa is another remarkable love story. She was a Russian from Kazakhstan. A Certified Chartered Accountant working for a large Energy Company taking English Lessons, Tish, an archeologist working in Kazakhstan for the Talgar Archaeological Survey was taking Russian lessons. Larissa's English Teacher invited her to her birthday dinner in Almaty, Kazakhstan in May of 2006 where she met Tish, and discovered that her English Teacher was his Russian Teacher. Shortly after the party, the teacher wrote to Larissa: "I think that Canadian fellow is rather cute, don't you? I think you should practice English with him. He would be the perfect person for that." At that same time, the Teacher wrote to Tish, ""I think that Russian gal is rather pretty, don't you? I think you should practice Russian with her. She would be the perfect person for that." So, Tish called Larissa. At first, the calls were five minutes, and then grew to hours and hours.
At the end of 2006, Tish proposed to Larissa and they travelled to Canada that Christmas for her to meet his family. After a year together in Pavlodar Kazakhstan they moved to Canada. They started a few businesses in 2007, bought a house in 2009, and had their first child, Hugh, in late 2012. Larissa loves gardening, cooking, travelling, and being a mom to a very energetic little boy.
Tish is now running for alderman in ward 6 downtown with his platform focused on addressing the homelessness in the city core which he is passionate about. Another little meaty tidbit about Tish? His father is the owner of our own famed local Bistro Praha restaurant. His mother, Linda Steinbring, a well-known piano pedagogue in our city, remarried when he was young, to long-time day-onner editor at the Edmonton Sun, Gary Prouse.
Recipes for Larissa's Festive Holiday Meal that are posted as part of this series:
Seasonal Green Vegetable is added (asparagus for Easter, zucchini or broccoli at Thanksgiving, brussels sprouts at Christmas)
Apple Beet Soup with Feta: Cooking in the Kitchen with… YOU!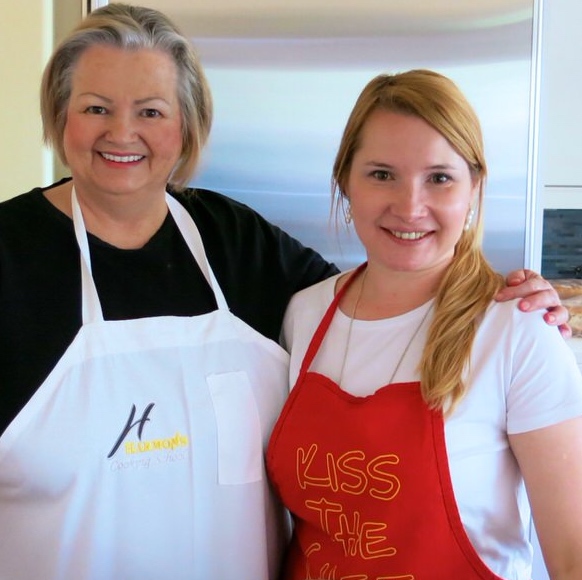 Some women like to shop or go to the spa. I love to cook in my kitchen with a friend – or someone learned who has a recipe to share, and a story to tell. Essentially, I want to glean heritage and traditional recipes – the best of the best – from our oldies and goldies that have so much experience in their heads. I want to cook with our babas and nonnas and grandmas and grandpas and learn to make what they are known for, or famous for, and share it with my readers. This is not exclusive to our elders, but definitely with them in mind. Of course, many, many younger folk, like me, for example, have much to share, as well.
#ACFValerieCookingwithYOU!
Larissa participating in this project. Her vast holiday meal is an incredible homage to her love of her new country, Canada. Make her recipes. You will love each one.
If you would like to, please let me know!
Apple Beet Soup with Feta: Mis en Place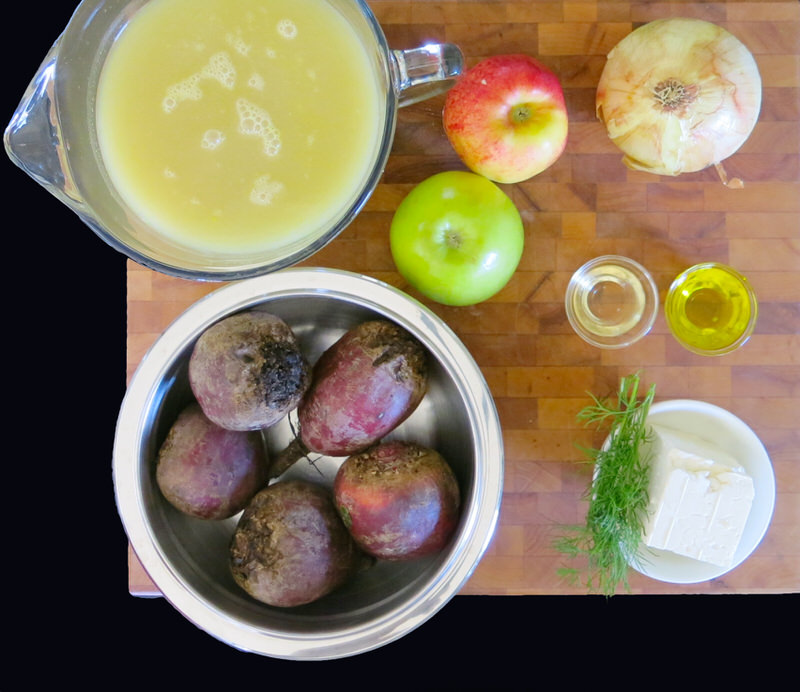 Such simple ingredients: beets, onions and apple in a good broth with a little kick of apple cider vinegar and the creamy compliment of the feta. I actually prefer a small hit of mint instead of the dill with this soup. Though Larissa and I started our first day together with the turkey, I am starting her series with the soup, as it can be made right now as our beets and apples ripen for harvest.
Apple Beet Soup with Feta: Making the Soup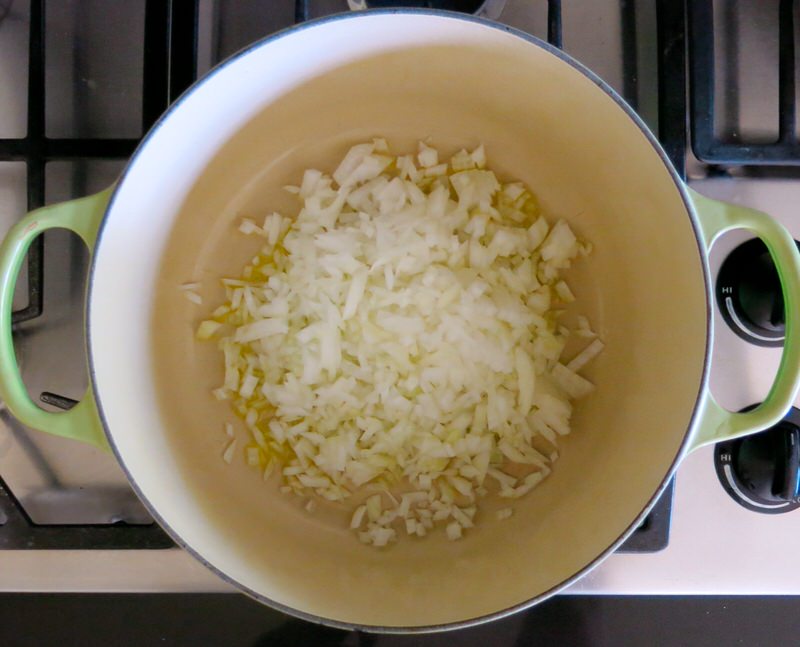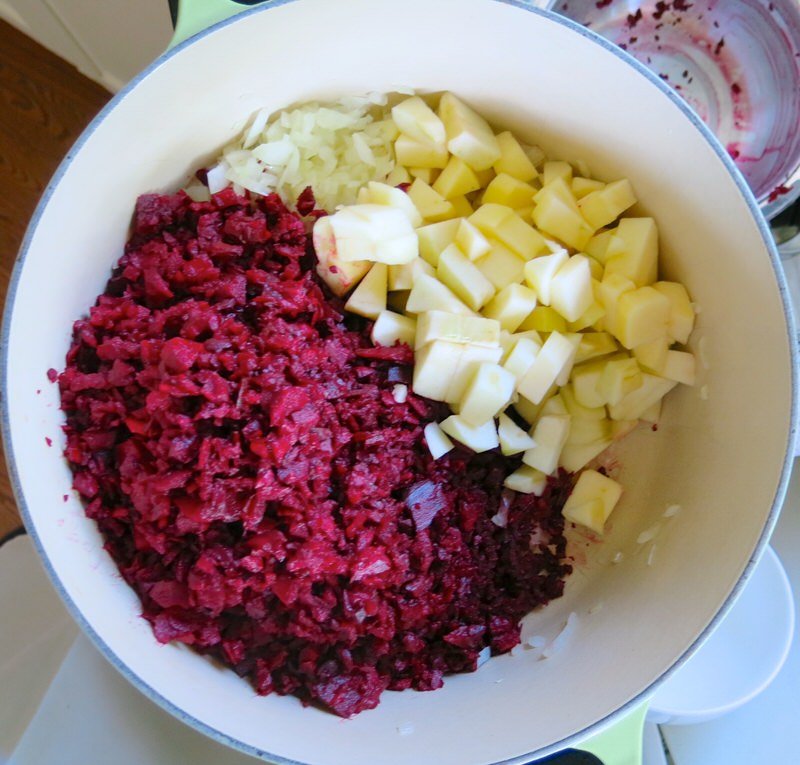 Sauté the onions until translucent; add the beets and apples.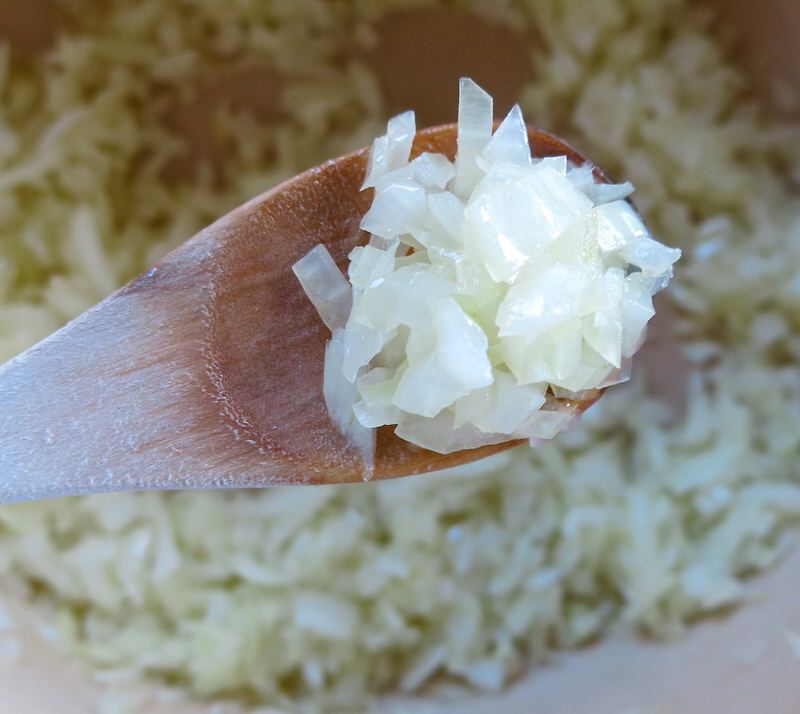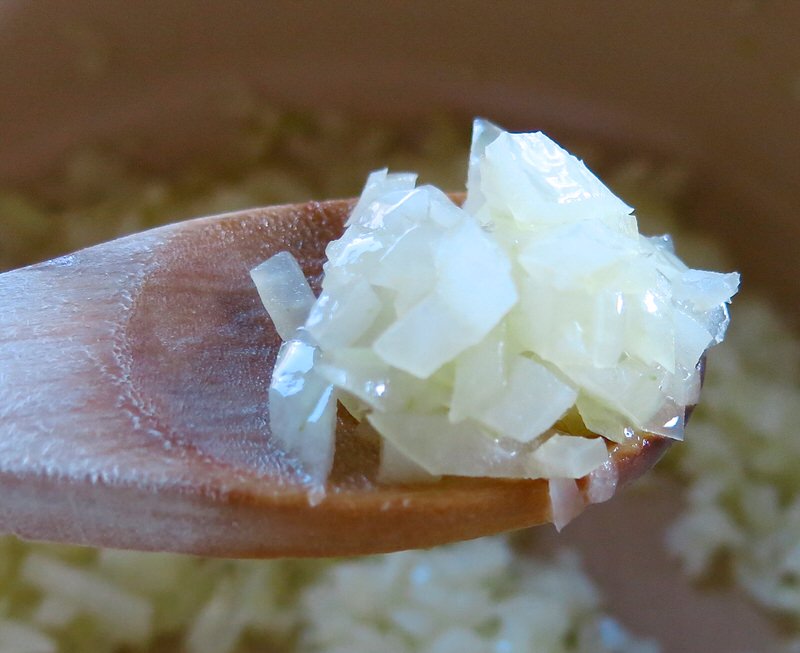 I have translated this recipe for making in a TM5 Thermomix, as well, and you can see I used it to chop the beets.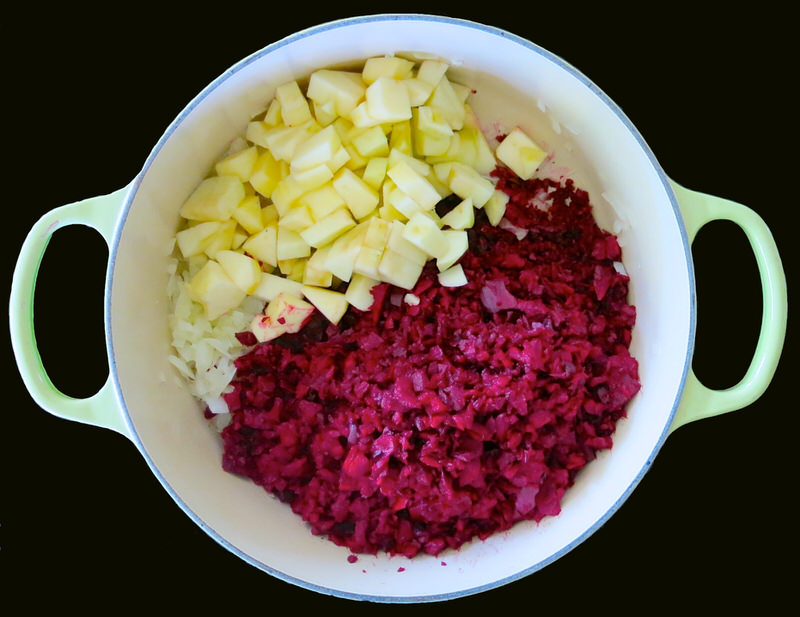 Such gorgeous colour.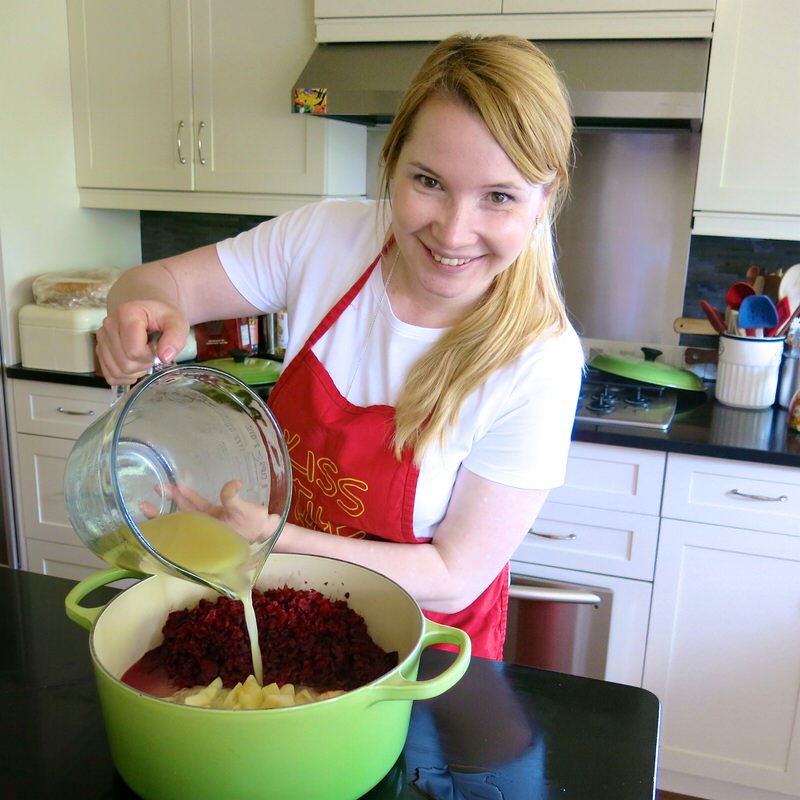 What a pleasure to get to know, Larissa. There's no better way to spend an entire day with someone you don't know, than cooking!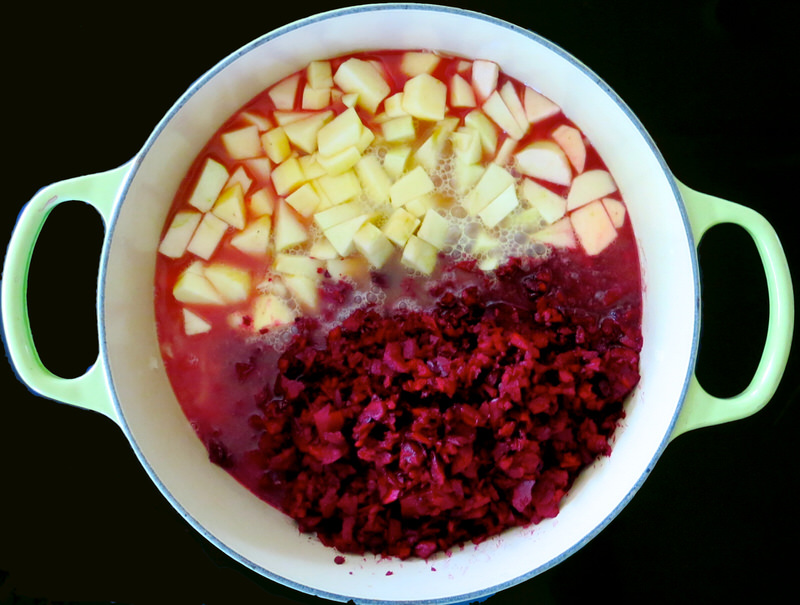 Did you see that? Seriously? Onions, apples and beets with some really great organic chicken broth make this soup a very economical, nutritious and seasonal recipe. I will add that it is noteably delicious.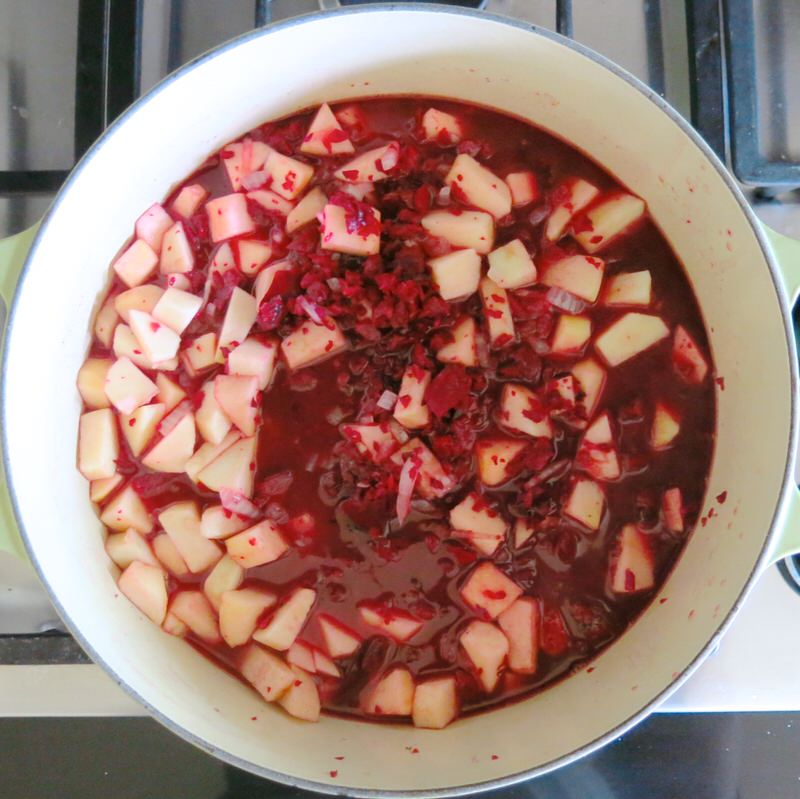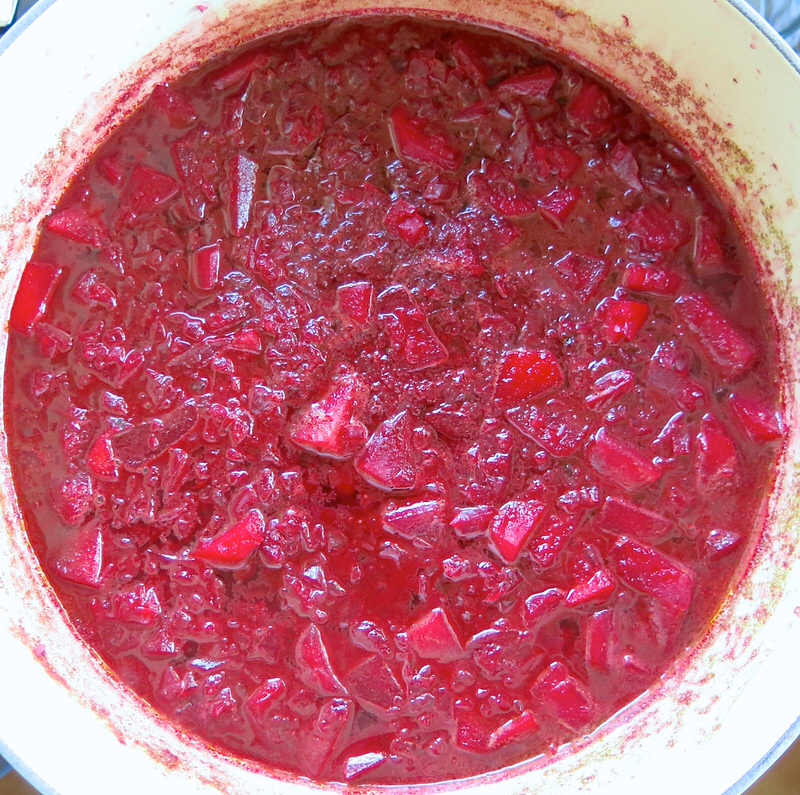 Above, left: broth in. Centre: ingredients mixed together. Right: cooked and ready to purée. Below is the texture before the purée process.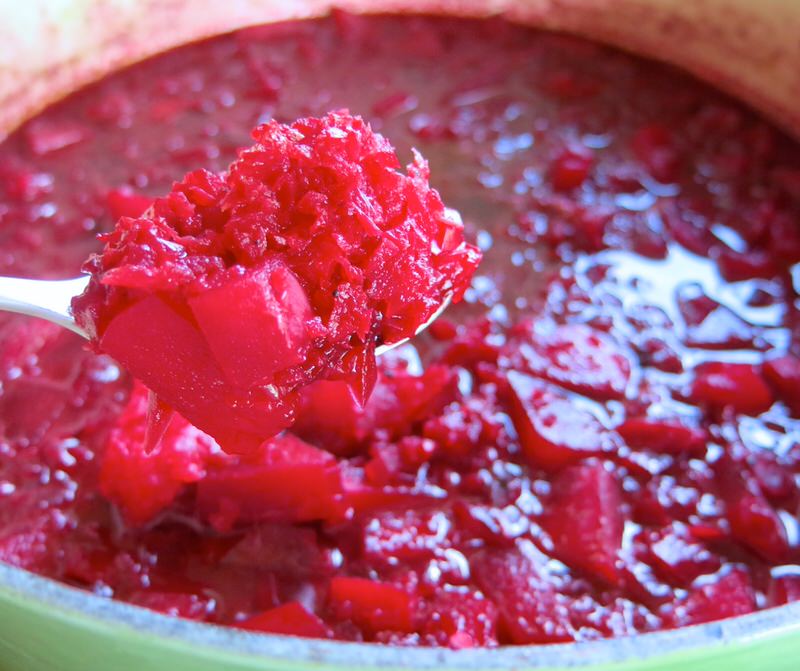 Apple Beet Soup with Feta: Puréeing and Finishing the Soup


Into the Thermomix for the purée. I didn't start the recipe in the Thermomix as I wasn't sure this amounts could be accommodated by the TM5 bowl. Now, I know they can and have made the soup so effortlessly in the machine. TM5 Thermomix Owners will love that and those of you who love soups and cook at home are going to go nuts over this recipe. The addition of cider vinegar at the finish adds just the acidic sparkle needed to balance the flavour profile. Season to taste, now, too.
Apple Beet Soup with Feta: Garnishing and Serving the Soup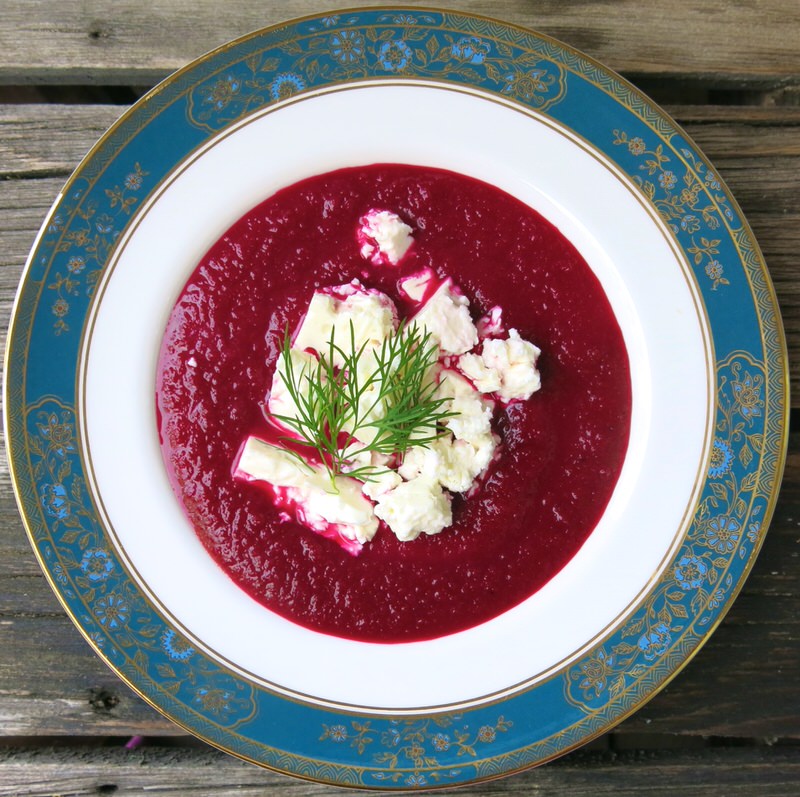 The perfect consistencey. A bright, light and lively soup that is an unexpected surprise as even a puréed beet soup connotes borsct in Alberta which is the heavier, homier expectation.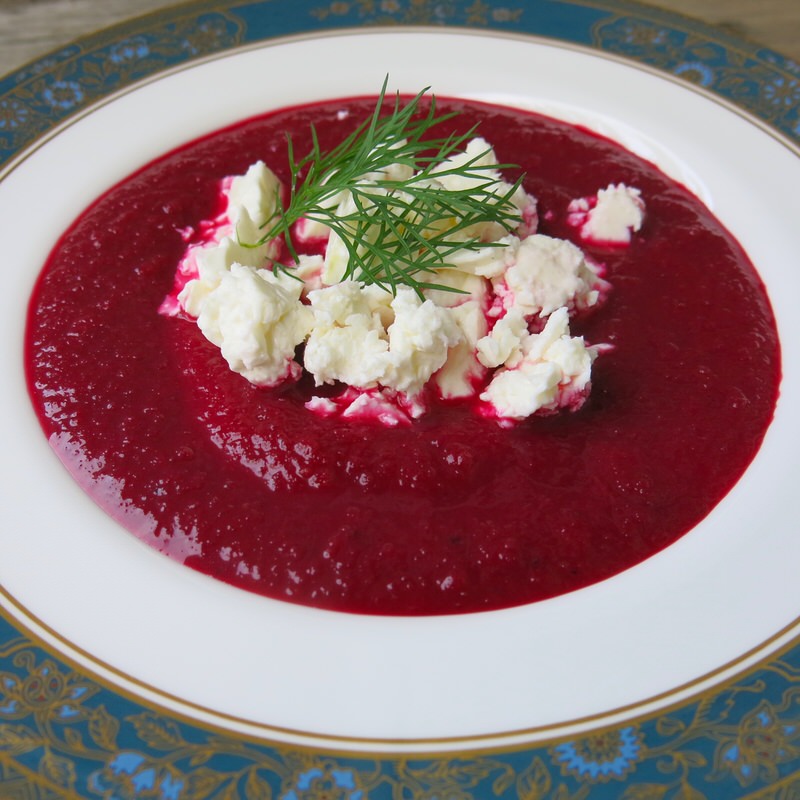 The addition of feta with Larissa's holiday meal would be only a light garnish, but as this was my lunch, it made the perfect full meal deal.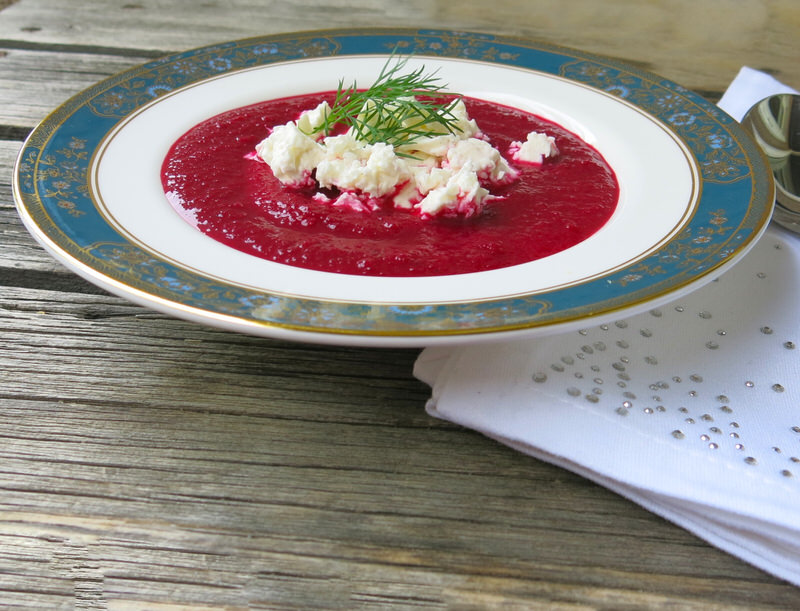 The dill does hearken back to the Eastern European borscht, and didn't seem to match the upbeat addition of the apple as well as a but if very thinly sliced mint leaves.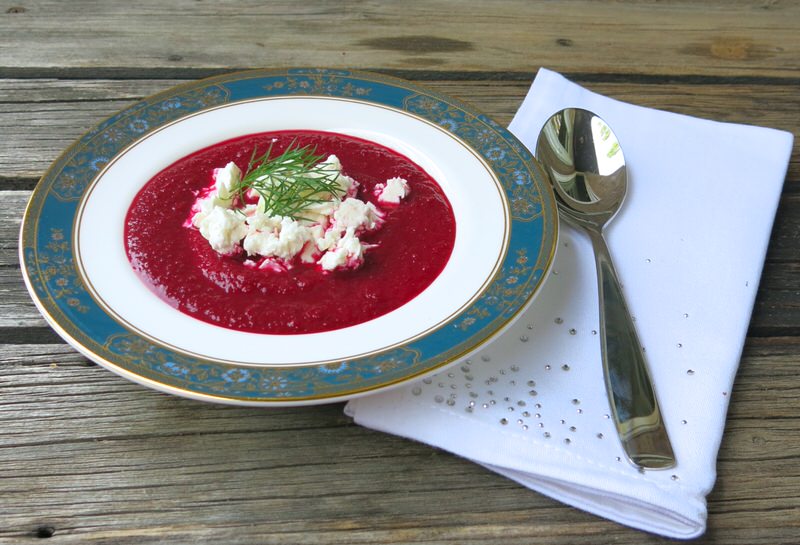 Yet, both were delicious. Thank you, Larissa Trifonova Prouse for sharing your festive holiday meal with me, and for this incredible soup recipe which will be a family staple in our house. I cannot wait to share it with my gal pals at our next dinner party!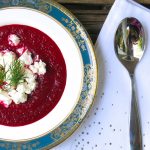 Beet and Apple Soup with Feta
This is the first of five recipes from the Larissa Trifonova Prouse festive Canadian Holiday Meal series: delicious, nutritious and economical. Can't "beet" that!
Ingredients
2

tablespoons

or 30 grams Extra Virgin Olive Oil

1

large onion or 300 grams

chopped

2

pounds

beets or 900 grams

peeled and coarsely grated

2

McIntosh Apples

peeled, cored and chopped

6

cups

or 1.5 litre vegetable stock

I used chicken

1

tablespoon

or 15 grams cider vinegar

1 ½

teaspoon

salt

or to taste (feta is salty)

½

teaspoon

pepper

or to taste

¼

pound

sheep's milk feta

or goat, or cow's feta

1

tablespoon

dill

chopped for garnish (or mint leaves, chiffonade)
Instructions
In large heavy pot, heat oil over medium heat; add onions

Cook; stirring for 5 minutes (reduce heat if start to brown)

Add beets, apples and stock; raise heat to high

After bringing ingredients to boil, reduce to simmer, immediately; cook for 25 minutes, or until beets are tender

Puree in blender until smooth; transfer to a clean pot

Add vinegar, salt and pepper; keep warm over low heat until service

Ladle soup into warm bowls; place generous portion of feta into middle of each bowl and garnish with dill
Thermomix Instructions
Weigh in beats, roughly chopped; chop finely for 1 second on turbo up to 3 times, if needed and set aside

Weigh in cored apples; chop finely for 0.5 seconds on turbo and set aside

Weigh in onion (quartered); chop for 0.5 seconds on Turbo (repeat if required)

Weigh in oil; sauté onion for 3 minutes at 120F, speed 2

Add beets and apples back into TMbowl with stock; cook for 15 minutes at Varoma, speed 2 with simmering basket placed on top of lid

Puree for 1.5 minutes on speed 10 until desired texture; add vinegar, and season to taste (remember, feta cheese is salty)

Keep warm over low heat until service

Ladle soup into warm bowls; place generous portion of feta into middle of each bowl and garnish with dill
The link from the House and Home site for this recipe is here.