Orangettes au Chocolate: Memories of France

Orangettes au Chocolate? Throughout the South of France, one finds bundles of chewy sugary orange peel. I could never resist. They are absolutely a labour of love and worth every tender moment spent hovering over them. When my friend, Chris, pulled up a photograph of these a couple of days before Christmas, I found myself standing on the corner of a side street very near the center of Aix en Provence on a fresh spring afternoon. A barrel of fragrant chewy citrus Orangettes tied in fine brown twine stopped me in my tracks. I am compelled to pick one up and breath in its irresistible essence. But that would be so wrong. I enter the narrow shop and buy some. The small translucent parchment bag they were stuffed into is perfect. Reaching in, I root around untying the twine to wiggle one free….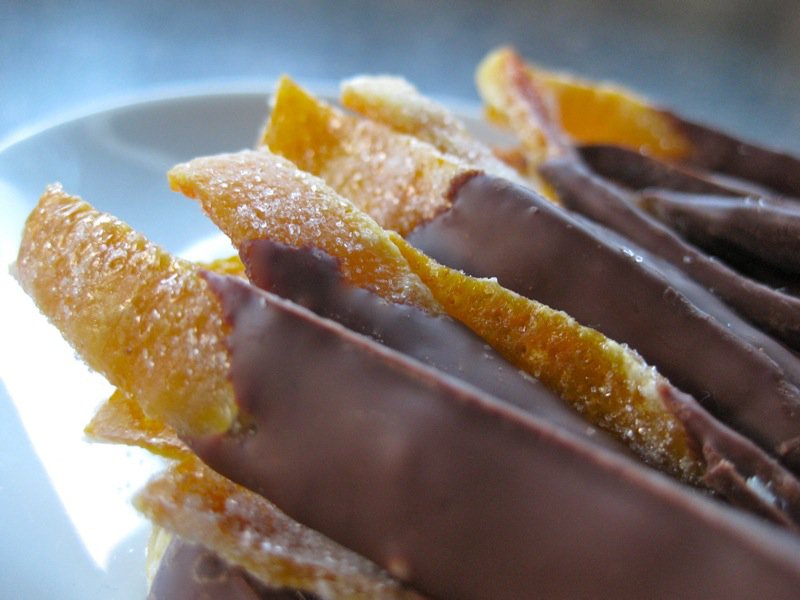 "Valerie?…", he patiently waits. I am sitting on a cold chair in the drafty Enterprise Center on a blustery -30ºC December day in downtown Edmonton. Chris was my website developer at this time and has double-duty with keeping me focused. "All right, but I am making Orangettes tonight!"
And, look at how gorgeous they are! The flavour bursting with the distillation of bright orange citrus oil is indescribable. Truly a "Sunkist" moment (though I used organic Cara Cara oranges), and a welcome ray of sunshine through this particularly cold and dreary weather. These sparkly citrus pretties glistening on this plate are the quintessential crowd-pleaser after a luxurious meal. Perfect for my Christmas Dinner.
Orangettes au Chocolate: Preparing and Sugaring the Peel
Food brings people together. It just does. I met Chris earlier in the fall of 2010 when I was searching for someone to build a better website for me. What a wonderful discovery. He is intelligent, patient, kind, a consummate learner and hails from France. It was hard for me to stay on topic during our website development meetings. We shared a passion for food and I found his food knowledge captivating.
He sent me his recipe for these lovely little ditties the next day. I stopped on the way home and purchased the organic Cara Cara oranges so that I could use the flesh in a salad and have a healthy zest to use for this preparation. That didn't happen. The flesh was just too delicious. Lauren, Vanja and I worked together late that evening preparing the peels, juices running down our chins as we stuffed the fruit into our mouths. "Once you try a Cara Cara, you will never go back." the clerk had said. She is right. Outrageously delicious!
I learned from Chris that the peels needed to be brought to a boil three times to rid themselves of their gasses and toxins. Then, swim in a sugar bath until almost all of the sugar is absorbed. This was a tricky part for me this time as the instructions were different than what I have made in the past. So, I failed and then succeeded: it seems to be the way I learn.
Orangettes au Chocolate: Drying the Syrupy Peel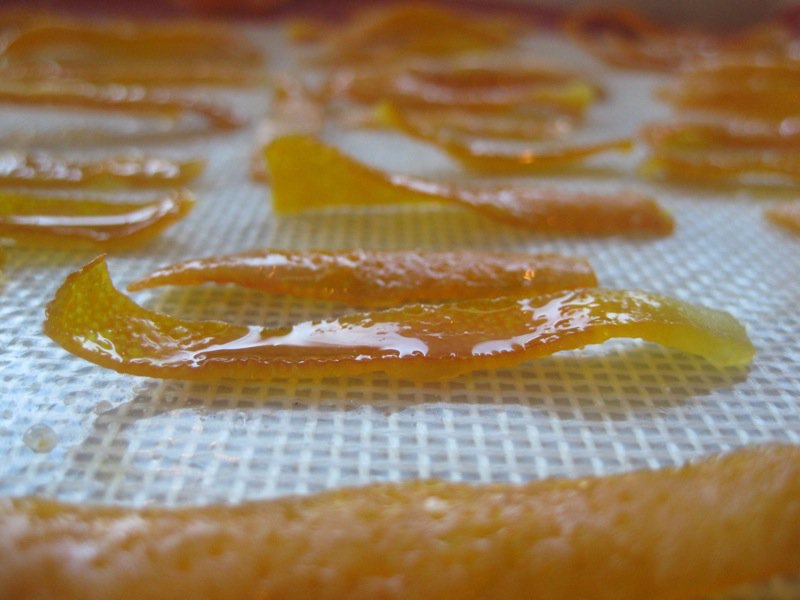 I used only three oranges as that made a generous plating for dinner service. The recipe called for the peels to dry several hours, or overnight, before sugaring them. I dried them for one hour at 170ºF in my convection oven, and they were perfect: pliable, dry to the touch, yet received the sugar coating.
Orangettes au Chocolate: Sugar Coating the Peel
You can see that I tossed them together, liberally with sanding sugar, then shook it off.
Orangettes au Chocolate: Dipping the Peel in Velvety Dark Chocolate
Of course, I had to dip some of them in the dark earthy sumptuous 64% Valrhona Manjari chocolate I had in my pantry just waiting for such an opportunity. They were just too lovely to completely enrobe in the chocolate, and I did not dip them all. Oh, no. The pairing of the lively bright citrus with the dark brooding chocolate was tres magnifique! But, but, but, but… there is something so simple and perfect about a sliver of orange peel blushed with a dusting of sugar. Half had to remain au naturale. Had to.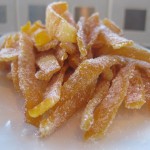 Orangettes and Orangettes au Chocolate
Orangettes are a delicious delicacy made with sugar, orange zest and water. Orangettes au Chocolate are simply Orangettes dipped in velvety dark chocolate.
Cook Time
2
hours
30
minutes
Ingredients
Ingredients for Orangettes
organic orange peel

washed, pith removed, sliced in strips

enough water to cover peels

sugar equal to weight of water and peels

combined

sanding sugar

for dusting
Ingredients for Orangettes au Chocolate
100-200

grams

dark chocolate

for dipping
Instructions
Instructions for Preparing the Peels
Cover peels in cold water in a heavy saucepan; bring to a boil, and strain

Do this three times; the first time takes 6 to 8 minutes, and the last two about 3 to 4 minutes each
Instructions for Sugaring the Peels
Weigh peels

Weigh same amount of sugar; set aside

Cover peels in water, weigh the water; add amount of sugar same weight as water to amount of sugar set aside

Cover peels in same weight of water again and add set aside pre-weighed sugar; bring to a low boil; simmering, stirring constantly until water has reduced by half (be very careful to keep temperature low enough to not colour sugar bath)

When sugar water has thickened and liquid is reduced by half, strain peels
Instructions for Drying and Sugaring Peels
Carefully separate and lay on parchment paper to dry for several hours, or overnight (If you have a convection oven, dry them for one hour at 170ºC)

Toss in sanding sugar and enjoy!
Instructions for Orangettes au Chocolate
Use pre-tempered chocolate and melt at 40 to 49ºC

Dip Orangettes totally, or partially, in melted chocolate and place on parchment paper to dry (Careful placement of each peel will avoid markings on chocolate and pooling of chocolate on parchment paper and confection)

Dip only as many as you will eat right away as they tend to bloom a day or two after dipping (The moisture within each peel dissolves the sugar coating and causes the sugar to dissolve out of the chocolate. Sugar Bloom has a gritty texture and a grey, dusty look.)
Recipe Notes
Best kept in a tight container to maintain their pliability, if not eaten right away.
What a great way to christen my website. A heartfelt tribute to Chris through a shared recipe that graced my family table at the end of the meal this holiday season. Merci, Beaucoup, Chris, a thousand times a thousand.
Make sure you only dip as many as you need, because they bloom within two to three days.