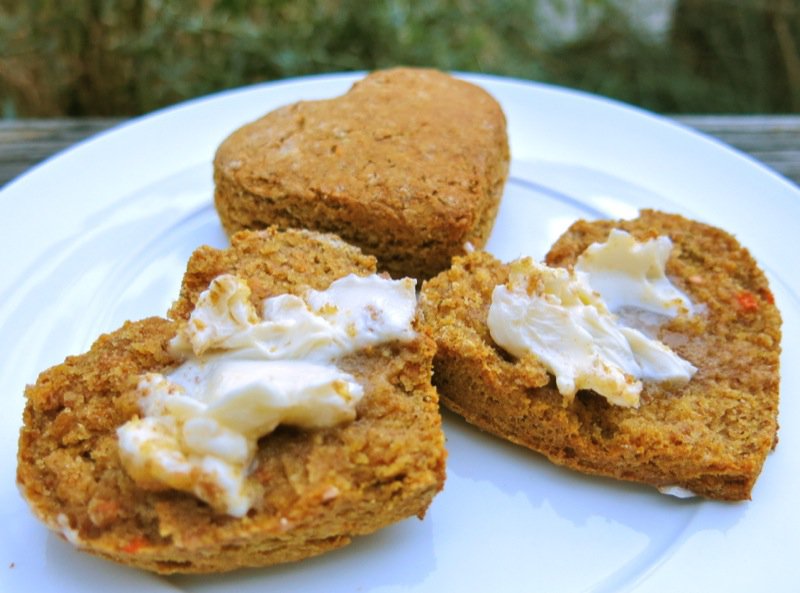 Whoever first thought to make a biscuit with yams? It opens up an entire repertoire of possibilities where good old fashioned baking powder biscuits are concerned. I can think of using beets, parsnips, pumpkin, zucchini, squash, celeriac, or even green peas. The process is straightforward and the flavours could be played with. I love playing with my food. This retirement business is fun that way. Theoretically, I have more time to dabble. Dabbling with making yam biscuits was a rewarding learning experience.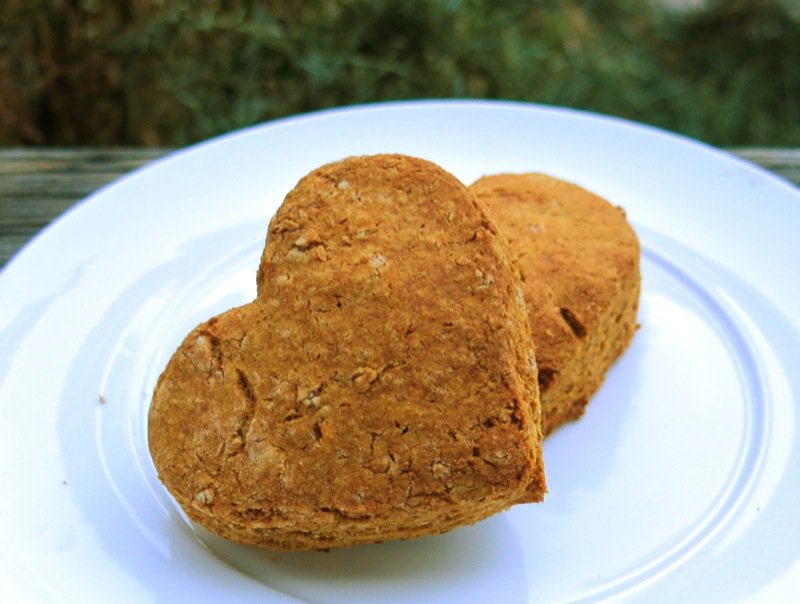 I first saw the idea on Jan's site and was more motivated to make them when she plopped them on top of one of her one pot family meals. I confess, I didn't like the whole wheat flour version. Whole wheat flour is a mainstay at our house, but the yam flavour was completely over powered by it. The addition of my coveted and incredible fresh sweet paprika (just got a new bag when Vanja returned from Belgrade) made a considerable difference and I can see a smoky Spanish paprika making a lovely meal time biscuit.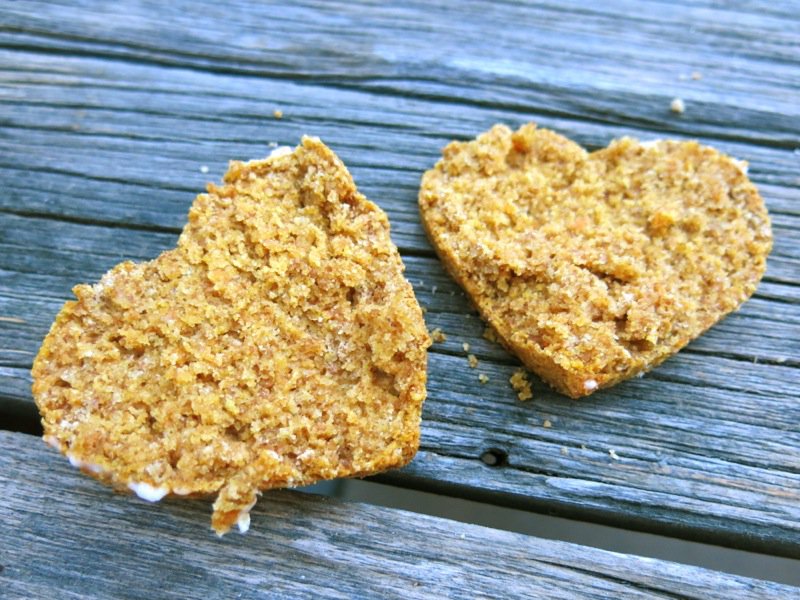 The texture is coursish and mealy, yet light at the same time. And with buttah? Woot! Lip-smackin'. They really pack a healthy punch. Starting with the mineral and vitamin rich baked sweet potato, I used my Thermomix to make the biscuits in literally seconds.
Weighing the buttermilk and yams into the bowl and whipping them into a feather-light concoction that was delicious on the spot was step one.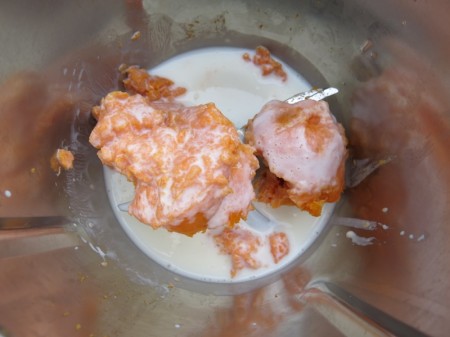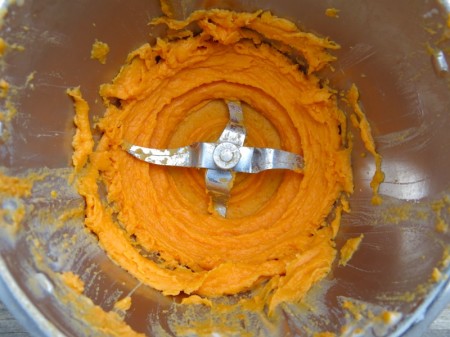 A little salt and pepper and the voluminous concoction would be a sweet tangy and sophisticated side to any special meal.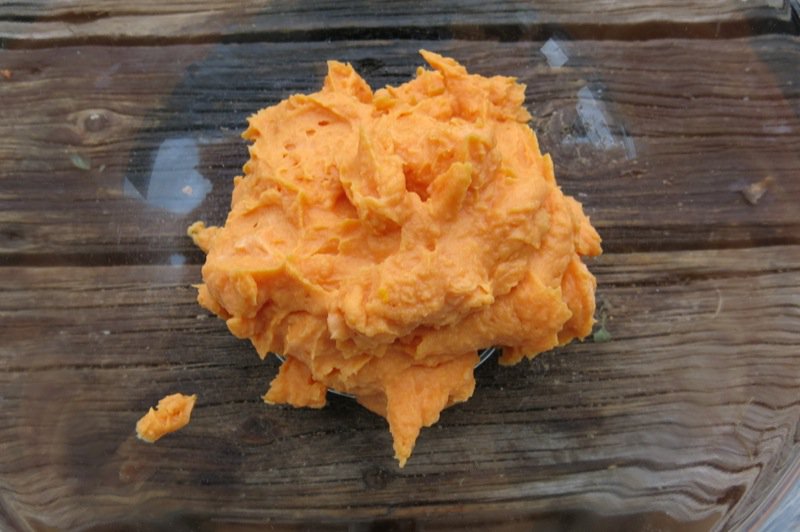 Dry ingredients mixed together and the fat is cut into it until the mixture looks like raw oatmeal: another couple of seconds.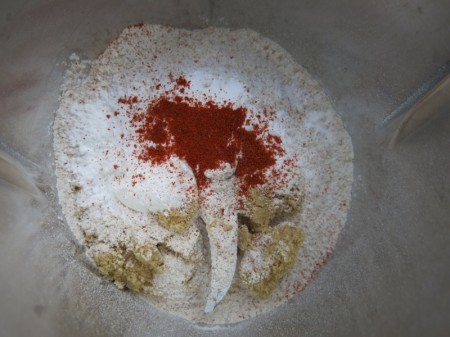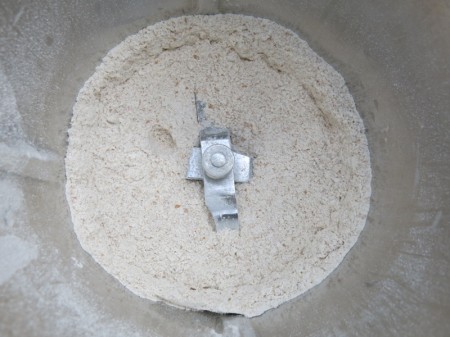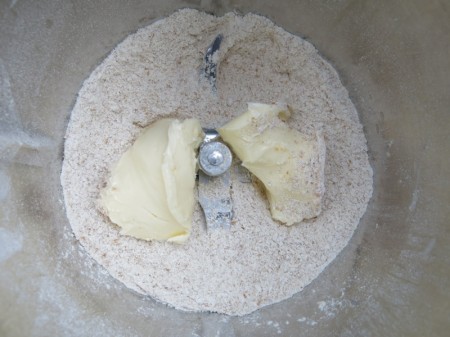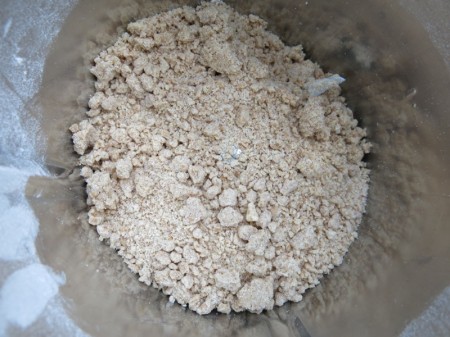 Gorgeous texture. It is important for the butter to be ice cold.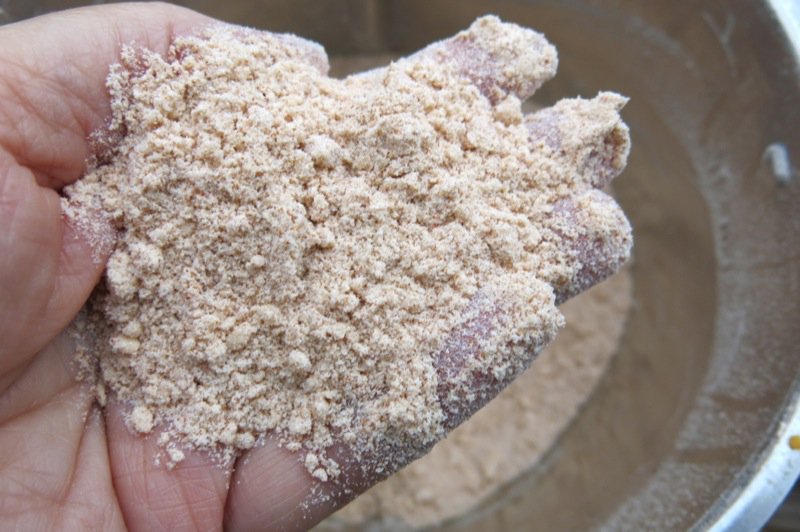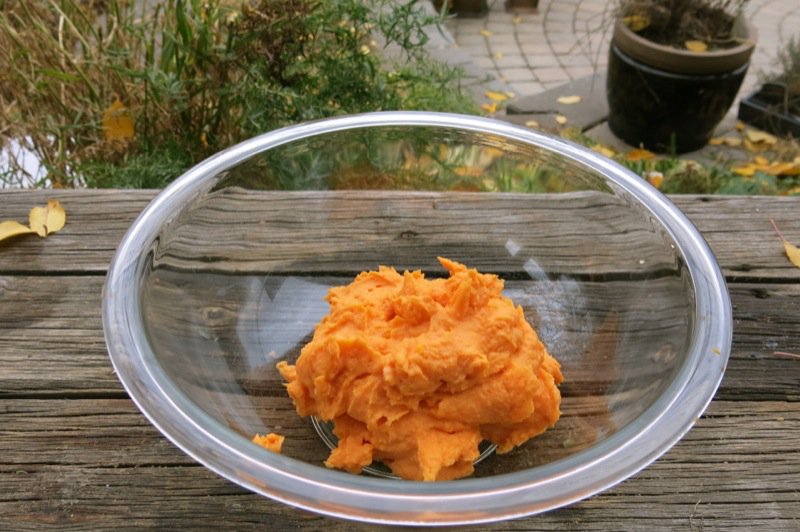 The fat cut into the spicy dry ingredients must be mixed into the buttermilk vegetable concoction. Easy to see how the flavours in the dry ingredients and the vegetable combination in the wet ingredients can be varied to create a myriad of flavourful biscuits.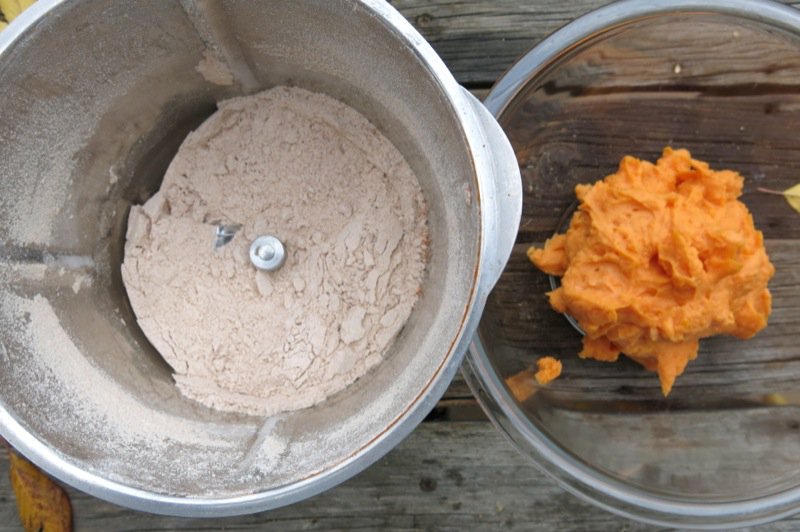 The feather-light yam mixture folded into the heavier flour mixture in a few seconds and the perfect consistency for rolling.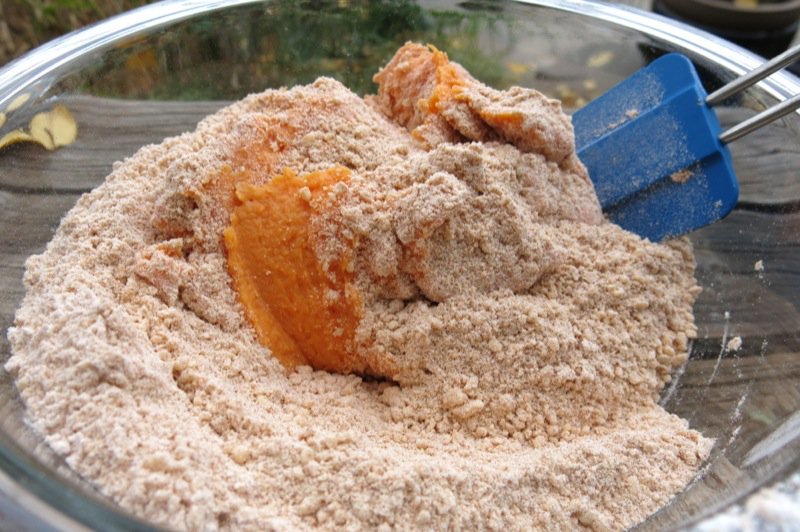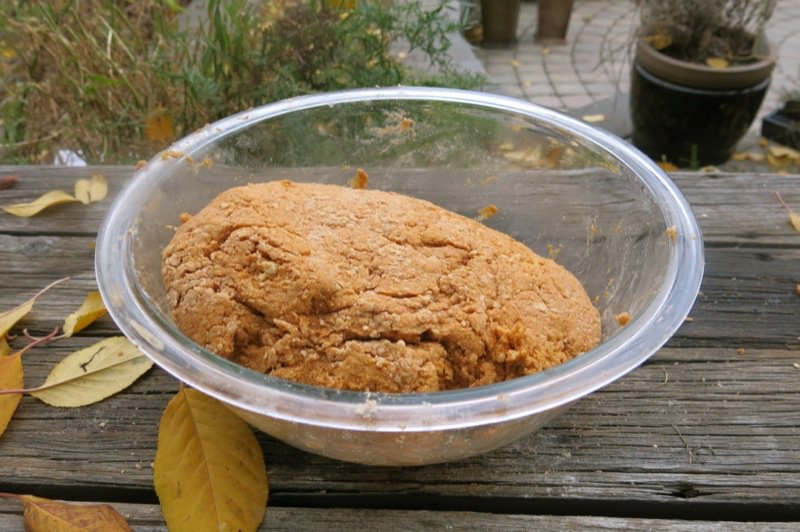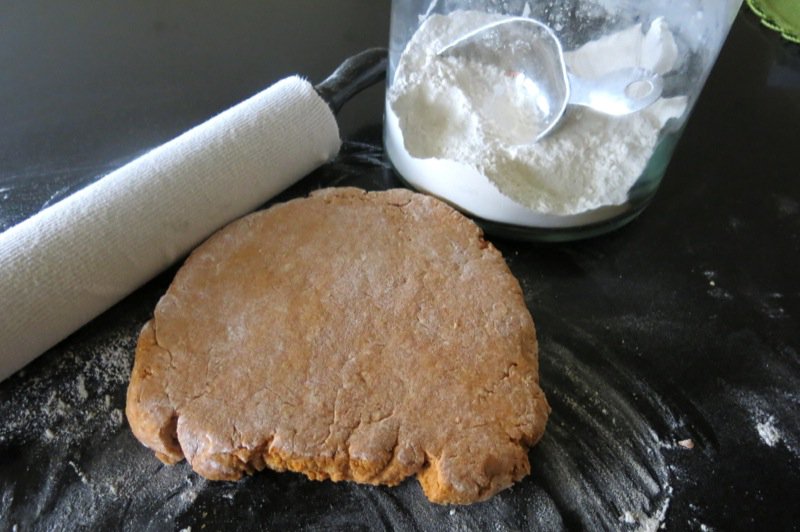 Why not? The colour of the dough was begging to be cut into leafy autumn shapes.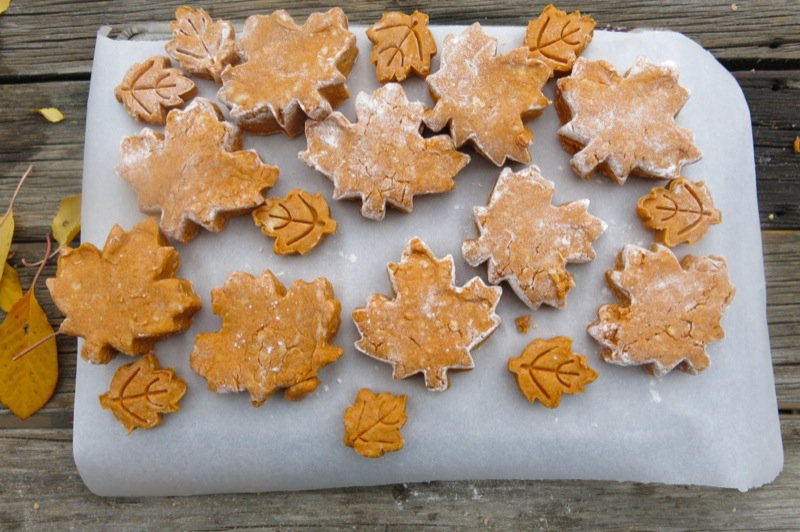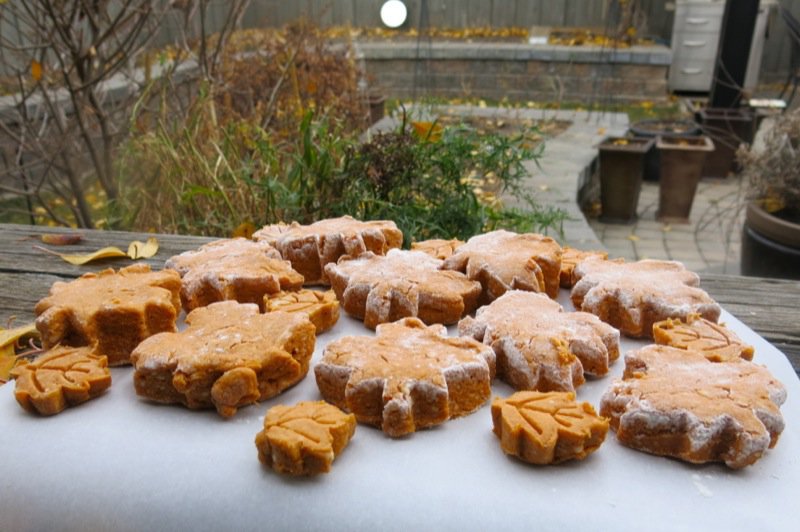 Baked atop this seasonal Canadian Prairie Chicken Stew, the biscuits invited the family to the table to celebrate the bounty of the harvest season. This is a biscuit I wouldn't bake without considering what the accompanying main dish, soup, or stew.
And on their own? Savoury, actually. Hearty. Really full of flavour coupled with considerable texture with an aroma that was truly irresistible. Butter is required, yet best to be considered and built to compliment the flavours of the dish they will accompany. It could be that I am a bit too set in my ways, but that is my experience with this biscuit.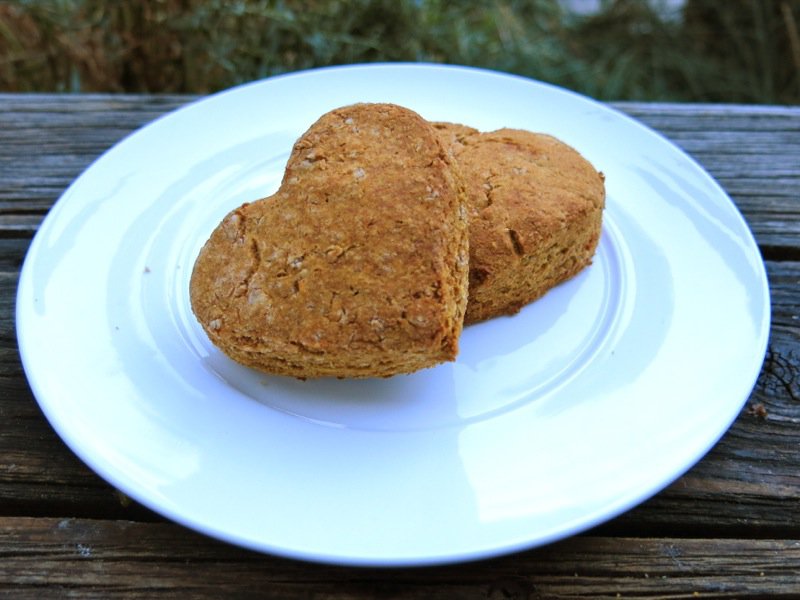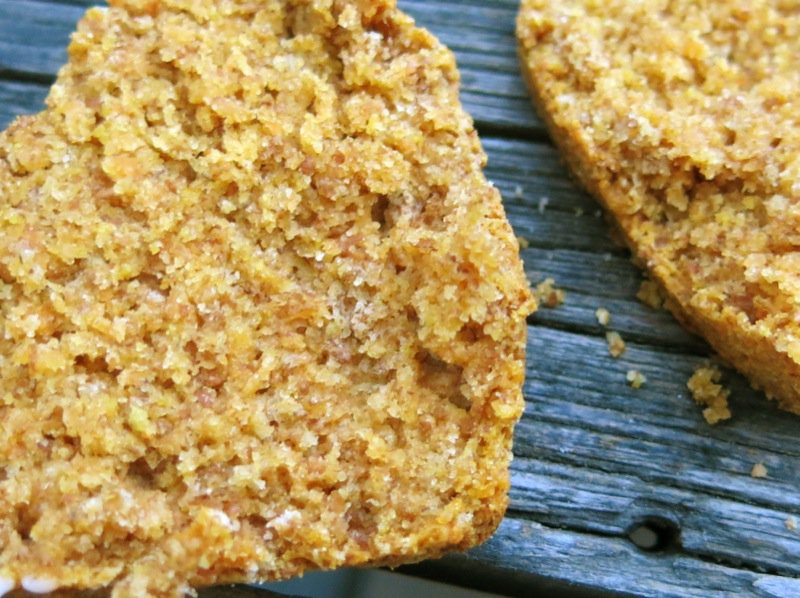 The height of the biscuit is important. Keep the dough thick and cut the biscuits thick. They will then, most certainly, rise to the occasion.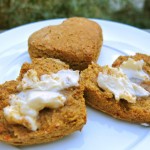 Yam Buttermilk Biscuits
A flavourful savoury biscuit that uses a root vegetable with the buttermilk for the liquid ingredients. The dry ingredients include the addition of spices or herbs which presents an inviting opportunity to compliment a main soup or stew with a nutritious, delicious and economical "designer biscuit".
Ingredients
3

cups

or 400g yam; peeled and cubed

1

teaspoon

or 5g salt

1 3/4

cups

or 220g all-purpose flour

1

tablespoon

or 15g dark brown sugar

1

tablespoon

or 15g baking powder

1

teaspoon

or 5 g baking soda

1

tablespoon

sweet or smoky paprika

(excellent quality)

1/4

teaspoon

or a good pinch of cayenne pepper

1/2

cup

or 100g butter

, chilled and cubed if doing by hand (ice cold, if using the Thermomix)

3/4

cup

or 150g cold buttermilk
Instructions
Boil cubed yam in salted water for 6-8 minutes or until tender or microwave until tender; drain, cool and mash

Preheat oven to 425 F

Line a baking sheet with parchment paper

Whisk flour, sugar, baking soda, baking powder, salt. paprika and cayenne together in a medium sized mixing bowl

Add butter to flour mixture; pinch fat between fingers until it the texture of oatmeal

Whisk 3/4 cup of mashed sweet potatoes with the buttermilk until smooth; add to flour mixture and combine with a fork

Knead dough until it comes together

Dust counter lightly with flour, pat ball of dough into 1" thick disc

Flour cookie cutter; cut out biscuits and place on a parchment-lined baking sheet

Bake 8 - 10 minutes or until tops are golden brown

Eat hot with fresh butter and let me hear your renditions of "oooo-ahhhh!"
Instructions for the Thermomix:
Scale cubed yam in TM boil and cover with water; add 1 teaspoon salt; set time for 10 minutes, temperature at Varoma and speed at 2 (cover with a tea towel to avoid splatter)

Insert sieve into the TM bowl; drain

Puree potato from 0-10 for 30 seconds, using the spatula through the hole in the lid to keep the potato down near the blade

Scale buttermilk into the TM bowl over the yams; whip at speed 3-4 for 30 seconds, cleaning inside of the bowl with a rubber spatula, as necessary

Remove to another bowl; rinse and dry TM bowl

Preheat oven to 425 F

Line a baking sheet with parchment paper

Scale flour, sugar, baking soda, baking powder, salt, paprika and cayenne into the cleaned TM bowl; stir to combine from 0-3 for 3 seconds

Scale ice cold butter into TM bowl on top of flour mixture; cut fat into flour for 15 seconds, speed 0 - 6

Add flour butter mixture from the TM bowl to the reserved whipped yam mixture stir with fork to combine

Form dough into a ball; dust counter lightly with flour, pat or roll ball of dough into 1" thick disc

Flour cookie cutter; cut out biscuits and place on a parchment-lined baking sheet

Bake 8-10 minutes or until tops are golden brown