Lunch with Lynn made by our world class culinary students at NAIT was spectacular!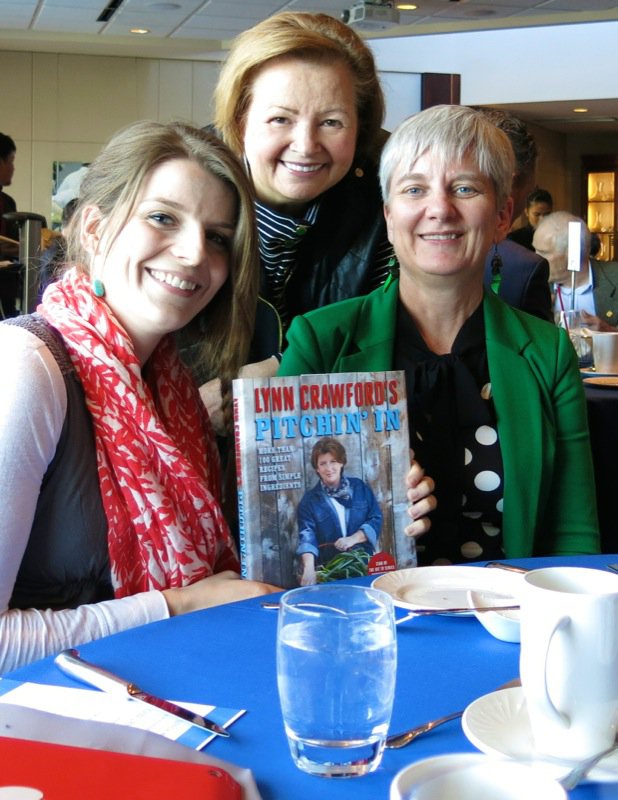 Privileged with the opportunity to attend the Hokanson Chef in Residence "Lunch with Lynn" and host a giveaway for two tickets, I am grinning above, with my two guests: Brianna and her mom, Gail. Lunching at NAIT is always a pleasure, as our local culinary students prepare an outstanding lunch every Friday that is not to be missed. If you have never been, call now to reserve a spot: Ernest's 780.471.8676.
Ernest's Restaurant wouldn't even exist without the generous donation from the Hokanson family to the NAIT Culinary Program. The Hokanson Chef in Residence is also a result of this generous donation and provides our students with an opportunity to work with a Canadian Celebrity Chef each year since its conception in 2009, rather quietly, with Chef Rob Feenie.
Chef Rob Feenie 2009
Chef Susur Lee 2012
Chef Massimo Capra 2012
Chef Chris Constantino 2013
Chef Lynn was, in my humble opinon, hands down, the most passionate educator. I confess, I did miss Rob Feenie and Chris Constantino. I simply cannot imagine anyone capable of any more passion than exudes from Chef Lynn as she engages with her students.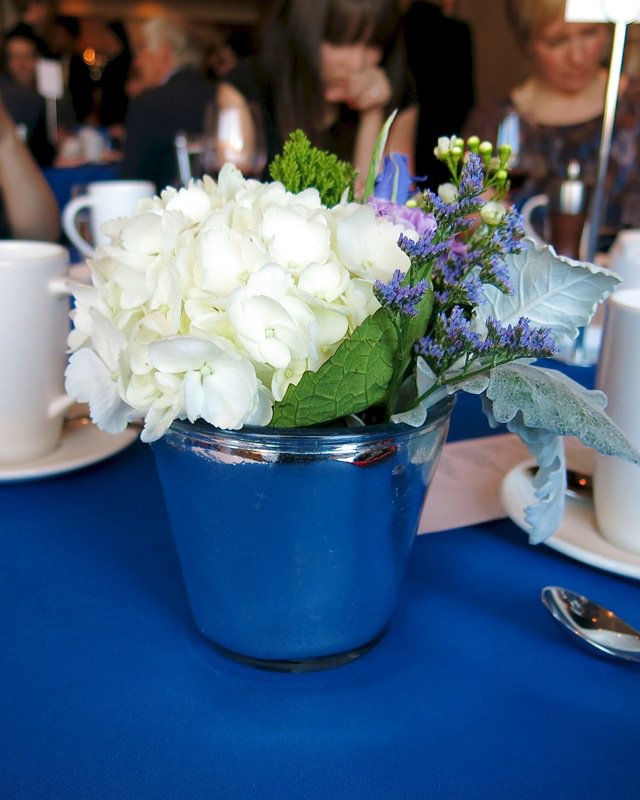 The room was decorated with such refinement that sitting, one knew immediately that the $75.00 ticket for this lunch was going to be worth every penny. My favourite Chef Stanley Townsend, Program Chair, Culinary Arts Diploma, NAIT School of Hospitality and Culinary Arts, welcomed us warmly, as he does everything: warmly.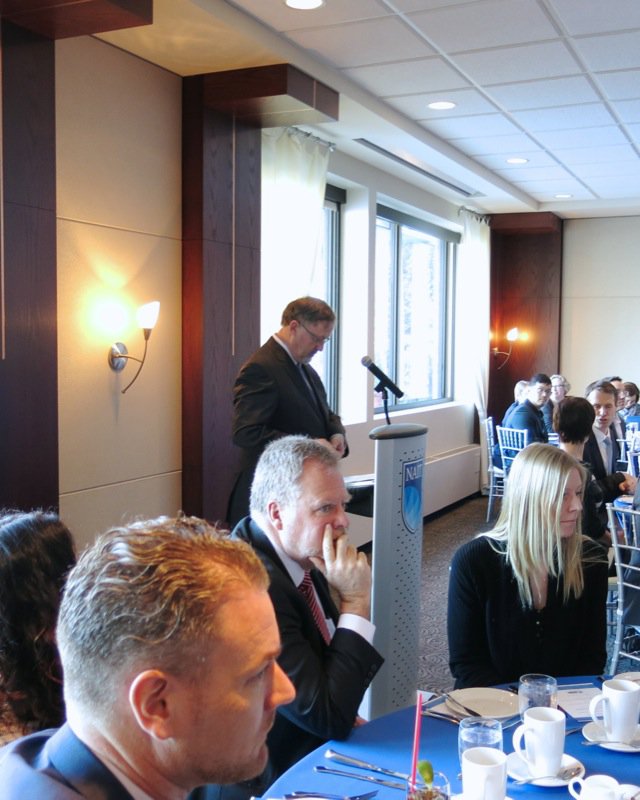 My mind was back in the NAIT kitchens I had visited the day prior as Chef Lynn had introduced the students to their task at hand: 27 hours before this lunch was to be served. "Can we do it? You bet we can! I have goosebumps all over just thinking about what we are about to do, don't you?" They were mesmerized by her, as was I.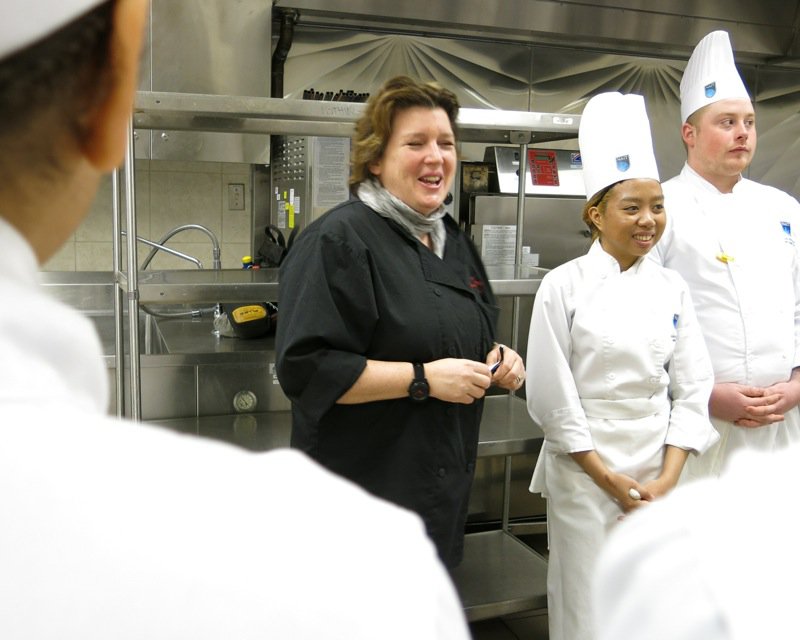 "Read, travel, learn. Set your sights high. Always work to achieve the very best you can be and when you look in the mirror every night, and I want you to look in that mirror every night, I want you to see the very best chef you can possibly be every night." I was about to grab the mirror out of my purse that very moment to look at myself and ask: "Am I the very best I can possibly be, today?"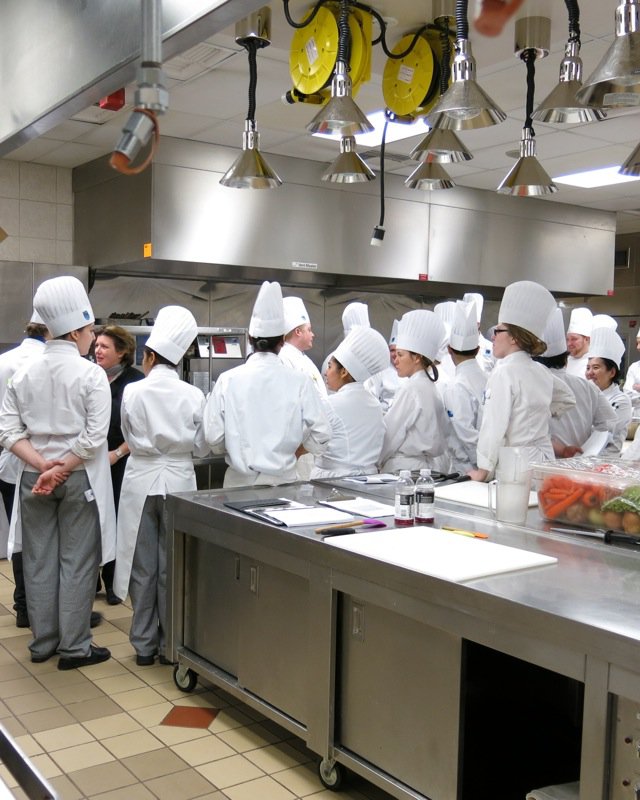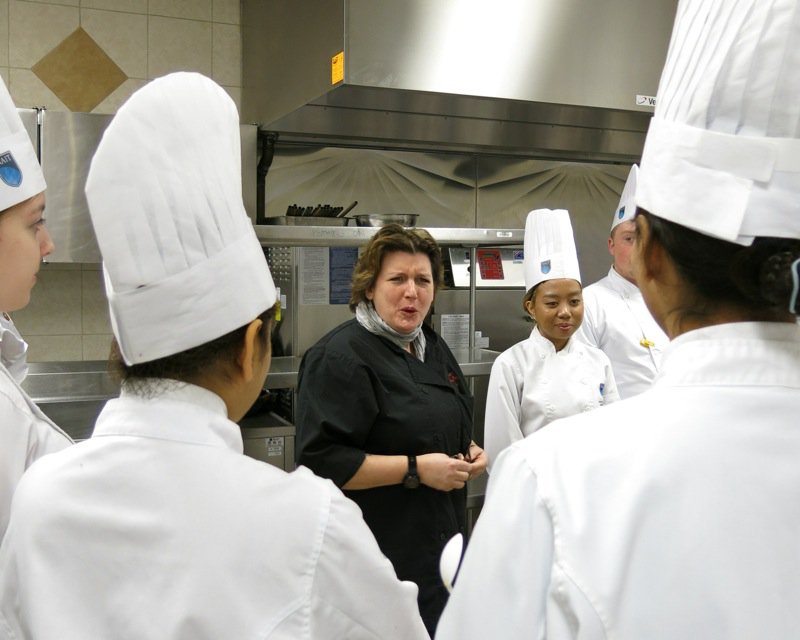 She had been there only 24 hours, and remembered names, and used them. Students felt important, like they mattered as it was obvious she cared. "Do you have a lovely recipe for a gorgeous sundried tomato vinaigrette?" She asked an unsuspecting student who answered, "No." And she said, "Oh, but you do. It is in the handout package you got for this luncheon. You haven't read your handout?" She teased, but with purpose. "You need to collect recipes from everyone and everywhere. Write them done. Make them. Revise them. Carry your recipe and thinking journal everywhere. Do you have a journal?" A nod. "Good! Where is it?" The student touched his pocket. "You should all have journals, just like that, in your pocket and with you all of the time. You should constantly be thinking about food. Writing down ideas. Collecting recipes. Journaling, journaling, journaling." As an educator myself, and a fervent believer in journaling as a critical part of the thinking and creative process, I was deeply impressed. It was clear Lynn walked her talk, too. Look at the eager faces, below.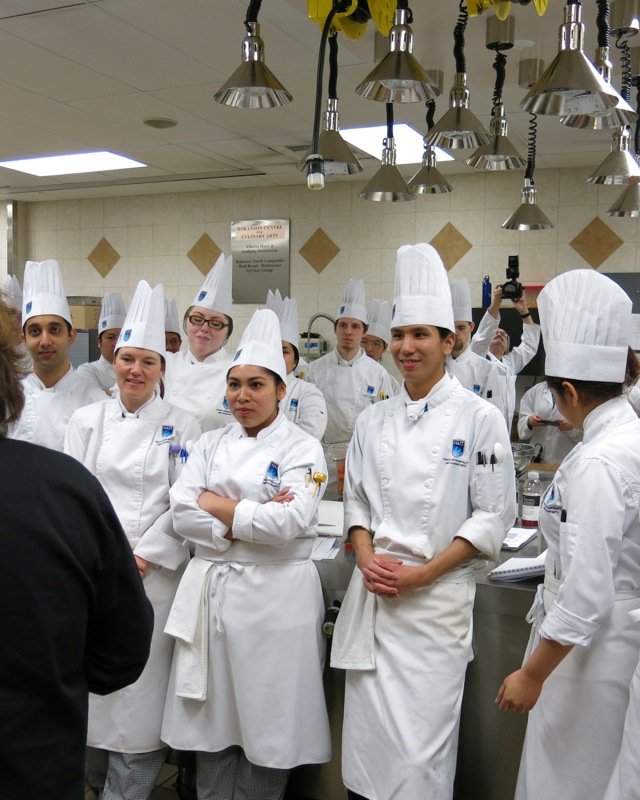 After setting her expectations, she moved into the kitchen with the group about to make the Shallot Crème Brûlée. "I was inspired to create this recipe when I discovered the most wonderful thick farm cream. That is what you do. When a taste or a food inspires you, work to create a recipe that will celebrate that taste or that food."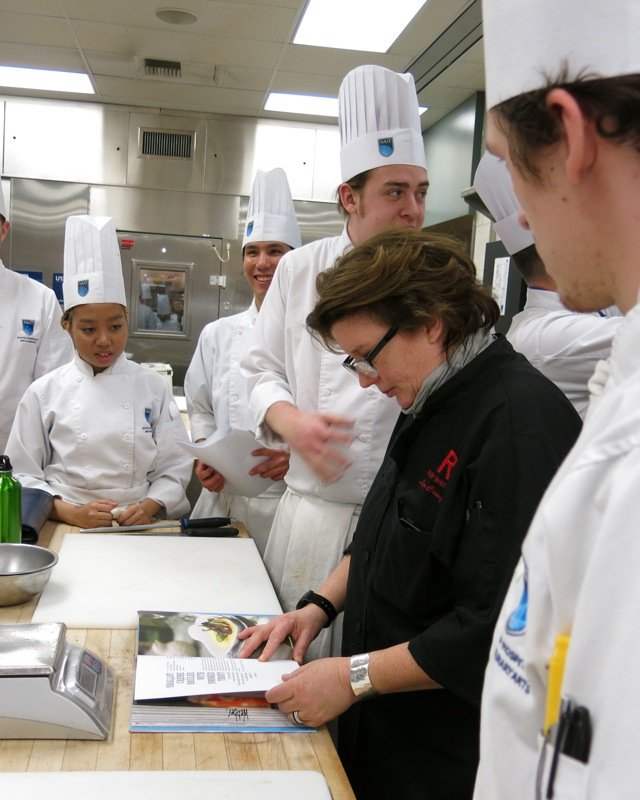 This was the first opportunity I have had to see the NAIT Hokanson Chef in Residence with the students since I have been attending the luncheons and events. That is what this opportunity is all about. The lunch is the product. It is the result of this mentoring experience – but, the opportunity for these students to work with Chef Lynn Crawford, and the many other NAIT Hokanson Chef in Residence makes a phenomenal impression on each of them that inspires their future.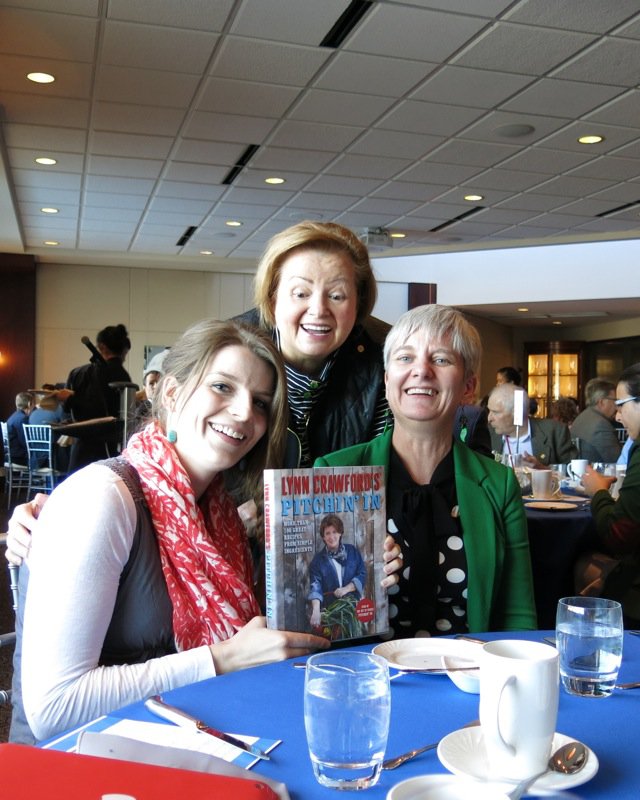 Now, to the luncheon, with my lovely guests, that Shallot Crème Brûlée. This is the best dish ever presented at any Hokanson Chef in Residence luncheon. I cannot recall any other plate at any of the other luncheons, but I will never forget this one. It is one of the best things I have ever eaten. I will definitely be making this and have included a link I found to the recipe, though am not sure if it is the same recipe as the one in her book. It will be similar.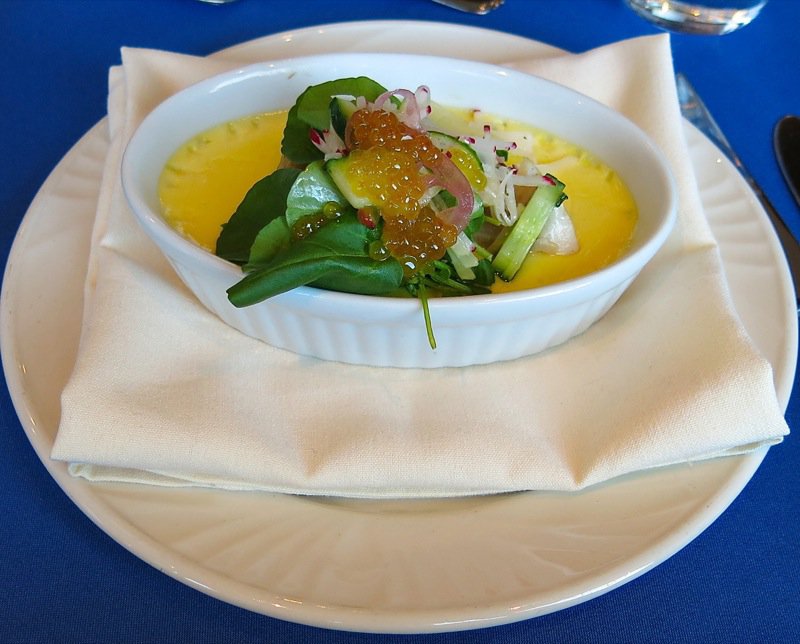 The brûlée was so rich an unctuous I didn't think I could eat much of it, at first bite. Then, I tasted the gently smoked buttery trout with it. I don't even like trout as it is too often muddy tasting. This trout was sublime. The radish salad on the top brought a crunch and surprising fresh bite to the plate that together created an addictive compelling lavish plate – and then the caviar. Caviar can be too much almost anywhere, and when it is right, it is so right. It was the crowning glory on this plate. Not only did it look gorgeous, but the salty bubbles burst on the tongue and sprayed into the velvet cream complimenting the smoky trout and seasoning the crispy salad on top. Mommy! Mommy! I want more. But, not today. That was an ample serving, no doubt about it.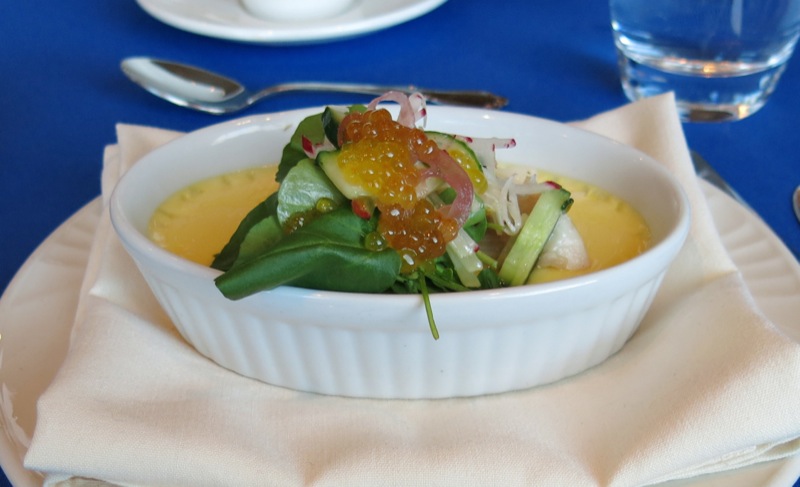 It is not often that students can create the dish of a noteworthy chef in the same fashion and with the same spirit as that Chef. It is a difficult task for students to achieve and a critical part of the mentoring process to ensure this kind of success. I have never witnessed this level of success at a Hokanson Chef in Residence luncheon.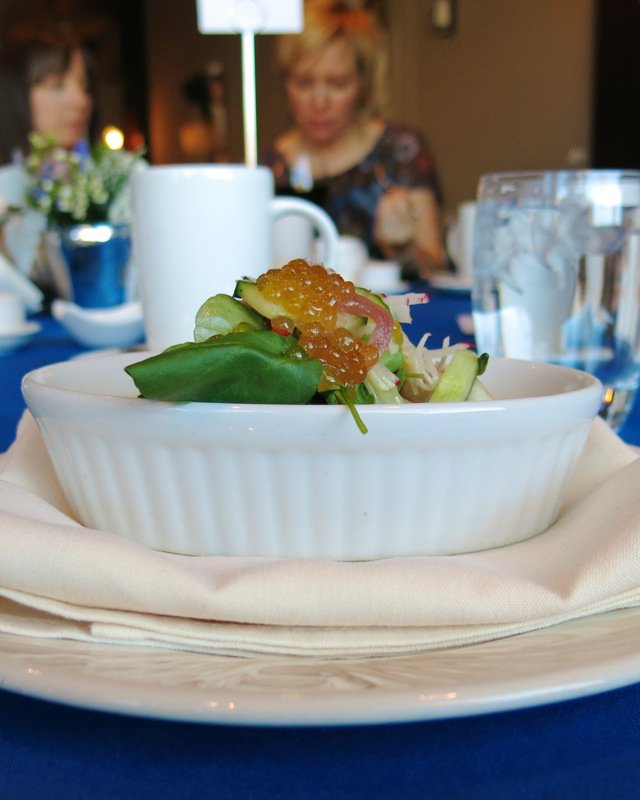 I was swinging my feet under the table and was satisfied enough to go home after the first course…. but, there was more.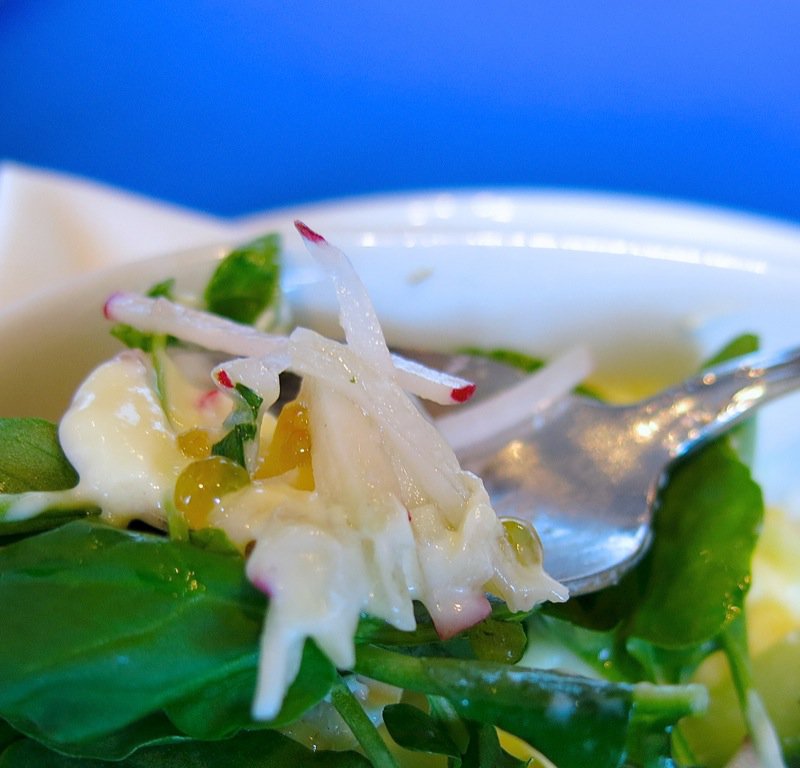 I don't eat meat simply as I can no longer digest it, but crave the taste. This day, Chef Lynn's famous Lobster Mashed Potatoes were served with a generous slice of beef tenderloin topped with braised Bison short ribs. What a unique take on the old Surf and Turf, eh? I have dreamed about her Lobster Mashed potatoes, and here they were, on my plate.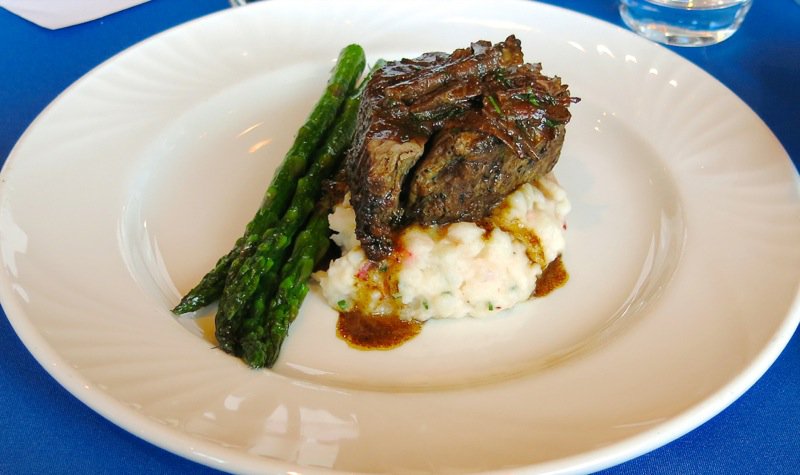 There were 60 large live and clipping lobsters purchased for this dish that served 144 diners. I did the math, and that is over 1/3 of a lobster each (0.4 to be exact). I can attest to the portion being generous, as I was lavished with luscious lumps of lobster morsels in my mash. And that is the point. It would have been a complete disappointment if it was stingy on the lobster. The filets were the only thing that did vary from plate to plate. Mine was far too over done, yet Karlynn's was a gorgeous medium rare and as succulent as Alberta Beef should be.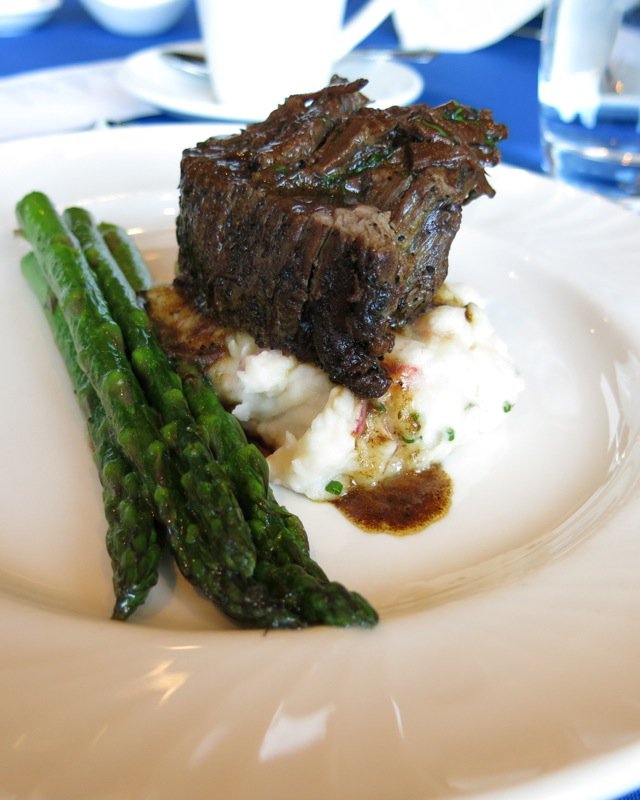 The bison? Short ribs are my favourite cut of meat. Well, short ribs, oxtail, and prime rib, oh – and brisket. Some people find the texture of the meat off putting: my husband and Karlynn's. Yet, the flavour is second to none and this bison was bold and brave and boisterous announcing how proud it was to be on this almost local plate of food.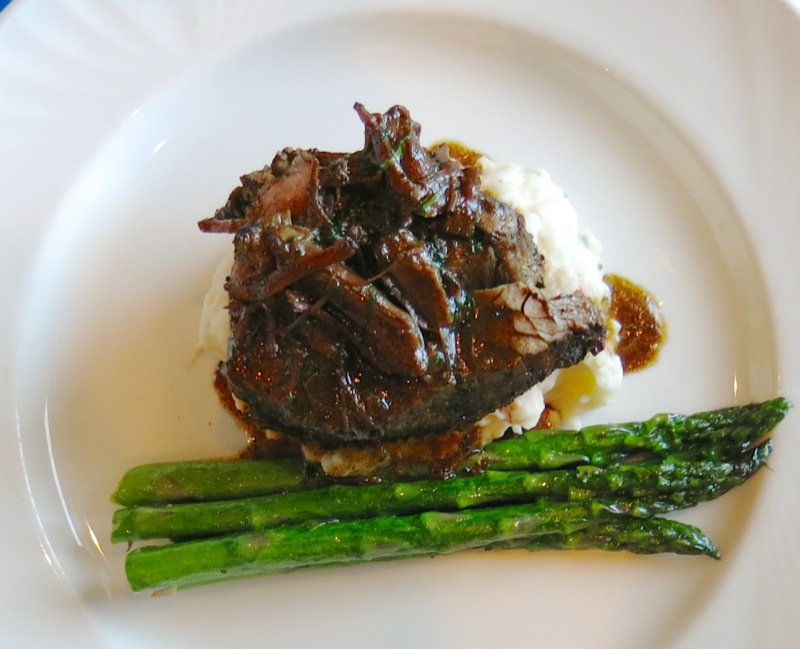 The dessert? Not really my cup of cake. I have made this recipe from Chef Lynn before, as it is an Olive Oil Zucchini Cake. It didn't make it to publication as it wasn't as tasty as the recipe I did publish. Chef Lynn may not excel in desserts. I don't know, but what is brilliant about her is how she thinks and then how she cooks.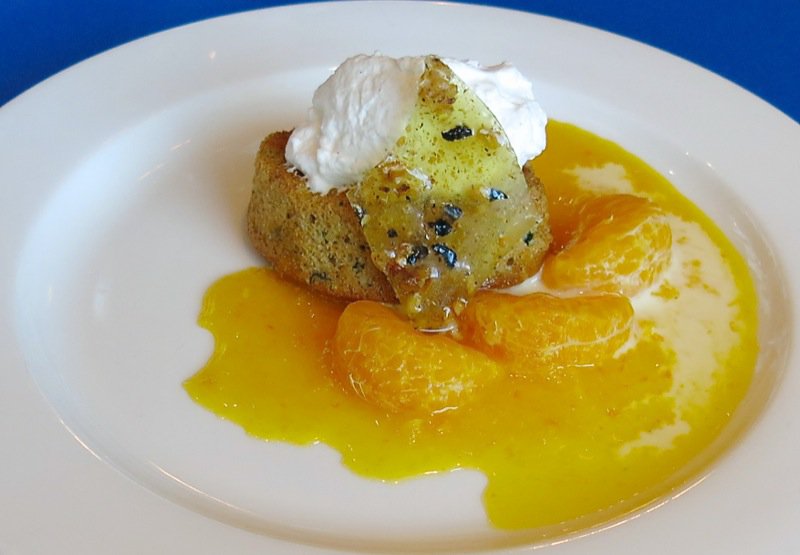 She created what I think is a pretty basic Olive Oil Zucchini Cake and then garnished it with Black Olive Brittle! Yes! That is what is glistening aside the cake: Black Olive Brittle!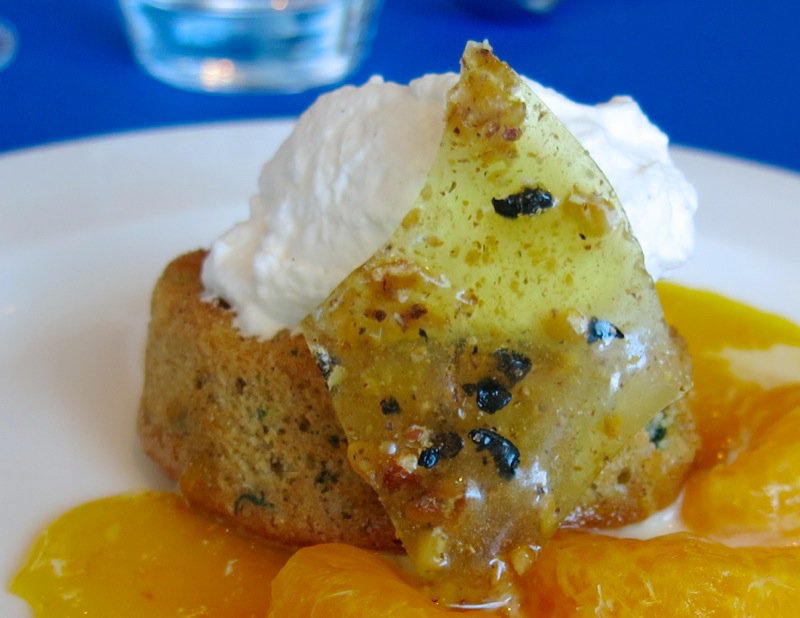 The sweet caramel crunch with the salty chewy almost leathery olives just tickles your fancy and one cannot help but embrace this bit of frolic and fun on the final plate. The cake definitely needed a sauce, too. Not sure orange was the right choice, but I enjoyed sopping the cake in the sauce and biting the brittle in between.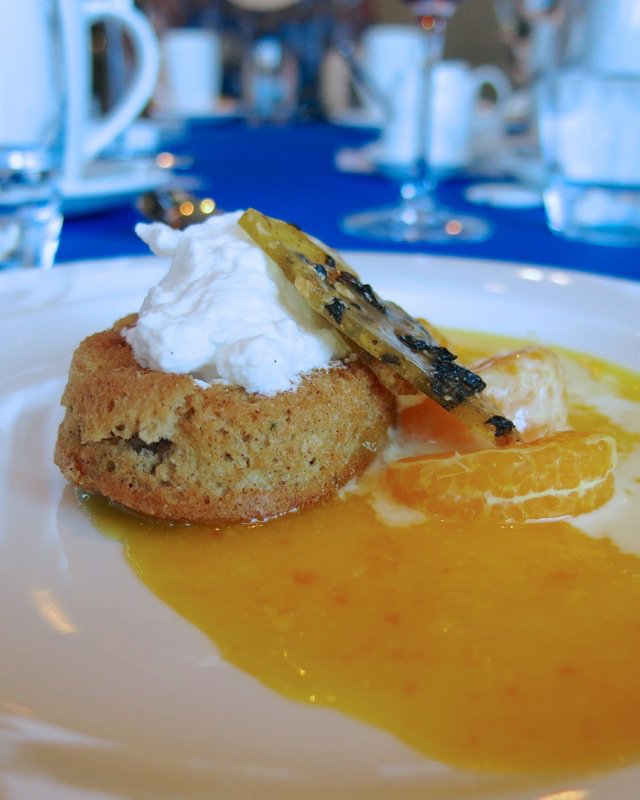 At the end of every NAIT Hokanson Chef in Residence luncheon, the Chef is introduced and guest hear a few words. Chef Lynn doesn't disappoint. Nor does she speak a few words. She humbly finds her way to the podium, expresses her appreciation for this opportunity, then looks to the kitchen to bring in the "real heroes", the students.
As they parade in, she coaches, and cheers and engages us and them and all in her impassioned exultation about the ability of these students. "It is you who did this! It is you they are clapping for! Look what you have accomplished!"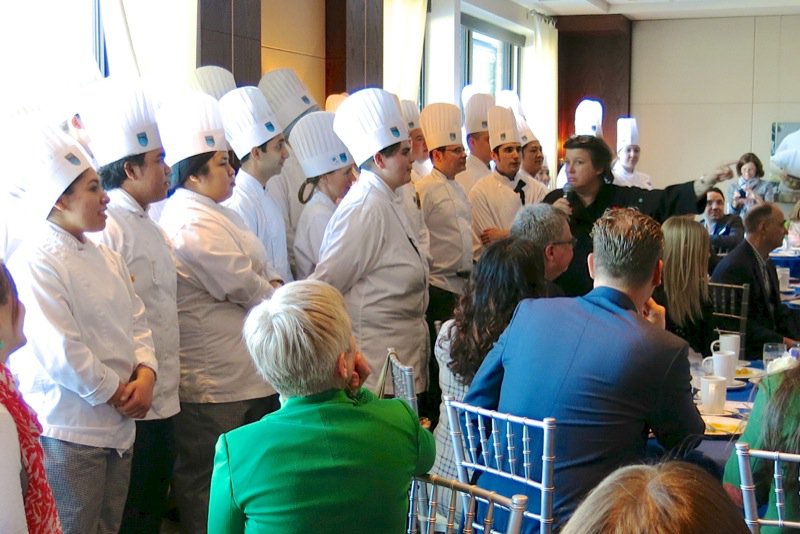 After a pulse racing rendition of "these are the best students in the world" and "I am so grateful for this opportunity to work with them", Chef Lynn stopped by a table on her way out and joked with a guest, "You didn't like it? Awww! What happened?" And she picks his plate up and turns to the server, "You can just put this plate away. No need for the dish washing room. He has licked it clean." This is a gal with many gifts:
a palate second to none
imagination
exhausting work ethic
sets goals and achieves them, every time, then sets more
the quintessential motivator, inspirational guide, mentor and teacher.
Chef Lynn with Brianna.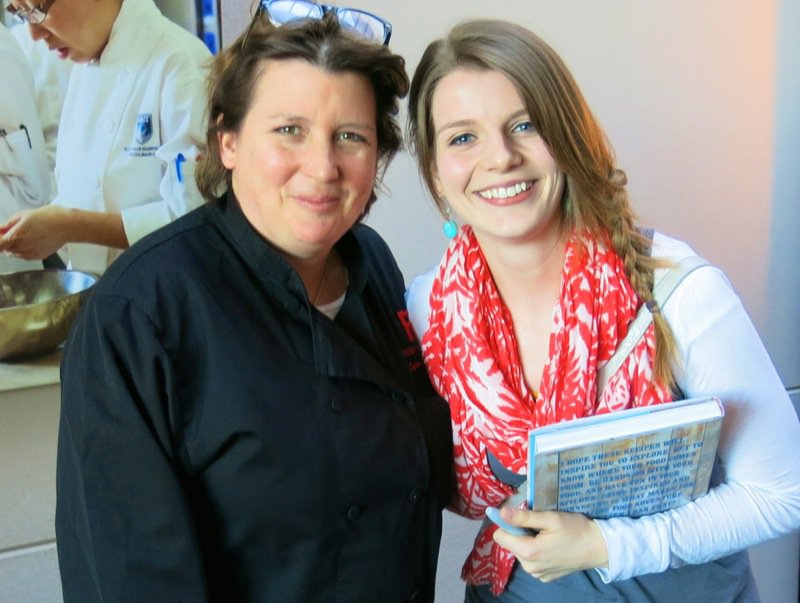 Chef Lynn with Gail. NAIT gifted each ticket winner with one of Chef Lynn Crawford's Cookbooks and she signed them for both gals.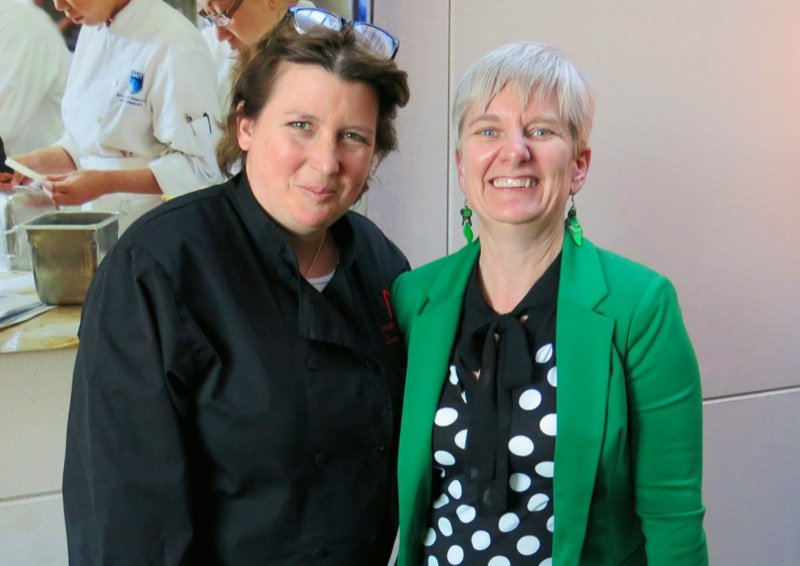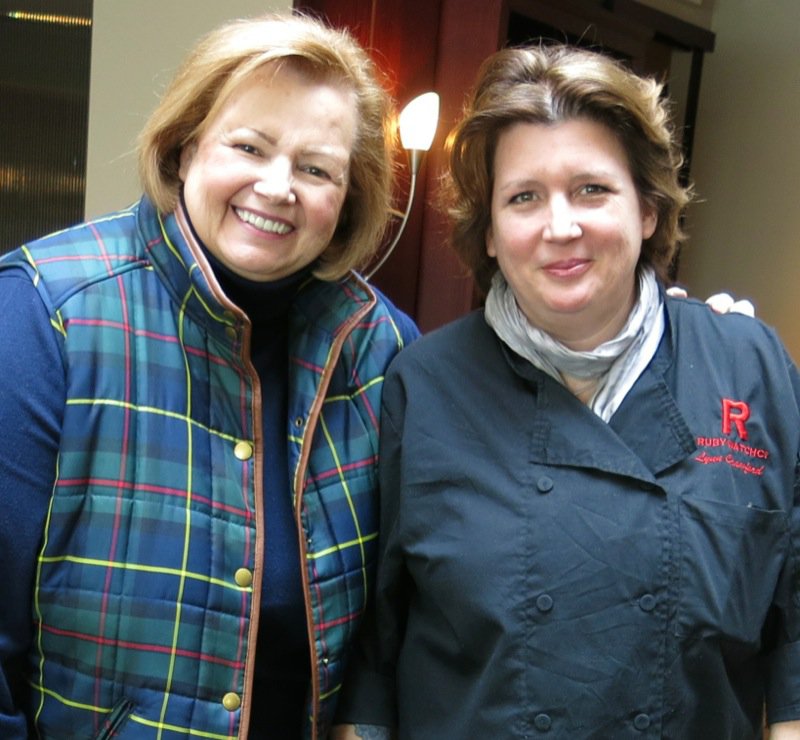 And, of course, Chef Lynn with moi. How could I resist. Few I have held in such esteem. What an honour to meet our Canadian Celebrity Chef Lynn Crawford and see her as NAIT's Hokanson Chef in Residence 2014. I hope to see her next, at Christmas in November 2014!