Congratulations to
Heena Kim f

or winning 1000 dollars, February 7 2013, from Sobey's and BC Tree Fruits!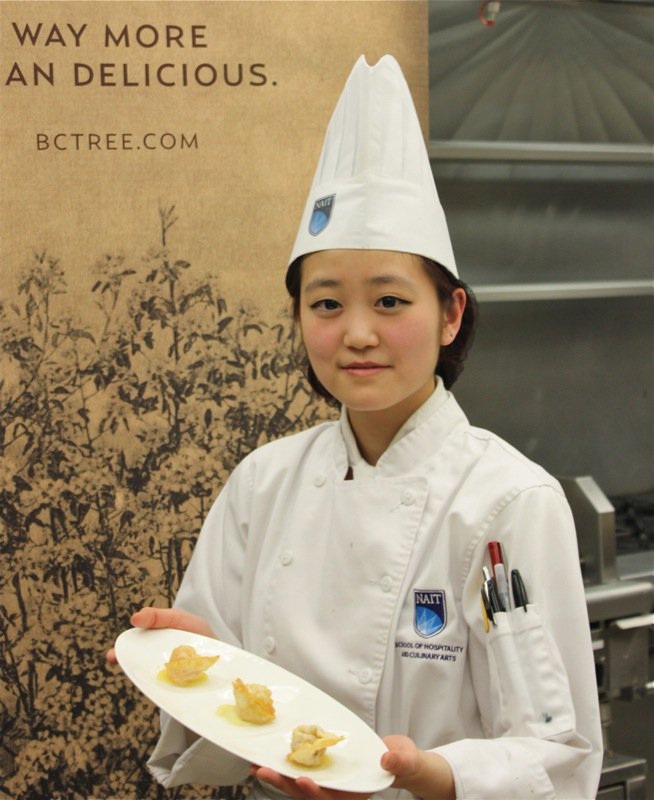 This is the second of what I hope to see an annual celebration of BC Tree Fruits world class Canadian apples! Sobey's and BC Tree Fruits have partnered to provide a motivating challenge for the students of our own internationally renowned local culinary institute: the Culinary Arts Program at NAIT. With five hundred dollars in cash from BC Tree Fruits and a five hundred dollars gift certificate in groceries from Sobey's for the winning participant, the stakes were high at the onset. We are talking big bucks, here! And what an incredible challenge it is. I am so honored to be a judge again this year.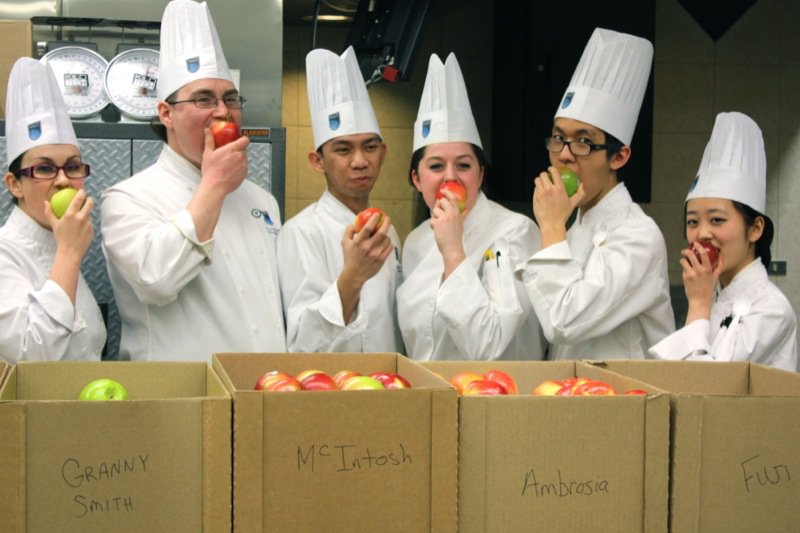 Above, from left to right are this year's participating challengers: Katie Oberst, Andrew Bishop, Emmanuel Aquino, Jillian Gordon,Tung Nguyen and Heena Kim; all first year student, but Andrew who is a second year student.Last year's challenge had 16 students participate and was an incredible all day event. This year, instructor Vinod Varshney and Chef James Szutarski went through an elimination process of all applicants and the final six are above. Each has had time to design their recipe and to prepare aspects of their dish with one hour to create it this evening for the judges. As you can see above, there are copious amounts of gorgeous, fragrant, crisp and crunchy, downright irresistible apples to work with, all grown in beau: Granny Smith, Ambrosia, Royal Gala, Fuji, McIntosh, and Golden Delicious.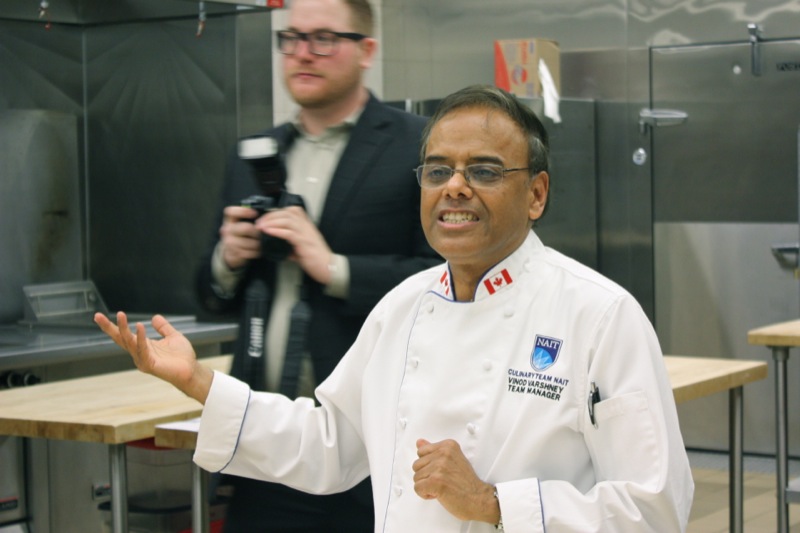 Vinod Varshney welcomes participants and judges (myself, Sobey's Home Economist, Barbara Lynn Barnes, and BC Tree Fruits nutritionist, Darcel Markgraf) as he has each student draw a number which will determine their time slot in the challenge. Each will start 5 minutes after the other and will have only one hour to complete. Judges have time to get ready!
Taste, presentation, creativity and kitchen skills were how each contestant was judged with taste being weighted double. The judges chimed in on the first three criteria and the instructors added their score for Kitchen Skills to the score sheet. It is never easy to judge taste, visual appeal, aroma, mouth feel and ingenuity of any chef's dish, but it isn't as hard as one would think, either. Palates vary, but inevitably, judges are very close when it comes to the winning candidate. And the losing one, too, for that matter. Each of these students was such a pleasure to watch. The innovative approaches to this challenge of these first and second year students was invigorating and inspired me to thoughtfully explore what I could and would actually do with an apple, in my home kitchn. Particularly as I have a gorgeous Harcourt tree in my own front yard!
Chris Pollock, Marketing Manager at BC Tree Fruits, Chef TJ with NAIT, Darcel Markgraf and Chef James Szutarski with Nait gettin' into the groove while the first couple of students get started on their dish. The apples are truly irresistable! Who could blame them? I didn't have time to discuss each pick, but did note that most chose the Royal Gala.
Sobeys, BC Tree Fruits and NAIT "cut to the core" of culinary creativity as they joined ranks to host this cooking contest to celebrate Apple Month. BC Tree Fruits is part of the Okanagan Tree Fruit Cooperative and is owned by over 580 local grower families. BC Tree Fruits markets and distributes a variety of BC grown fruit including apples, pears, cherries, peaches, apricots, prune plums and blueberries. BC Tree Fruits' head office is based in Kelowna, B.C. and we were so fortunate this year to have their Marketing Manager, Chris Pollock, and their Nutritionist, Darcel Markgraf join us for this year's event. Steve Hodges, Sobey's Marketing Manager, and Keri.Scobie, Sobey's Communications Manager.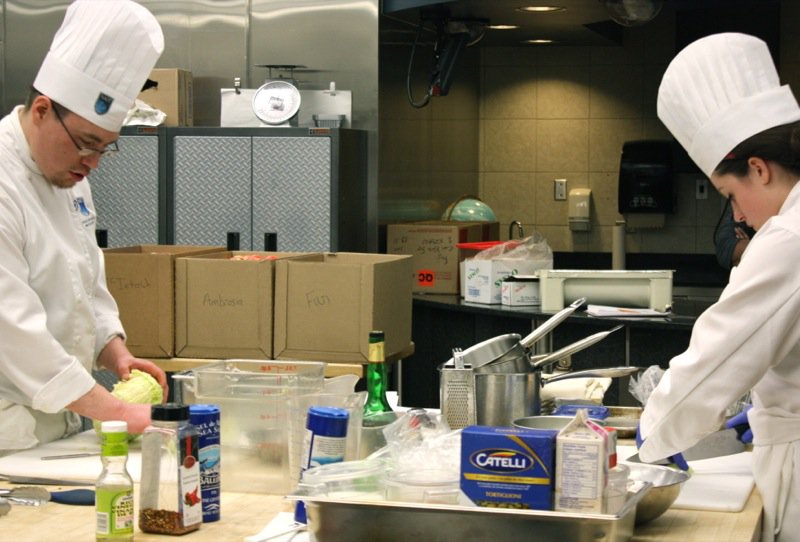 While the Nait Chefs judged the kitchen skills of each student, we chatted, trying to quiet our growling tummies. Apologies to all that my food photography skills are not up to standard here. Lighting and snapping is not easy in the midst of judging. I did my best, sadly. First dish is up!
Deep-Fried Caramelized Apple-Wrapped Shrimps with an Apple Coleslaw by Tung Nguyn
Tung wrapped thin slices of the Granny Smith apple around individual, plump raw shrimp, battered it and then deep fried it. It was such a delightful surprise. This could be a signature dish for a chef where shrimp are available regionally. The apple still held a crunch and a bold tart juicy welcome that paired perfectly with the buttery flesh of the shrimp and the deftly fried coating. I was wowed… until I at the slaw. How is it possible for a slaw to be so limp and lifeless? Sad, as this was a brilliant idea, but it is an easy fix, too. Once Tung gets a handle on making a great, crisp well seasoned slaw, he will be unsurpassable!
Q: What makes your apple recipe unique or innovative?
A: What makes my apple recipe unique is that there are hundreds of sweet apple recipes but not enough that include apples in a savoury dish. I incorporated the tart Granny Smith apple into both my coleslaw, to give it a refreshing taste, and in the deep-fried battered shrimp so that the natural light acidity of the Granny Smith, compliments the two dishes.
Apple Mousse Cake with a Cream Cheese Mousse and Caramel Sauce by Emmanuel Aquino
Emmanuel had planned on making a mousse that would set inside of a ringed mould over top of the shortbread cookie with a crunchy caramelized apple. Things did not go as planned. The apple didn't become crunchy or brittle: just to much moisture and too little time to get the product he was looking for. Then the mousse didn't set as firmly as he had hoped and his shortbread was also not baked quite enough. However, he impressed us by his innovative save of this dish. We were completely wowed by his ability to think on his feet and present and incredible taste treat completely different than his original plan, but still a very successful entry. The unplanned apple rose wowed us all.
Q: What makes your apple recipe unique or innovative?
A: This apple recipe is an apple mousse cake, but instead of doing a classic recipe, I am using a shortbread cookie as a base and topping it with an apple mousse, then finishing it with a caramel sauce on the side.
Apple & Bacon Buckwheat Fritters with a Cider Maple Dipping Sauce by Katie Oberst
Katie's dish was deadly delicious: think light fluffy frittery fat. Now, don't say "ewww!" and pretend you don't like fatty food. Clearly, everyone does. These fritters were light and lively and sumptuously fatty without being greasy. How did she do that? And, with buckwheat flour, I might add. Usually that builds a heavier anything you make with it. My only criticism: I could not taste the bacon. I am sad I didn't take a photo of the inside of these, but clearly, they were too yummy.
Q: What makes your apple recipe unique or innovative?
A: Fritters are a very common recipe, but my recipe is unique because of the addition of bacon, buckwheat and apple cider in my dipping sauce.
Name: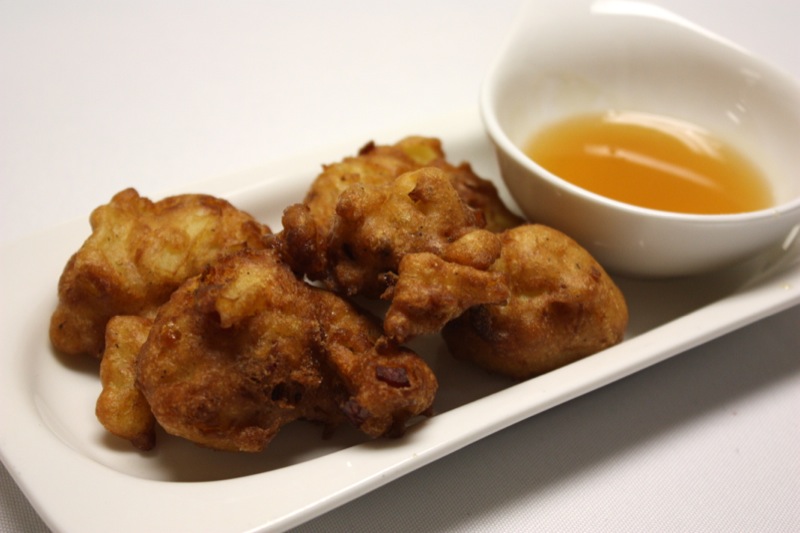 A Tasting Trio of Apple Wontons by Heena Kim
Heena was intense and focused during her work. She was my personal number one pick for several reasons. She used the brunoise cut for her "salad" wonton and the precision she employed with this technique left the crunchy bits dance on the tongue. The visual appeal had me uttering throaty gutteral gasps of pleasure and the flavour was lively and sparkled because the cut added to the taste experience. She used different apples with each, justifying her reasoning and created a different sauce with each. The salad was complimented with a lemon citrus apple sauce. The luscious luxurious buttery bite of perfectly cooked fresh lobster was next. Wanting. She left me wanting. That is rare for me when judging food. The first bite woke up and brightened my palate, while the second sent me into an ecstatic eye-rolling over-the-top and out-of-body heavenly experience. "Lip-smacking yum" just doesn't cut it, here. The apple sauce was laced with an equally comforting velvety cream. Last, and not the best, was her apple pie wonton with a honey apple sauce. it was nice. Not a grand finale, but this is a first year student and she got top marks from me. I wanted more! We all did.
Q: What makes your apple recipe unique or innovative?
A: One unique factor about my recipe is that I am using apple in something that people normally wouldn't associate apples with. As wontons is an Asian dish, I have created a fusion of Asian food with a common North American fruit. You can experience all three courses of one meal in each crispy bite: your salad, your main, and your dessert.
Asian Apple Salad Rolls with Spicy Candied Cashews and an Apple Ginger Dip by Andrew Bishop
Andrew's creative use of apples in this recipe was brilliant. Even more appealing was that Andrew used easily accessible Canadian prairie winter vegetables for his dish: roots and cabbage. That is seasonal, smart and when coupled with this clean Asian Salad role, an outstanding fusion with our multicultural heritage. The cabbage wraps were crisp, tangy, fand pleasing to the palate and the eye. They did lack depth. The dip elevated them to the front of the stage this evening. And the dip? Sensational! I could have eaten a bowl of this dip with a spoon: applesauce, a bold hit of ginger, and candied nuts. Incredible. Not only that, Andrew is right on trend: this is a vegan dish and celiac friendly. A suggestion? Add the nuts to the rolls? I was missing a protein in the roll. Something substantial. Yet, who can complain? Not I. I am still a fan of Andrew!
Q: What makes your apple recipe unique or innovative?
A: As a cold appetizer, it incorporates apples in two different ways. As part of the dip and inside the salad roll. It is a combination of a salad and finger food: easy to make and no fuss to eat. As well, the dish is vegan and celiac friendly. (Vegan-friendly without the use of fish sauce.)
I am happy to add that Andrew won a $250 Sobeys Gift Card and $250 Cash from BC Tree Fruits as he came in second place.
Savoury Apple Mac & Cheese by Jillian Gordon
This was the dish that had me hanging around the kitchen before the judging started. Apples and cheese are the perfect pairing and this recipe sounded homey and decadent all at once. Jillian got a crisp deep fried skin on her diced apples that I didn't think was possible and the sauce was calling my name. I could have thrust my face in it if it wasn't so hot. Yet, the dish didn't live up to the hype I imagined in my own head. The choice of Gruyere cheese was very smart and outstanding in this dish with the apples. I had thought the Apple Smoked Cheddar would be a great addition, yet the smoke was distracting, and just did not belong in this dish. The concept of an apple mac and cheese is novel and smart. It just wasn't clean. There were too many elements fighting with one another for the spotlight. The Cardamon and Calvados were a great ideas, but got lost in the muddle. And that is what happened. It was a muddle. There wasn't any crunchy Streusel topping and the dehydrated apples were just, well, limp and ineffective. The colour was a muddy off putting earthy grey. There was just way too much going on. We were all so impressed with the incorporation of so many apple ideas on so many levels, but it didn't work. Does that mean I didn't like it? Heck, no! It was a satisfying cheesy plate. Jillian has a winning recipe in here and just needs to tone it down to draw it out.
Q: What makes your apple recipe unique or innovative?
A: My recipe is meant to be a melody between the savory aspects of apples and the smooth, creamy and rich aspect of cheese: specifically macaroni and cheese. I have incorporated the use of apple throughout the recipe as there is Calvados Apple Liqueur and caramelized apples in the sauce, assorted dehydrated apples in the streusel-like crust and I have chosen applewood smoked white cheddar for the sauce. As well, I have decided to use spiral pasta, rather than traditional macaroni noodles, to give the dish a modern spin and the spirals will hold the sauce well and a good vessel for the caramelized apple bits. All together, I think this dish is new, unique and still honours the traditional comfort feel of a mac and cheese dish. It will pack a savory punch of flavour and has tremendous character which will showcase the versatility of apples.
Jillian took third prize with $150 Sobeys Gift Card and $150 Cash from BC Tree Fruits.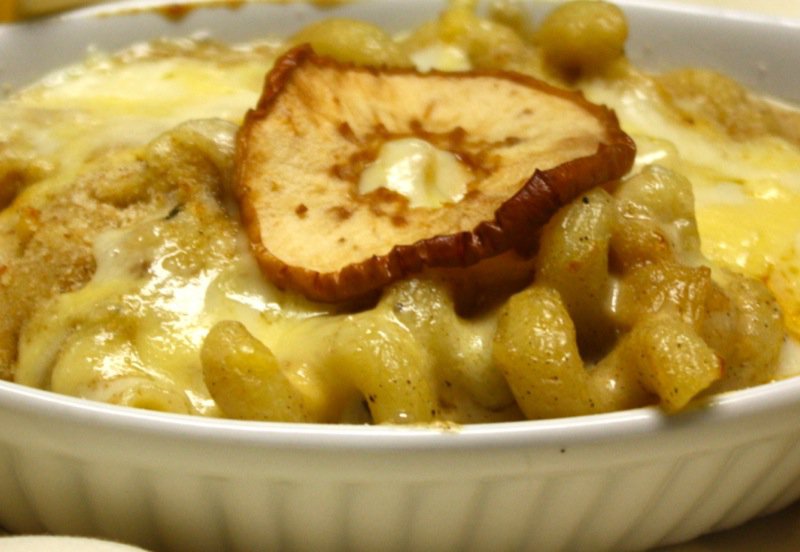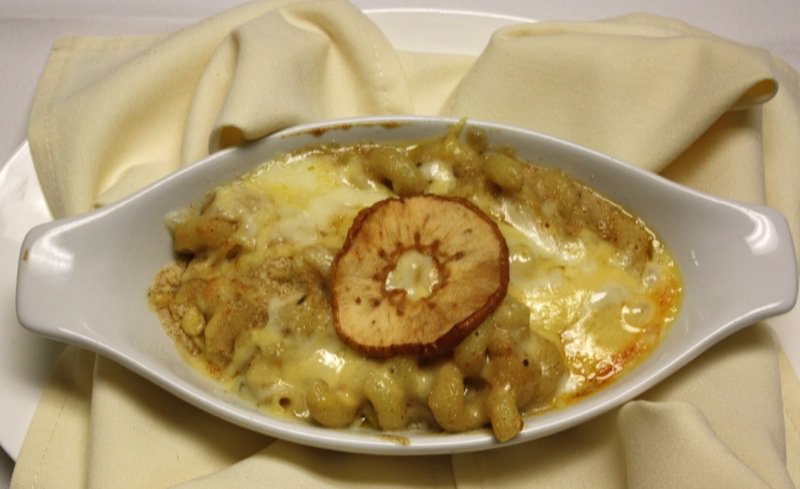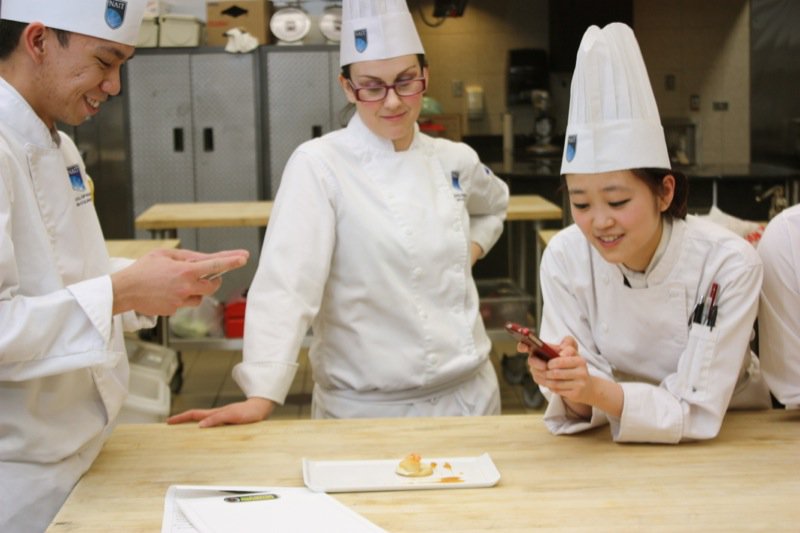 Gratifying to see these relationships develop as the students learned from one another. Witnessing the support they offered each other after the cooking was complete is why I love to do what I do. There is nothing like collaborating and learning how to cook authentic food from scratch. To be able to develop a circle of like minded friends to support what you love to do makes all the difference for these young learners. Below, a celebration of their success with a new face in the crowd: Steve Hodges, Sobey's Marketing Manager.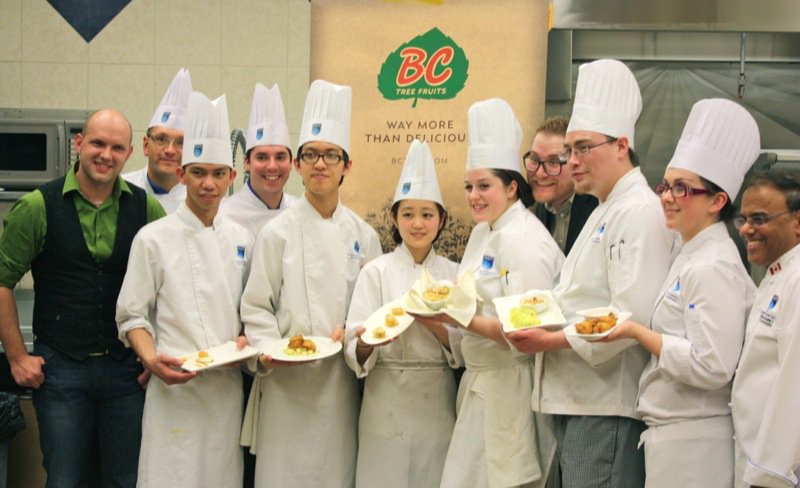 An evening celebrating authentic student learning, the gorgeous Canadian BC Tree Fruit apples, and a winning collaboration between Sobey's, NAIT Culinary Arts and BC Tree Fruits. What more could one ask? Oh, and new friends! Now that is a winning combination. I cannot wait until next year!