Edmonton's Local Food Community and Mount Royal School Rock it Out: Year Three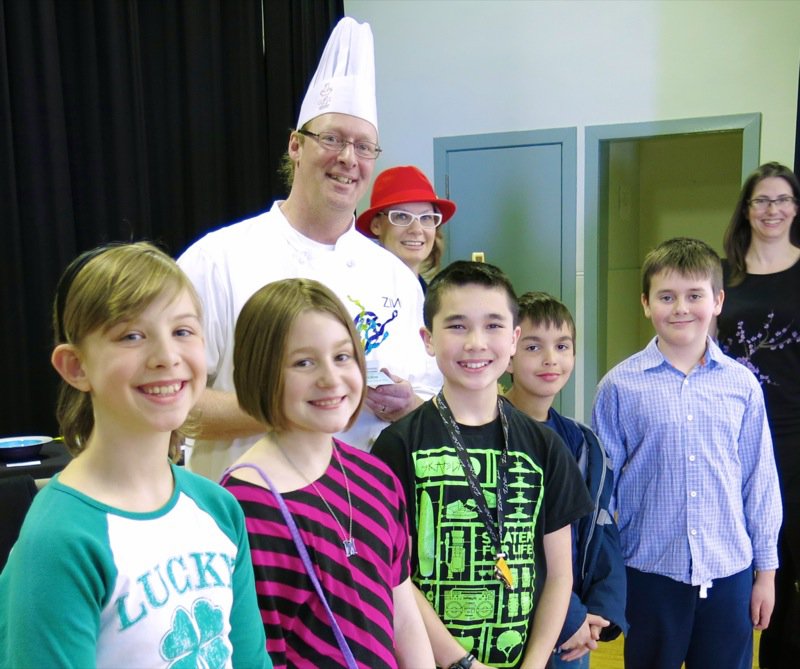 I am again so humble and honoured to judge year three of Mount Royal School's unbelievably successful school fundraising event: The Culinary Cook Off. Teaching school for 30 years with Edmonton Public Schools, I have never seen such a successful community attended event hosted by any elementary school – and raise the 16 thousand dollars this event has raised for the art program at each year of this event. Karlynn Johnson, of The Kitchen Magpie, and SuperMama in my books, spearheaded this event year one, and built her team. Year One: Macaroni and Cheese; Year Two: Sliders!; Year Three: Doodles and Noodles. This school really pulls together and works as a team, as well. Each year, it gets leaner and cleaner and I think I even saw some of the organizing committee actaully have time for a bit of fun this year. Above, the students judges award Chef David Omar from ZInc with the Student Choice Award.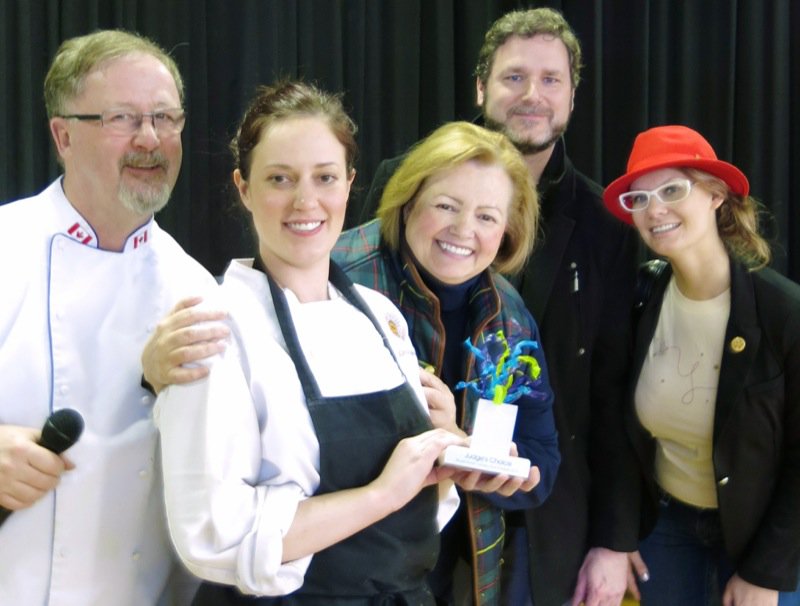 Chef Stanley Townsend offered me the opportunity to announce the Judges Choice Award to Chef Lindsay Porter from Mercer's Catering. The students from this fine art focused school designed and hand made each award. Chef Stanley Townsend from NAIT (Program Chair, Culinary Arts Diploma, NAIT School of Hospitality and Culinary Arts), Liane Faulder, food writer from The Edmonton Journal (had to run before photos), and myself have participated all three years as judges. This year, Phil Wilson from Baconhound and Jenny Marshall from YELP joined the team. Interestingly, I taught and loved Jenny throughout her grade one and two years at school and saw her grow up all the way to junior high, then lost track of her until recently. Her ethereal creative spark and inquisitive joy for life so apparent in her early years is even more gorgeous, now. Judging alongside the student judges is my favourite part of the tasting. Young palates are quite sophisticated and children really do know what they like, and why or why not. Their evaluations and observations of each taste was not much different that our "sophisticated" team.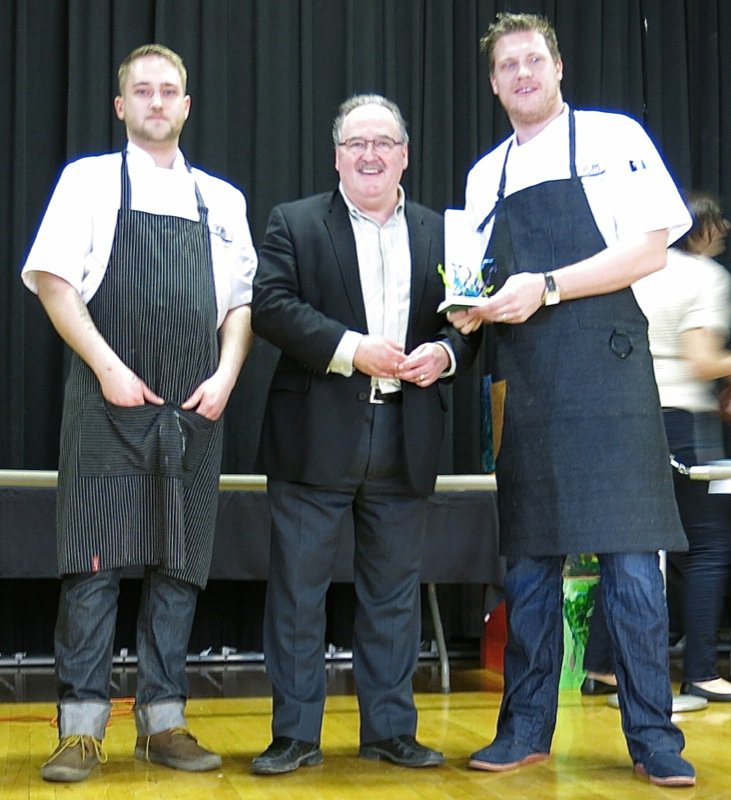 Chef Alex Sneazewell from Von's was awarded most creative noodle (photo not available), and later awarded the People's Choice by The Honorable Brian Mason, current leader of Alberta's New Democratic Party. You have probably sensed by now that this is not a small time neighbourhood event. It is an event that involves the key players in Edmonton's local food community as well as politicians, media celebrities as well as the entire neighbourhood!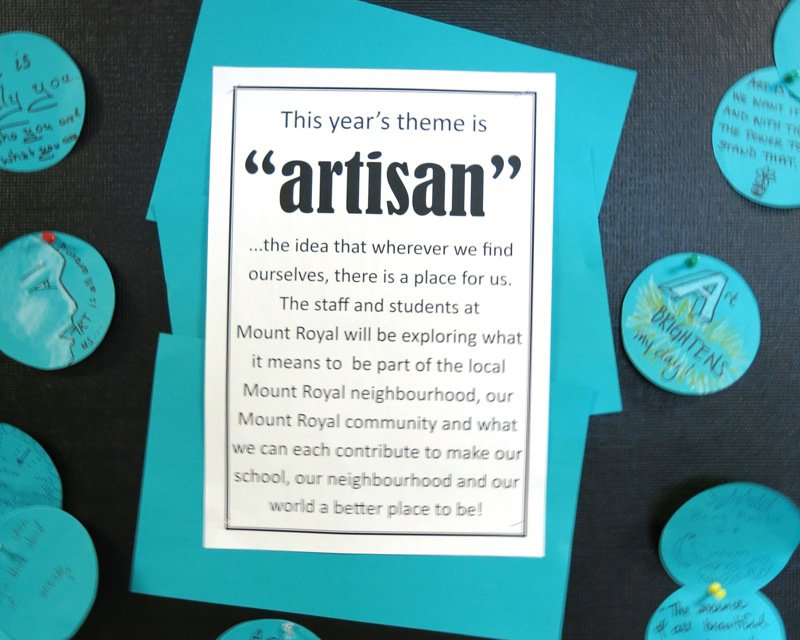 ART-IS-AN….
Student art work covered the walls, tables and was evident at every turn in this school. Tickets were sold for tasting the noodles and a great way to have a fun family tasting lunch. There were gorgeous silent auction items donated from every niche in the city. Usually, silent auctions are a waste of time. Not here. Student art work was also purchased… and so worthy of purchase.
Now, on to the food and the judging process. There were 9 chefs and restaurants participating, so nine tastes. Each was to be "marked" in each of the 4 areas out of 5. Oh, what fun we had whiffing and sniffing, eying and spying, tasting and wasting, feeling the food on our tongue, chewing and chomping – and, then blinking and thinking. Not an easy process. Not at all. There wasn't much chat about what we liked and what we didn't. There was a lot more chat about,"How is the pasta cooked? Is the pasta the main event?"
This was the first year that each judge didn't get a plate of food and that made so much sense as the waste the last two years was upsetting and the tummy was just as upset at the end of the tasting. We each took a portion from the main dish to sample. Next year, we will ask for two plates as the food gets too cold after sniffing and eying it. There also wasn't enough of some items to go around – like one egg will not portion out to 10 tastes – and there were 10 of us. Yet, all in all, the process was as smooth as silk.
Criteria for Oodles and Doodles
Taste and Flavour
Appearance and Presenation
Texture and Consistency
Creativity and Innovation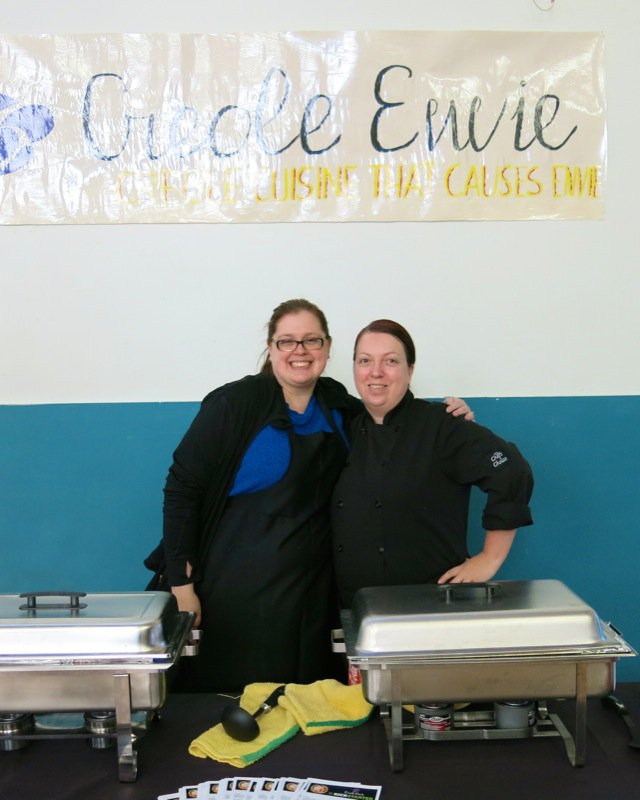 Chef Danielle Majeau and team from Creole Envy prepared Rigatoni with Alligator Sausage and Creole Tomato Sauce with a little extra persuasion for the judges: fresh crawfish! This was my very first experience with crawfish, yet I had no problem pulling them apart and figuring them out. Hard to share 4 crawfish amongst 10 judges, but that wasn't really what we were to be evaluating. However, if you suck their heads, that reminds me or the tami inside of lobster that people either love, or hate. I would be the later. The tail is very similar in flavour and texture to a lobster tail… just waaaayyyy smaller. But, I could sit beside a bucket of these and happily peel and afternoon through it. They were succulent, buttery and addictive. The pasta? Sadly, not memorable. It was overcooked, and gummy. The alligator sausage was unexpectedly delicious and a huge novel hit with all of the kids.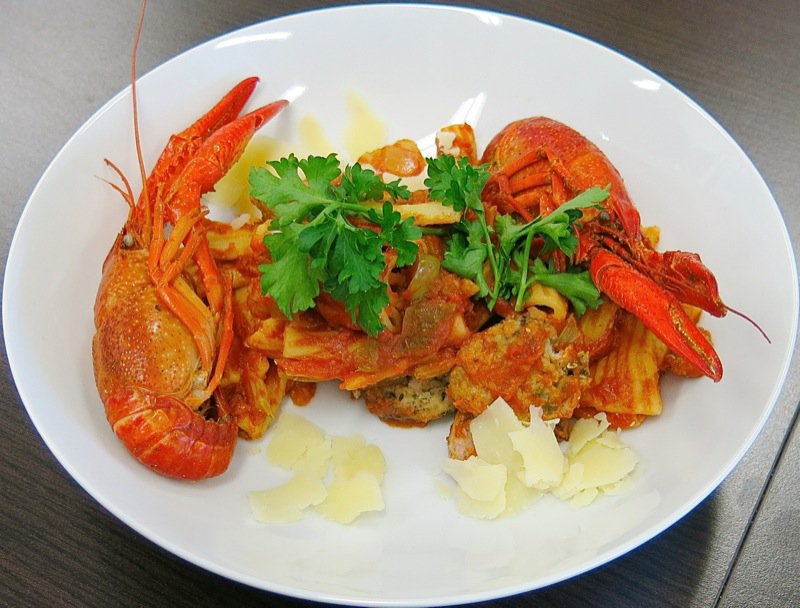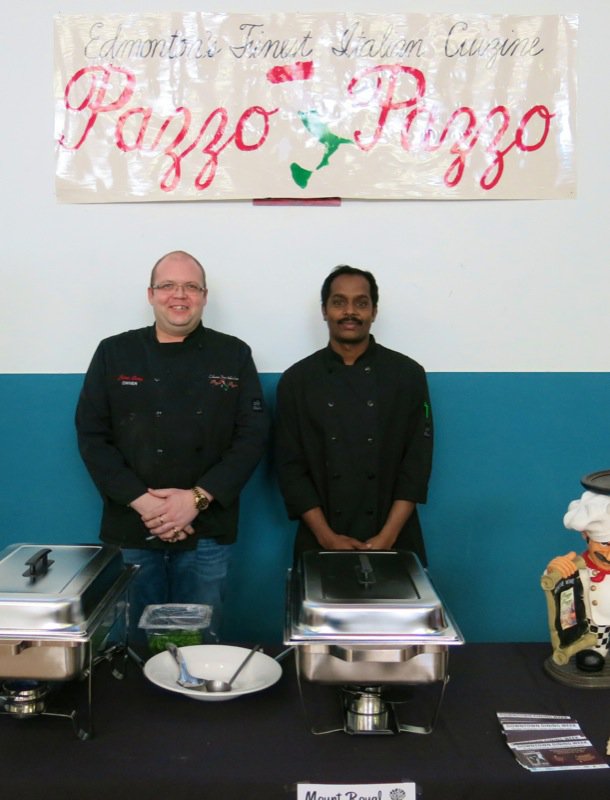 These two serious faced fellows from Pazzo Pazzo can cook up a mighty tasty bowl of classic tomato pasta. The pasta was done with exceptional finesse. El dente to a tee(th)! Penne with butter-tender beef tenderloin, olives, capers and peppers: each little nuggets of treasure worth digging through the pasta for. The eggplant, pepper, zucchini and tomato sauce had definitely been cooked low and slow into a thick glistening paste that coated each pasta portion perfectly. After the first sample, everyone's eyes lit up. I was sure we had a winner. And, just because this dish did not win, does not mean it is not a winning dish. I would be so satisfied and pleased to have a bowl of this anywhere. Classic perfection.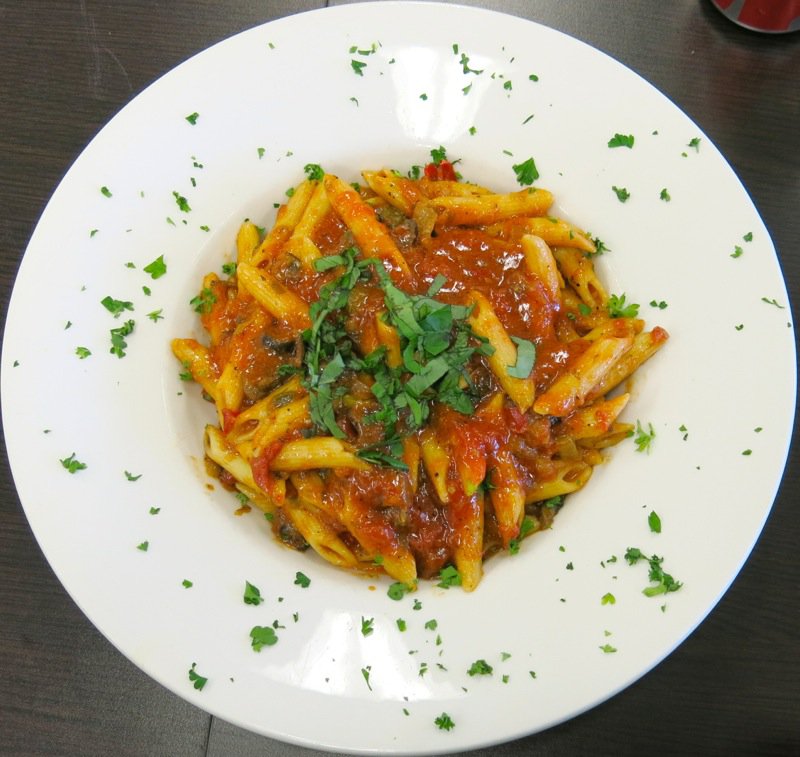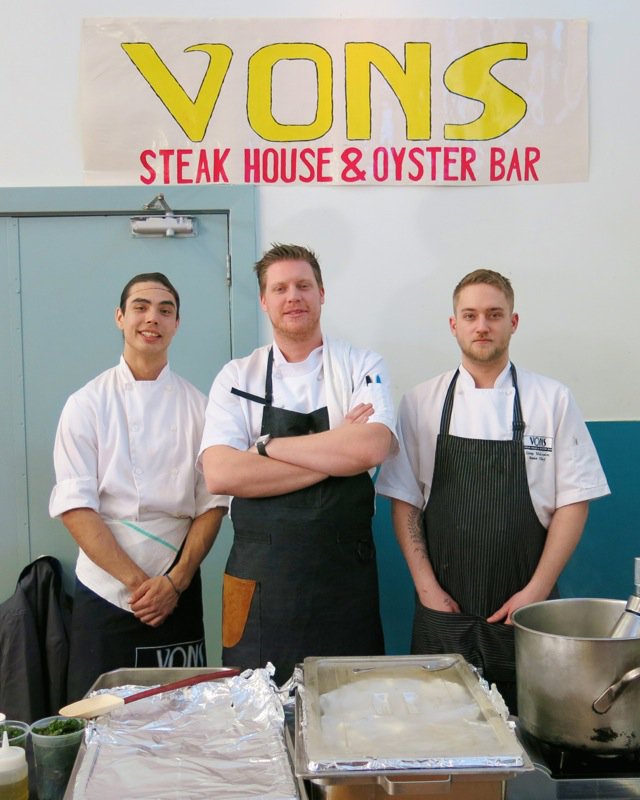 I confess. I am biased. I will come clean right here and right now. I really like Alex Sneazewell's food. I know his parents, like them a lot, and remember Alex as a young, still tall, 10 year old boy. However, I would not be biased if he wasn't really good at what he does. He is a creative fellow with an exuberant passion for food that is simply contagious. Smoked Marinara Ravioli with fatty, chewy, unctuous umami laden Wild Boar Bacon, Crispy Basil Chips and Parmesan Foam? Come on! Now, some might say, "Hey, that is way over the top and is just too much." And they could say whatever they want, but did they taste it? This dish was exceptional. The balance of flavour, texture and even the weight of the food on the tongue – each well considered. The smoky ravioli was a subtle smoke which soothed the sharp flavour of the foam and moved the wild boar bacon to centre stage. The ultra thin pasta was the star – cooked to perfection. The basil chips served as little pop rocks dancing o're the surface of the dish and bursting into the unexpected in one's mouth. This was the winner. Hands down. No one could make a better pasta dish than this. Period. I would order this any time and it should absolutely be on Von's Menu. I would take my friends just for this dish. Watch out, Edmonton, Alex Sneazewell has landed.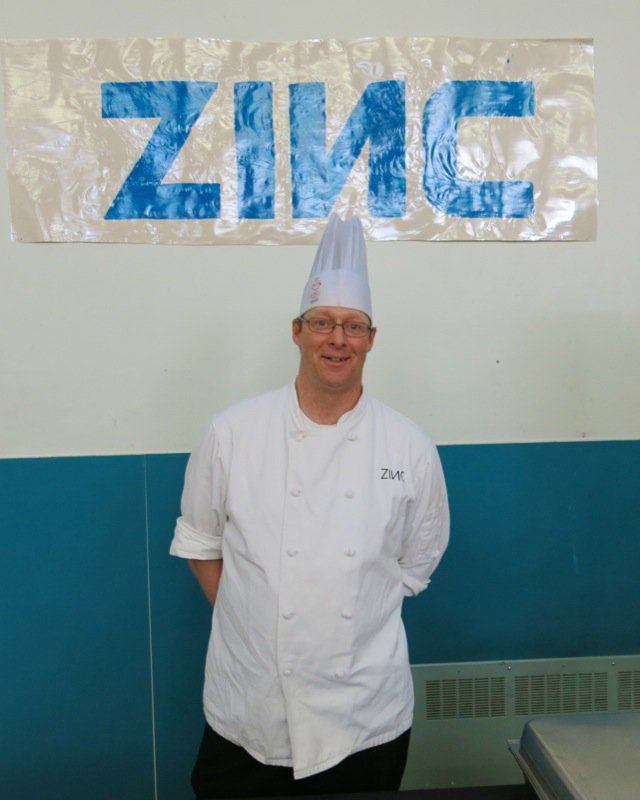 Chef David Omar from Zinc is known for thinking out of the box. The macaroni and cheese year, he made hand rolled chocolate pasta with a cheesy cherry filling. It was unforgettable. This year he wowed us all with his Rasperry Cheesecake Manacotti on a stick with Graham Cracker Crumbs. Now this bite was decadent. It actually could have won first place, but the pasta was just not the star… almost hidden, and then it was really undercooked. We really didn't care, though. There was lip-smackin' and finger lickin' and begging for seconds going on during this round. Oh, yes there was. (I loved the sticks, too – and you can see Phil was up to his usual antics!)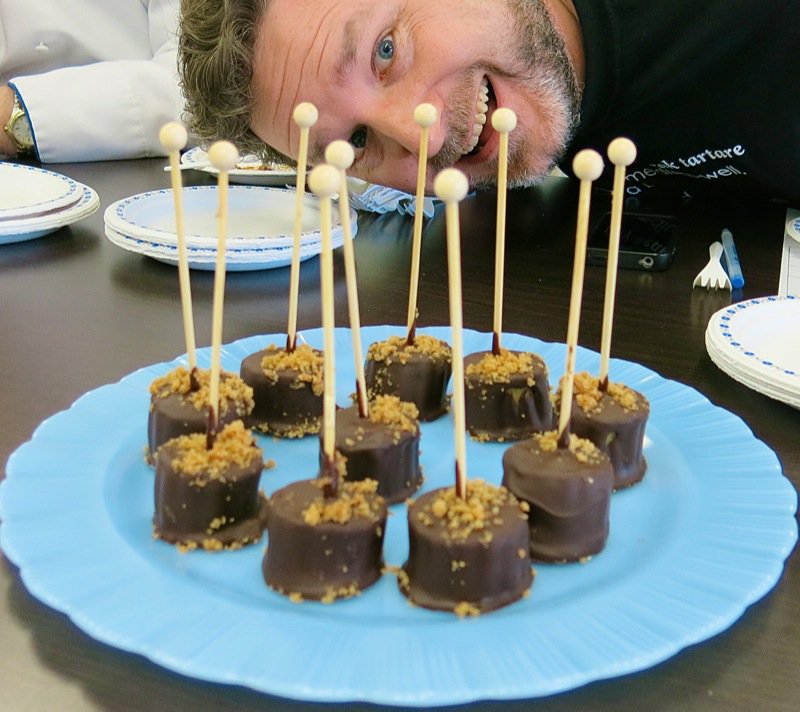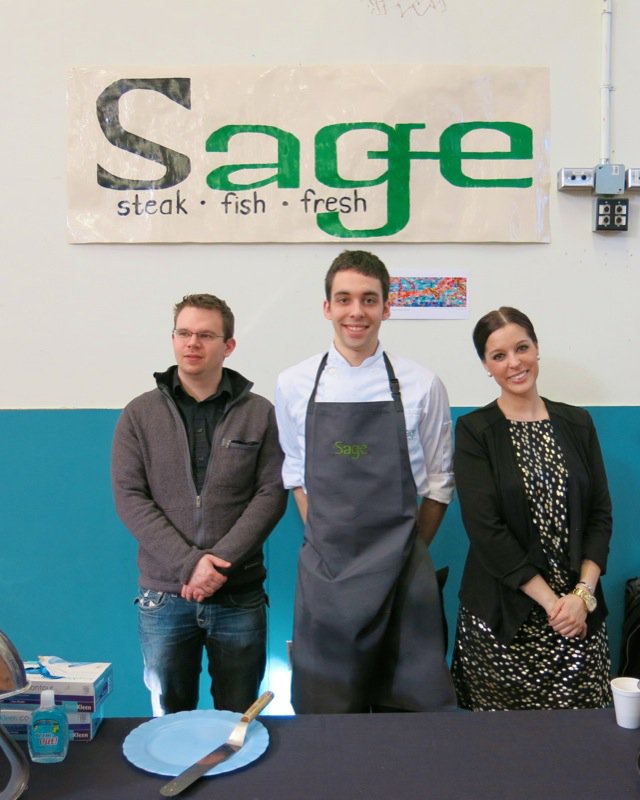 I almost don't want to write about this dish as I adore Chef Shane Chartrand. His food is world class and I have never had anything close to this calibre from his clever hand before. Yes, this dish fell. Hard. It was Spatzle with Bratwurst. Clever idea, but the whole point of spatzle is its texture. Squiggly little doodles of it curl into a boiling water bath that sets its shape and it almost bounces to the surface immediately, indicating it's done. Every spatzle I have eaten is then flavoured by being tossed in a butter or saucy concoction, or fried. The flavour comes from the sauce; the delightfully unexpected mouth feel, from the spatzle. Yet, not this time. The spatzle was glued together with three sauces that may have each been tasty, but together – not so much. This dish read like a gluey-gummy mac n cheese made by a first timer. However in the world did that happen? Chef Chartrand was instrumental to getting all Chefs on board for the first Culinary Cook Off and without his tenacity and perseverance, it might not have happened. He is still my hero. Everyone can have a bad day.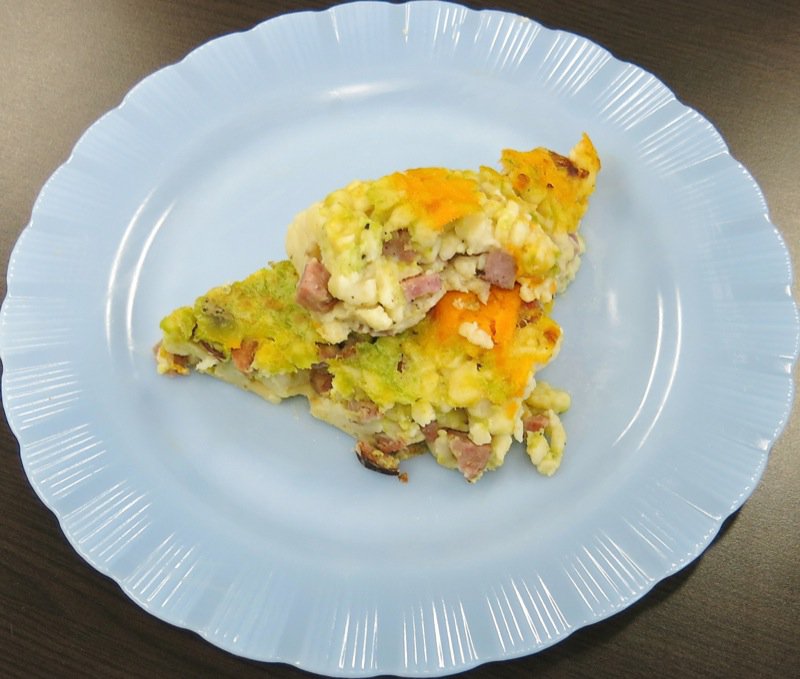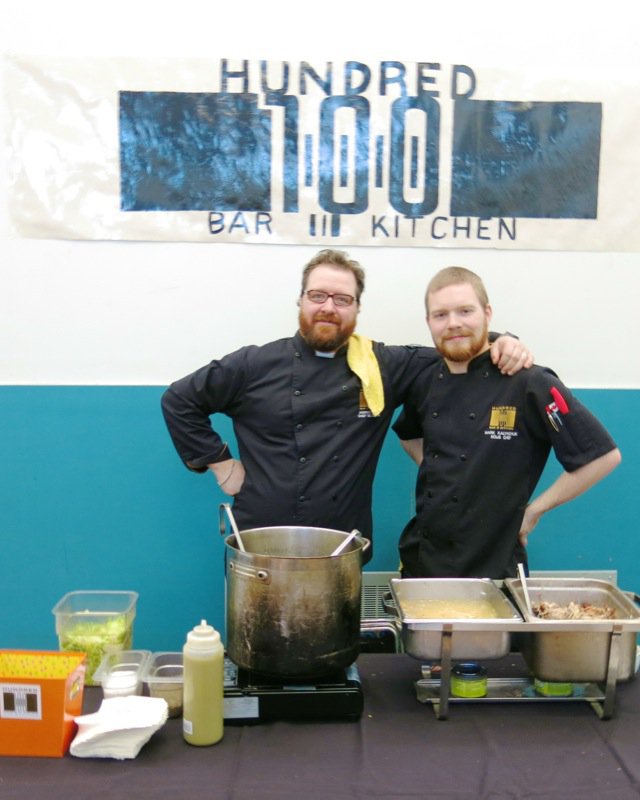 Chef Andrew Cowan is a favourite at this event, and with every #yegfood afficionado who loves pig and sous vide cooking. He champions both. This year, Chef Cowan wowed us with a 63° egg in a gorgeous tender shredded pork shoulder laden fragrant bowl of porky-brothed ramen noodles. Oh, my. Chef Stanley dropped his spoon. Eyeballs rolled back in his head. He stood at attention and sang, "Hallelujah!" Then sat down and slurped up more. The egg made the dish. If you have never had a 63° egg, put it on your bucket list. The consistency of the yolk is undefinable: something like Hollandaise sauce, but much better. It is silken on the tongue and possesses the magic of Midas' touch to anything served with it. All is transformed to an ethereal dimension. Those of us who got some egg, that is – were suspended in time, and enraptured. Sadly, one egg does not divide into 10, and one runny yolk barely divides into three. Ah, well! The dish was brilliant. It should go on the menu at the restaurant. Now.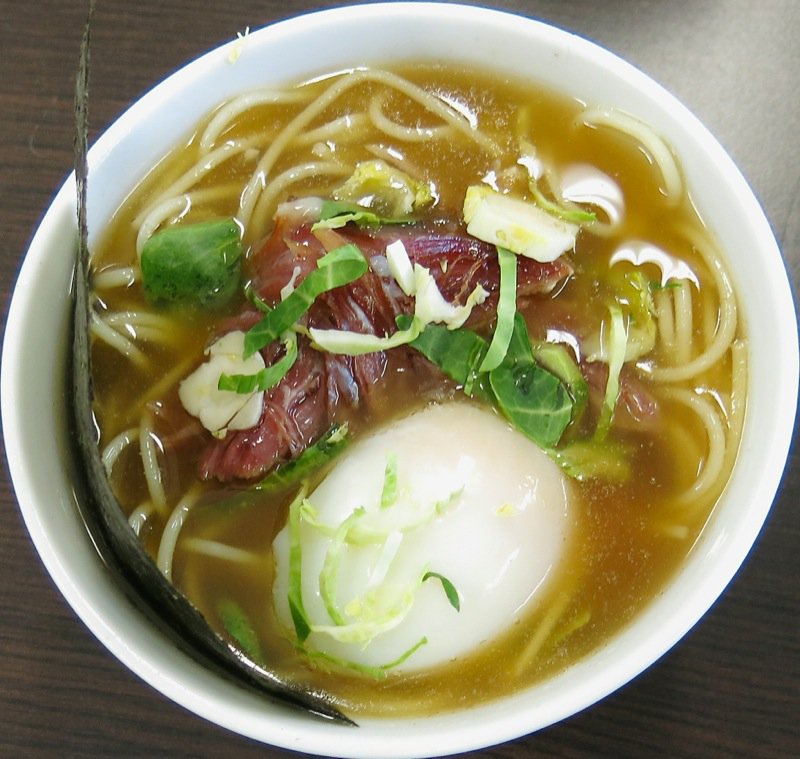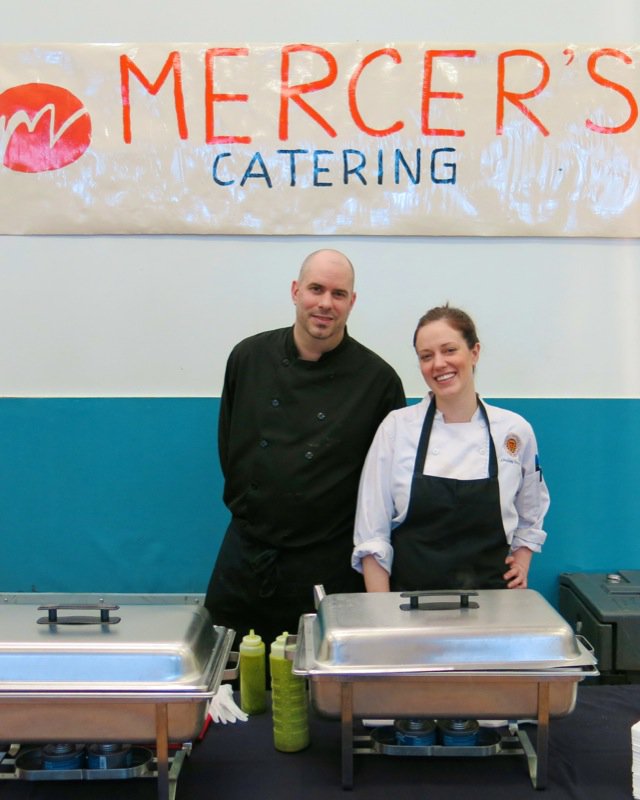 Now, who and what do we have here? You may have noticed that some of the plates presented to us were not very pretty. Some were exceptional, but some were dismal. This is one that was definitely dressed for the party. Lyndsay Porter and team never fail to please. Some judges questioned: "Do pyrogies qualify as pasta?" There was some discussion about this idea being so far out of the box that it maybe couldn't count. However, most did feel any kind of pasta or dough would mean the chef was doodling with noodles. Gorgeous to look at, familiar to the nose, chanting a little quite mantra, "Dive in! Dive in!" Once divied up and tasted, oh… you should have heard us. There was a deep throaty guttural harmonious purring in the room that lasted a good 15 to 20 seconds. This is delicious! This one is the winner! Pyrogy style mac n cheese with Alfredo sauce, garnished with green onion, bacon and sour cream, decorated with green oil crowned with a squiggle of spaghetti squash giggling and jiggling all over the middle of the plate. Oh, joy. What a fun dish. Never underestimate the effect of a fresh green onion on top of a rich dish.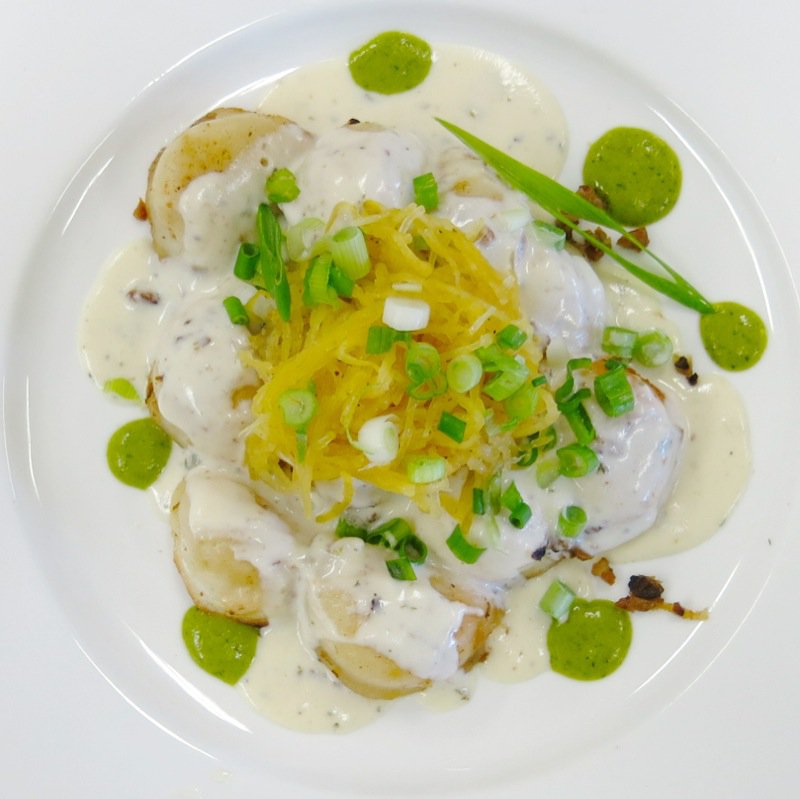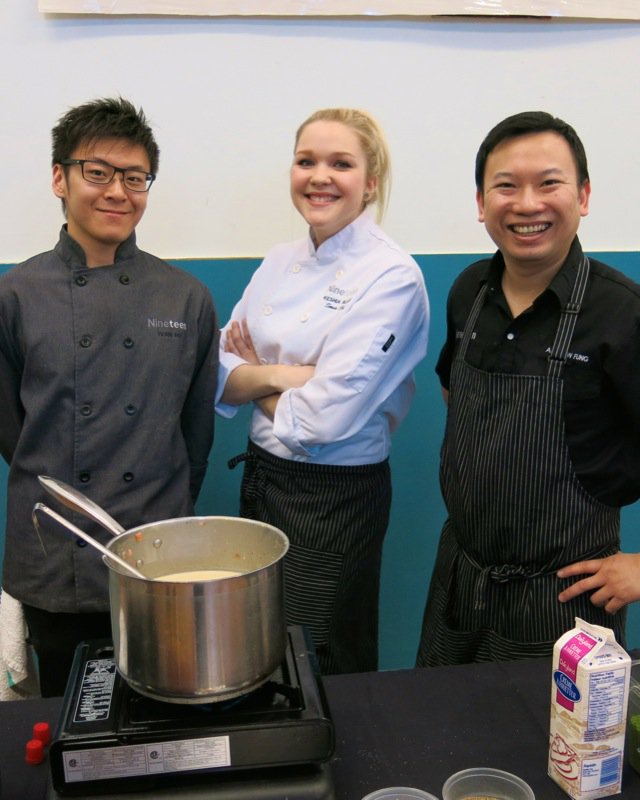 Another 63° egg, but this one was poached straight into the water; Andrew Cowan's was cooked in the shell. I did take notes, and these are the only set I cannot read. Yet, taste memory is a powerful thing and though I cannot recall what is in the dish per se, I do recall my taste experience. Certainly, any dish near the end of the day as we used to judge never got a fair shake. But, I am still in the game, my palate is alive and we are still very capable of visual appeal, taste, and aroma after seven tastes. This is a nice looking dish. It completely lacked seasoning. The pork flavour and texture was actually off putting: dry and stringy and odd. The pasta was over cooked and gummy. The over arching word for this plate would be bland. The egg was undercooked for a 63° egg. The albumin was still transparent and the yolk held the promise of a 63° egg, but not the appeal. It fell short, and it fell flat. This is not the quality of food we have come to know and love and look forward to from our local hero Chef Andrew Fung of XIX. This was his first time at the Culinary Cook Off. I really hope he and his team come back so everyone can experience what he is truly capable of.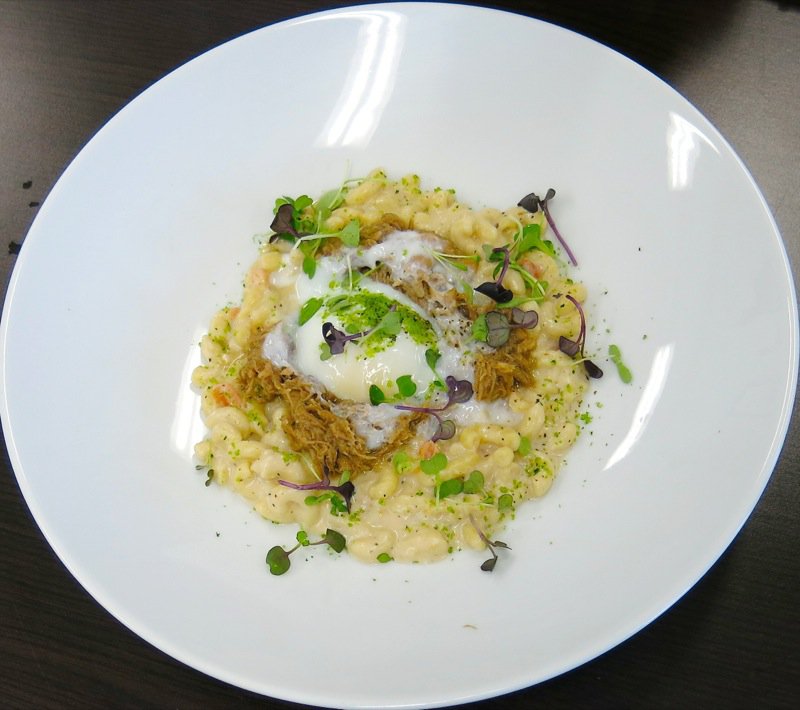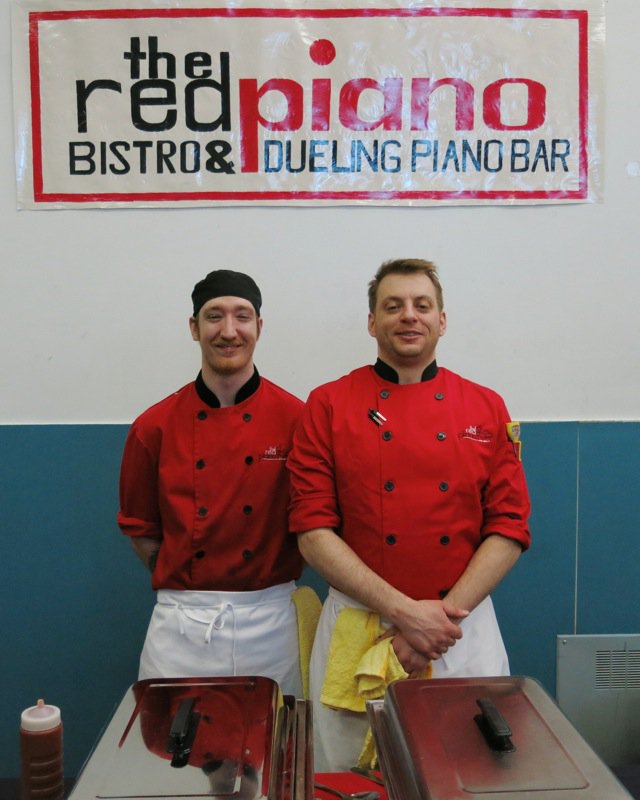 The Red Piano Bistro and Dueling Piano Bar joined the frey and came in with cavatappi and rock crab with smoked cheddar and fontina cheese with fresh herbs. A spicy house made ketchup garnished the dish. We were all excited to see crab claws. Theoretically, fish and cheese don't go together, but we all know that lobster and macaroni is spectacular and crab with a cheesy pasta is equally as tantalizing. However, sadly, there was not enough crab in this dish, the pasta was overcooked and gummy and the lack of seasoning just left the dish fall flat. The house ketchup was yummy, though. Every other year, there was a clear winner, head and shoulders above the rest. Not this year. So, in all fairness to the Red Piano fellows, we tasted their dish last, it had waited the longest… our palates were almost dead, and they had some very stiff competition this year.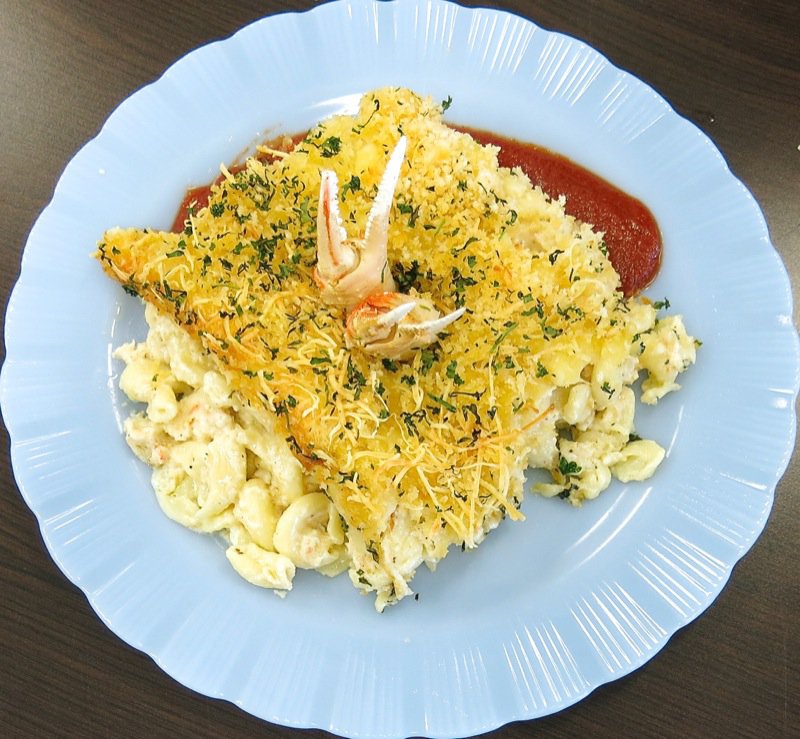 This is the staff room where the magic happened. Each dish was served on a new paper plate and attacked by a clean plastic fork. It is my wish that this event continues forever and that I get to be a judge with the incredible students at this school. It is a highlight of my year. Retired from teaching now, it is the only time I get back into a school, and I miss those little geniuses a great deal. Mount Royal School is a family. There is no doubt about it. This is a school I would drive all the way across the city to send my children to, as well. Fortunately, as a teacher within Edmonton Public Schools for 30 years, I can say that I have never taught in a school that didn't put the students first. We have an exceptional district. But, there is something wrong with this picture – a little more than just a little.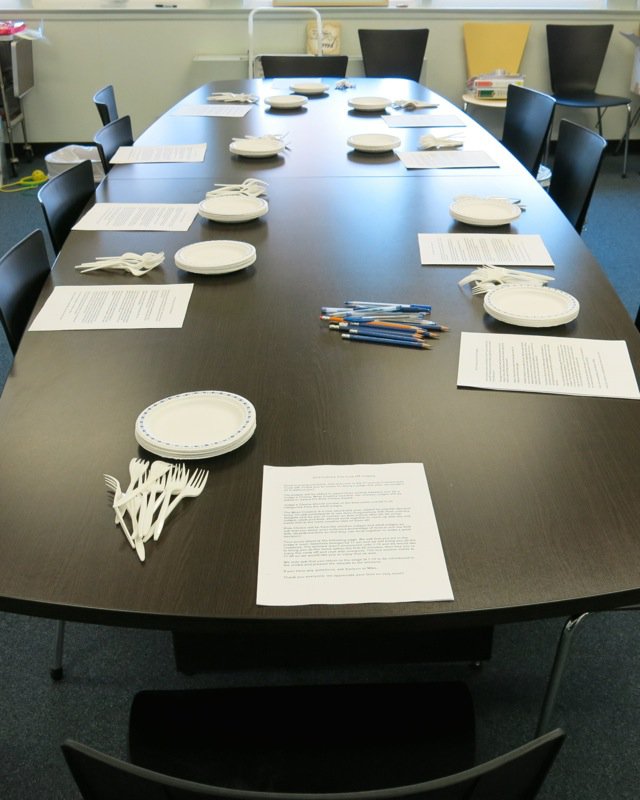 I read in Reader's Digest once that if the Department of Highways had to hold bake sales to pave roads, the world would wonder what was seriously wrong with the politicians, the infrastructure of the city and the state of affairs in that country. But, here were are in Alberta, the richest province in Canada, and we do it all of the time. I fervently believe in public education, but until our government starts to value this institution and sees the same quality of education as a fundamental right and believes every single child has the right to the best quality of education possible, we will find phenomenal schools like this raising phenomenal amounts of money because their kids need it. It is that simple. Let me rant just one minute: there is no way. Read my lips: NO WAY – that any teacher can provide the same quality of education to a classroom full of 35 students as were provided just a few years ago to a room of 25 students. I have personally been there. Personally done that. Am vehemently proud of every single day I spent in the classroom with every single precious little soul – but, I was there when the librarians disappeared. I was there when the school counsellors disappeared. I was there when we rolled back our wages willingly for 5%. I was there when consultants started to disappear. I was there when consultant support then had to be paid for by the school. I have seen the system change dramatically this past 30 years, and it is not pretty, people. Stand up for the kids. Stand up for those living in less fortunate neighbourhoods with less capable parents. There is nothing more important in any country than the education of our youth. Just stand up.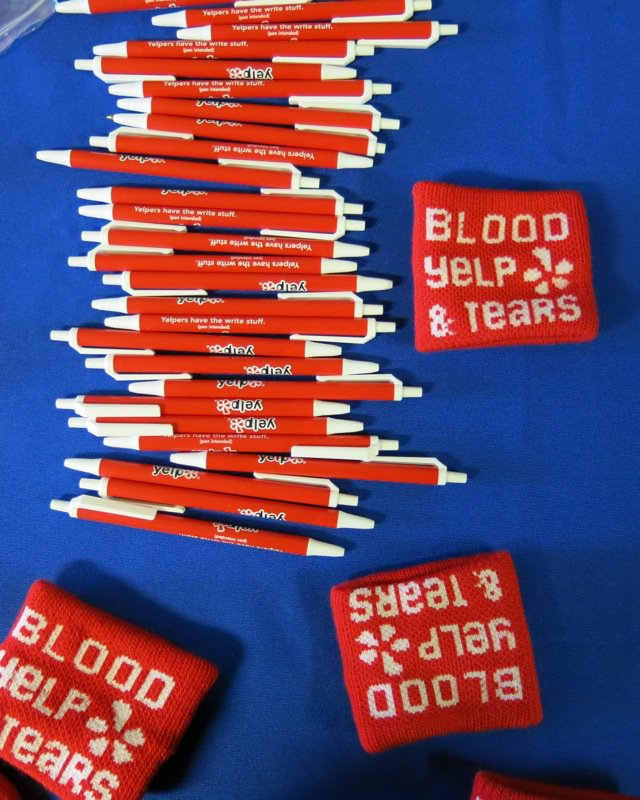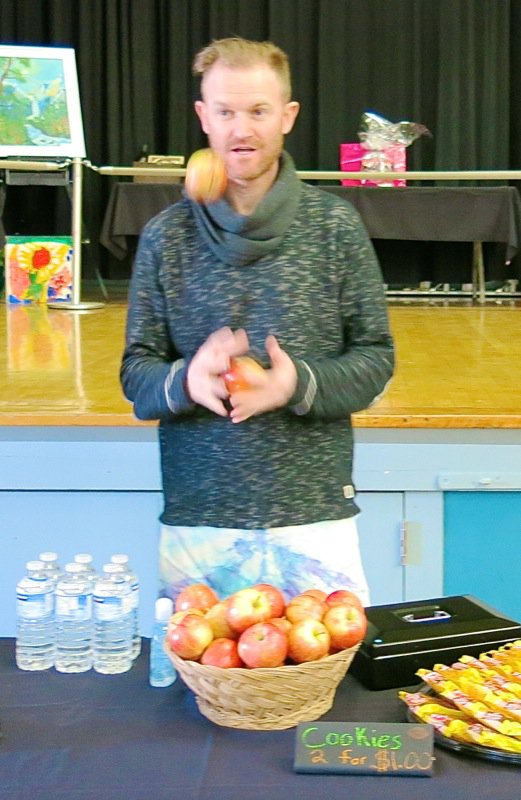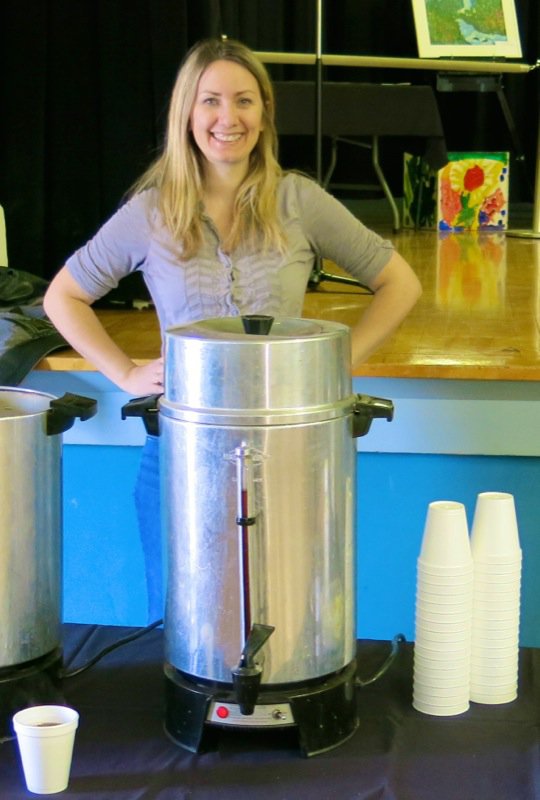 After that passionate rant, a little silly business is in order! Above, apple juggling; below, facial antics! One can always count on Chef Stanley to crack up a crowd!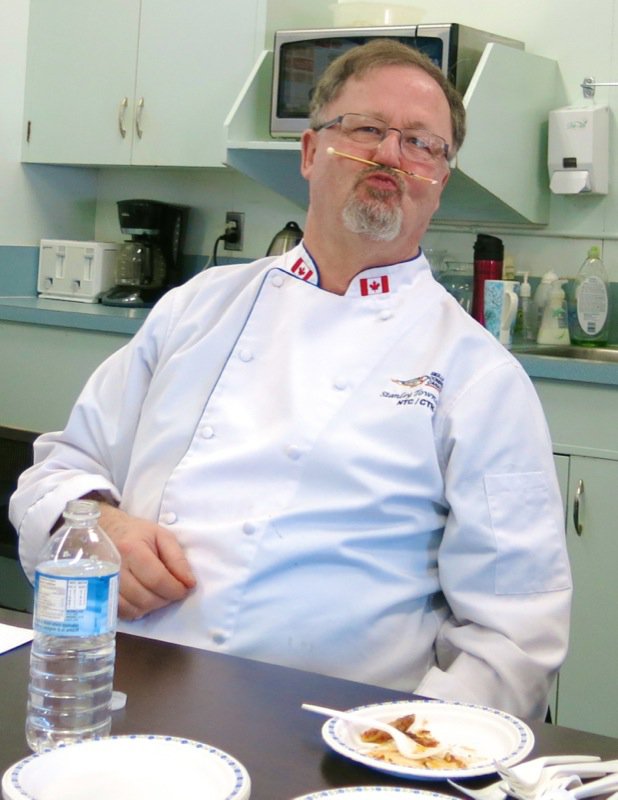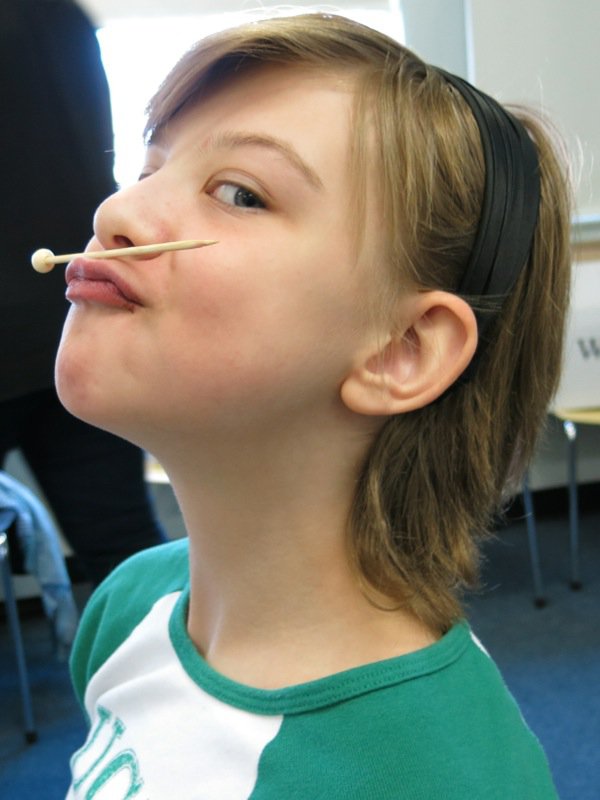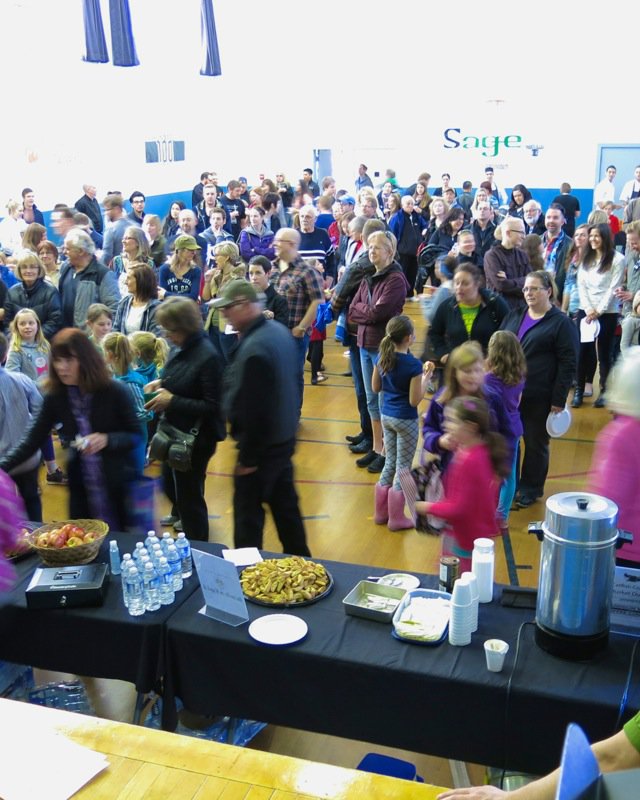 And a crowd there was. It warmed my heart. Such fun! This is a not-to-be-missed family fun day where ever you live in the city. If you didn't know, Chef Stanley also carves faces from wood. I have one that I treasure. I wanted to acquire another, but one fellow bought them all at the live auction – and I do believe he spent just under 1000 to get them, too!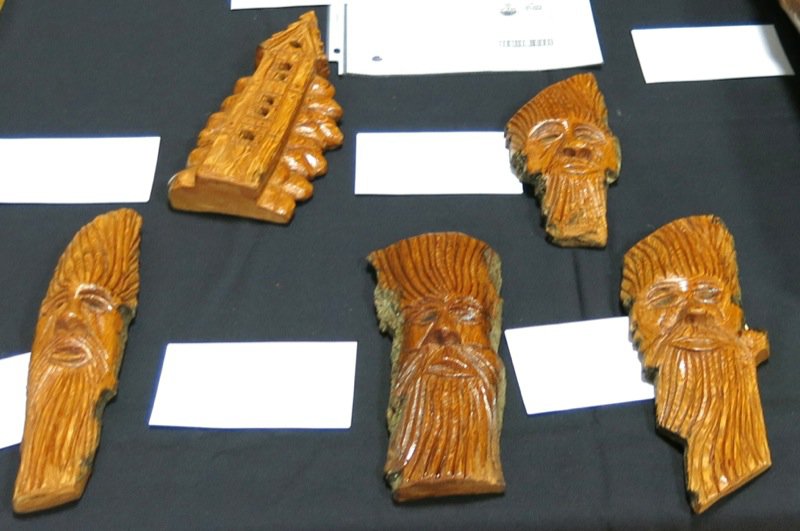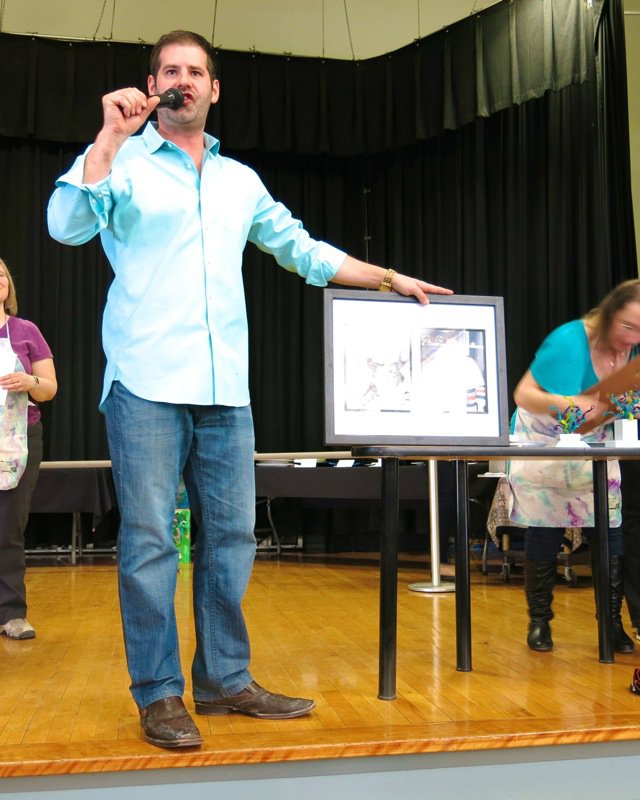 The event would not be the same without Ryan Jespersen. The best auctioneer and EMCEE ever… and he works hard! This is a commanding and demanding event so kudos to Ryan for spending his day off working this hard! He makes the day just that much more fun!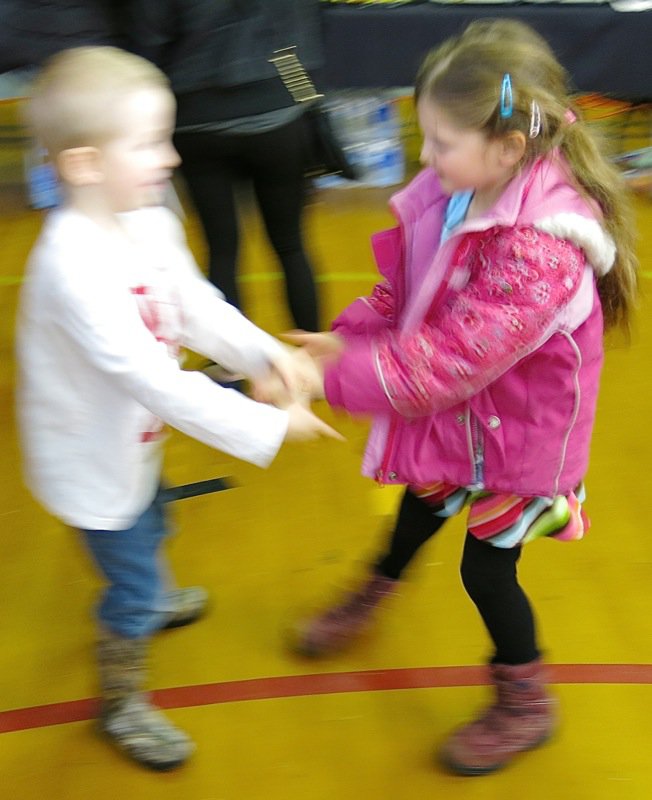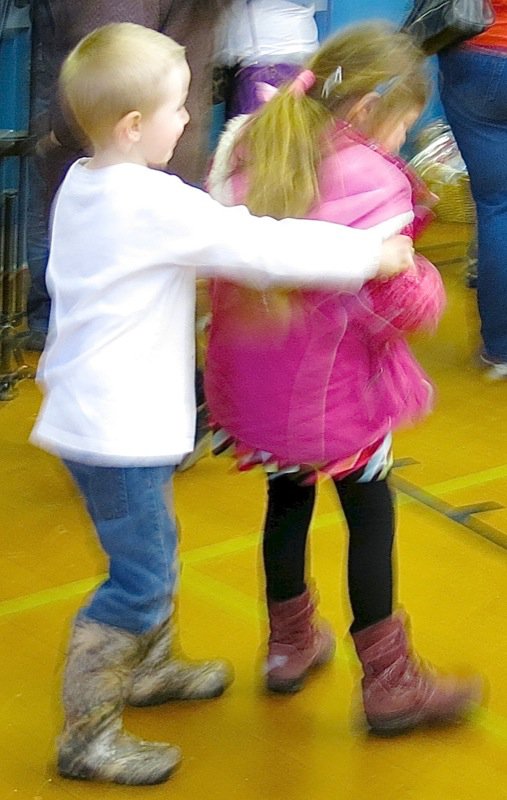 It was just that kind of day. These two couldn't hold still enough for me to capture their fun, but they were seriously good… that little guy definitely knew how to lead his partner – and the two sillies below? Well, they are just two sillies.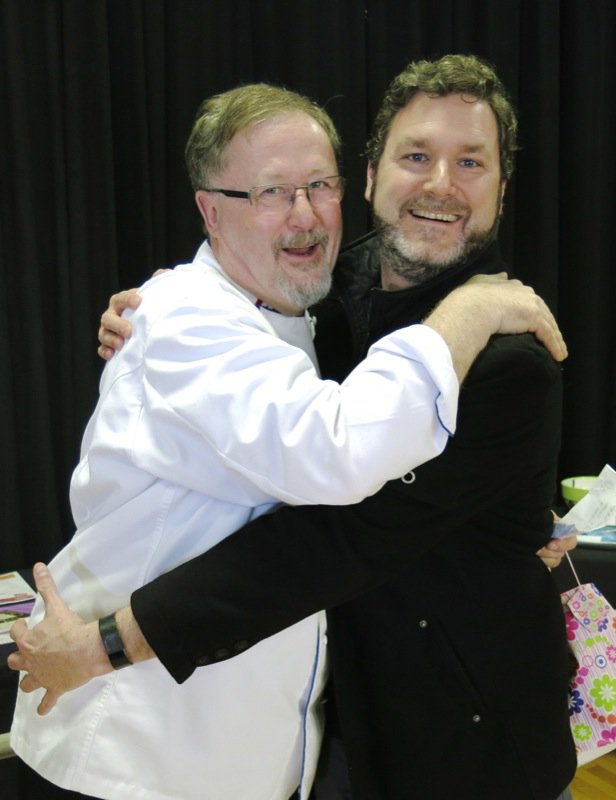 And that's all she wrote. Until next year, there is one proud, and I am certain, exhausted mama below. Standing ovation to students, staff, and all who made this remarkable day simply the best!