Superb Traditional Celebration Meal at Semberski Salas!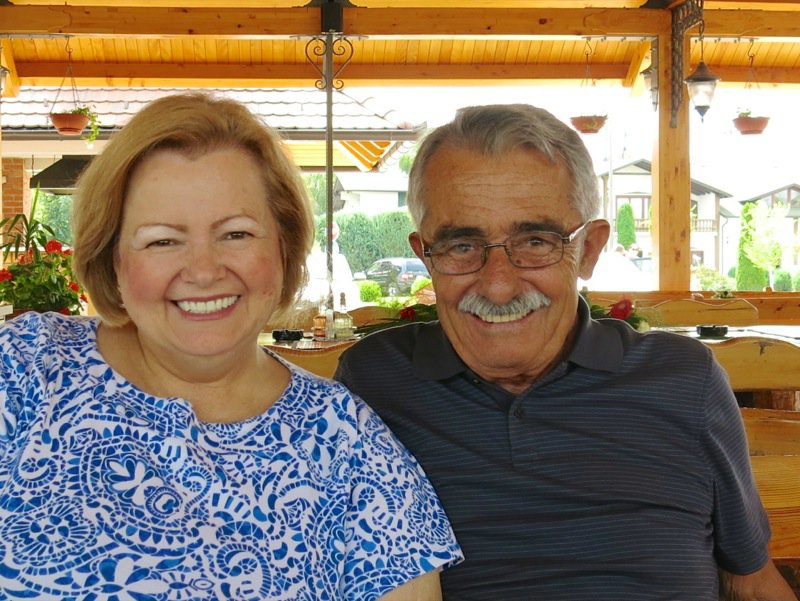 And on the last day, let there be rest. And a celebration! Waking up last Thursday morning to a cozy clean organized home was such a blessing that we welcomed the opportunity to take Petar out for a delicious traditional dinner. Where to go? Many of the beautiful locations along the River Drina had also been seriously affected by the flood and were not yet back in business.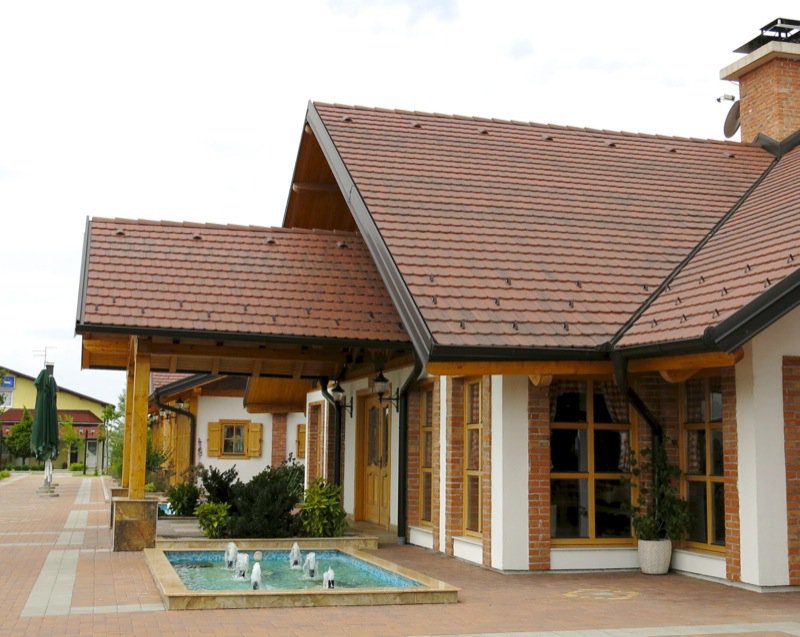 None of us had been back to the Ethnic Village since our first visit in 2009, so we headed there. Yet, just across the street we saw a lot of cars parked at the Semberski Salas and Vanja said it had good reviews, so we did a 180 turn and parked here. Salas means Rustic Country, yet in every restaurant in the area, unless it is an International chain, you will get traditional food. (But, beware. If you order pizza at a "traditional restaurant", they will either serve it slathered in ketchup, or accompanied by it. )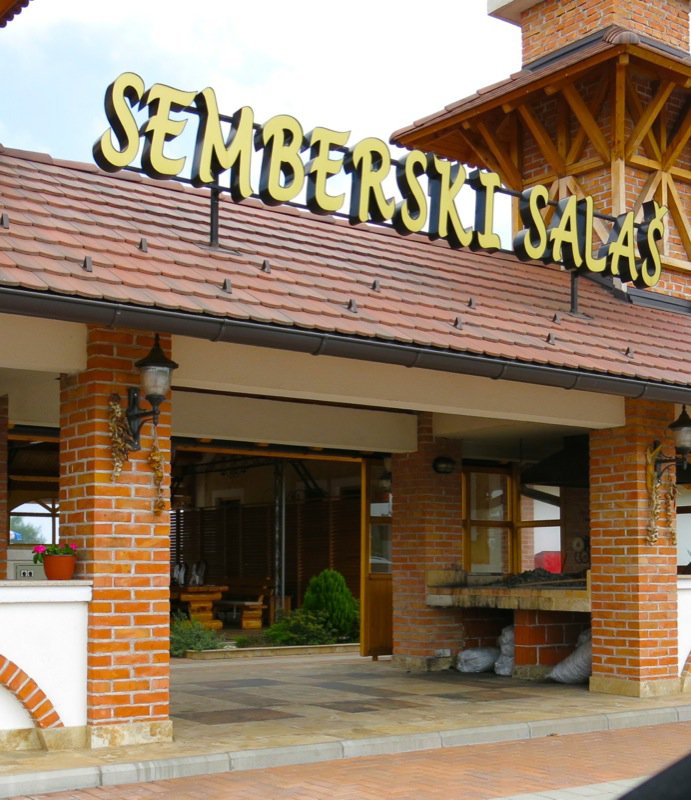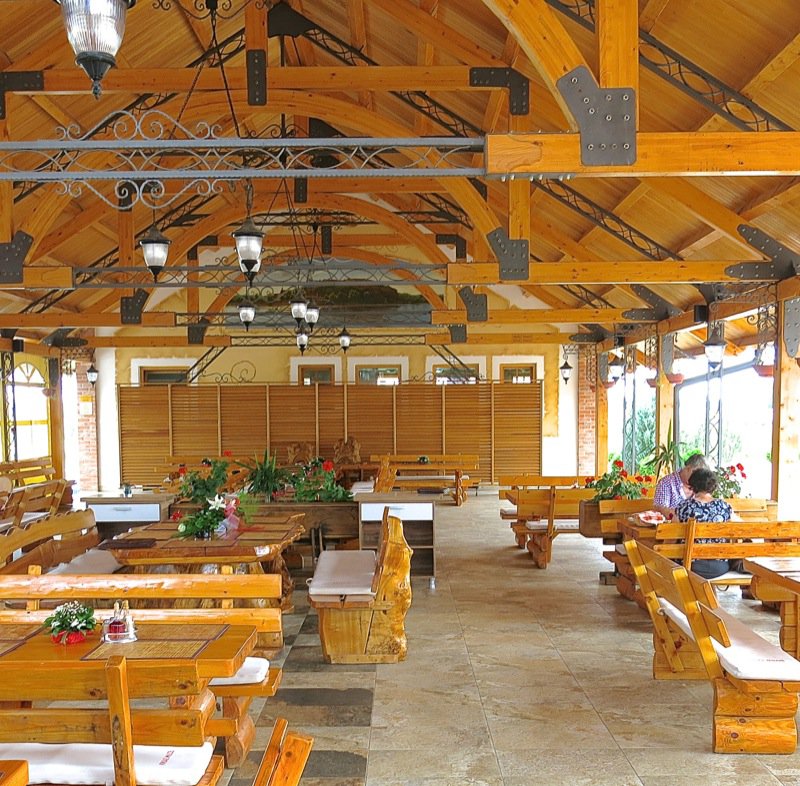 The outside was vast and appeared very inviting. Almost all traditional restaurants in the former Yugoslavia are this rustic. The ones at the seaside are a little different, but for the most part, this is the traditional decore; that said, this one is particularly nice. The newness of it felt very clean and welcoming.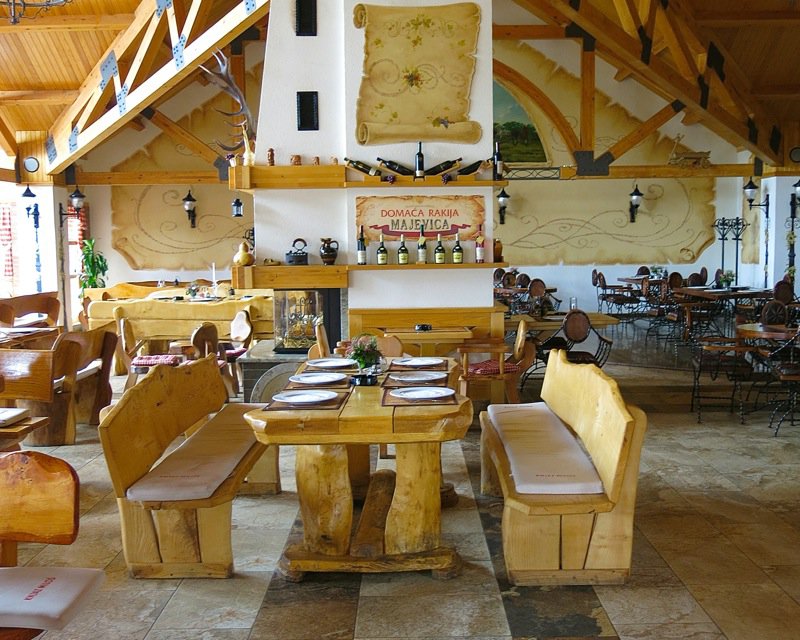 Above and below, the inside of the restaurant is similar. Different, yet similar. I could imagine enjoying a cozy meal here on a cold winter's eve.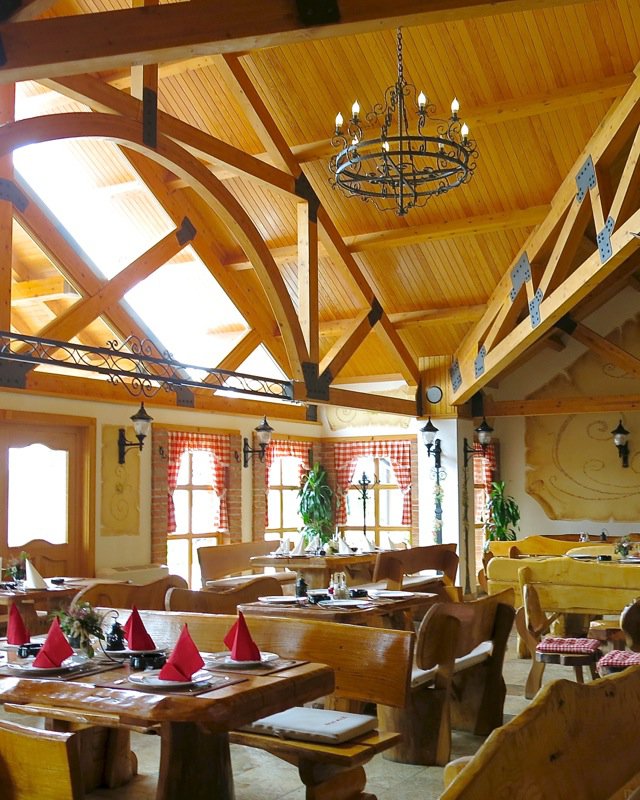 We found a seat, and without hesitation, Petar ordered pivo. Oh, how he enjoys his beer. One a day. Well, the doctor has told him: one beer OR one glass of red wine OR one ounce of sljiva a day. He has his sljiva (home distilled brain removing plum brandy) every morning with his Turkish coffee. And beer? Only when he is with company. And now is the time. Of course, every day during our clean up, there was time for a beer break, too!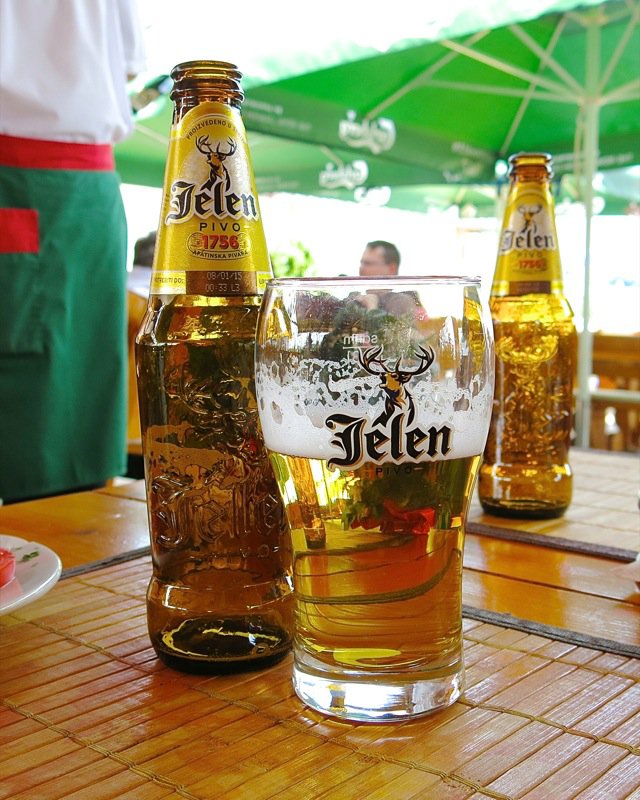 Ah, the taste of home. Vanja was so delighted to find earlier this year that Sherbrook Liquor Store in Edmonton also carries the Jelen brand.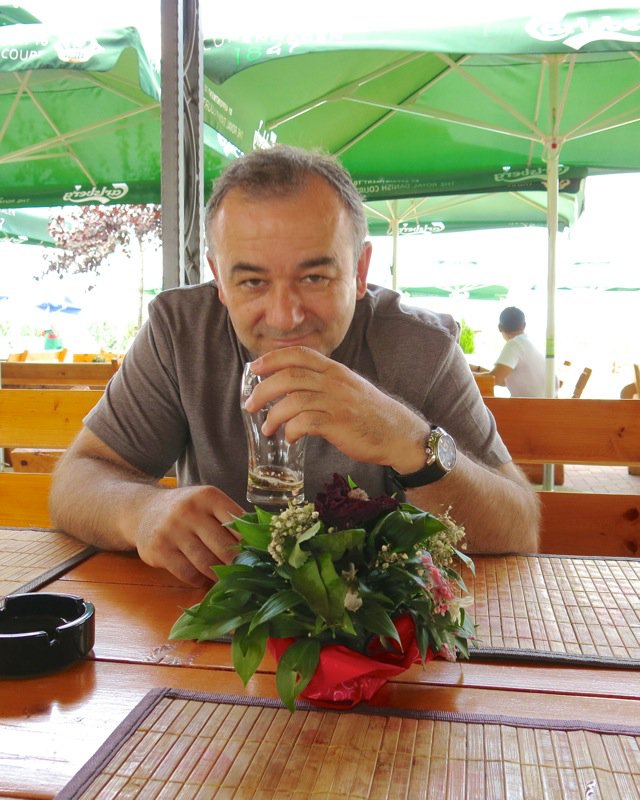 Nothing like a cold beer on a hot day – apparently. I have never tasted it. The smell is off putting enough.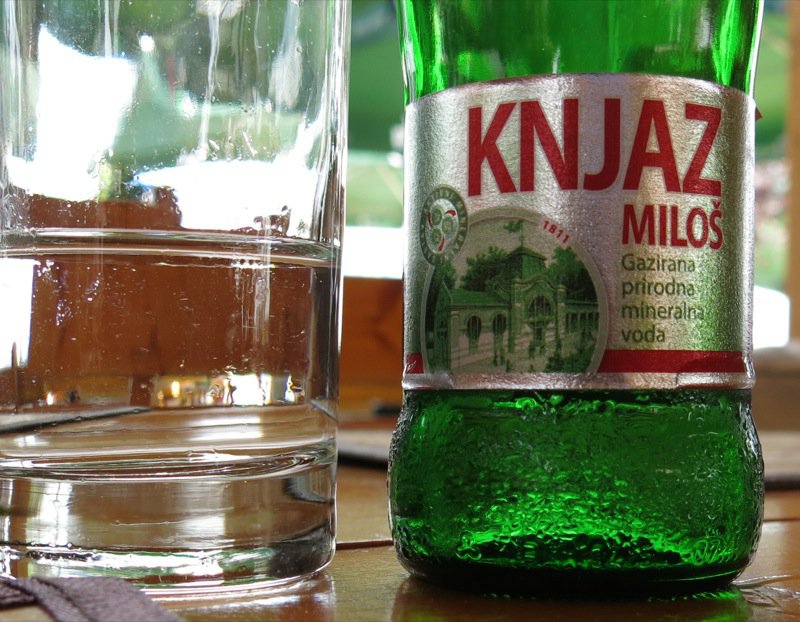 I had discovered this effervescent bubbly water at "The Park" where I visited daily to answer my emails as I accessed their wifi.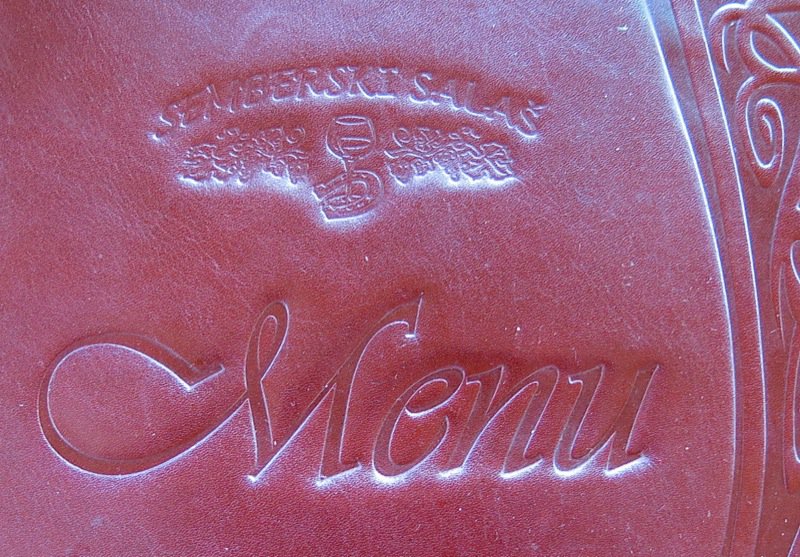 What an extensive menu. I have copied some pages of it for those curious (like me) at the end of this post.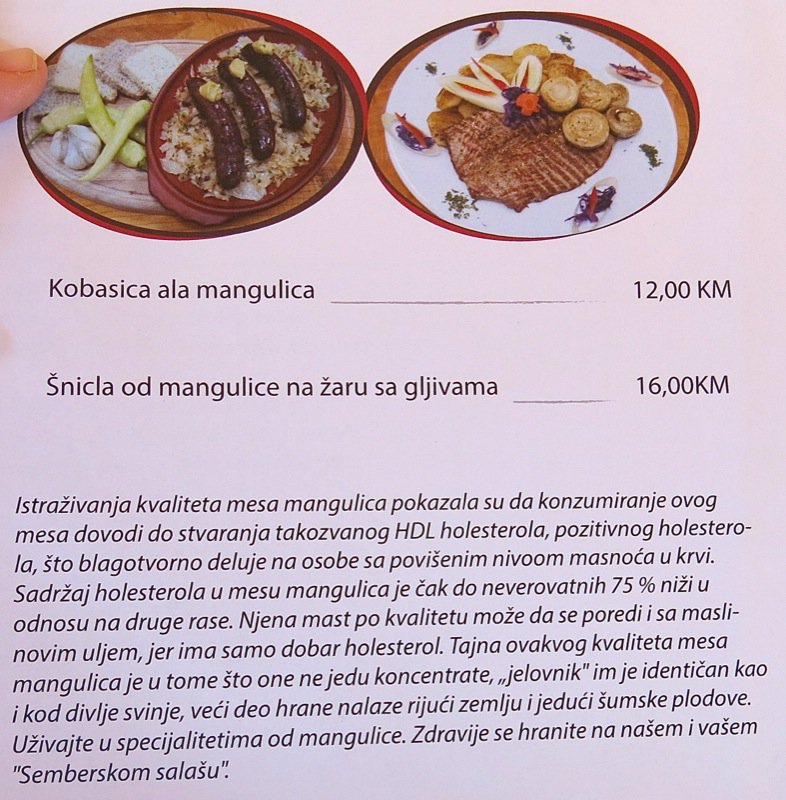 Though this is my eighth time in this country and this city, I am constantly learning about new traditions and foods. Apparently, there is a special Mangulice pig well known to all in the area. That is just the name of the breed of the pig, and Semberski Salas offers two dishes from this highly acclaimed breed.Vanja will translate the information above about the benefits of eating the meat from this pig, which I found absolutely fascinating. Now, I have to find this pig on a farm my next trip and do some tastings! I am always on a quest!
Translation: Research of the quality of the Mangulice meat has revealed that the consumption of this meat would cause the development of so-called HDL cholesteral aka positive cholesterol which possesses a healing impact for people with high fat content in their blood. The cholesterol concentration in the Mangulice flesh is an unbelievable 75% lower than any other species of pig. Its own fat could be compared to the quality of olive oil due to the fact that it contains only good cholesterol. The secret behind their outstanding quality of meat is that the Mangulice pig eat foraged foods, similar to that of the wild boar instead of that selected by man and fed to them. The majority of their food is found by digging through the earth and eating the fruits of the forest. Please enjoy our Mangulice specialties and eat healthier in our Semberski Salas!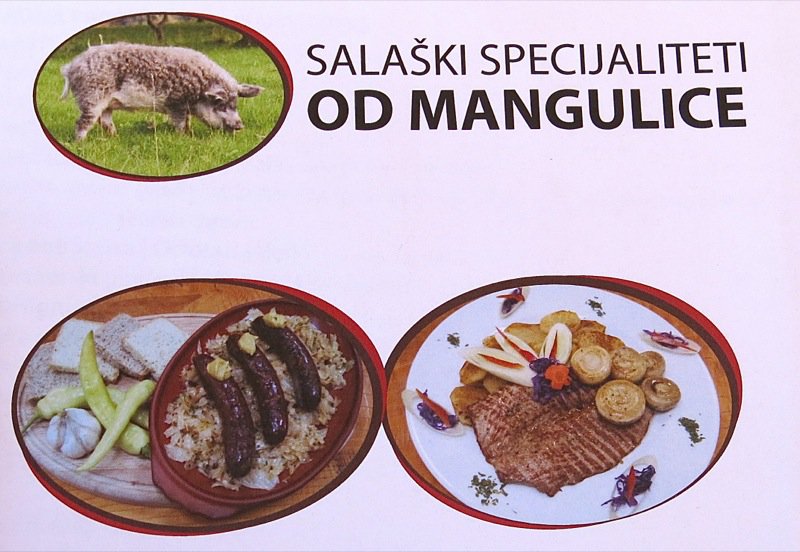 We each ordered our food and it wasn't long before the traditional rustic thick slices of white bread appeared with the cutlery, often served on the napkins, as below.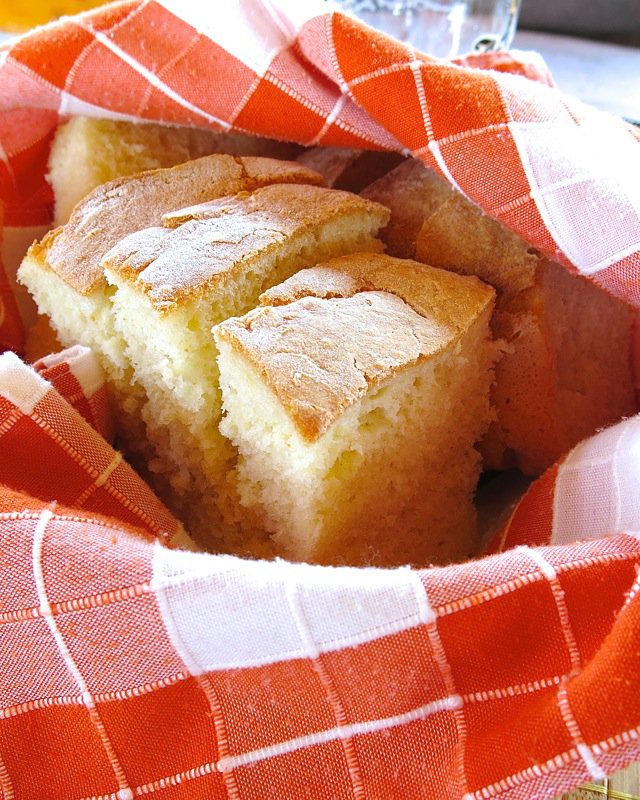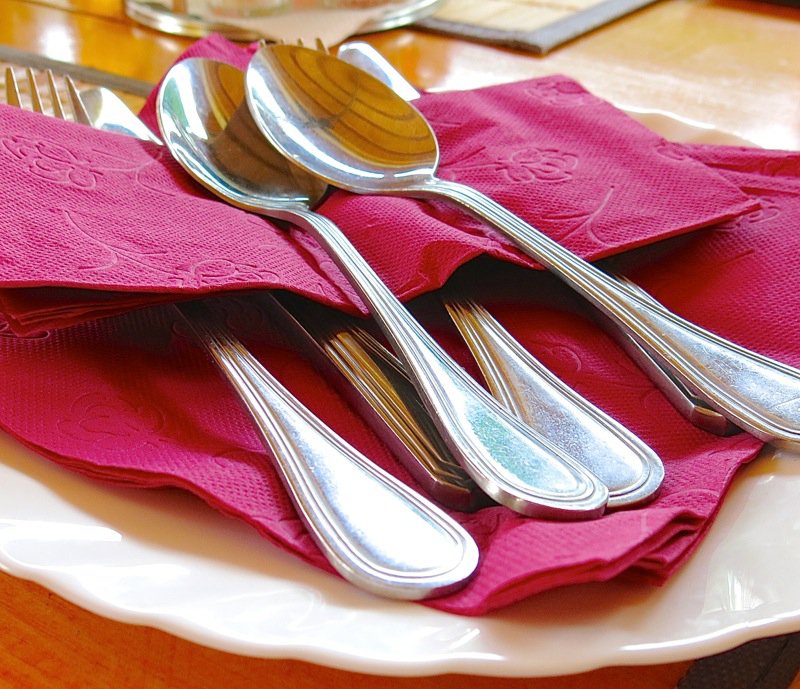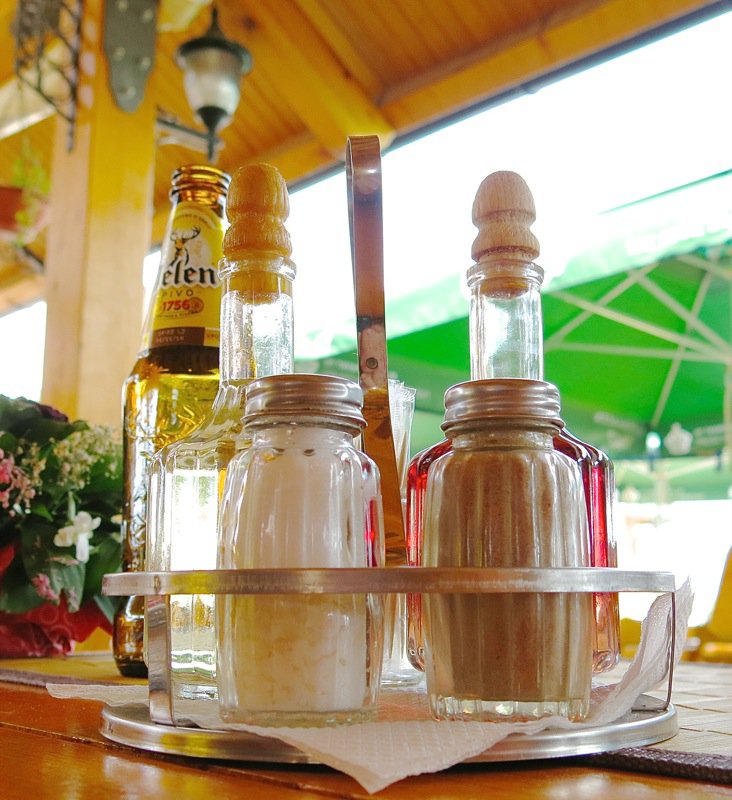 I was rather dumbfounded to discover that the ever present traditional chicken soup was not on this menu. Seriously? Yet four other traditional "fancier" soups appeared, and I should have definitely ordered the one below. There is soup and there is chorba. Chorba is thicker, like a stew, I was told. I have been told that so much, I should know better. It is just a "thickened" soup, as you will see, with a cream base. Nothing like a stew.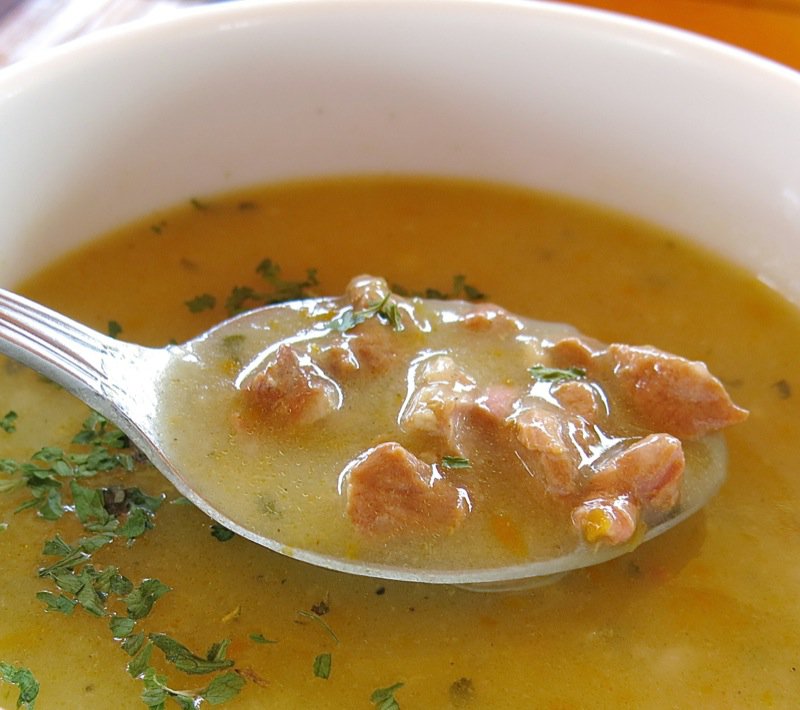 This soup was very delicate and a gorgeous blend of flavours and textures that I have experienced before at other traditional restaurants. I need this recipe! Yet, the veal it is made with is fed and raised ethically. Very different than veal of North America.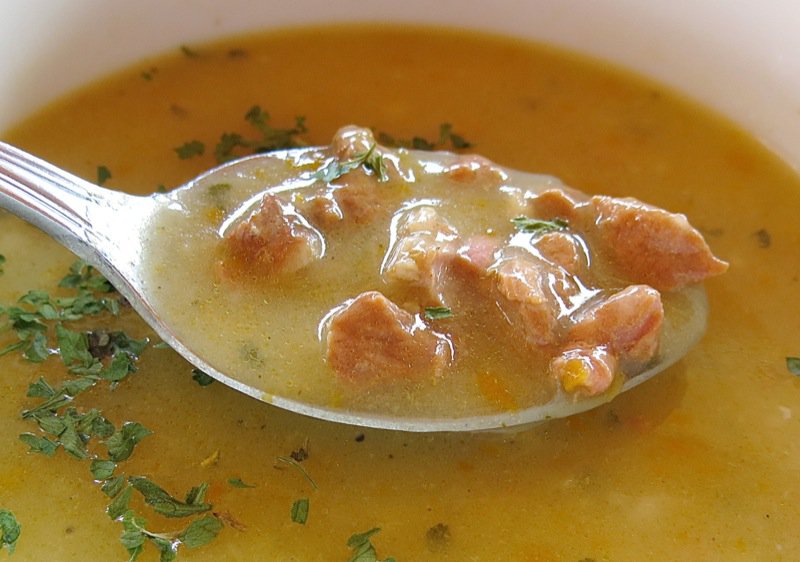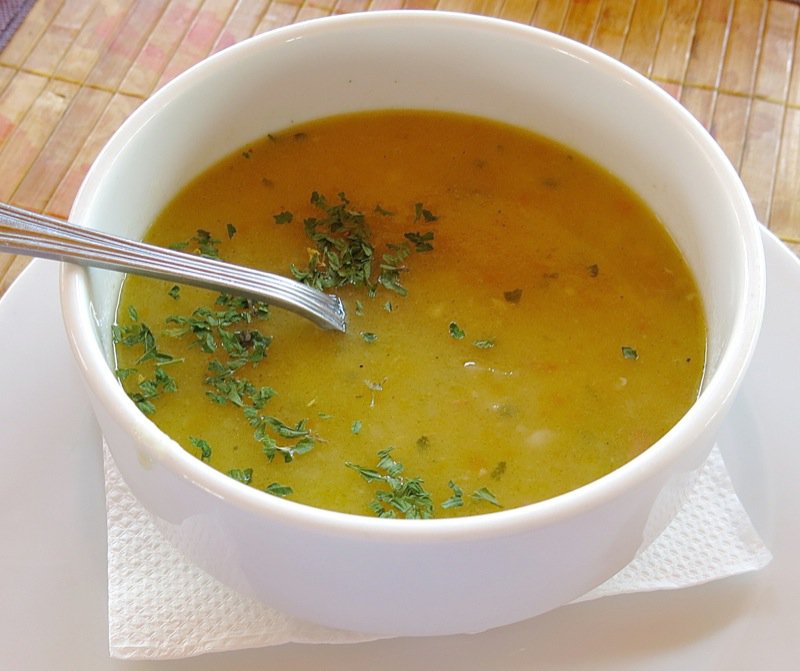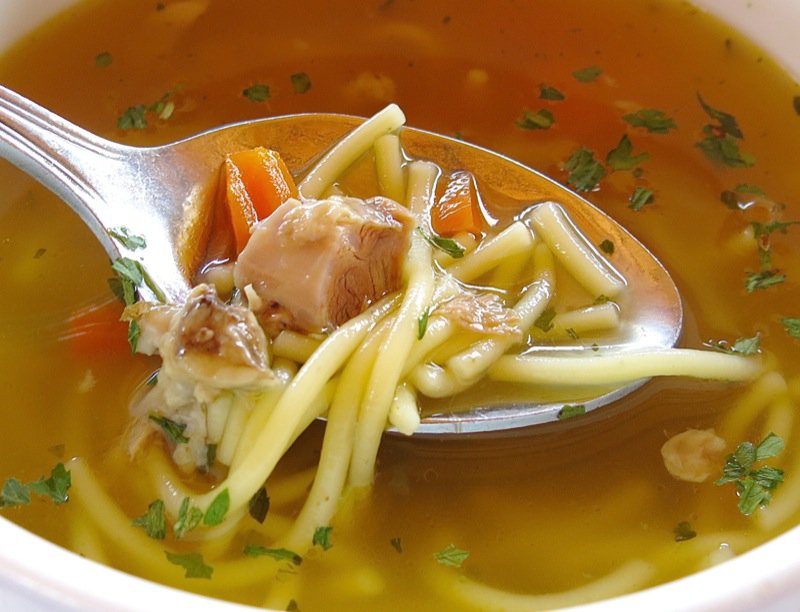 It does look like I ordered the chicken soup, but this was beef. The broth was weak and bland, but with one bite of the meat, burst into incredible flavour. I have not experienced beef in any soup to bring the flavour of a bland broth to life like that before.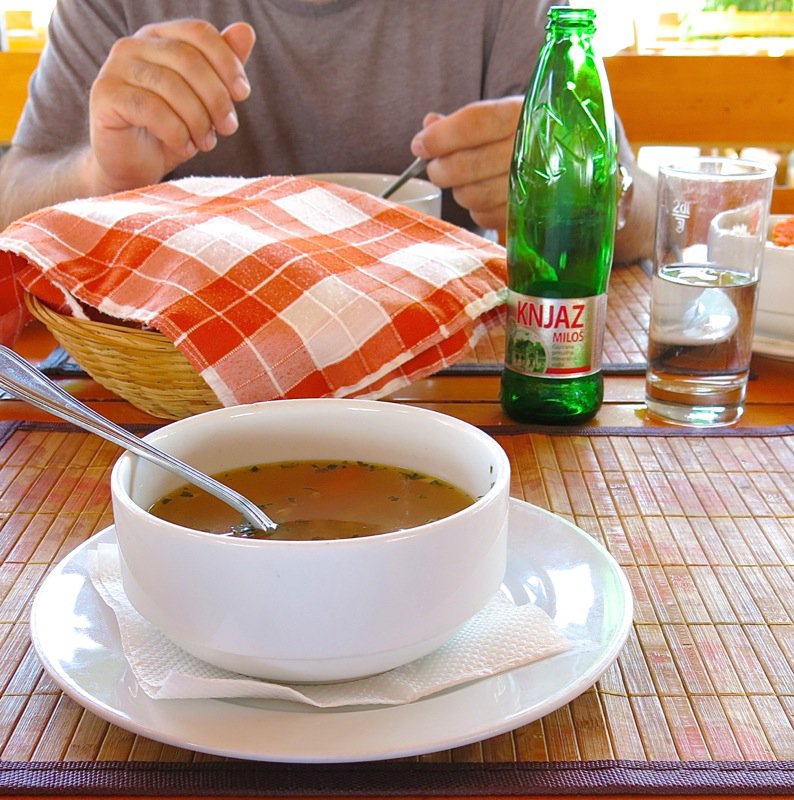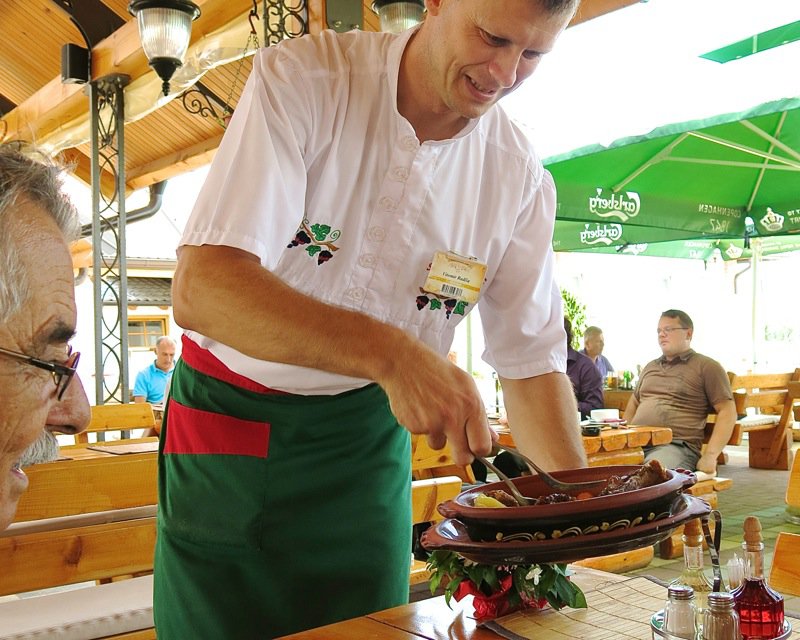 The terra cotta or pottery service dishes, above, are the old traditional dishes everyone used to use at one time. Petar ordered a very old traditional dish that he was almost squiggling with excitement waiting for: Jela Ispod Sača which is a way of cooking under a dome with embers covering it. He ordered the veal cooked in that manner. I have included a video of this traditional cooking method to explain how it is done. (Turn down the music.)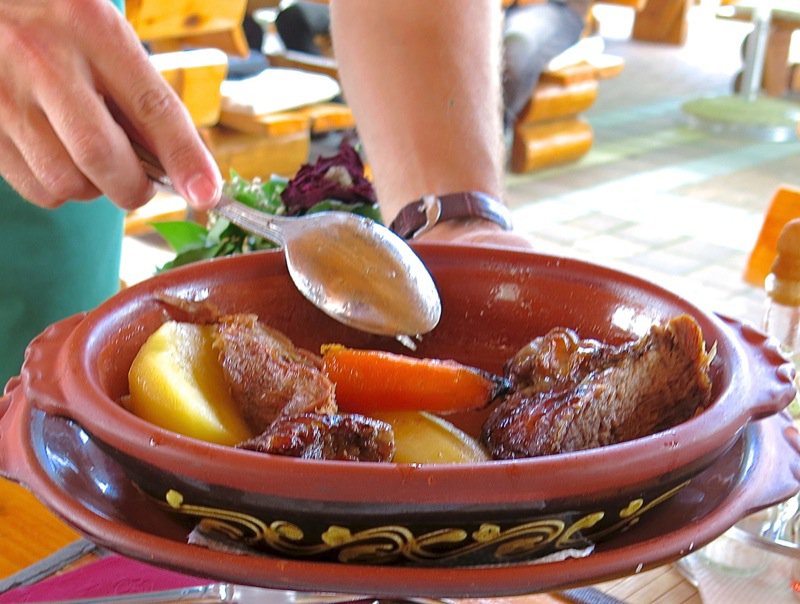 As it was served, I thought, "What is all the fuss about?" It looks like a beef stew, to me.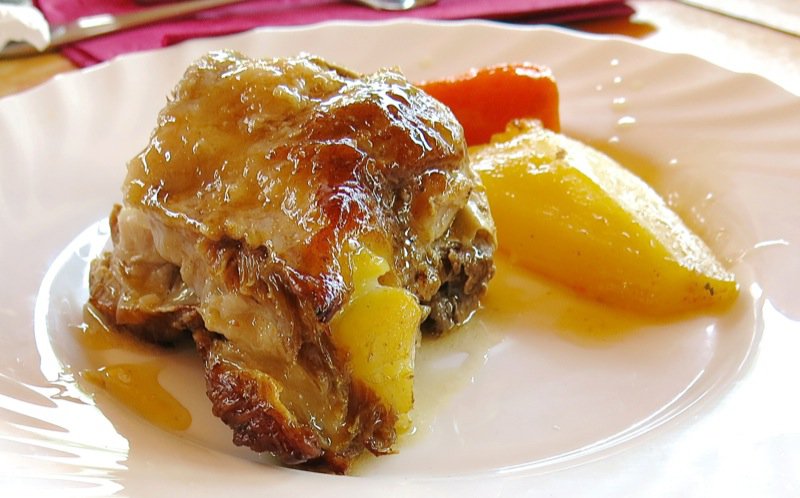 However, the gelatinous, fatty goodness caramelized on the outside of the pieces of veal looked scrumptious. I tasted the broth. I will never ever forget that moment. The clear fatty fluid on the spoon was packed with the most succulent beef flavour I have ever in my entire life encountered. I was smitten. It was all I could do to not jump into his lap, wag my tail, and wine for more.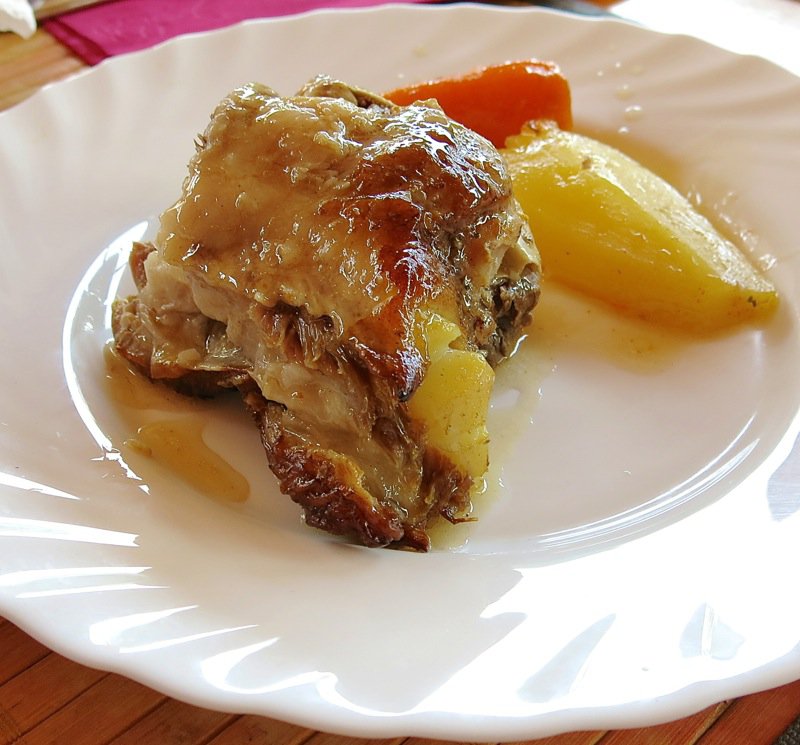 Yet, that was not necessary. When he could see my reaction, he was more than happy to share. However, I would not do that. (I did have a few more spoonfuls of that broth and one bite of his meat which was like candy and I could probably digest the entire cow cooked like that. Eyeballs roll automatically back in my head just thinking about it.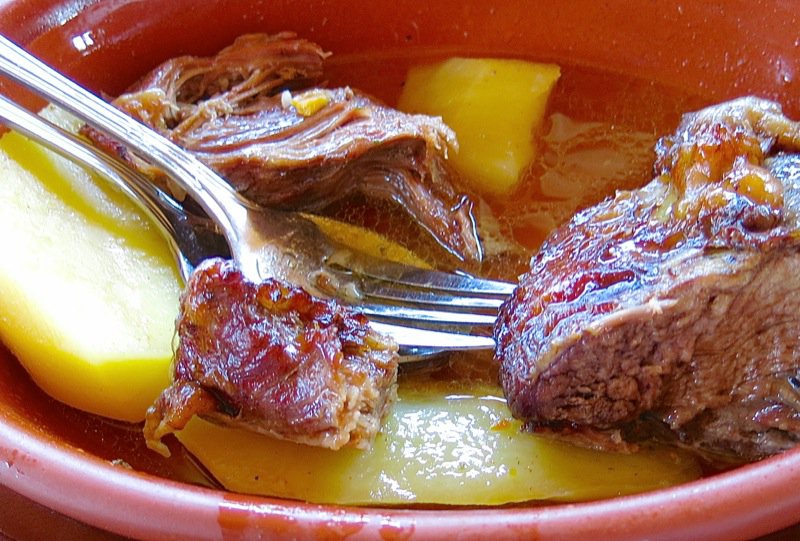 Apologies for the many photos of this dish. They are for me. I can taste it, and can you see the broth. Oh, my. Seriously, o-o-o-o- my!
Vanja ordered his favourite dish and what he always orders whenever we go out anywhere in the Balkans: the Meat Platter. These are real carnivores. Petar's famous rosilj is this meal. Traditionally, is only meat – a great variety of grilled meats – with bread. That is it. Vanja ordered a cabbage salad and Petar ordered a tomato salad. Each was simple: coleslaw and sliced seasoned tomatoes.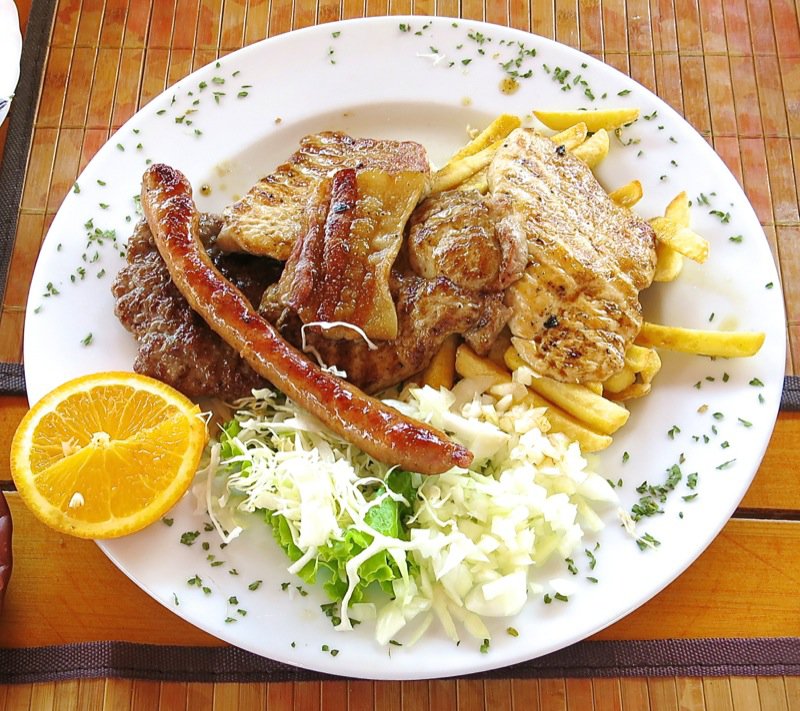 The slice of orange and vegetable garnish on each dish is obviously a signature addition of this restaurant and far from traditional, but pretty. Vanja had veal neck, pork cutlet, sausage, chicken. There is rarely beef on a mixed meat platter.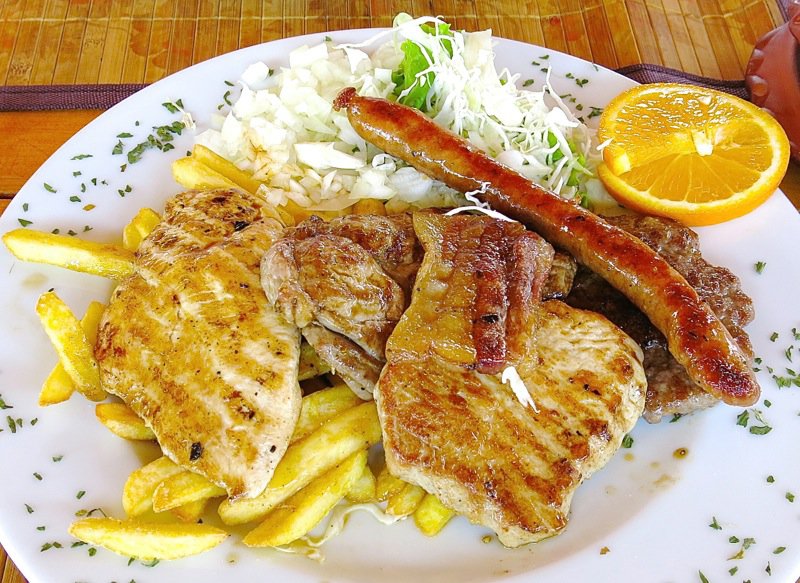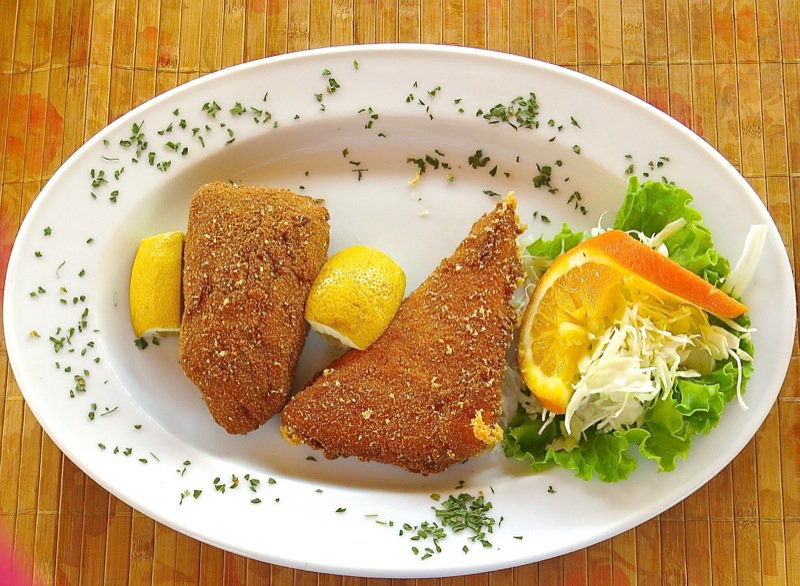 If only I had known I could digest the veal Petar ordered, that would have been my order. I cannot wait to go back and do just that, next year! Instead, I ordered a half order of the cheese stuffed roasted red pepper and the fried cheese. Now that I have had both, and both are outrageously tasty, the roasted red peppers would be a must, for every meal, every time. They can be shared and are bold, smoky, cheesy parcels of wonder. Each of us thoroughly enjoyed them with our respective meals.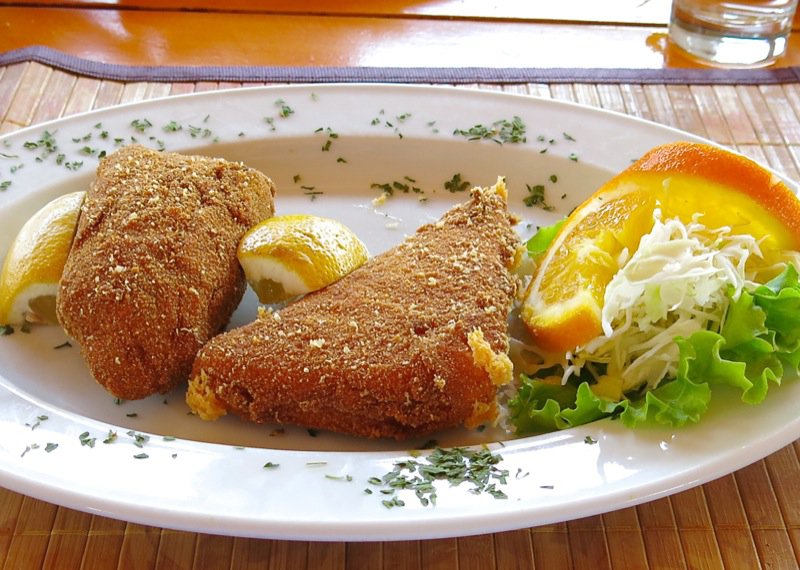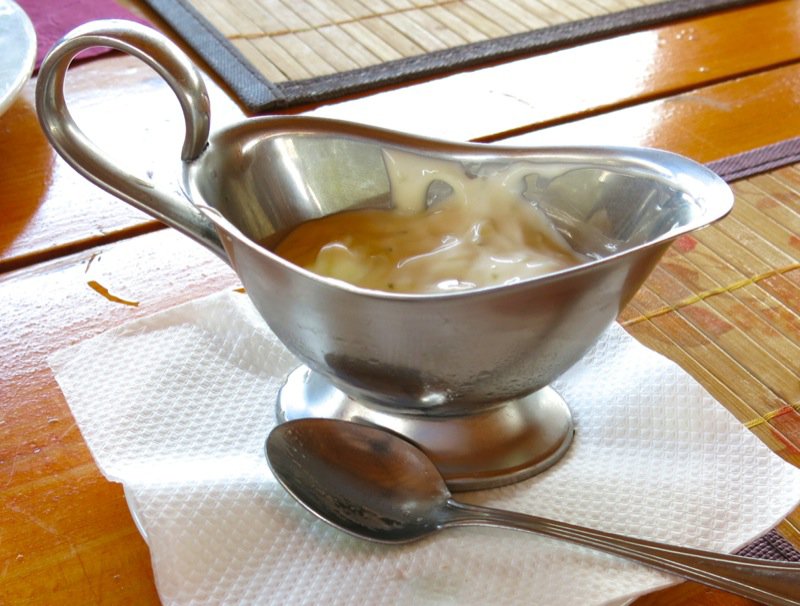 Honestly, mayonnaise with deep fried food? That used to be my question. Vanja loves it with almost everything. It is eaten here with a great variety of foods and (blush) was delicious with the cheese.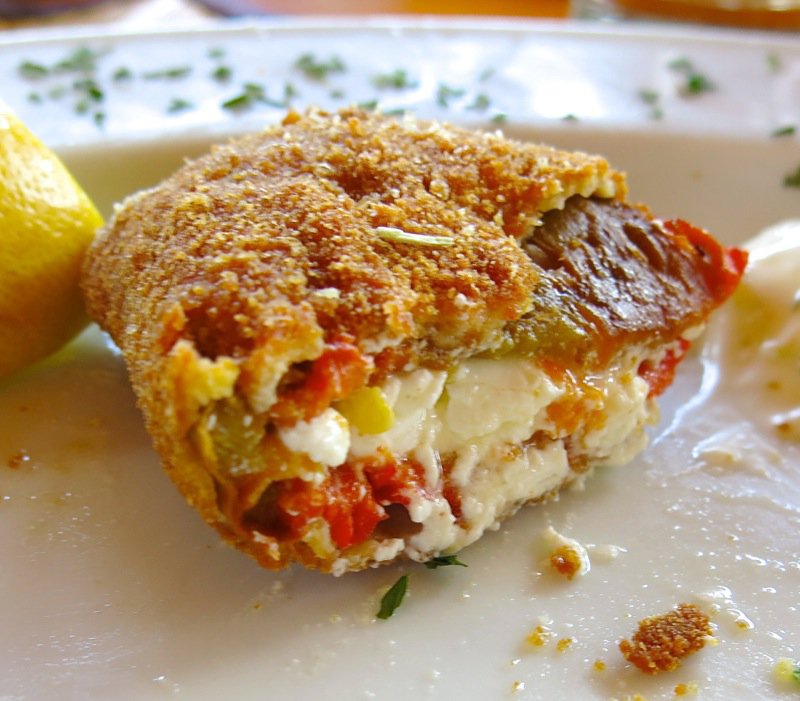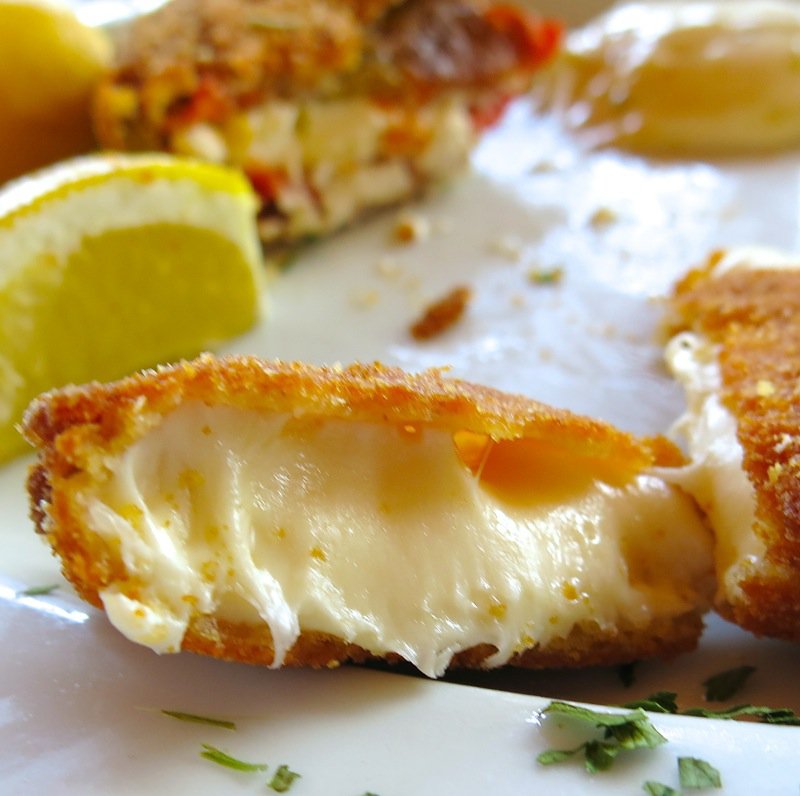 Of course we were all too satiated for dessert, but everyone knows that dessert just fits in somewhere, right? Pava would make Ormasice for our visits to share her culture with me. Mario loved it and Vanja likes it. Petar won't even taste it. But, I had to order some. The best I have every had, which was heavenly, was made by Vanja Jovic's mother. He promised me the recipe, and that was in 2009 and I don't have it yet.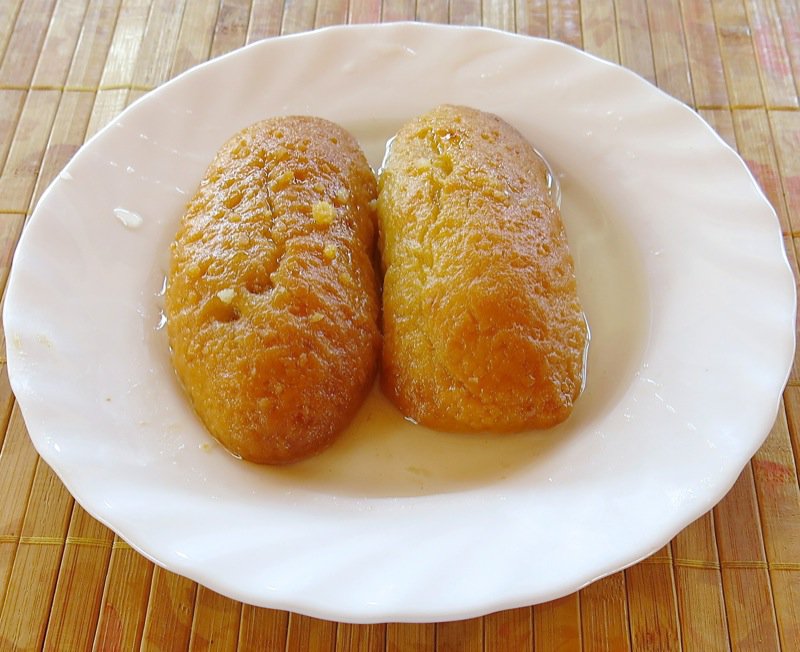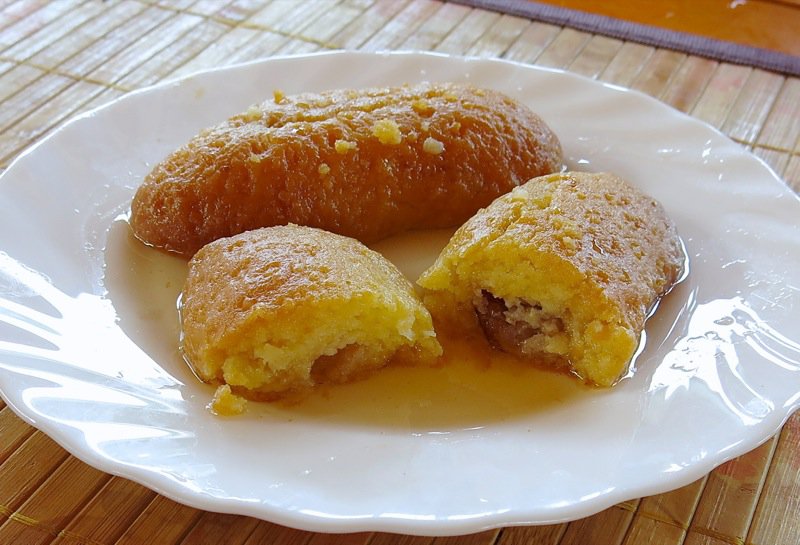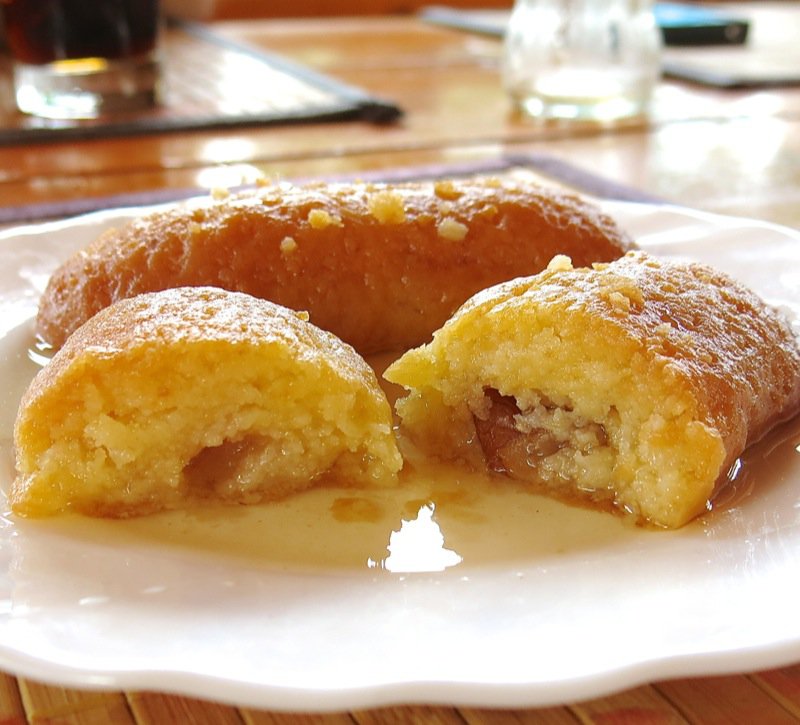 Surprisingly, it was really refreshing and found a space in each of our tummies. This is a very hard, dense cookie stuffed with walnuts soaked in an orange blossom syrup.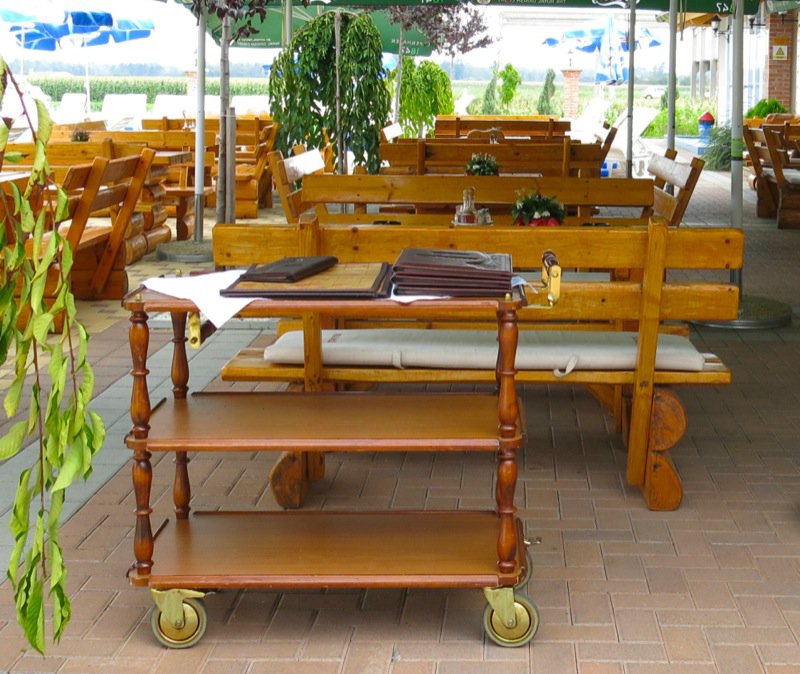 I was charmed by the tea or service trolly. Time for a quick tour of the space here.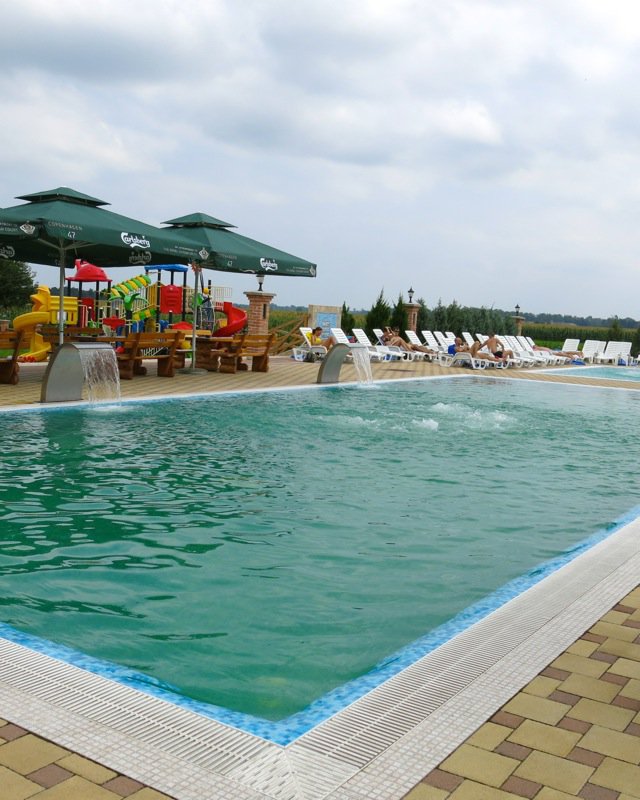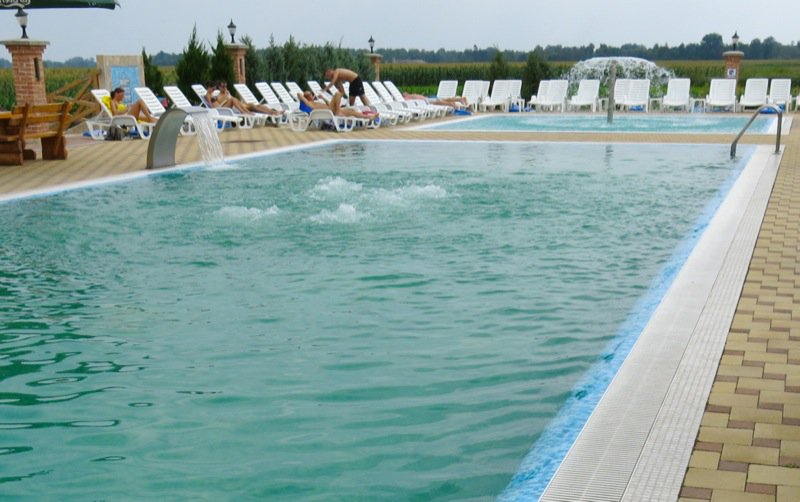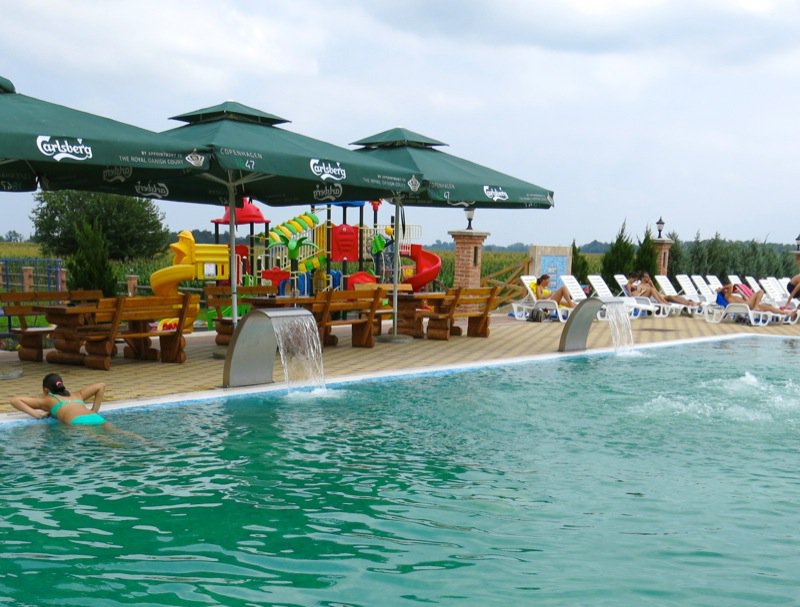 The pools were just beside the expansive restaurant space and there was poolside service. It costs 10KM for an adult to swim here. It was a quiet, relaxing and gorgeous space.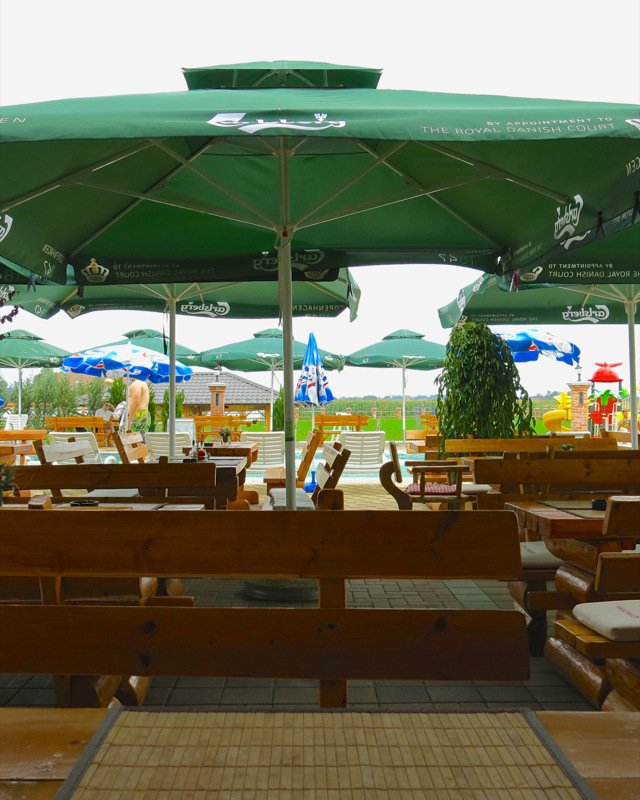 We sat at the table above, and you can see the pool just beyond.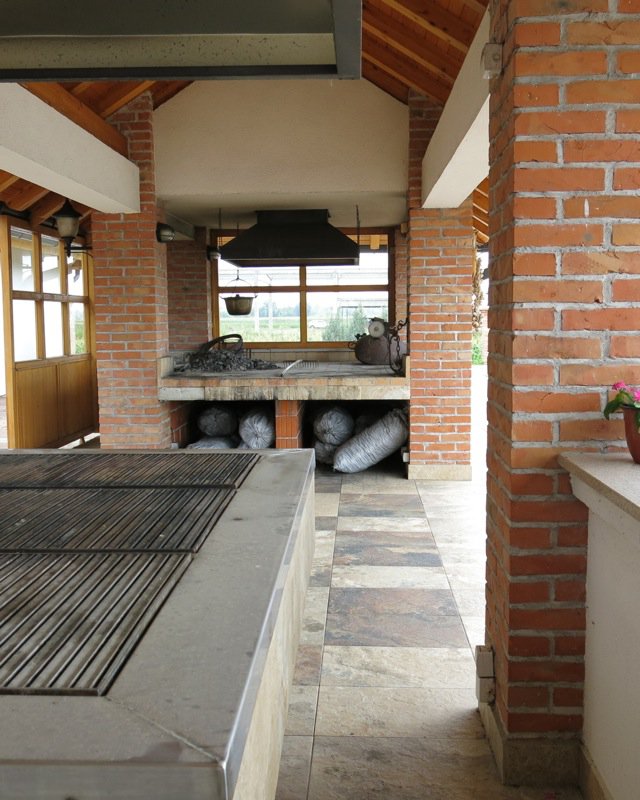 There is a massive roasting station at the entrance of the outdoor space. Clearly well equipped to celebrate weddings and special occasions!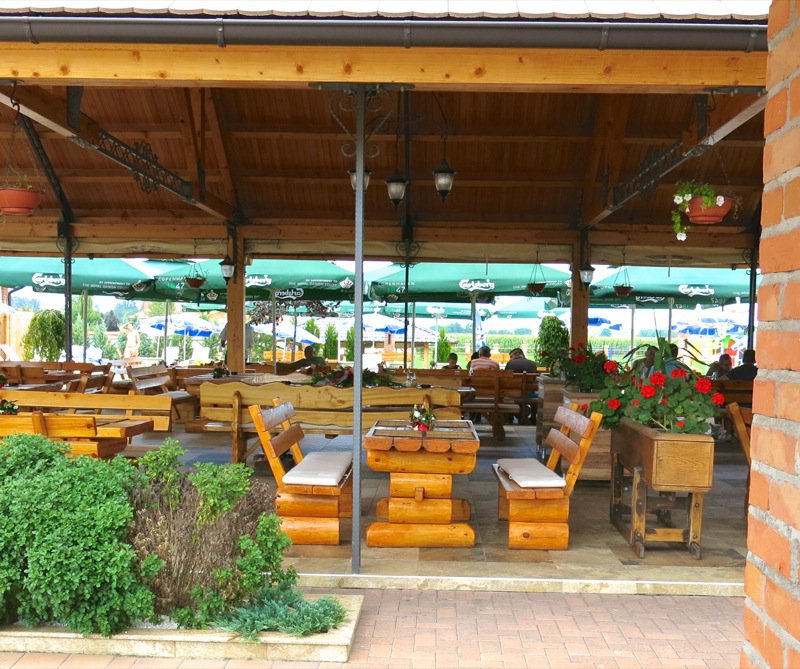 We decided to take a small tour of the Ethnic Village across the street before heading home for a nap during the blistering heat of the day.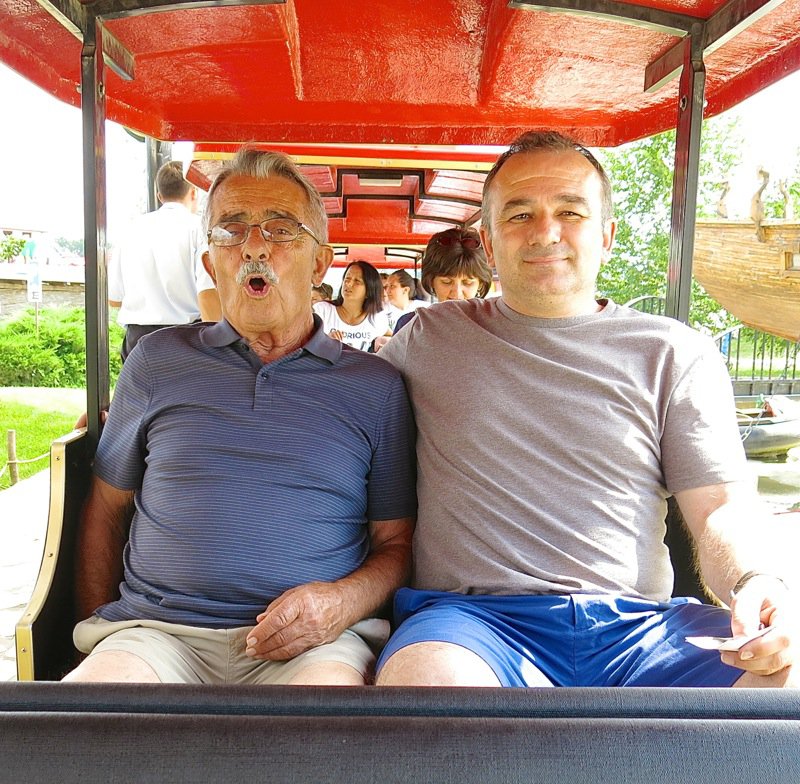 Neither Vanja, nor Petar, could believe my request for the train ride at the Ethnic Village, but I love them – and clearly, so did they! I asked, "Is this reminiscent of taking Vanja on a train when he was a child?" The answer was "Nope." This is one thing they had never done together. Well, I say, it is never too late!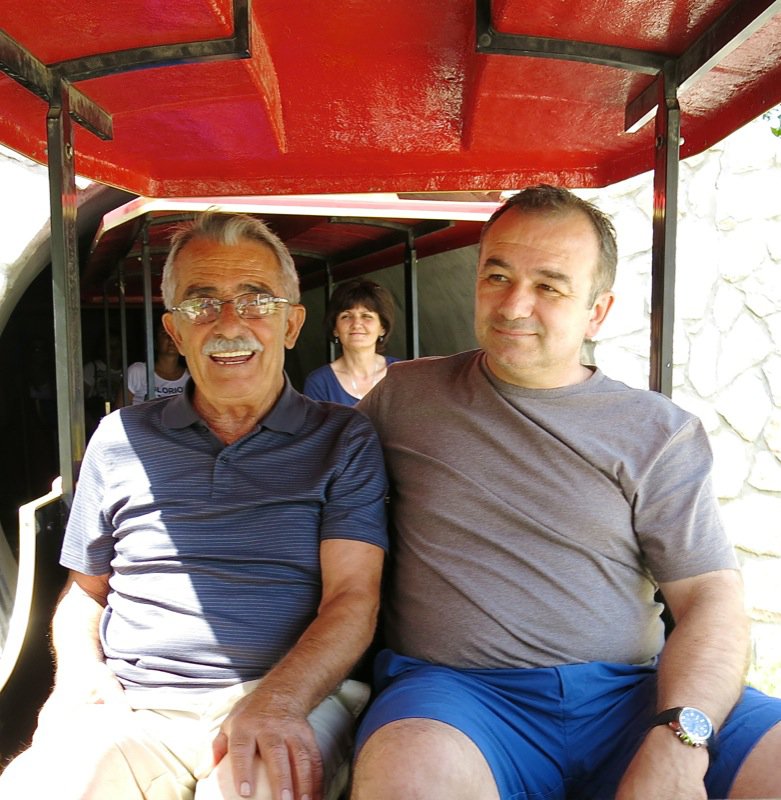 And so it is, yet again. We have pulled through the flood. Together. Ah, there is nothing like one's family, really. Is there.
And below, some menu excerpts, as promised.