A delight past understanding awaits!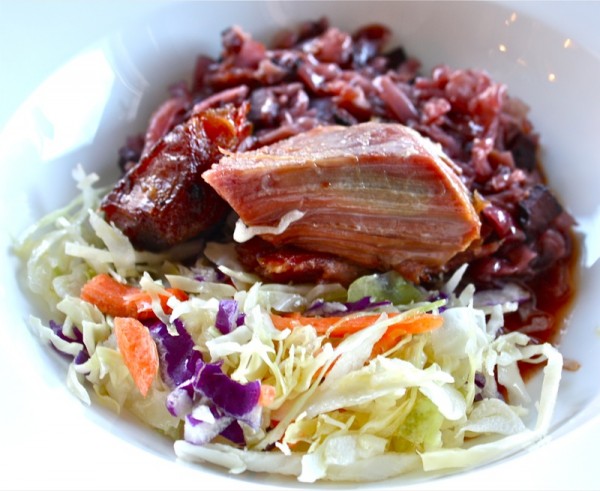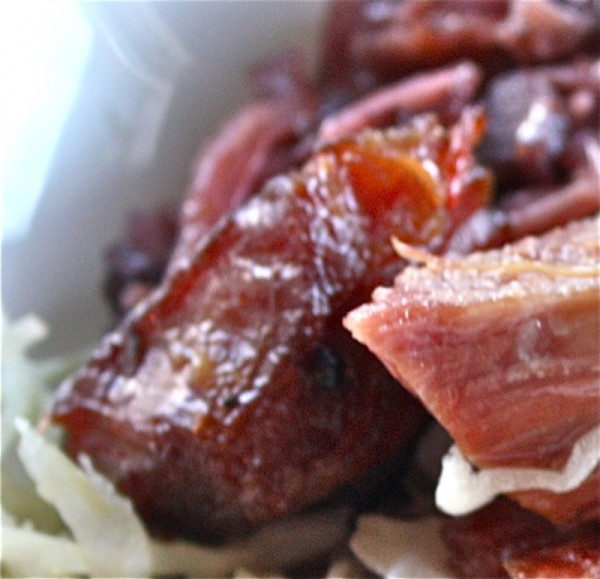 The crispy chewy bite hides behind the soft unctuous bite in this flavour packed dish.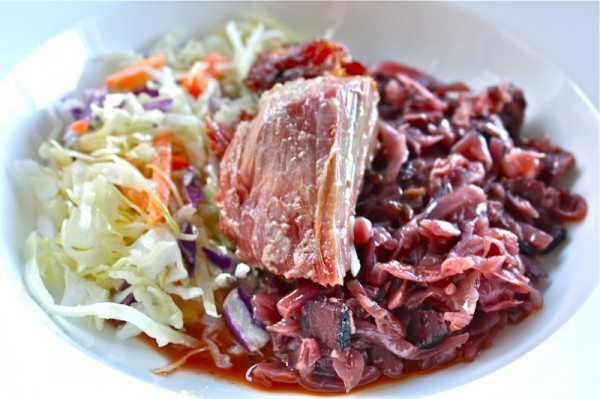 The braised cabbage was the perfect accompaniment to the pork belly confit, but the slaw was the perfect foil as the contrast of the crisp, cold crunch offered further indulgence into this unctuous umami packed bite of piggy. (MEOW – I mean, OINK!) Do you hear my "man growl"?
Or snort. Maybe it is a snort. Looking at the picture above has my head jerking precariously from side to side as a literal pin ball of flavour is awakened and rampages through my taste memory.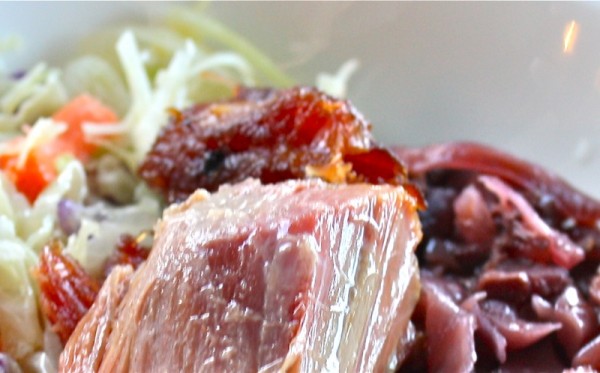 The first time I tasted pork belly was two years ago at Indulgence 2009. It was Irvine's pork that year, too. I had about one square centimetre and was determined to learn how to make my own. Yes, it has taken this long! I am a slow reader.
No. It took my second experience eating it. I had it again for dinner at Kevin Kossowan's house and though everyone knows I don't eat meat, I ate the meat on my plate that night. Unforgettable. Later, I learned that he didn't cure it at all. He just "threw it in the oven with some rendered pork fat and baked it low and slow". It was every bit as delicious as this one was.
I immediately ordered fat from Irvine's and rendered my own lard to make this dish. (If you read that post you probably thought I had lost my mind… oh…. no!)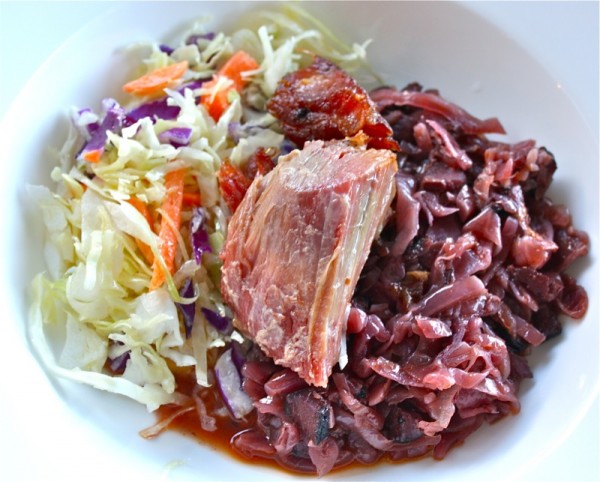 But, then, it was apple season and I got caught up in rendering leaf lard and making pastry. When it came time to do the pastry tasting* (my home rendered leaf lard pastry vs Kevin's home rendered leaf lard pastry vs that of Tenderflake) I decided to accompany that with a dinner and this was one of the dishes on the menu. This, a duck confit tasting (coming soon at a food blog near you), and Derek Ingraham's brisket recipe. It was an evening of tastings!
I was intimidated with how to serve it. I knew I wanted a piece of meat or two on top of each dish, but I didn't know how to "carve" the meat. Fortunately, Kevin was able to assist! You may think that is funny, but when I saw the pork belly cooked, I really didn't want to "mess it up" by fishing into the meat and maybe breaking up the pieces. My experience with duck confit is that if it is over cooked, it just falls apart. This doesn't happen with pork belly confit. With a couple of forks, you just push the fat away from the meat and the warm meat easily releases from the fat. As I had sectioned the belly, it was easy to continue through that slice with the fork and get fairly even chunks of meat.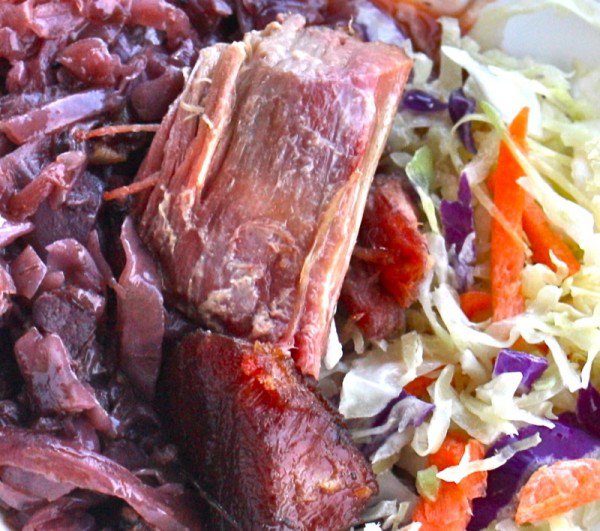 Below is a side photograph of the middle of a pork belly. You can see it has a considerable amount of meat… and fat! This is after it has been cured and I am removing it from the curing ingredients to prepare for cooking.

It is one pork belly. Half is still in the roaster. It fit better when I cut it.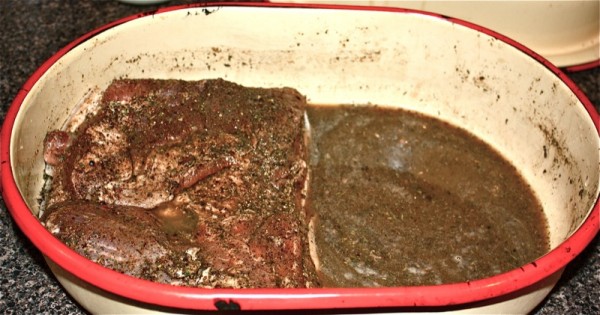 I have now removed it from the cure, and patted it dry.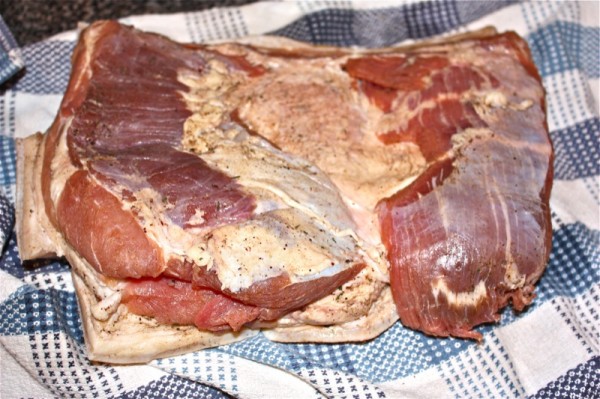 I covered the bottom of the roaster with a generous layer of home rendered lard. I decided to cut the halves into nine squares each as I felt that would make the pieces easier to plate when the time came. I only cut the skin. I didn't cut through the meat. I completely covered the pork belly with the lard (bottom, right).
I cut this one (below) a little deeper. The Berkshire Boar is a black haired pig, thus the black dots on the skin.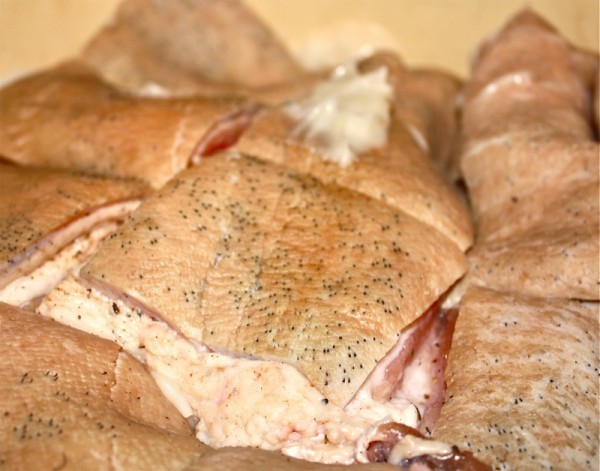 Out of the oven 12 hours later. Gorgeous! (I froze half)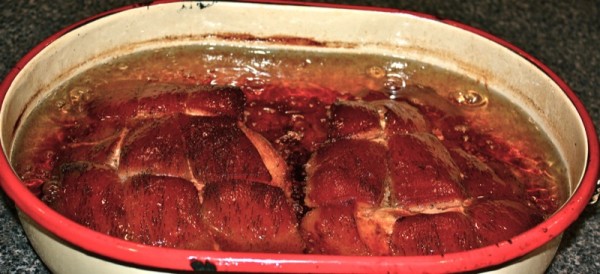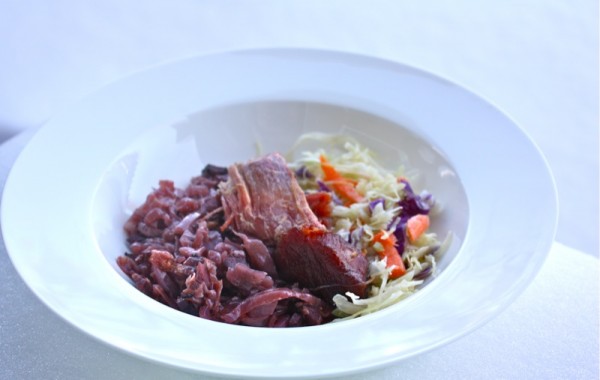 I would make this again in a heart beat. As a matter of fact, I have vowed to have some pork belly confit on hand at all times. It is just that good.
Jim Drohman's Pork Belly Confit by Michael Ruhlman and Brian Polcyn
from Charcuterie (W.W. Norton, 2005)
Makes about 12 servings
Ingredients for the dry cure:
2 tablespoons freshly ground black pepper
1/2 tablespoon ground cinnamon
1/2 teaspoon ground cloves
1/4 teaspoon ground allspice
3 bay leaves, crumbled
10 sprigs fresh thyme
4 tablespoons Morton's kosher salt
1 teaspoon pink salt (see Note)
Ingredients for the pork belly confit:
6 pounds pork belly, skin removed and cut into 1-by-3-inch chunks
dry white wine as needed
rendered pork or duck fat as needed
canola oil or rendered pork or duck fat for deep-frying
Instructions:
Combine all the cure ingredients in a bowl and stir to distribute the seasonings evenly.
Toss the pork with the cure to coat evenly. Pack into a nonreactive container and cover with white wine. Cover and refrigerate for 24 to 36 hours.
Preheat the oven to 250°F (120°C). Remove the pork from the cure and pat the pieces dry with paper towels. Place the pork in an ovenproof pot or Dutch oven and cover with the rendered fat. Bring to a simmer on the stovetop, then place in the oven, uncovered, and cook until the pork is fork-tender, about 2 to 3 hours. (I cooked mine at 170°F for 12 hours which is very close to the suggested sous vide temperature for pork belly)
Remove the pork from the oven and cool to room temperature in the fat. If you simply can't wait to eat this succulent bundle when it has finished its confit (we highly recommend chilling all confit, which intensifies the juicy tenderness of the meat), you can pour off and reserve the fat, then return the pan to the stovetop over high heat until the meat is nicely browned. If you have the stamina to wait, refrigerate the pork in the pan it was cooked in or transfer to another container and add the fat; the pork should be completely submerged in fat. Refrigerate until completely chilled, or for up to 2 months.
To serve, remove the pork from the refrigerator, preferably a few hours ahead. Remove the pork from the fat and wipe off the excess. In a deep, heavy pot, heat the oil for deep-frying to 350°F to 375°F (175°C to 190°C). Deep-fry the pork belly until crispy and heated through, about 2 minutes if it was at room temperature. Remove and drain on paper towels. (I did not do this, but I certainly would another time. Kevin didn't serve his this way and I saw no reason to deep fry it at a higher heat. I already had lots of crispy bits from the bottom of the pan and was happy with the tender, not crispy bits, too. )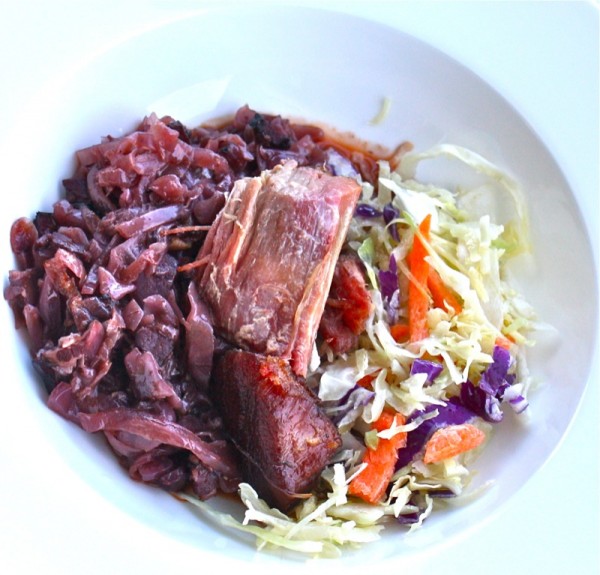 Notes:
The pork belly keeps about 2 months completely submerged in the lard, in the fridge. It is easily reheated on the stove top. I froze mine in a container submerged in the fat so that when I serve it, it can go directly into the oven as it is.
Pink salt, a curing salt with nitrite, is called by different names and sold under various brand names, such as tinted cure mix or T.C.M., DQ Curing Salt, and Insta Cure #1. The nitrite in curing salts does a few special things to meat: It changes the flavor, preserves the meat's red color, prevents fats from developing rancid flavors, and prevents many bacteria from growing. I didn't have any, or know where to get it when I made my Foie Gras au Torchon last year, and Kerry, The Chocolate Doctor read about my plight on e-Gullet and out of the goodness of her heart, sent me a package of it in the mail. Isn't that phenomenal? I have tried to "pay it forward", Kerry!
Pork belly is rich. So rich. And so worth every       single      bite.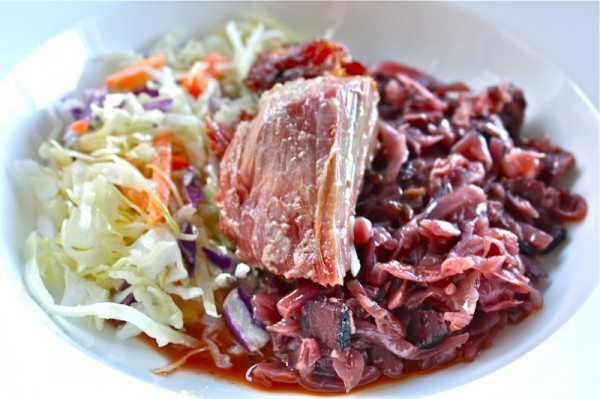 *The Pastry Tasting Dinner was very revealing as far as the pastry tasting itself went and I may one day post the results. If you want information, ask and I will e-mail them to you.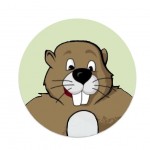 Subscribe to A Canadian Foodie so you don't miss a post! (top right)
There is still one seat left in the Greek Escapes Class January 22
Register for Canadian Food Blog Finalist's Cheryl Arkinson Pyrogie Class January 29th
Register for Allan Suddaby's Sausage Making Class February 12th
Watch for Culinary Tour and Trips in June to Niagara on the Lakes Wine Country and in September to Paris!