Lessons from my daughter and Strawberry Shortcake for Mother's Day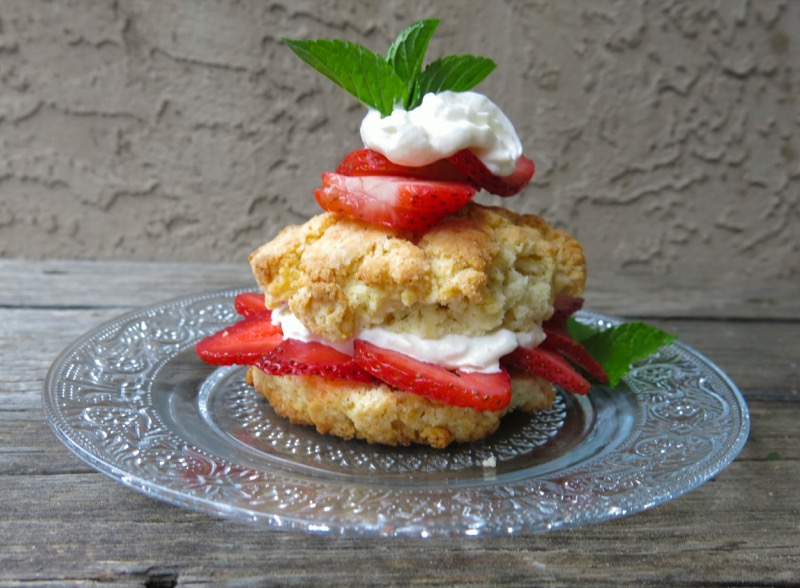 I had the good fortune to meet, visit and interview Elizabeth Baird, famed Canadian food educator, advocate and icon, one year at Christmas in November. Why did we talk about Strawberry Shortcake? I cannot recall, but I do recall asking her, "Would you say Strawberry Shortcake is a traditional Canadian food?" Her response? "Made with a biscuit?" I nodded. "Absolutely! The Strawberry Shortcake on a baking powder biscuit is most assuredly Canadian." It made such sense to me. I have adored biscuits since grade 7 Home Economics class when Judy O'Brien, the light of my year, taught me how to make them. Biscuits are fundamental in the East Cost. Instead of buns in a basket at a restaurant, there are biscuits. Biscuits have been so easy for the woman of the farm to produce for her family scraping together whatever meager ingredients were in the pantry: flour, fat, baking powder, salt and water, the only requirements.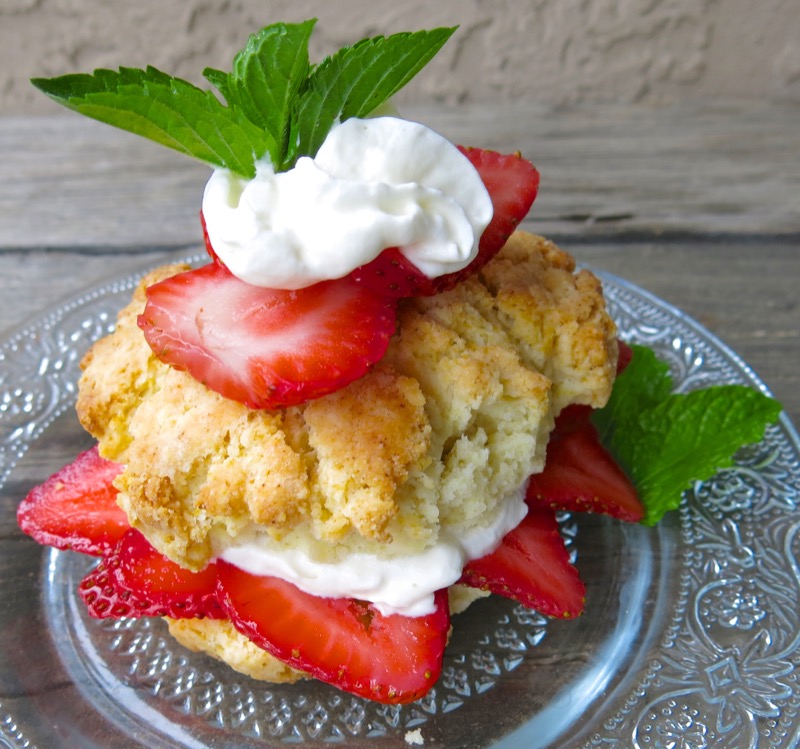 Of course, when there is more, we did more… and bump it up a notch with buttermilk or heavy cream instead of water; butter instead of lard; eggs, when the hens are squawking and plopping out more than the family can use. Biscuits are a prairie staple. Biscuits are an East Coast staple. Biscuits are a West Coast staple… and a gift from our English settlers. Yet, when bringing recipes from one's homeland to a new land, adaptation is necessary. Ingredients are different, and that is the beauty of regional culture. The same recipe, made with local ingredients will just taste different. And, when one adapts ingredients, the result can be considerably different. Thus, our Canadian Strawberry Shortcake….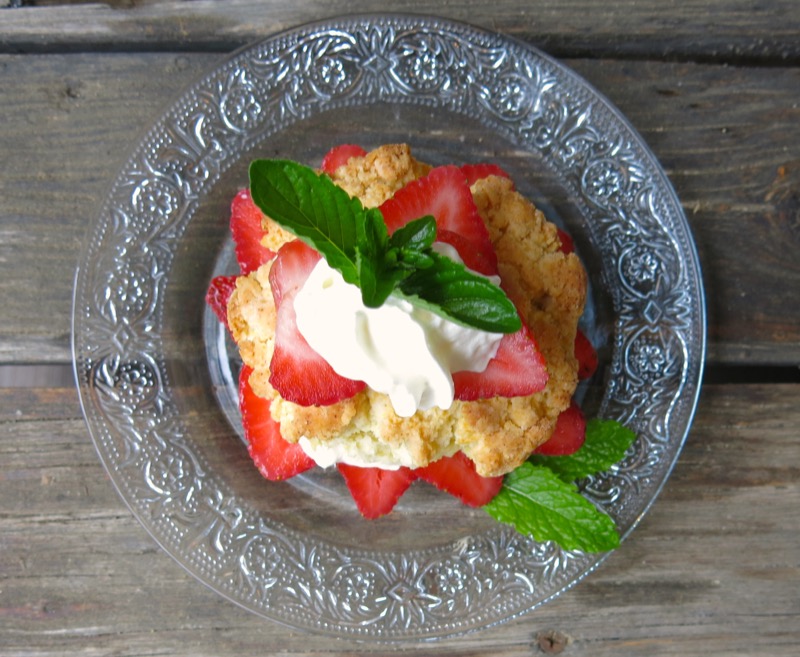 … created from ingredients British settlers found here that made a similar biscuit, with the addition of foraged berries tat the onset of summer, slathered in fresh thick farm cream. A celebration of the first berries early in the summer: vibrant ruby jewel tones on the floor of the forest, sugary sweet succulent nectar with a little tart kick. Bliss on their own. But, a Strawberry Shortcake? Macerated scantly, just enough to coax the syrupy juices out, a top a steamy hot shortcake biscuit straight from the oven, the juices soak into the biscuit while the berries slide down the sides. A thick dollop of softy whipped, cool cow's cream covered with the biscuit "lid" and more of the same: strawberries, cream, and mint…..mmmmmm….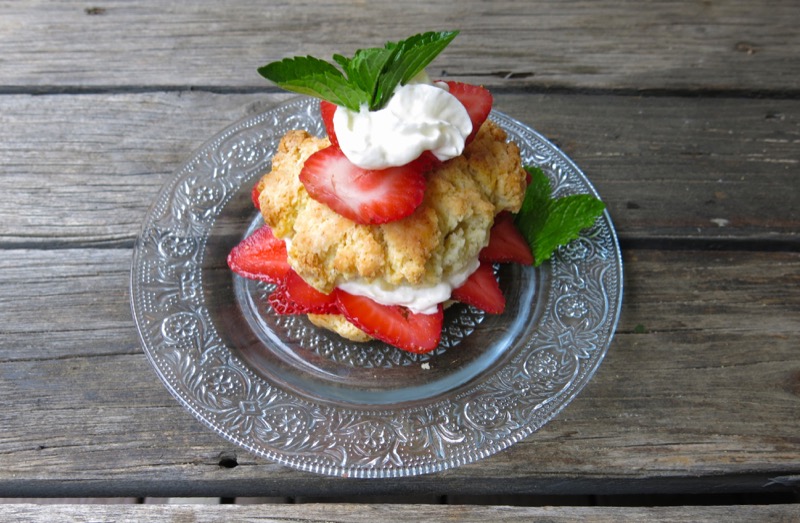 Mint is a must. Not just for the colour, but the lively fresh herb awakens the palate and compliments the sweet berries and cream snuggled into the buttery biscuit dough. I confess. My strawberry shortcakes never look like this. They are amok with bushels of berries and gobs of cream. The biscuit almost floats in the syrup and cream while proudly presenting the highly anticipated summer berries. Lapping up the mixture of warm and cold, soft and juicy, crunchy and pillowy is a bit of an addictive experience. Each bite similar but different and scrumptious all at the same time.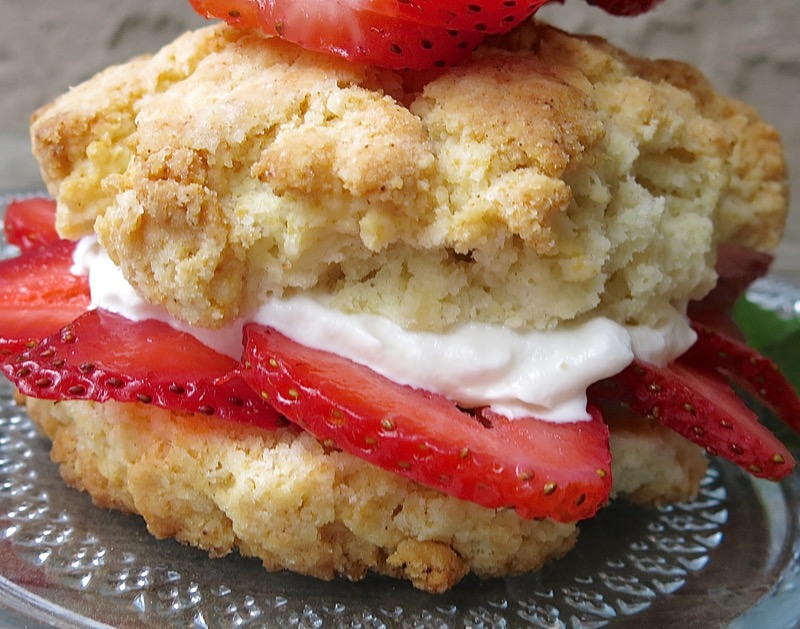 Heavy and dense, this dessert is very filling, at the same time, light and refreshing. How can that be? It is the magic of the shortcake, the berries, the cream and the season. Every time, that is how it is. "I cannot eat all of this. It is too much. It is too heavy! ….mmmm….mmmm… so light and refreshing. Ohhh…. I am so full, but want more… …"
Lessons from my daughter
I have been making Strawberry Shortcake since grade 7, under the tutelage of the unforgettable most gracious and angelic Home Economics teacher, Mrs. Judy O'Brien. I have received consistent compliments for my Buttermilk Biscuits and take great pride in the simplicity of the heritage recipe. One of the motivating factors for this entire website is to share such recipes, particularly with my daughters. Yet, consistently, and ironically, they rarely even read my posts. A labour of love, a legacy for each of them, yet they are pretty much not all that interested. I used to be a little miffed about this and encourage them to "read about…", but I have come to realize they are no different than me. I think if my own mother had a website when I was their age, I would likely "want to read it" but wouldn't have much time. It will be here for them when they do have that time, as I do now, for my own mother's nuggets. That being said, my mother has consistently celebrated her learnings from me in her own kitchen for the past 20 years or so, which I used to find hilarious as she was the best cook and baker I had ever known. What could she learn from me? Somehow, meals and treats I shared with her, inspired and motivated her as she had always inspired and motivated me. I am now finding that same experience with my own daughters.
In Salt Lake City with my daughter Lauren's family for Mother's Day, she decided to make Strawberry Shortcake for dessert. I was tickled. "What are you doing?" "Reading the recipe." "Oh! I have the Buttermilk Biscuit recipe on my site and you just add a couple of tablespoons of sugar to it for a shortcake." I shared my primordial wisdom with pride. She smiled, "I think I'll use this recipe. It looks really good." Miffed for a moment (try mine, try mine!), then motivated to go with the flow, we made it and it was scrumptious. I was inspired to use this experience to tweak the recipe for the Thermomix, changing a couple of things, as well.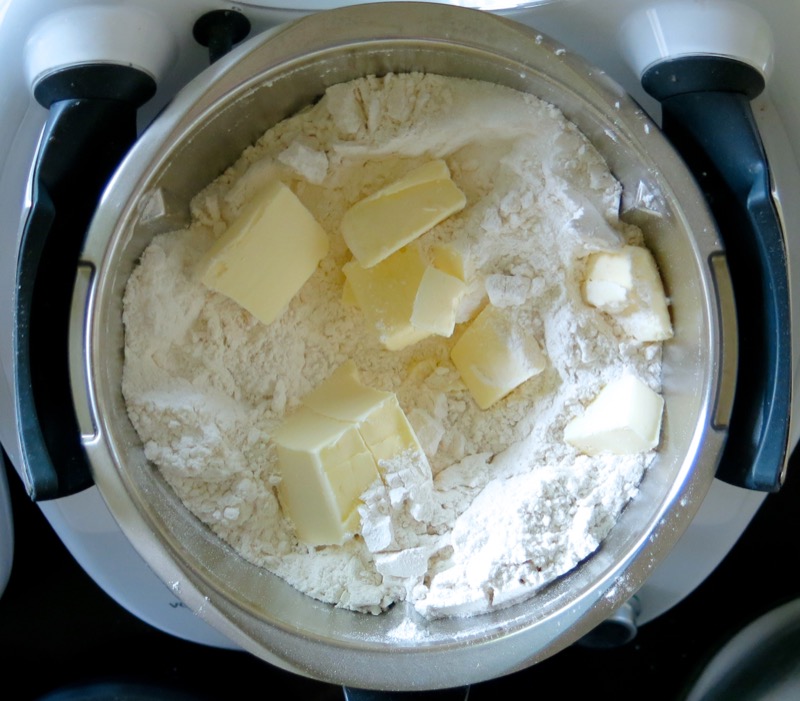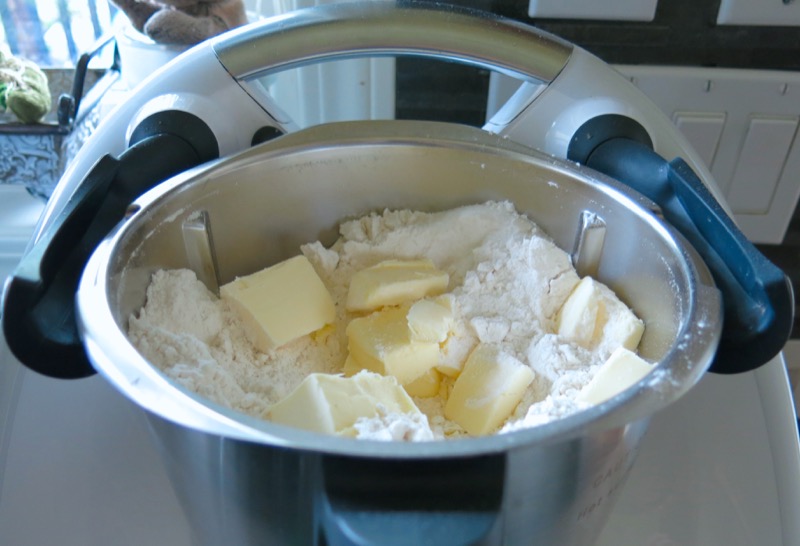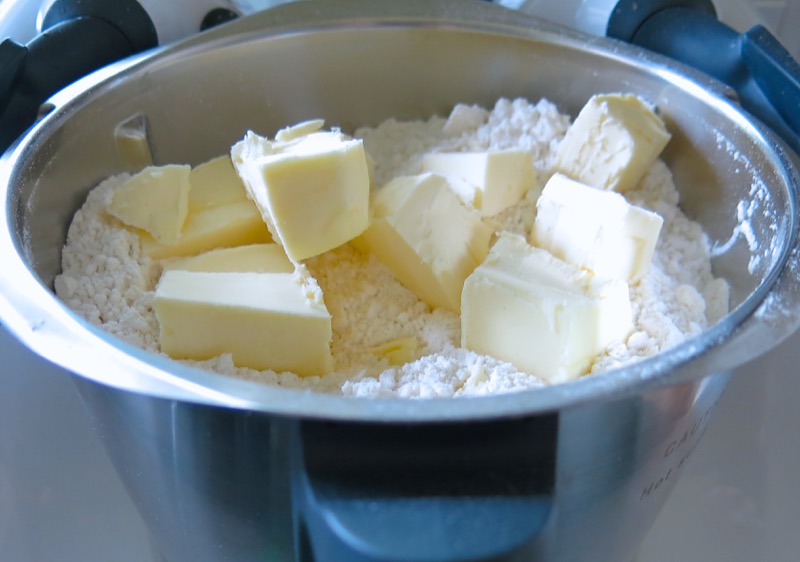 The first time we made a single batch, and the second time, a double batch. The single batch makes exactly 8 good sized portions. This time, I am making a double batch again, to take to a friend's house for dessert, so I will explain the only step different in making the double batch: add the cold or frozen butter in three steps, if using the Thermomix. It is just too much if you add it all at once. Simply add 1/3, turbo for one second, add the next 1/3, turbo for one second, and add the remainder, and finish according to the recipe instructions.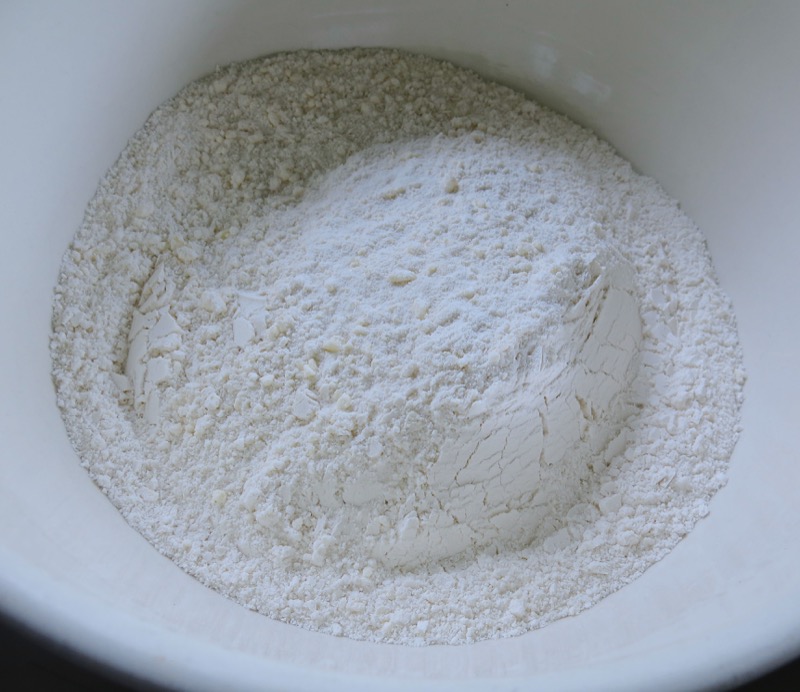 The flour looks like there hasn't been any fat cut into it, at first, but as you sift through it with your hands, you will find the oatmeal sized shards and the pea sized pieces. It is perfect.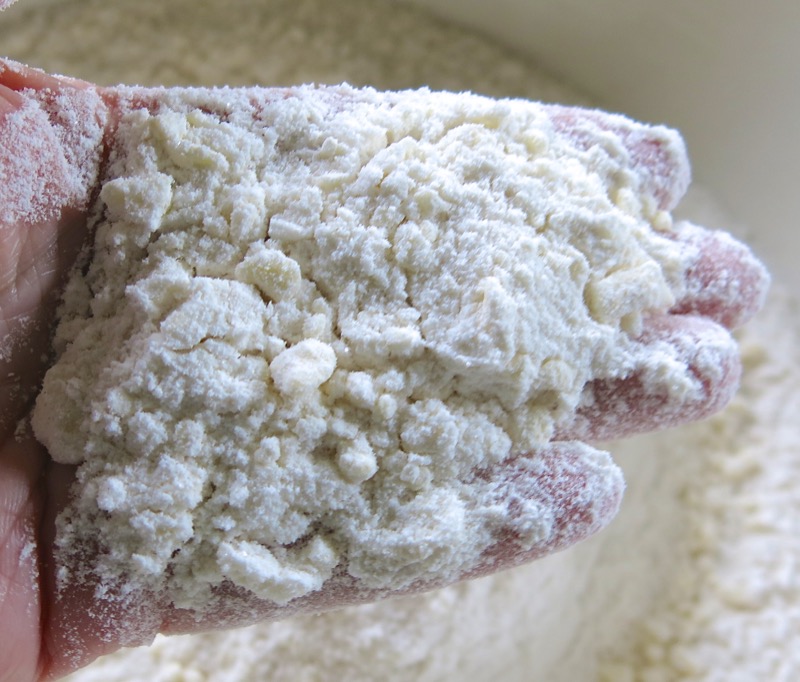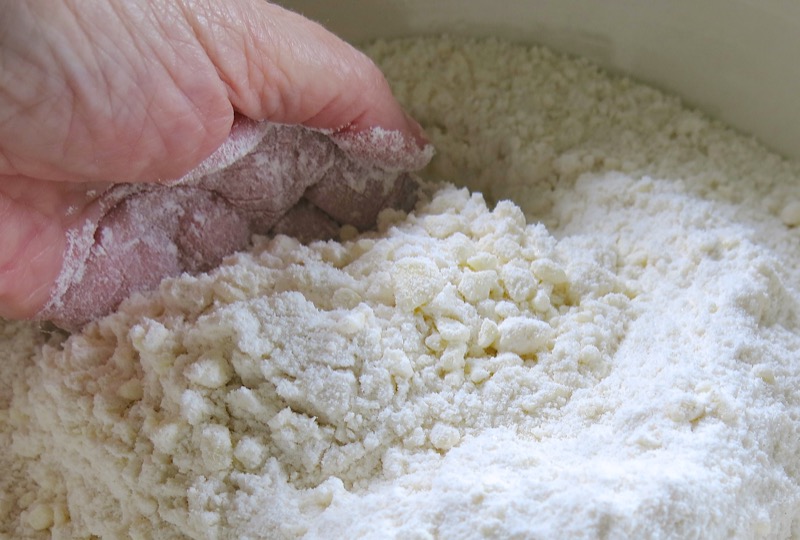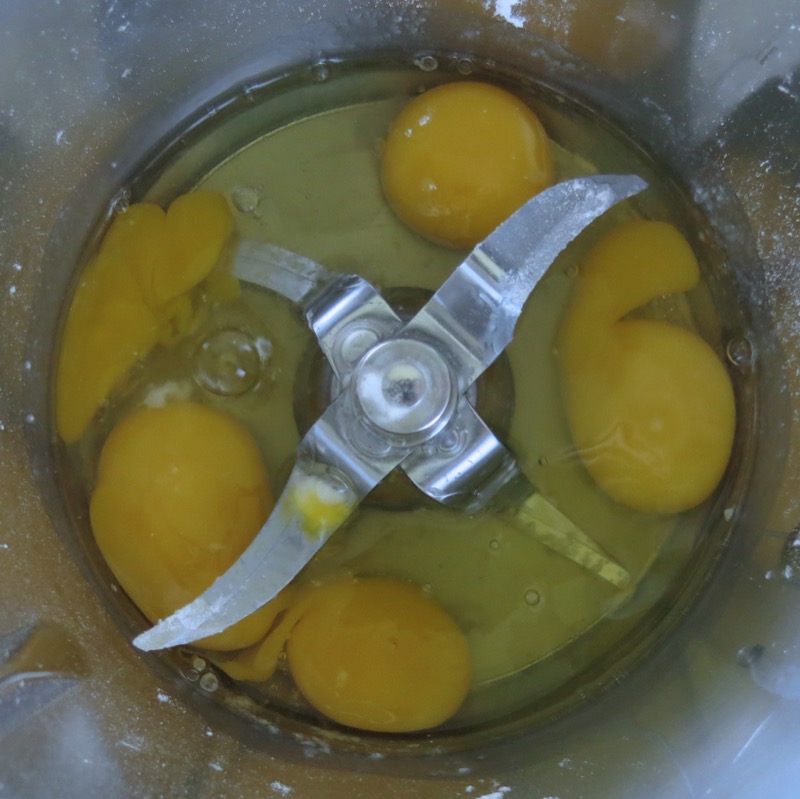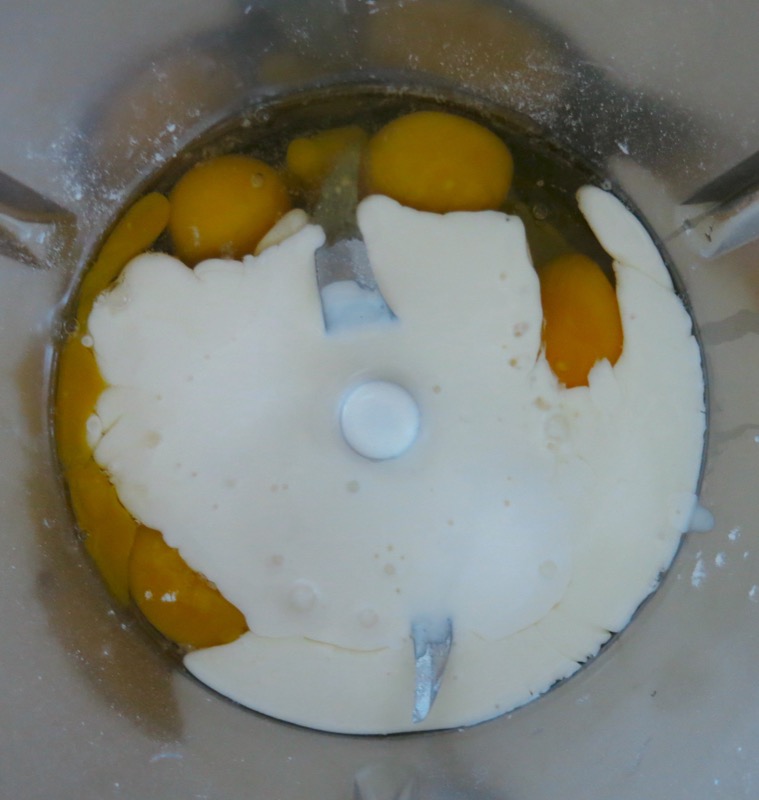 Next step: combine the cream and eggs.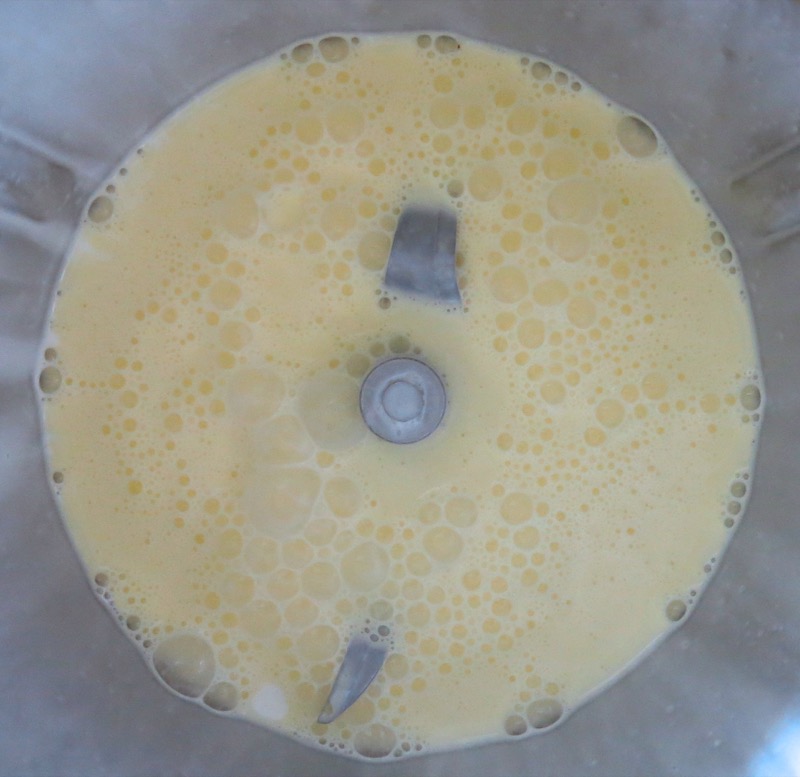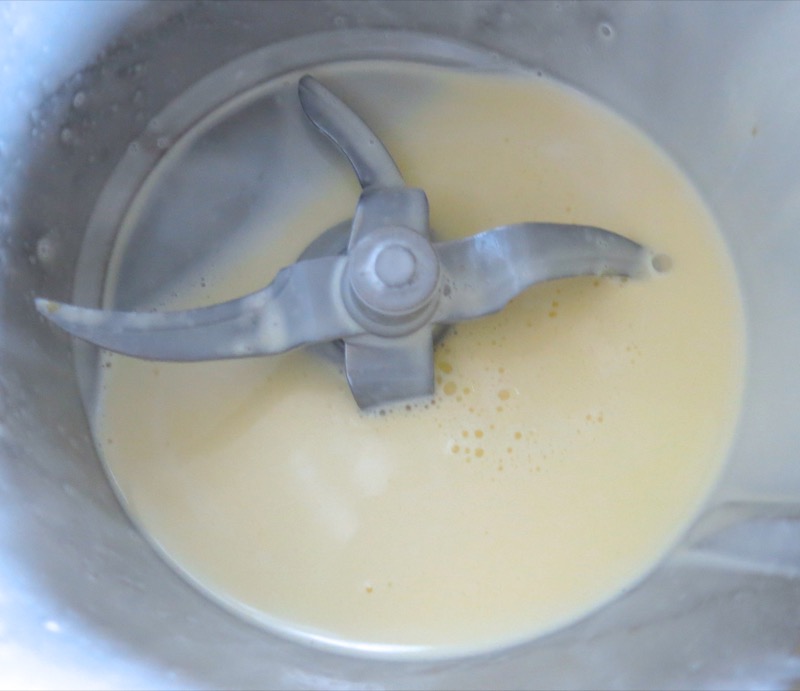 That was easy.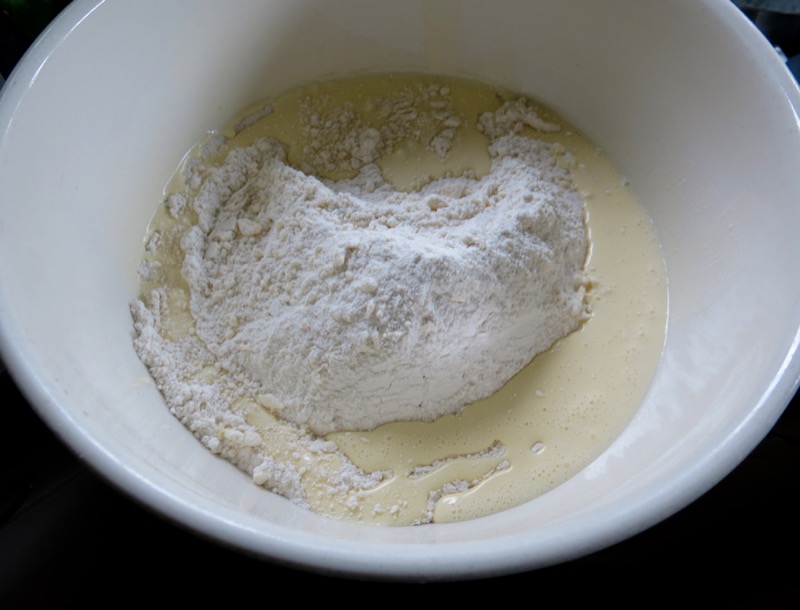 Again, if making a double batch, circle only 1/2 of the cream and egg mixture around the dry ingredients and combine in a folding stirring motion, moving the bowl around in a circle, with a fork.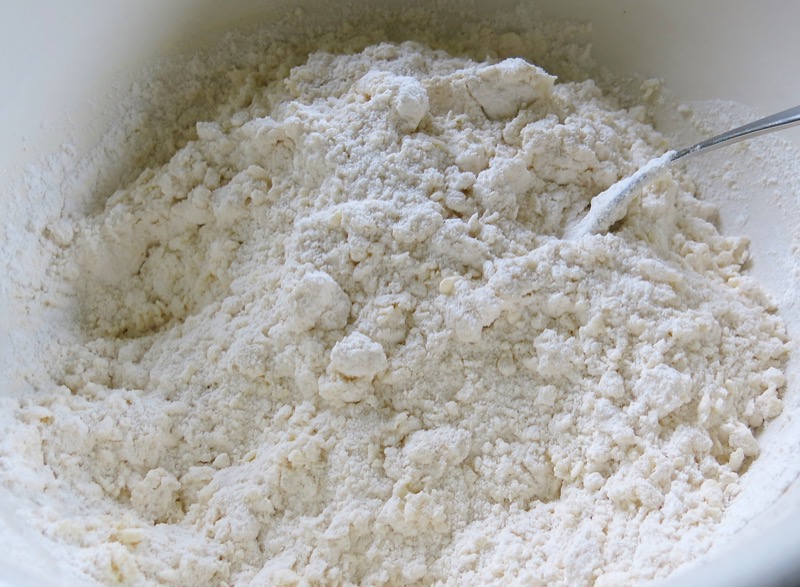 Above, you can see many dry bits still visible. Now add the rest of the liquid in a circular motion around the circumference of the dry ingredients again.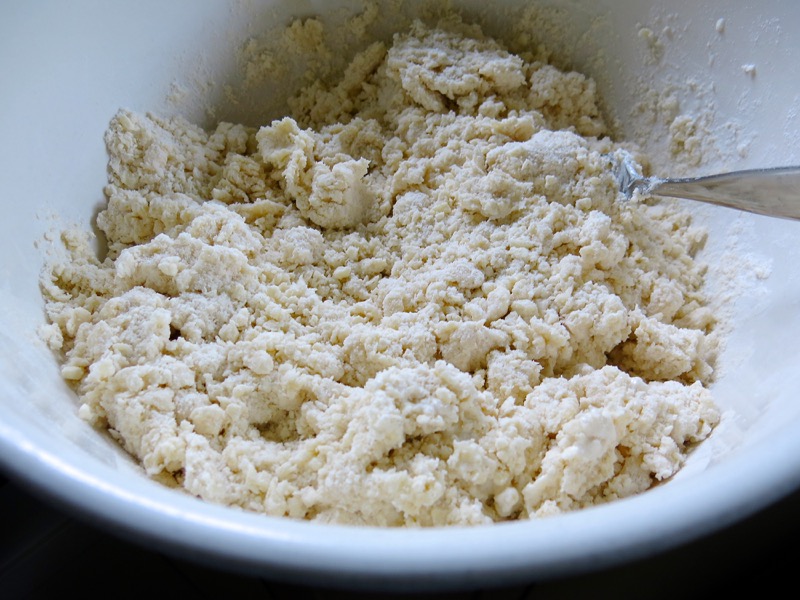 Continue to combine with a fork until the mixture clumps together, as above.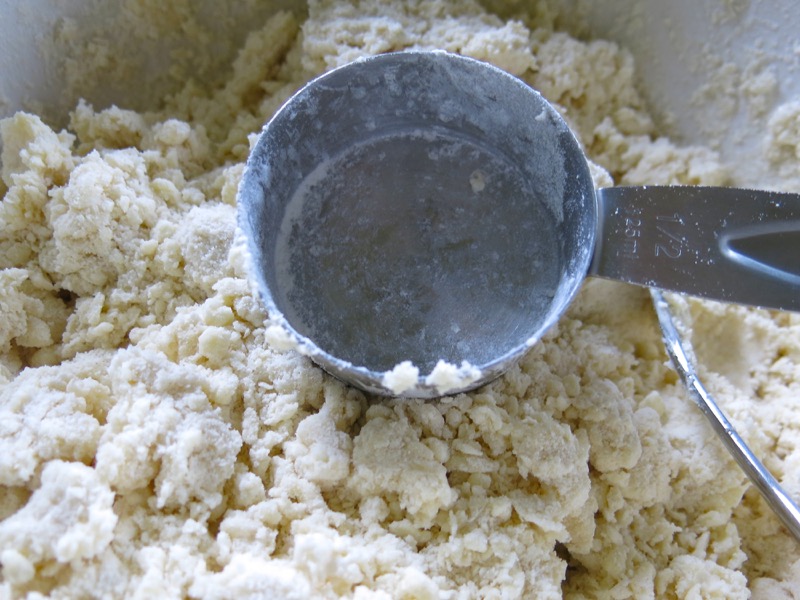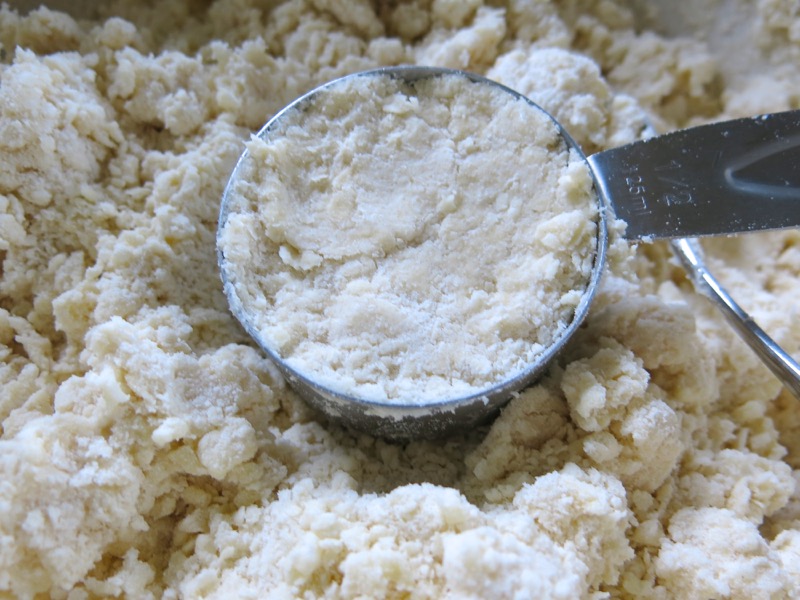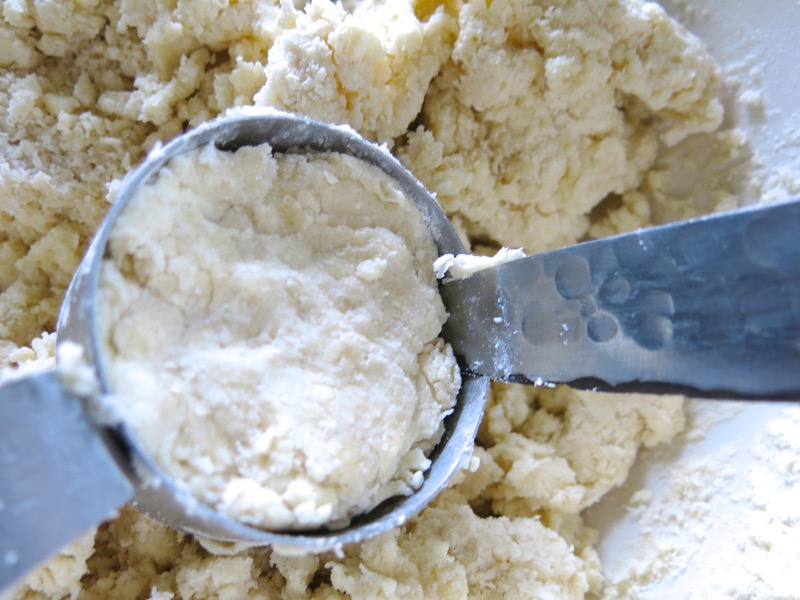 Don't tell me this is not easy. Let's do a little review: Cut butter into flour (5 seconds with a Thermomix); combine eggs with cream; fold wet ingredients into dry ingredients until they clump. Yes. That is all there is to it, except forming the biscuits. This is the part that blew me away. I have always, always, rolled out my dough and cut out my biscuits. I am not a "dollop the dough" on the pan kind of gal. Here, you flour a 1/2 cup measuring cup, pack in the dough, gently, but firmly, then use a knife, if necessary to loosen it along the sides…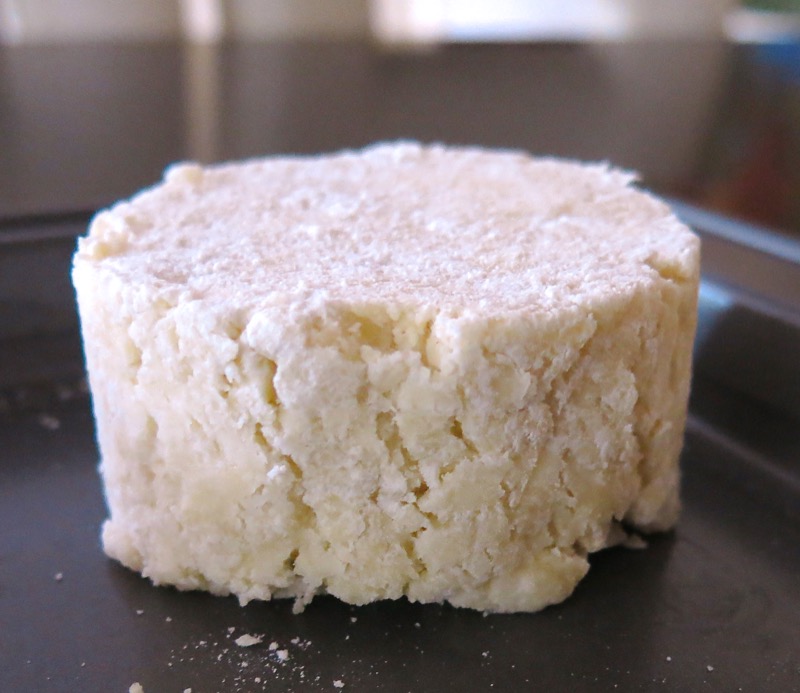 … and turn it upside down onto the cookie sheet. Whazz-amm!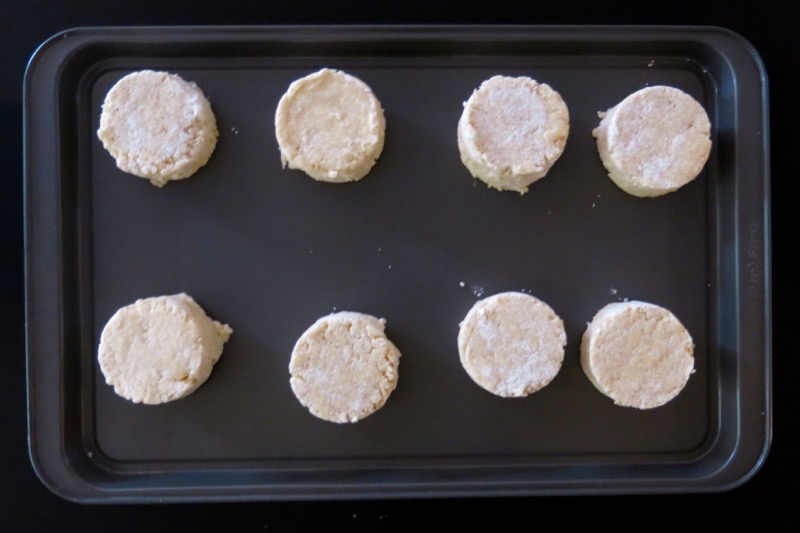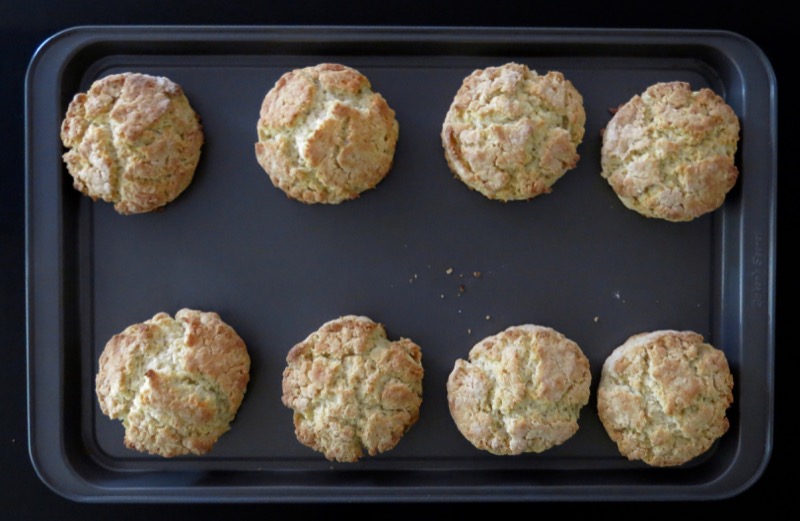 Unbaked, baked.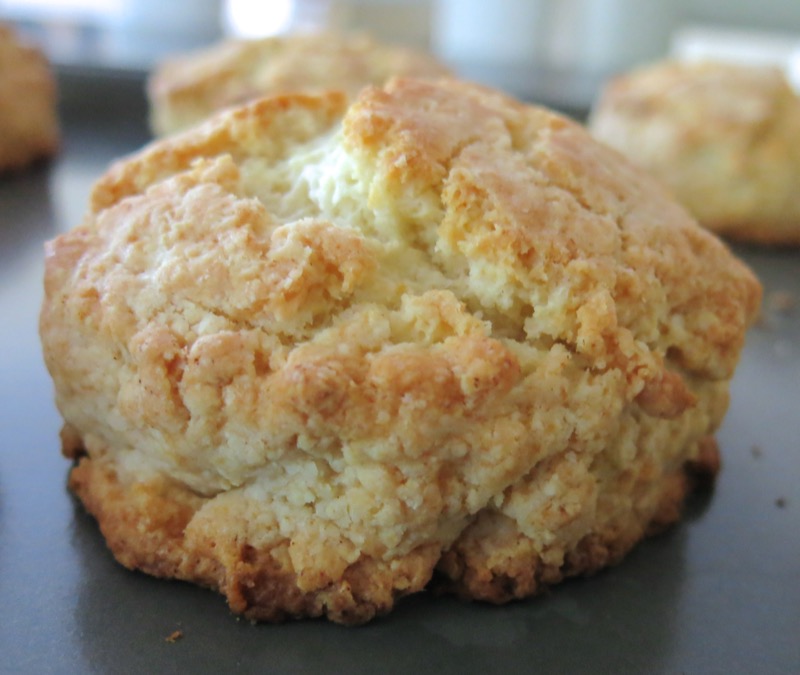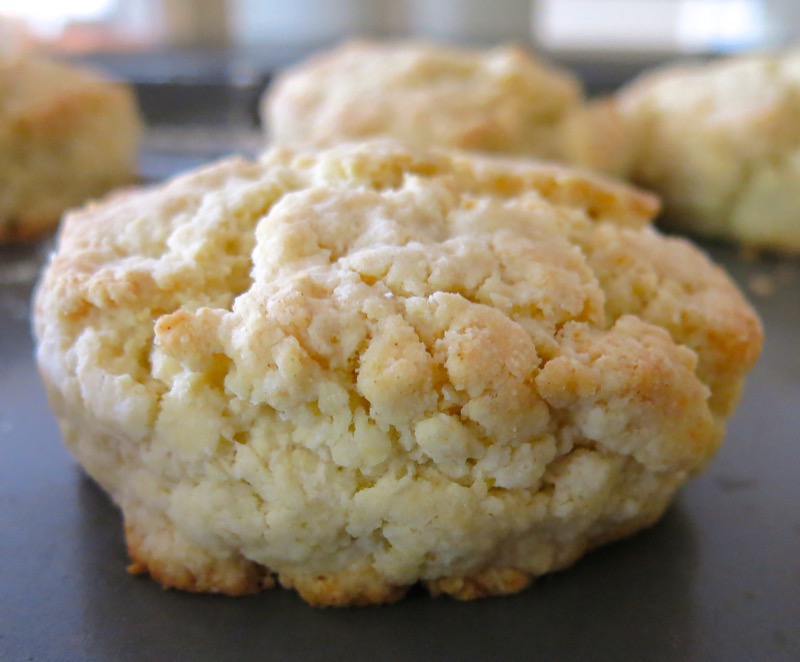 Higher to the left, as I packed the dough in to the top of the 1/2 cup (which you should do, not densely, but gently and firmly to the top); lighter to the right. The left biscuit was baked 24 minutes in my oven. I love them really crunchy and golden on the outside. The biscuit to the right was baked 20 minutes in my oven. Still crunchy, but not as caramely in flavour. It is a personal preference.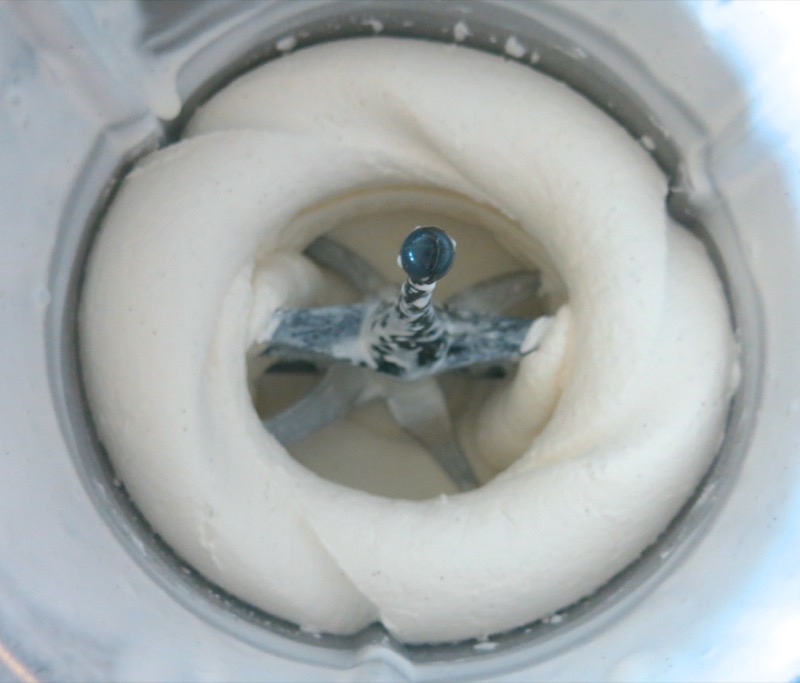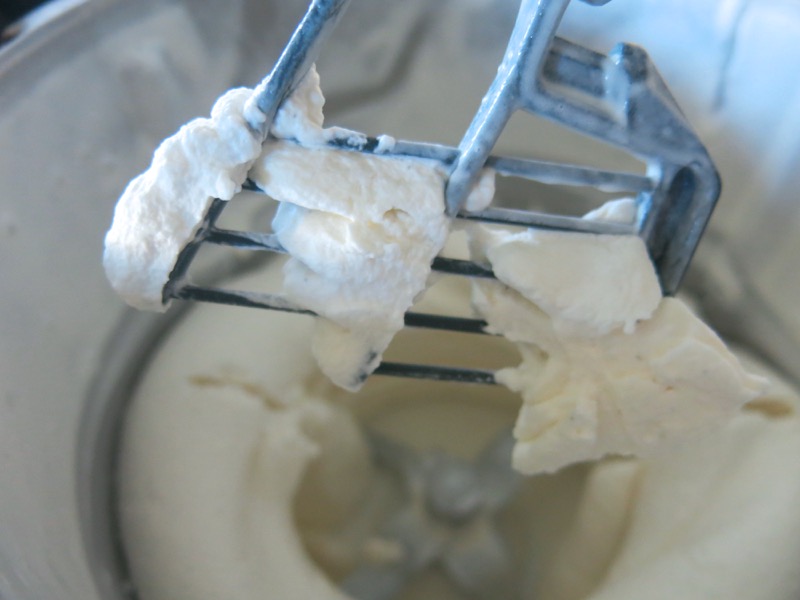 Above, 500 mL of heavy cream with a bit of sugar and vanilla is whipped in the Thermomix until it peaks; below, a liter is whipped until thick, yet soft.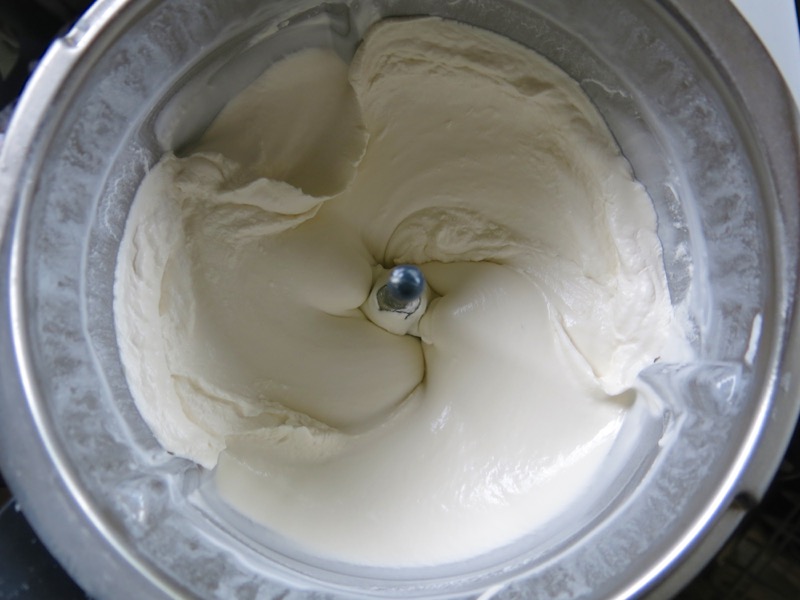 I prefer it thick and soft, lightly sweetened, buy heavy on the vanilla.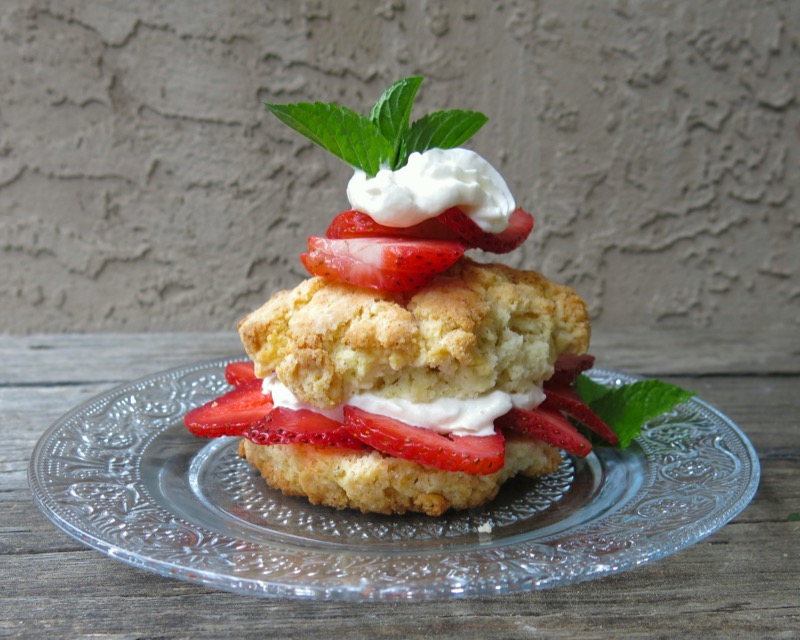 And did I mention the importance of the mint? Oh, such a glorious punctuation mark between bites of this lovely grand finale!
This is the best Strawberry Shortcake biscuit I have ever had. It is not the same recipe Lauren initially used, but the idea is the same. I tweaked the recipe she used to "bump it up a notch"! I would have stuck with "the same old, same old" as that is what I do. If the recipe is delicious, why change i?. Yet, motivated by the opportunity to cook for and with Lauren, I was inspired to create my own recipe for the Thermomix, and I left in the eggs!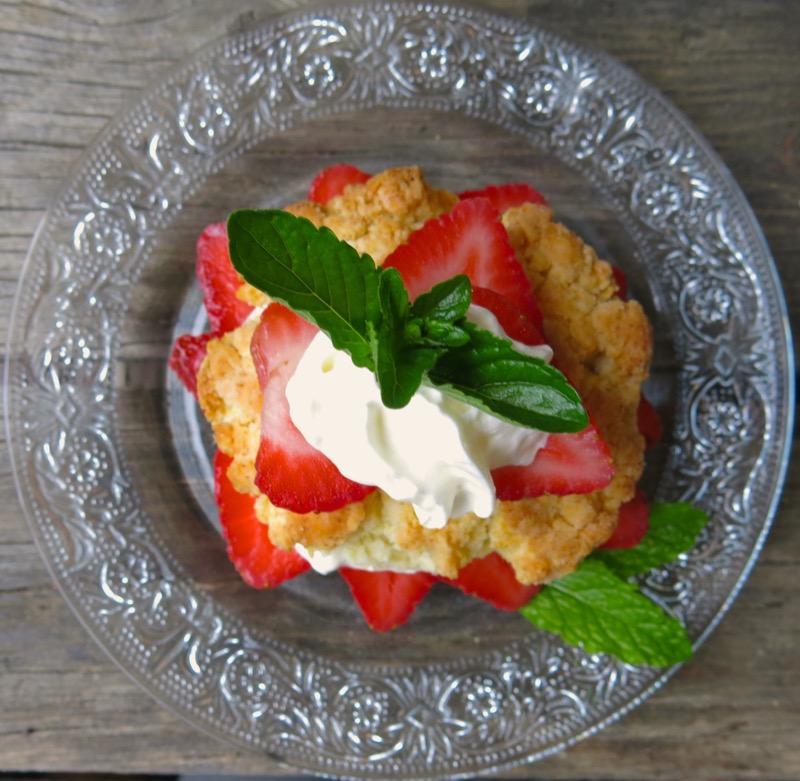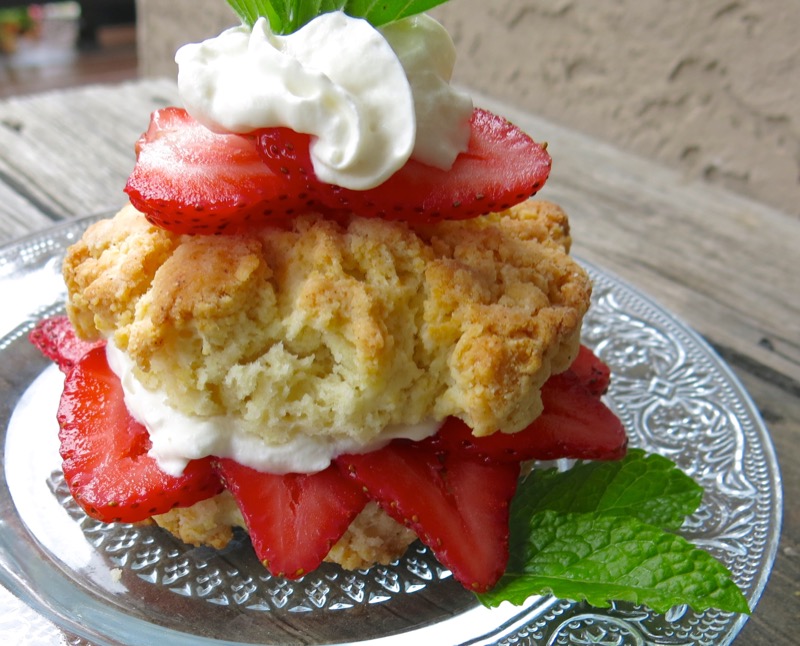 Hilarious that the biscuit top had a big chunk fall out of it, but lovely to see the crumbly, rich, buttery texture beneath it.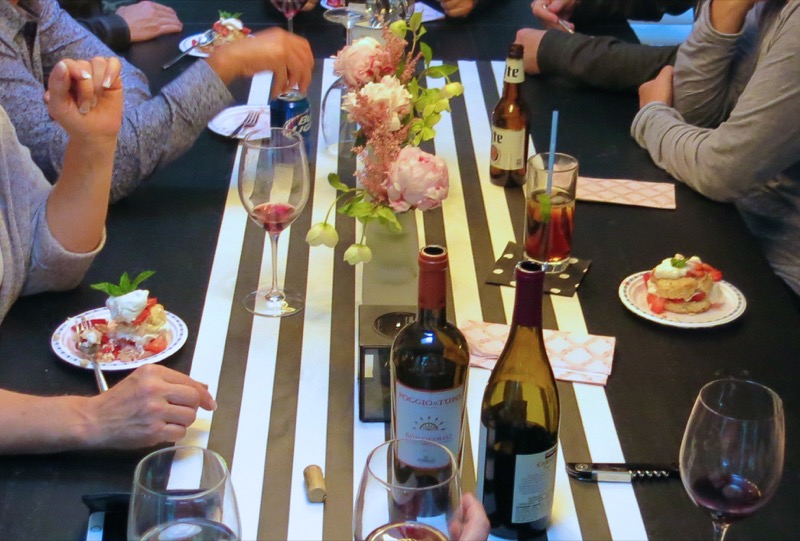 The best part? Taking around the extra berries and cream to "top up" each humble little offering. One can never get enough seasonal berries – or, enough thick, soft, vanilla scented whipping cream!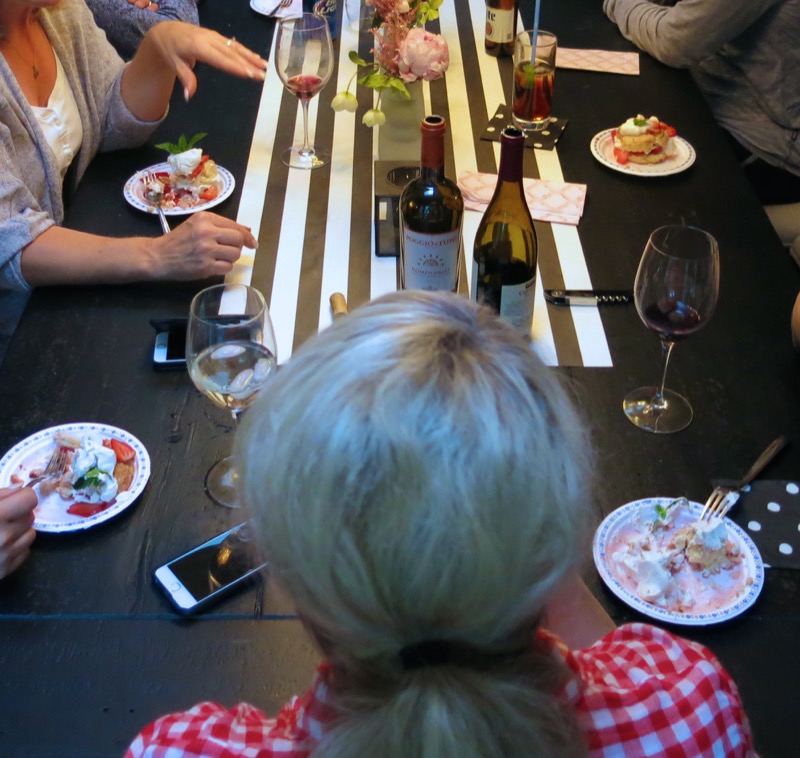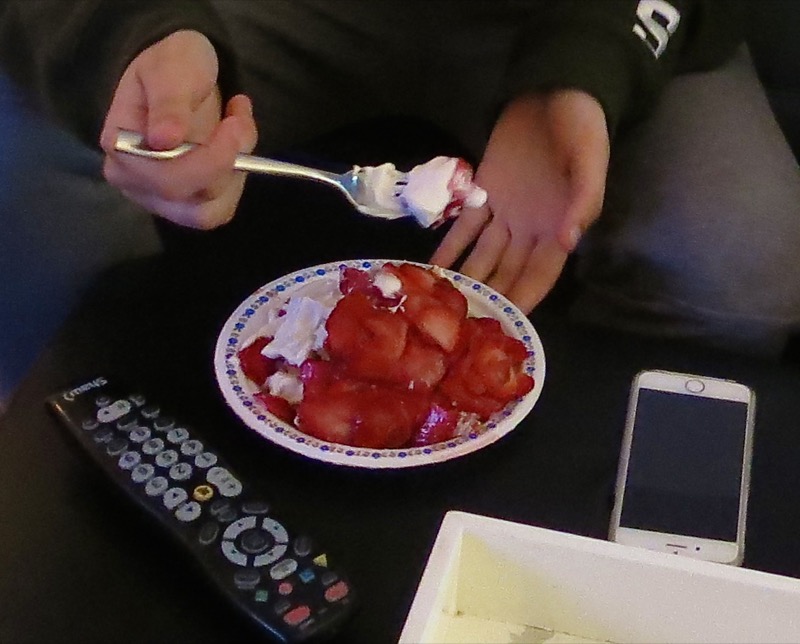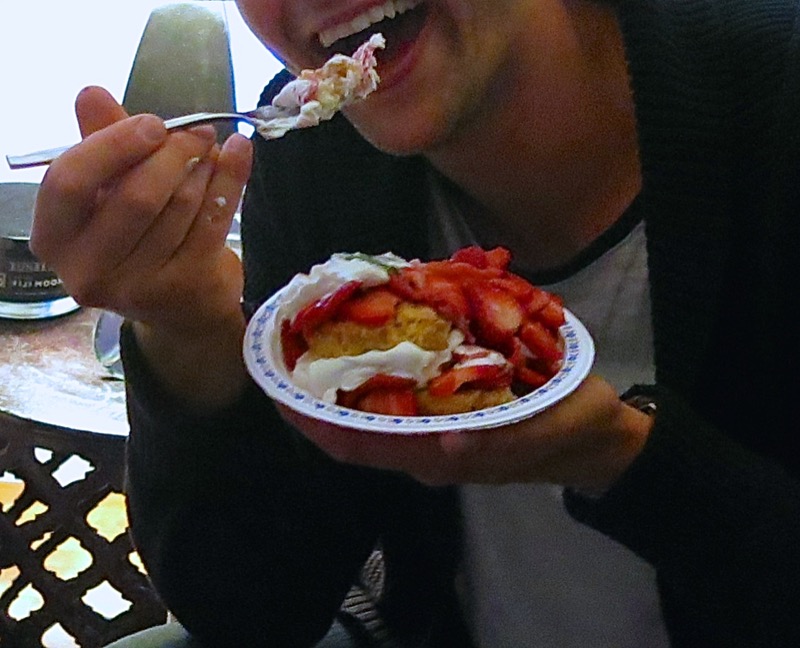 There is a biscuit in there (above), I promise!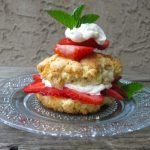 Deviant and Delicious Canadian Strawberry Shortcake
This traditional early Summer dessert is a celebration of the strawberry and the first harvest from the garden paired with the humble homey rich crumbly butter biscuit and some thick fresh cow's cream. Wickedly deviant (and incredibly slick) only because the biscuit dough is pushed into a 1/2 cup measuring cup instead of rolled and cut. Super easy. Life is good. O, Canada!
Ingredients
Ingredients for Strawberries
4 -6

cups

fresh know-your-farmer strawberries

, cleaned and sliced (2 pound or 1 kilo whole berries)

3/4

cup

sugar
Ingredients for Shortcake Biscuit
3

cups

or 500g flour

1/2

cup

or 100 grams sugar

4

teaspoons

or 20 g baking powder

1

teaspoon

or 5 g salt

3/4

cup

or 170g cold unsalted butter

, cut into small pieces

3/4

cup

or 170 grams heavy cream

2

large eggs
Ingredients for Whipped Cream
1 3/4

cups

or 400 grams heavy cream

2

tablespoons

sugar

1

teaspoon

vanilla paste (or pure vanilla extract)
Garnish
mint leaves

2

strawberries, sliced
Instructions
Preparing the Berries:
Toss sliced strawberries with 3/4 cups sugar; set aside for an hour to macerate (no extra sugar needed if you add the extra 2 cups of berries)
Making the Shortcake Biscuit Dough:
Preheat oven to 375 F; line a baking sheet with parchment paper

Weigh flour, baking powder, 1/2 cup or 100g sugar, and salt into TM bowl; pulse on Turbo for 2 seconds 2 times to combine

Weigh butter into TM bowl (see note if making double batch); pulse on Turbo for 2 seconds 2-3 times (mixture should resemble coarse oatmeal with some pea-size bits)

Remove from TM bowl; set aside in a large bowl

Weigh 3/4 cup heavy cream and 2 eggs into the TM bowl; whisk to combine for 10 seconds at speed 4

Pour in a circle around edge of flour mixture in large bowl; using a fork, fold until clumps form

Bring together very loosely in a ball; do not overwork this dough
Forming and Baking the Shortcake Biscuits:
Lightly flour the inside of a 1/2 cup measuring cup and gently pack dough into it; invert and tap out onto parchment covered baking sheet (may need to run a knife around the circumference of the cup to loosen the dough)

Repeat to form 8 biscuits (dough will make exactly 8 biscuits)

Bake 20 minutes, or until lightly golden; transfer to a rack to cool (bake 24 minutes for golden crunchy biscuits)

Slice each biscuit in half gently when cool with a very sharp or serrated knife, as they are crumbly and somewhat fragile; reheat at 400 F for 5-10 minutes just before serving (slice first, when cold)
Preparing the Cream:
Weigh remaining cream and 2 tablespoons sugar with vanilla into TM bowl; insert butterfly whisk and whip for 3-5 minutes at speed 3.5 until soft peaks form

Refrigerate until ready to serve
Putting it all Together:
Remove hot sliced biscuits from oven

Layer bottom half of each biscuit with 1/4 cup strawberries; top with a generous dollop of cream

Add top half of biscuit and cover with 1/4 cup of berries and another generous dollop of cream; garnish cream with mint and slice of fresh berry

Serve immediately (as these are best with the combination of the warm biscuit and the cold berries)
Recipe Notes
Making a Double Batch
Add the butter to the flour by 1/3, turbo for 1 second after each addition, and when adding in the last third, turbo for 2 seconds 5 times, then proceed with the recipe as usual
Amount of Strawberries
4 cups of sliced berries is enough for 8 servings, but I find that almost everyone is looking for more berries and cream when halfway through their dessert, so find it nice to have extra to pass around!
Thank you for the inspiration, Lauren! I was so inspired from this experience that I made the dessert for Sunday Dinner at Mike and Colleen's! We had it hear for our Sunday dinner on Saturday with mom and Ragan, and there on Sunday. It was a hit and will now be my new "go to" shortcake biscuit recipe. Hands down. So, the cycle continues. From Mother to daughter to daughter to mother. XOOX