The Ultimate Chocolate Chip Cookie: Tried and true and almost good for you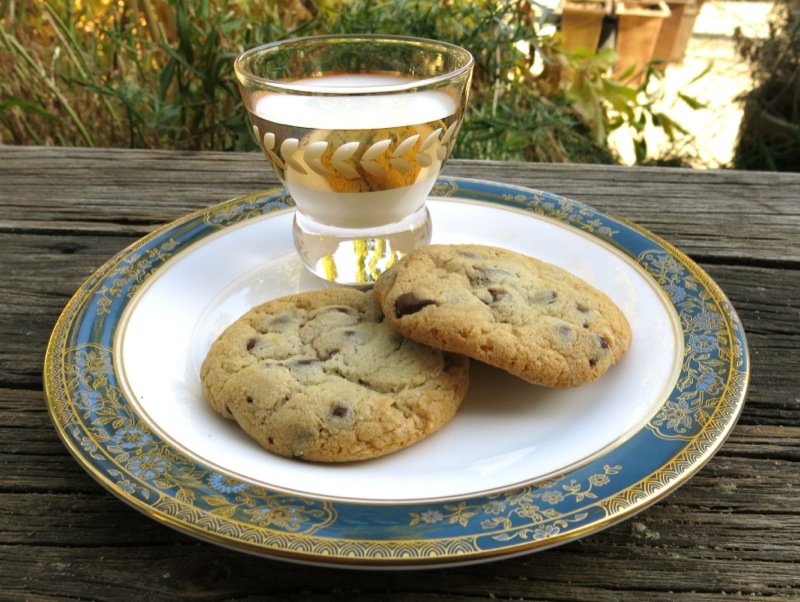 Happy Anniversary to me! Yup. Eleven years. Compared to my friends celebrating their 35th year, it doesn't sound like much of an accomplishment… but, it is more than I had ever dreamed of…As Vanja is away on "our" holiday visiting his parents in the former Yugoslavia this month, this is our first anniversary apart. Last year was our big ten-oh, yet, with mom in the hospital at the time, my dream of "the tenth" didn't pan out. We were not on the Eiffel Tower toasting to our future. Sometimes celebration dreams are like that. I never thought I would be married to anyone for 10 years, and a trip to Paris isn't as outrageous as it may sound… yet, a bad time for it, and then time drifted… away….. sigh…And this year? Well, we certainly didn't plan to be apart, but dad was ill again, and Vanja needed to see his parents. It really isn't that big of a deal, but it feels like it is. Why is that?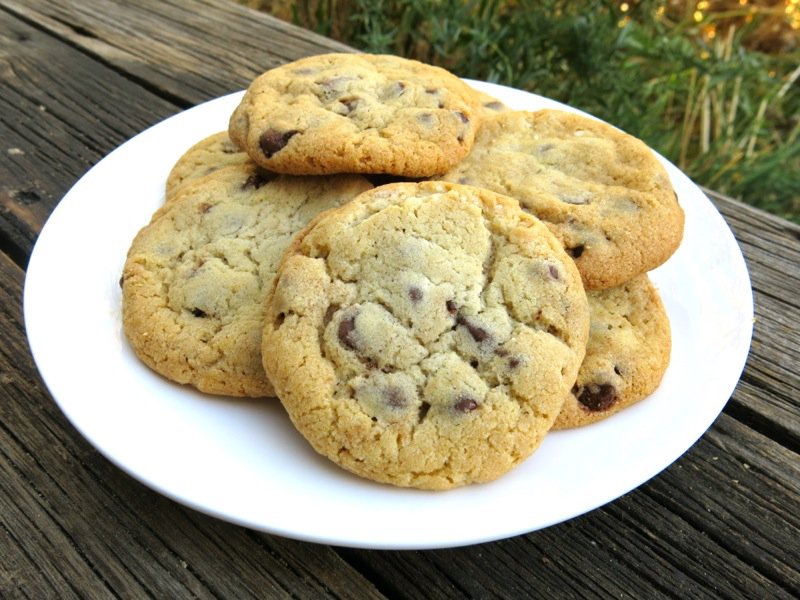 Anyway, my eldest daughter is living at home again (between relationships), so she and I celebrated by ordering in. Though I do love cooking, today I just didn't feel like it. She was making cupcakes for work. I was separating concord grape skins from their pulpy centres for a pie, and jam and hopefully ice cream… ordering in seemed like the perfect solution for our already very busy kitchen.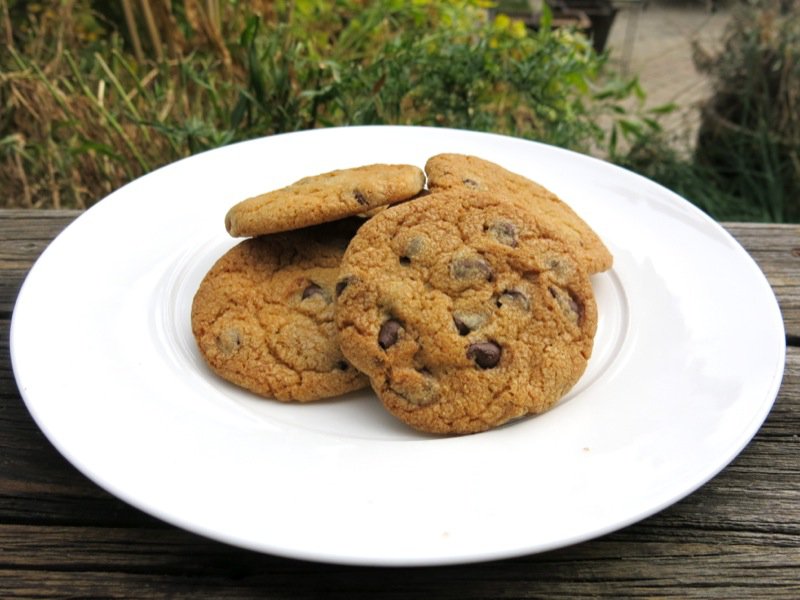 After noshing from the take out trays, I wanted a little something sweet. Ordering in Chinese food is not healthy. So, going for broke, I decided to bake a batch of chocolate chip cookies. I make them and freeze them individually on cookie sheets, then pack them into ziplock bags, labelled of course, for just such self-indulgent (or self-destructive) occasions.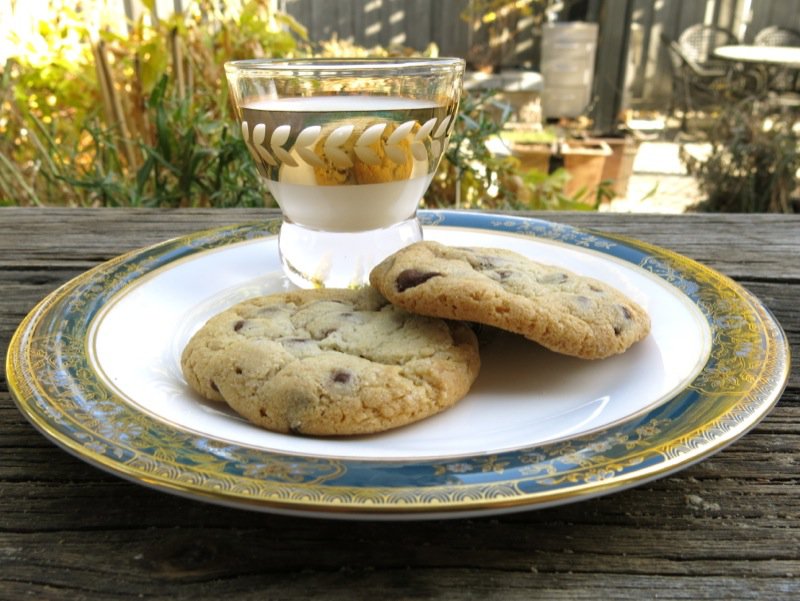 So, happy anniversary to me! One cookie, two cookie, three cookie, four, five cookie, six cookie, seven cookie: MORE! No. Really. I stopped at four. I could have had 11. It was my eleventh anniversary, remember? So, I believe I did show restraint. Anyway. These cookies hit my lonely little sweet spot and I am pretty certain you will find that this is the ultimate chocolate chip cookie should you make them. I have made tens of chocolate chip cookie recipes and stopped after making this one which is a combination of, oh, so many, and, as I said already: the ultimate chocolate chip cookie.
The Ultimate Chocolate Chip Cookie: Mise en Place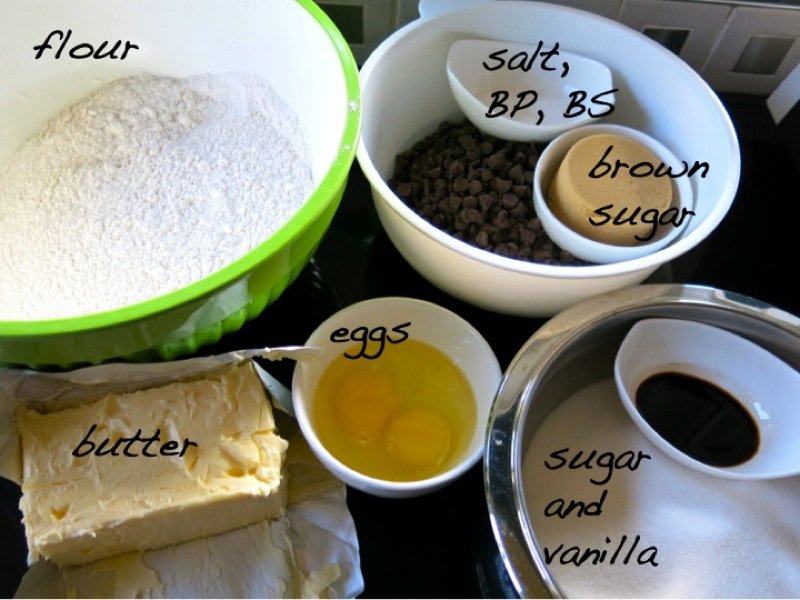 Mis en place. My daughter thinks this is a big waste of time and that it dirties too many dishes. I say: What's a dishwasher for? I enjoy gathering everything I need and getting that sense of what is going into each recipe. We made a double batch as I almost always do. It isn't any more work, and I freeze most of them for unexpected company, anyway. Unexpected company? Do you hear that? Come. (Well, with a little notice.)
The Ultimate Chocolate Chip Cookie: Making the Batter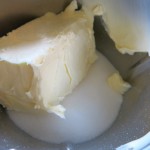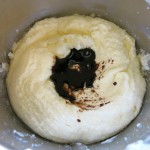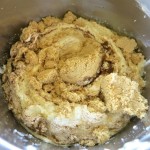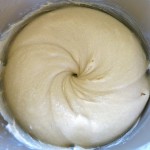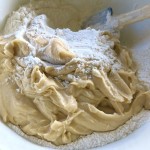 Of course, you do not need a Thermomix to make chocolate chip cookies, it just makes it so much easier and no mixer can create the texture of the sugar, butter and egg mixture like the Thermomix machine.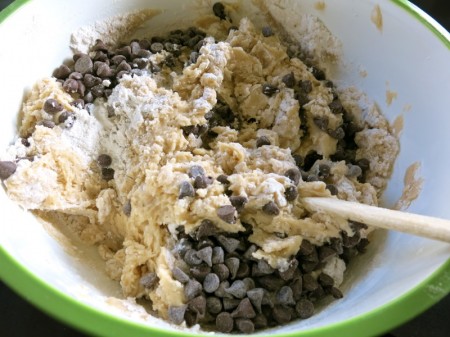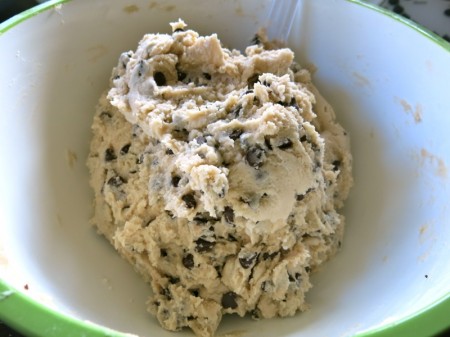 The Ultimate Chocolate Chip Cookie: Shaping the Cookies
I use a small ice cream scoop to make the balls for the cookies, leaving enough space for them to spread on the tray if baking right away. If freezing, instead, then closer together on the cookie sheet makes the most sense. Each ball gets flattened before baking or freezing.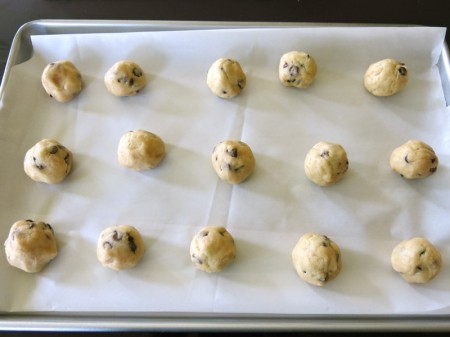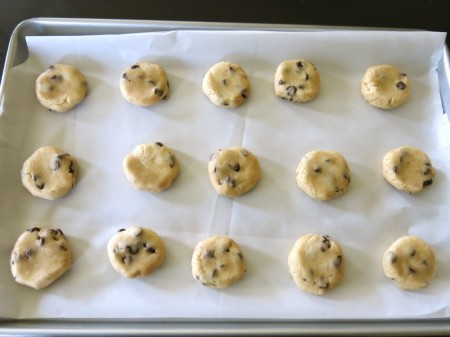 The length of time in the oven will dramatically affect the texture of the cookie. If you like them crisp, bake longer. If you like them chewy, bake them less. This cookie will be crisp and chewy when baked less, which is what I like about it. Crisp around the edges, and chewy in the middle. The cookie batter is delicious when baked. I have thought about making these cookies without chocolate chips, I enjoy the cookie so much on its own. Below is the crispy cookie.
The Ultimate Chocolate Chip Cookie: Baking the Cookies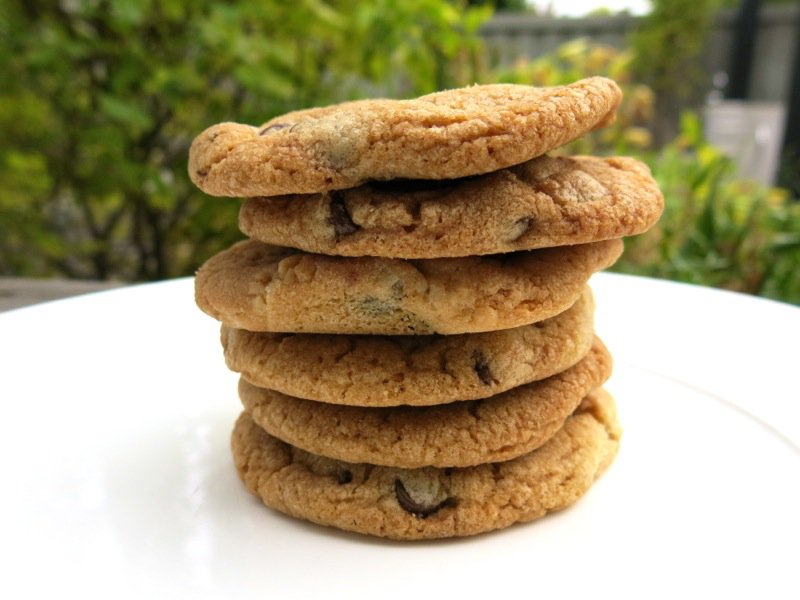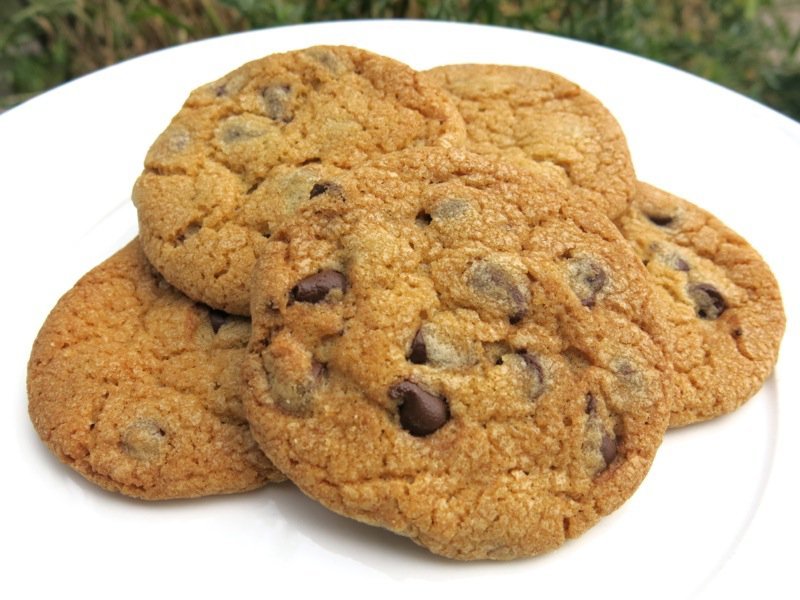 My dad likes them dark and crisp. They are delicious this way, too. Side by side with the others, they appear over baked, but on their own, they just appear deliciously crisp!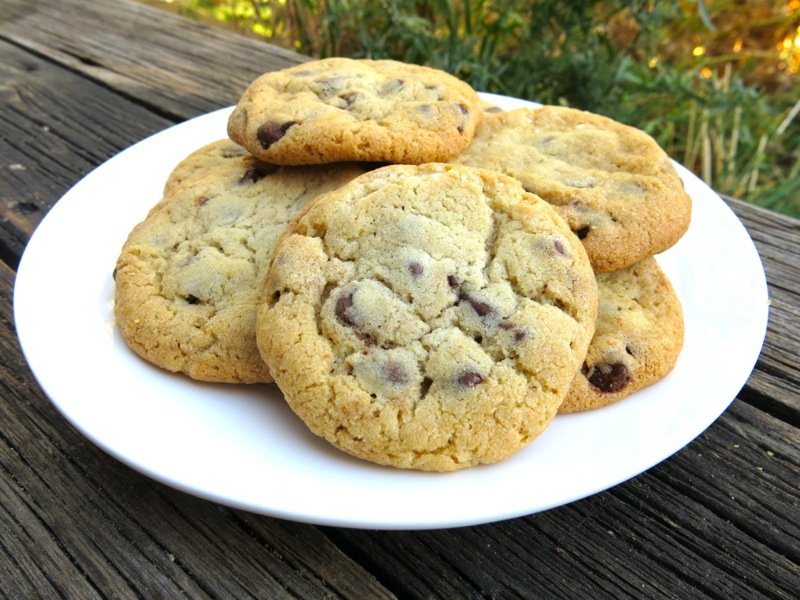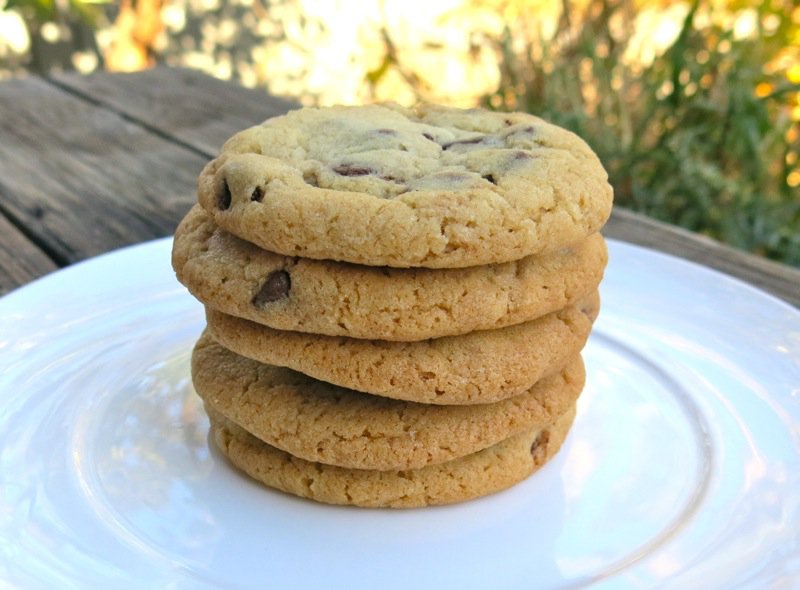 The fancy-schmancy plate and glass elevate the chocolate chip cookie with milk experience considerably. Pinky up.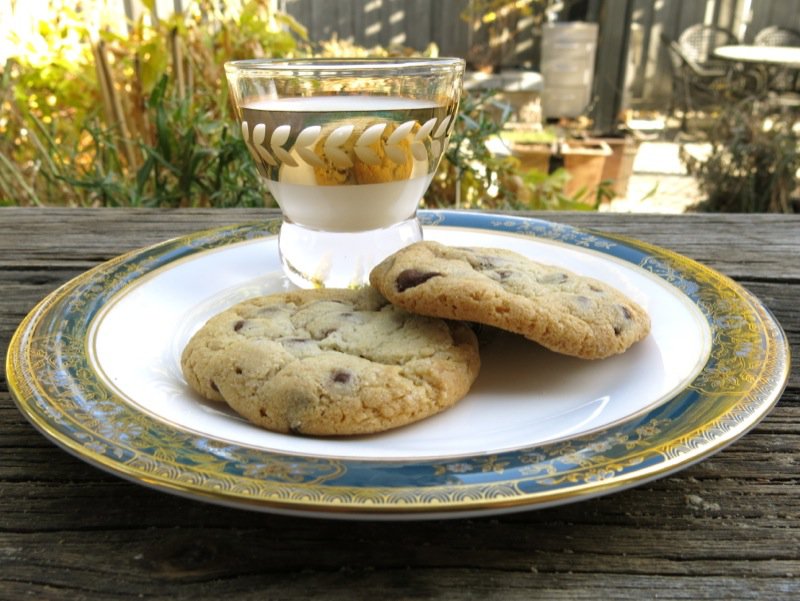 But eating four was a little self-deprecating. Three would have been more… acceptable. Next time, I will stop at the usual two… three will be only a possibility. Four? Overkill. The fourth cookie didn't even taste good. (I lie.) Please let me know what your ultimate chocolate chip cookie recipe is, and by all means, try this one!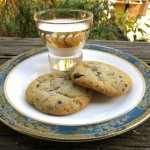 The Ultimate Chocolate Chip Cookie


Having taught cooking to 12-15 year old teens at school for a few years, I got to test several chocolate chip cookie recipes. This is one of my two favourites: "the ultimate". Makes 48 cookies
Ingredients
2

cups

of unsalted butter

, softened (or one pound, room temperature)

2½

cups

of white granulated sugar

½

cup

packed brown sugar

1

tbsp

vanilla

2

eggs

2

tsp

baking soda

1/2

tsp

baking powder

2

tsp

salt

5

cups

of flour

3-4

cups

of chocolate chips
Instructions
Instructions for the Cookies:
Preheat oven to 375°F

Cream together butter and sugar until fluffy

Add eggs and vanilla, mixing thoroughly

Stir baking soda and salt into the flour mixture; fold flour into the wet ingredients

Add the chocolate chips and knead into the dough by hand; form into balls (the dough is on the dry side)

Place 12 balls of cookie dough on parchment covered cookie sheet; flatten each cookie with the palm of your hand, or the bottom of a glass (push any dough bits that scatter away from the "cookie" back into the cookie)

Bake at 375 for 9-11 minutes, until golden brown; turning the cookie sheet around inside of the oven 5 minutes

If you want the cookies crispy, leave on the cookie sheet to cool; if you want them chewy, remove from the cookie sheet to a cool surface immediately
Instructions for the Cookies with the Thermomix:
Preheat oven to 375°F

Scale room temperature butter and sugar into the TM bowl; insert the butterfly and cream together butter and sugar for 4 minutes at speed 3-4, until fluffy

During the last minute, add eggs and vanilla through the hold in the lid

Remove the butterfly, scraping the wet ingredients back into the TM bowl

Scale 3 cups of the flour into the TM bowl on top of the wet ingredients; sift baking soda and salt over top

Set the lid to closed lid position, and using the knob from 0-7, slowly work to combine the batter, about 30 seconds

When just combined, pour all ingredients into a large bowl, add chocolate chips and the remaining flour, and knead dough together by hand

Place 12 balls of cookie dough on parchment covered cookie sheet; flatten each cookie with the palm of your hand, or the bottom of a glass (push any dough bits that scatter away from the "cookie" back into the cookie)

Bake at 375°F for 9-11 minutes, until golden brown; turning the cookie sheet around inside of the oven 5 minutes

If you want the cookies crispy, leave on the cookie sheet to cool; if you want them chewy, remove from the cookie sheet to a cool surface immediately
Recipe Notes
Cookie dough freezes perfectly just before baking point. Place on cookie sheets, flatten and flash freeze. When frozen, pack 6-12 into labelled dated zip lock bags and freeze. To bake right out of the freezer:
Preheat oven to 375˚ F
Place frozen cookies on parchment covered cookie sheet
Bake 12 minutes for a softer cookie and 14 minutes for a crispy one
If not frozen, bake 8-10 minutes