"Killer Mexican Food" that is definitely worth the wait!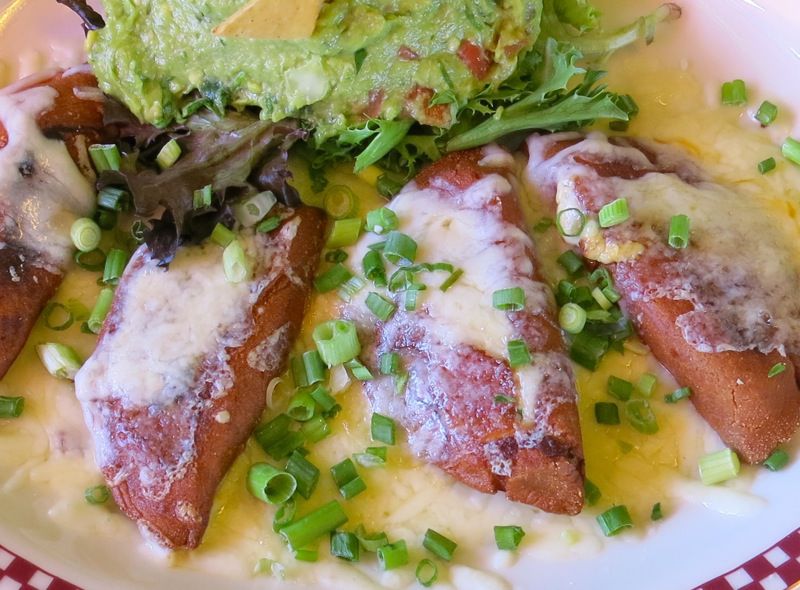 Do you see what I see? Does the above plate look a little familiar? They are Enchiladas Potosinas! I was charmed by them the first time while in Mexico in February 2014 in the Yucutan Peninsula when I took a day long cooking class in Cancun at Mi Cocina es Tu Cocina with Chef Claudia Garcia Ramos and she served Enchiladas Potosinas in a non traditional fashion; however, they were really delicious. Even more delicious when made in the traditional fashion: cooked and then fried. I had to make them, yet her recipe was incomplete, and she "was too busy" to answer my messages asking for clarification. So, when Chef Hugo Raya saved a day to cook with me, Enchiladas Potosinas were the first thing on my wish list, and he did not disappoint. When I saw them on the menu at the Red Iguana, not only was I tickled pink, but I knew that this was definitely going to be an incredible culinary experience.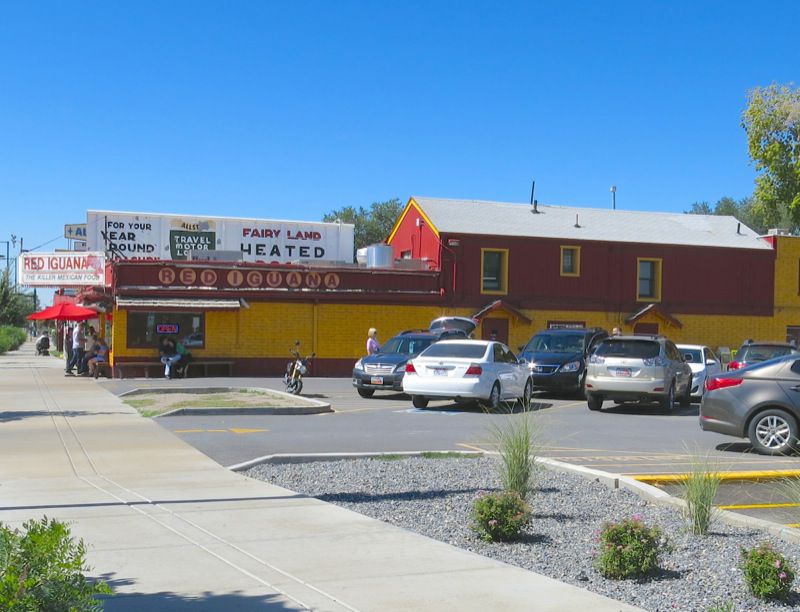 Lauren and Aaron moved to the Salt Lake City area from San Francisco almost two years ago and it was about time we visited them in their new home. "The apple doesn't fall far from the tree" where Lauren is concerned. She and Aaron definitely knew the places to hit, and I enjoyed the Red Iguana so much, we went twice!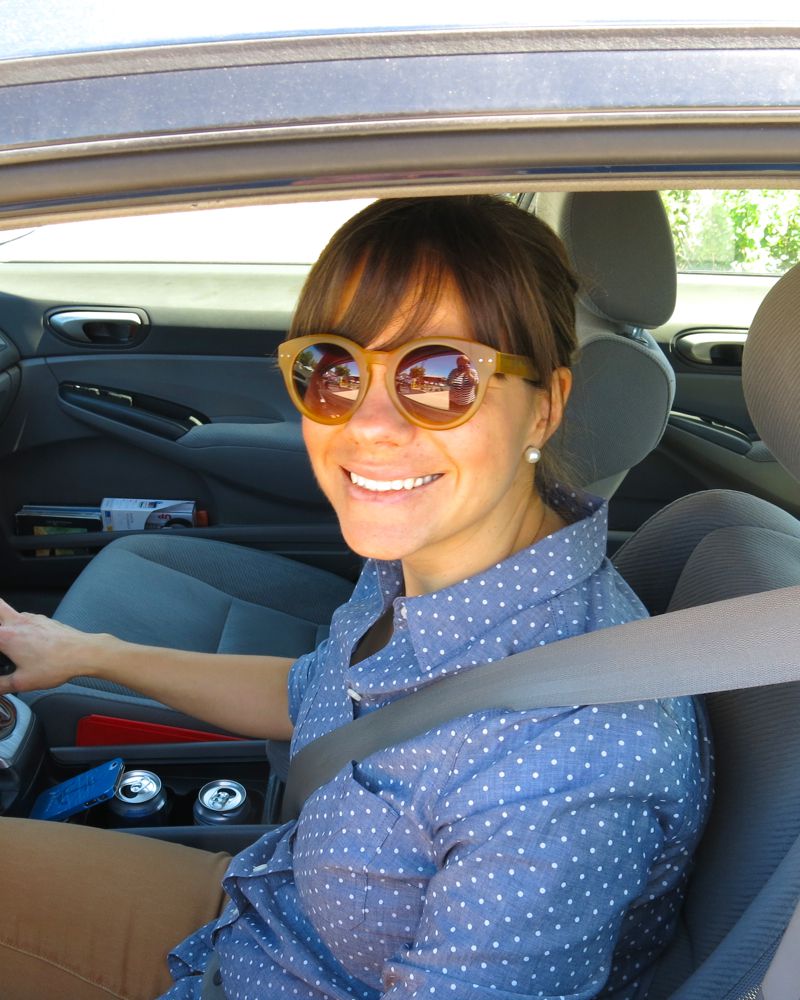 My lovely daughter dropping us off "to get our name on the list" so we don't have to wait too long.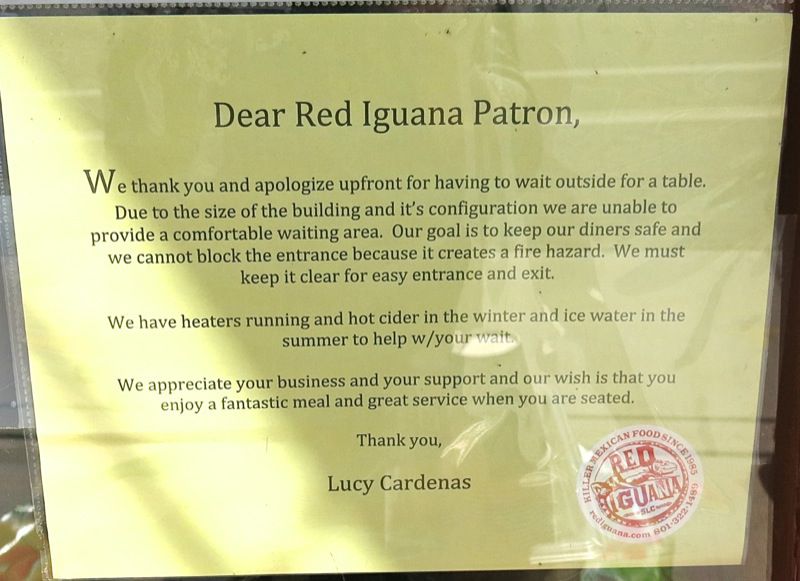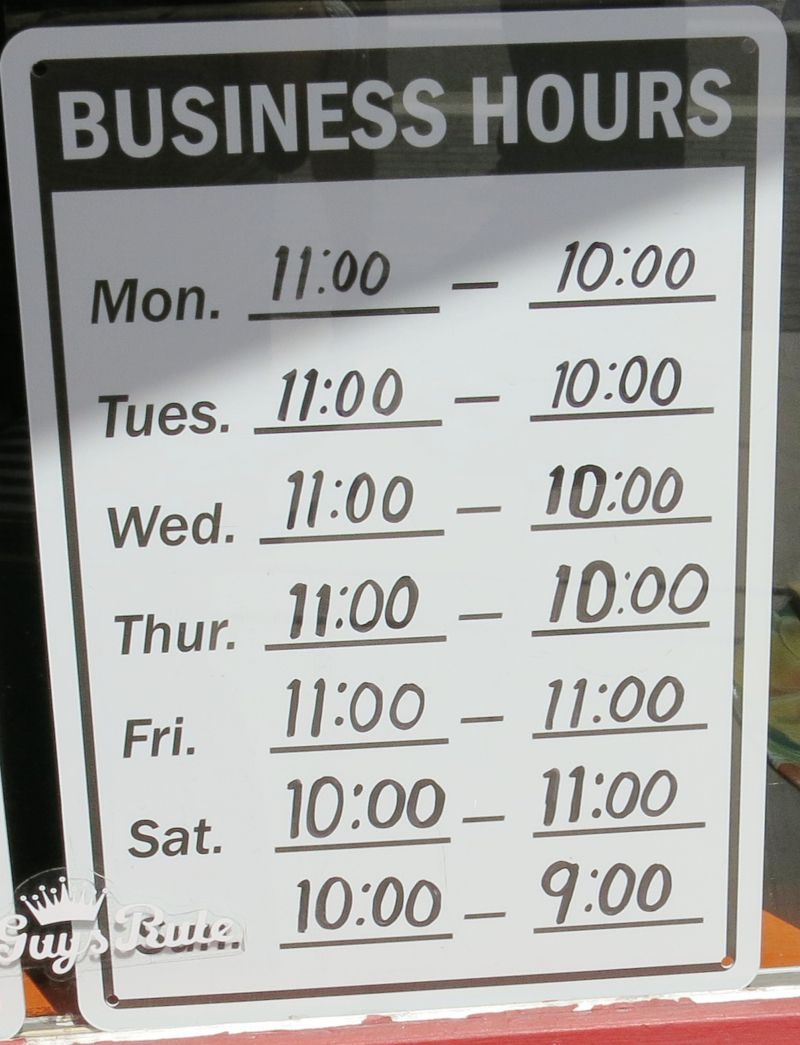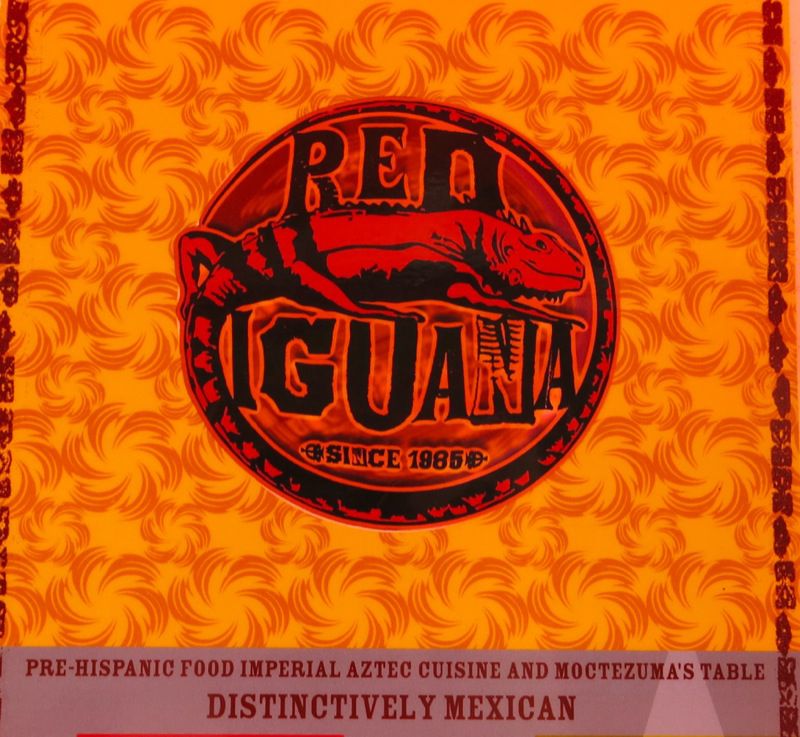 I was almost happy that my camera was on the wrong setting our first visit so we could drop by again. Vanja and I were on our own the second visit, and each had exactly the same thing again, without the soup. Owners, Bill Coker and Lucy Cardenas, say that almost everyone eats the same thing every time they come in. Bill: "They have it the first time, love it, and have it over and over again. Sometimes, for twenty years. The challenge is to get them to try something else from the menu. We have excellent daily specials, too."
Founded in 1985 by Mexican immigrants Ramón and María Cardenas, the restaurant describes its menu of moles, chile verde and enchiladas as "pre-Hispanic food, imperial Aztec cuisine and Moctezuma's table." I do not know what they mean by "Moctezuma's table" other than ancient Mexican food. Anyone have input here? Their daughter, Lucy, and husband, Bill, are the current owners of the business. The NYTimes published an excellent article on the history of the family business in August 2011. In the above, photo, I am under the first umbrella, to the left, elbow leaning on the hostess stand. The umbrellas and water offer promise to the people waiting in the ever present line up that there will eventually be a table. Both times we were there was midafternoon, so the line up wasn't long. And, there is now a Red Iguana 2 only blocks away, for those that don't want to wait in a line up. The food is exactly the same. Some, like me, wanted to be in the original restaurant, but I can see that if there was a line up, I would be heading over to #2! There is also a Taste of Red Iguana at the City Creek Mall across from the Temple for those that crave their food. The selection of items there, of course, is smaller and includes some regular items different than either of the other two restuarants which is a nice perk.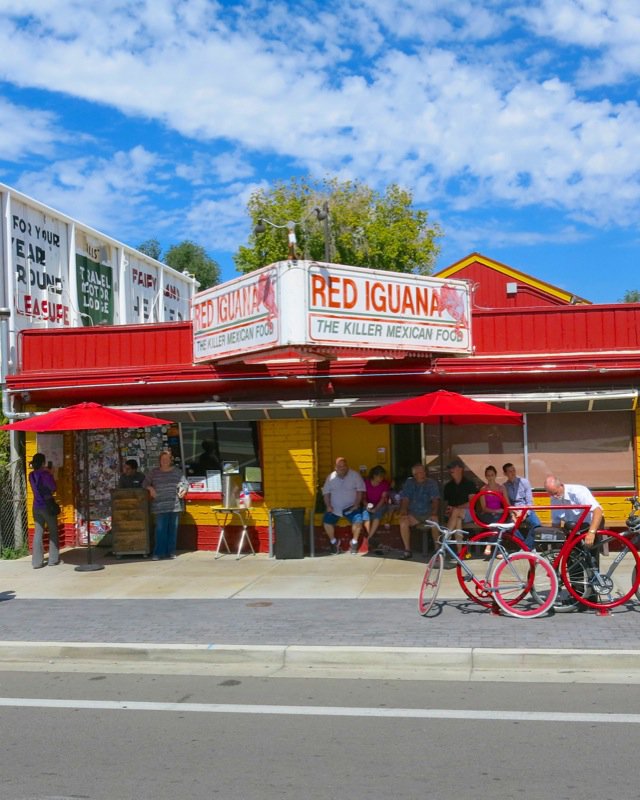 Daily specials on the board, above. The food is cheap enough, that I could make it a project to come every day, if I lived here… and eat my way through the entire menu to be able to then try a few of the specials. Well, I would not eat my way through the entire menu; some dishes would definitely be too spicy for me, but I have developed a hyper-sensitivity to spice as I have aged. The food here is sensibly spiced and very moderate. If you want heat, there are the optional salsas. The seven outstanding moles on the menu do vary in heat, but even the hottest, most enjoy. Lucy's favourite dish on the menu is the traditional Chile Verde: Tender select diced pork cooked in our green chile and tomatillo sauce, served with rice, refried beans, and tortillas for 11:49. Salsa and Totopos included, even with every take out order.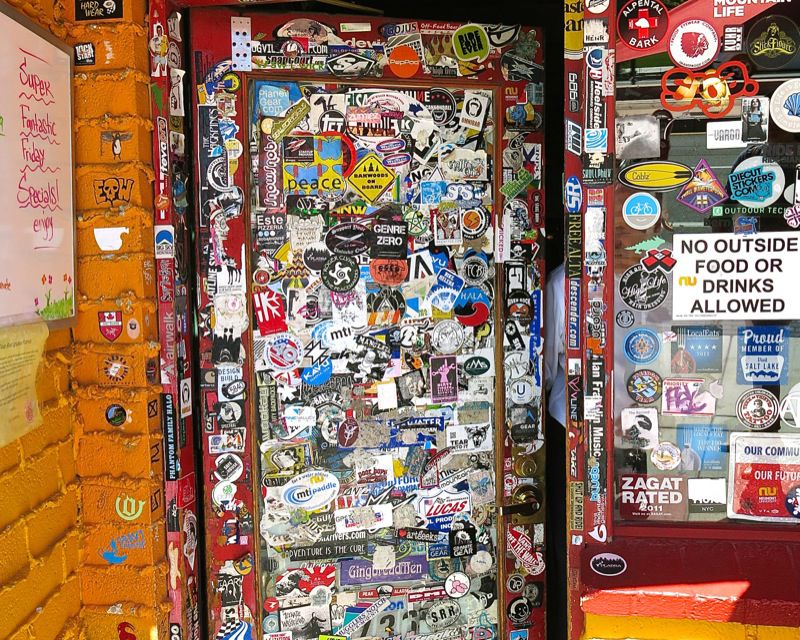 I don't know what this door decor is all about,but this is the door decor.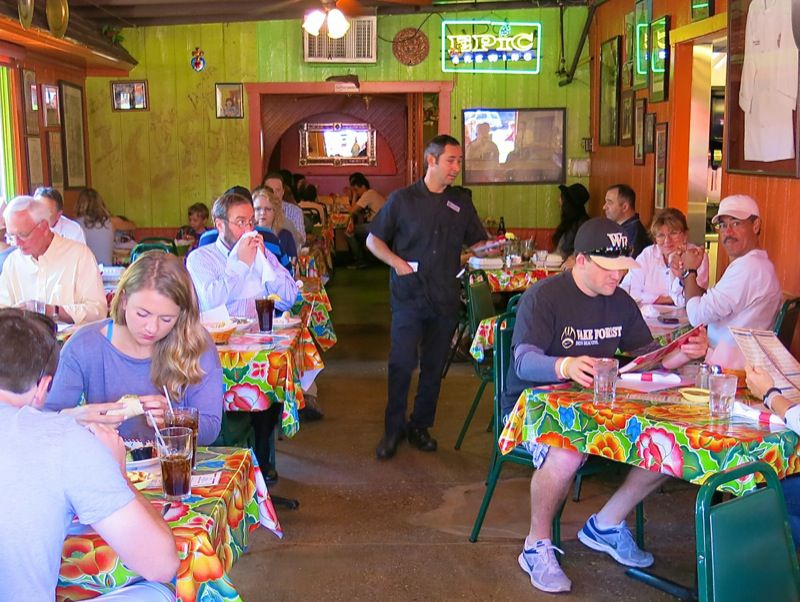 The interior has three rooms; one immediately upon entry, one hehind it, at the back, which you can see above, and the other, to the right. I sense the restaurant seats 50 to 60. I know they serve about 700 a day. At this one spot. Seriously. A happy, casual, colourful place with extraordinary service. The staff appeared to sincerely enjoy their work, be proud of the food they were serving and certainly delighted in our table as we relished each bite – not so quietly. Can you find Waldo (Vanja) above?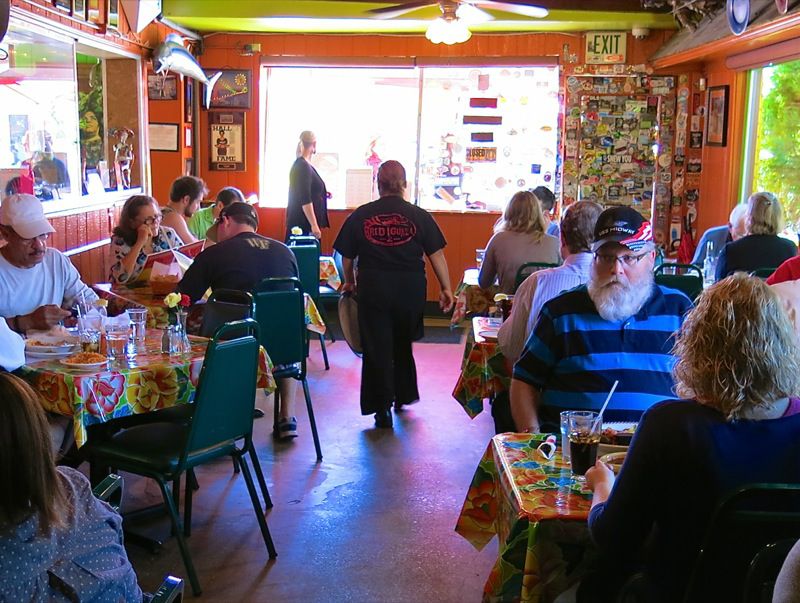 Below, the entry to the room directly to the right. Vanja and I sat in the first table here, second visit.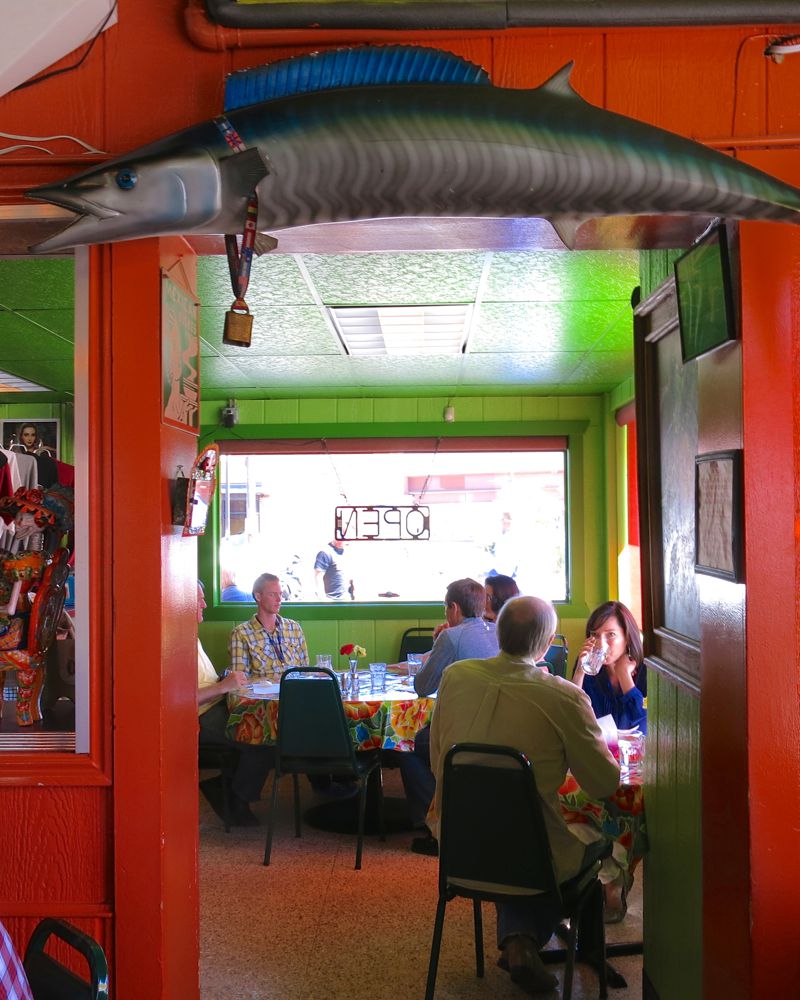 The night prior, we had been at Cafe Rio which is a Mexican chain of restaurants located in 5 states. The food was delicious, but I definitely expected more at this family owned location. I was not disappointed.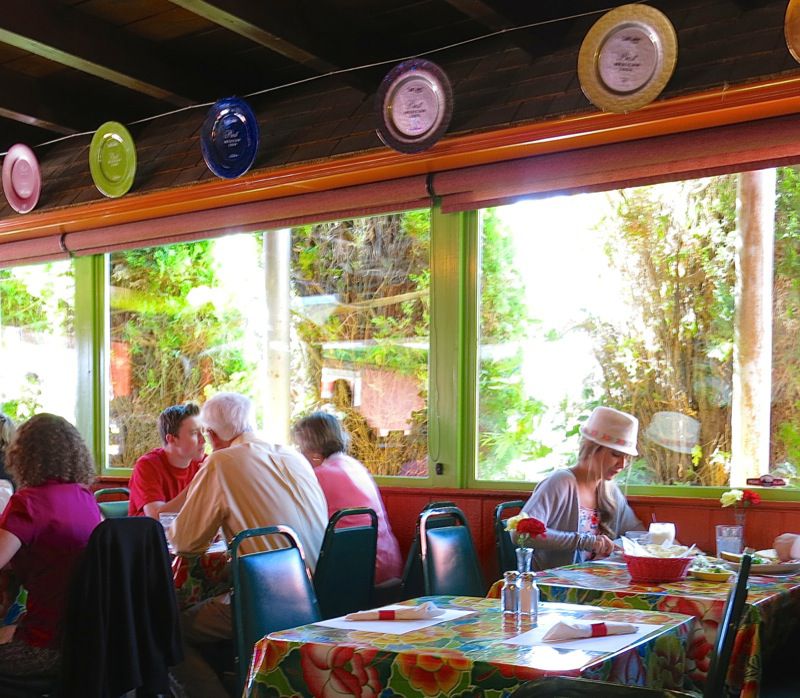 "Appetizers? Drinks" After waiting in the line, your service is instant. You don't wait for attention. There is lots outside with the good humored host, as well. I considered appetizers, but Lauren said the plates were very filling, so we passed on them. All I can say is, the appetizers are a meal in themselves. Definitely order them, but be prepared to take food home. This is part of the experience, and expected.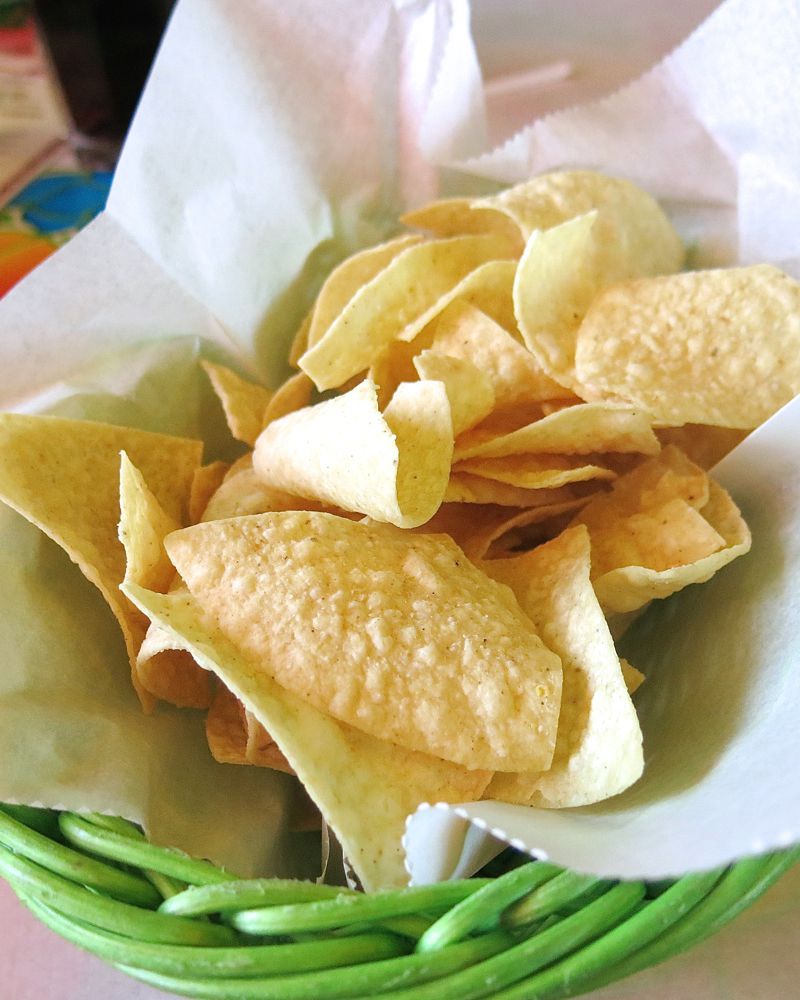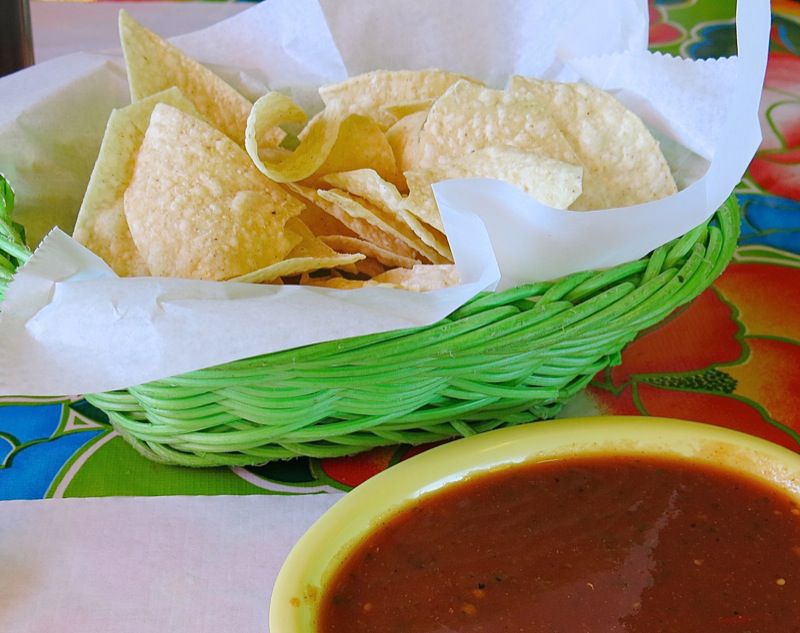 I still regret not ordering the stuffed, battered and deep fried peppers on the appetizer menu. Mmmmmm. I can probably not even imagine how tasty they would have been. Above is a basket of the totopos: deep fried and salted white flour tortilla shells cut into triangles. They are addictive. I learned to make my own from Chef Hugo Raya. They are excellent day one and tasty day two. After that, they should be gone, or tossed. I found the salsa too spicy, but most people did not. It was so tasty, that I couldn't resist it, and kept complaining as my tongue was on fire.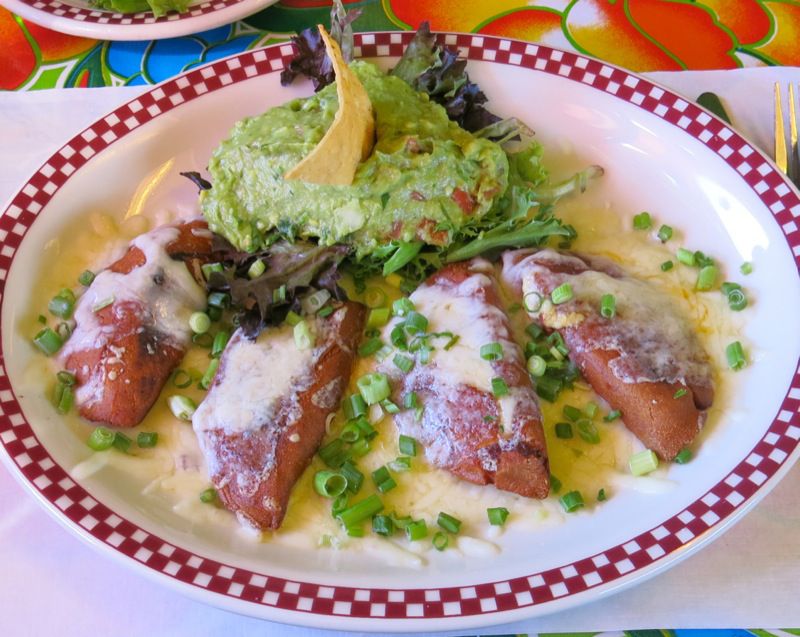 Of course, with only tasting the dishes ordered by our tables, the Enchiladas Potosinas remain my favourite. Vanja asked: "What is it about that dish that has you so smitten?" It is the corn and guajillo pepper in the tortilla. I love the flavour and texture of that corn and pepper mixture in that fried shell. Of course, the creamy queso fresco filling adds to the pleasure. I loved mine topped with Mexican Crema as an appetizer or a snack, but at the Red Iguana, they were more satisfying as a main course topped with melted Cotija and thinly sliced green onions. The guacamole actually interferes with my enjoyment of this empanada style specialty. Yet, it is outstanding guacamole and a very generous serving. I ate it as a side and with the totopos so that I could savor the flavour and texture of the Enchillas Potosinas on their own.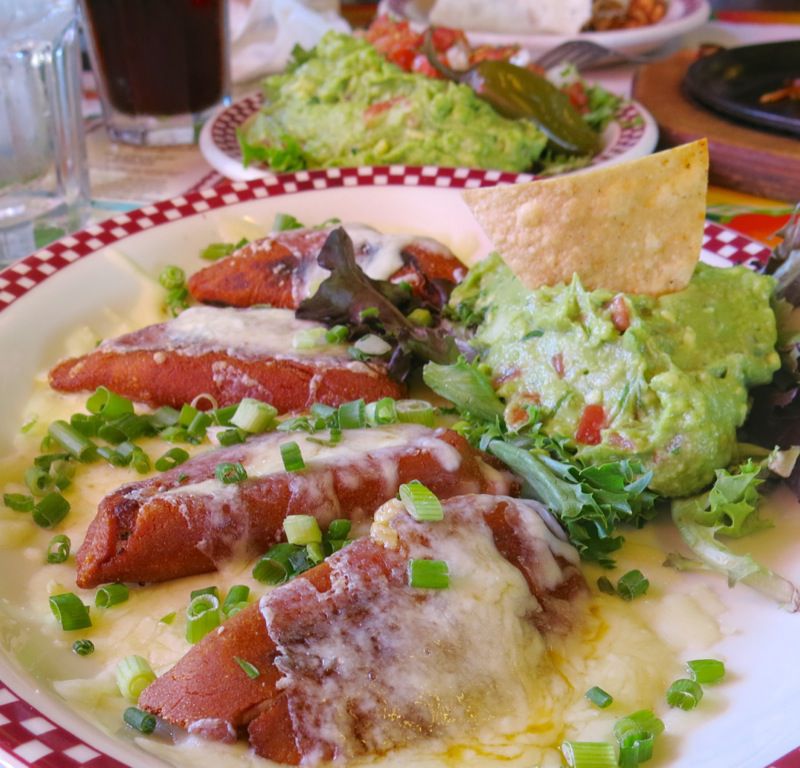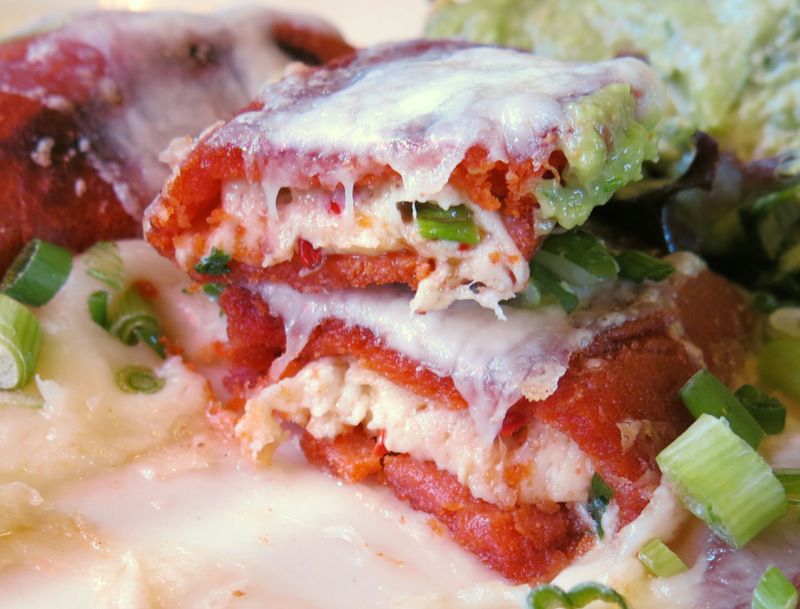 The first time there, we also ordered the Sopa de Queso. Delicious. I would order it every time, and just bring home more food. It is a delicate balance of flavours. Not the traditional tortilla and lime soup, but outstanding in its own right.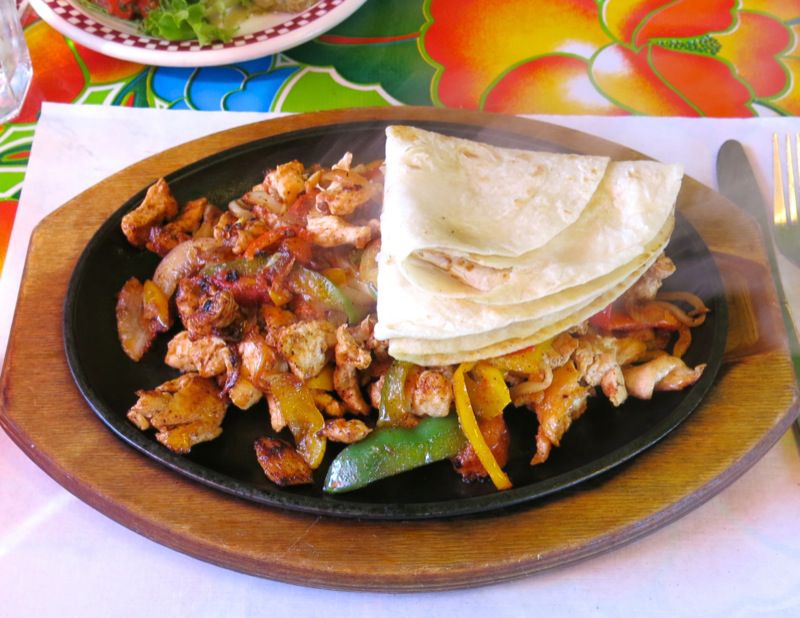 Vanja ordered the chicken fajitas. It isn't too often that Vanja goes anywhere to eat and a resounding gutteral "Mmmmmm…" flows out of him. It happened here. Music to my ears. He was completely into his dish. Loved every bite. Every flavour. Every texture. It was sizzling and truly delicious. He only wished it came with 3 tortillas instead of two. Here, ask, and your wish will be granted. That was easy.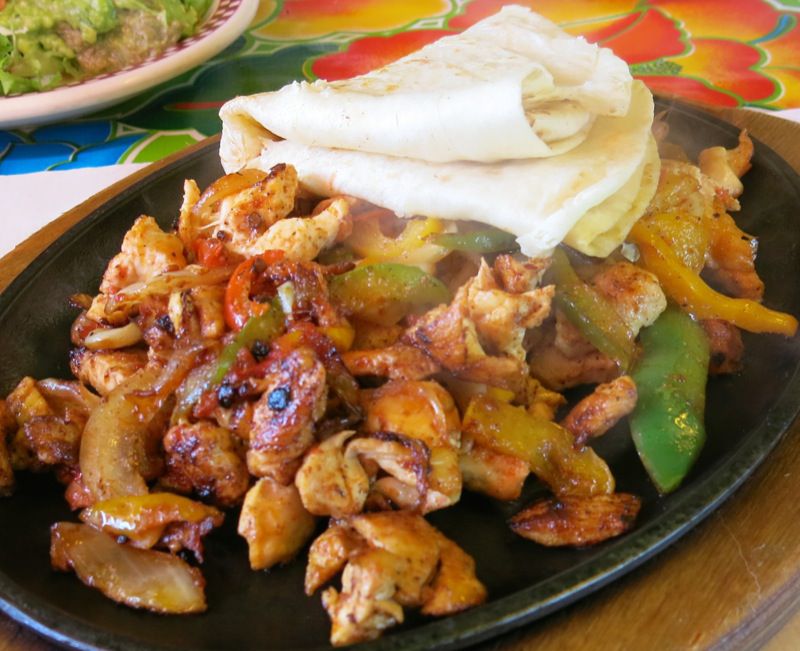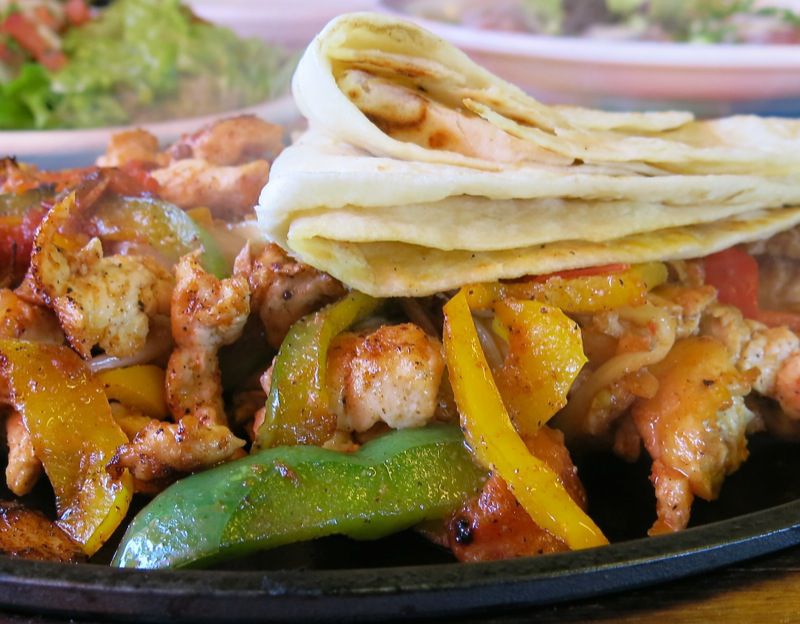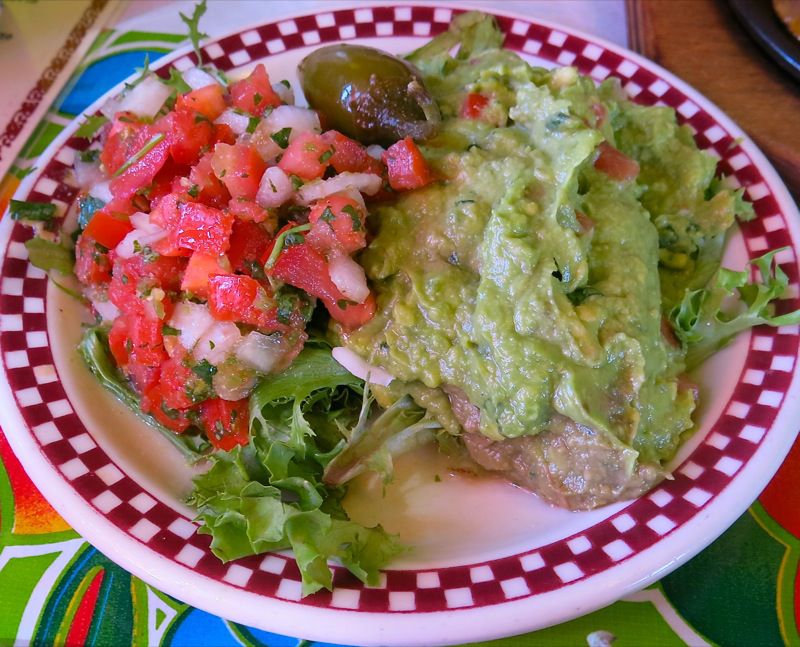 The fajitas are accompanied by a condiment plate of pico de gallo, lettuce, a jalipino pepper pickle and the guacamole to roll into your wrap with the hot food.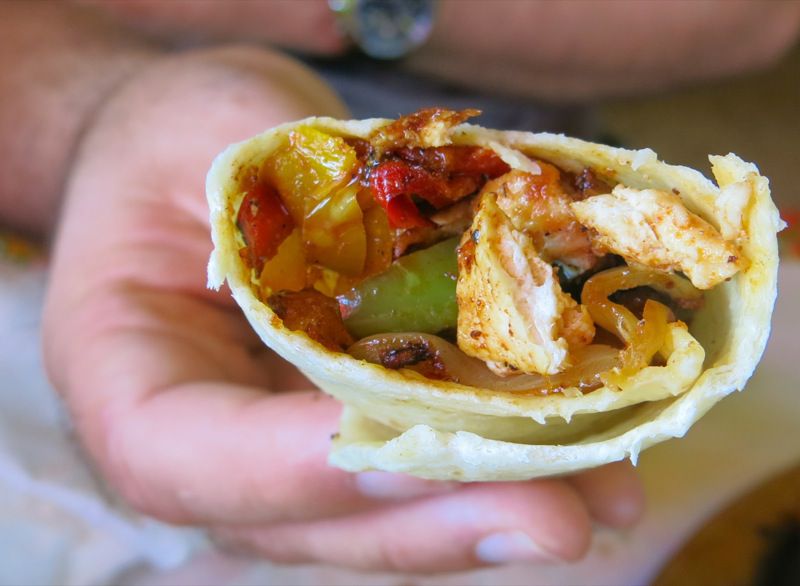 Anyway you eat it, it was delicious. Interestingly, as the vegetables and meat were seriously caramelized in the pan, the flavours mirrored my own fusion fajitas at home where I add hoisen sause or black been sauce to the mix.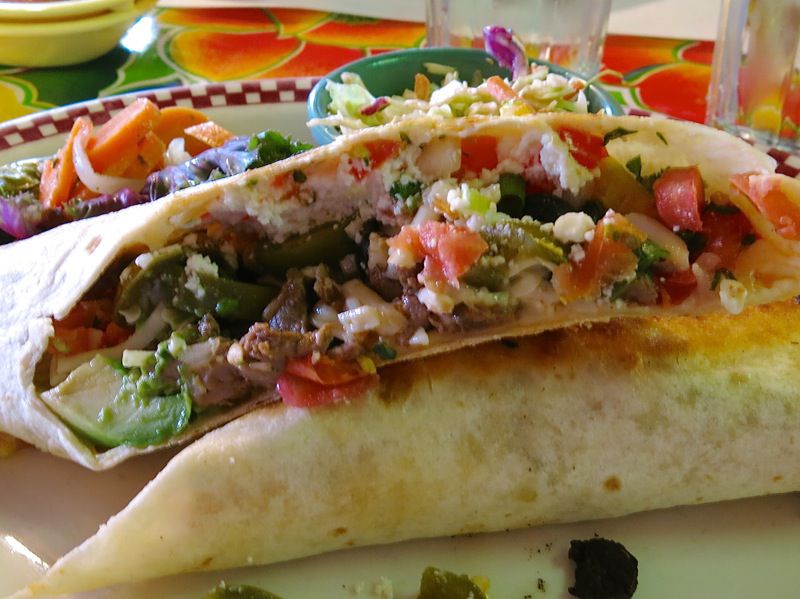 The somewhat blurry photo above is the appetizer Lauren ordered for her meal: Raman Jr's Quesadilla San Francisco. It was absolutely a whole meal. and scrumptious!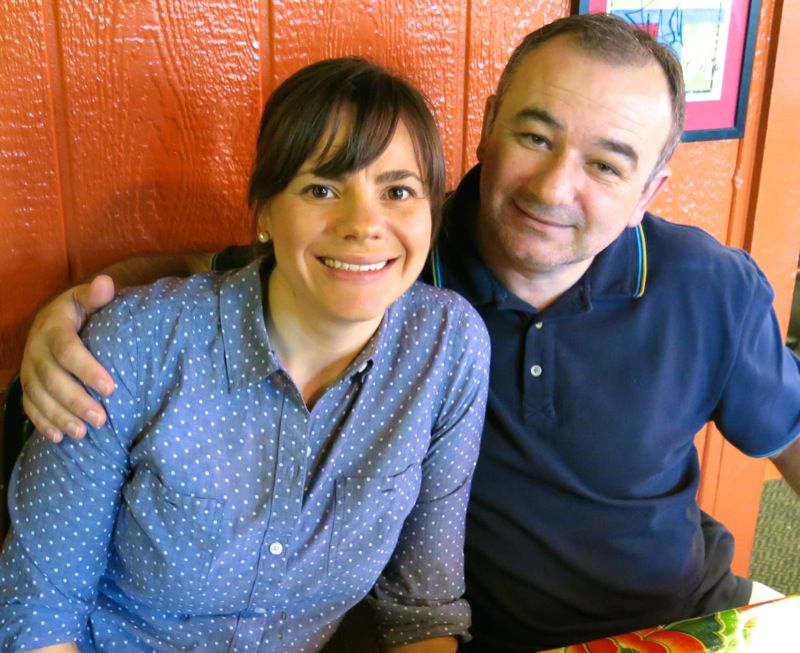 At the end of the meal, our gal walked buy, "One take home, two, or three?" Taking home part of your meal is standard here. The portions are generous and the prices very reasonable!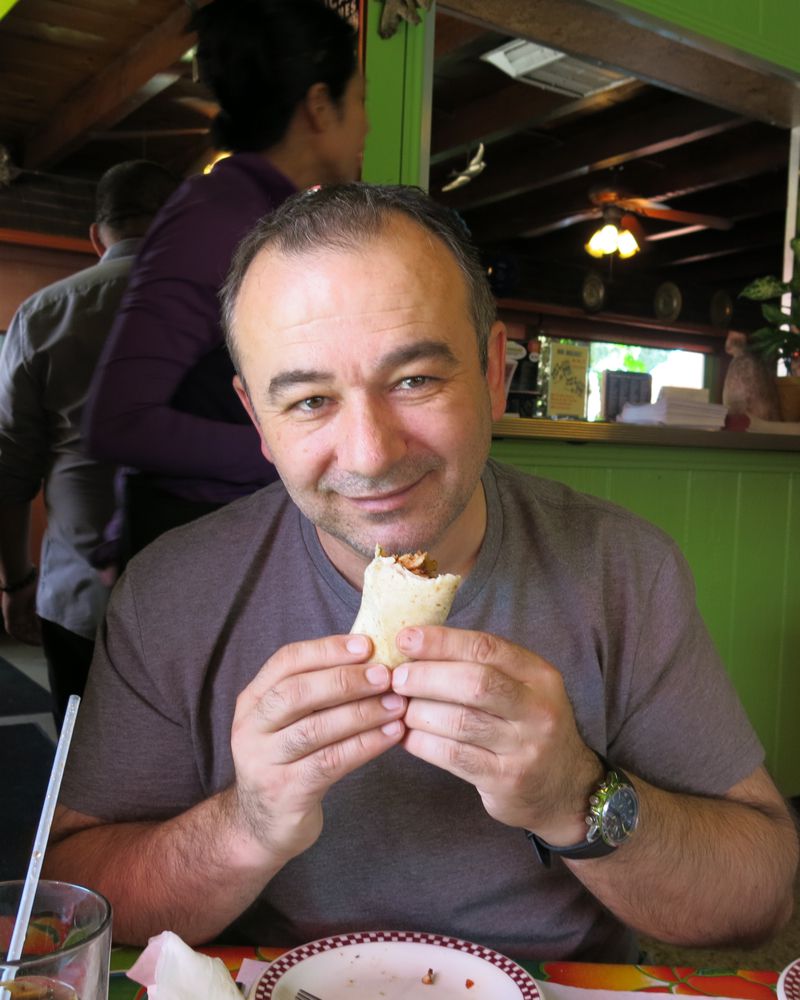 Vanja managed to please the cook and eat most of his meal.
I had some more to take home and enjoy throughout the remainder of the day. Yippee!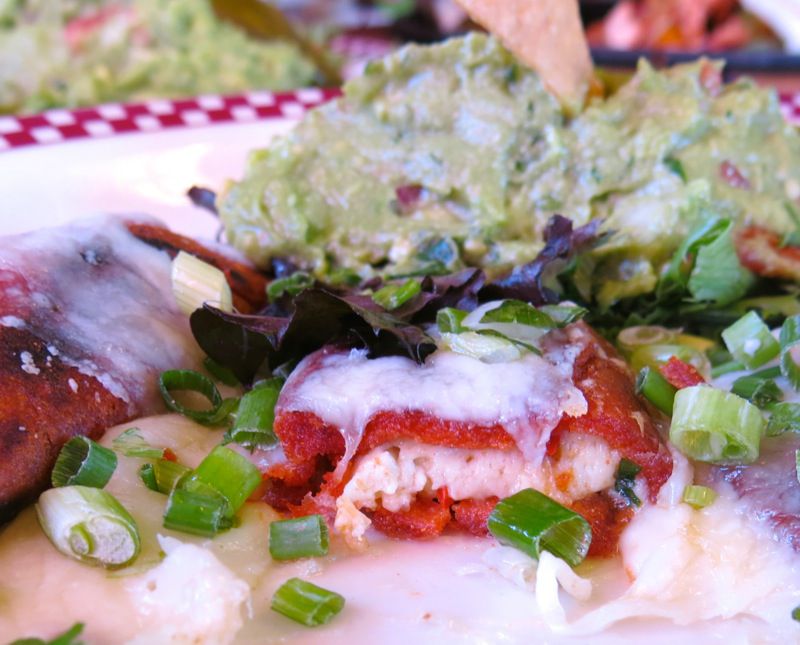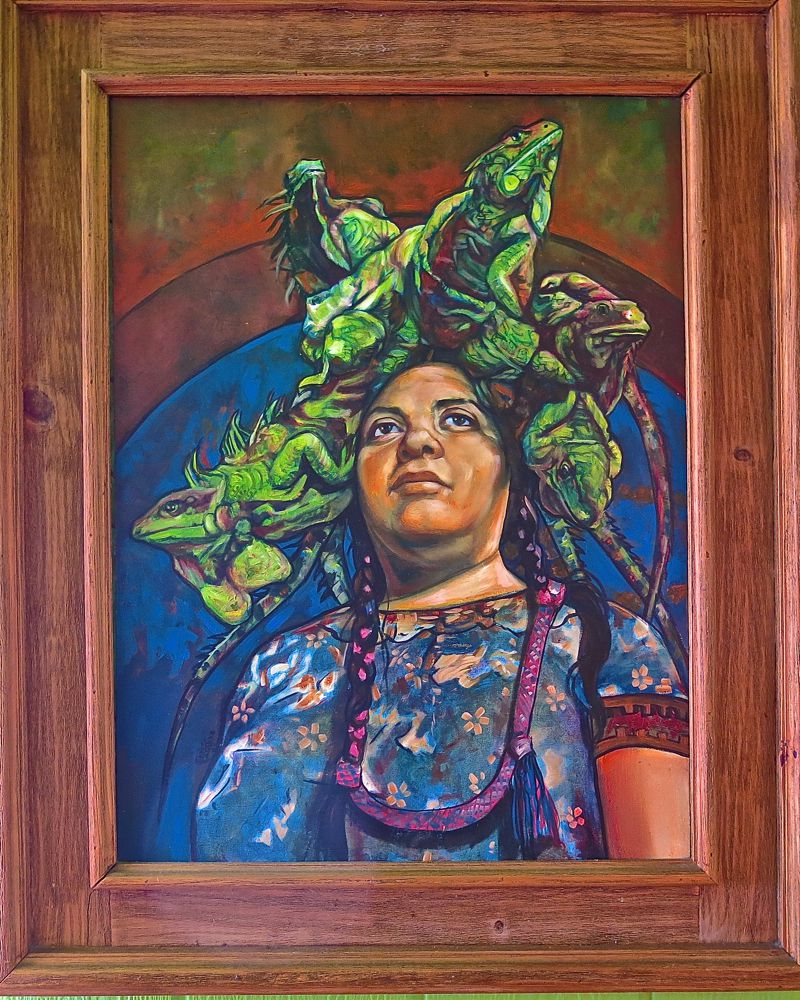 Anyone else been here? Favourite dishes and why? Or, any other little gems like this we should note for our travels? Would love to hear from you! Vancouver and Italy as still on the calendar for this year. It has been a busy year. Yes, it has. It is these kinds of experiences that etch themselves permanently into my memory and find themselves replicated on our dinner plates at home. Love that. I am thrilled to note that my recipe is excellent and that I have conquered the Enchiladas Potosinas, thanks to Chef Hugo Raya