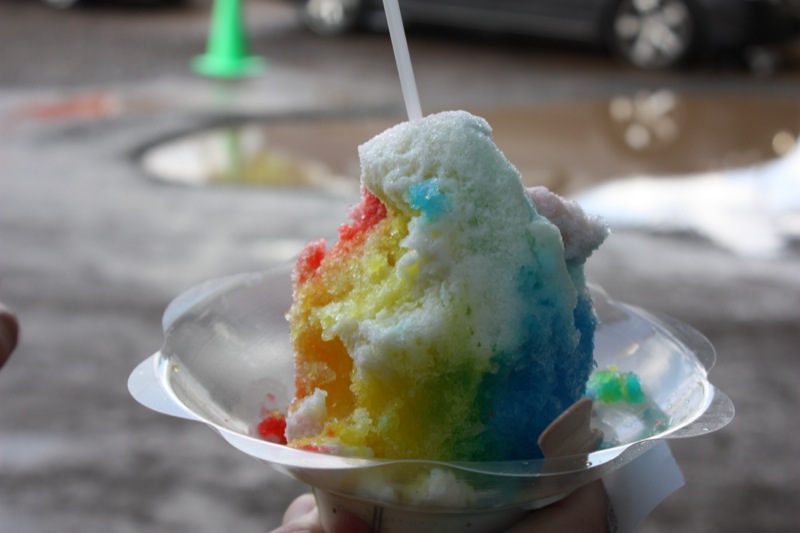 Now I am really spilling the beans, if you haven't already figured out that I lack a certain flare at some important times. Like this one. What is up with the big deal about the Shave Ice? Now, I get the history and understand why it is an important traditional food with a fantastic story… but, do all of these people that line up for miles for their orders really like it that much?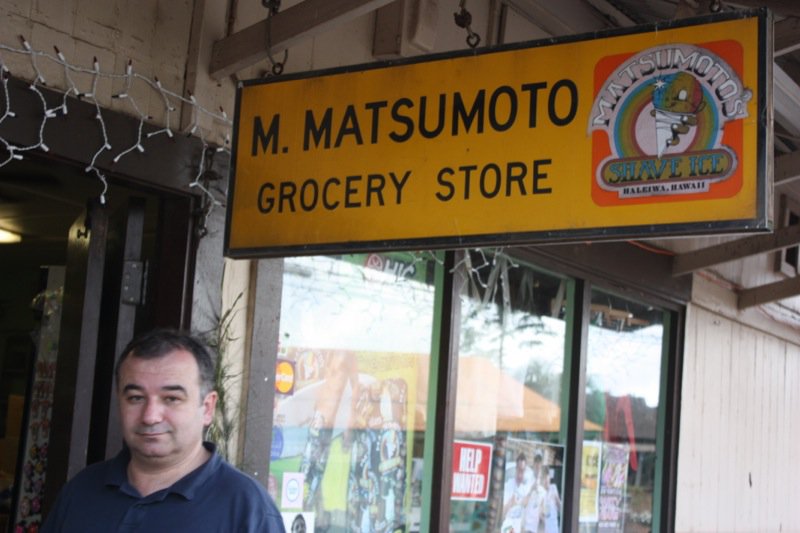 My daughter Lauren had been to Hawaii and had exuded the incredible pleasures of shave ice to both Vanja and I. We were hyped. We rented a car. Not just for the shave ice, but we would have done whatever it took. In January 2013, Matsumoto's was THE BEST on the island of Oahu. Shortly after our stay, another location was voted the best. I am sure people fell over one another running to get into that line up.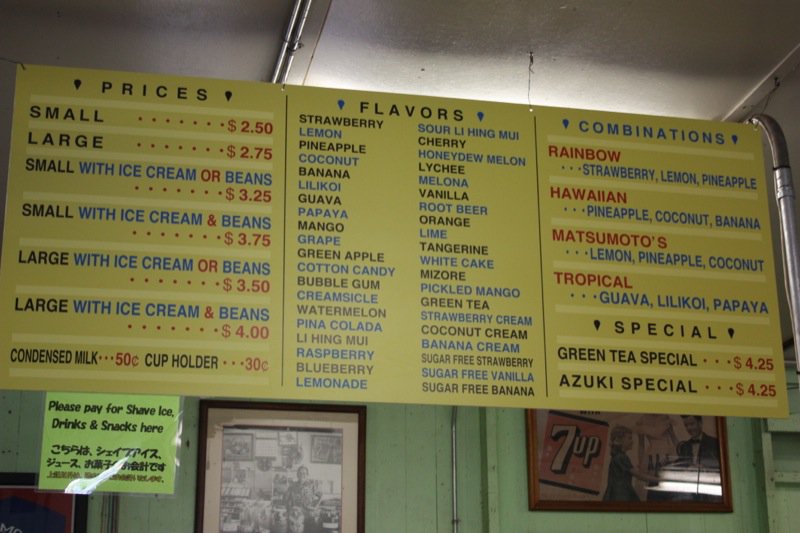 How do you pick what you want from a menu like this? According to Lauren, you just go back a lot of times. No thanks. Not that I didn't enjoy a sno-cone when I was a kid. But I am not a kid, and this is not a sno-cone. Vanja, triumphant, raises his shave ice to the crowd! YAY!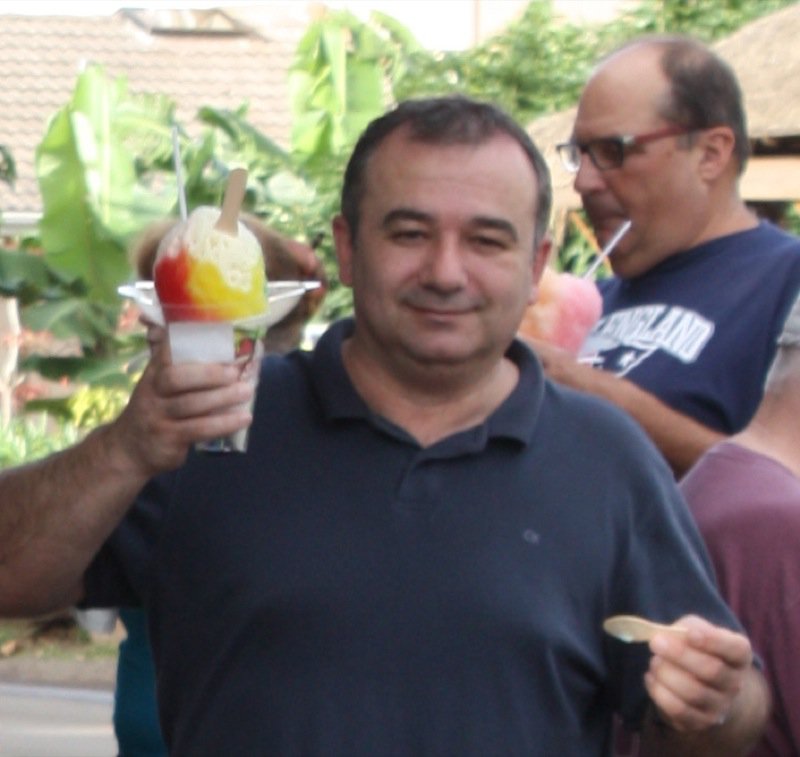 If you want to try the real thing, it must say "Shave Ice", never shaved ice. And, it will be shaved ice, not snow crystals like a sno-cone. Apparently, so the story goes, in the old plantation days, the weather was as hot as it is now. The workers would get so thirsty. That is when they would chew on crack seed which is a sour dried fruit with seeds in it, still sold at Asian "Candy Stores" in Honolulu. It would promote saliva and stave off thirst. When plantation owners would bring in huge chunks of ice from the army war ships or other sources, these would get stored in deep underground cellars and as chunks were sliced off for use, the shavings would be caught in the mouths of the immigrant workers and savoured. The shavings were then collected and savoured. To this day, there are still the very elderly immigrant workers who recall this delicacy and the reprieve it gave them from the hot sun. No artificial fruit flavours need be added for these folks. Just the ice. The pure shave ice. There is something about the texture as it falls on the tongue that recalls the memories of the past and brings such comfort and joy. This is the story Kiara's Japanese grandmother has told her and varies significantly from other on-line research, but as this was a story told through the generations, I am going with this one.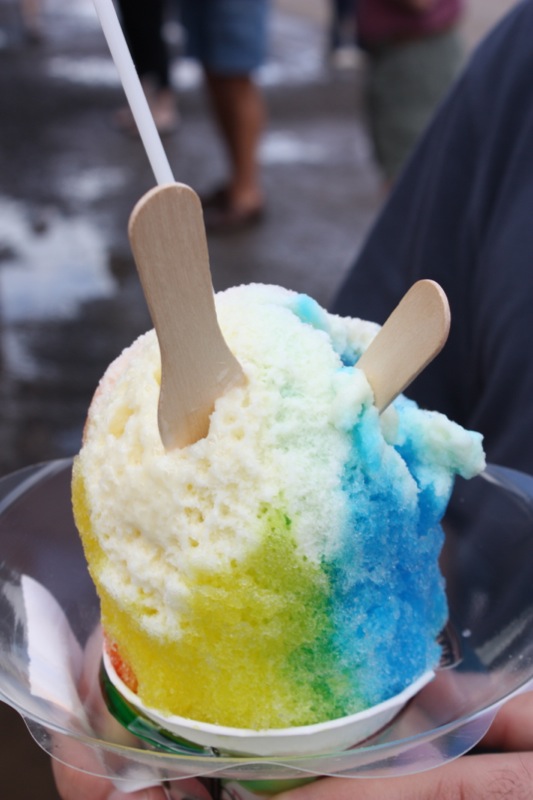 We had taken Lauren and Aaron's recommendation. Go with the works: milk and all. The thing about shave ice is that the flavour isn't in the bottom of the container like a sno-cone made with crushed ice or snow. Yet, here we are on this gorgeous tropical island with incredible fruits and flavours everywhere, eating shave ice made with horrific concoctions of artificial syrups. Why no natural syrups? Huh?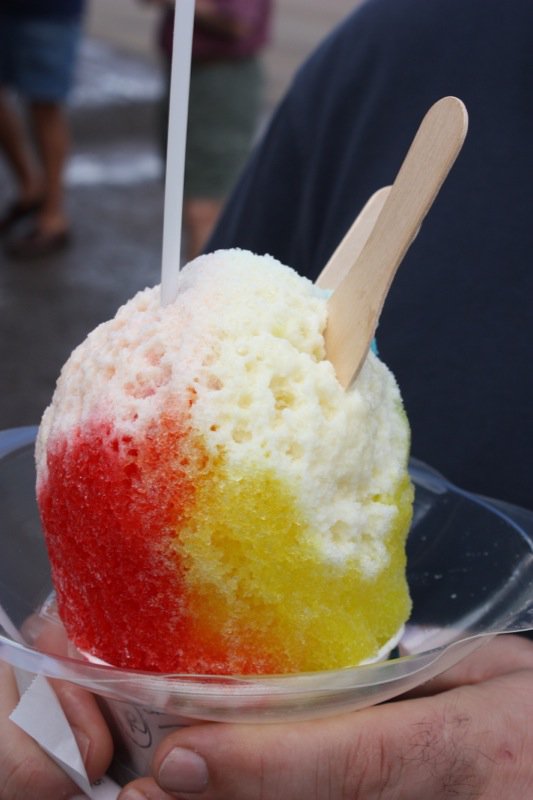 Anyway, it was what it was and is what it is. Wow. Profound. Quote me on that, eh? It was a really hot day, yet this wasn't an oasis or even close to as gratifying as ice water would have been. Probably just me. I cannot tolerate artificial syrups. But each looked gorgeous! No one got one flavour, either. And I didn't have the knowledge I needed to have before my one and only shave ice experience. I would have another, now, just to concentrate on the texture of the shave on my tongue. The story behind the food always enhances my food experience.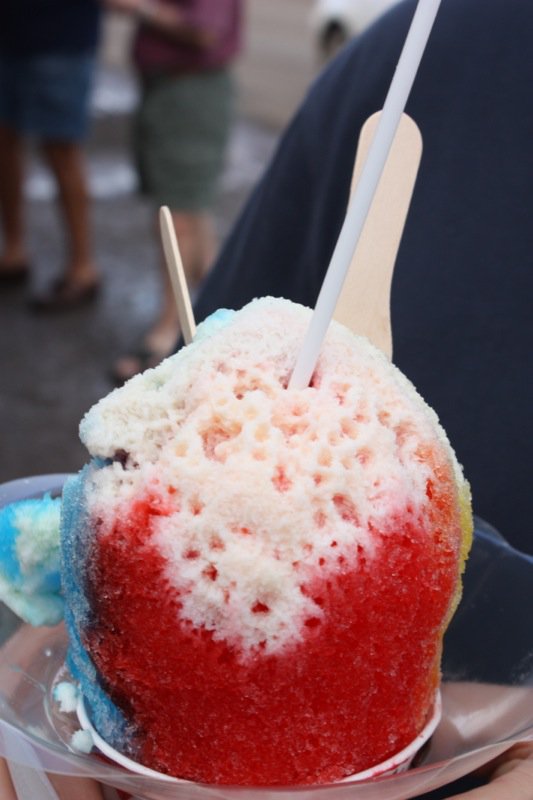 So, I had a bit – and, I confess, wasn't feeling great this day, anyway.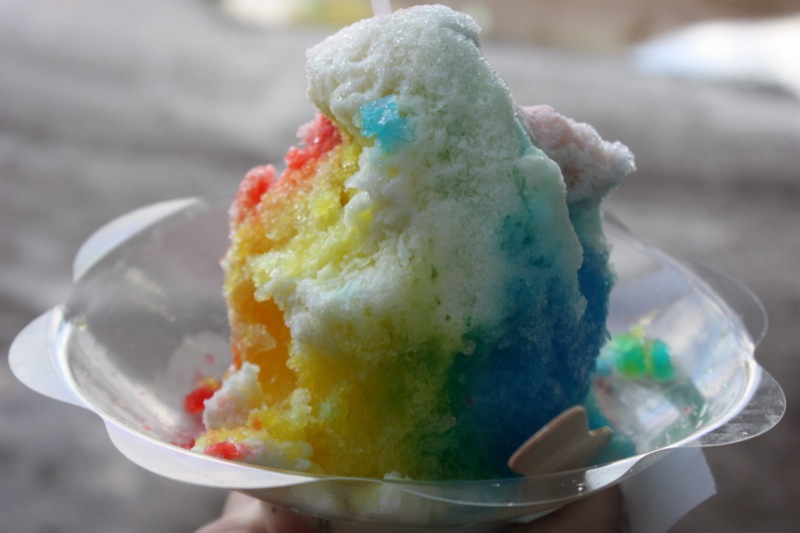 Did you know there are chickens that run wild around Oahu like dogs and cats do in other countries? Yup. Chickens. They must love shave ice, as there were lots of them flocking all over the parking lot.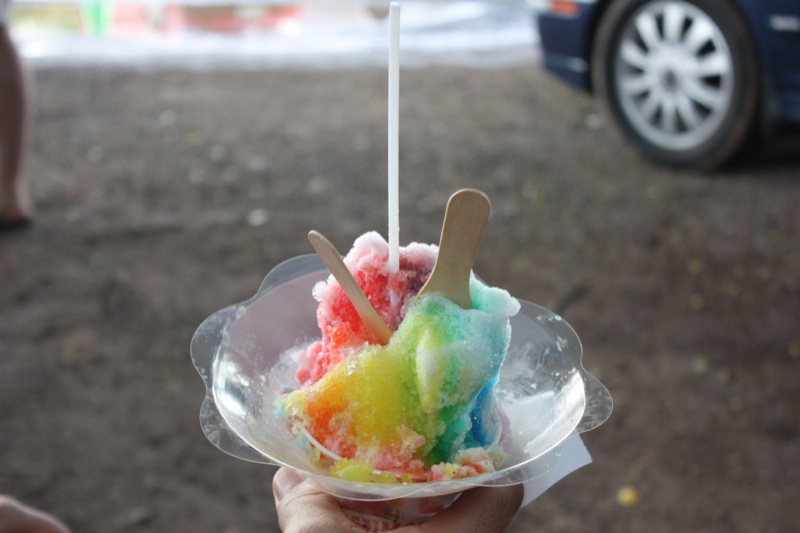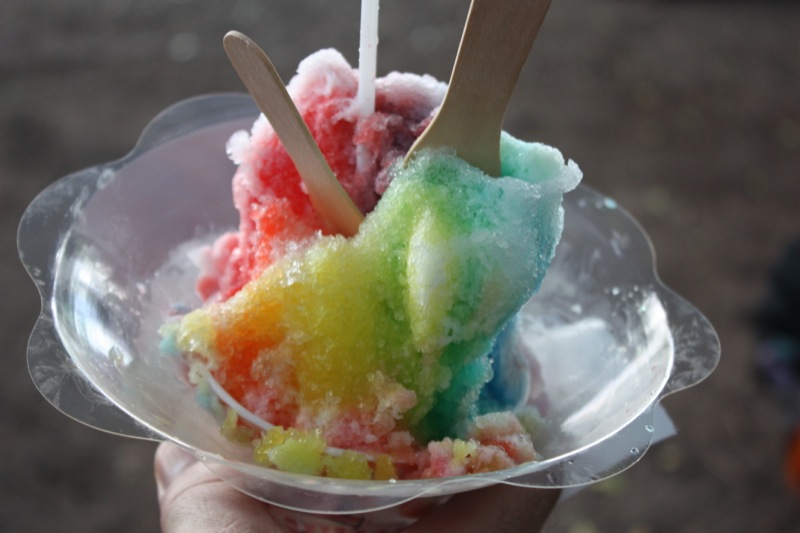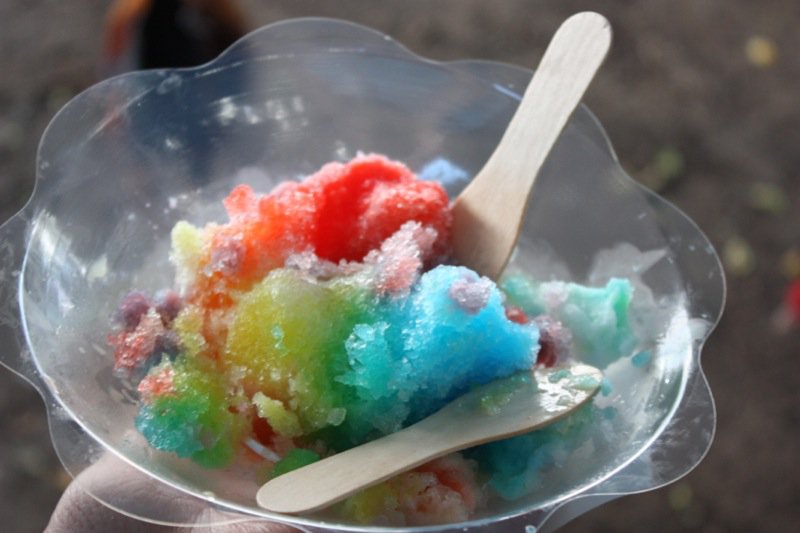 What could I do? I am a generous person. It was a hot day. The chickens were everywhere… and what incredible entertainment this was. Wish I had my video camera.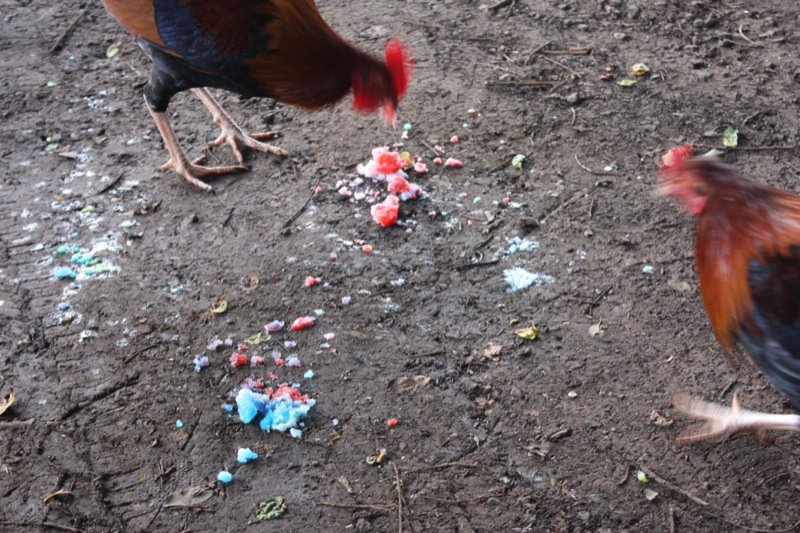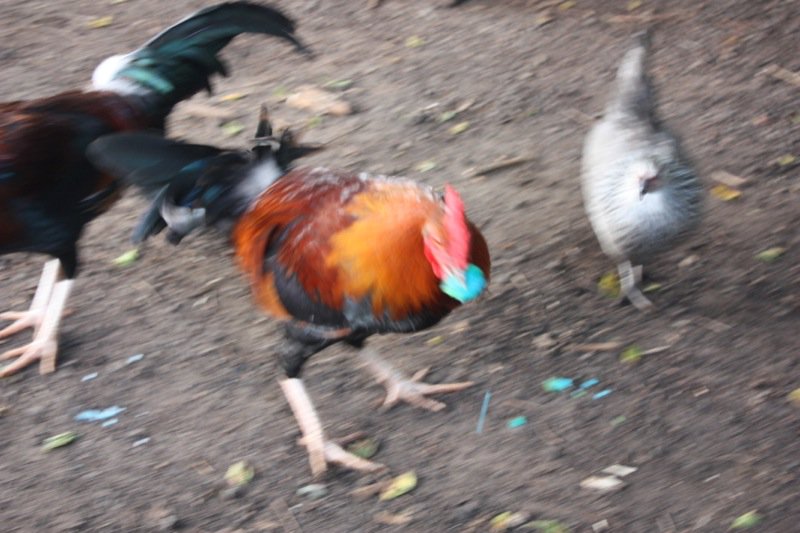 They were the most talented shave ice nabbers and grabbers I could ever imagine. And with only a beak!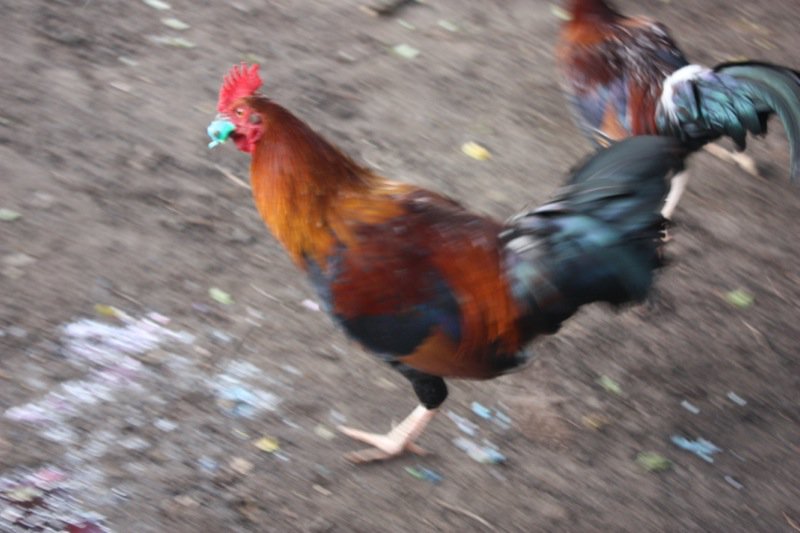 What a fun stop that was. Feeding shave ice to the chickens and watching them fight for their share, run with it, savour it and crowd in for more was a little unexpected and extremely novel street food entertainment. So – if you love shave ice, tell me why. I really want to understand.