Salt Lake City: The Famous Red Iguana Mexican Moles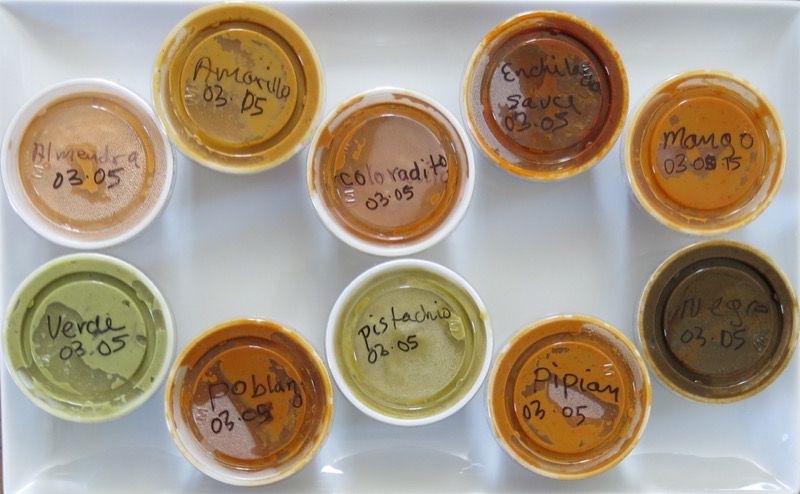 It took me three weeks to get to The Red Iguana Restaurant after hitting Salt Lake City for the birth of my first grandson, William Dugan. I thought I would be there within 2-3 days. Obviously, I had no idea how becoming Gramsy would completely change all priorities in my life. Driving 20 minutes away from William Dugan was just not an option the first few weeks. However, when I picked Vanja up at the airport to see his little grandson, we stopped at the Red Iguana for lunch on the way back, and to pick up a sample of each of their famous mole sauces for a long awaited tasting.
This was our third visit, and guess what I ordered? Exactly the same thing as the first two times!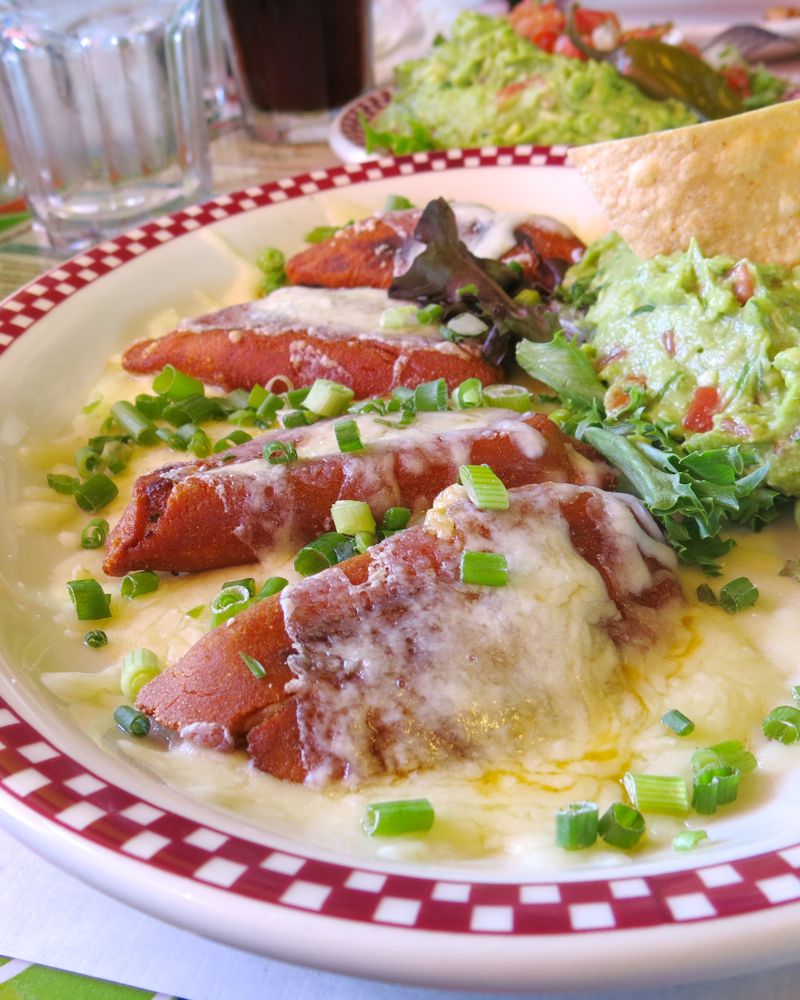 Enchiladas potosinas! I could not resist. I have been dreaming of them. Vanja, bless him, ordered the Entomatada enchilada which is two sour cream chicken enchiladas topped with salsa española, melted jack cheese, and jalapeño. We were both very surprised by how Italian the tomato sauce tasted. It was also on the sweet side, yet he really enjoyed the dish. It is noted on the menu to be the "least spicy" enchilada. Owners, Bill Coker and Lucy Cardenas, say that almost everyone eats the same thing every time they come in. Bill: "They have it the first time, love it, and have it over and over again. Sometimes, for twenty years. The challenge is to get them to try something else from the menu." I want to try more things, thus the mole tasting!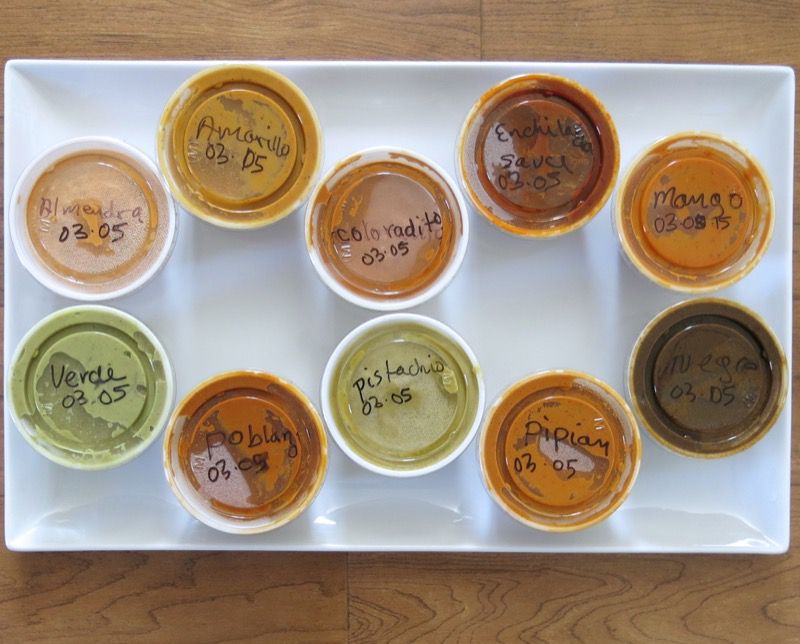 They sell 3 ounce samples for $3.25. I did explain that I was doing a tasting to determine which moles to buy in hopes of getting only 2 ounces or 1 ounce in each container for less money, but that, sadly, was not an option. Sigh. However, the special mole of the day was the Pistachio, and if there was one special I wanted to taste, that was it! I also asked for a sample of their house made enchiladas sauce. My plan was to buy quarts of the sauces I liked to freeze and take home.
What is a Mole?
Northern Mexico spice mixes are adobo pastes. Central or Internal Mexico spice mixes are mole pastes. South, South East and Mayan Cuisine spice mixes are achiote pastes. Mole pastes are used to flavour meat and made from a combination of regional dried peppers, nuts, seeds, sugar, and fruits. An adobo would never have nuts, sugar, seeds or fruit in it as a mole does. (Adobo pastes are made from the dried peppers of the North combined with other local ingredients.) Each area of Central Mexico has specific moles that are known to be the best from that specific area. For example, Oaxaca is famous for their black or negro mole and the specific pepper used in that recipe cannot be found anywhere outside of that region in Mexico. Not in the Yucatan peninsula and certainly not in a Mexican Market in Canada. That is what makes each mole particularly unique. The ingredients are simply not exported.
Though the first recipes for moles appeared in 1810, after the Mexican War of Independence, the Aztecs "had a preparation they called mōlli, meaning sauce, or chīlmōlli for chili sauce. [hundreds of years before this.] In the book General History of the Things of New Spain, Bernardino de Sahagún says that mollis were used in a number of dishes including those for fish, game and vegetables." Evidence that chili pepper sauces existed in pre-Hispanic Mexico, thus, it is supposed that over time, there was a regional transformation of the traditional mōlli as localized ingredients were added to the sauce, "diversifying the resulting sauces into various types". This sauce is, after all, a the result of a poor man's genius in the kitchen. "What do we have that is nutritious that can add value and flavour to our table?" Ingredients that have been added into moles include nuts, peanuts, pine nuts, sesame seeds, pumpkin seeds, squash seeds, cilantro, avocado leaves, seedless grapes, plantains, garlic, onion, cinnamon, cloves, biscuits, tortilla shells, and chocolate. There are no holes barred: what works goes in. What remained the same was the use of chili peppers, especially ancho, pasilla, mulato and chipotle, with a combination of nuts, seeds, sugar and fruit.
There is folklore about the creation of the mole. The most accepted story follows, but there are other versions, all very similar: "Upon hearing that the archbishop was going to visit, the convent nuns of the Convent of Santa Rosa in Puebla, early in the colonial period, went into a panic because they were poor and had almost nothing to prepare. The nuns prayed and brought together the little bits of what they did have, including chili peppers, spices, day-old bread, nuts, and a little chocolate. They killed an old turkey, cooked it and put the sauce on top; the archbishop loved it. When the nun was asked the name of the dish, she replied, "I made a mole." Mole iss the ancient word for mix."
The family mole recipe is a very personal and very special culinary tradition for each Central Mexican home. This mole represents the very soul of that family and will contain 25 to 30 different ingredients. That is the mole one makes completely from scratch for a special occasion, party, or celebration to honour his guests. The kind and quality of the peppers, seeds and nuts are the most important part of the family mole recipe. Often the host will make enough of this family recipe to serve at the party and to send a little home with each guest.
However, the best moles that you can experience can be found for sale throughout Central Mexico. Supermarkets sell them in bulk and smaller villages and towns have a mole maker where people buy their moles from. These moles are second to none and will be the best you can ever imagine. There is no difficulty finding delicious moles in Mexican markets.
Paste Ratio: ¼ cup of mole paste to 1 cup stock is the ratio used to mix a mole for use in a recipe
So, let the party begin! How to taste moles? Who knows? This is how we did it.
The Red Iguana Mole Tasting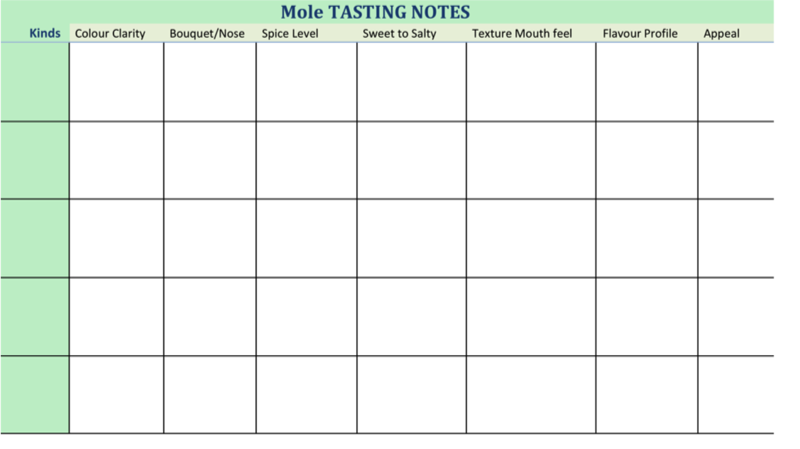 I used the above chart to take notes during my tasting experience with each mole.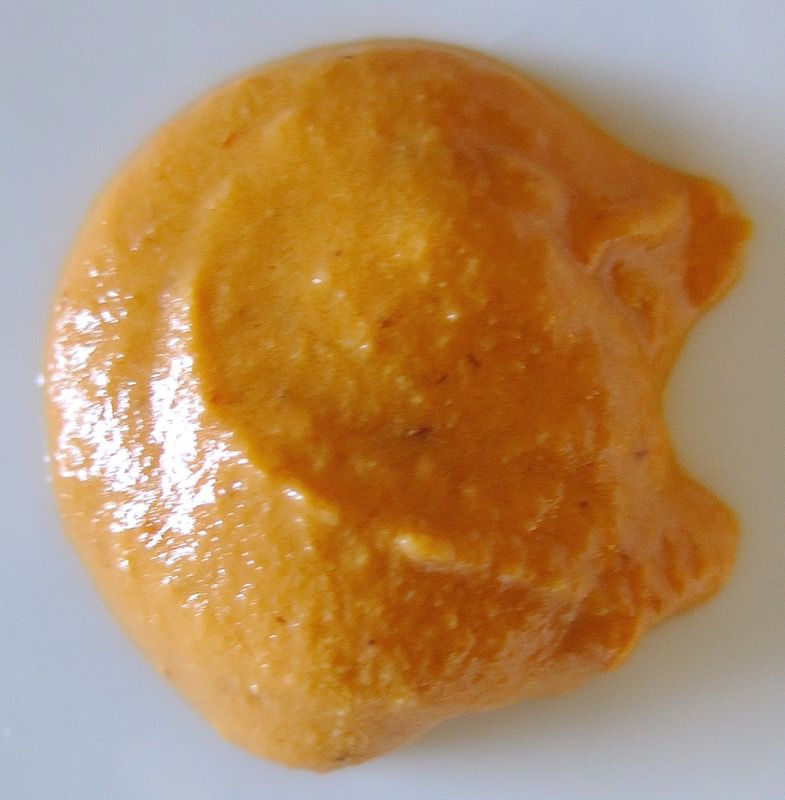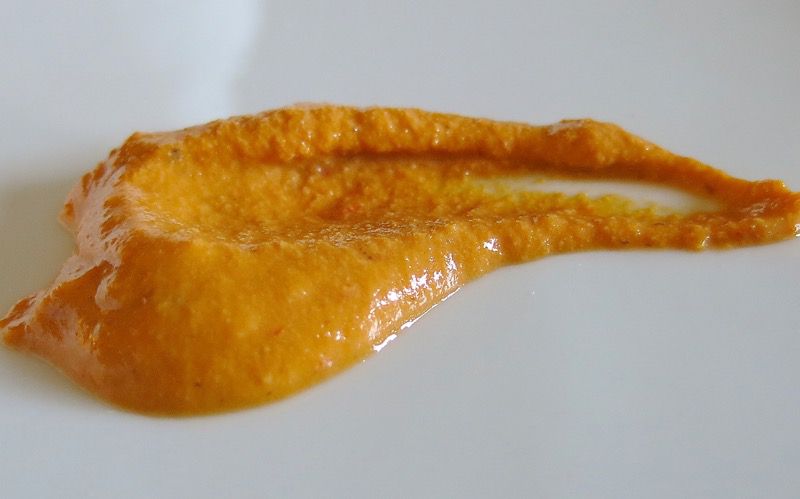 Almendras (Almond)
Almonds, chile guajillo, chile guero, yellow zucchini, milk, peanut butter and onions, served with a roasted pork loin stuffed with dried fruit, sun-dried tomatoes, swiss chard and pine nuts
Colour Clarity – the golden orange colour appears to be influenced by peppers and the thick opaque quality relays the possibility of nuts and seeds in the mix
Bouquet/Nose – the small container held no aroma that was discernible

Spice Level (1 none, 5 high) – 2 there was heat, but it was negligible

Sweet to Salty (1 sweet 5 salty) – 3 as there was a balance between these two opposing tastes

Texture/Mouth Feel – the sauce was thick and unctuous with a fine, yet discernible grit
Flavour Profile – the flavour seemed to resemble familiar Indian spice notes and nuts were apparent, though not almond, per se
Appeal – I had expected I would really like the almond mole. It was definitely "nutty" in flavour, but lacked a perky palate personality from my view. I could take it or leave it, and would likely leave it.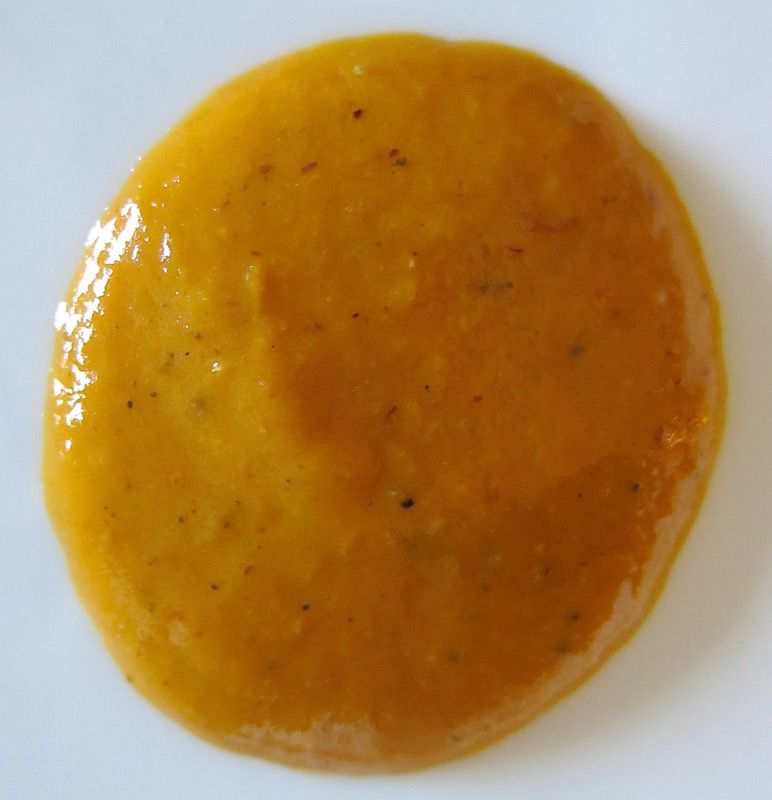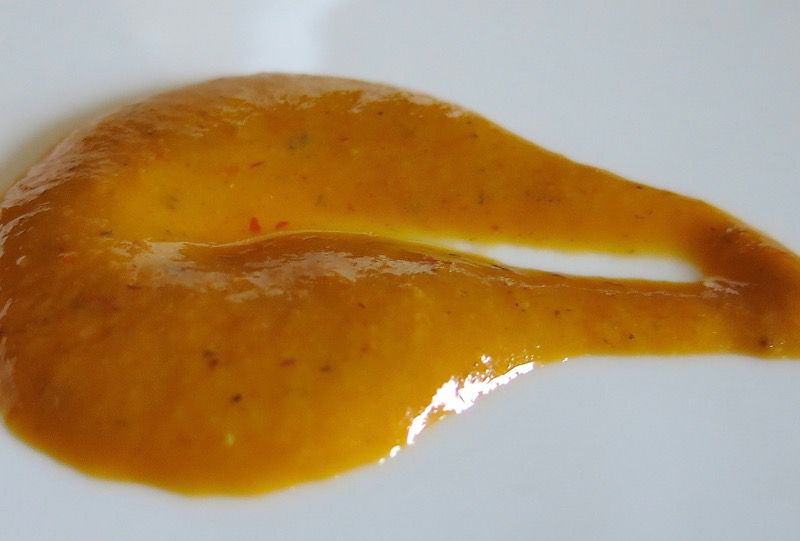 Amarillo (Versatile Yellow Mole)
Golden raisins, yellow tomatoes, yellow zucchini, guajillo, aji and habanero chiles makes this mole a fiery favorite
The Hoja Santa leaf is also a staple ingredient in this mole; it is also referred to as "acuyo" in Spanish has a particular strong taste. The Acuyo has been compared to having a similar flavor to anise, cilantro, and eucalyptus. The Hoja Santa leaf has a strong, somewhat sweet and anise seed-flavor.
Colour Clarity – the orange colour appears to be influenced by peppers; the mole is thin and the flecks of other colours are appealing

Bouquet/Nose – the small container held no aroma that was discernible

Spice Level (1 none, 5 high) – 4 a spicy mole but was definitely palatable, even by my (a heat wimp); in the end, it was the spiciest of them all
Sweet to Salty (1 sweet 5 salty) – interestingly, this mole held the most heat, and was also quite sweet; we gave it a 4
Texture/Mouth Feel – a light, lucid texture that packed considerable heat; it was difficult to separate the heat from the mouth feel
Flavour Profile – the flavour was completely new to my palate; it was somewhat familiar, but left me with a curious little je ne sais quois excitement and coming back for more, time and time again to taste the flavour

Appeal – this was the first recipe I looked up to determine the ingredient list that would lead to this unusual flavour (the hoja santa leaf); I was charmed by this mole. I couldn't tolerate much of it due to its heat, but found the "never before experienced" flavour very appealing. Rick Bayless says it goes particularly well with shell fish.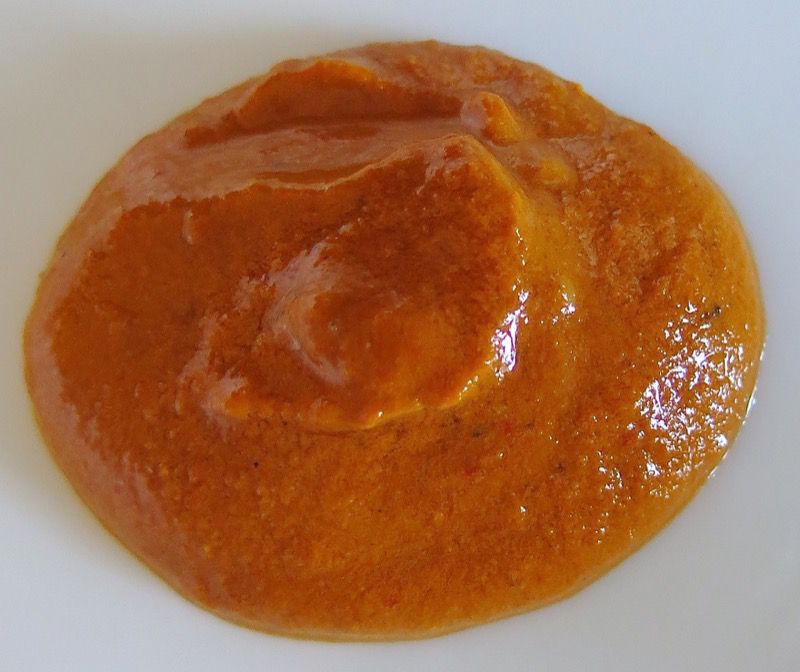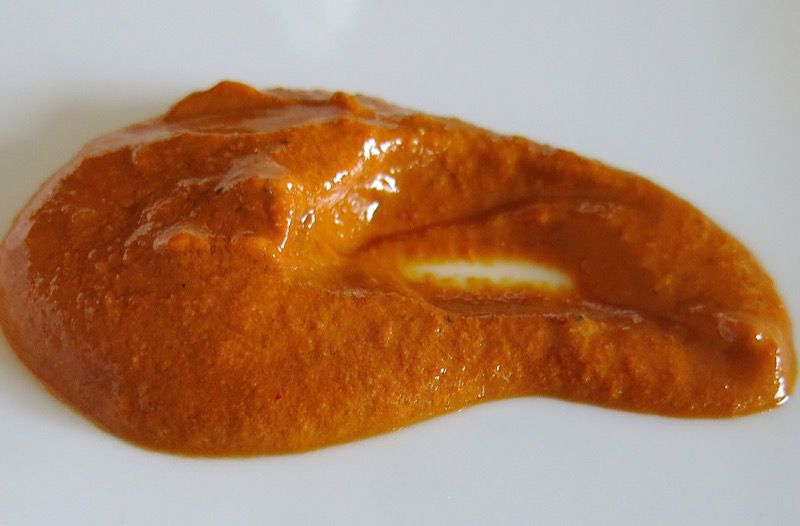 Coloradito
Pinenuts, almonds, peanuts, sesame seeds, dried ancho and guajillo chiles, blended with fresh chile poblano and Mexican chocolate
Colour Clarity – theoretically, all moles should have seeds and nuts, yet none are listed in the ingredients of the Amarillo mole and the appearance of that mole with this one is considerably different; above, the texture is visible; the depth of colour indicates a different pepper combination than with the first two moles: dried Ancho is a deep brown red and the Guajillo is known for its vibrant red colouring
Bouquet/Nose – the small container held no aroma that was discernible
Spice Level (1 none, 5 high) – heating the mole changes the entire experience; we tasted them cold and warm; the heat level in this mole increased dramatically when heated: from a 1 to a 3
Sweet to Salty (1 sweet 5 salty) – a bitter undertone was the predominant taste, with a salty to sweet balance
Texture/Mouth Feel – not as unctuous as the Almendras, this mole held a textural appeal as the interest of the varied textural elements on the tongue was appealing
Flavour Profile – blown away by the stellar ingredients in this mole, there was little alignment with its flavour profile; together, the ingredients seemed to muddy the waters and this was a nondescript experience. It tasted nothing like tomatoes, but because of the colour and the lack luster flavour, I was inclined to comment "dull tomato sauce" as I had no other frame of reference
Appeal – I would leave it. I didn't understand this mole.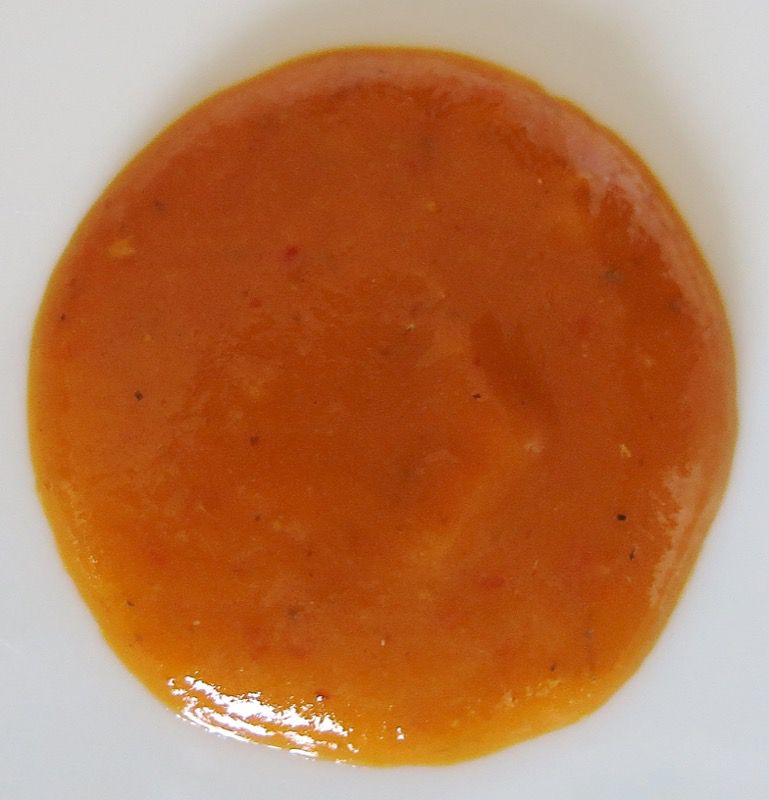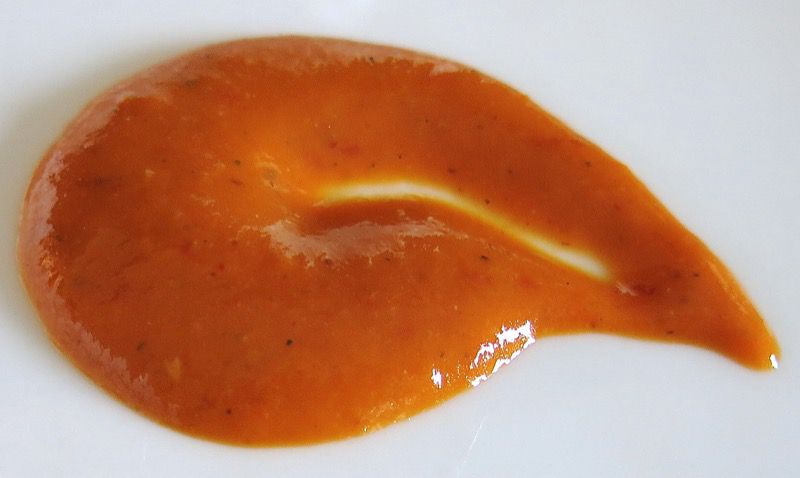 Mango Mole
made with golden raisins, spices, yellow chiles, and mango
This mole is not in the mole section of the menu, but you will find it under the enchiladas.
Colour Clarity – I would be almost 100% sure that this mole contains no seeds or nuts; the sauce is light, very smooth, and translucent in appearance
Bouquet/Nose – the small container held no aroma that was discernible
Spice Level (1 none, 5 high) – there was zero heat in this mole which was a bit disappointing, and I am not into heat
Sweet to Salty (1 sweet 5 salty) – as sweet as a savory sauce can be; it was not an ice cream topping, but was ultra sweet
Texture/Mouth Feel – light, very smooth, with the slightest "stick" to the texture
Flavour Profile – bananas, tart tomatillo, and mango predominate
Appeal – this is a love it or leave it mole; some patrons have claimed this mole as their favourite and "best meal ever eaten" when served with pork. I would leave it and cannot imagine it tasting good on anything.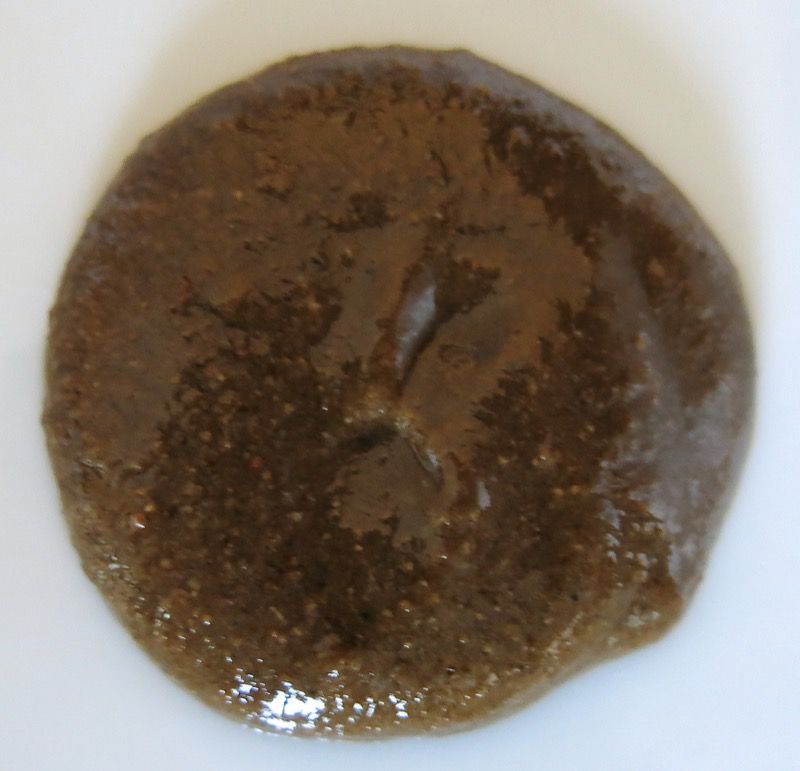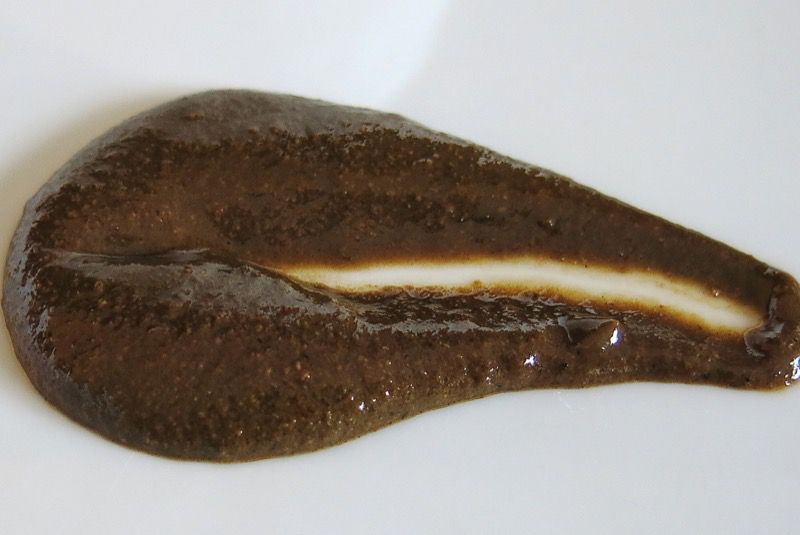 Mole Negro
dried chile mulato, negro pasilla, Mexican chocolate, raisins, peanuts, walnuts and bananas
Colour Clarity – true to its name, this is a deep, dark sauce that is thickly textured with a greenish hue
Bouquet/Nose – the small container held no aroma that was discernible
Spice Level (1 none, 5 high) – 3 A little too spicy for my sensitive palate, but the flavour was so compelling, I couldn't stop going back for more
Sweet to Salty (1 sweet 5 salty) – 4 Most definitely a savory sauce
Texture/Mouth Feel – a substantial sauce with textured bits creating interest
Flavour Profile – the depth of flavour was significant and sophisticated as each taste changed octaves and brought forward a new flavour experience; the trite word "delicious" came to mind immediately, but as I worked to identify the flavours, my experience was similar to that of the Amarillo, yet different. Similar in that the flavours were new and unfamiliar. Different in that they were not identifiable. There wasn't any: "this reminds me of". There was certainly an umami hit that had me firing on all cylinders within my tasting palate. This is the King of Moles, as the flavour profile varied to a degree with each bite and brought to my palate a completely new flavour experience created through the vast combination of ingredients in the mix. That would always be the goal of a great mole, but for my palate, few achieved this goal.
Appeal – of my three favourites from this mole tasting experience, this was the most mature; and my favourite, however, I cannot imagine what I would pair it with. The disadvantage of this tasting is that all moles were tasted "in the nude".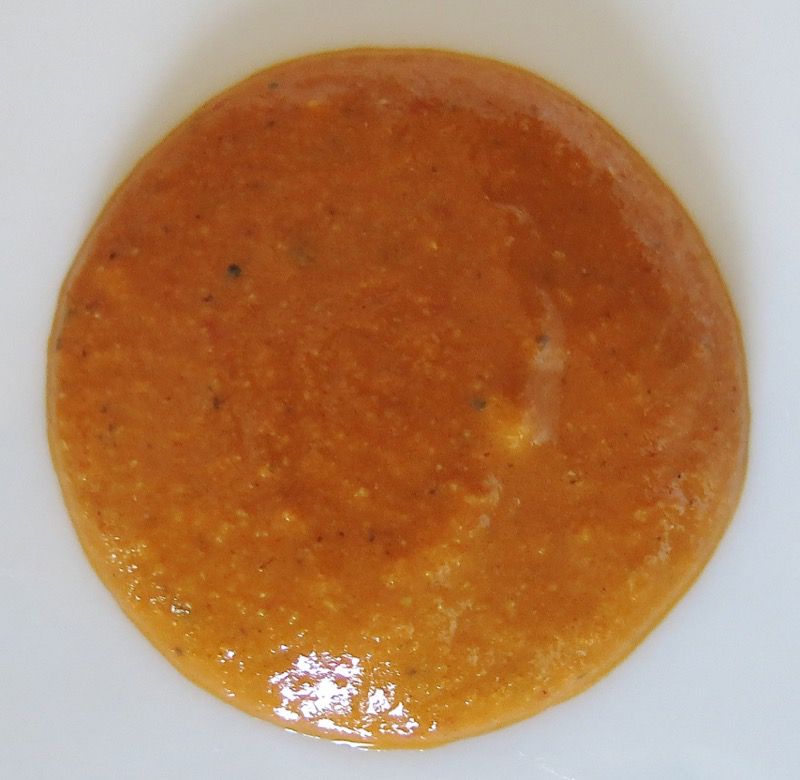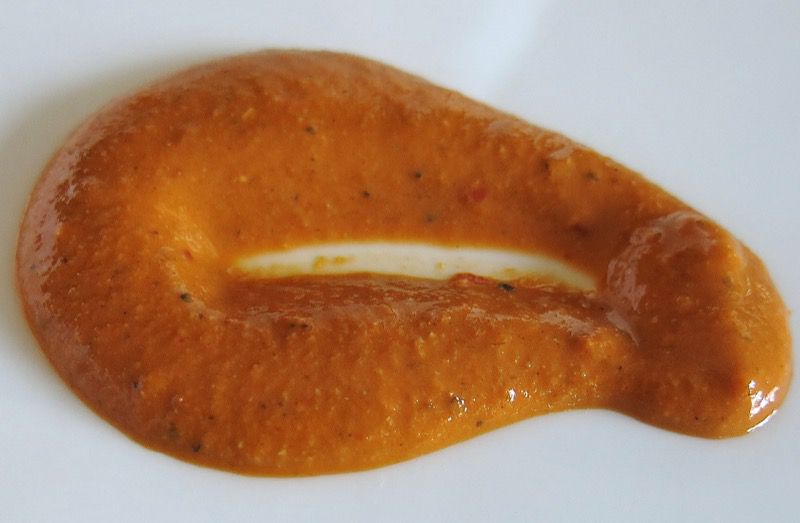 Red Pipian (Pumpkin Seed)
A pumpkin seed sauce made with dried chile guajillo, peanuts, pepitas, onions, and tomatoes
Colour Clarity – bright orange with a little lucidity; knowing that Pipitas is pumpkin seed and they are traditionally green, the colour confused me
Bouquet/Nose – the small container held no aroma that was discernible
Spice Level (1 none, 5 high) – 2 very mild discernible spice
Sweet to Salty (1 sweet 5 salty) – 3 a savoury sauce but the texture and subtilty within the flavour profile lets this mole sit in the middle of this scale
Texture/Mouth Feel – light and loose with a very fine grit
Flavour Profile – it took me several tastes to identify any specific flavour; first impression was bland and lacks salt. (tomato and onion would be the most dominant flavours, though this is definitely not a tomato and onion sauce at all)
Appeal – I could take it or leave it; I was disappointed that the pumkin flavour was somehow lost within the additional ingredients of this mole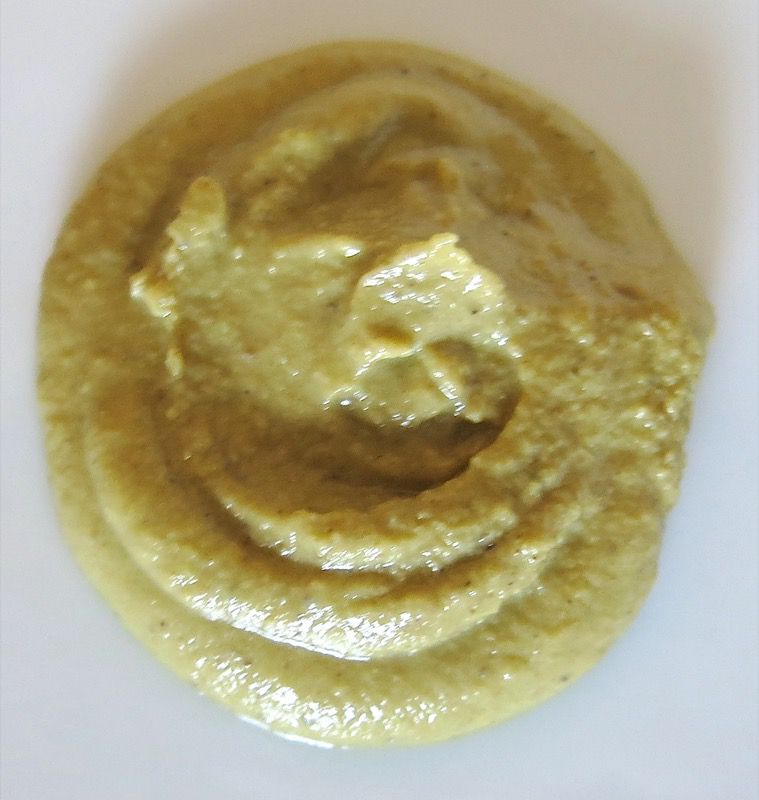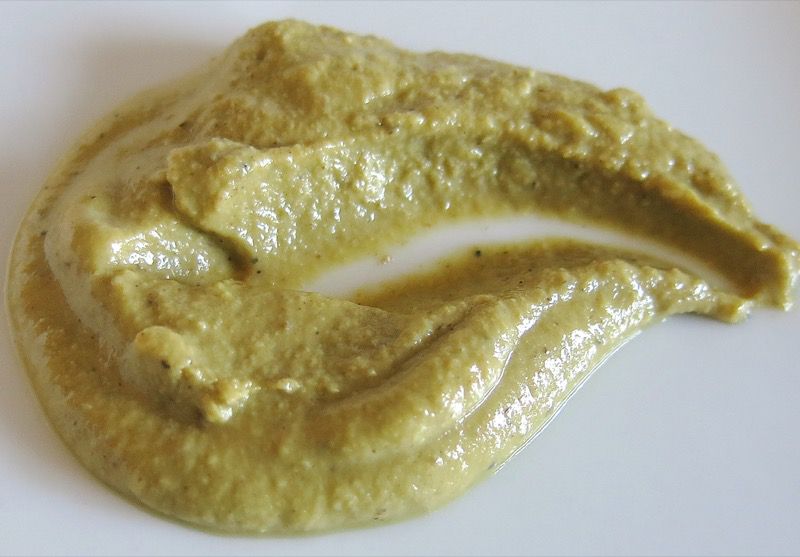 Pistachio Mole
Colour Clarity – the thick mass was a vibrant green colour and held its shape well
Bouquet/Nose – the small container held no aroma that was discernible
Spice Level (1 none, 5 high) – 1 no spice whatsoever
Sweet to Salty (1 sweet 5 salty) – 5 not overly salty, at all; simply a savory sauce without a hint of sugar
Texture/Mouth Feel – through the nuts were not pureed into submission, the mouth feel that of a thick smooth unctuous velvet
Flavour Profile – the essential oil in the pistachio is strongest before they ripen, and oil conveys flavor; I am not sure what kind of pistachios are used in this mole, but I would assume American. American pistachios, don't have the same complex, citrusy flavor that the Iranian and Sicilian ones have, yet this in this mole the pistachio flavour was up front, bright and light and absolutely addictive. I couldn't discern any other flavours, and couldn't understand why is is only served occasionally as a daily special and not on the regular menu.
Appeal – this mole was a top pick for me, in my top three favourites; I loved it and could see using it on chicken, with rice, with fish, and so many other ways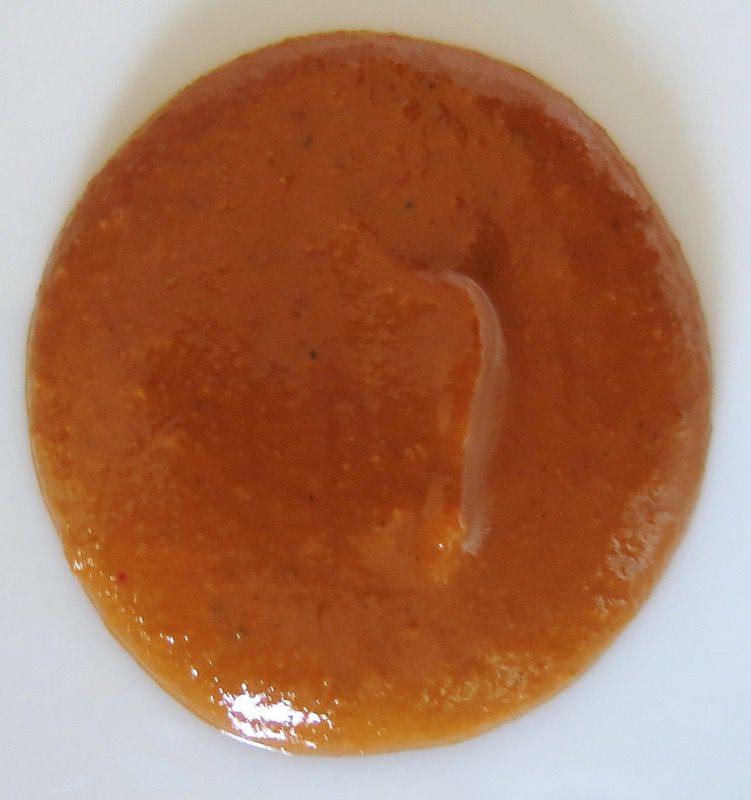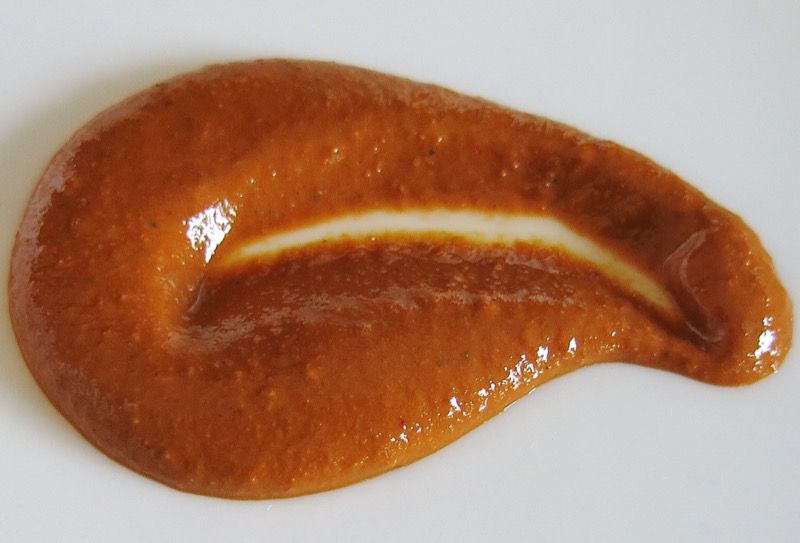 Mole Poblano
Puebla's beloved mole…guajillo and ancho dried chiles, peanuts, sesame seeds, walnuts, raisins, bananas and Mexican chocolate
Colour Clarity – a rich translucent autumn colour with a considerably looser consistency than the pistachio mole
Bouquet/Nose – the small container held no aroma that was discernible
Spice Level (1 none, 5 high) – 2 a very mild and tolerable heat for my palate, and I cannot tolerate heat
Sweet to Salty (1 sweet 5 salty) – 4 very savory with an appealing umami taste
Texture/Mouth Feel – silken
Flavour Profile – what I liked about this mole was that the peppers are the prominent flavour, yet not immediately discernable; this mole captured a new flavour experience for me which I found very appealing and exciting
Appeal – this mole was delicious and one of my top three favourites; it is also the most popular mole and the sauce most think of when referring to a mole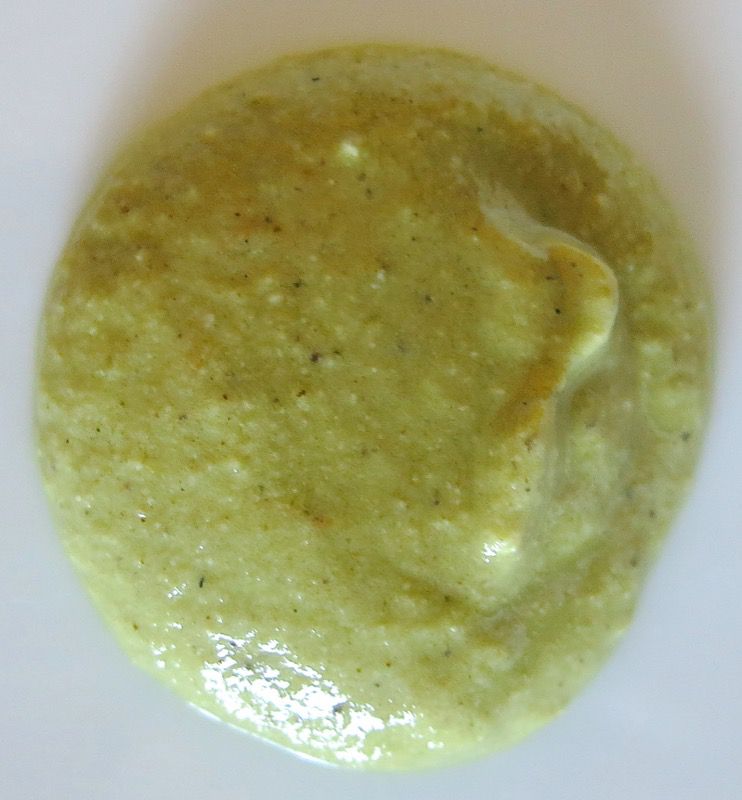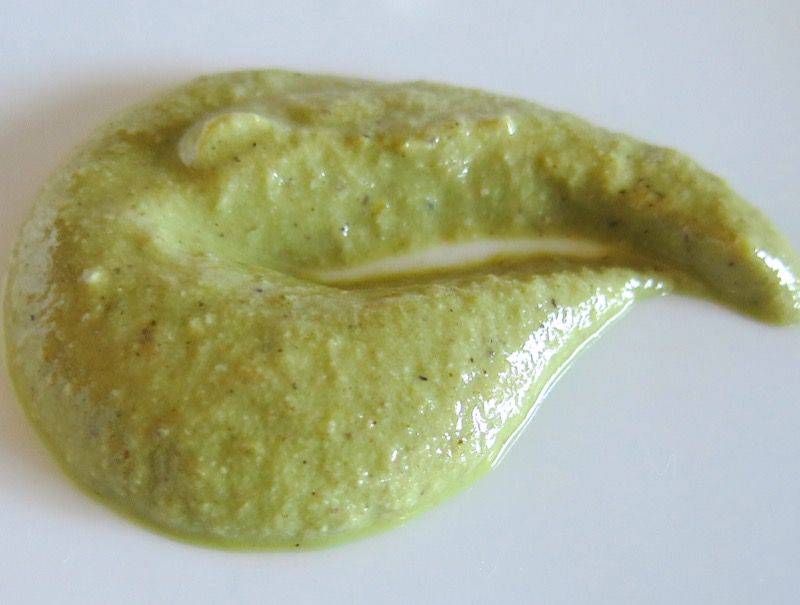 Mole Verde
Fresh chile poblano, jalapeno, blended with pepitas, sesame seeds, basil, onions, lettuce, zucchini, and avocadsos
Colour Clarity – an opaque Spring green
Bouquet/Nose – the small container held no aroma that was discernible
Spice Level (1 none, 5 high) – 2 a very mild spice
Sweet to Salty (1 sweet 5 salty) – 4 definitely a very light savory sauce
Texture/Mouth Feel -light, fluid with a soft grainy grassy feel to the tongue
Flavour Profile – definitely tasted of spring grasses, almost weedy tasting and then realized I could taste tomatillos and epazote, both common to Mexican food but very new to our palate
Appeal – this sauce had an appeal in that the flavour was novel; I would need to pair it with specific foods to see how they are elevated with this mole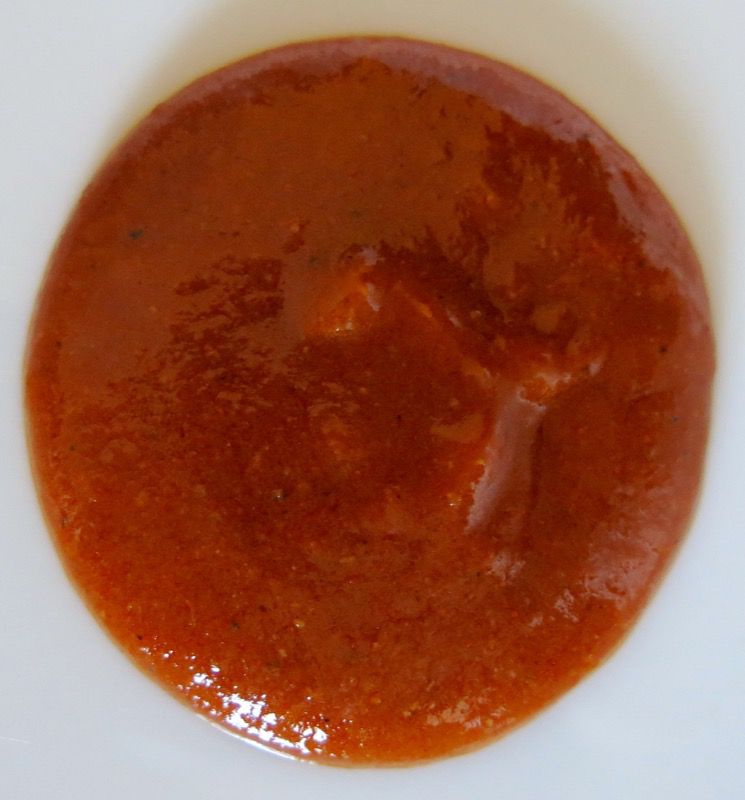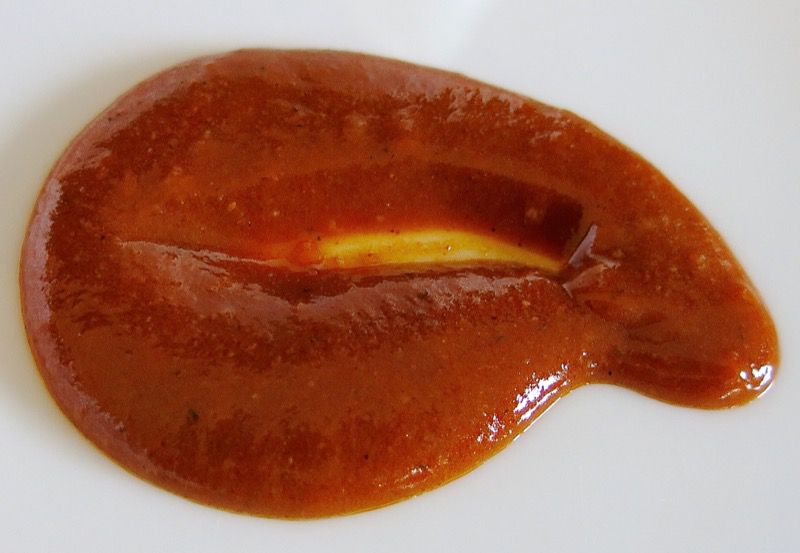 Housemade dried red chile Enchilada Sauce
Colour Clarity – brilliant translucent brick red
Bouquet/Nose – the small container held no aroma that was discernible
Spice Level (1 none, 5 high) – 4 this has a spicy little kick
Sweet to Salty (1 sweet 5 salty) – definitely a savoury sauce
Texture/Mouth Feel – smooth as silk
Flavour Profile – like a traditional Mexican hot sauce, but without the same intensity of heat
Appeal – it was tasty, but not delicious; I was disappointed as I expected this sauce to knock my socks off
Conclusion
I am not a mole fan. While I deeply appreciate the vast combination of ingredients that go into a mole, the love, the thought, the gift of giving "your special homemade mole" to your guests after a meal featuring that special mole, it is just not for me. I do enjoy a good mole. My "good" is certainly not typical of a Mexican palate, but I do enjoy the three I identified above. Do I enjoy them enough to go through what it takes to make each? No. Not even close.
I am a highly motivated home cook. I will go through "hell and high water" (as my grandmother used to say) to make good food. However, the moles I have tasted anywhere and everywhere to date are just not that motivating for me.
I absolutely needed to understand the magic and mystery of the mole. I could not understand the love of this specialty, so I have most definitely put myself through the paces. Nothing will educate one about the palate more than a tasting as intense as this.The Red Iguana is famous for its moles, so I believe I made a good decision using their moles for my tasting. I wasn't traveling to Mexico any time soon.
I am completely smitten with so many Mexican dishes and will continue to explore this cuisine with enthusiasm as many of the flavours of this country and cuisine have definitely captured my heart