Pâté à la Viande: A Traditional Canadian Acadian Holiday Recipe for Meat Pie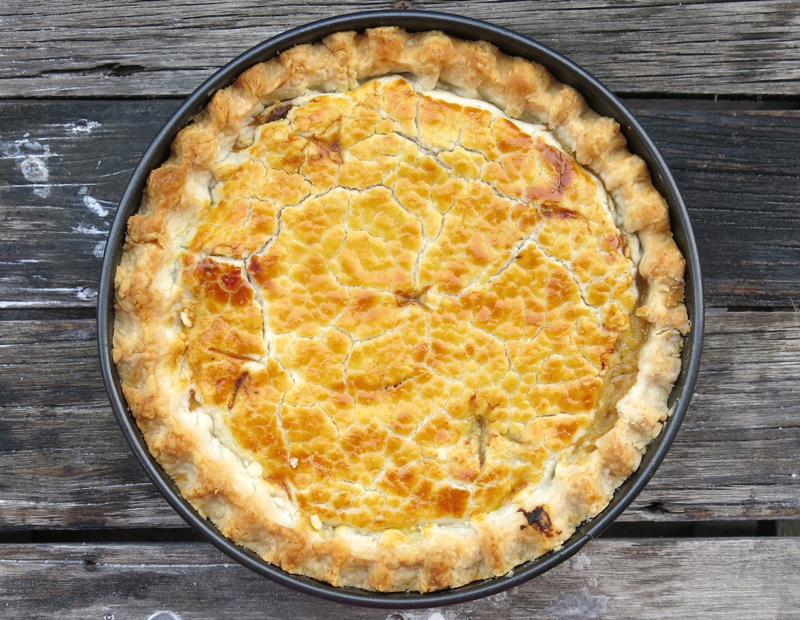 Christmas food memories are, without doubt, nostalgic and inspire motivating culinary escapades every holiday season. Reminiscing, Ramona tells me of her sister-in-law's meat pie. "Oh! One Christmas, Patricia made the best meat pie! Peter and I would sneak into her kitchen in the middle of the night slicing pieces off of it straight from the fridge. It was so rich and meaty and delicious. It had rabbit and beef and pork. I have wanted to get her recipe and make it ever since!" I believe I could see images of this very meat pie in her eyes during that minute as they were as big as dinner plates.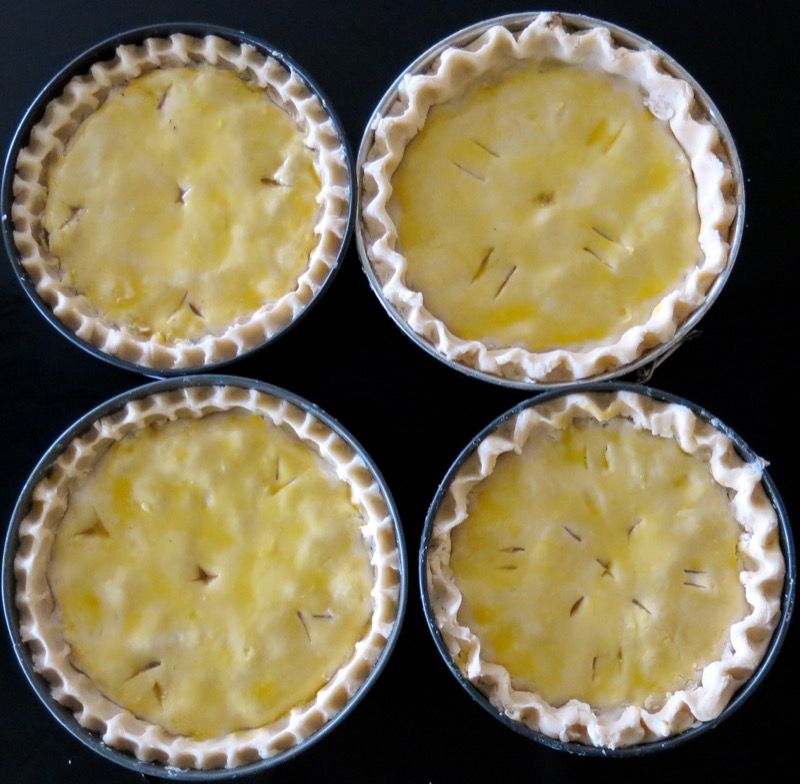 Well, let's do it! Getting the recipe wasn't so difficult. But once I saw it, after having just traveled through the Atlantic provinces last May and meeting many Acadians. I realized that this was the recipe for the traditional Pâté à la Viande! I knew Patricia was French, but did not know she was Acadian. That changed everything, completely. I was now as passionate as Ramona to prepare this dish. Interestingly, Patricia is a New Brunswick Acadian from Northern New Brunswick. There, the Pâté à la Viande is traditionally made with potatoes. Yet, not in Patricia's family. This Acadian meat pie "…is prepared with pork, to which chicken and hare are often added, and sometimes beef. In spite of its universality, every region does not make it the same way; it varies as much in its ingredients as it does in it the way the crust is prepared. A distinct difference exists between northern New Brunswick meat pies, on the one hand, and those from Nova Scotia and Prince Edward Island on the other hand." Though the specifics of the recipes throughout the regions vary, all agree, Christmas Eve would not be Christmas Eve without a Pâté à la Viande! Oh, and one last important note: "No Acadian would call this a Tortierre." My friend, Christina, very clearly explained that Tortierre's are from Quebec and every Acadian recognizes them as such. Yet, to a prairie gal, they are a little similar. Tortierre usually has vegetables and no Summer Savory. Both have cloves and are meat pies served during the holidays, thus my personal frame of reference.
A trip to ACME Meat Market to Corey the Butcher found us with beef chuck roast, no bone, pork shoulder, bone in, and two rabbits. We were doubling the recipe. I had beef marrow bones in the freezer, and dug them out. The beef needed some bones for building flavour in the braise.
Day One: Preparing the Meat
Marrow Bones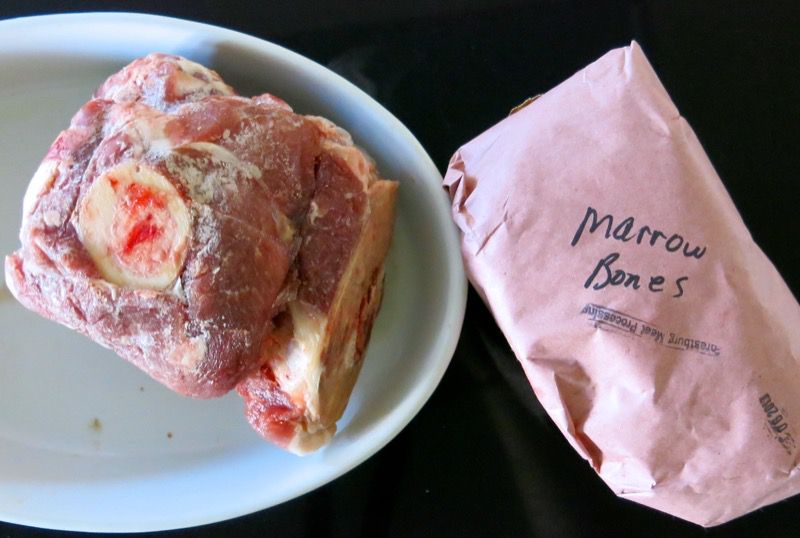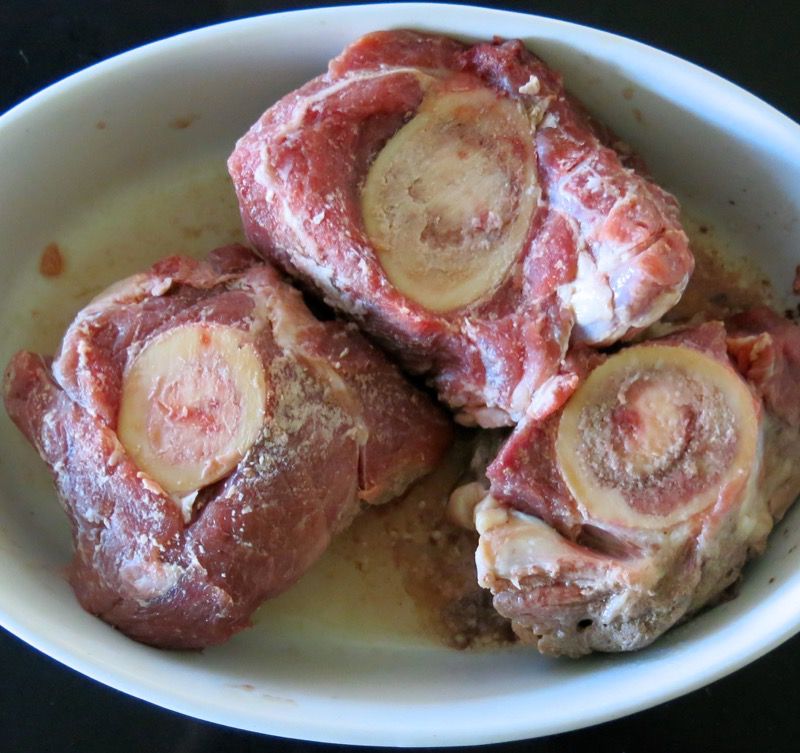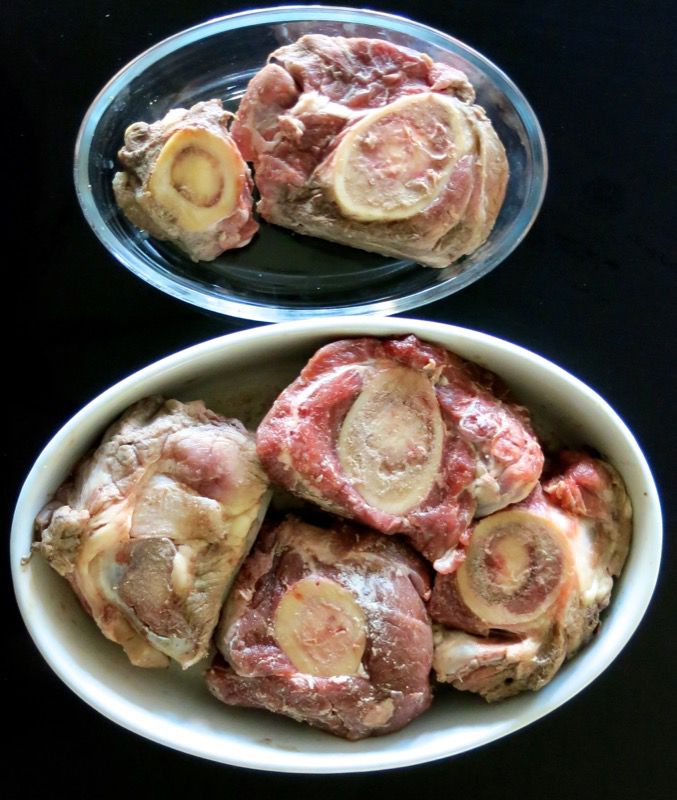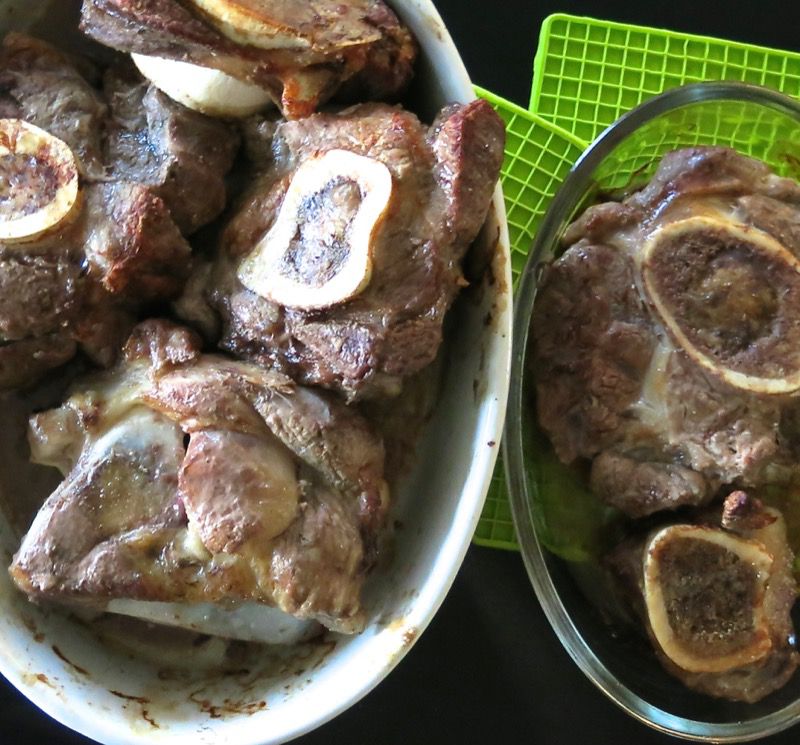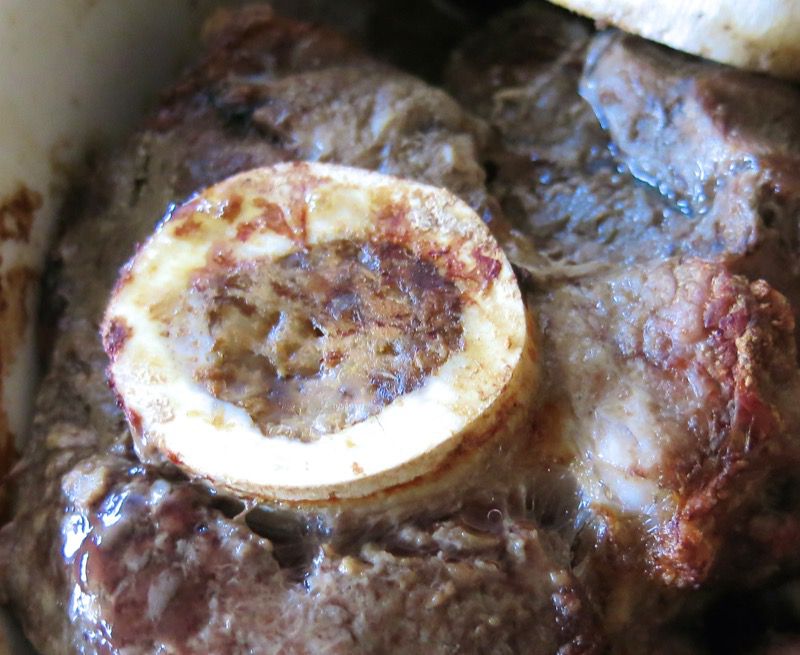 Into a hot 500°F oven to roast 6 minutes each side, until caramelized.
The Rabbit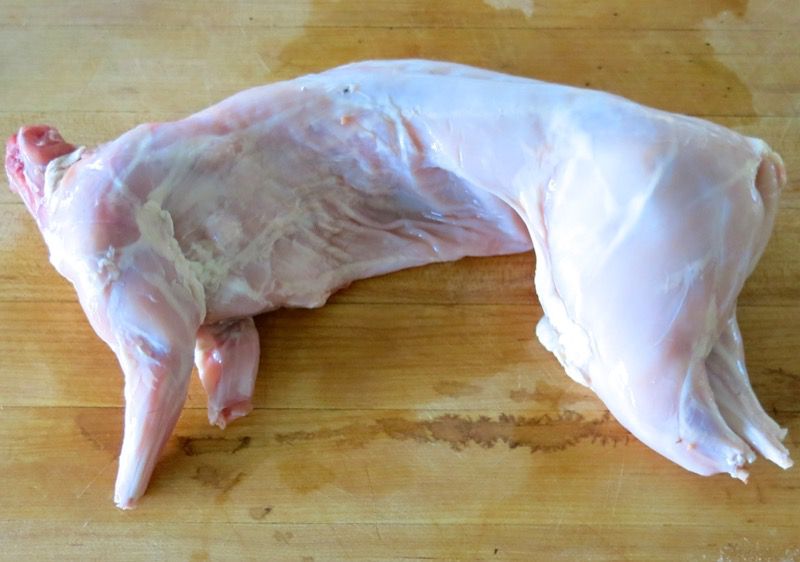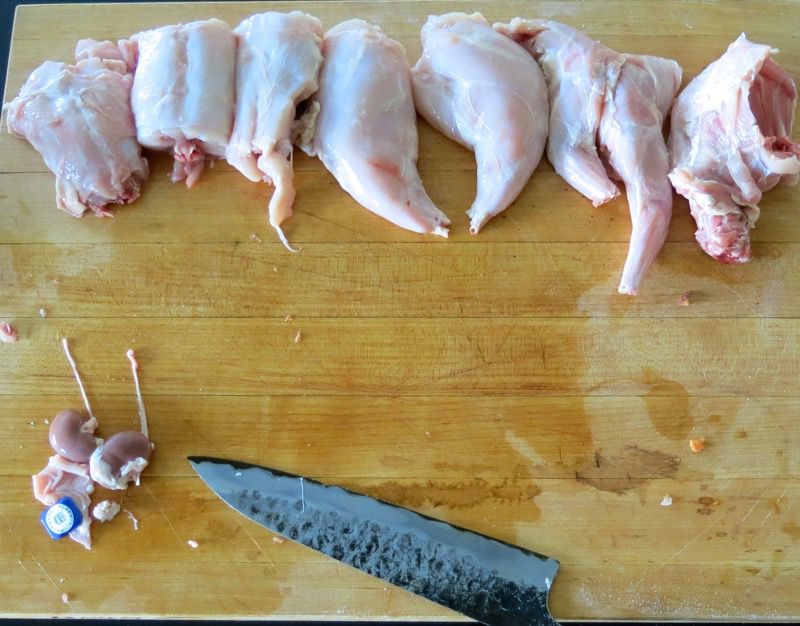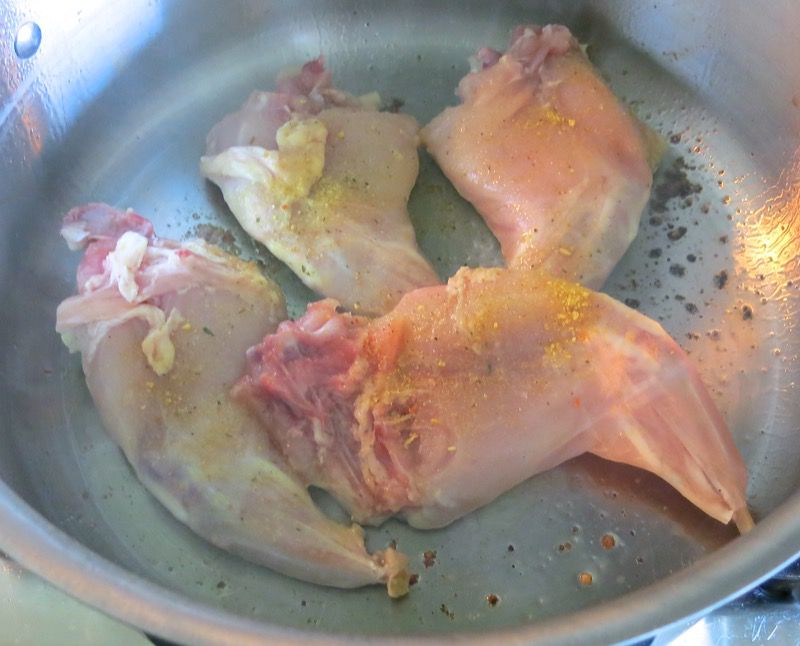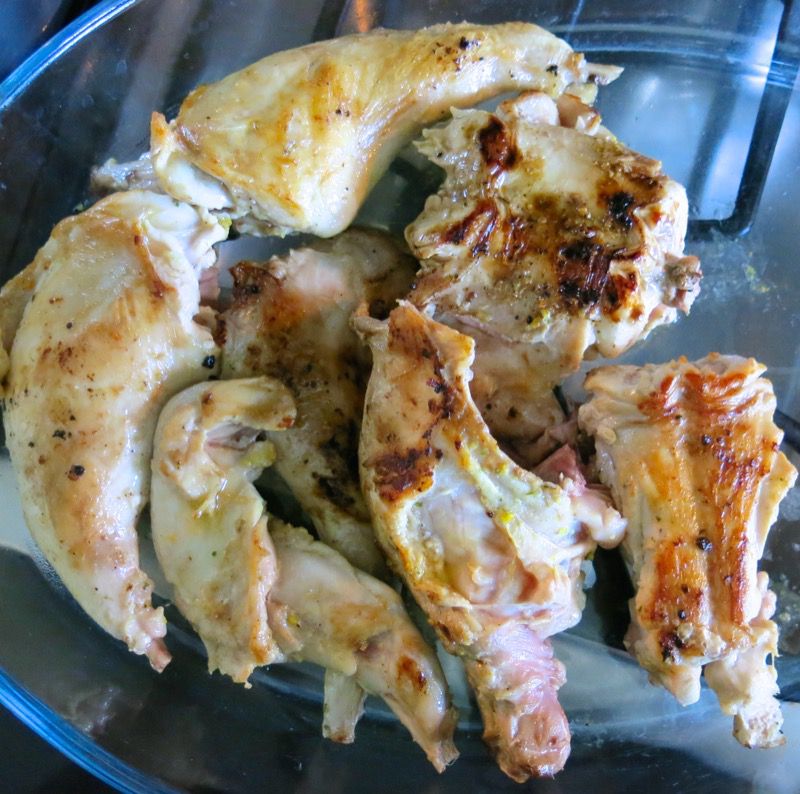 While marrow bones are roasting, butcher the rabbit and brown on both sides for 2-3 minutes until caramelized. Set aside.
The Pork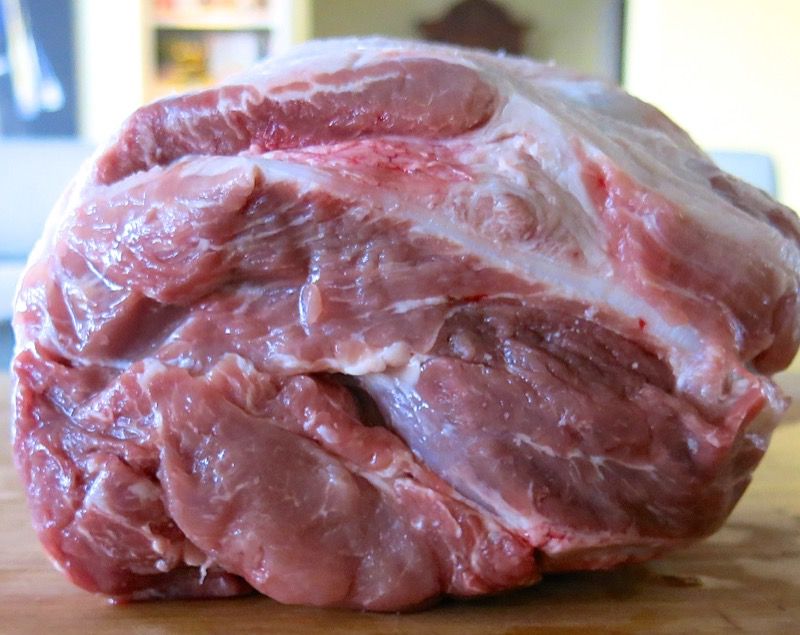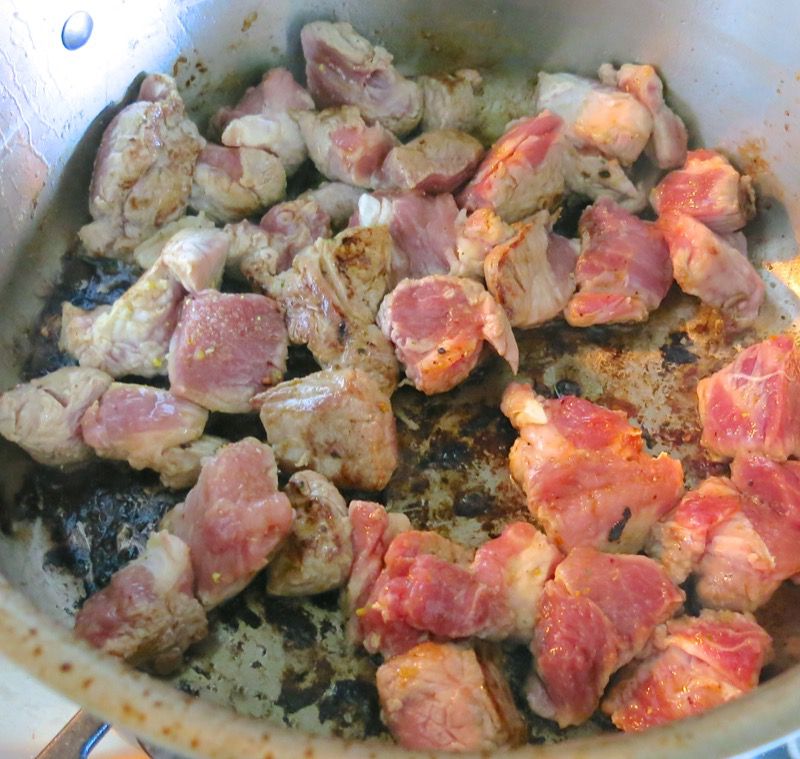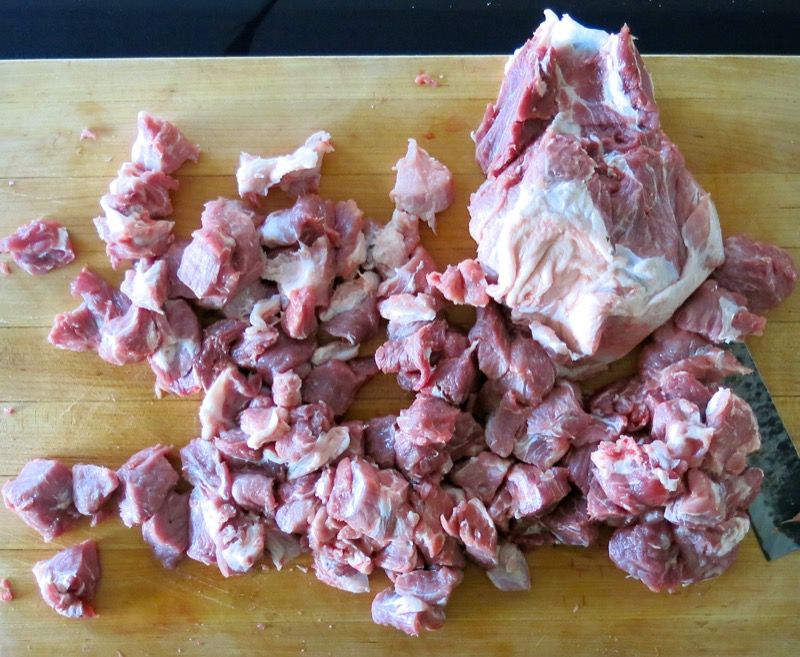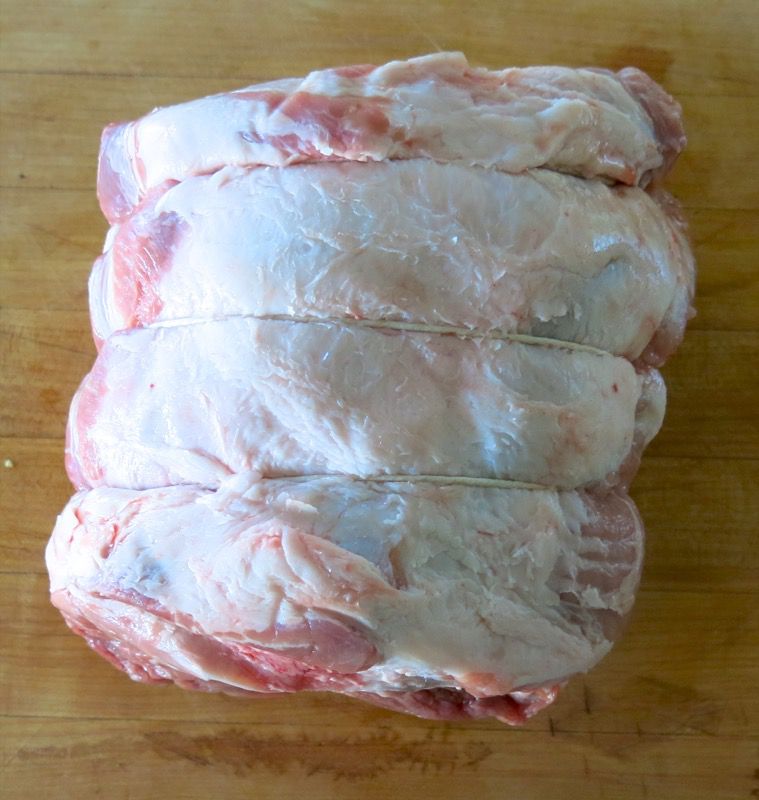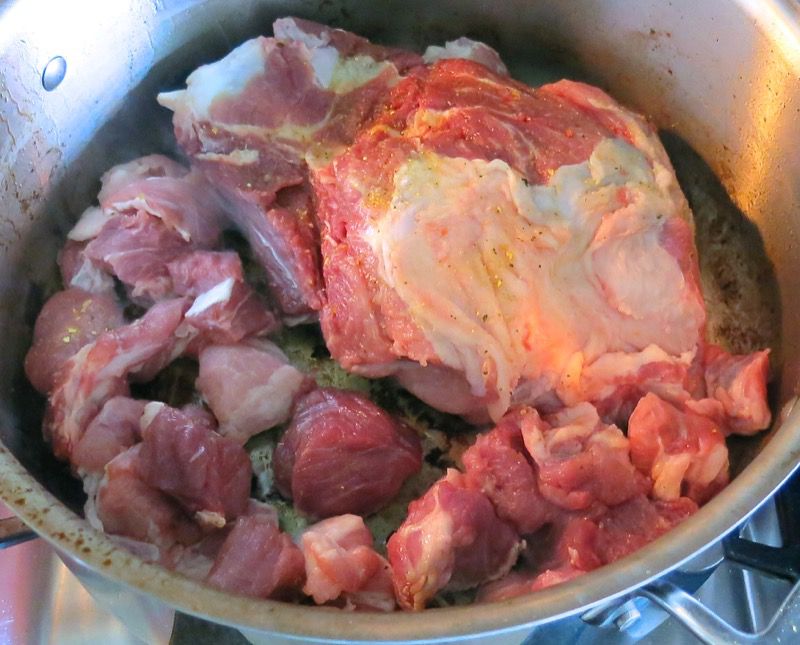 Chop into stewing sized pieces, and around bone as much as possible. Brown for 2-3 minutes until caramelized, bone as well. Set aside.
The Beef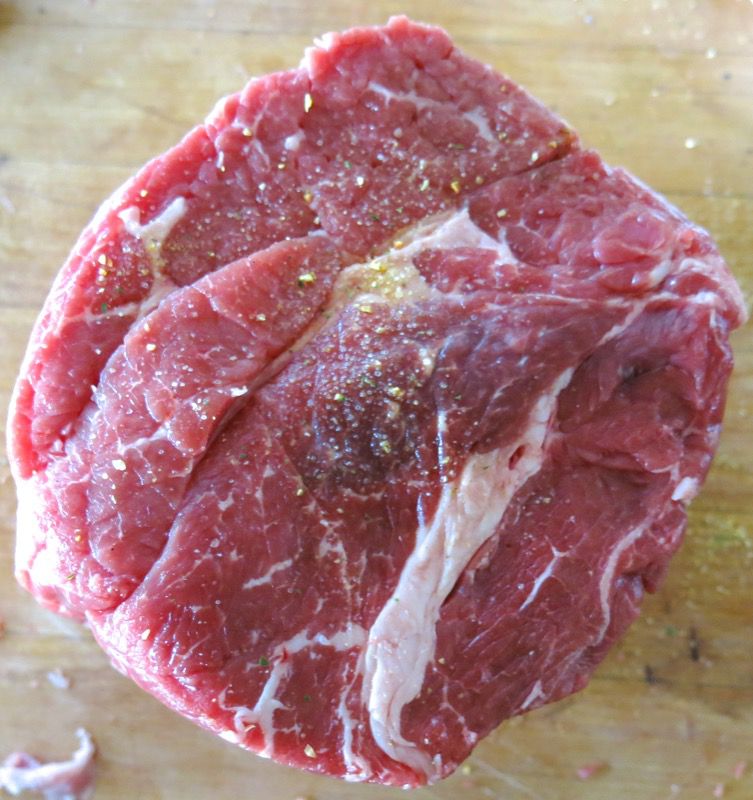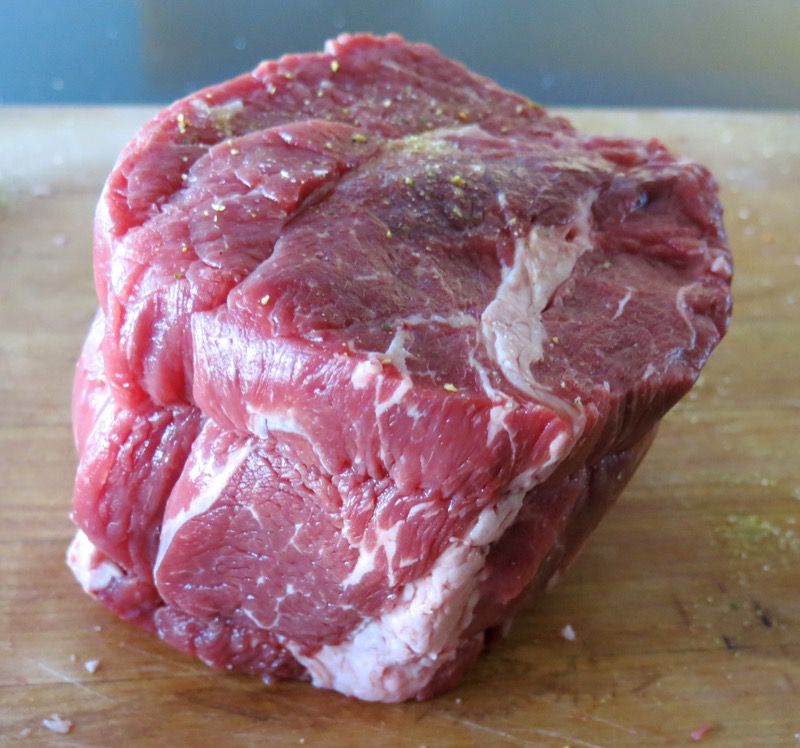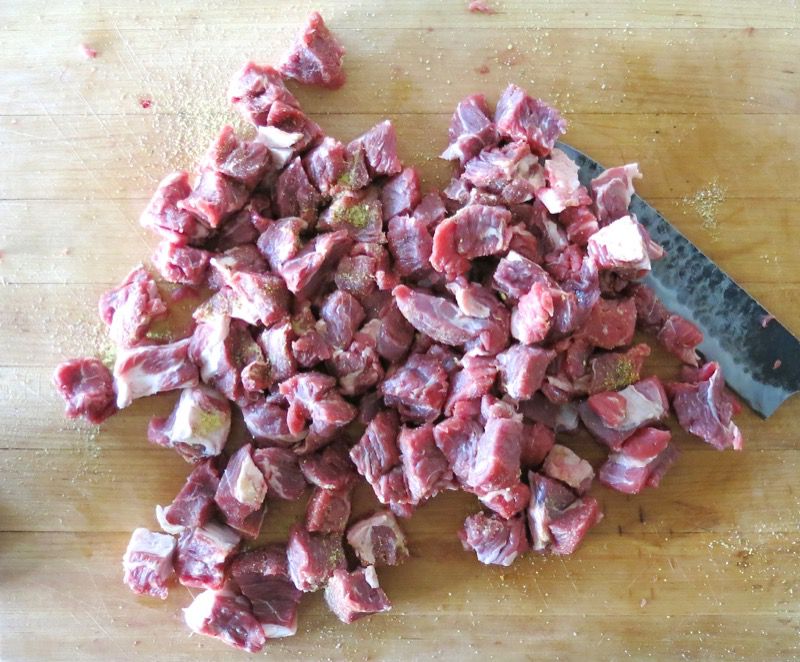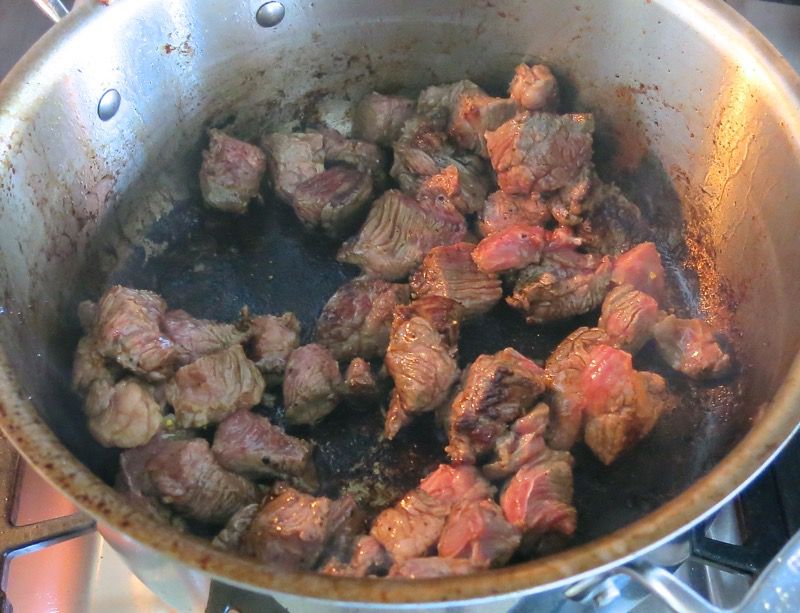 Chop into stewing sized pieces, and around bone as much as possible. Brown for 2-3 minutes until caramelized, bone as well. Set aside.
Braising the Meat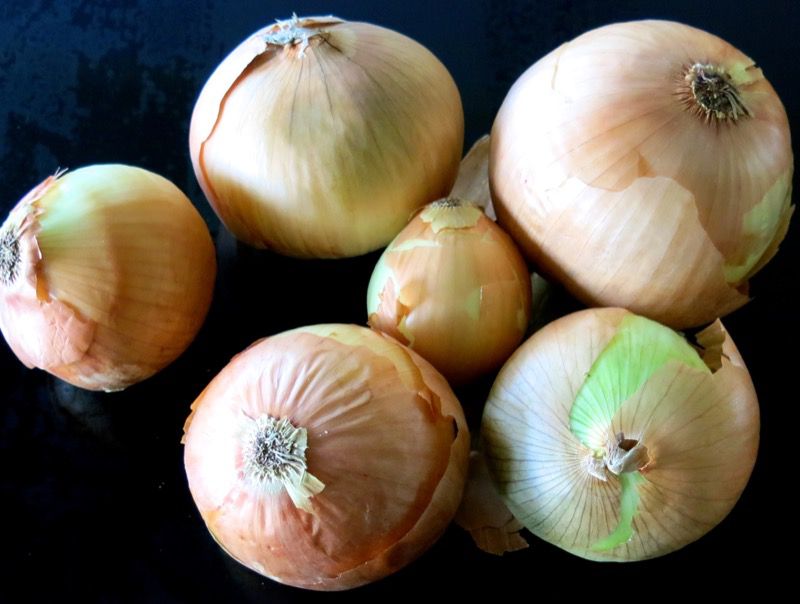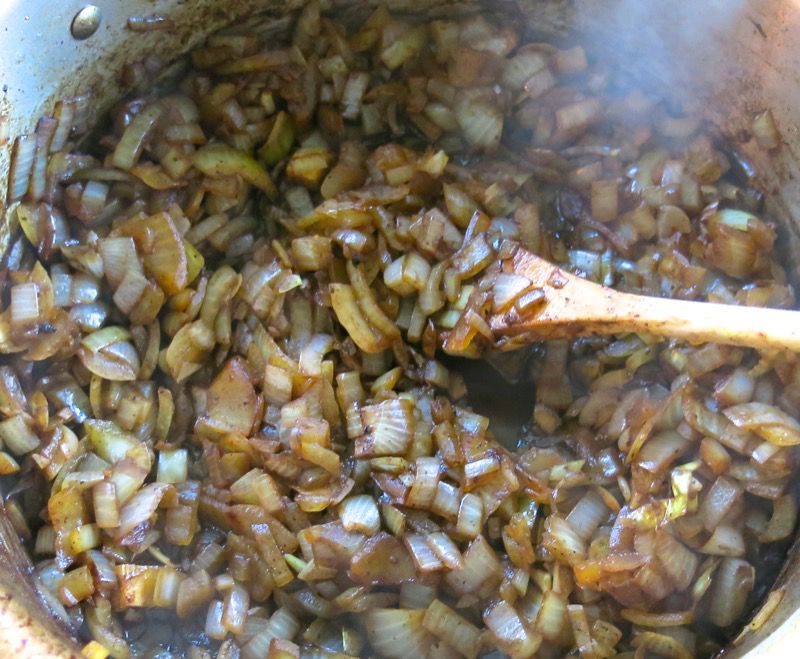 Clean, chop and caramelize the onions in the same pan all meats were browned in. The liquid from the onion will begin to release the brown bits from the bottom and sides of the pan.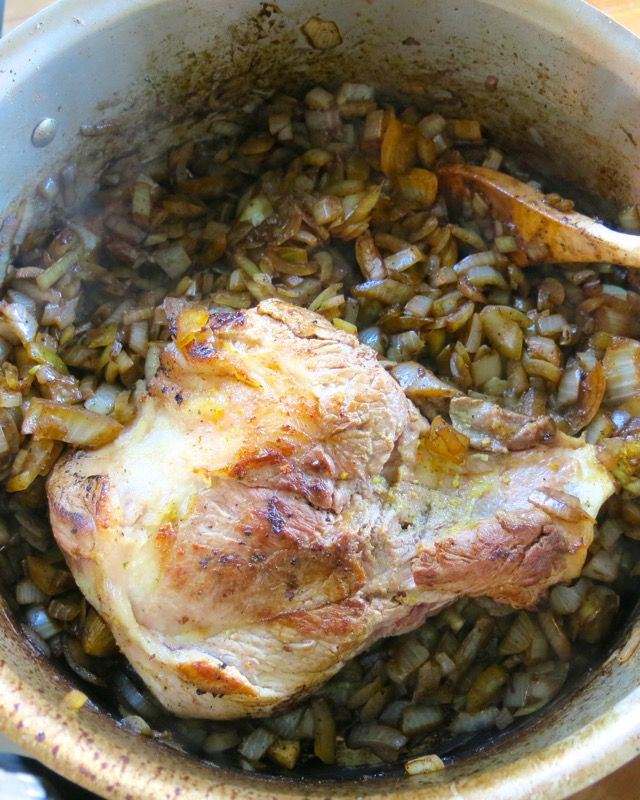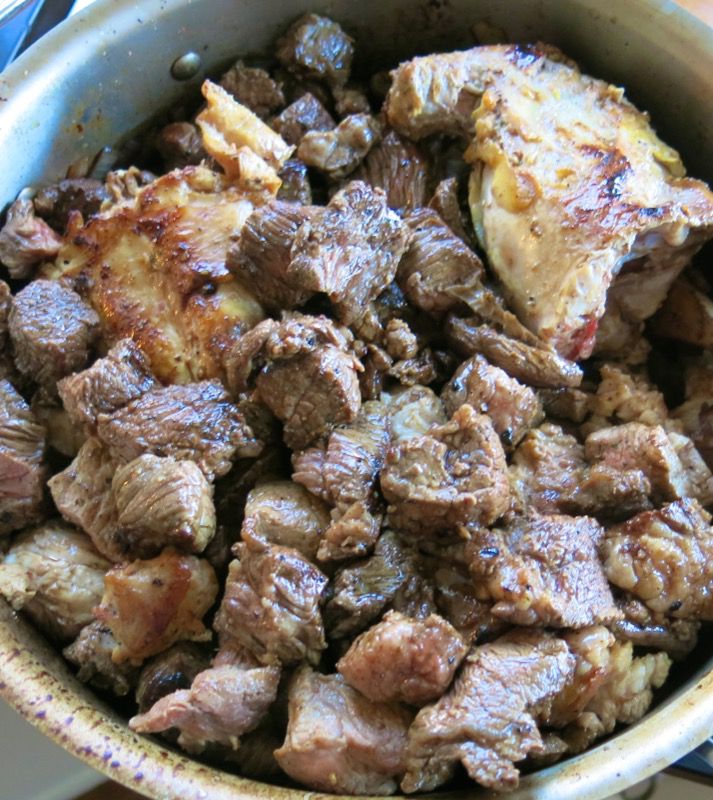 Place all meat and bones in the pan with the onions.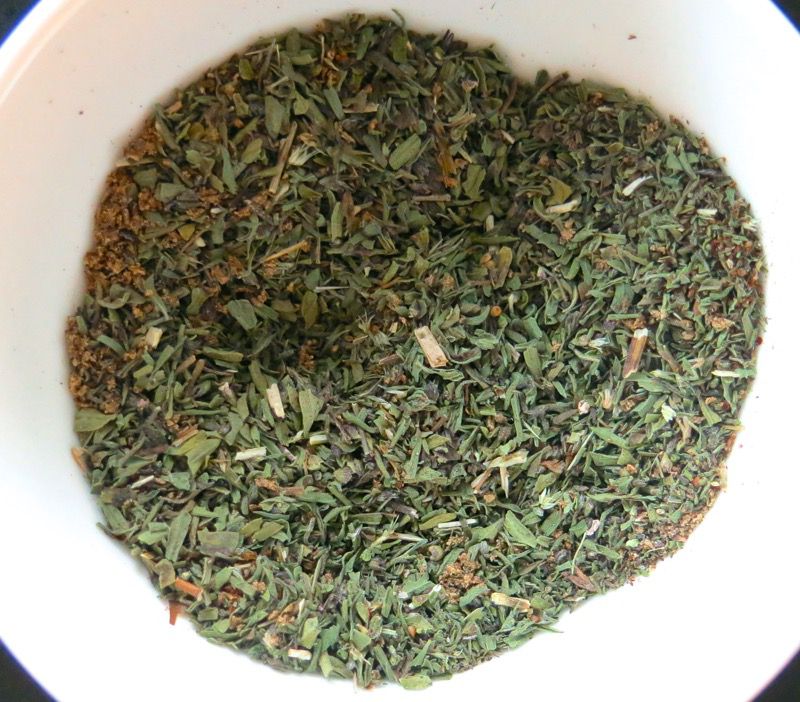 Add the seasonings and stir to combine well throughout.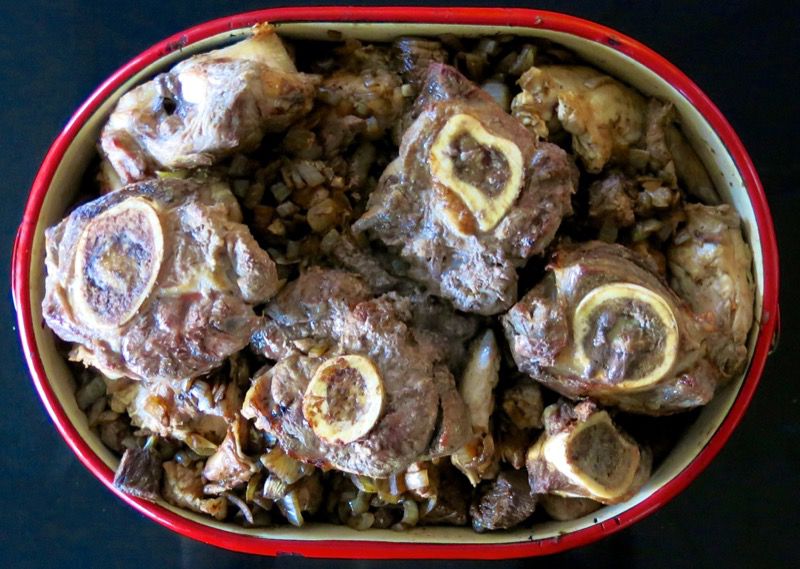 Woops. My pot was too small. Take two: into the large roaster. Cover all with water. I could not, but filled the roaster to as high as possible with water then braised with lid on in the oven. If all was covered with water, I would have left the lid off, and replaced water as needed. However, I used the lid to steam the meat not covered with the water and didn't need to replace the liquid during the cooking process. This worked very well.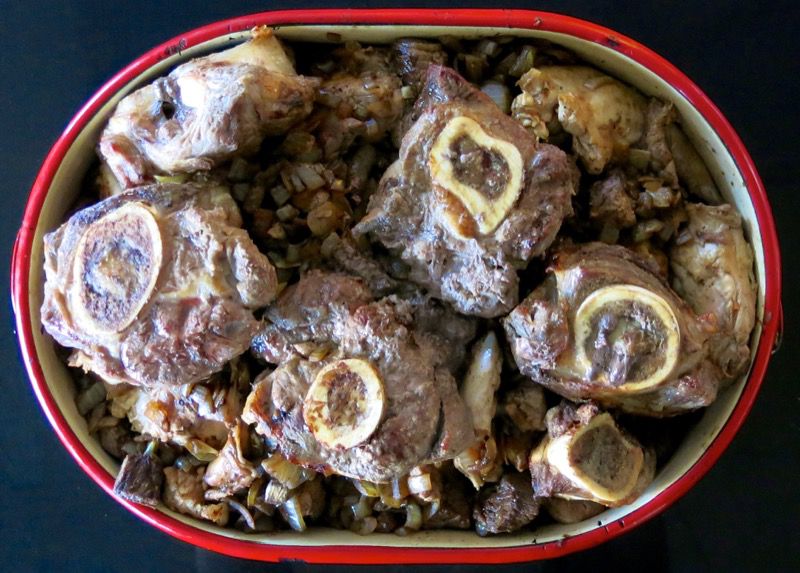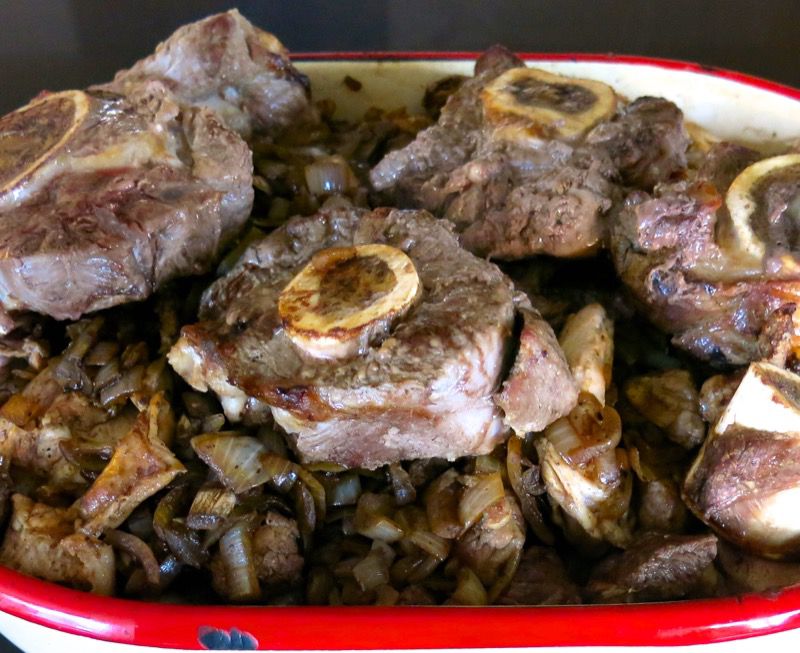 Once completely cooked, I removed the meat from the jus and let it sit in a colander for a bit to ensure as much juice as possible was extracted from the meats. I then removed the marrow from the marrow bones and added this to the jus.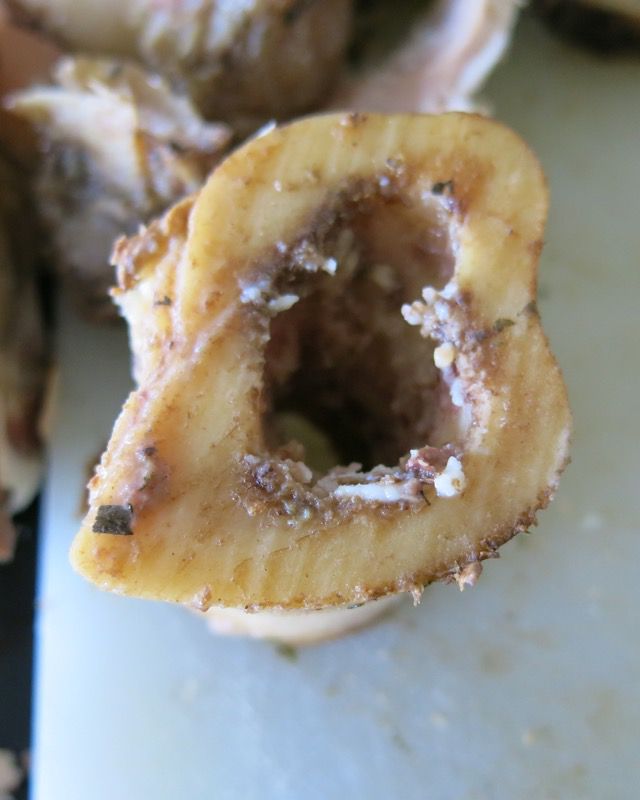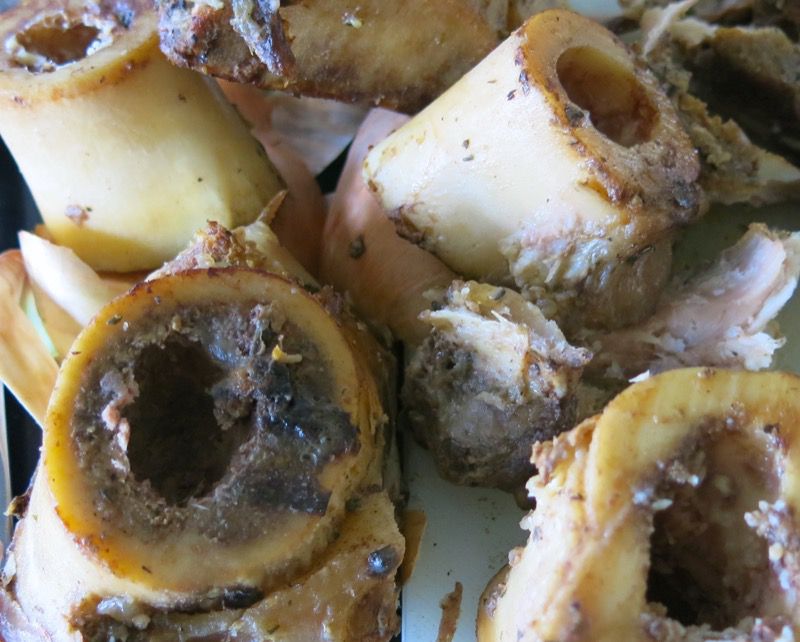 The meats were covered tightly and refrigerated. The jus was also refrigerated to let the fat settle on the top for scraping off the next day.
Day Two: Making the Gravy and the Meat Pies, or Pâté à la Viande
Making the Filling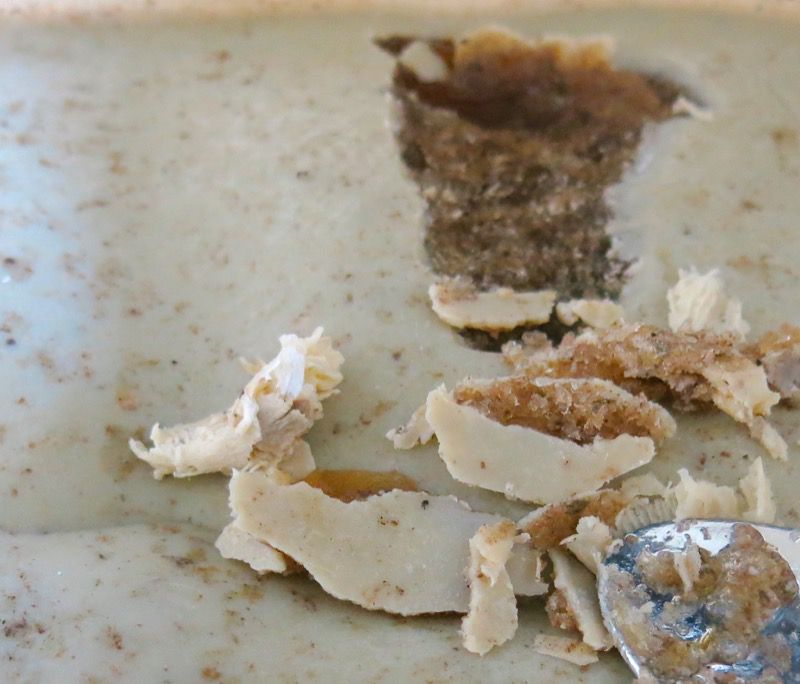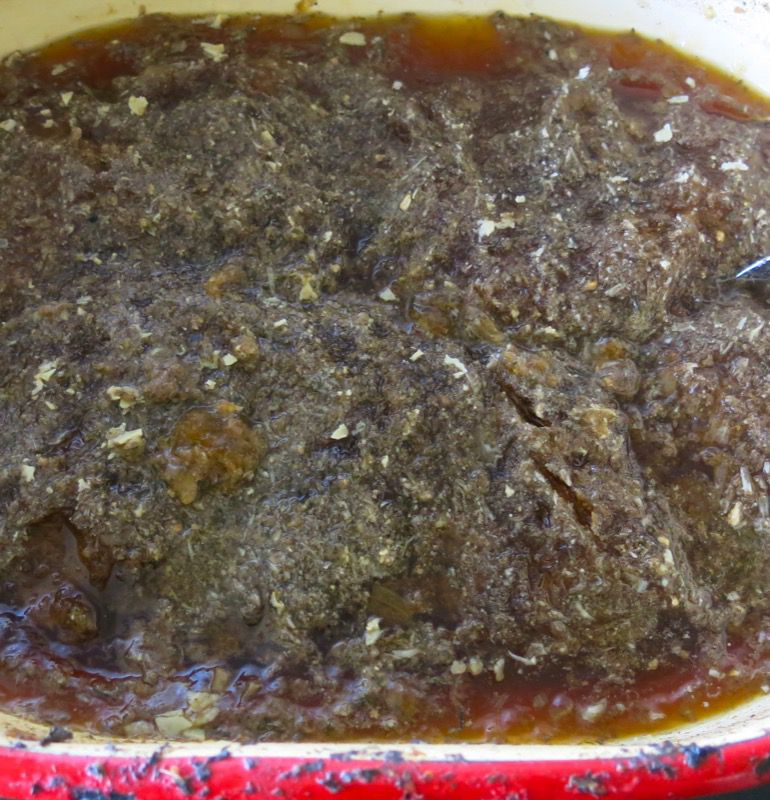 Ramona scraped the fat off of the jus. It was so cold outside where I put the pan, that it made it easier to scrape off as the jus was frozen.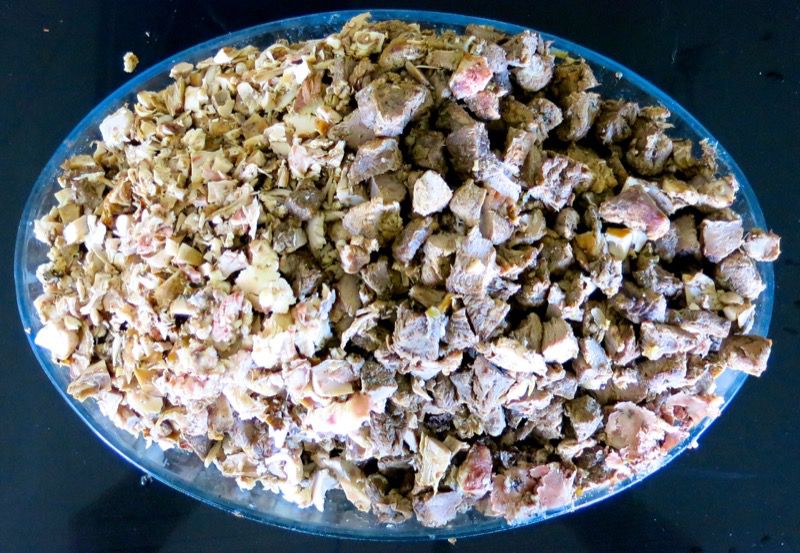 Ramona and I then took the meat off all of the bones and cut the meats into three sizes for a rustic Pâté à la Viande as it is a rustic dish.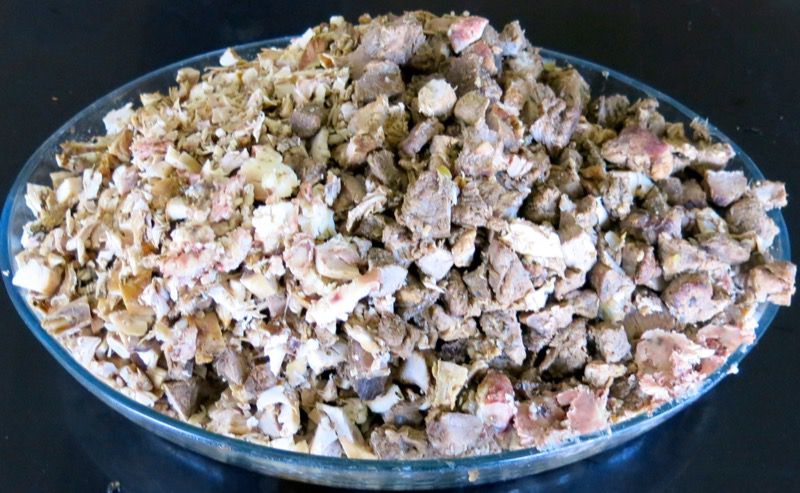 There were small shredded pieces of meat from the bones, small chopped pieces and larger portions for textural variation: about 1/3 of each.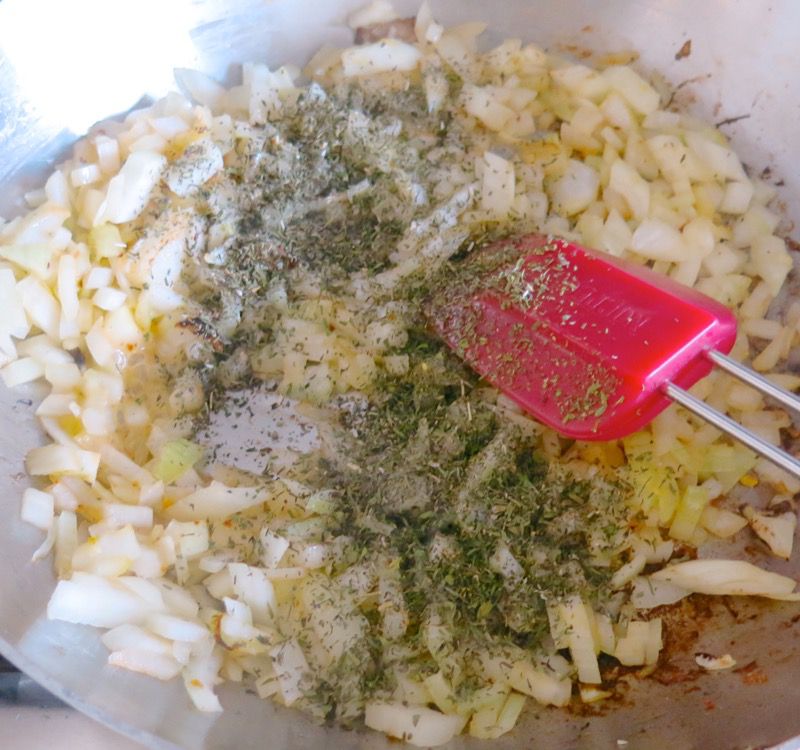 At this point, both of us agreed that the addition of another onion would add a needed layer of texture and flavour to the jus. We added more Summer Savoury and salt and pepper at this point, as well.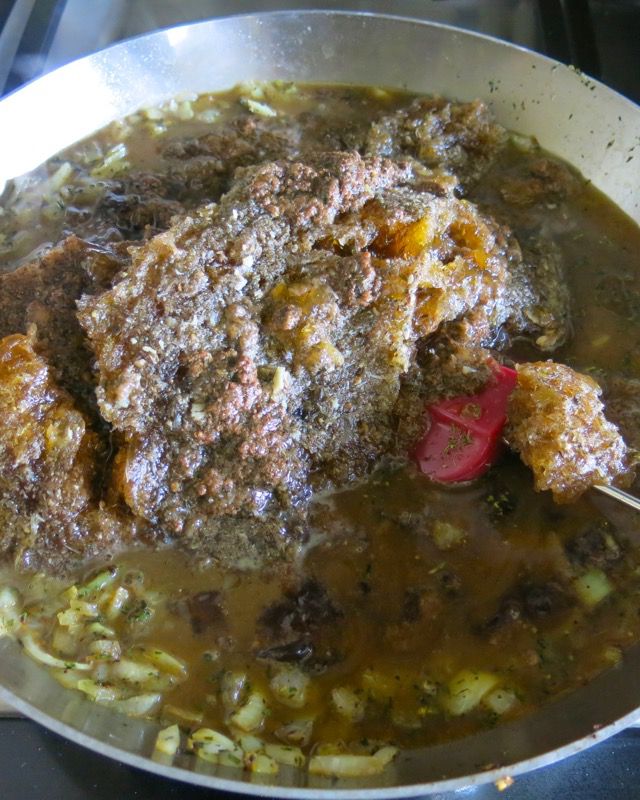 To this onion, the jus was added, heated, tasted and seasonings adjusted. Neither of us thought it needed more cloves. I used the powdered cloves afraid I would not be able to retrieve the cloves in the recipe. It would have been very doable, but the amount of cloves was perfect: scented of them, but not at all dominant.
Flour was added to thicken the gravy and then the meats were added to it.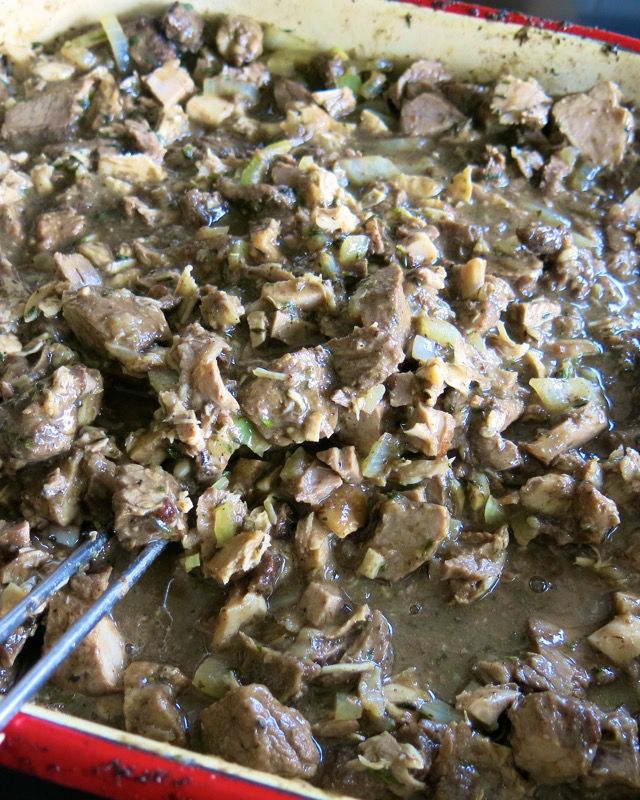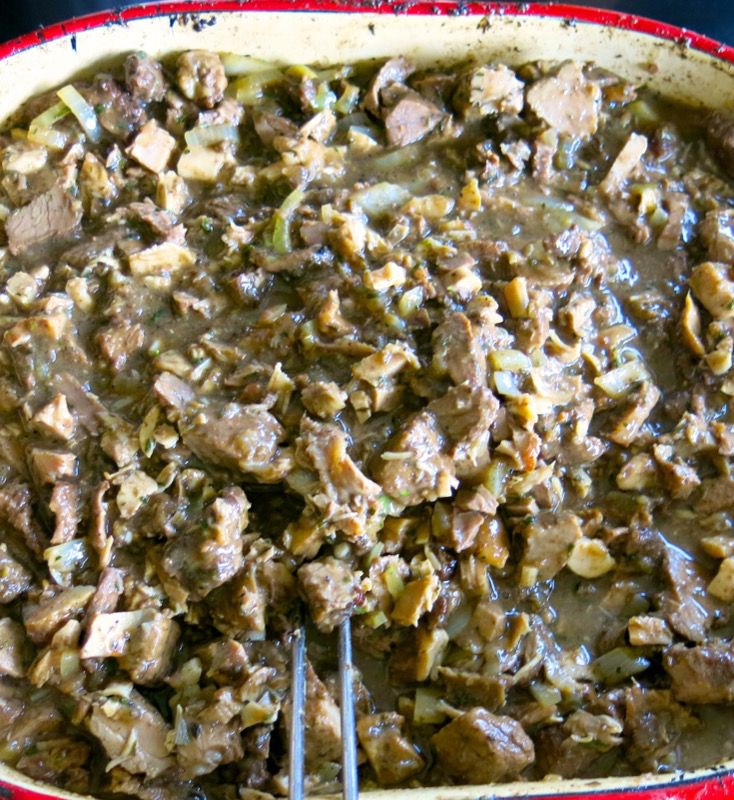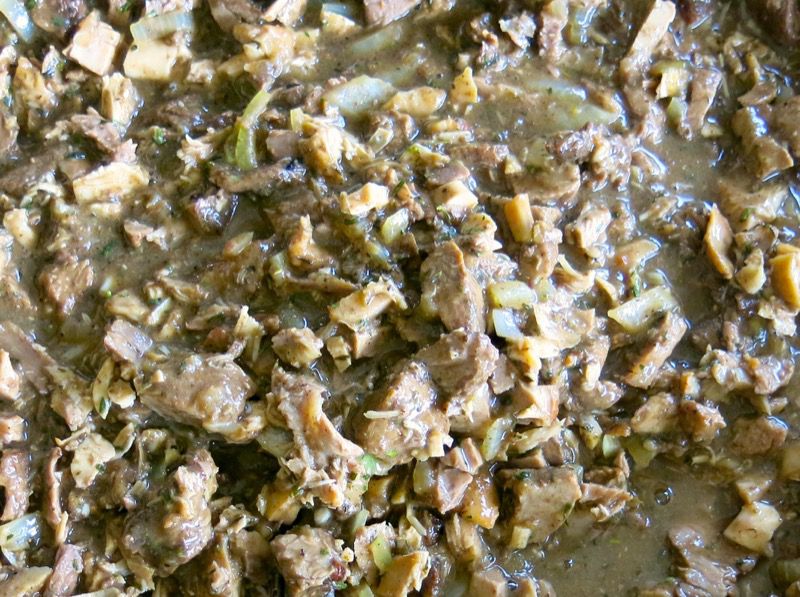 More thickening, adjusted seasoning again, and were both finally deeply satisfied with the depth of meaty flavour in our filling.
Making the Pastry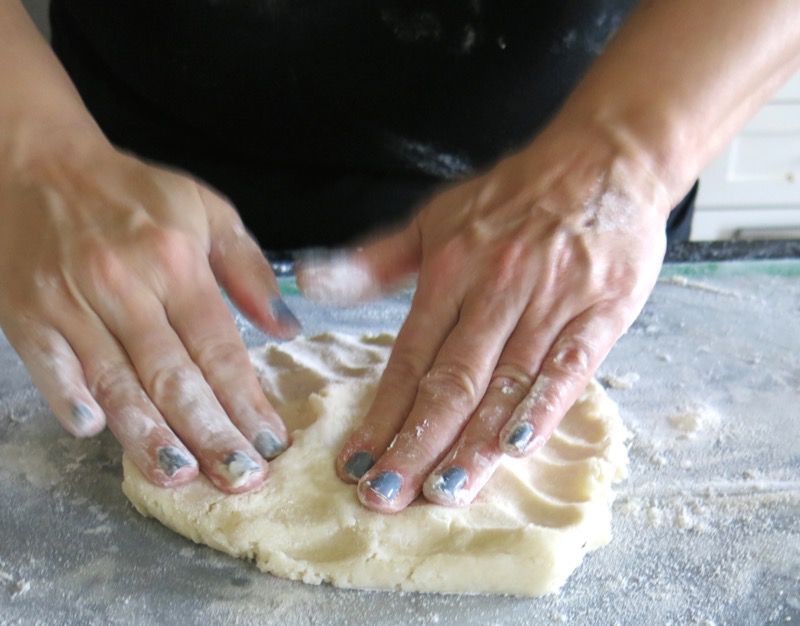 I made the full lard recipe of pastry with a pound of lard for each of us in my Thermomix. We let it rest while we had lunch, then Ramona took over the reigns after I fumbled my way through one pasty attempt. I revel in pies, but this was not my day.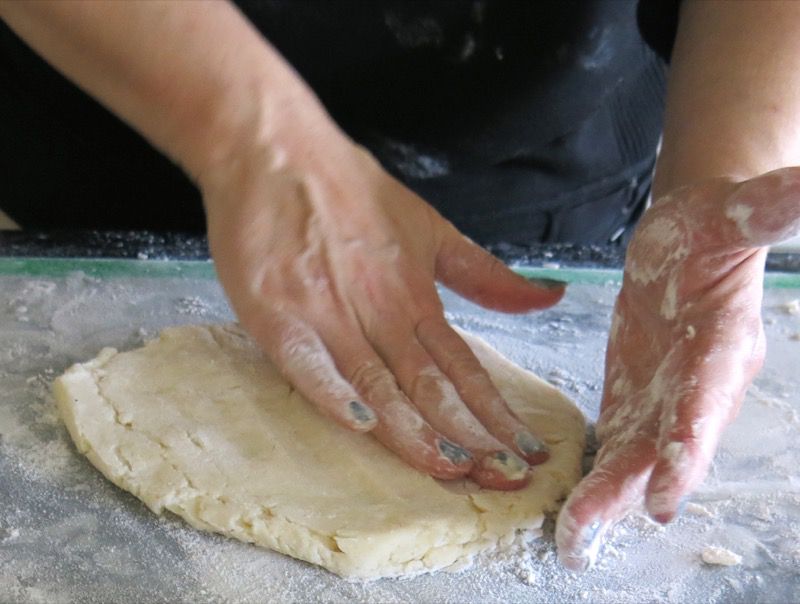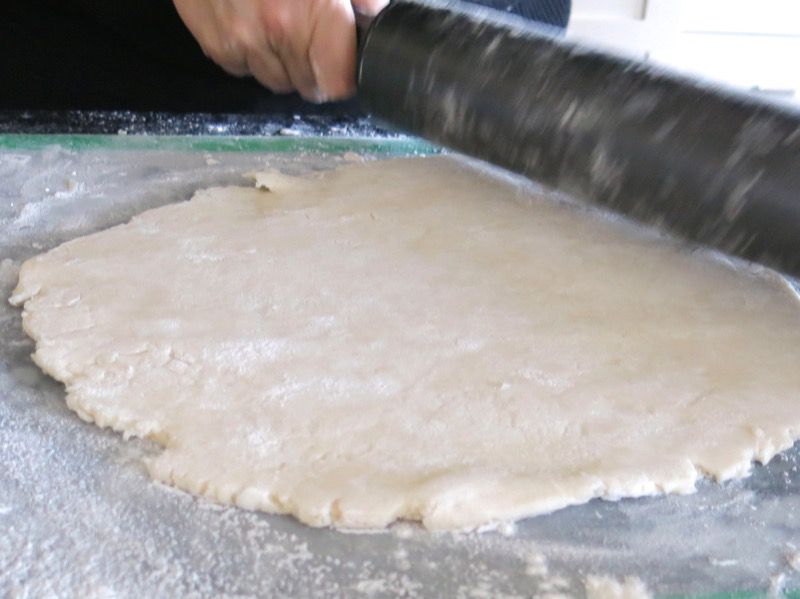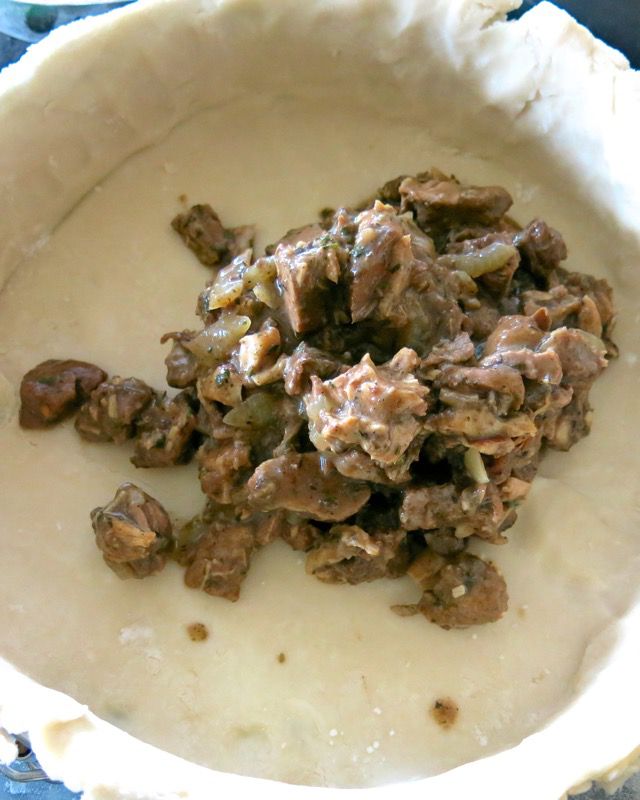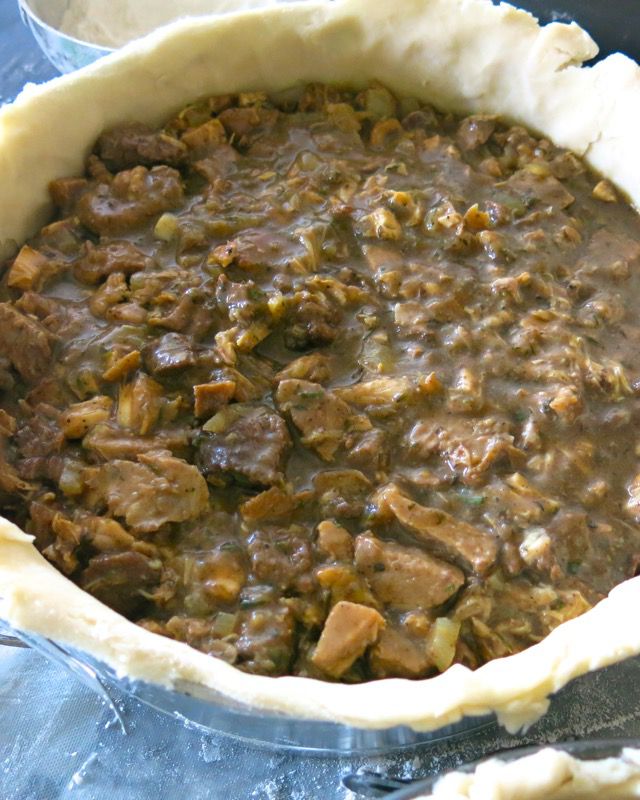 We chose spring form pans for deep meaty pies. The bottom pastry was much bigger than the top, for this reason. She plopped it in, shaped it and I ladled in the filling.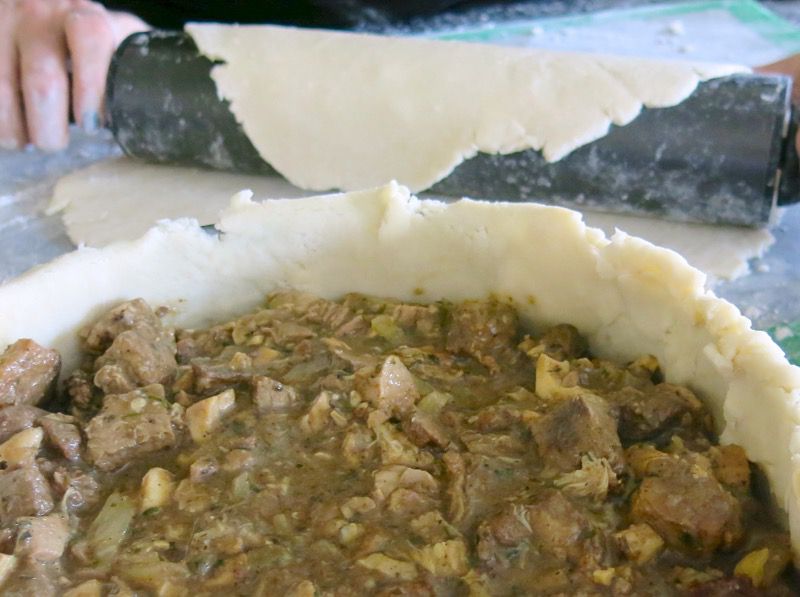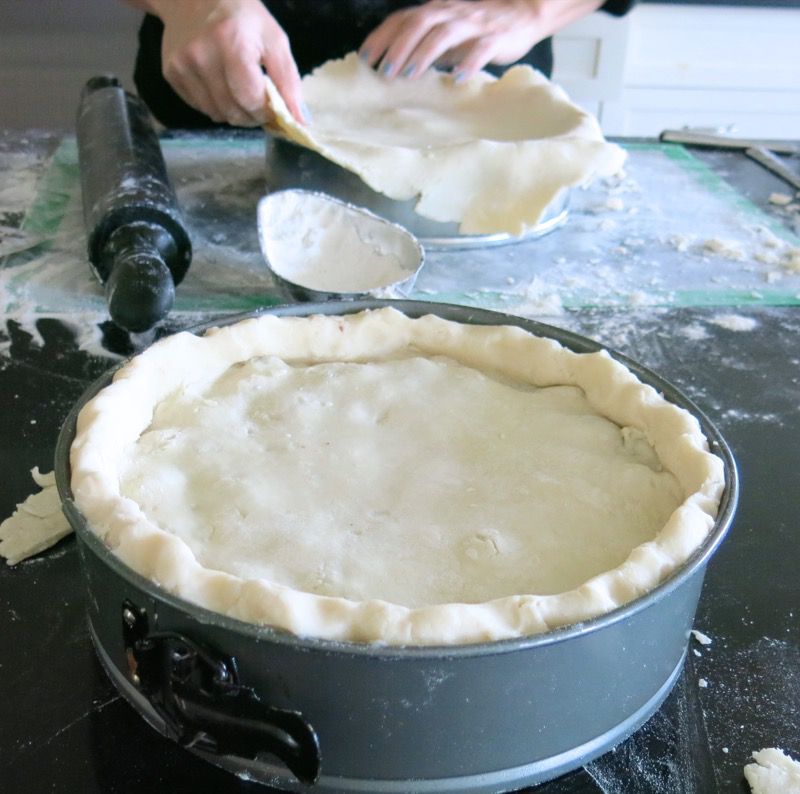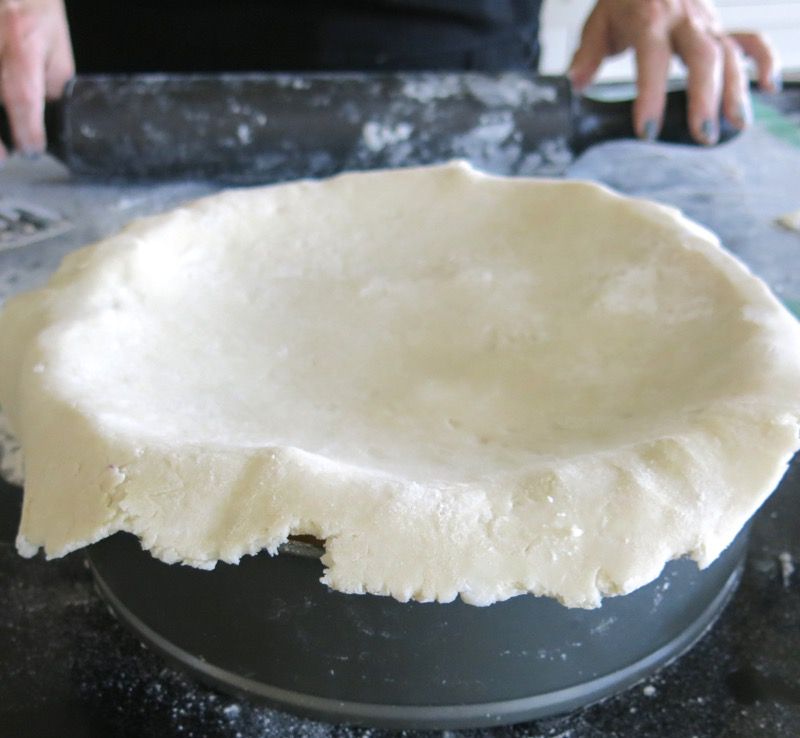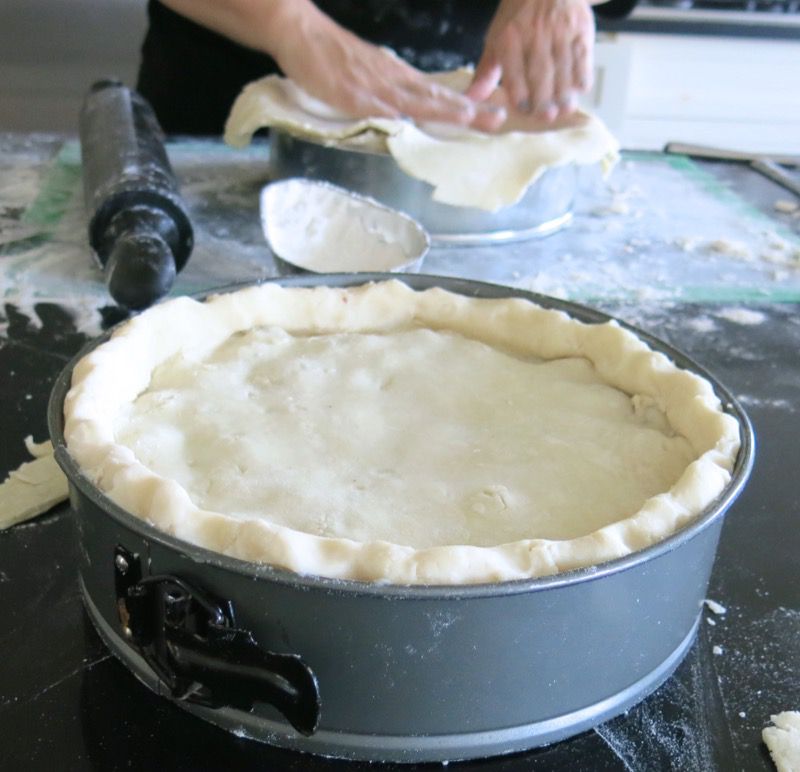 The tops were placed on each pie. The bottom and top crusts rolled together to create a seal, then each were crimped. The large pies held 7 heaping cups of filling; the small, 5 cups.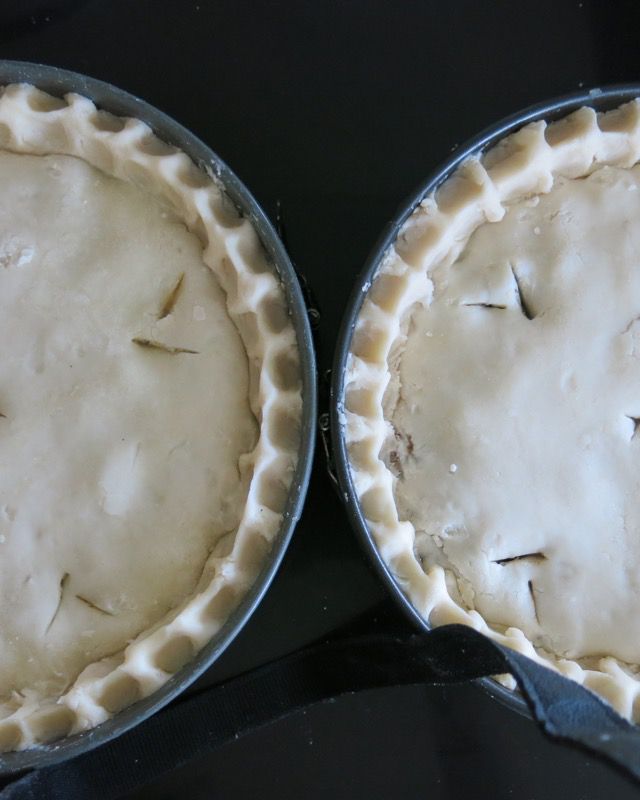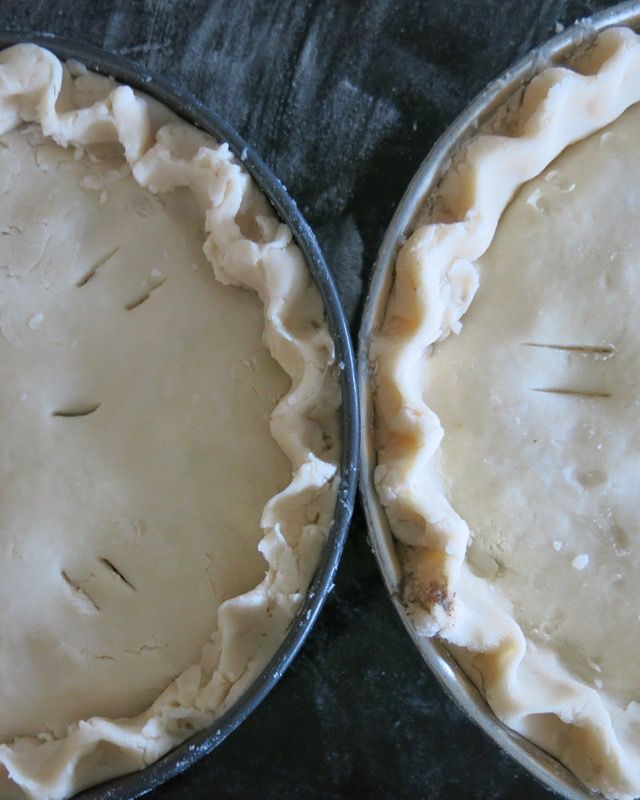 We were going to make some appetizer sized bites if we had extra filling. We did not. Nor did we have extra pastry, to speak of. My crimping is on the left, Ramona's is on the right.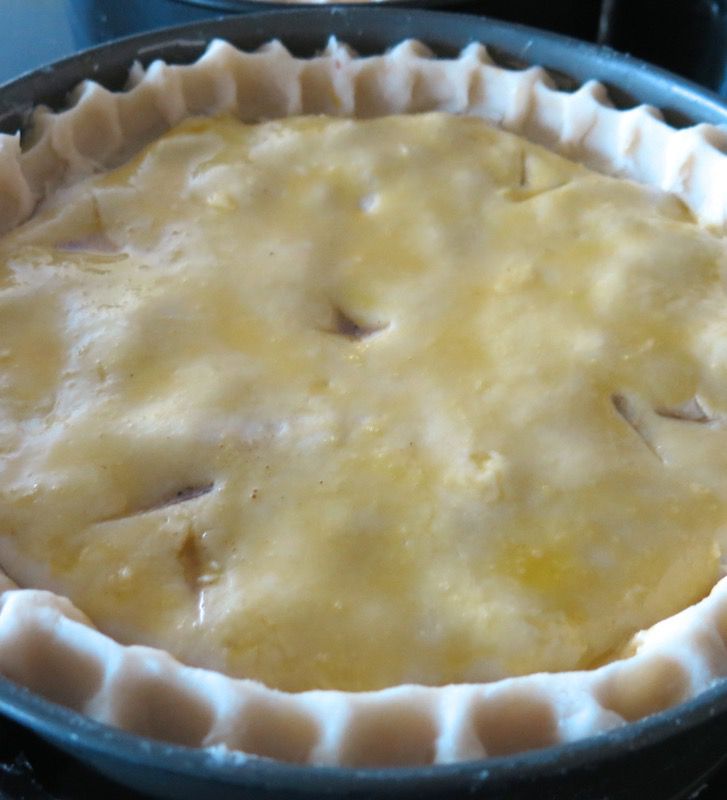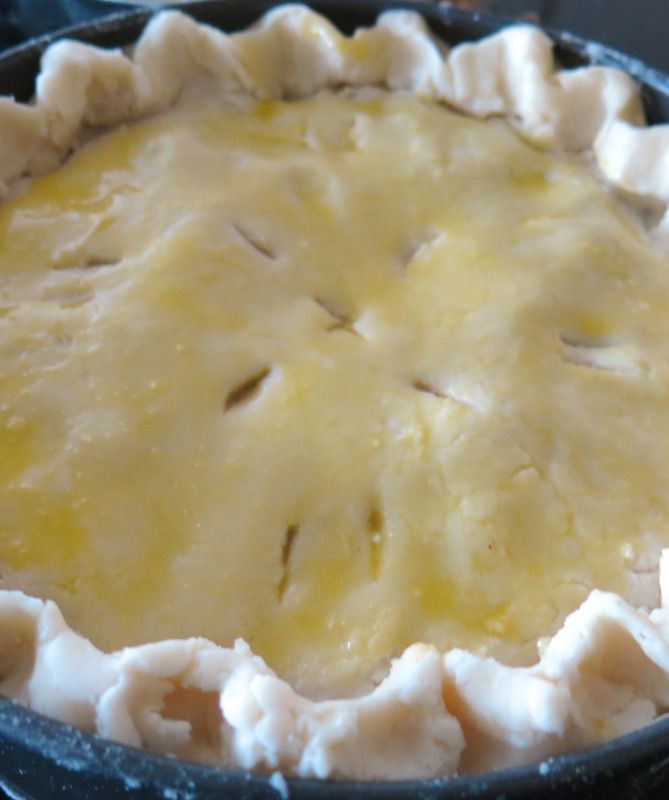 Finished with an egg yolk wash, into the freezer they went. Of course I will update this post with the presentation photos once served and baked, but I could not keep this recipe to myself. It is too good! Patricia's recipe varies from the traditional only in one way:
The traditional recipe calls for 2 pounds of pork and 2 pounds of meat: any combination of beef, rabbit or chicken, or wild meat. Beef being one of the components of this two pounds. Patricia's recipe calls for 2 pounds of pork, 2 pounds of beef or wild meat, and a rabbit or a chicken. This was the recipe of Ramona's Christmas dreams, so this is the one we made. Of course, we changed it up by adding more onion, marrow bones and did what we did how we did it. Essentially, it is the same recipe, but not exactly. Our version is below.
If you have your version of Pâté à la Viande or a special recipe for a Holiday Meat Pie, please do share! That is how we grow and learn together! I don't eat meat, but cannot wait for a taste of this pie! Moreover, cannot wait to hear how it fares on Ramona's holiday table as she is surprising Patricia with it, this year! Now there is a story waiting to be told.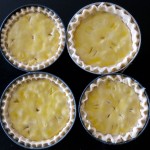 Pâté à la Viande or Acadian Tourtière


This is the traditional Acadian pâté à la viande. Some areas of Northern New Brunswick add cubed potatoes to the mix. There are several very specific regional variations of tourtière and this is the Acadian Pâté à la Viande which is similar enough that I refer to it as the Acadian Tourtière, but an Acadian would never do that. "We understand that Tourtière is from Quebec," a dear Acadian gal told me.
Yield:12 heaping cups of meat filling. We made one 7 cup pie, and one 5 cups pie in Spring Form pans.
Ingredients
2

lbs

of pork shoulder meat

, bone in (so it will weigh more than 2 pounds)

2

lbs

of beef

(a combination of chuck steak and marrow bones, subtract the weight of the bones)

I whole rabbit or chicken

(remove skin if using chicken), cut into pieces

2

tablespoons

of oil for browning meats

2

large onions

, chopped

1/2

large onion

, chopped (later use)

1

cup

water

2

tablespoon

Summer Savoury

, or to taste

4

whole cloves or 1/8th teaspoon of powdered cloves

Salt and pepper

, to taste

2

tablespoon

flour

Lard pastry for large double pie

(bottom will be large, as a Spring Form pan has high sides)

Cream or egg yolks to wash pastry crust

, optional
Instructions
Pre-heat oven to 500F on grill; roast marrow bones in oven 5 minutes each side when oven comes to temperature (they will be brown)

Cut half the meat in 1/2 inch cubes and leave the remainder in larger portions, some attached to bones ( I cut into 1 inch portions)

Season and sauté rabbit or chicken in small amount of oil on high for a couple of minutes each side, until starting to brown: set aside

Season and sauté meat chunks until slightly brown, only 2-3 minutes: set aside

Season and sauté and larger bones with meat attached on each side; set aside

Season and sauté onions in caramelized pan; add about 1 cup in 3-4 portions when sautéing onions to release the flavour from the bottom of the pan (scrape and stir with spatula)

Mix salt, pepper and Summer Savoury with powdered cloves (or make a bouquet garni for 4 whole cloves for easy removal before filling pie shells)

Add all bones, meat, onions, seasonings and enough water to cover all ingredients in a large pan

Simmer for 1 1/2 hours adding more water, if necessary on top of the stove, or in the oven

Maintaining water liquid is important for the sauce; set the timer every 20-30 minutes and top up the liquid, as necessary

Once cooked, remove the meat from the sauce; refrigerate overnight

Scrape off hardened fat the following day; remove meat from bones

Remove marrow from bones and place in sauce

Leave some pieces larger, mince the tougher bits, (this is a rustic pie)

Remove bouquet garni if used

Sauté 1/2 large onion, minced; add sauce and season to taste

Thicken with flour; Simmer for 2-3 minutes on stove top until flour is cooked and sauce thickens

Return remainder of meat to warm cooking liquid; reseason, if needed and cool

Pre-heat oven to 400F

Roll pastry and place bottom crust into a spring form pan; ladle mixture into pastry shell

Cover with top crust; flute edges; prick to release steam

Wash crust with egg yolk or cream for a shiny surface

Bake at 400 degrees F for 30 to 40 minutes until the crust is golden
Recipe Notes
Shoulder cuts with the bones works best as bones add flavour
You want to add enough liquid with the meat so it is not dry when the pie is baked so better a little wetter than drier
I made a double batch of this recipe and the photos on this post relay twice as much of everything as needed for a regular batch. A regular batch is ample for any size family. I was cooking with a friend and we each wanted one batch of the recipe for our own family.