Cloudberry Caramels with Emily Mardell, Cela, and Jessica Musslewhite
Cloudberry Caramels …. what??? Yes. This is what local photographer, Miss Jessica Musslewhite, and local dietician, Emily Mardell, had on their "must make with Cloudberries" list.

Seriously. I was so worried that it would be a waste of this rare Canadian berry as the flavour is so subtle. But, I was oh, so wrong.

These buttery, caramel chewy globules present a heavenly cloudberry finish on the back of the tongue that finds its way back to the tip just in time for that lip-smacking ah-ha moment of unexpected pleasure.

Undeniable. Unmistakenly. The cloudberry holds its own within this powerful flavourful mass of a well-loved confection. And, I had Atlantic salt, to boot.

Truly a Canadian flavor experience.

And what fun in the kitchen with Emily, above, who supplied the berries, and Jessica. There is nothing that brings me greater joy that concocting in my kitchen with friends.

Together we made the caramel, and other recipes, then time for home. So, a couple of days later, Emily and her daughter, Cela, dropped by for lunch, caramel wrapping and Cloudberry Tart tasting. We had made the purée for the tart and the caramels together, so of course the tart had to be sampled and celebrated!

I was so looking forward to this time with Emily and Cela. Oh, what fun it was.
Cloudberry Caramels with Atlantic Sea Salt: Mis en Place

Cloudberry Caramel ingredients are simple with the exception of the Cloudberry Purée. Above, left to right: Sugar, cream, water (with an unexpected halo), butter, cloudberry purée, syrup, vanilla and salt.
Cloudberry Caramels with Atlantic Sea Salt: Mis en Place: Making the Cloudberry Flavour Booster

Butter melted into cream with cloudberry purée added and mixed to fully incorporate. A simple mixture that presents such an unexpected punch when combined with the caramel mixture.
Cloudberry Caramels with Atlantic Sea Salt: Mis en Place: Starting the Caramel Mixture

Sugar, syrup and water combined and brought to 250°F before adding in the cloudberry mixture.

We have three thermometers set up with cel phones and cameras. Yup. That's how we roll these days. Emily's objective for cloudberry creation day: "have some fun in the kitchen with friends". That, we did!
Cloudberry Caramels with Atlantic Sea Salt: Adding the Cloudberry Flavour Booster to the Caramel Mixture


Cloudberry purée, cream and butter mixture added to caramel mixture at 250°F. Now ready for the second boil to make caramels!
Cloudberry Caramels with Atlantic Sea Salt: Making Cloudberry Caramels


I cannot make candy without a minimum of 2 thermometers. Three is better. They never read the same temperature, no matter how many you have.

Pot is so heavy it always takes two to get it cleaned out… and it must get cleaned out. No wasting this delicious cloudberry caramel!

Look at that concentration!

A batch for Emily and one for Jessica. You bet I kept a few!

The first 6 photos at the onset of this post were taken by Jessica. I am in awe of her talent. She also took two below. It is easy to see which are hers from the dark and dramatic lighting and her artistic style.
Cloudberry Caramels with Atlantic Sea Salt: Salting the Caramels


I let the caramels set in the fridge overnight before slicing, but salted them as soon as they cooled enough to not melt the salt.

I collect salts. It is a reasonable inexpensive collection to enjoy. The salt I brought back from Newfoundland found its way on top of these cloudberry caramels. How appropriate!

A little butter in the corner, but no matter. The edges will be sliced off and eaten by the cook!

Whatever do they taste like was my question as I prepared to slice into the slab.

But, I waited for the doorbell. Emily and Cela were coming for lunch and to wrap these up. Patience, Valerie.
Cloudberry Caramels with Atlantic Sea Salt: Cutting and Wrapping the Caramels


Oooooo.

The odder the shapes, the more homemade they look. Square or rectangle? If they were thicker, I would have gone square. But, then again, more is more.

Memory making. Lessons from mama.

Fill up on Family Time is Emily's motto. Love it.

We are on a roll. These little ditties are not easy to wrap. The wrap size is actually quite a bit wider and longer than one would guess.

Independence is a beautiful thing.

As is pride in achievement. The satisfaction of making and creating ones own food is primal.

Cela offers step by step wrapping lessons for all, above.

So many ingredients and so few caramels! We were so proud of their "professional" look.
Cloudberry Caramels with Atlantic Sea Salt: Celebrating and Tasting


"Look what I made!"

And now, Cela and Emily can take this experience back to their home province and repeat this process with Gigi and Joy to complete the circle: from grandma to mom to daughter to grandaughter and all the way back, again. Thank you, Emily. I cherish my caramels and revelled in the learning experience.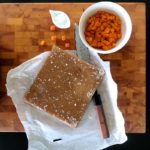 Cloudberry Caramels
This recipe is inspired by the recipe North Wild Kitchen and the wonderful cloudberries brought to my kitchen by my friend Emily Mardell. This is a very special caramel that presents the delicate and iconic Canadian cloudberry flovour in a pronounced and unexpected manner via a buttery caramel.

Total Time
1
hour
30
minutes
Ingredients
Ingredients for Cloudberry Caramels:
1

cup

240ml heavy cream

4

tablespoons

butter

1 ¼

250g cup sugar

¼

cup

60ml golden syrup/corn syrup

¼

cup

60ml water

½

teaspoon

vanilla extract

½

cup

125ml cloudberry puree (from about 300g or 10 oz cloudberries)

Course sea salt
Instructions
Instructions for Cloudberry Caramels
Bring cloudberries to a low simmer in saucepan to soften and release juices; strain in sieve over bowl, pressing to extract as much juice and pulp as possible

Discard seeds; yield about ½ cup or 125ml (this will take some time and best done in advance)

Line an 8×8 inch pan with parchment paper; butter both sides of paper

Combine cream and butter in medium pan; warm over heat until butter melts

Remove from heat and stir in cloudberry puree; set aside

In large heavy pot; combine sugar, syrup and water mixing into grainy paste; wipe side to prevent sugar crystals from forming above sugar mixture

Using candy thermometer, bring mixture to a boil over medium-high heat without stirring; once mixture reaches 250°F/121°C, remove from heat

Pour cloudberry mixture into sugar mixture and combine; stop whisking and return pot to medium-high heat

When 245-250°F/118-121°C is reached, remove from stove; quickly whisk in vanilla and pour into prepared pan

10. Allow to set at room temperature for at least two hours (preferably overnight)

11. When caramel has set, place on cutting board; cut rectangles with sharp knife

12. Sprinkle with the sea salt; wrap individually in wax or parchment paper