The Ultimate Potluck Dish for the 2014 Holiday Table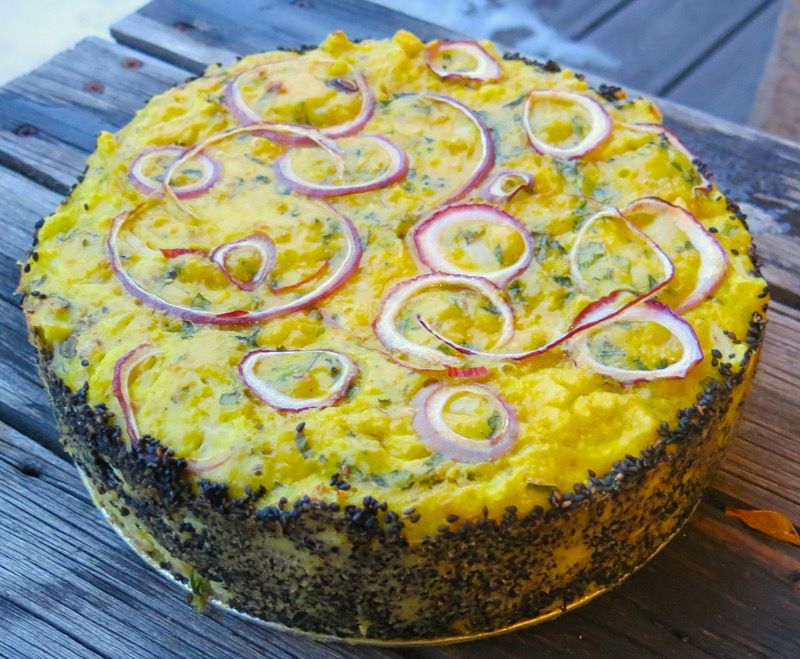 I used to consider myself on the pulse of what is happening in the culinary world, and fortunately, still am, for the most part. However, this recipe escaped me since its debut in October 2 2010 published in The Guardian by Yotem Ottolenghi himself, but has reared its head again recently in Plenty More, his newest cookbook and I believe this recipe will be the show stopper of this season for the potluck table. Get thee to the store to buy your cauliflower now. All other ingredients will be in your pantry. There is nothing fancy about this cake except the ingenuity to create the recipe. That is a feat worth a New Year's whistle!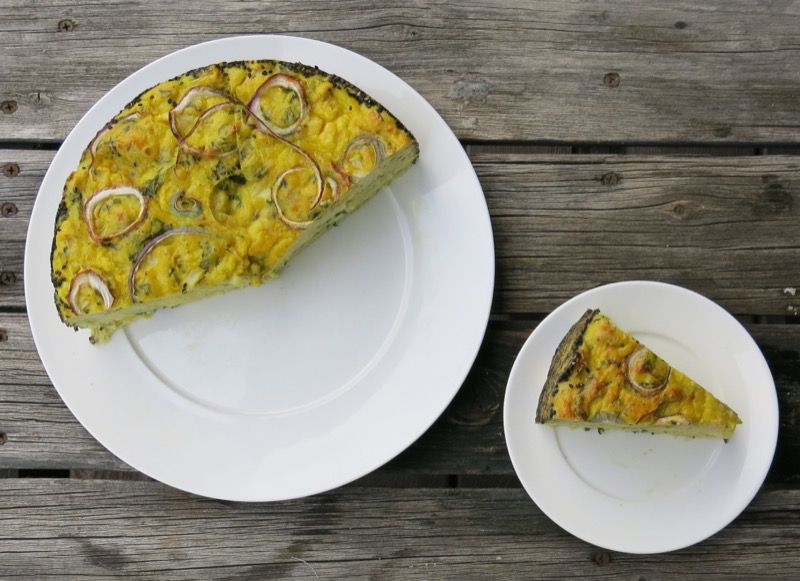 Eggs, Parmesan cheese, onion, basil and cauliflower create the flavour profile for this unexpected slice of textural wonder.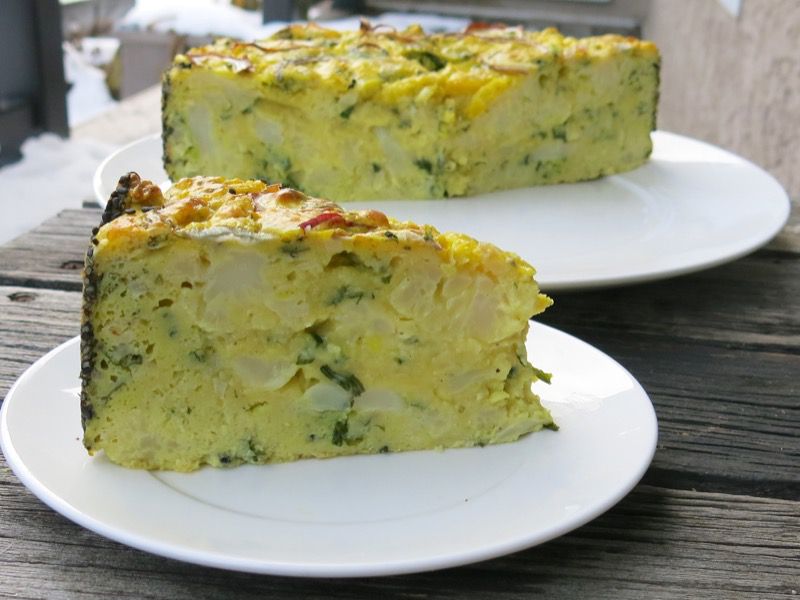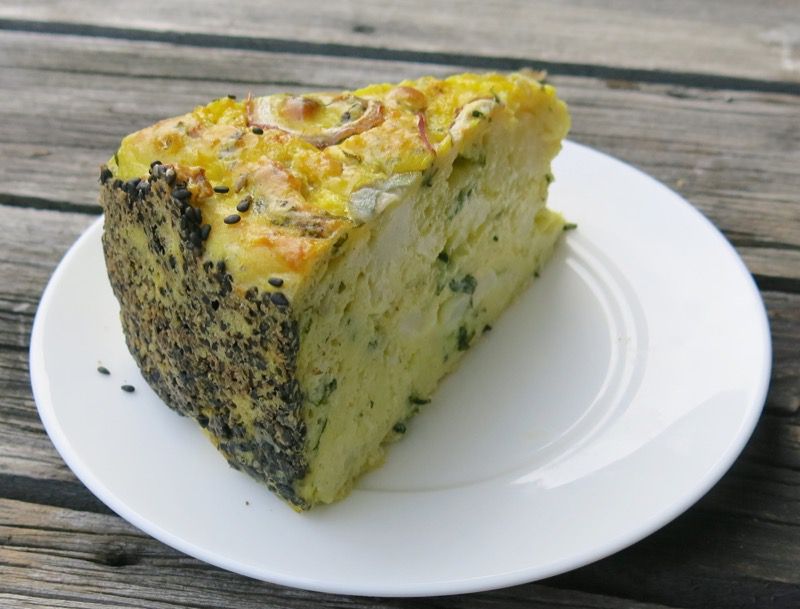 The easy-to-place black sesame seeds lining the side of the spring form pan provide such stunning visual appeal and vibrant textural contrast I was in awe. So simple to do, but who'd of thunk it? Yotem Ottolenghi, that's who.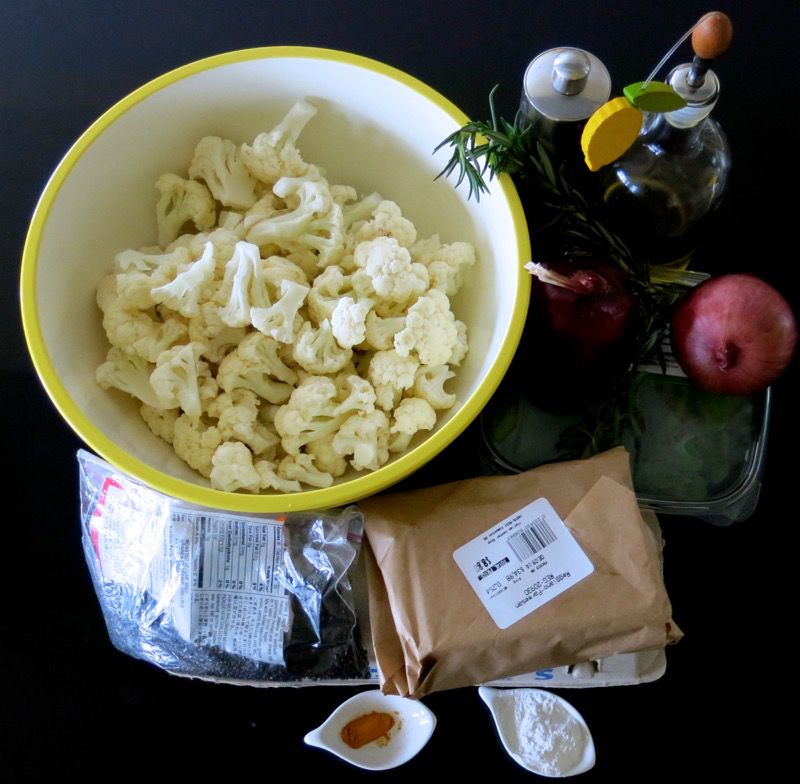 Mis en place. Simple and basic ingredients, for the most part: Cauliflower, eggs, Parmesan cheese, olive oil, basil, rosemary, onion, flour, tumeric, black sesame seeds and salt and pepper.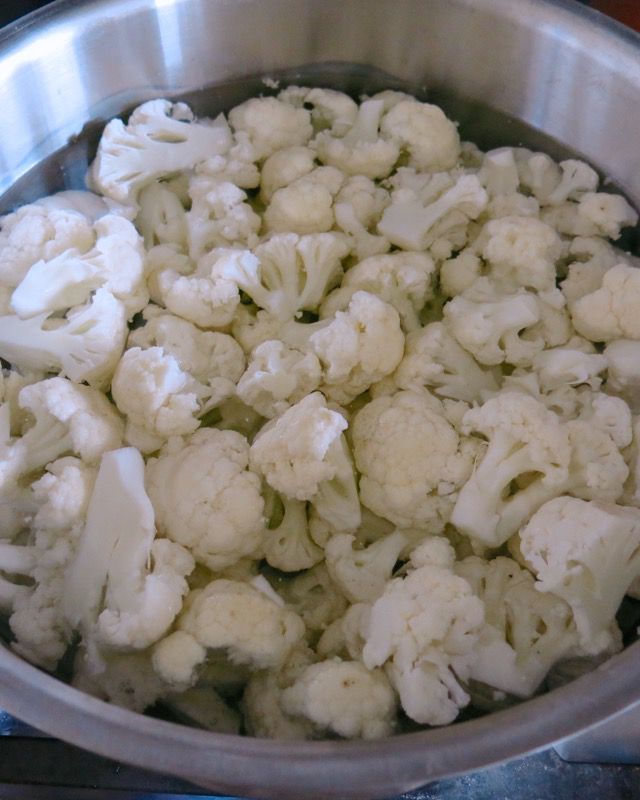 Cauliflower into florets cooked to fork tender in salt water.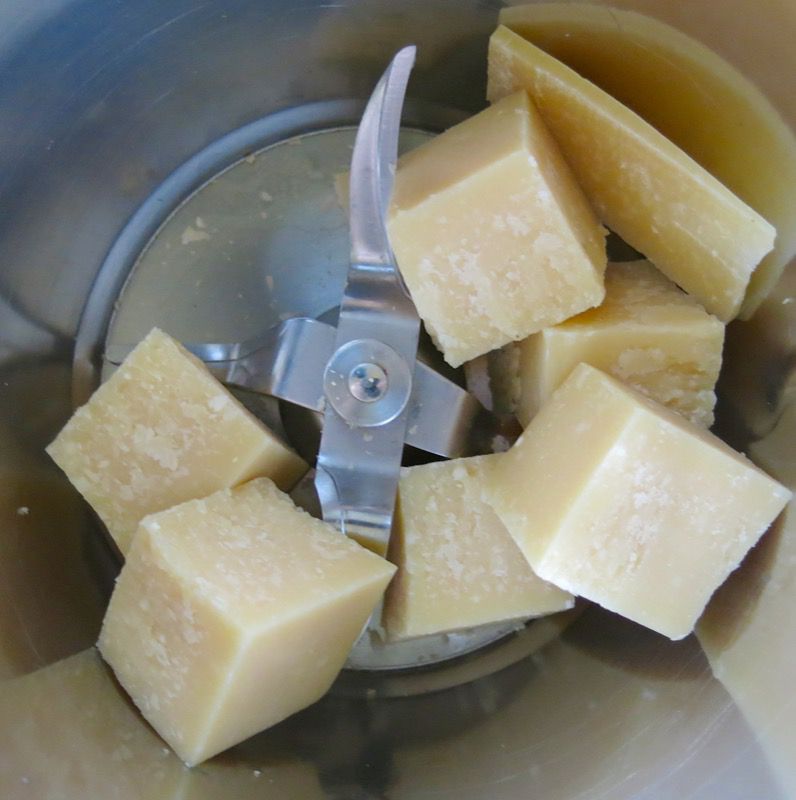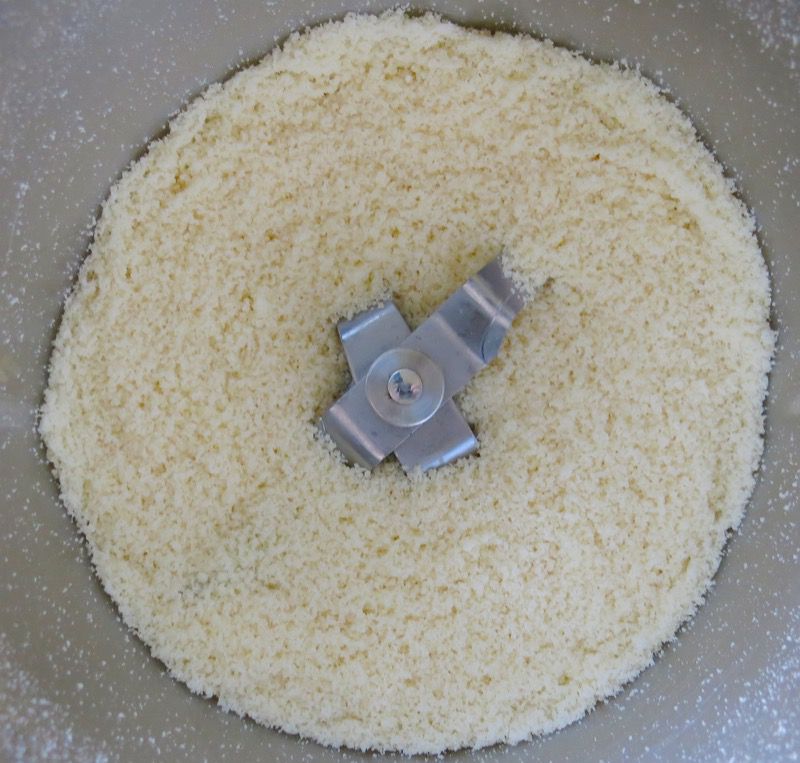 Parmesan cheese is always better grated at home. The fragrance and flavour second to none and takes 5 seconds on Turbo to make the powder above in my Thermomix machine.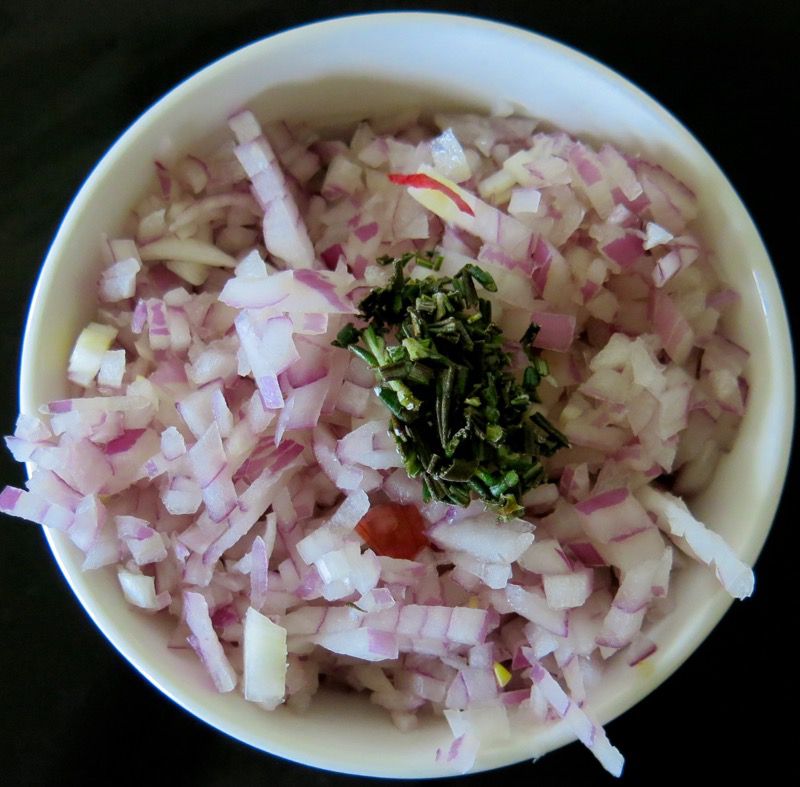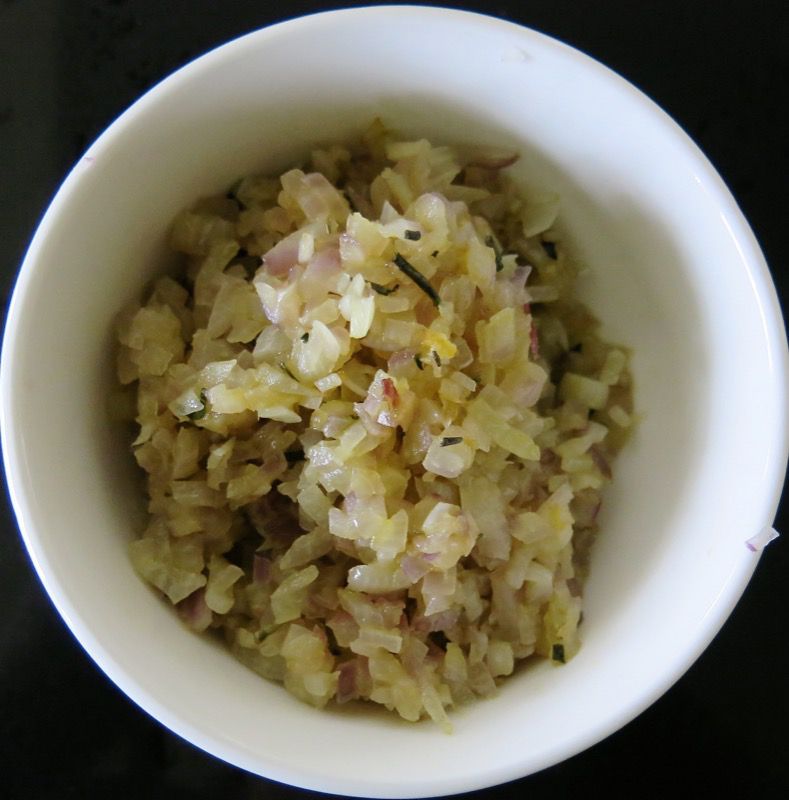 Onions and rosemary are sautéed in olive oil.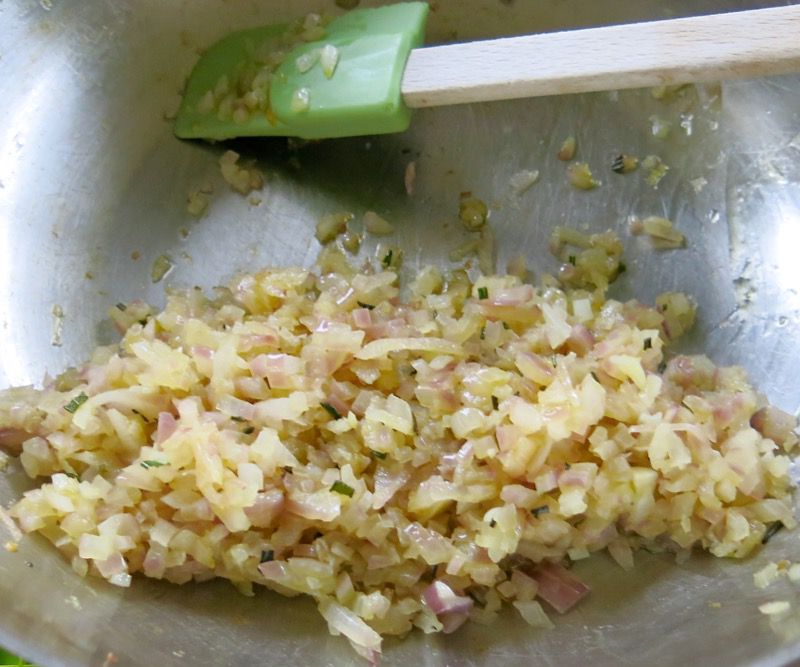 A medium sized clam shell of basil (20g) finely chopped, and the sides of the spring form pan, below, buttered and studded with black sesame seeds.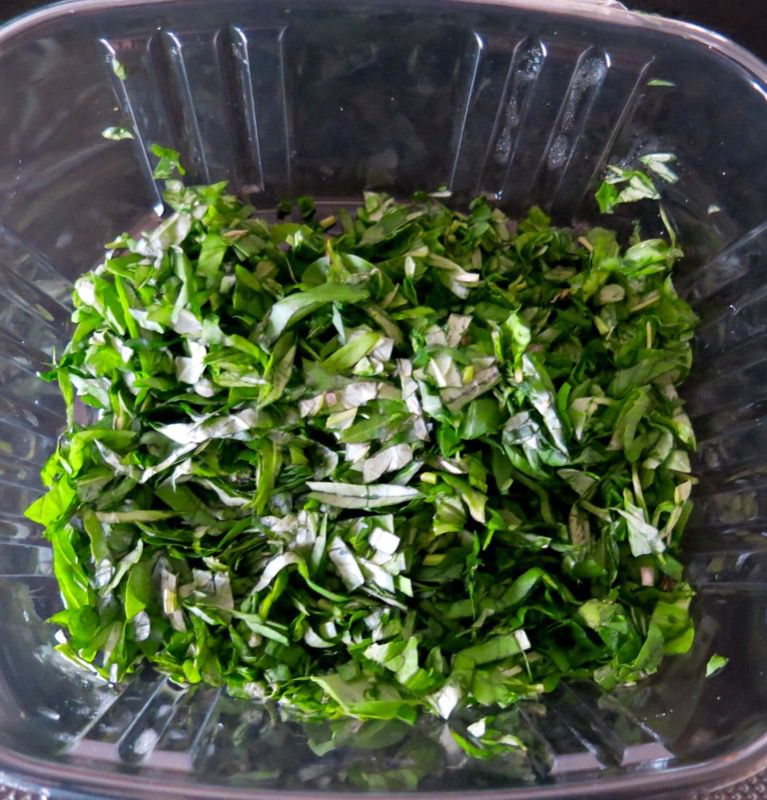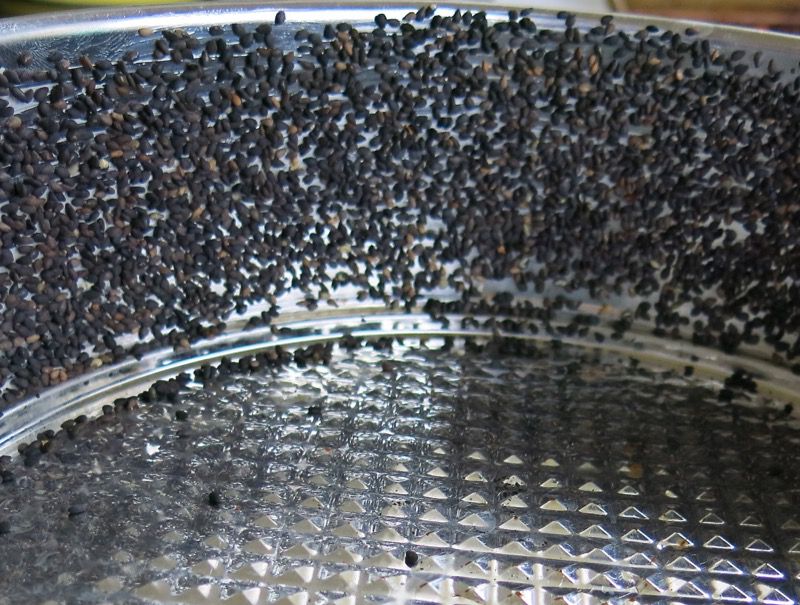 Preparation underway while cauliflower is cooking.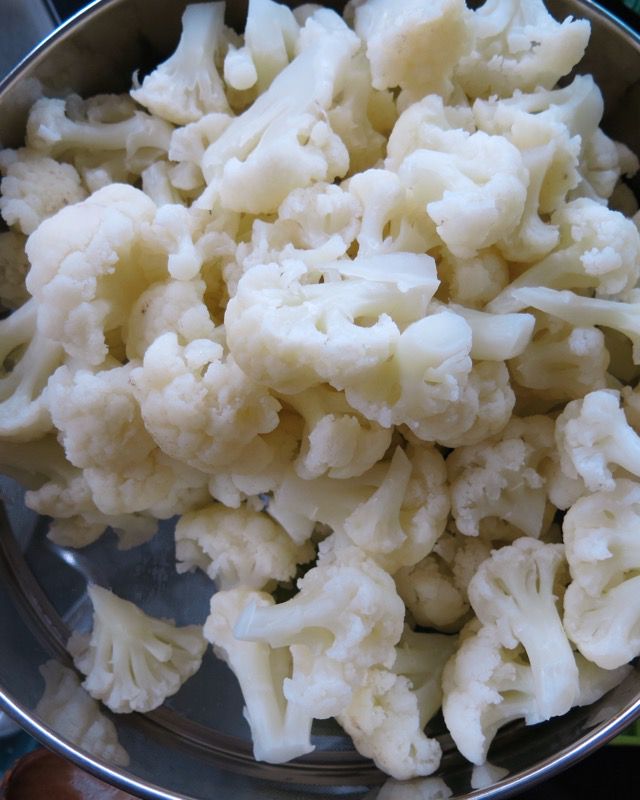 Once fork tender, it must be drained well and cooled to room temperature.
Batter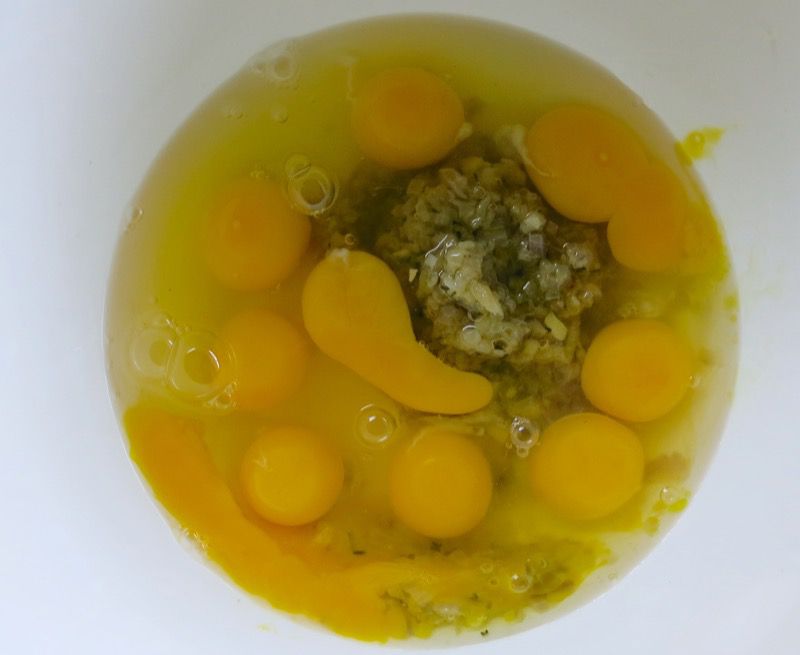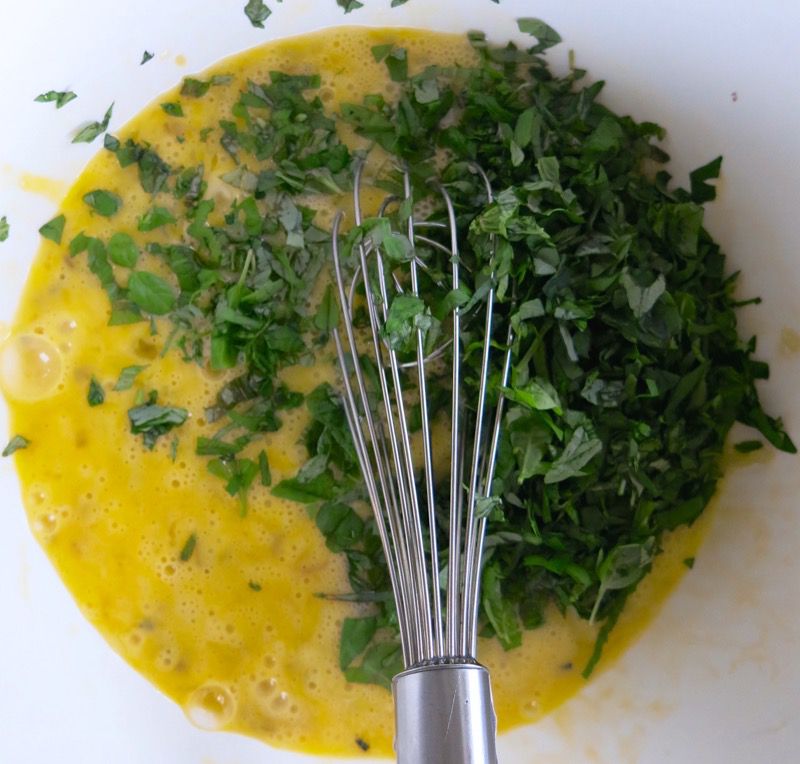 Making the batter is easy. Eggs are whisked with the sautéed onion and rosemary mixture. Chopped basil is then whisked in.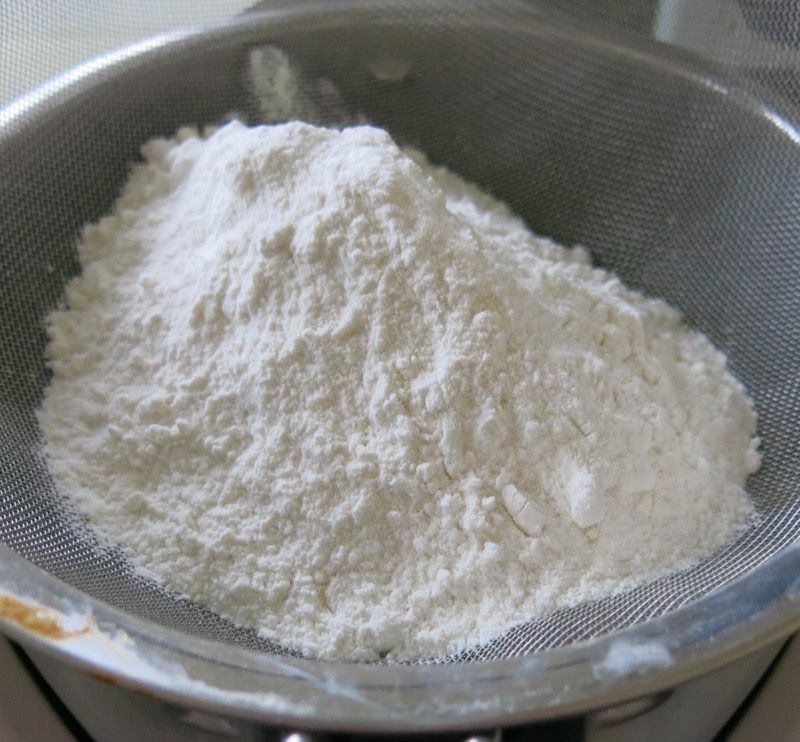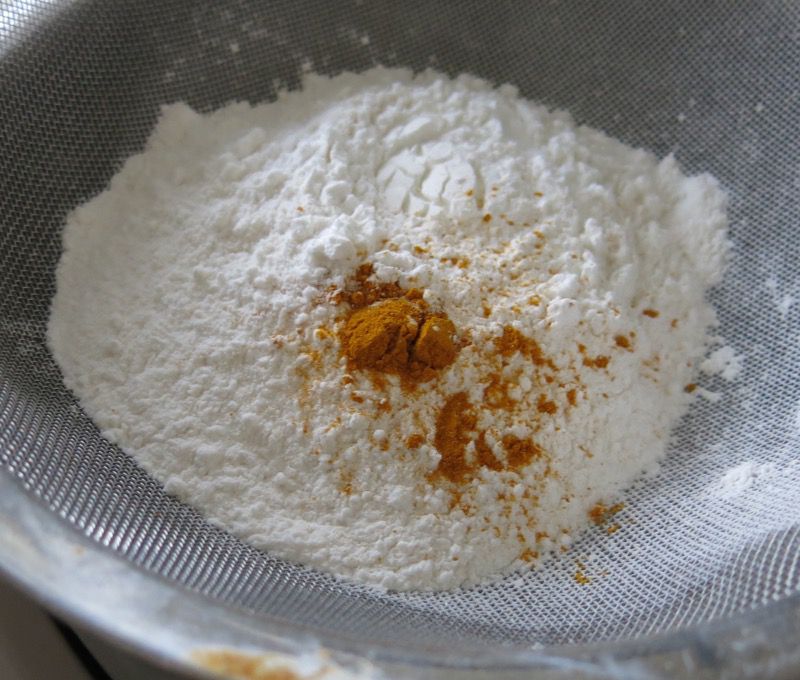 Dry ingredients are sifted over the freshly grated Parmesan cheese,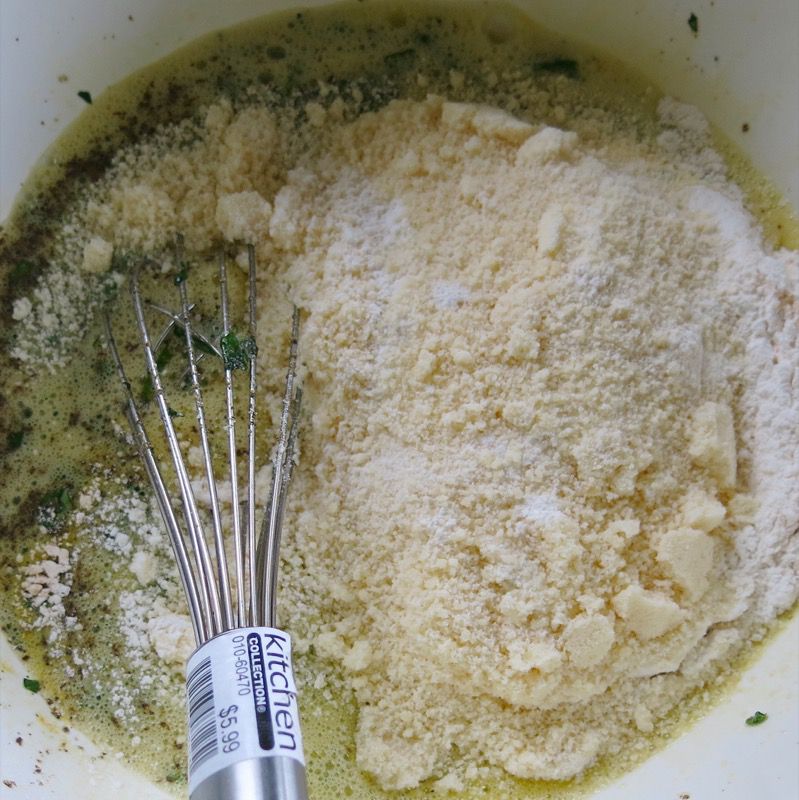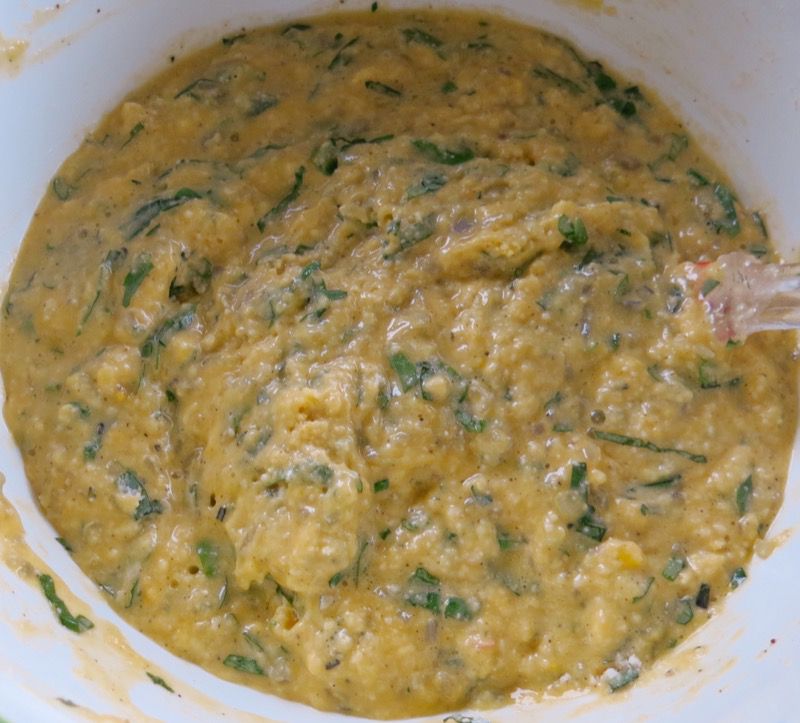 then added to the wet ingredients; whisked together to combine well.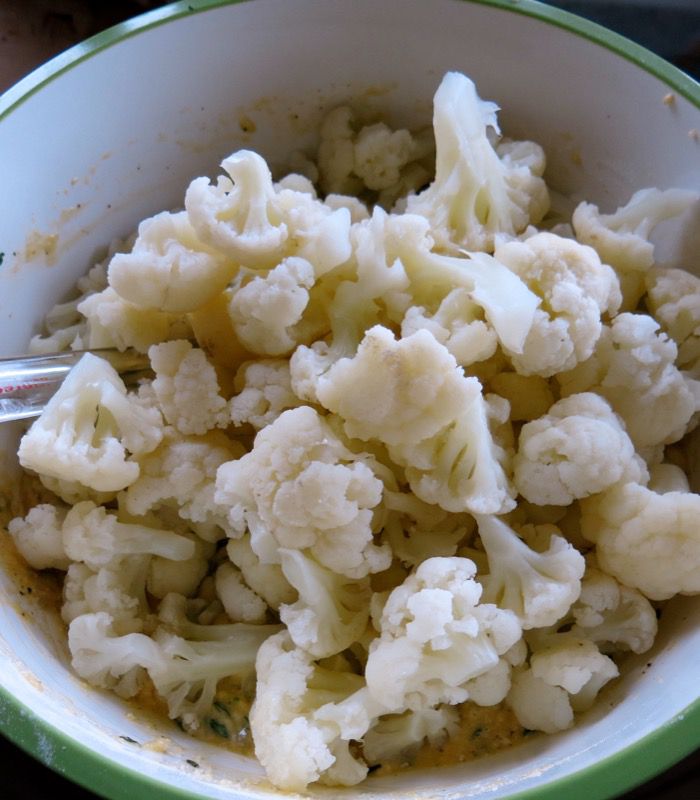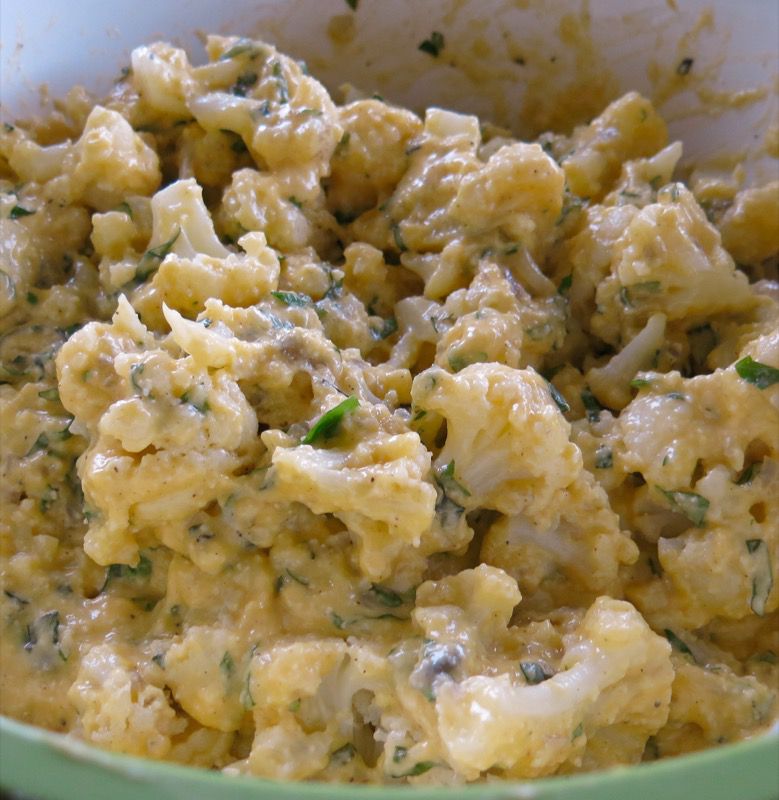 Room temperature cauliflower added to the batter and voilà! Batter ready to ladle into spring form pan! Ladle carefully to not disturb the sesame seeds on the side of the pan. Add shaved onion ring slivers to the top, for garnish.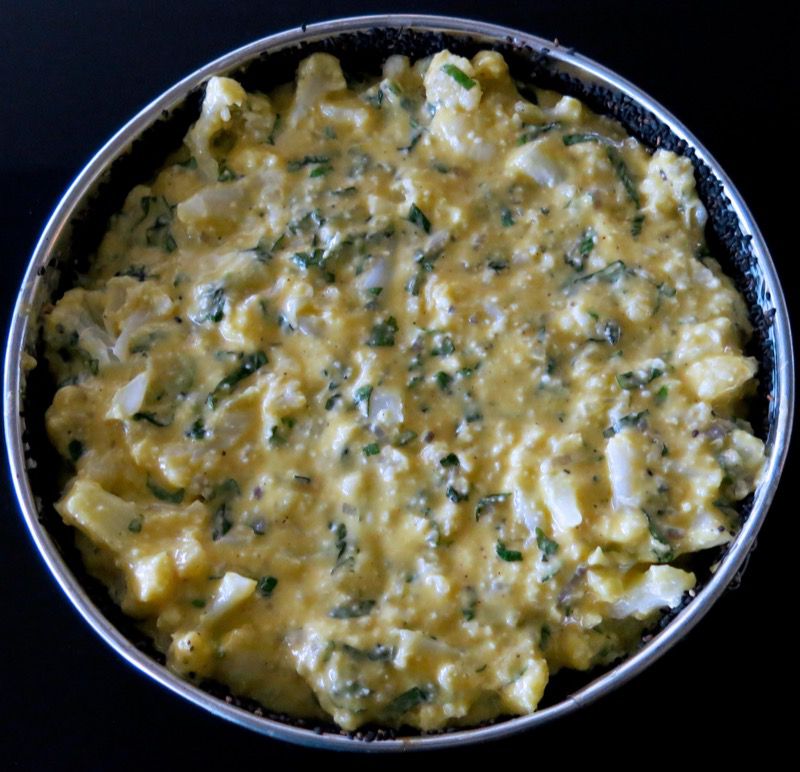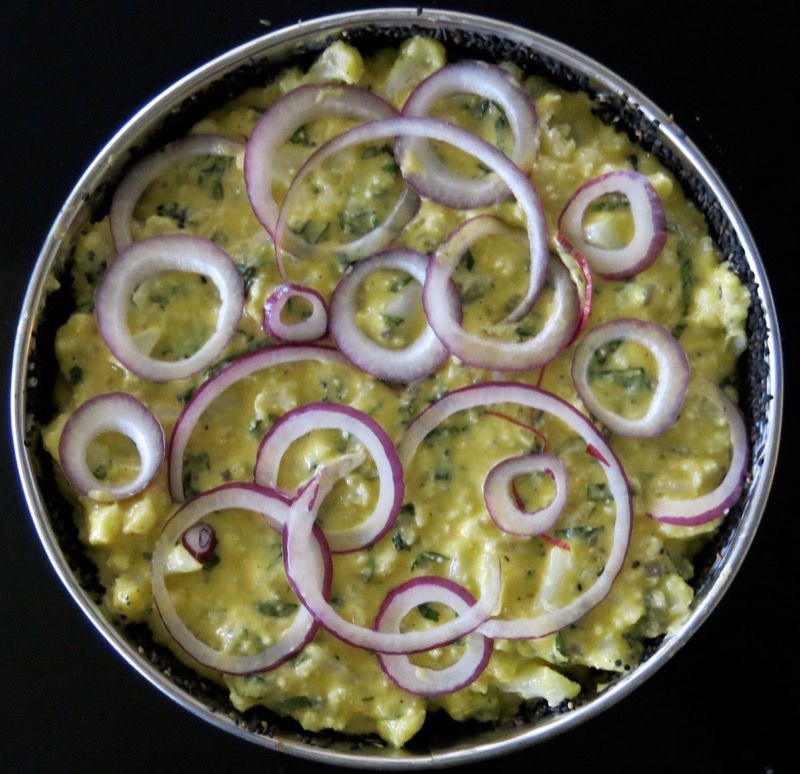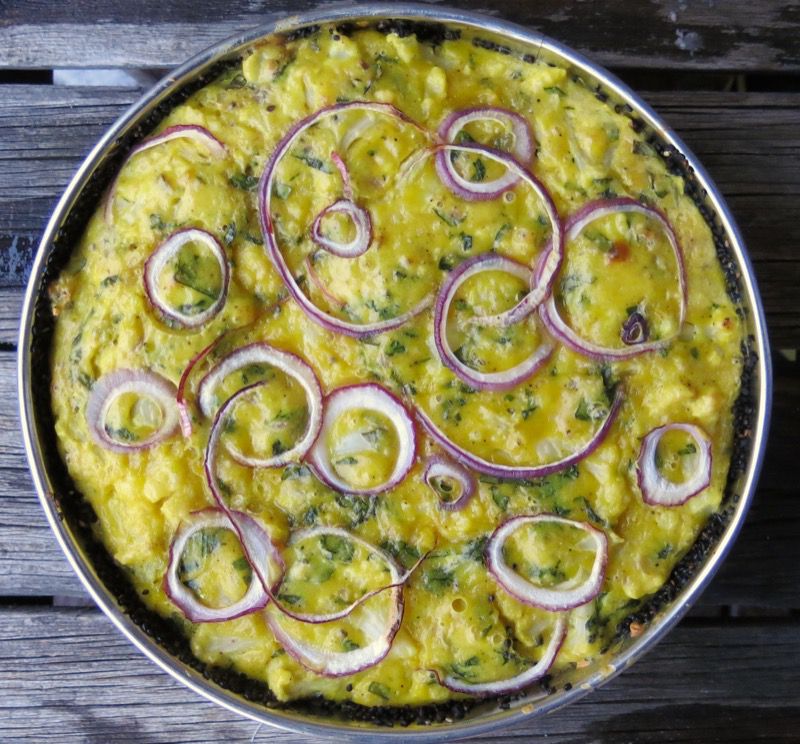 My pan was a little smaller so I had to bake for 10 minutes more due to the extra height. The baking time needed to be increased to cook the middle of the cake.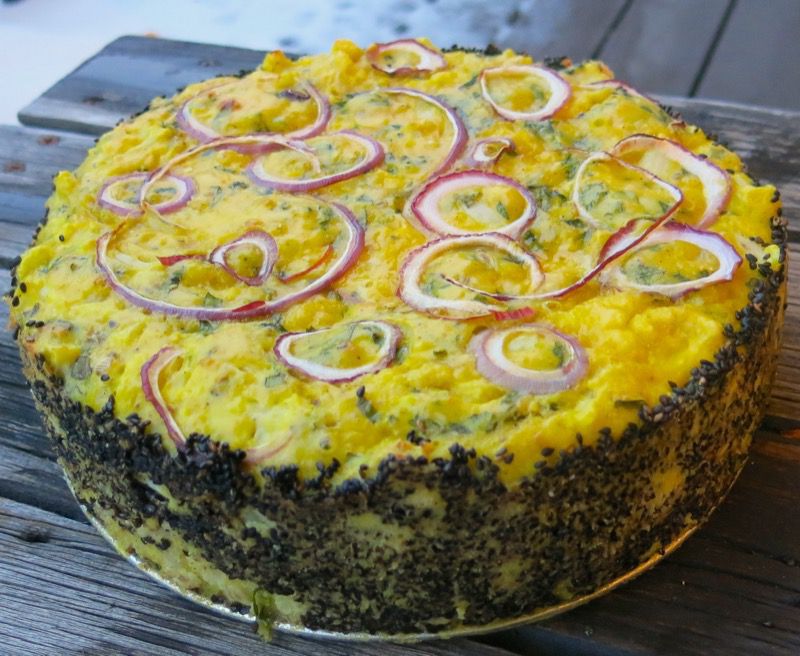 This is a lovely main with a side salad for a ladies luncheon or a gorgeous side to any main meal when hosting a crowd. It is very filling, thus the potluck suggestion. One slice goes a long way which is another plus for the humble ingredients found in this showstopping recipe.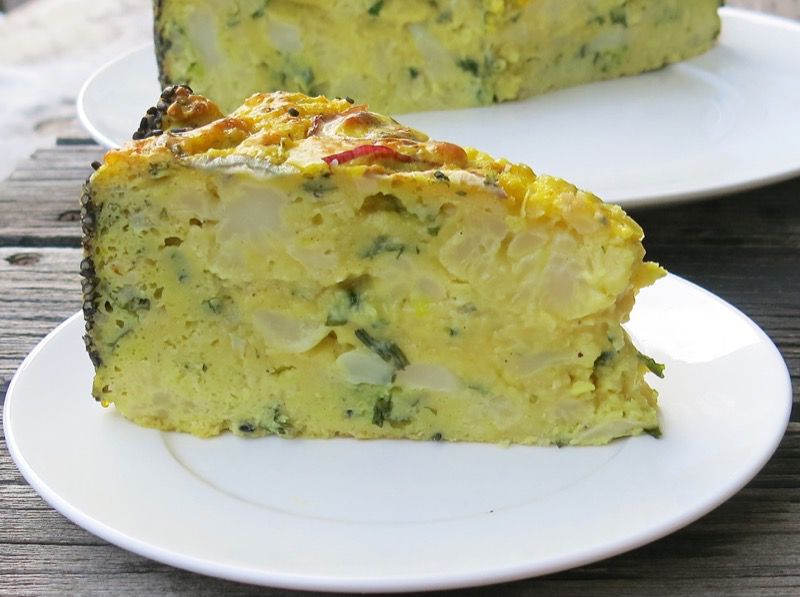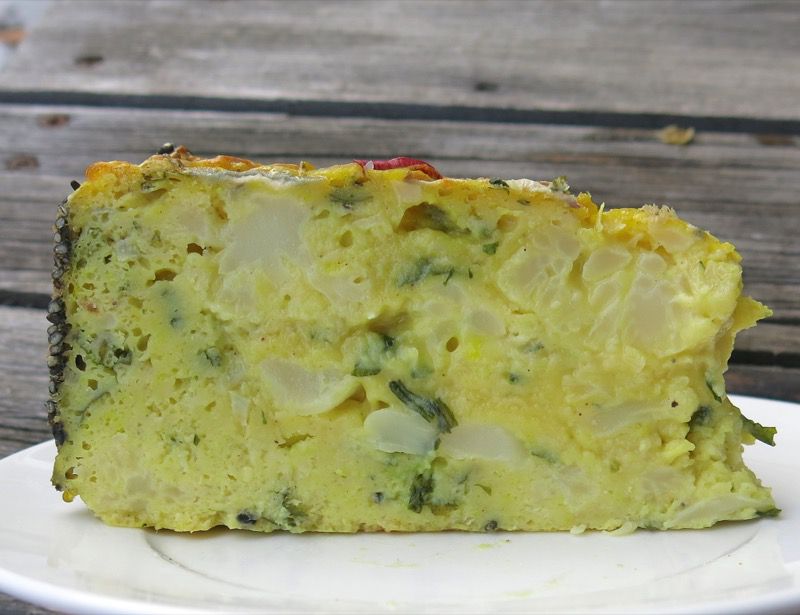 No garnish needed. It is moist, cheesy. and packed with flavour. The cauliflower haters in your family are going to go nuts over this recipe and ask for more. It happened at my house, so it will happen at yours!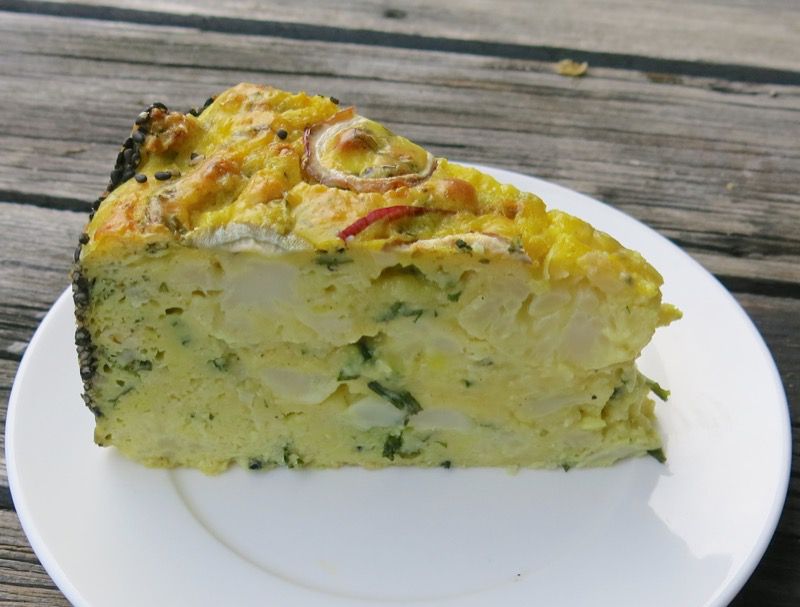 If you make it, let me know! Happy cooking, baking and partying this season!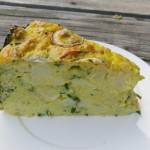 Ottolenghi's Famous Cauliflower Cake


This is sure to be a crowd pleaser, even for the cauliflower hater in your midst.
Total Time
1
hour
5
minutes
Ingredients
1

medium cauliflower

, 650g-700g, broken into medium florets

1

large red onion

, peeled

100

g

olive oil

½

tsp

finely chopped rosemary

10

medium free-range eggs

20

g

chopped basil

180

g

plain flour

2½

tsp

baking powder

½

tsp

ground turmeric

220

g

grated Parmesan

Salt and black pepper

Melted butter

, for greasing

2

tbsp

black sesame seeds

(or black onion seeds or plain sesame seeds)
Instructions
Preheat the oven to 350F

Simmer cauliflower florets in large pot covered with water and teaspoon of salt for 15 minutes, until quite soft

Strain; leave in the colander to cool and expel remaining water
Instructions for the Batter:
While cauliflower's cooking, cut a few 0.5cm rings off one end of onion; set aside to garnish cake

Coarsely chop remaining onion; add rosemary and sauté in oil on low for eight minutes

Remove from the heat; set aside to cool

When cool, add eggs and basil to onion mixture; whisk

Sift flour, baking powder and turmeric into large bowl; add Parmesan, one and a half teaspoons of salt and plenty of black pepper

Add egg mixture to dry ingredients; whisk to eliminate lumps

Add cauliflower; stir gently to keep florets whole
Putting it all Together:
Use baking parchment to line bottom of 24cm round spring form pan; brush sides with butter

Toss sesame seeds inside pan to stick to buttered sides; ladle in cauliflower mixture, arranging onion rings on top

Bake in centre oven 45 minutes, until golden and set

Serve just warm or at room temperature