Chef Christopher Chafe inspired this now family favourite soup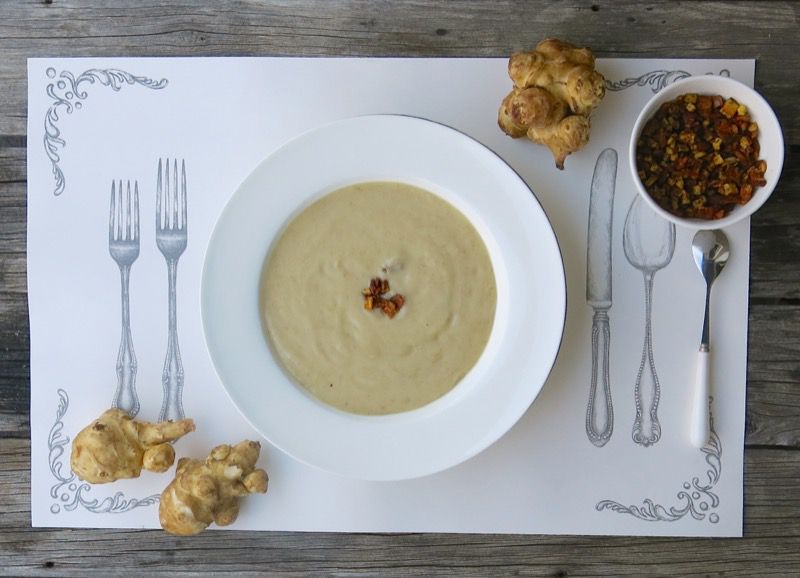 After my first slurp, I blurted, "I must have this recipe!" All Christmas in November recipes have been posted by the Edmonton Journal, including all of the food prepared by the incredible team, with Chef Christopher Chafe at the helm, at the Fairmont Jasper Park Lodge.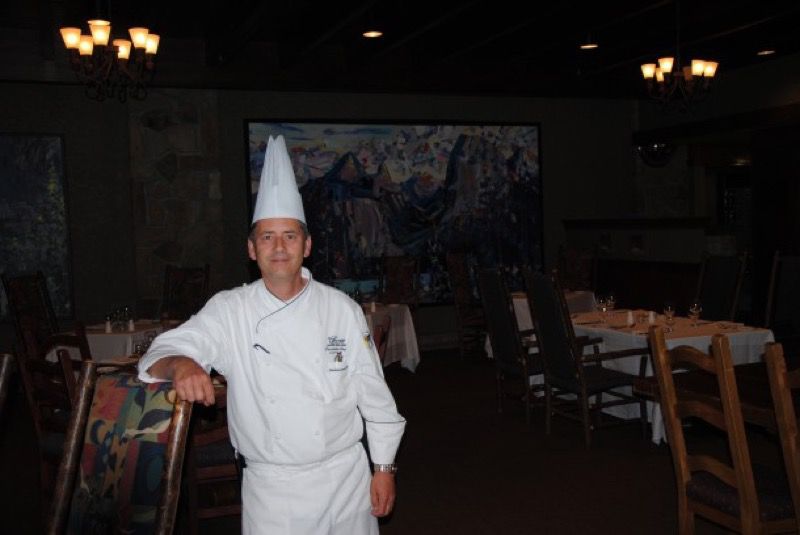 Chef Christopher Chafe is my new Canadian Food Hero. His perky effervescent personality is simply irresistible and his food is second to none. Last year, he arrived at The Fairmont Jasper Park Lodge one week before Christmas in November. Oh, what a welcome that must have been! This year, his thumbprint was all over the menu at the event and it was absolutely brilliant. He understands the importance of using Canadian ingredients, and local ingredients as much as possible. He works to celebrate our food, cuisine and Culture through the menus he creates. This sun choke soup is not pretty. At all. Yet, when I look at it, I see a prism of flavour and texture that is as gratifying as finding the pot of gold at the end of a rainbow. Sun Choke Soup. I was curious. Not appealing, I slipped my spoon under the surface and brought it to my nose. Smoky. Hmmm. It was when I tasted this soup that my eyes doubled in size and I shot up in my chair and studied at my table mates to share in the sheer pleasure of this soup. And that, my friends, we did. Each of us looked up to one another after the first taste, to acknowledge the masterful hand of Chef Chafe.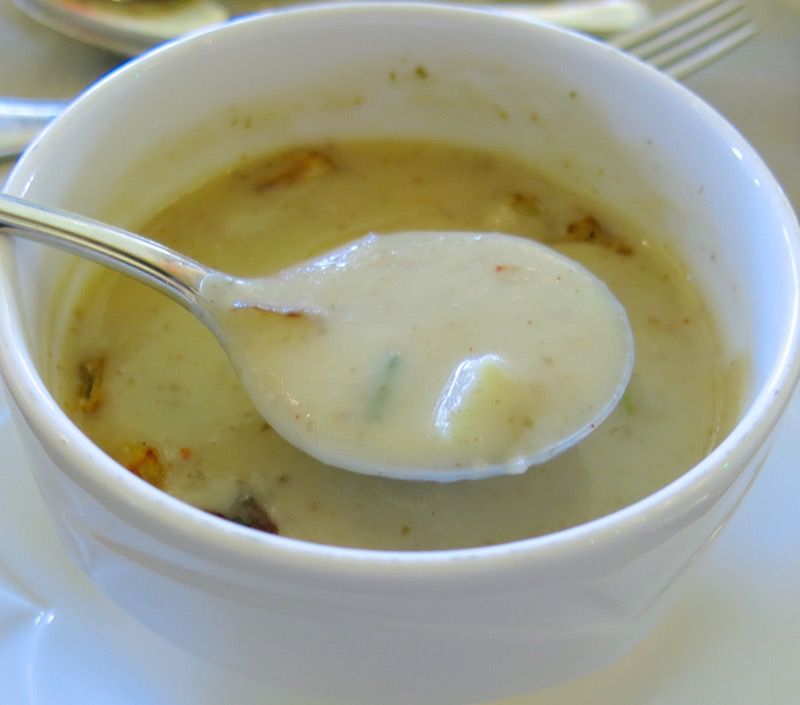 Every year, the food is incredible at Christmas in November, yet some tastes just rise up and leave that imprint firmly within that leaves one forever longing for more. The first year, it was a glorious ravioli soup. This year, it was this Sun Choke Soup with Bacon Hash as well as the mashed potatoes and jus served with the steak. The Sable Fish served just after this soup was also unforgettable. I am aware that I actually rave and rant about Christmas in November, but I offer no apology. This is a Fairmont hotel in the famous Canadian Rocky Mountains, and the Chef Chafe shares every one of his recipes. He even offers a kitchen tour every morning! This event is all about preparing each of us to go home refreshed and inspired to provide innovative Christmas experiences and food that will pamper our own families after experiencing the true Spirit of Christmas, ourselves.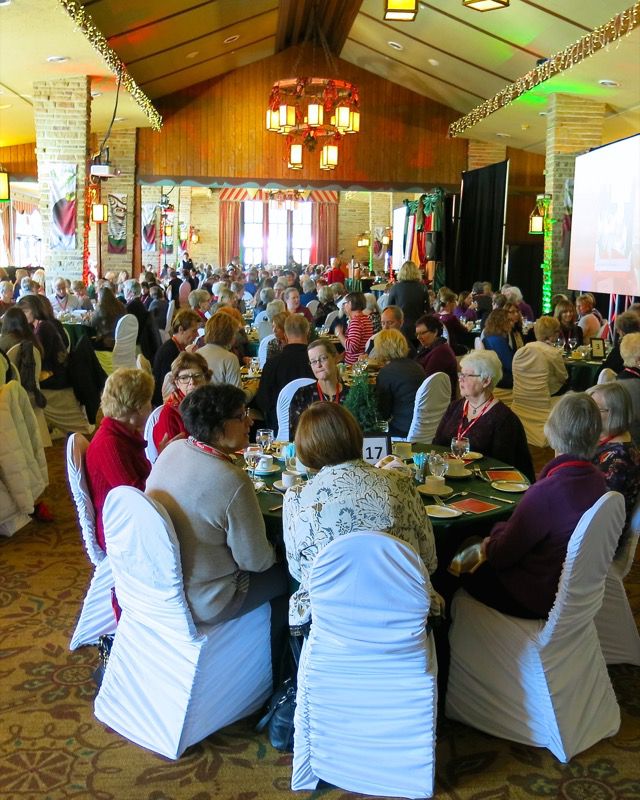 This is definitely a holiday worthy soup. It is a celebration soup that is sinfully easy to make. So easy, you could enjoy it any weekday evening, but so tasty your family and guests will view you in an entirely different light. This soup is spectacular. Spectacular. Even better at home than I remember it there. Is that even possible?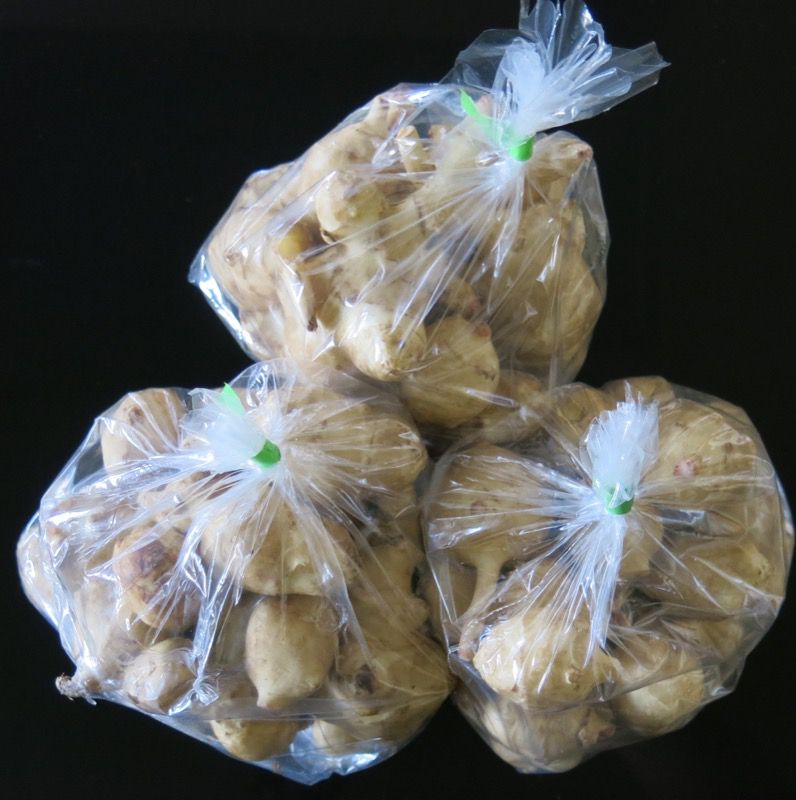 I have adapted the chef's massive recipe to feed 8 before dinner, or 4 for a luncheon. And, I have adapted it also, to be made in the Thermomix machine, but fear not. The recipe includes instructions for those of you that don't have a Thermomix. The gorgeous Sun Chokes below were purchased at August Organics at the Old Strathcona Farmer's Market in Edmonton. They grow beautiful ones. I was told each bag was a pound, but three bags weighed just under 2 pounds. I needed 650g for my recipe.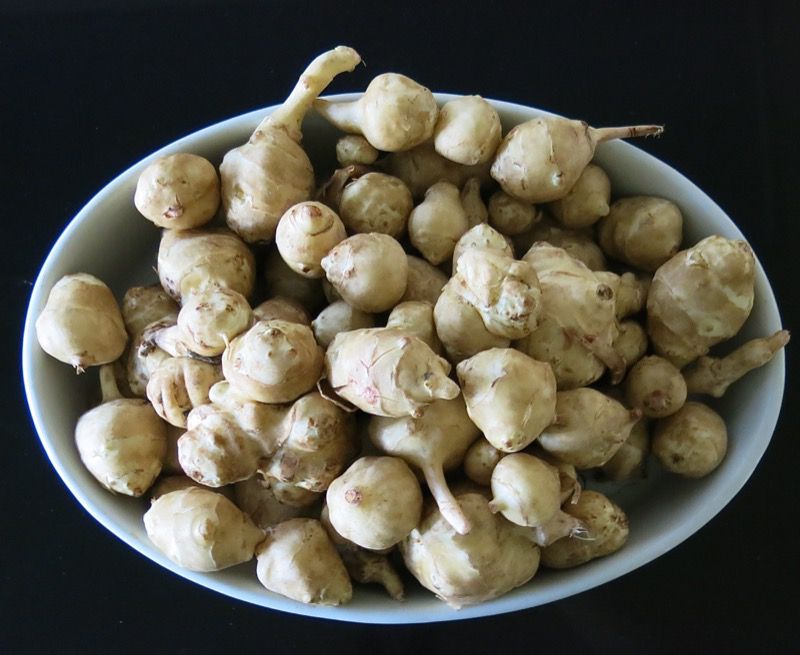 The beauty of the Thermomix is the vegetables do not need to be peeled. Therefore, the food is more nutritious and the cook is more relaxed! As with any soup, the aromatics are sautéed to provide an underlying foundation for the feature flavour.
é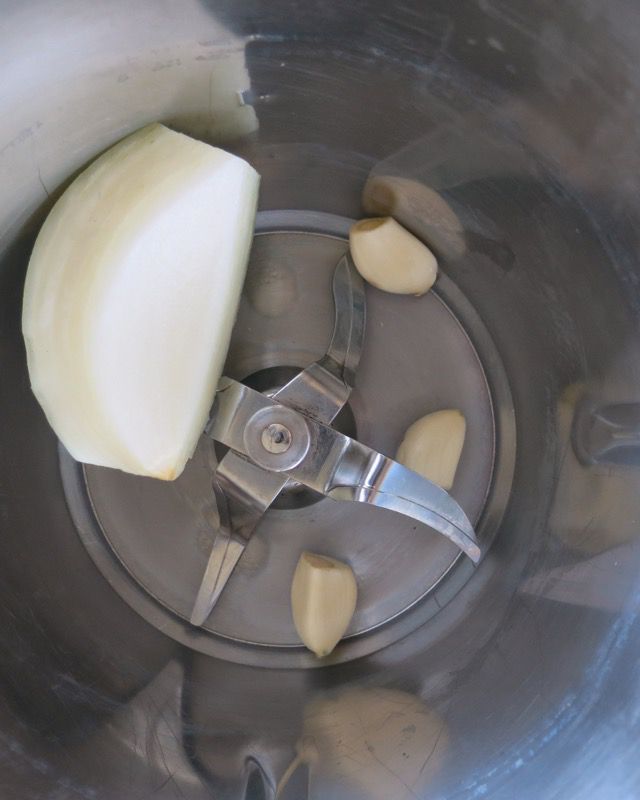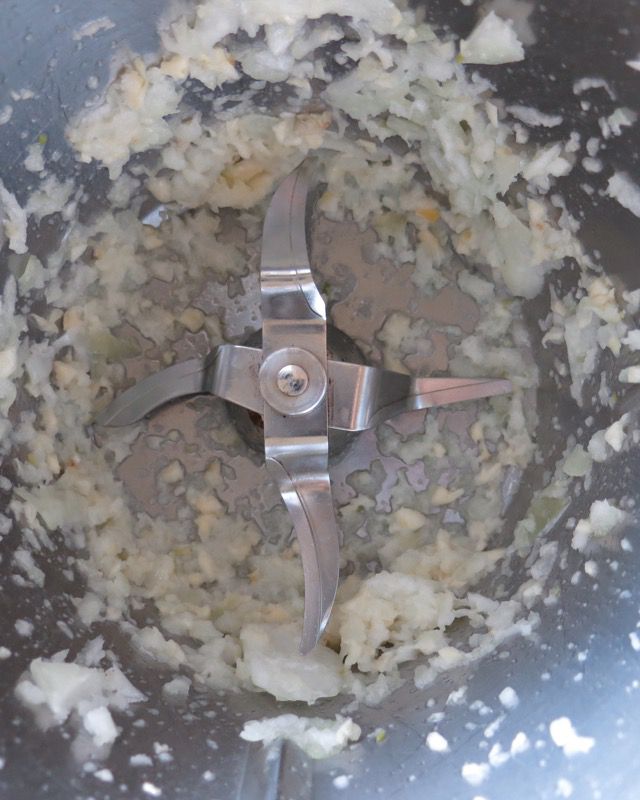 Onion, garlic and butter. Simple. One second to chop the aromatics and 2 minutes to sauté them. Yes, the machine even stirs while it cooks.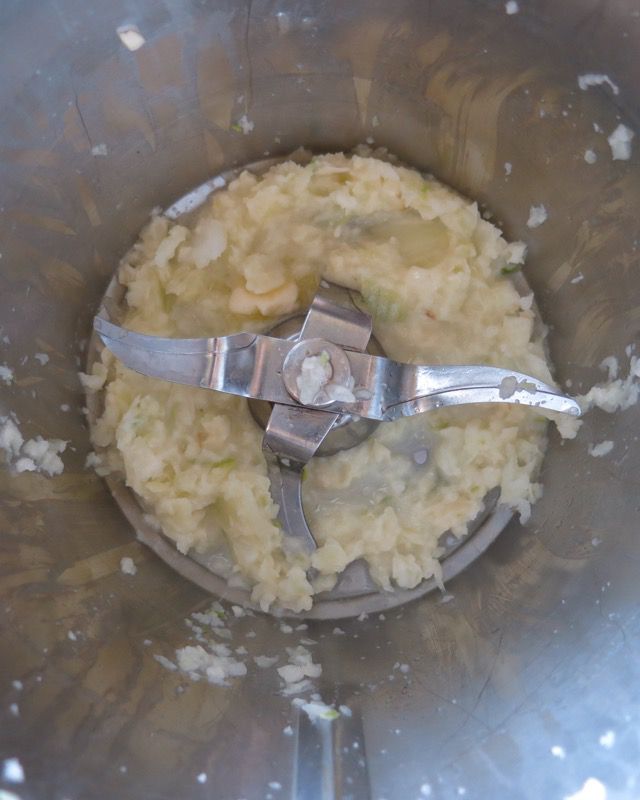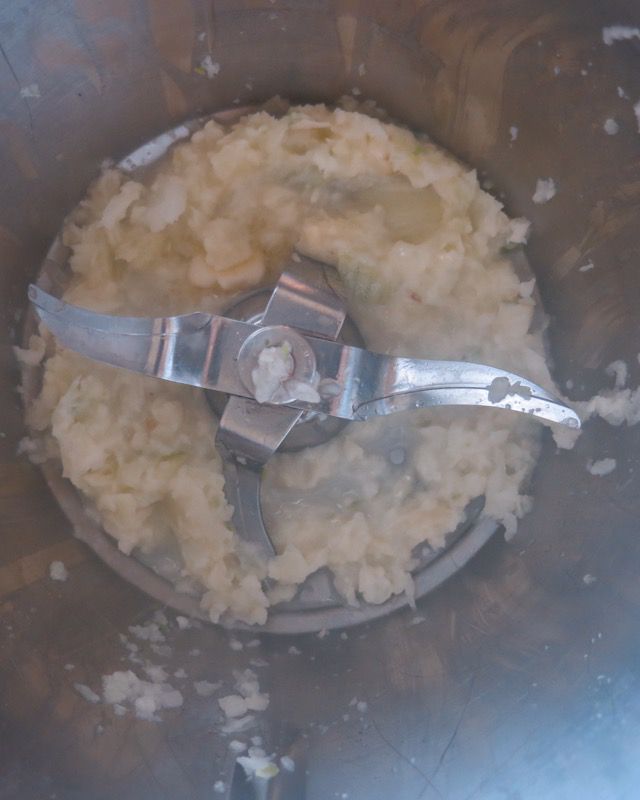 Scale in the 650g of cleaned sun chokes. I cut the larger ones so all were equal is size.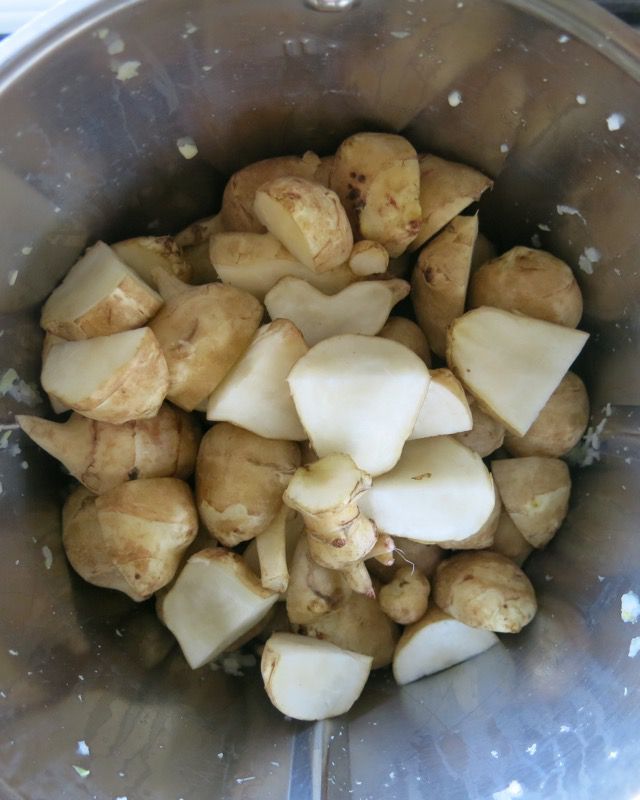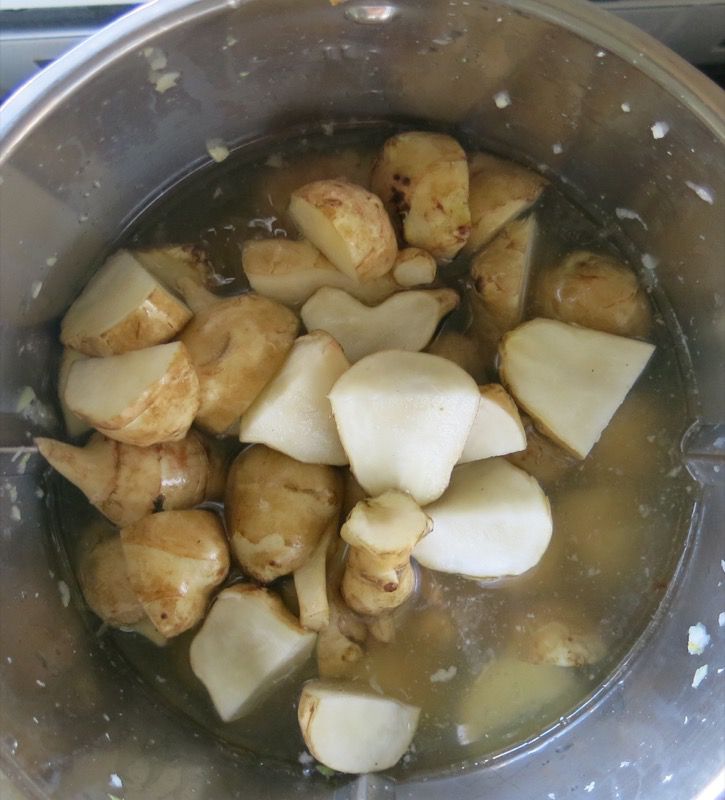 Chicken broth is then scaled into the bowl. I used 500g of this, added a little salt and set the time for 20 minutes, the temperature to 100C and the speed to a slow stir, and got busy making the bacon potato hash.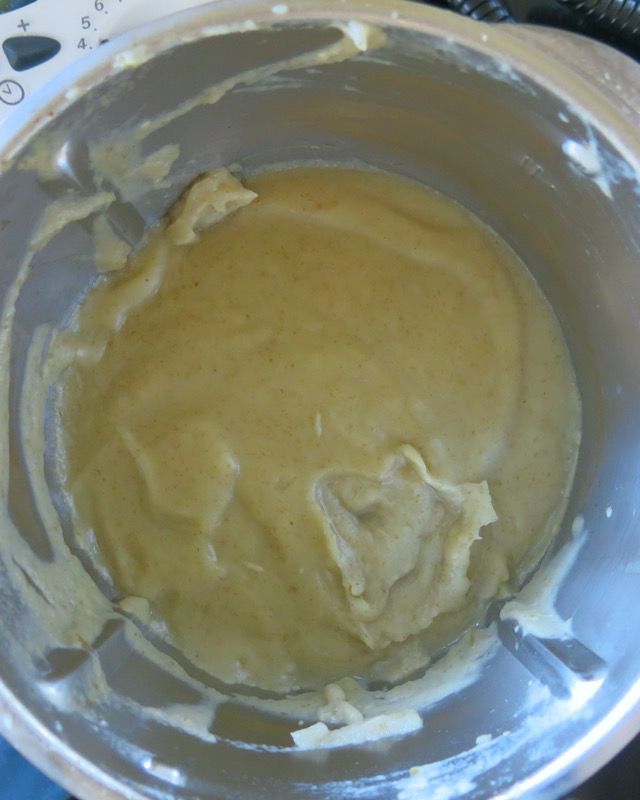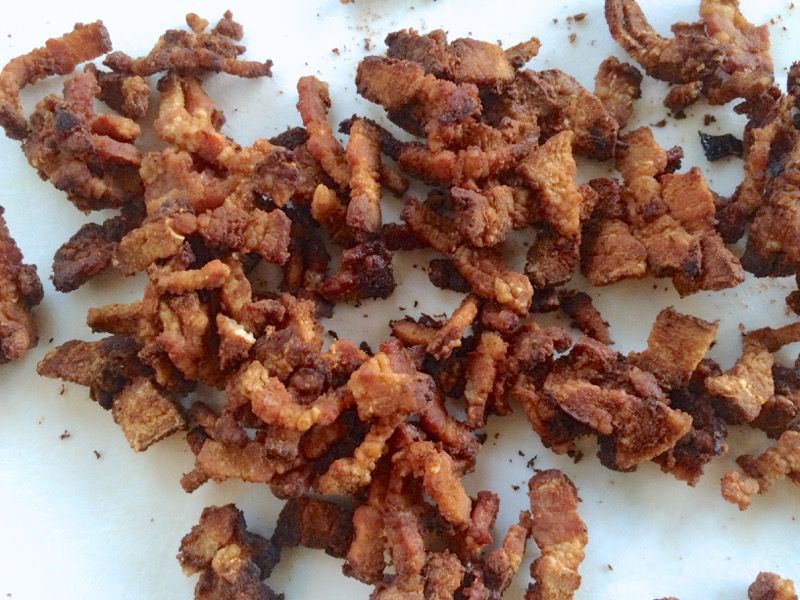 That is the beauty of the Thermomix. It can cook and stir while I do something else in the kitchen.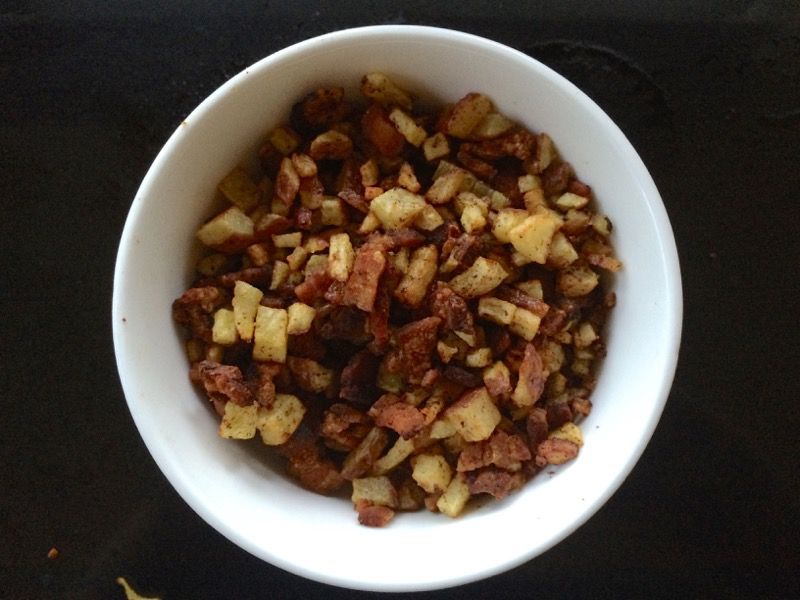 Fried the bacon lardons until crispy, diced the potatoes into tiny cubes and friend in the bacon fat until crispy then tossed them together. Voilá!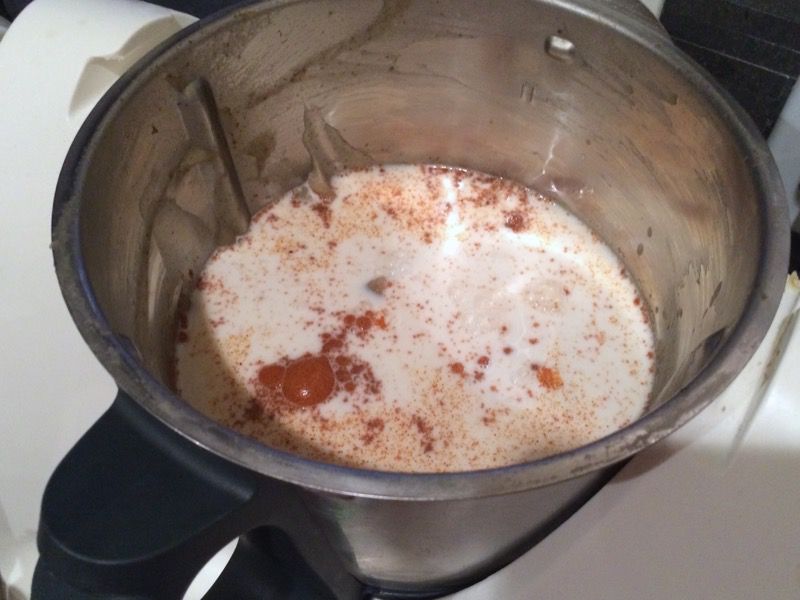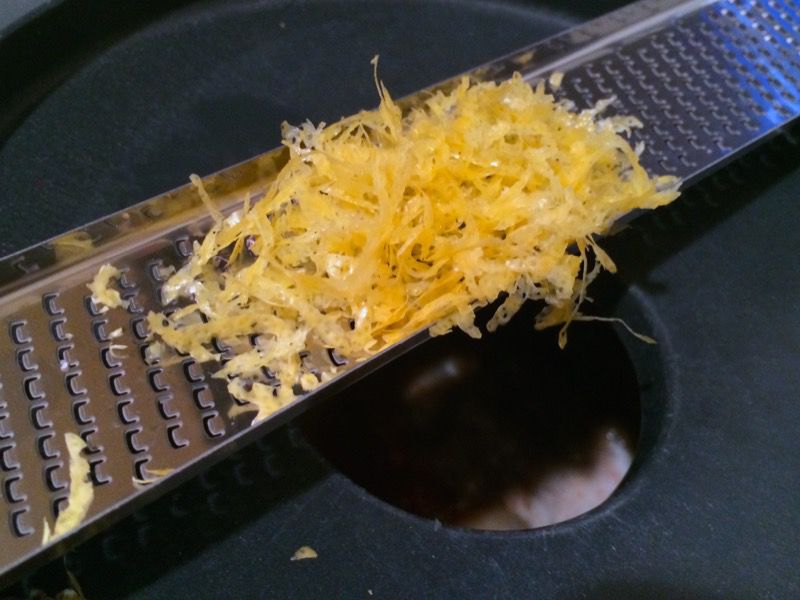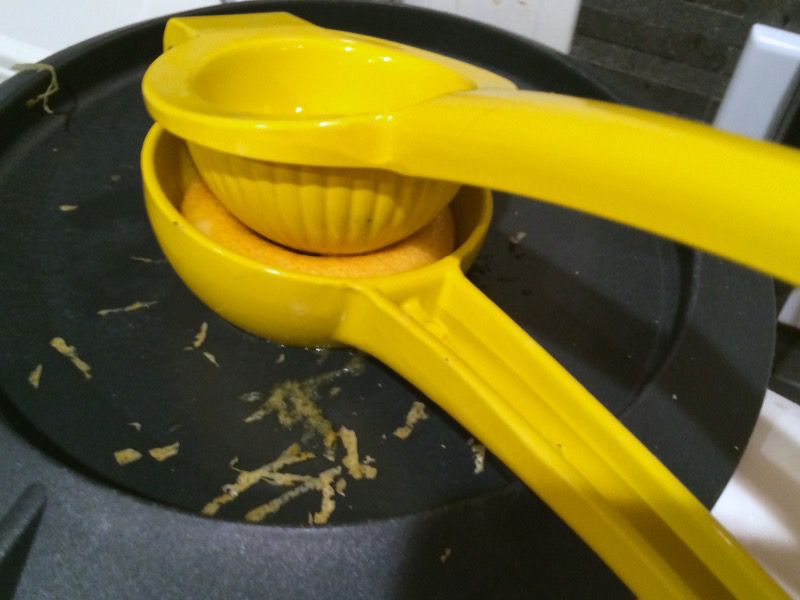 I did purée the soup and let it sit until just before service, then reheated it and added the milk, smoky paprika, and the zest and juice of 1/2 a lemon to finish.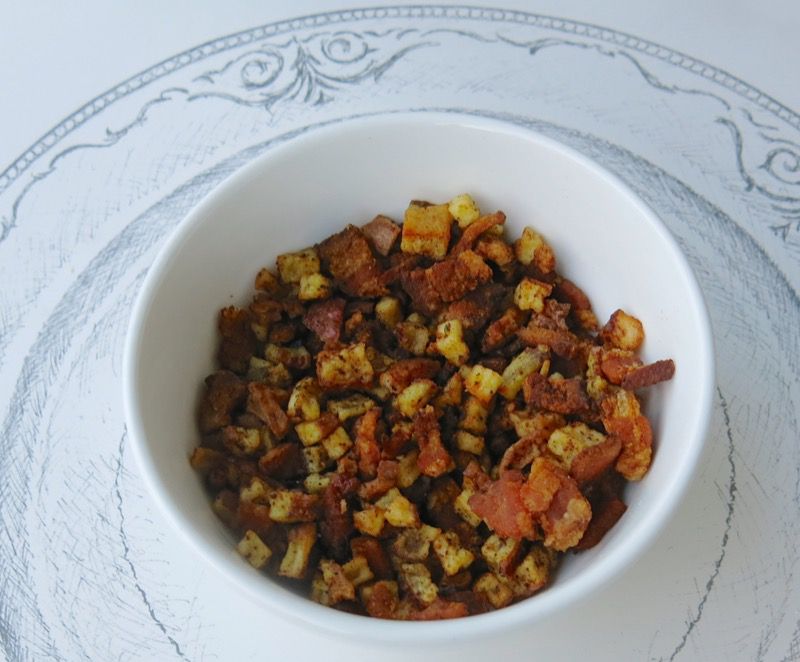 A tablespoon of hash was placed in the bottom of each soup bowl and the soup was carefully ladled over it. I did garnish with a pinch of hash.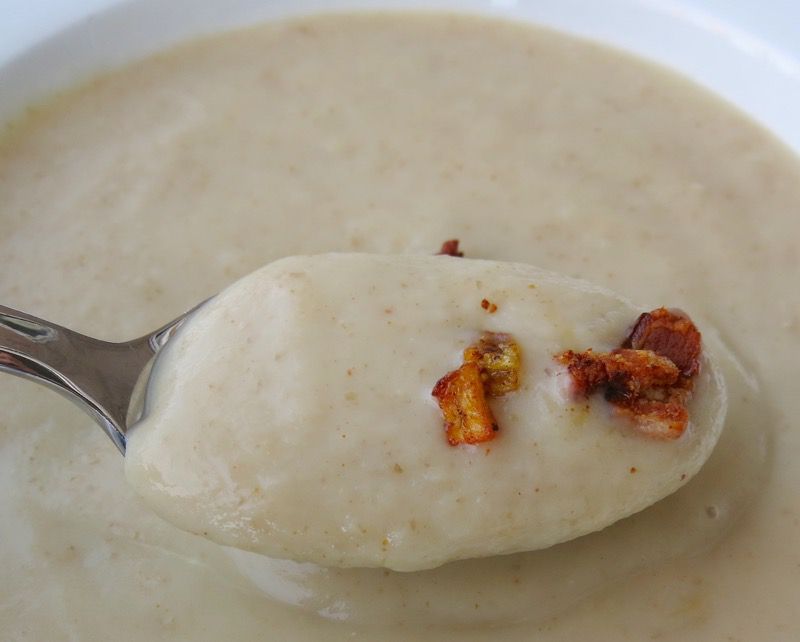 Even I was blown away by this soup, yet again. The acid elevates it to another level while the nutty sunchoke flavour performs flawlessly on centre stage. The smoky note and crunchy bits add interest and are packed with flavour of their own which provided such an unexpected moment at the table. My mom and daughter reacted as I had hoped and celebrated each bite. Vanja? "There is lemon in here." No, there is not. "I can taste it. It is in here. It spoils everything." Honestly, believe me when I tell you that the acidity from the lemon brightens and heightens the flavour. It is not a lemony soup, at all. "I can't taste any lemon." Ragan; "Neither can I?" Mom. "Oh, when I get everything on my spoon, it tastes Ok, I guess, but I don't really like it." I didn't expect him to like this soup very much as it is not a soup for the uber carnivore with an overt fear of the unknown in his food. I promise that you will rave about this soup if you follow the recipe.
Let me know if you make it. Thank you Chef Christopher Chafe and Christmas in November for this new recipe to add to my family repertoire!
Sunchoke Soup with Bacon Hash


This soup is bright with sunchoke flavour and scented with smoke. The perfect comfort on a cold winter day. Yield: 8 cups or 4 hearty bowls of soup.
Ingredients
1/4

Spanish onion or 50g

, minced

3

cloves

of garlic

, minced

15

g

whole butter

650

g

fresh peeled Sunchoke

(Jerusalem artichokes)

500

g

Chicken stock

5

g

salt

200

mlL whole milk

1/2

teaspoon

smoked paprika

Juice and zest of 1/2 lemon
Ingredients for Bacon Hash:
100

g

yellow potato peeled

, and diced in very small cubes (brunoise)

150

g

thick bacon

, sliced into lardons
Instructions
Instructions for Bacon Hash:
In a sauce pan on low heat cook bacon until fat has leached out and bacon becomes crispy; remove bacon

Add potatoes and cook in bacon fat until the potatoes become crispy; toss with bacon and season to taste
Instructions for Soup:
Peel sunchokes and keep in water so they do not discolor

Sweat onions, garlic, butter on low heat until softened and translucent (no color)

Add 650g peeled sunchokes (discard soaking water) and chicken stock with 5 g salt; simmer on medium heat until tender (approximately 40 minutes)

Moments before serving, add juice and zest of 1/2 lemon and smoked paprika; add in milk; to combine well and adjust final seasoning with salt and pepper
Thermomix Instructions for Soup:
No need to peel sunchokes, just wash or scrub clean

Scale onions and garlic into TM bowl; chop for 1 second on Turbo

Using a spatula, scrape ingredients from bowl toward the blades

Scale in butter; saute for 2 minutes at 100C, speed 2

Scale 650g sunchokes into TM bowl

Scale in chicken stock adding 5 g salt; cook for 20 minutes at Varoma, speed 2 (at about 15 minutes, sunchokes will start to breakdown)

Puree until silky smooth for 30 seconds going from 0-10 in 20 seconds and leave on 10 for remaining 10 seconds or Turbo for 10 seconds three times

Moments before serving, add juice and zest of 1/2 lemon and smoked paprika; scale in milk; stir for 5 seconds at speed 3-4 and adjust final seasoning with salt and pepper
Putting it all together:
Place equal portions of bacon hash into the bottom of each soup bowl; gently pour soup over top

Server immediately
Recipe Notes
Add the lemon zest and juice to the soup just before adding the cream; add these ingredients, and reseason just before serving.
Here is a video of Chef Chafe preparing a Cheeseboard at Christmas in November: Cheeseboard