Affogato: the perfect reprieve under the sweltering Bosnian Sun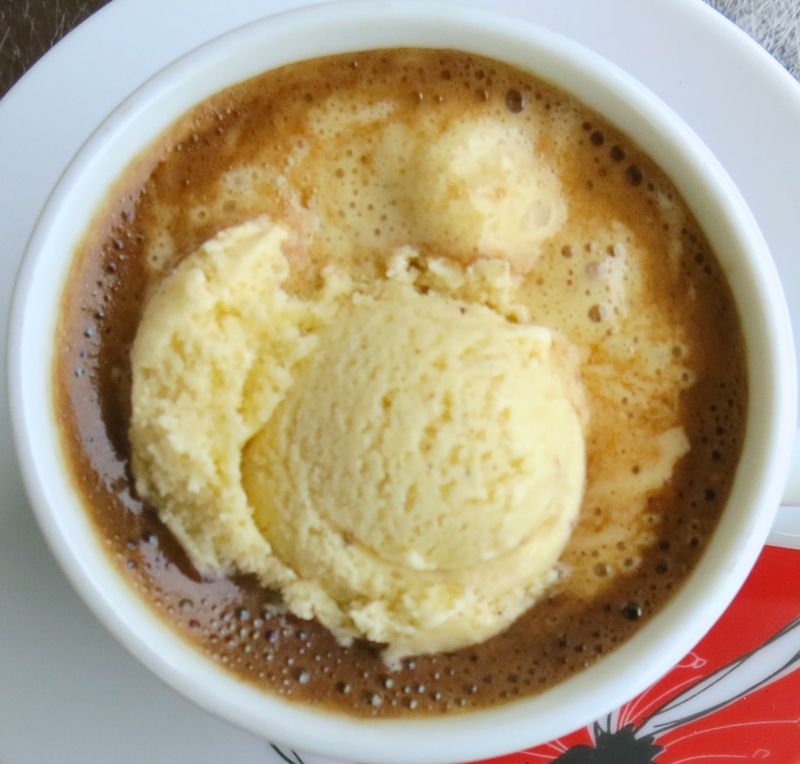 Ah! I am sitting at a quaint wrought iron table in a little outdoor café almost hidden in a corner across the street from the massive "wedding cake' in the Piazza Venezia on a scorching hot and dusty day in Rome. It is Spring Break and I have 10 students with me touring through Italy. At this very moment? Shopping. I am parked at "meet back in 1 hour headquarters".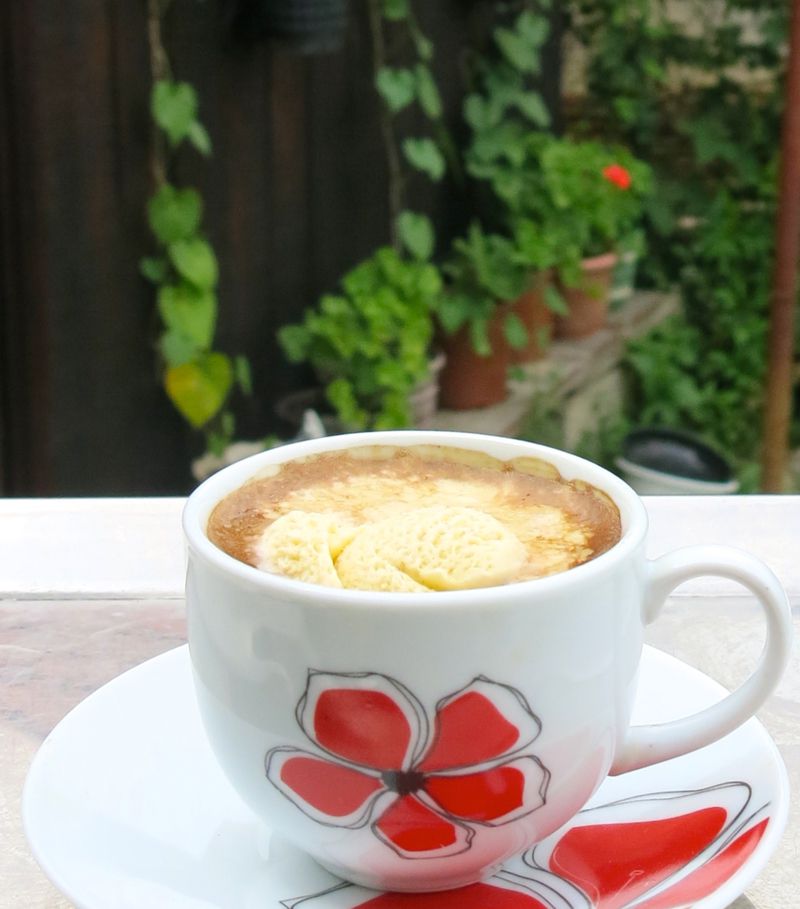 My feet ache. Sweat is lining by brow and I cannot recall ever feeling quite so uncomfortable without any means of escape. I peruse the menu. I have no appetite. The waiter passes by with a brisk formality, haults, takes two steps back to my table and quips. "Signora? Espresso? Affogato?" The sun is blinding my view. My eyes are tearing and he is a blurred water colour stain against a wisp of sky. "Affogato?" Raising my voice at the last syllable to be clear that I had no clue what he was referring to. "Ah, gelato affogato nel caffè espresso!" The answer rolled off his tongue like a musical tango. I did understand the word gelato, and of all treats, ice cream is highest on the list. "Sì! Grazie!"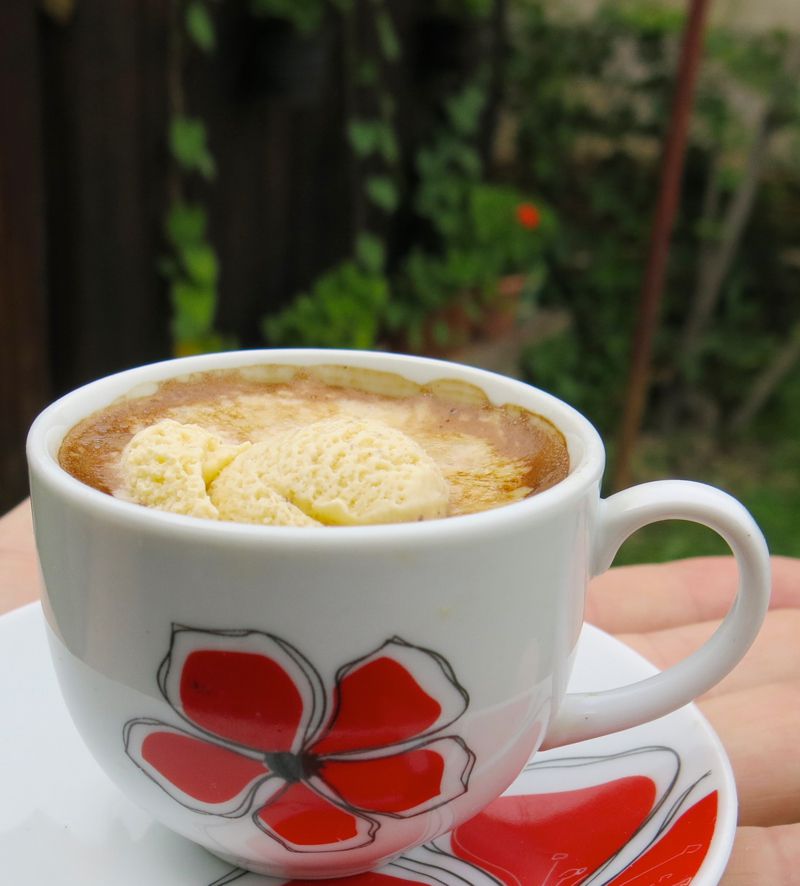 Moments later, I was presented with a small and stately cup steaming the most fragrant aroma with a creamy mass of hard frozen rich vanilla ice cream, carefully placed in the centre. I ordered this? Hmm. The compelling aroma enticed me to take the dainty little spoon from aside the cup, capture the foam on the espresso with some cold cream, and place it on my tongue.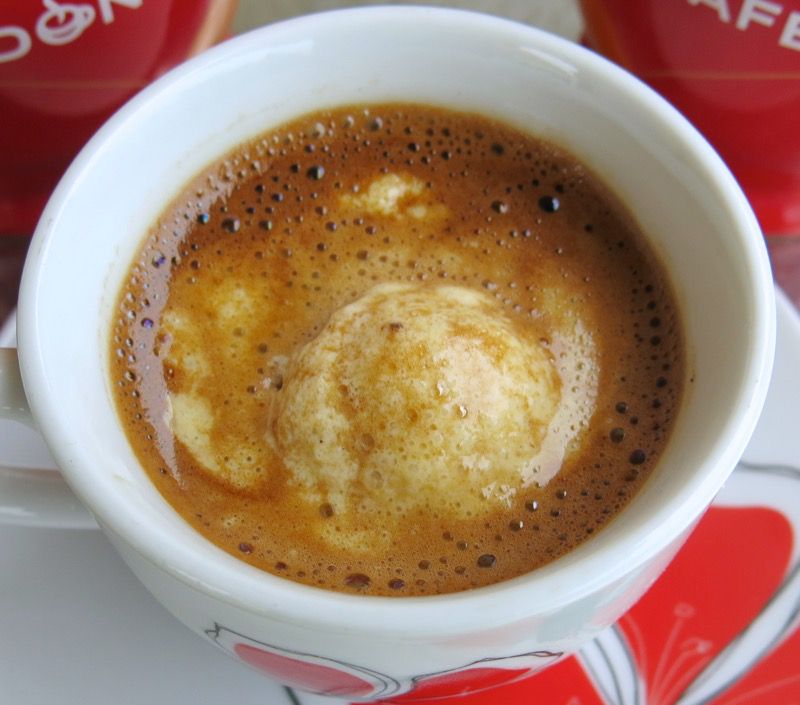 It was at that very moment that I fell in love. That's what one does, in Rome, no? I am not sure if it was the favour of that particular espresso, the combination of it with the soothing velvety vanilla ice cream or simply the time and place. Maybe a combination of all three. But I will never forget that moment, that taste and that passion.
Fast Forward Fifteen Years:
I am sitting at a rustic home hewn table just outside the door, almost hidden under the massive overhang on the porch; it is a scorching hot and dusty morning in Bijeljina, Bosnia. It is Summer and I have traveled to visit Vanja's family as we do every year. At this very moment? I am taking a break from cooking in the Summer Kitchen (which is actually the smoke house).
My back aches. Sweat is lining my brow and I cannot recall ever feeling quite so uncomfortable without any means of escape. I have no appetite. My eyes are tearing and Vanja's father, Petar, quips, "Hoces Kafu?"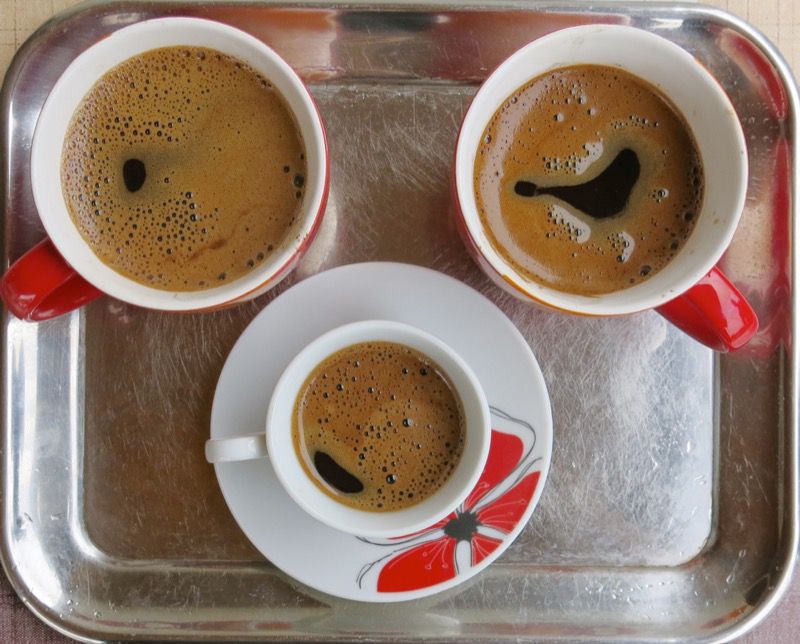 Balkan people drink coffee any time of the day and night. They cannot unglue their sleepy eyes without it. They celebrate the visit of a friend with a cup. After a day of hard work, they rest with a cup. But it is not just any coffee. It is Turkish coffee. They cook it on the stove and it puts starch in your underwear with just one sip. "No, thank you very much!"
Now would be the time to treat him with my little surprise. We had packed our favourite bag of Lavazza espresso to have as a treat on a day just like this. Why? I accepted a contract to develop some recipes for Lavazza because Vanja really likes their espresso; we did a tasting of their coffees and espresso when the products arrived, and truly unexpectedly, the flavour of the Lavazza espresso plunked me right back into the chair at the quaint little wrought iron table in Rome. That significant taste memory was unpacked the moment I took my first sip of the Lavazza espresso. I was hooked. I saw a creamy mass of hard frozen rich vanilla ice cream, carefully placed in the centre on a sweltering Bijeljina day, almost immediately.
Our Balkan coffee drinking crowd would revel in such a perky little celebration.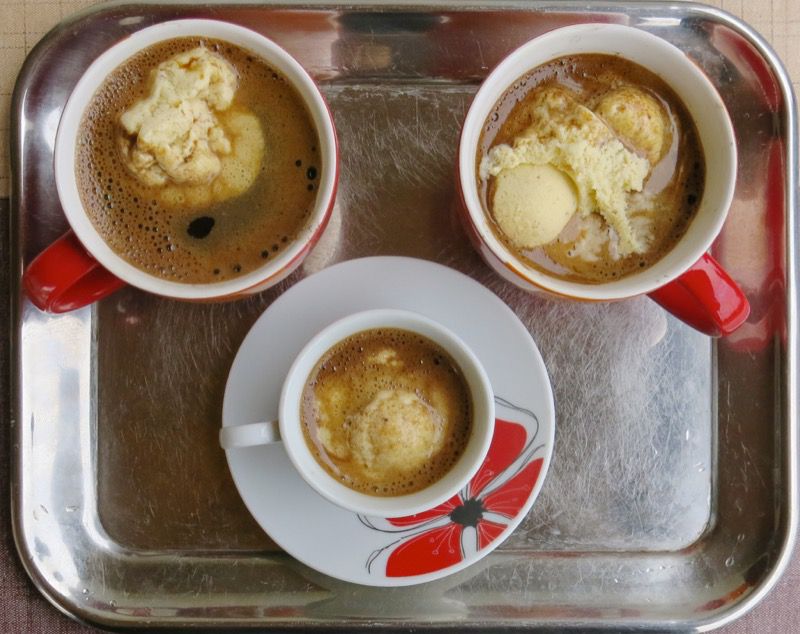 On this day, the moment presented itself. "Jedan minut, Petre. Vanja?!" And we put ourselves to work making a fine cup of espresso with a somewhat creamy mass of frozen vanilla ice cream.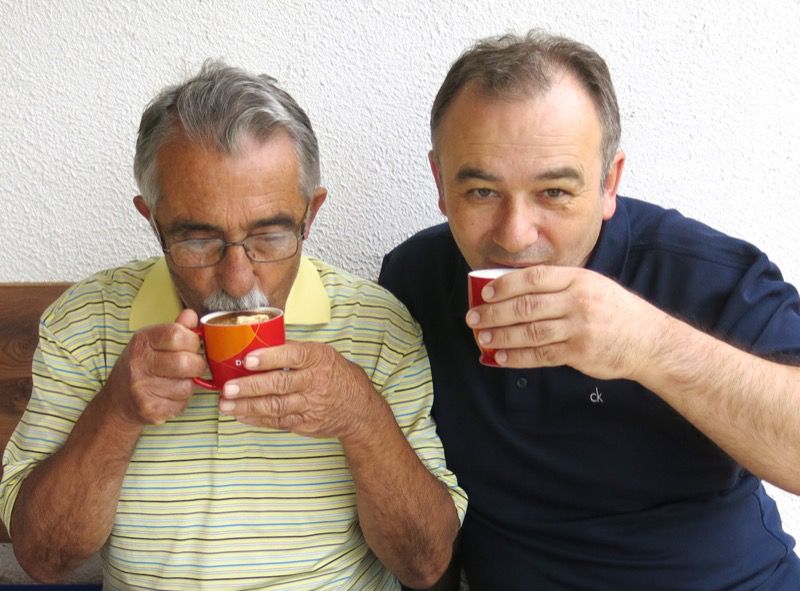 One sip, and the sweat on my brow dissipated. The flavor, coupled with the hot cold combination, refocused my attention 180 degrees from the torture of the heat to the pleasure on my tongue. Sincerely. This is the easiest of recipes that you simply must experience.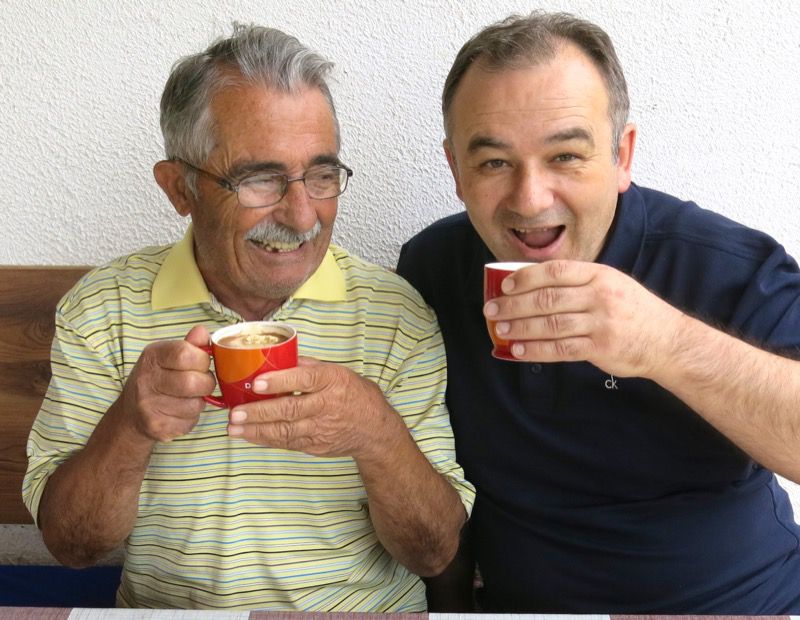 That day in Rome, oh, so so many years ago, that one cup cost me 10 Euro. I almost fainted. Yet, it was so good, I ordered a second. Truly. Since then, for pennies, we can now duplicate and enjoy this ever so simple pleasure at home. Take a look at the two happy fellows above. Can't beat that, can you? If you try it, let me know if your experience is anything close to mine.
The Lavazza Tasting Challenge
My family embarked in a Lavazza Tasting at my behest. I adore tastings. They educate my palate and enlighten my ability to understand taste and flavor. Yet, we had a great deal of difficulty with this tasting.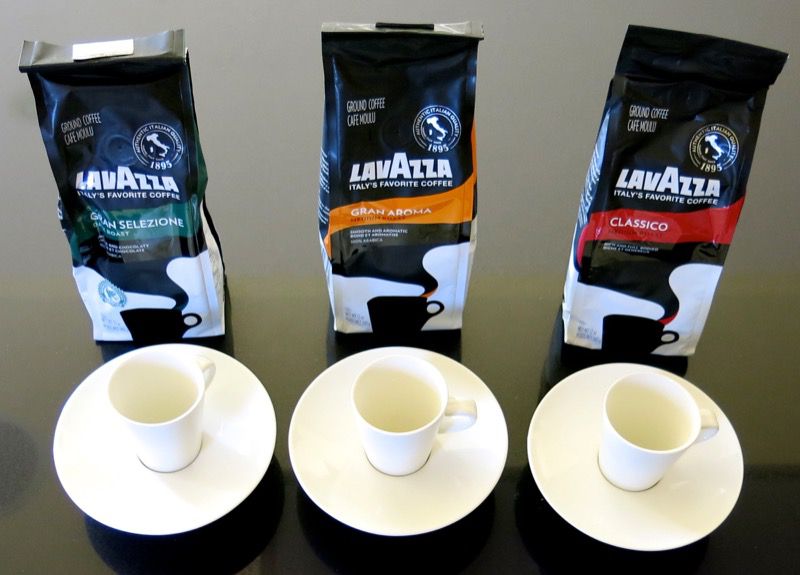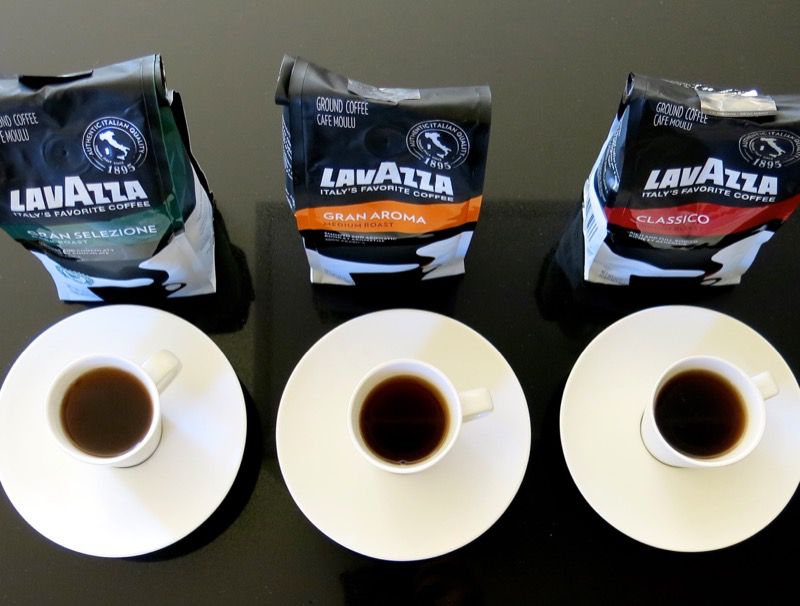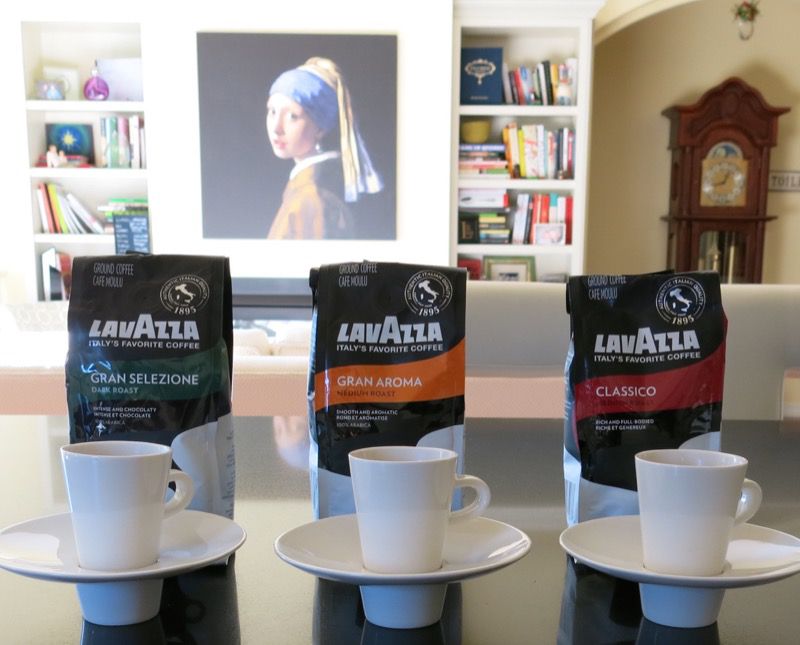 Each of these non-espresso selections are quite similar and though there were discerning differences, they were subtle and in the end, after much debate and serious struggles with semantics, we could not define our experience collectively.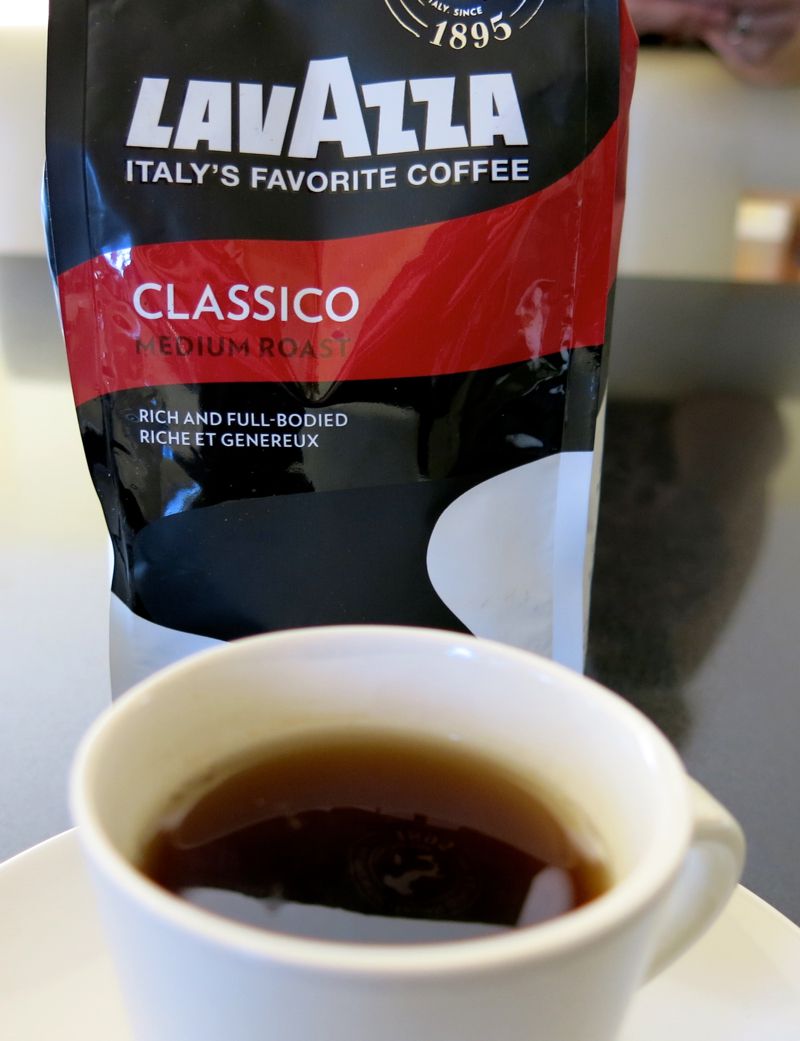 Classico: Medium Roast, Rich and Full Bodied
Gran Aroma: Medium Roas, Smooth and Aromatic: 100% Arabica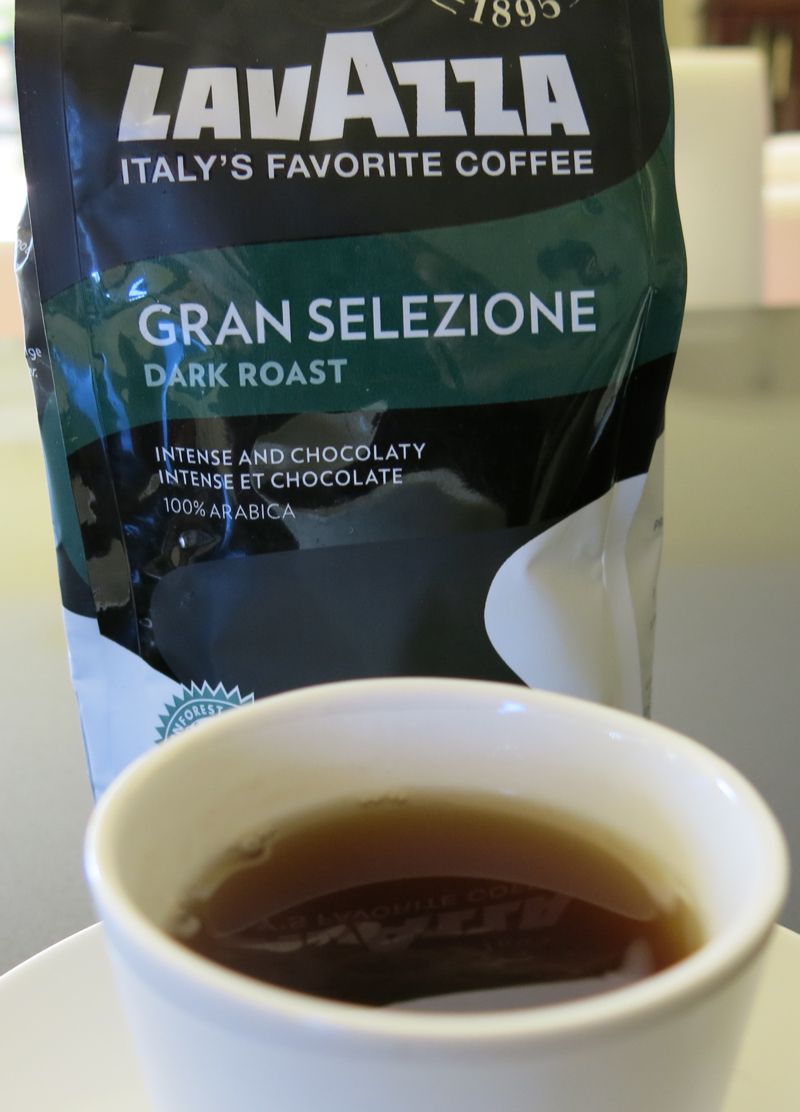 Gran Selezione: Dark Roast, Intense and chocolaty: 100% Arabica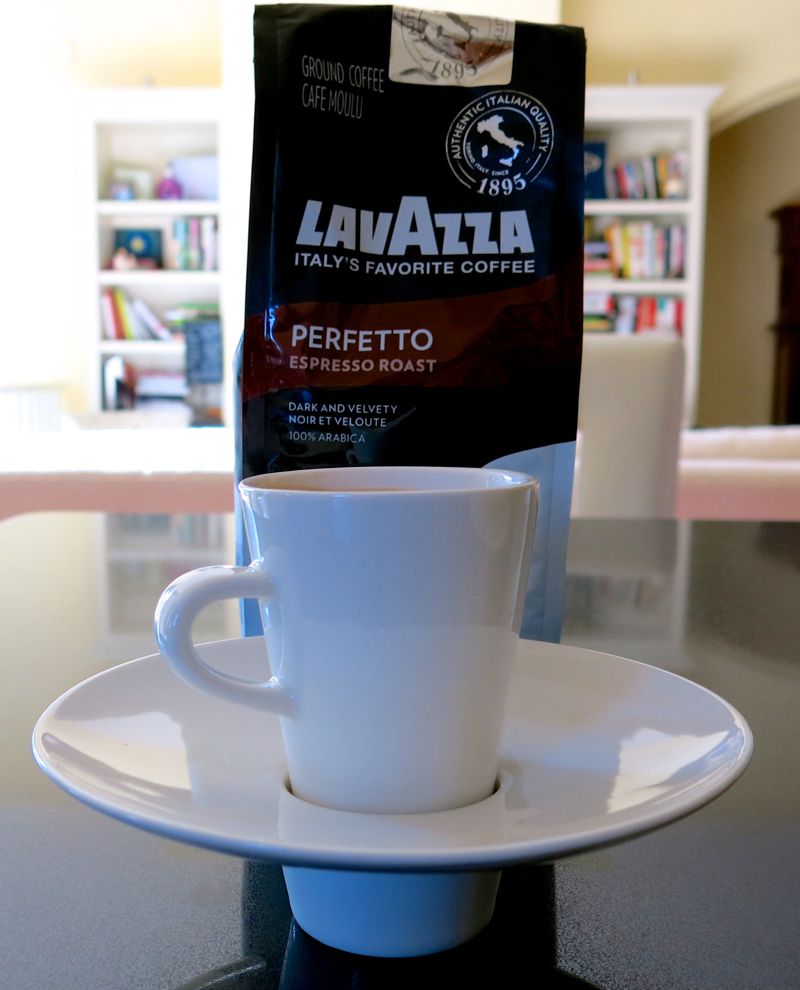 Perfetto: Espresso Roast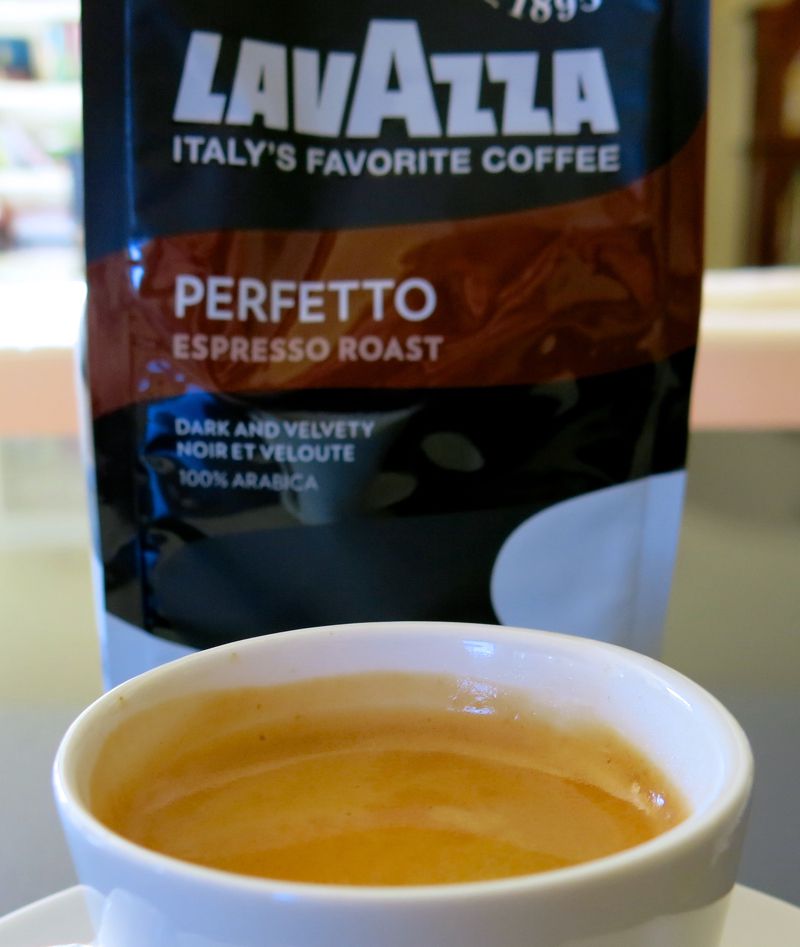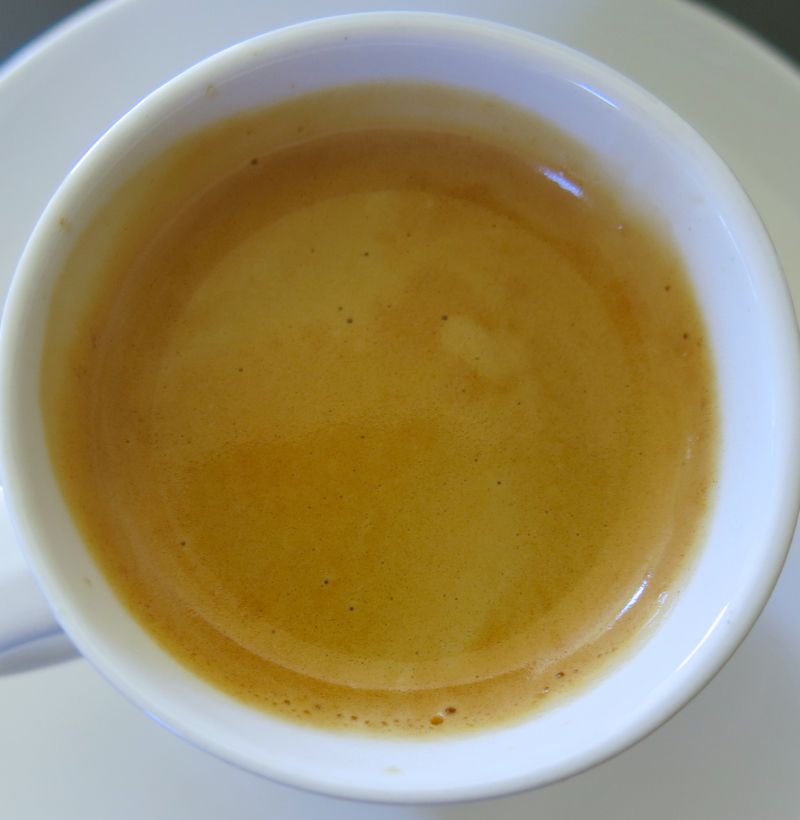 So, here are some questions for you:
Which brand of coffee do you drink, and why?
What brand of expresso do you drink, and why?
Have you tried Lavazza and will you now?
If you have tried Lavazza, which of the above do you prefer, and why?
What is your favourite coffee recipe, and will you share?
Any answers to any of these questions in the comment section, below, before my next Lavazza post, will get your name in the draw to win a Lavazza prize package to be drawn in December 2015.
Shop Lavazza!
Take a minute to browse the online store. Please use this link as it is designated to me, and I am curious to see how many of my readers actually take the plunge and will investigate the offerings there. 🙂 Their customer loyalty opportunity is a nice perk! (Don't even bother to pardon the pun!)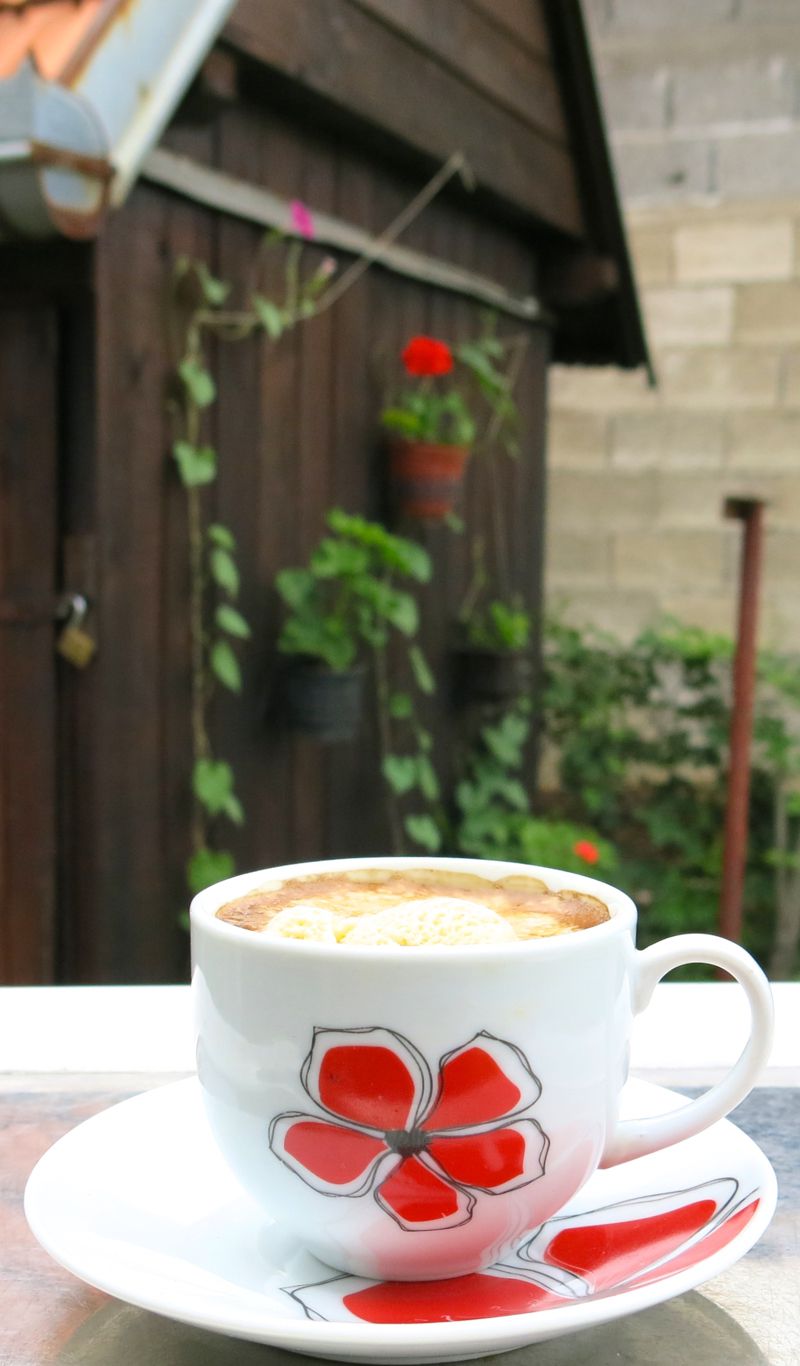 Current Lavazza Prize Opportunity: Win a trip to the Rogers Cup Finals in Toronto!

For the third consecutive year, Lavazza will be the official coffee purveyor to the most important tennis tournament in Canada. This year, Lavazza is giving away a trip to Toronto Canada and front row tickets to the 2015 Rogers Cup, Women's Singles Final. Enter here
http://lavazza.exposuremarketing.com/rogerscup/redirect.php for your chance to win.
Lavazza Series Posts:
This is my first, but I will be listing each of the 6 I plan to write this year at the bottom of each post if you are a coffee fanatic like me.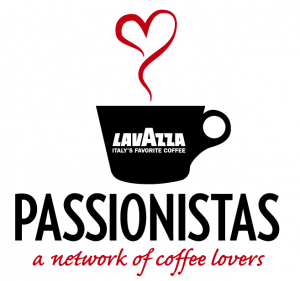 Lavazza Prize Opportunity for A Canadian Foodie Readers:
There will be an opportunity for a prize package for my readers at the end of this series. How about some feedback on what you would like to see in that prize package. Take a look here, as there are a lot of goodies available! Anyone comment on this before my next Lavazza post to give me some ideas, in the comments section below, will get your name in the draw 5 times when the prize is identified (by Septpember), and drawn in December 2015.
Disclaimer
As noted within the text, I have been paid to write a series of posts for Lavazza from now until December 2015. This is one of them.