This 80's family favourite deserves a rebirth! (revised December 2018)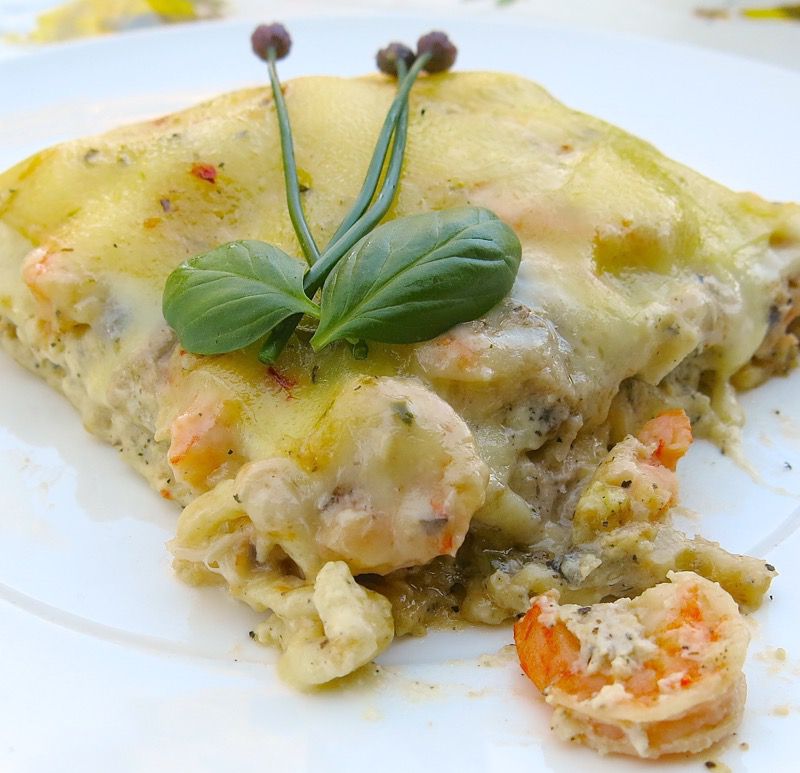 In the '80s, this recipe was "the bomb". Everyone was making it for company dinners, girlfriend gatherings or special family meals. The Best of Bridge gals from Calgary, Alberta, published it in their first cookbook: Best of Bridge. The series that followed filled with delectable recipes as these gals had their finger on the pulse of what was moving and shaking in Western Canadian kitchens at the time, and more aptly, defined who was moving and shaking at the time by whether the Best of Bridge recipes were being made in that kitchen. Many, like The Christmas Morning Wifesaver and this one, have become family staples and holiday traditions.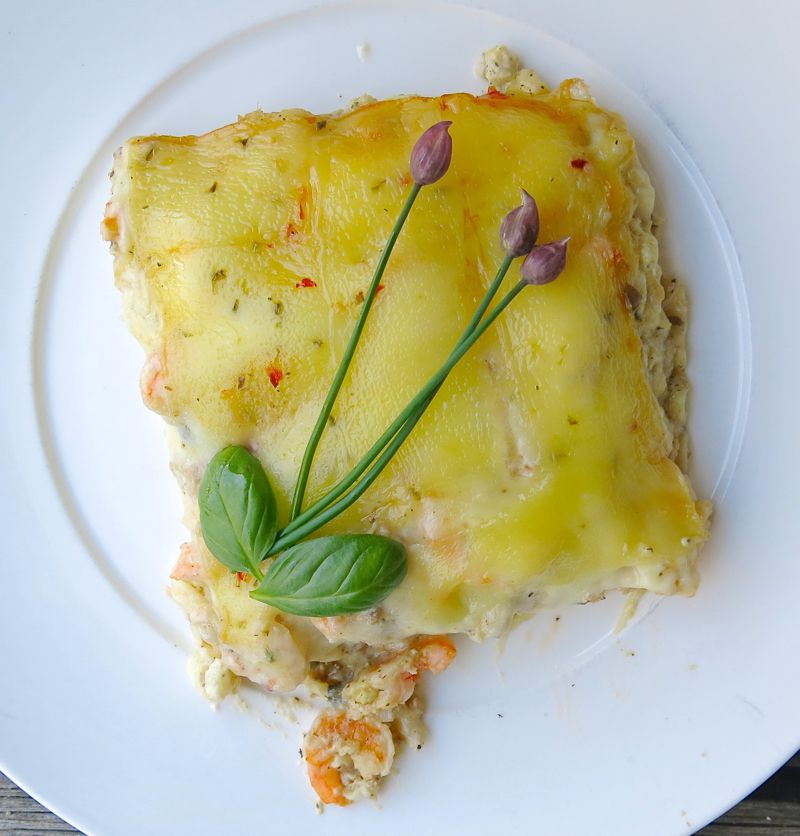 Mom never forgot about this recipe. There was always a huge pyrex casserole dish of it in her deep freeze at the ready.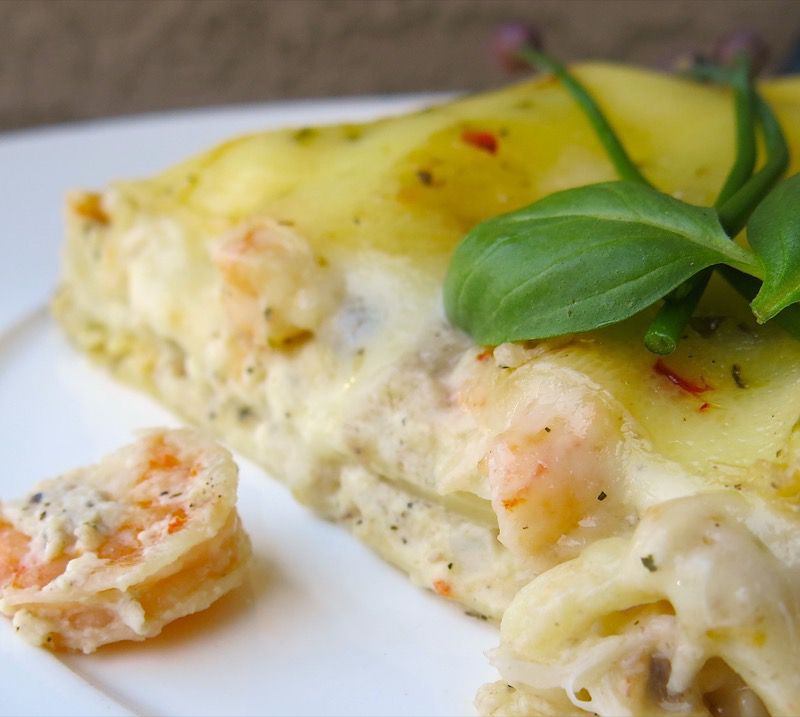 Everyone looked forward to her bringing it out and treating us all with this rich and luxurious treat.
Seafood Lasagna: Mis en Place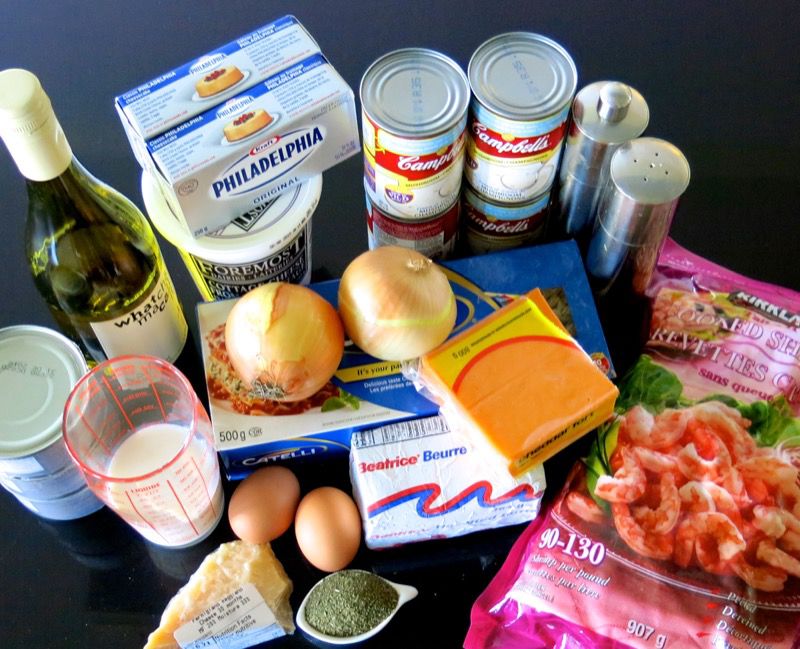 Mix en place: a popular exchange for many was the pollock crab meat. I always use double the canned crab suggested in the recipe, but my lifetime gal pal, Marie used the pollock crab and though delicious, I had to stick with the crab-crab.
Seafood Lasagna: Pasta Noodles?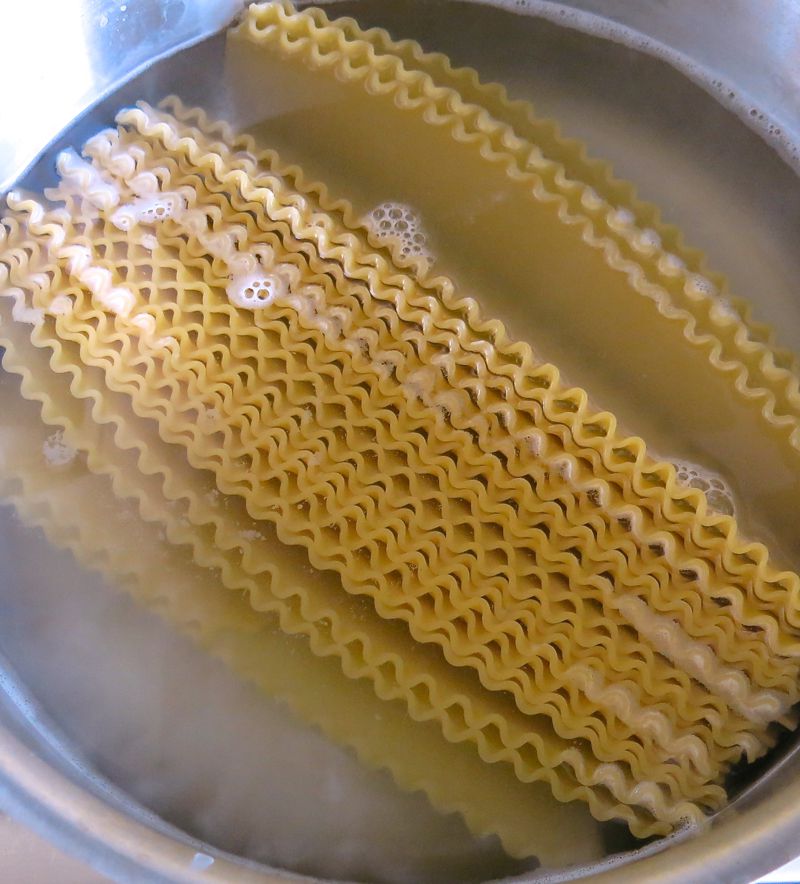 I had to use the traditional lasagna noodles on this day as I knew I would not have time to make my own and the homemade style flats were not available at the market the Saturday prior. I had a box in my cupboard for moments just like this, so into the pot they go. 2018: The "homemade style" big flat lasagna rectangles or squares are now sold everywhere and kept in the freezer until needed. I always use them these days.
Seafood Lasagna: Making the Cheese Sauce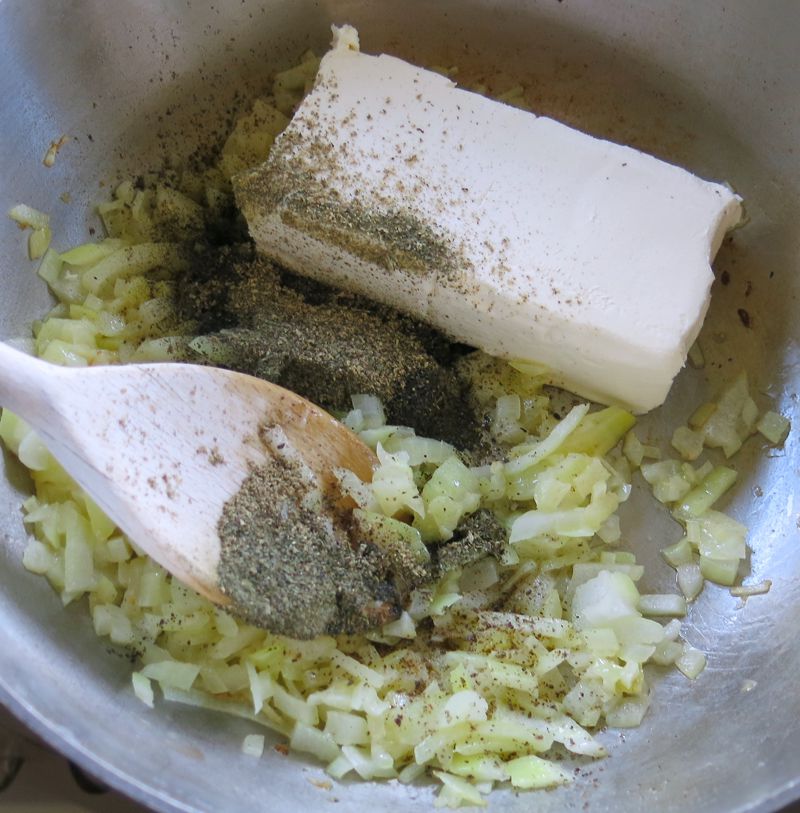 Making this recipe takes me back to my dating days with Vanja. Mom served it one time when we were over together in the "early days" of our relationship and he lapped it up. I made it several times for him after that and truly don't know why I stopped. We have been together 18 years and I am certainly one to discover new recipes and make new foods, yet I am also steeped in tradition and hold to those family favourites that bind us together through shared memory and experience. I recall my high-rise living days in Valley Towers where I would mix up a batch of this with heart all aflutter when we were dating.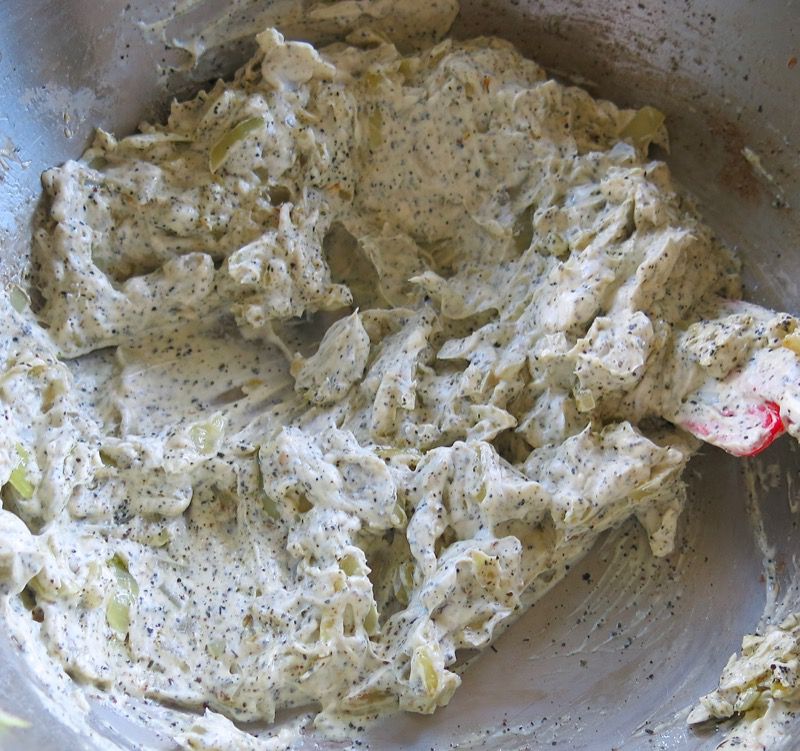 The taste and texture of this sauce brought me back to that kitchen and that feeling of new love.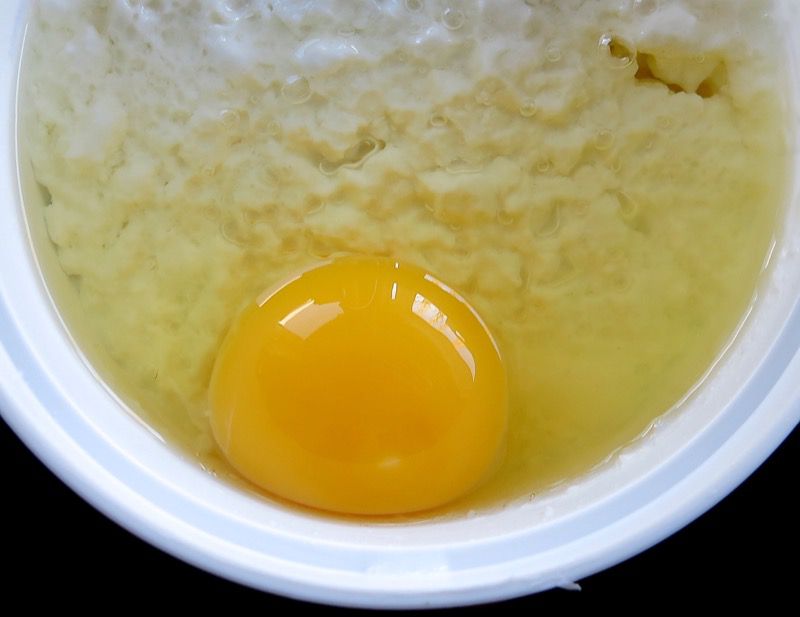 I actually made this recipe while still at home in Edmonton, and thought: this looks like a Bijeljina egg! Ragan bought these from the Callingwood Farmer's Market for me. I always buy my eggs from a farmer, but rarely are the yolks this yellow. Perfect for authentic Bolognese Pasta making.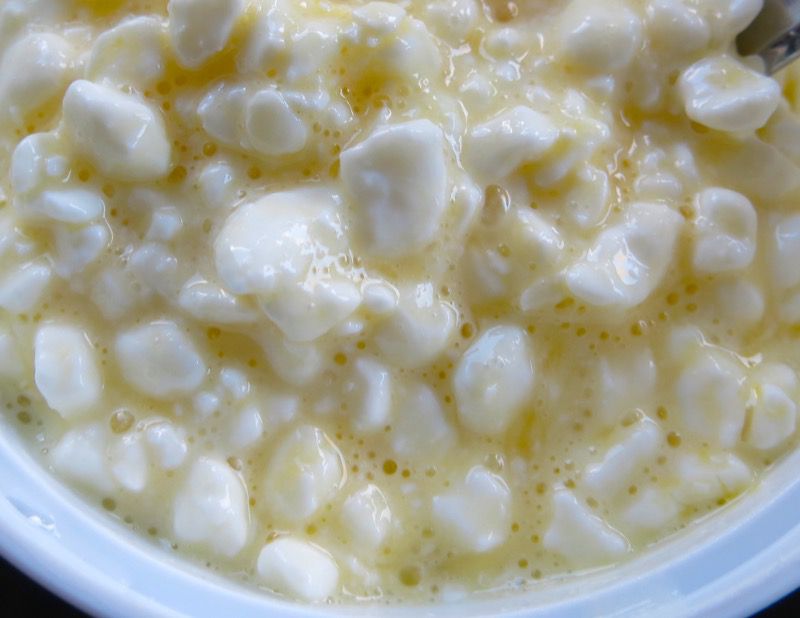 Combining the cream cheese mixture with the cottage cheese sauce creates a delicious concoction that would likely be an incredible bake on its own.
Over the years, I have learned that there can be too much liquid in this recipe and it can be soupy when sliced. I don't care for a soupy lasagna. So, I did adjust the recipe from the original to ensure a clean slice after sitting a good 20 minutes out of the oven.
Seafood Lasagna: Making the Seafood Mushroom-Vermouth Sauce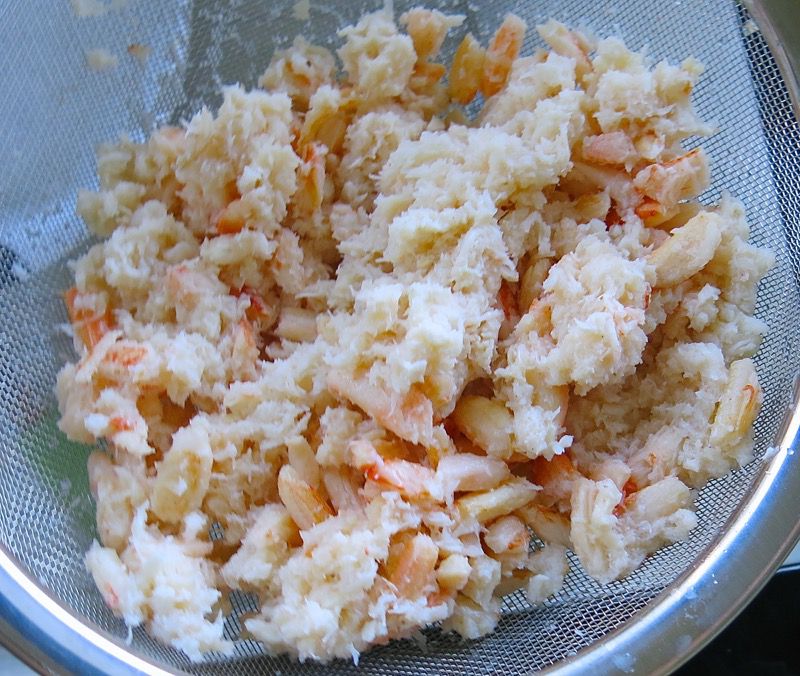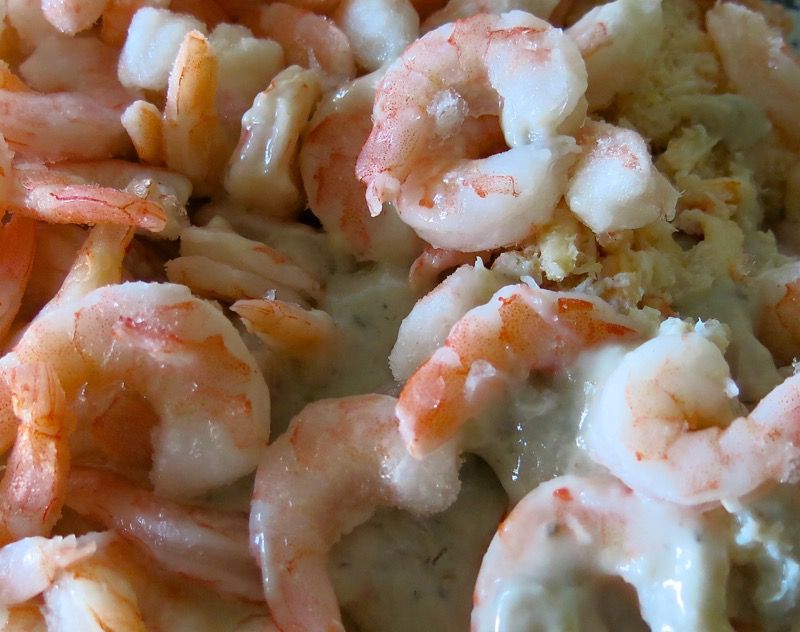 The mushroom soup-vermouth seafood sauce creates the extra liquid which I thicken with flour.
Seafood Lasagna: Putting it all Together
One cannot go wrong adding shrimp and crab to vermouth and mushroom soup, then layering it with pasta and that flavourful double cheese sauce.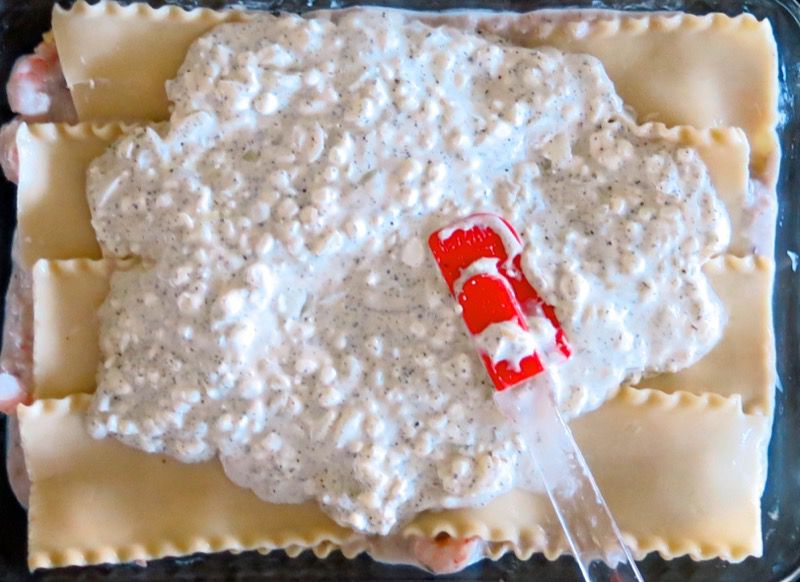 Start with pasta, a layer of the cheese sauce, pasta, a layer of the seafood sauce, pasta, a layer of the cheese sauce, pasta, and finish with a layer of the seafood sauce topped with freshly grated Parmesan Cheese.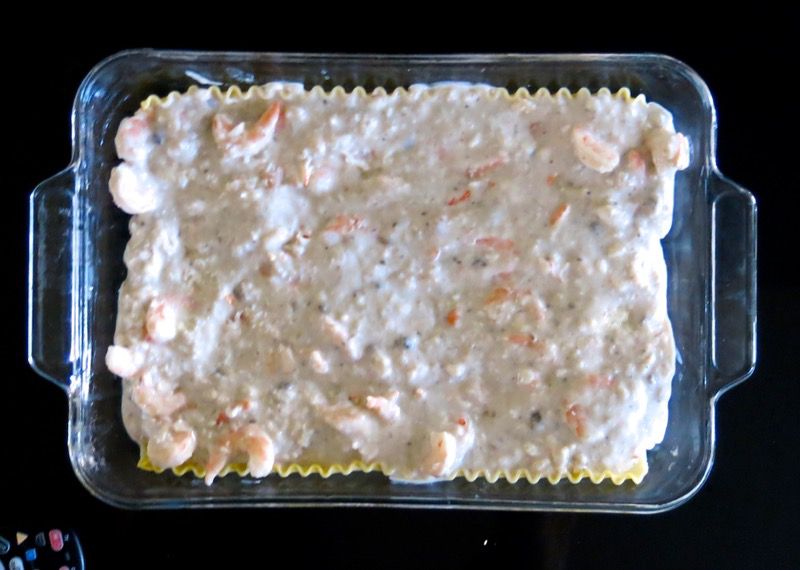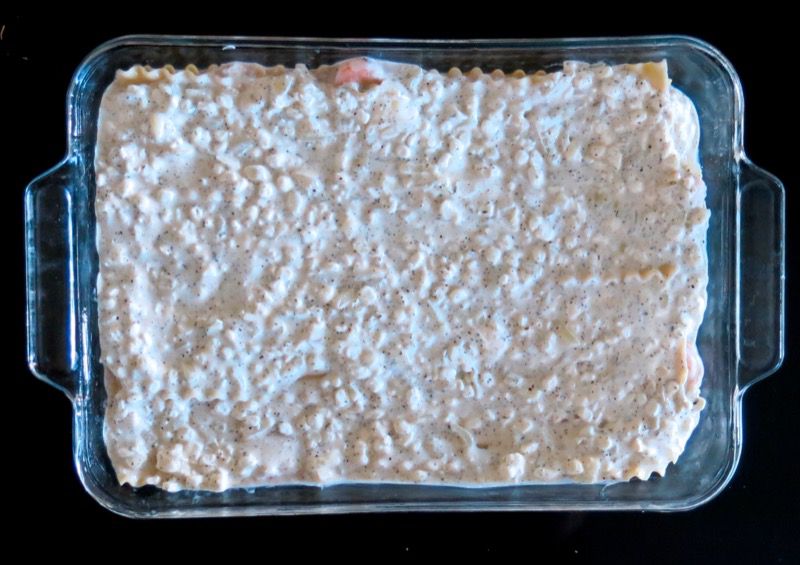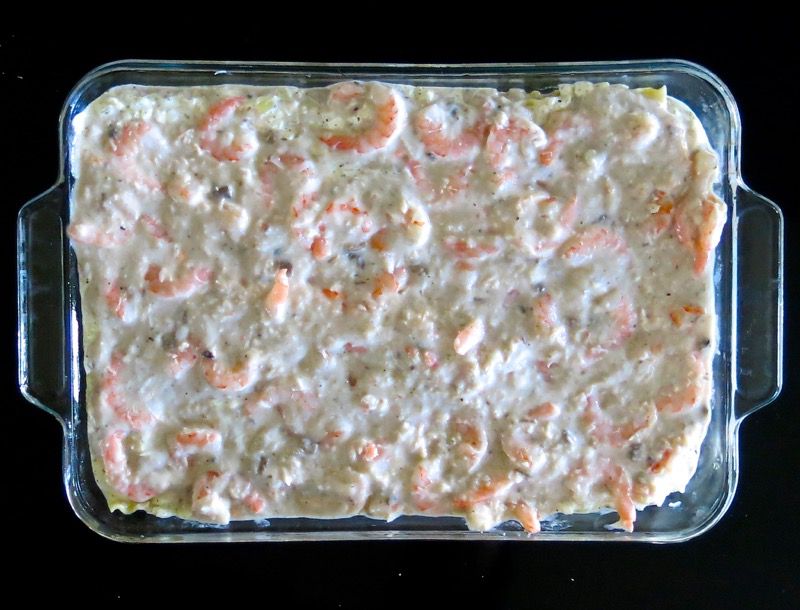 Seafood Lasagna: Baking and Topping
The dish is baked for an hour before topping with the cheese, but watch it, as a little foil over the top may be necessary to avoid extra browning.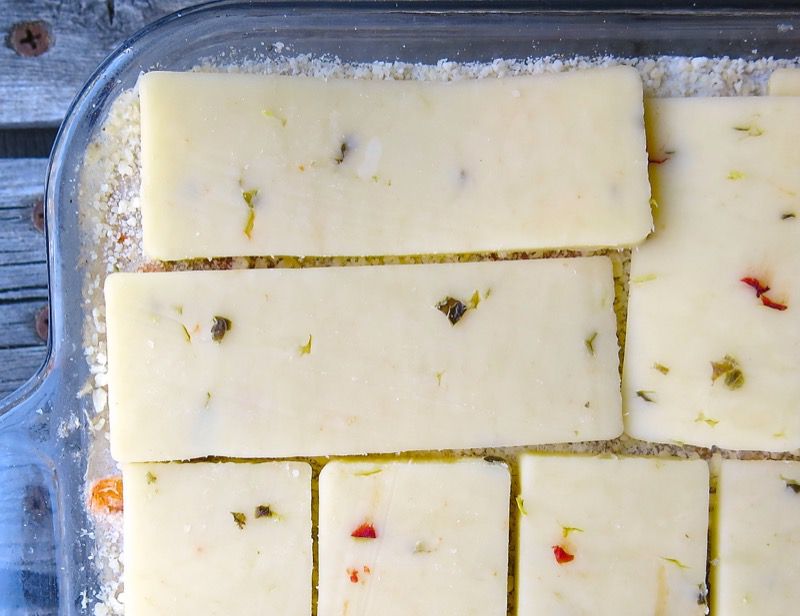 I recall that cheddar cheese was the cheese of choice for the topping in the original recipe. Back in the '70s and 80's we had very little knowledge of cheeses or varieties available. Now, the sky is the limit. I am a Monterey Jack fan for this kind of dish. Hot peppers add a little kick, but it has to be only a little kick, as I am old, and can't handle the heat like I used to. Maybe that's why I stopped making this lasagna. Ha! Ha! Ha! Ha! Ha!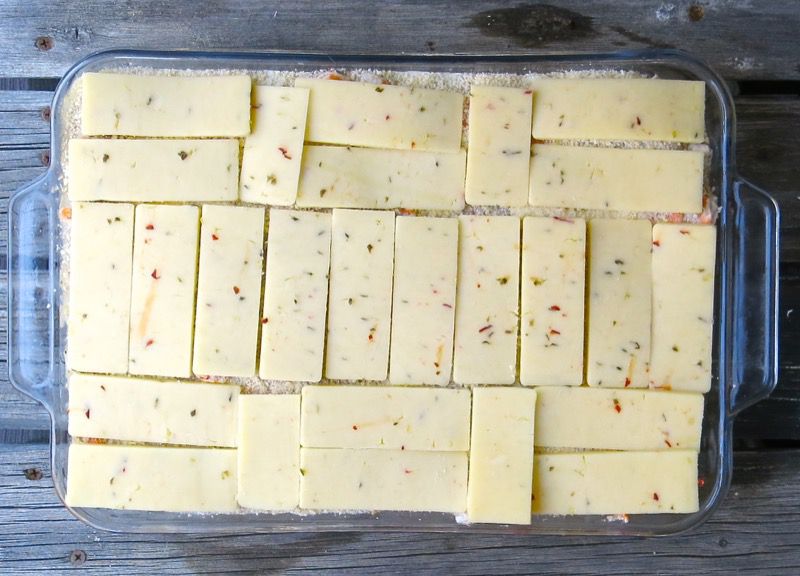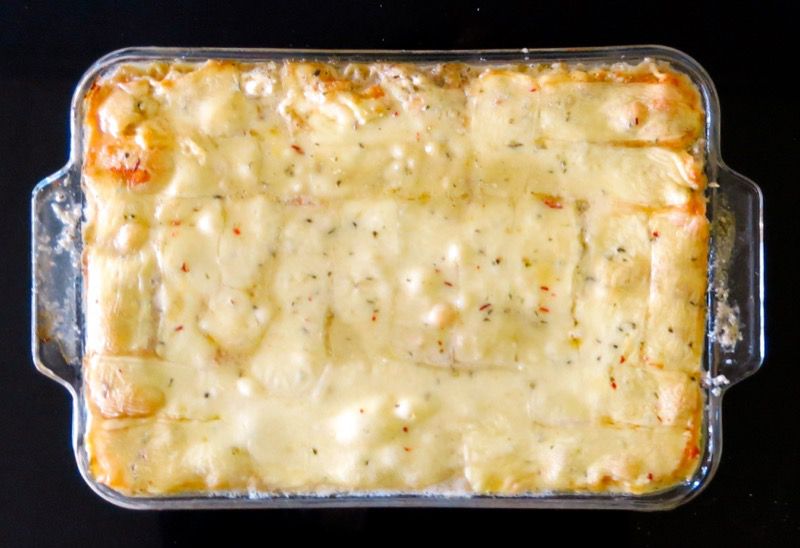 Look at that baby. Oooooh! It would be baking in the oven when he would ring the buzzer to come up to the condo. The aroma would great him and between that and my heavily perfumed and fully made up presence, I am sure which appealed to him more. Don't ever tell me that a woman cannot appeal to the heart of a man through his stomach. It is absolutely the truth and I still swear by it. I get just as much pleasure working at each and every appeal as he does addressing each.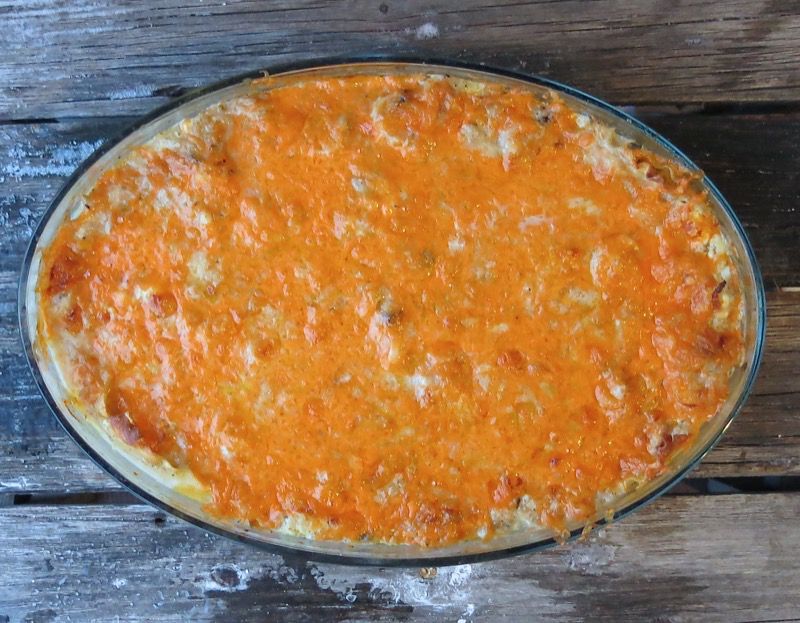 I never make one of anything. One for the family, another for the freezer. I am my mother's daughter, after all.
Seafood Lasagna: Presenting and Enjoying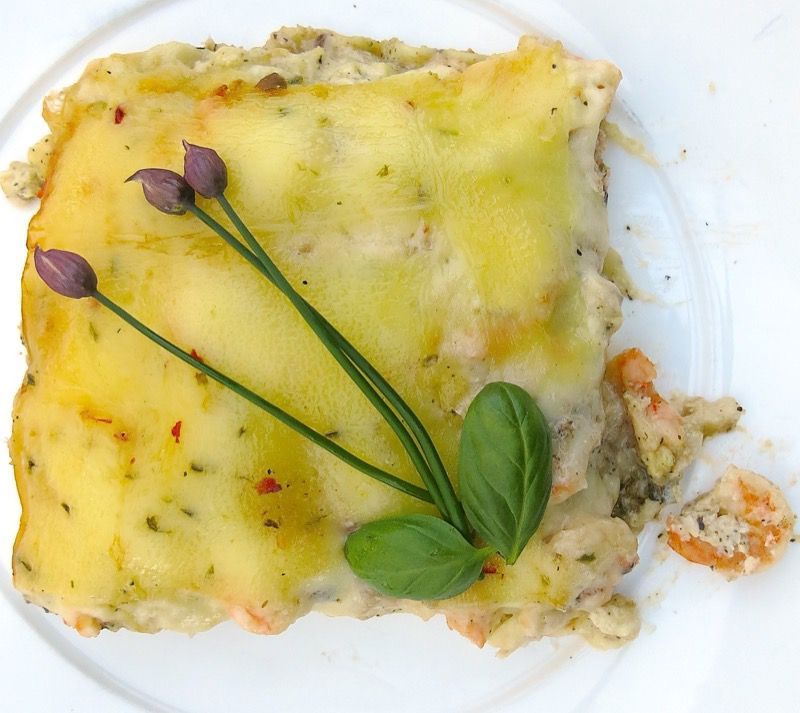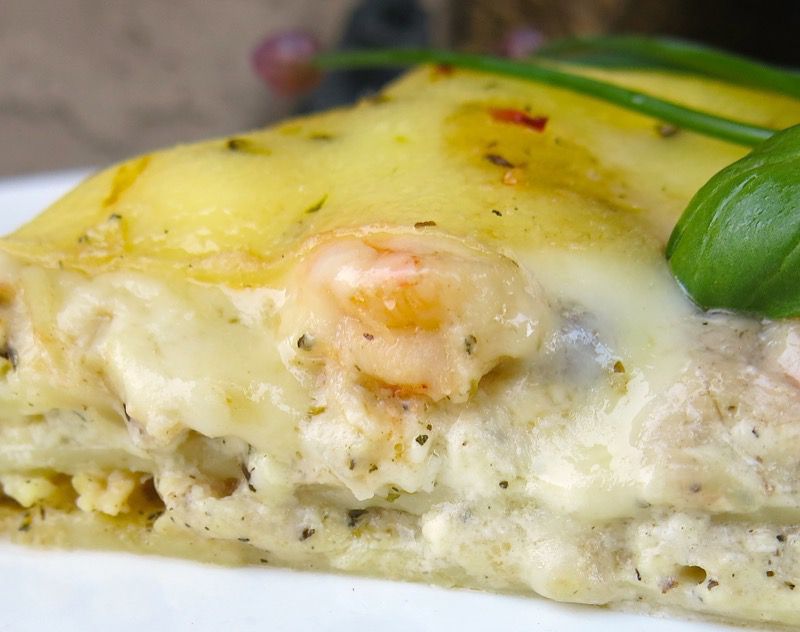 My chive flowers had not opened when this was drawn out of the oven or the allium petals would be dotted over the plate.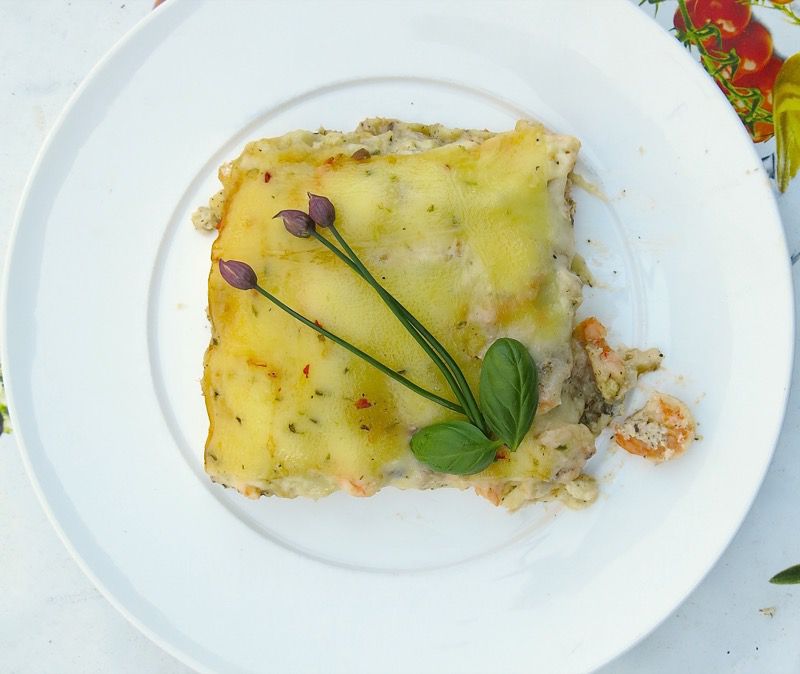 I actually froze both of these dishes at the time I made them in January. I was filling my freezer for my weeks and weeks away. The Cruise at the end of January with mom, the birth of my grandson in February, the launch of the new TM5 Thermomix machine and Thermomix Training in Vancouver then back to Salt Lake City for the blessing of my grandson. So much travelling this year. I like to be at home with my family but much of my family is now in the United States.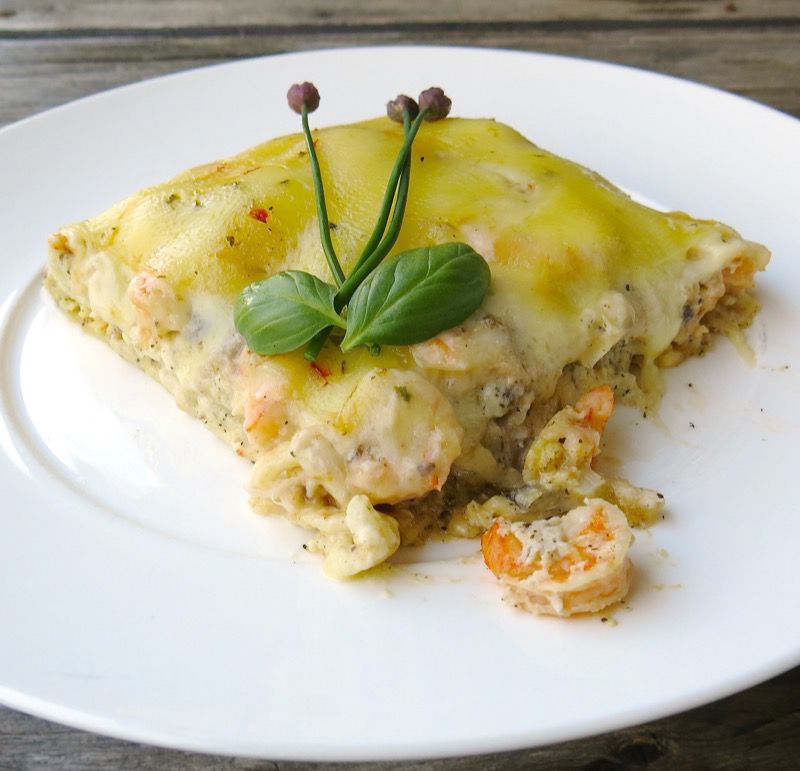 This little lasagna found its way to our Sunday table one day, in between trips, so I actually caught a photo of it on the plate. I was able to witness that light in Vanja's eyes when he is served a meal he really enjoys and I felt that sense of home and pleasure that I have craved and missed these past several months, too much. What makes me happiest is to be at home, with my family, preparing a delicious evening meal, and doing the same on the weekend with friends. Gardening in the summer, and preparing the food I grow is also important to me, and likely why I find such deep pleasure here, in Bijeljina, now filling Petar's freezer while I write. That is the truest pleasure of this present holiday in the Balkans: cooking for the family and my sweet Balkan man.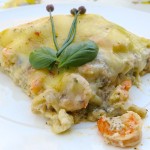 Retro Recipe: Seafood Lasagna (revised December 2018)
This is a very rich, sumptuous once or twice a cold season only kind of dish. Absolutely scrumptious. Great to take to a potluck or to pull out of the freezer as a royal treat on a cold day.
Cook Time
1
hour
15
minutes
Total Time
1
hour
45
minutes
Ingredients
4

layers of lasagna noodles

butter, for preparing casserole dish
Ingredients for Cheese Basil Sauce
1/4

cup

butter

2

cups

chopped onion

2

8

ounce or 250 gram packages cream cheese,

room temperature

4

cups

1 litre 2% Creamed Cottage Cheese

2

large eggs,

beaten

2

tablespoons

dry fragrant basil

freshly ground black pepper
Ingredients for Mushroom Vermouth Seafood Sauce
2

10 oz cans

or 284 mL cream of mushroom soup

(yup, you read this right)

3.5

ounces

or 100 grams Vermouth or white wine

1/2

cup

flour

12

oz

or 400g crabmeat

(4 168 gram cans, well drained)

2

lb

1 kilo shrimp,

deveined, cooked and patted dry

1/3

cup

or 75 grams Parmesan cheese,

grated
Ingredients for Topping
1 1/2

cup

350 grams aged Cheddar Cheese,

grated
Instructions
Instructions for Preparing Noodles
Generously butter bottom and sides of 11x13 inch glass pyrex casserole dish and if using dried pasta noodles, cook as directed on the side of the box; drain well and toss with a little olive oil to avoid sticking while making the remainder of the dish. If using frozen or fresh flat pasta, no need to cook.

Cover prepared bottom of 11x13 inch casserole dish with pasta noodles and pre-heat oven to 350°F if baking (I often make ahead and freeze, then bake another day)
Instructions for Cheese Basil Sauce
Saute onion in butter; add cream cheese, basil, salt and pepper and turn off heat when cream cheese is partially melted continuing to stir until cheese is fully melted via the retained heat of the pan

Meanwhile, in medium bowl, mix eggs into cottage cheese, then add to onion mixture and stir well to fulling incorporate all ingredients (There will be a little over 5 1/2 cups)

Spread half cheese mixture (2 3/4 cups) over first layer of pasta noodles and cover with another layer of noodles

Instructions for Mushroom Vermouth Seafood Sauce
In large bowl place mushroom soup with wine or vermouth and stir well to combine


Strain crabmeat and shrimp to ensure all liquid is dispelled; pat shrimp dry and combine in medium bowl


Add flour to crab/shrimp mixture, stir to combine, then add to larger bowl with mushroom/vermouth and mix together
Instructions for Putting it all Together
Place half seafood mixture (about 2 1/2 cups) over the second layer of pasta noodles and spread to cover evenly

Repeat layers, starting with noodles and ending with seafood


Sprinkle top with Parmesan and bake or freeze

Instructions for Baking
Leave uncovered, bake at 350°F for 75 minutes, checking every 30 minutes and cover with foil to avoid over-browning, if necessary

After 60 minutes in the oven, add cheddar cheese to cover casserole; bake remaining 15 minutes until melted

Remove from oven and rest 20 to 30 minutes to enable slicing without oozing, lightly tented with foil

Slice into generous slabs, serve with a crisp green salad and enjoy!
Instructions for Freezing
Wrap well with plastic wrap, cover with foil and freeze, clearly dated and labelled

Also freezes well sliced and well wrapped in individual portions, after baked
Recipe Notes
This was one of dad's favourite meals.
I always make two. One for the day I make it and one for the freezer. I have added a bag of scallops split between the two recipes, so likely 300 grams of scallops at the most added to each dish, well drained and patted dry. A delicious addition.