Petar's Smokehouse Kitchen: May to October, every year
Turn up your volume and choose the full screen option to optimize your viewing experience.
Take the 7 minutes to watch the above video. It will open your eyes into the life of the Balkan "middle class" in the countryside, and towns and villages throughout the former Yugoslavia. More images of cooking in the smokehouse kitchen in Cooking After the Flood.
We just returned home from our #Europe2016V&V trip night before last. I worry, that like with every trip since 2007, I will not get all of my articles published. This trip is a repeat of some places, so I am calling upon my "trip image data base" from 2007 or 2011 to assist as I reference past trips. That database is a great resource, actually. We had just arrived in Antwerp last post, and I have several articles about Antwerp, Ghent, Bruges, Zermatt and Venice to write, but as we just returned from 10 days in Bijeljina with Vanja's dad, and the experience is so raw, and fresh, I want to take a minute to reflect upon that experience and starting with the Smokehouse Kitchen seemed like a good fit.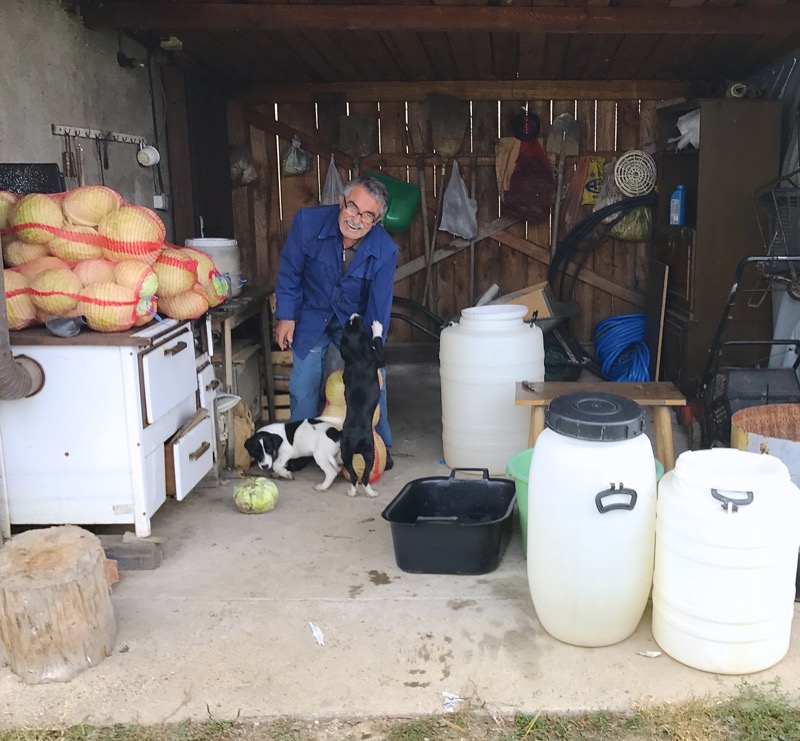 It was really an unsettling stay for me this year. Petar is lonely, sad, and so alone since Pava's death in 2014. Yes, he has a son, Igor, in Belgrade, but that is still 2 hours away. Daily, Vanja calls him, but there are days and days and days go by that he tells us he physically sees or talks to no one. As well, his home that we completely refurbished and refurnished after the flood May 2014 is just too much for him to keep up. It is no longer the warm, bustling, sweet smelling love nest created by Pava. It lacks that sense of family that he misses.
Last year, I left many dishes in his freezer: meat balls, Bolognese sauce, Lasagna, Goulash, Burek, and more. I also cooked much heartier meals and every dish was prepared in the Smokehouse Kitchen. He ate them all! This year, I left him with his favourites: Meat sauce and lasagna. Lots of each, but I wanted to make so much more for him. However, Vanja insisted that was enough and Petar only asked for those two.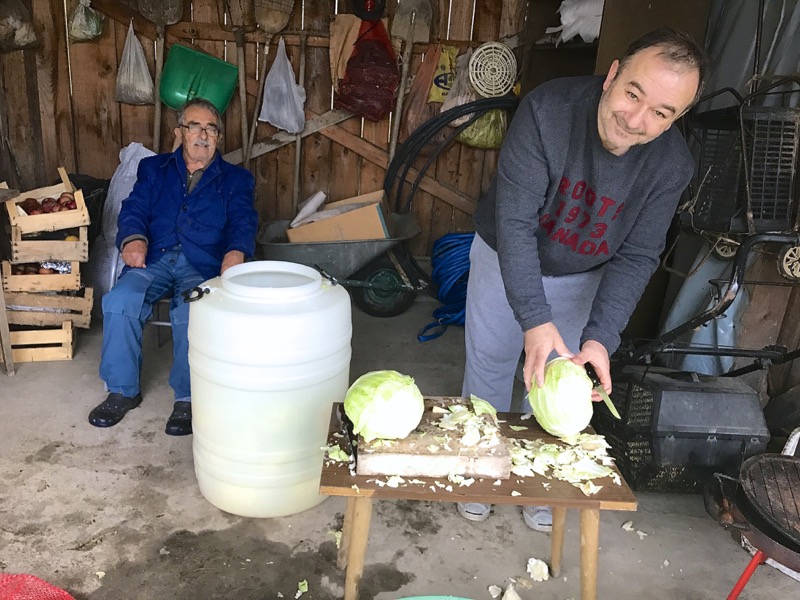 It is hard for me to be there. I am not sure I can go back. I love him. He lived through Pava's death, though I couldn't imagine that happening. He lived through the flood where he lost almost everything only three months after. He works so hard every day, though it is not necessary. He filled two of the huge plastic bins, above, with whole cabbages to sour. I wanted to write about it, and he knew that, but he kept forgetting to call me so I could photograph each of the steps he was taking. The same thing happened last year, so I still haven't got the entire process documented. While it isn't "hard" to make sour cabbage, it takes time, strength and muscle power to push and squeeze them tightly into each container to ensure proper fermenting. Very difficult to do on his own at his age, but he usually does exactly that kind of work on his own, daily. He doesn't have to work as hard as he does. But, it is what he knows to do and there is nothing else for him to do, but sit, and he does enough of that.
Every fall, he sours cabbage, so… every fall, he sours cabbage. Whether he needs it or not. Whether he eats it, or not. It is what he does. He is driven. As my mother is driven to preserve, at 87 year, every fall. No one eats all of the jams and jellies, but she makes them. Every year. It is what she has done all of her life.
Thus, while it was wonderful beyond words to see Vanja's dad, to cook for him in the Smokehouse Kitchen, to be with him, to hug him and to kiss him, it was so sad to leave him, yet again.
But that is exactly where he wants to be. He will consider no where else, for now.
I just ate Petar's homemade ajvar recently made and sent home with us with some fresh young cheese (mladi sir) remembering the summers on the outside table under their porch roof and the many, many happy and abundant family meals shared there: heaping mixed meat platters, Vanja's special meal, Chicken soup and Roast Pig, Goulash, Smoked Meat and usually, more meat. All made in the Smokehouse Kitchen or on the outside grill. I ate my ajvar with mladi sir, and savored and cherished every single meal for the past several years I have visited there.
Cooking in the Smokehouse Kitchen is my joy when I am there. It is my pleasure, my refuge, my purpose and my little corner of peace. Nothing makes me happier than feeding Vanja's dad while I am there. Oh, he does love to eat!
I would love our own Smokehouse and Smokehouse Kitchen, here. I have said that so many times. I do have an outdoor sink. Vanja just laughs.