Tiramisu Ice Cream: Rich, Decadent, Irresistible and so SIMPLE to make!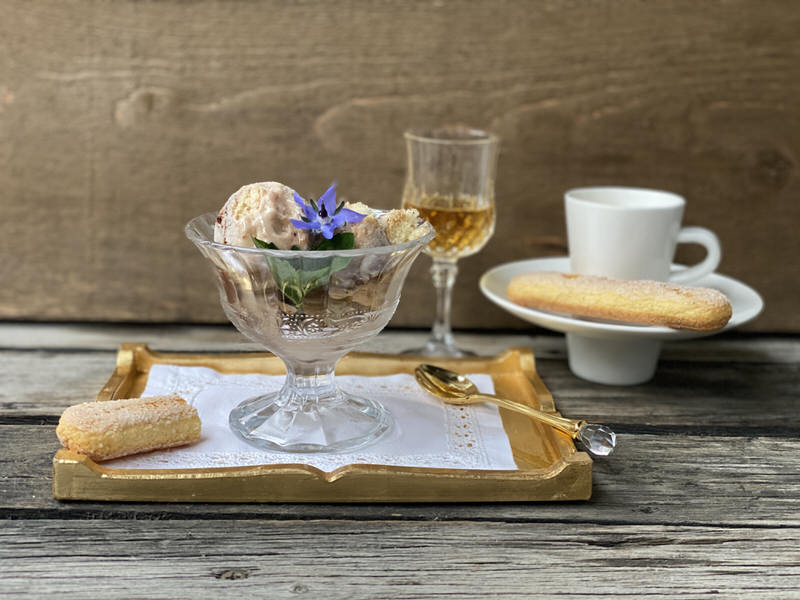 Tiramisu Ice Cream! I saw it for the first time my third trip to Sienna, at the Gelato Shop on the corner of the oval or "square" where the Palio di Siena is held. If you have been there, there are a couple of Gelato shops on the round, but this one is the most popular. I had the pistachio as I can never resist it. But, I tasted the Tiramisu, and have never forgotten that moment. I planned to come back, but I never did. That Tiramisu Ice Cream was unforgettable, and this Tiramisu Ice Cream is even better. Seriously.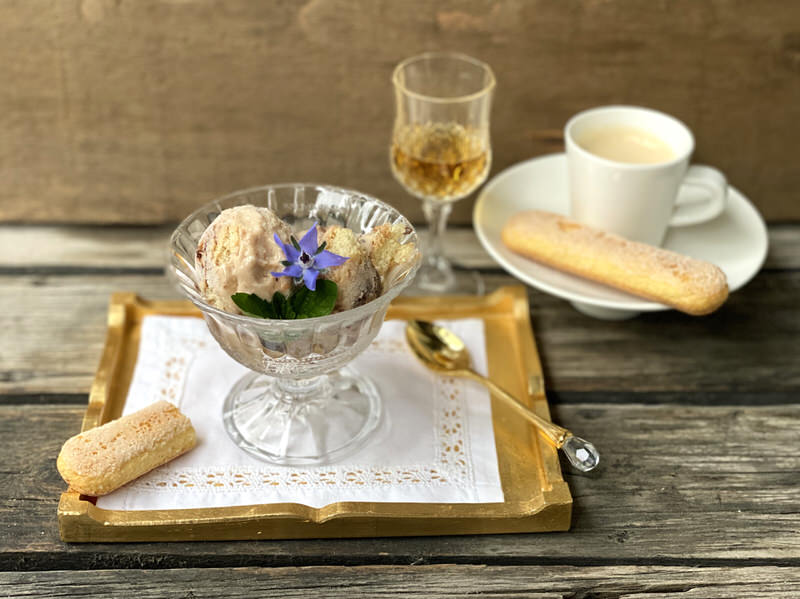 Isn't everyone crazy over Tiramisu? Am I right? Do you know anyone who doesn't care for it? Anyone who doesn't love it? I don't. Tiramisu is one of Vanja's all-time favourite desserts and whenever I make it for him, it lasts about two days. Maybe three. No more.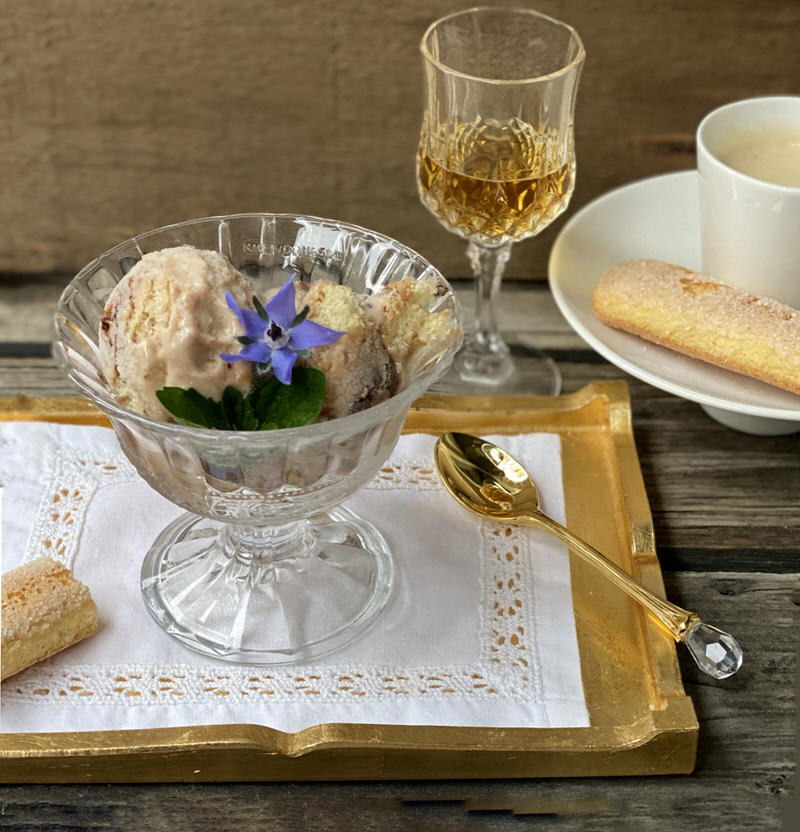 There is a very good recipe on Cookidoo® for Tiramisu that I have made several times. It calls for so much more sugar, but it is very tasty and received well by all. If you have never made Tiramisu before and own a Thermomix, definitely make that recipe. Otherwise, I believe mine is the more traditional recipe.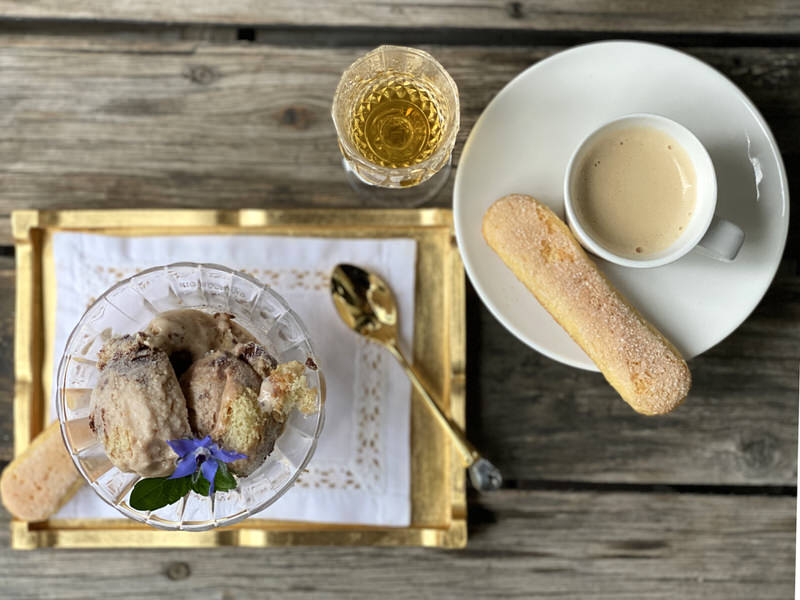 This is not just ice cream. It is an experience.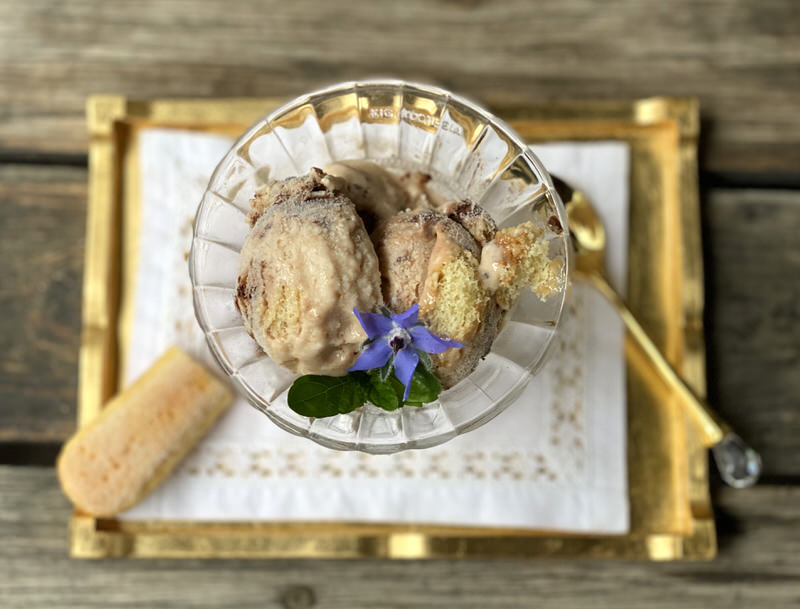 Ice cream is an absolute weakness of mine. I cannot resist. I am an ice cream aficionado. I am an ice cream connoisseur. I am also an ice cream glutton though I constantly work on that.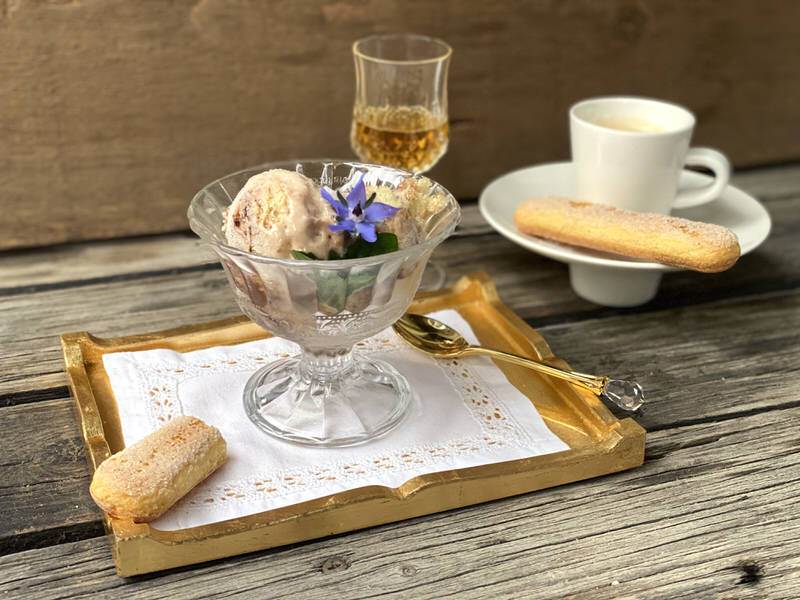 The swirl in this custard is a combination of bitter cocoa and espresso which is the perfect complement to the silken lush and lavish mascarpone cream.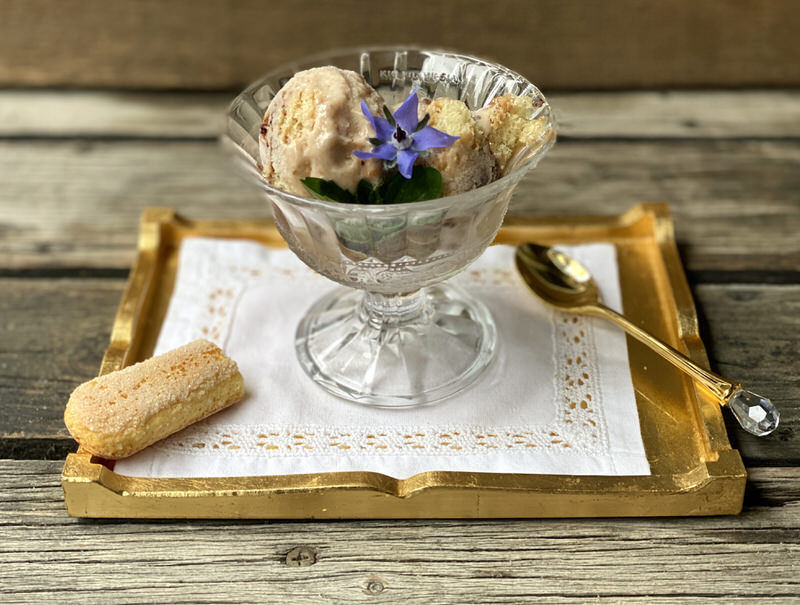 The ladyfingers marry the two worlds and interest and add depth of texture to the dish.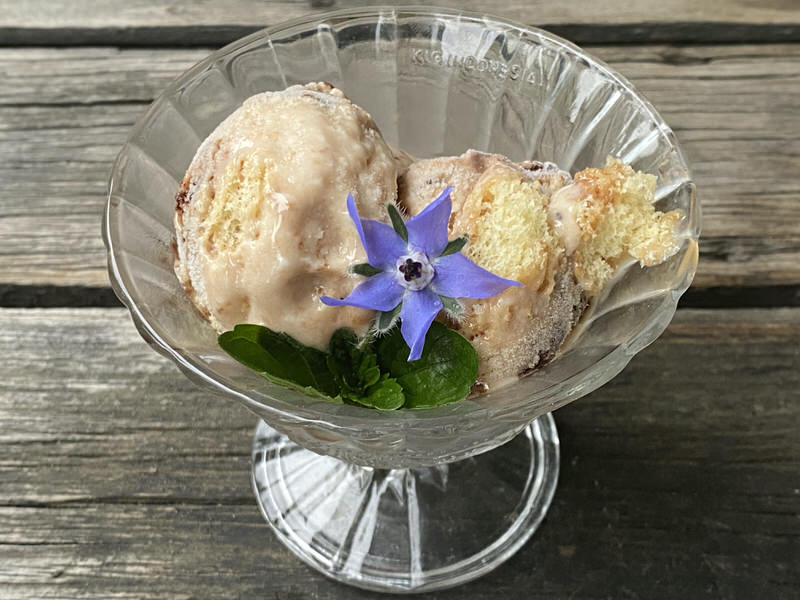 This is an ice cream that commands your attention. It is impossible to slurp and lick and lap it down absent-mindedly while engaging in something else. Your full attention will be on this experience. Once on your tongue, you will be mezmerized.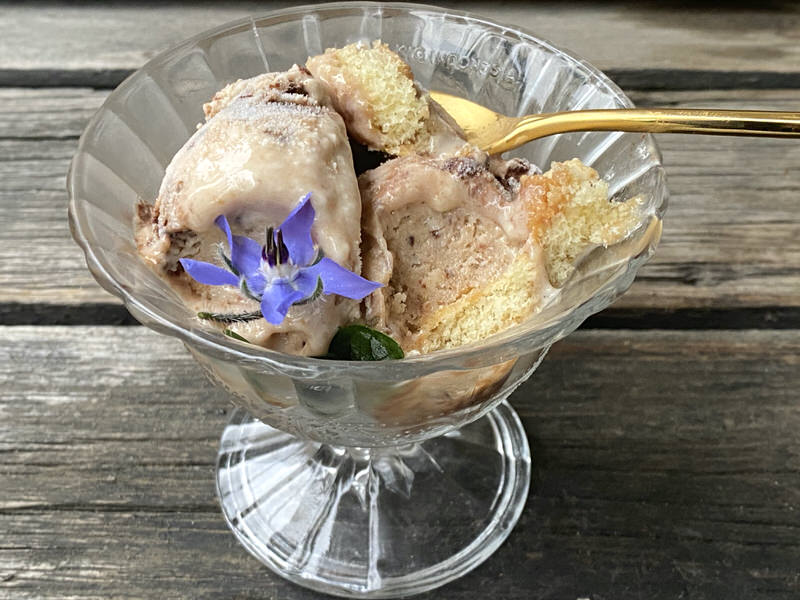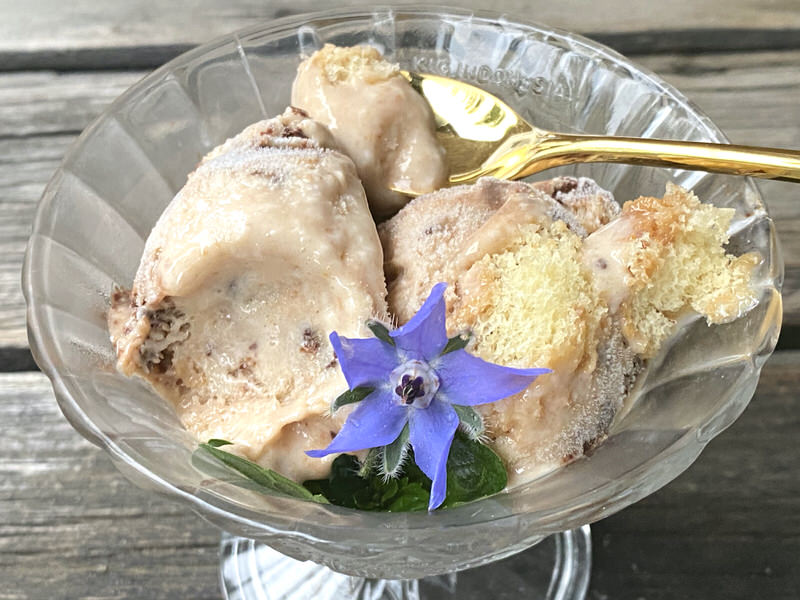 A wisp of mint and a delicate Borage flower garnish the otherwise non-descript and possibly misleading appearance of this Tiramisu ice cream. it is not a chocolate swirl vanilla or a caramel swirl. It is a grand finale. It is a command performance. It is bold, cold and beautiful. It is Tiramisu Ice Cream. Welcome to our world: a new family favourite.
Tiramisu Ice Cream: Espresso Chocolate Swirl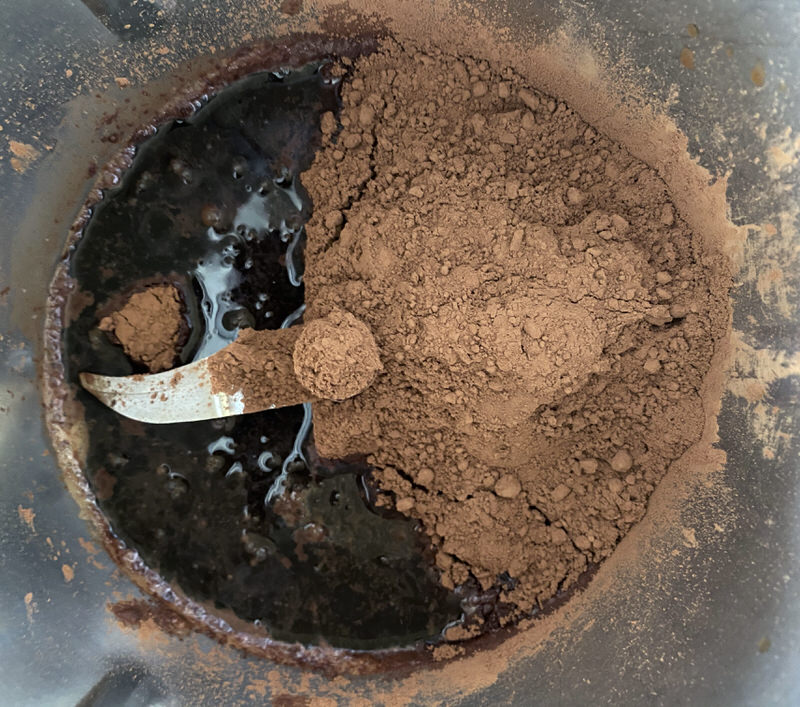 Simple ingredients. I was not expecting these ingredients to have such an incredible impact on the flavour of the Mascarpone Cream. This variegation is the exclamation mark. After combined well, it thickens beautifully to a very easy to incorporate viscosity.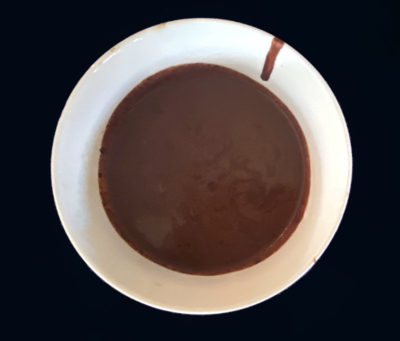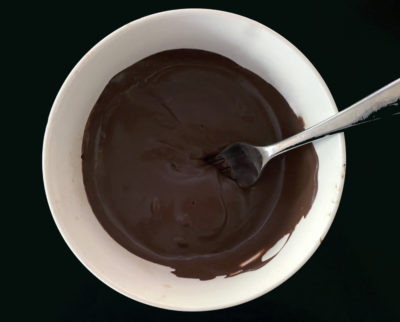 The colour deepens. Are you able to see how it has thickened, above, right?
Tiramisu Ice Cream: Making the Mascarpone Cream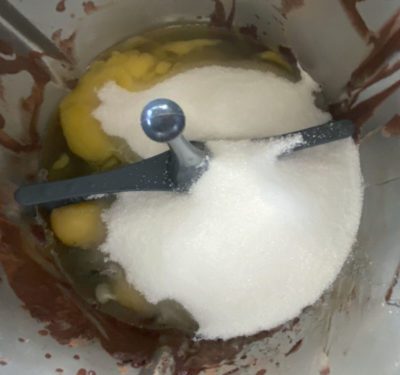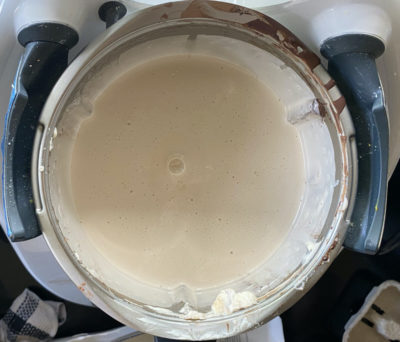 No need to wash the bowl. Eggs and sugar go in for a considerable time til thick and fluffy.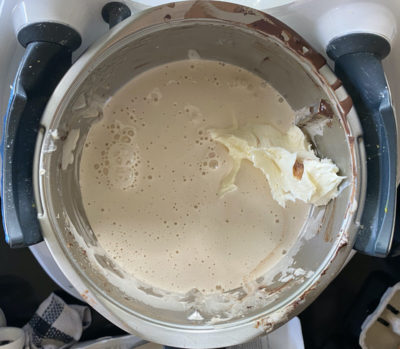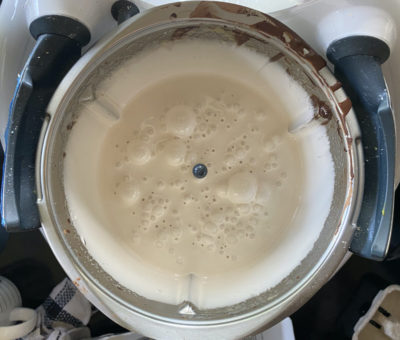 Mascarpone incorporated until silky-smooth….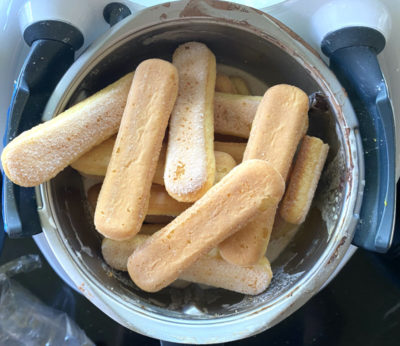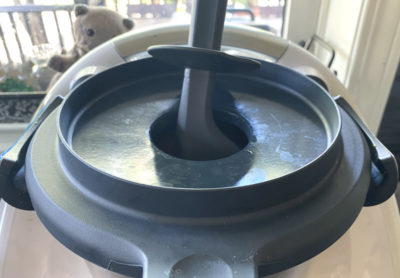 Then ladyfingers go in, all at once, and with the spatula inserted through the hole in the lid of the bowl, gently guide the ladyfingers to the blade – not to crush – but to gently combine.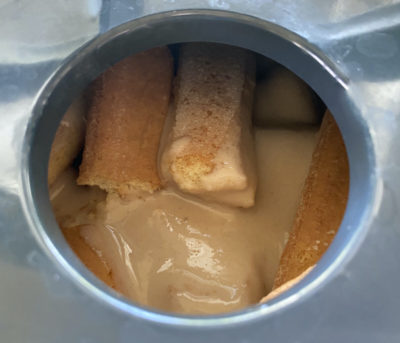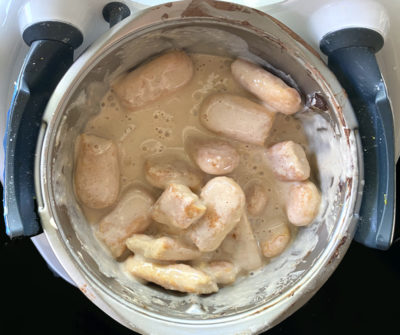 They will be in lovely chunks when the recipe is complete.
Tiramisu Ice Cream: Putting it all Together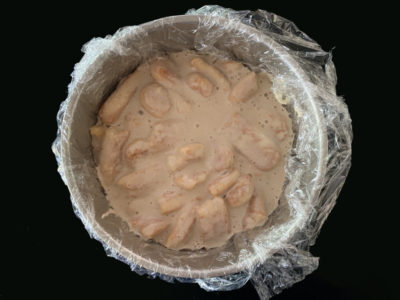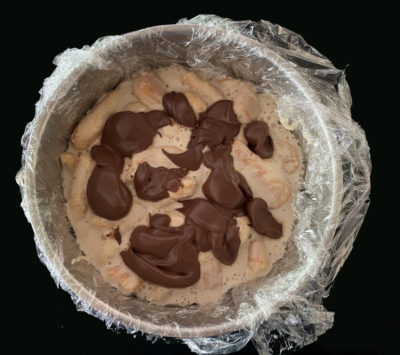 Half of the Mascarpone Cream goes into the 2-litre bowl topped by half of the Chocolate Espresso Swirl.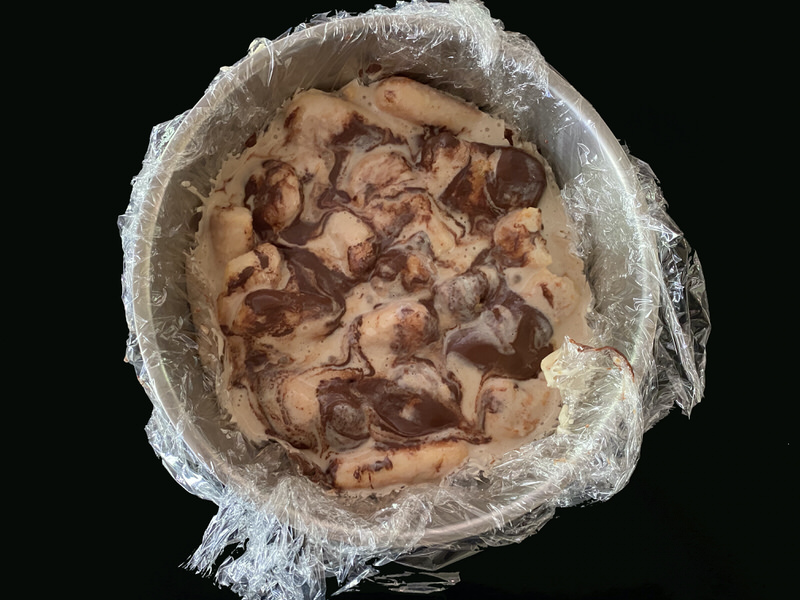 Gently "swirl" in the Chocolate Espresso mixture to create a variegation.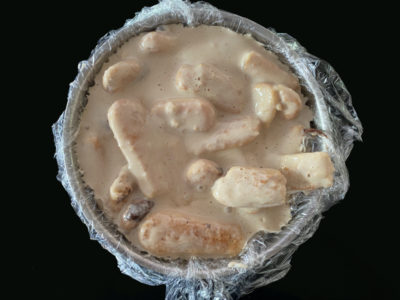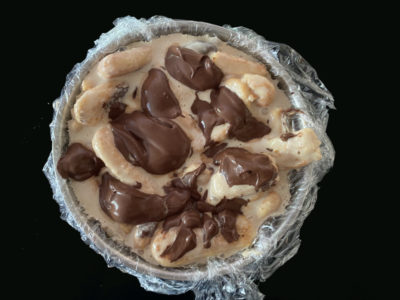 Add the remaining Mascarpone Cream and the remaining Chocolate Espresso Swirl on top…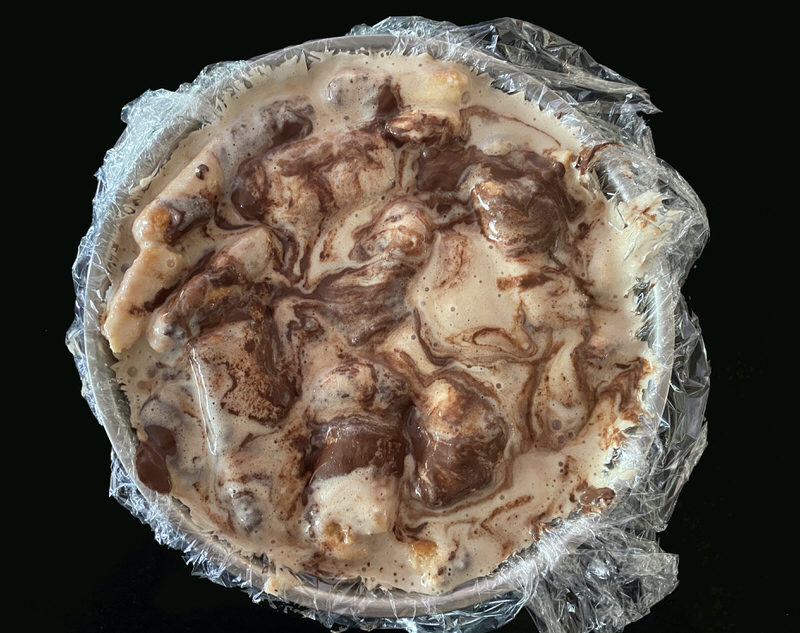 … and again, gently swirl to create variegation.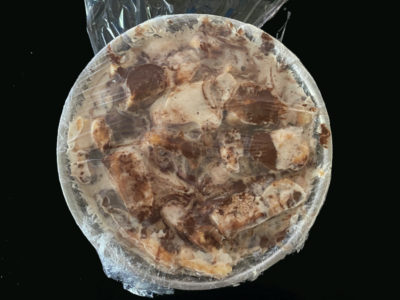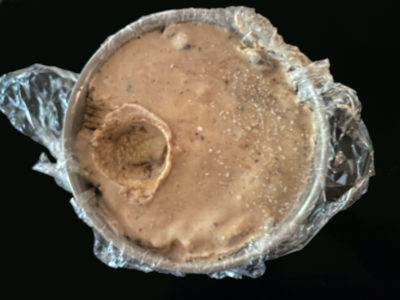 Cover tightly. Place lid on top. Freeze for 12 hours – no peeking! Then remove from fridge 15-20 minutes prior to service to enable scooping.
Tiramisu Ice Cream: Serving it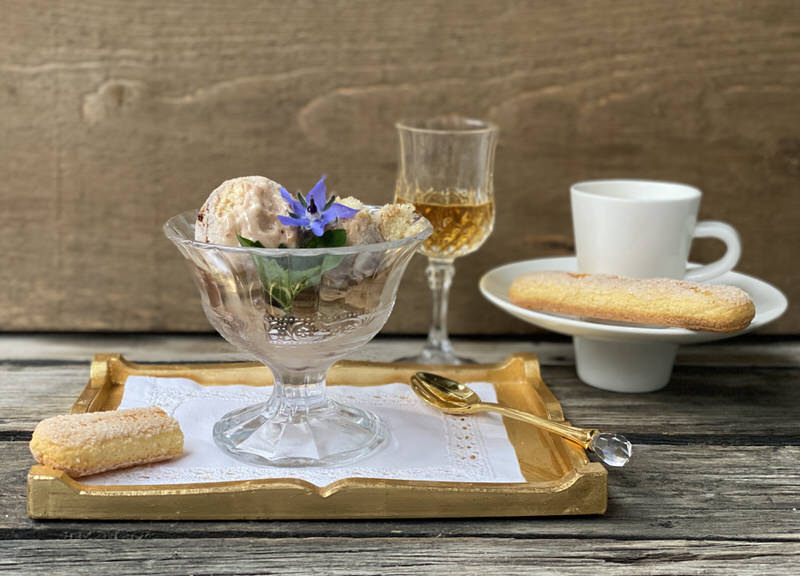 Prepare for this moment. Don't just "let it happen". Do you have a pretty dish? Treat yourself. You can get ones similar to mine at the Dollar Store. Garnish with mint and an edible flower from the garden… or just mint… or just an edible flower. Have a deeply dark, rich and robust steamy espresso ready to serve alongside to contrast the frozen titillation. And don't forget the libation. Oh, please do not. Chase the milky silken magic with the Grand Marnier. Just a tickle. Not much… and follow with a sip of espresso. Are you feeling it? Not the alcohol. The mood. The moment. The magic. The possibilities. That's where this recipe experience will take you: to anther realm.
And you are the Master of that Ship.
Let me know if you make it. Let me know if you love it as I do. Let me know what you think!
AFTERWORD: If you make this recipe, make sure to read the notes at the end of the recipe.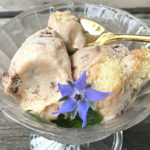 Tiramisu Ice Cream
Tiramisu Ice Cream made in Thermomix® (or without) is a very upscale fine-dining luxurious recipe for an unforgettable "company's coming dinner" on a warm Summer Eve.
Total Time
12
hours
30
minutes
Ingredients
Ingredients for the Chocolate Espresso Swirl
160

grams

strong Espresso, room temperature

25

grams

Grand Marnier

(Rum or other favourite liqueur)

60

grams

dark Cocoa Powder

(I used Fry's)
Ingredients for Mascarpone Cream
8

large

know-your-farmer eggs

300

grams

granulated sugar

500

grams

Mascarpone

160

grams

Lady Fingers
Instructions
Instructions for the Chocolate Espresso Swirl
Make the strong espresso and set aside to cool

Place espresso, rum and cocoa into mixing bowl and mix to combine for 30 seconds at speed 2

Transfer to a small bowl and set aside
Instructions for Mascarpone Cream
Cover inside of a 2-litre serving bowl with plastic wrap (2.2 Liter insulated Thermomix Serving Bowl is perfect) and place in freezer to chill (this will aid in the freezing and curing of the ice-cream, later)

Insert butterfly whisk into mixing bowl, add eggs and sugar and whisk 10 minutes at speed 4

Remove butterfly whisk and add mascarpone and mix for30 seconds at speed 3 (use spatula to move ingredients from bottom of bowl around blade and mix for another 30 seconds from speed 3-4 until ingredients are creamy and smooth throughout

Add Lady Fingers and mix for 15 seconds on reverse speed 2 with spatula inserted through hole in lid of bowl to ensure ingredients stay near the blade

Pour half of the cream mixture into the prepared and chilled 2-litre container

Distribute half the "set-aside swirl mixture" over the cream and mix gently with a spoon to create a variegated effect

Pour remaining cream into the bowl and drizzle remaining swirl in a decorative fashion over the cream and gently swirl it to create a variegated effect

Seal the container with a lid and wrap tightly for freezer, then freeze for at least 10-12 hours (no peeking)

Remove the pan from the freezer 15-20 minutes before serving to enable easier scooping
Recipe Notes
Now that we have made this recipe a few times, the best advice is in the recipe proper - and I prefer fewer ladyfingers. They are denser than the lightly whipped mascarpone cream, and though both are blended together and layered in the container together, the ladyfingers do sink when freezing.
If you use a flatter container that will solve the problem as there will be more of an equal distribution of ingredients, but with a double batch and the perfect 2.2 liter serving bowl to fill with this recipe, the ladyfingers tend to sink and when the top of the bowl is eaten, the bottom of the container is notably more "biscuity" and "less creamy". 
Like setting a jello with suspended ingredients, I could go in at 6 hours and move things around, but that would affect the swirl albeit not likely too dramatically. I haven't tried this yet. But, I believe it is a very good solution.
The better solution seems to be less ladyfingers. How many less? Hmmm. I think I will try about 1/3 less first go round and add 110 grams ladyfingers. I'll let you know how it goes. I was just compelled to write an AFTERWORD in the notes section of this recipe as we love this recipe but the density of the ladyfingers in the bottom needs to be resolved for me. Others in the family disagree. So, there you have it. Let us know how it goes! 
SO worth it!