Hummingbird Cupcakes for Amy and Heidi Marie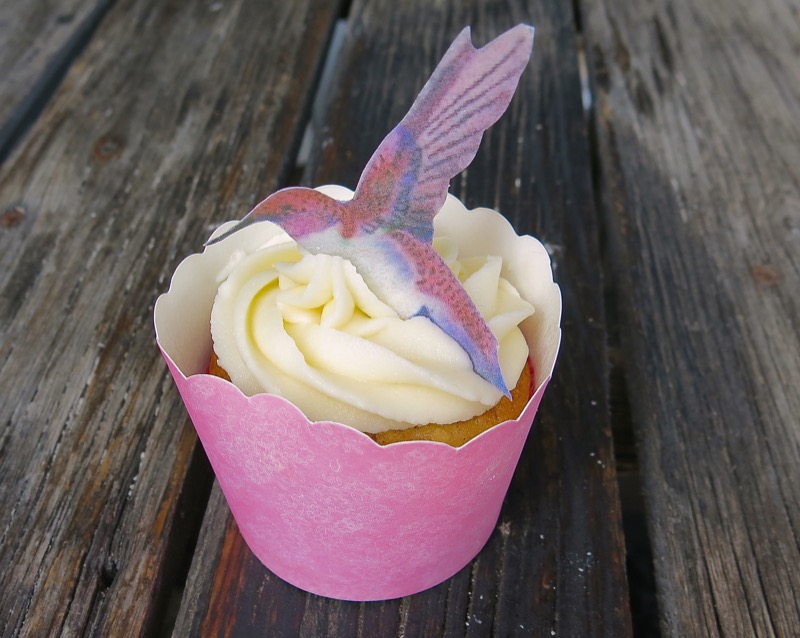 I have said it before. I like to do things in twos or threes. For the baby shower I am hosting for Amy to celebrate the birth of her first child, Heidi Marie, I had the savory buffet down pat. It is the dessert buffet that will be the razzle dazzle of the party: pink and pretty, and most definitely plenty of goodies to also take home in a little treat bag. It would include: a candy bar corner (with a few homemade treats like cake pops), three homemade ice creams, two different homemade cookies, one feature homemade cake (Mom's famous homemade Angel Food Cake) and two different homemade cupcakes. I have always wanted to make a Hummingbird Cake since I was in London and visited the Hummingbird Bakery on Portobello Street in 2010. Now is the time. Hummingbird Cupcakes it is!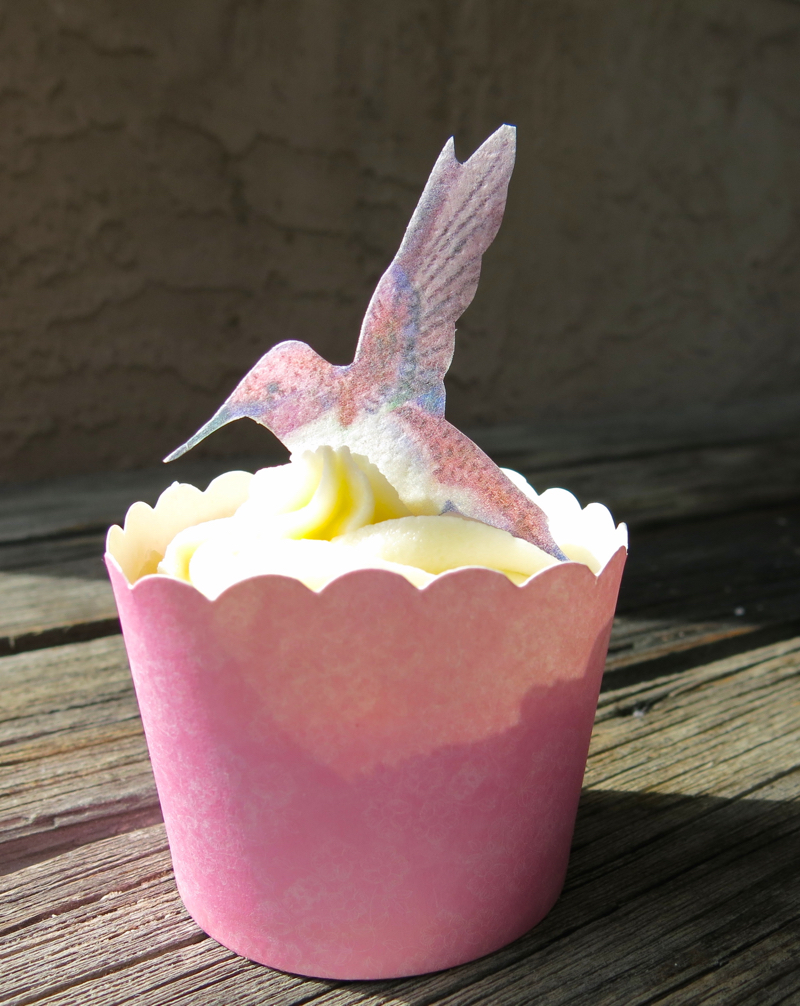 As the iconic London bakery is named "Hummingbird", for that reason, I had thought the Hummingbird Cake had hailed from there. It does not. Not only that, they don't even sell it there, apparently. Somehow, I "recalled" seeing it there. The Hummingbird Bakery was founded in 2004 to offer the city American Bakery treats.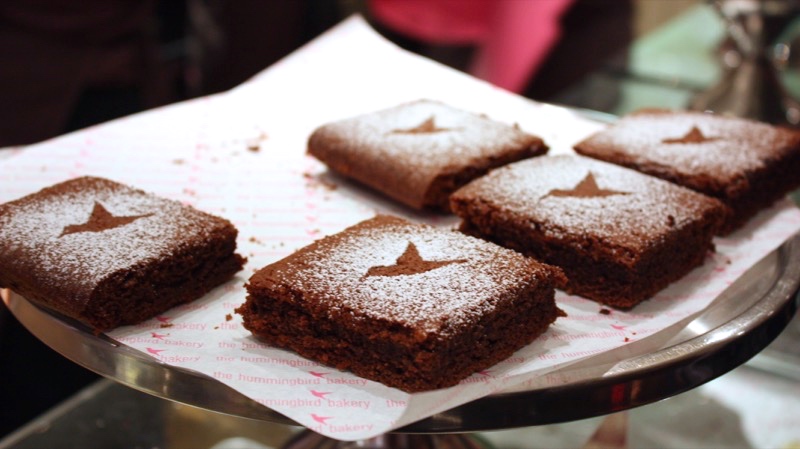 I have searched my files for those photos, and didn't find one of the cake, but did find the lovely brownies, above, from my archives. However, this was the time of "the Red Velvet Cupcake Craze" we likely all remember well. I ordered a red velvet cupcake while there, and the same year when we were in New York, ordered another from the Magnolia Bakery which theoretically made them famous. Meh? I do recall thinking, what is all the hype about?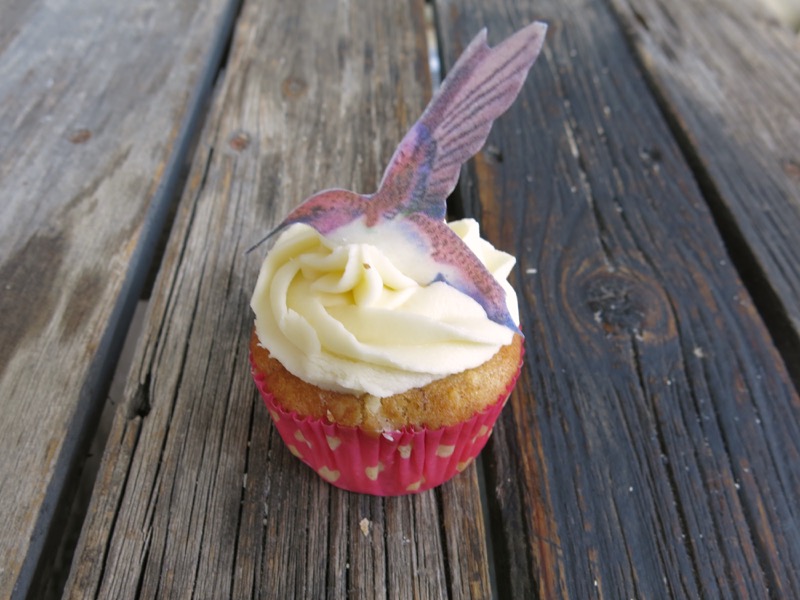 Yet, there was something elusive about the Hummingbird Cake that stayed within me and on my internal "must make" list. I recall seeing an entire small Hummingbird Cake on a pedestal in The Magnolia Bakery and the little cake was magical and somehow, ethereal. I recall the bliss and fervor related to my memory and the depth of my desire: to make it, taste it, see it, know it, understand it.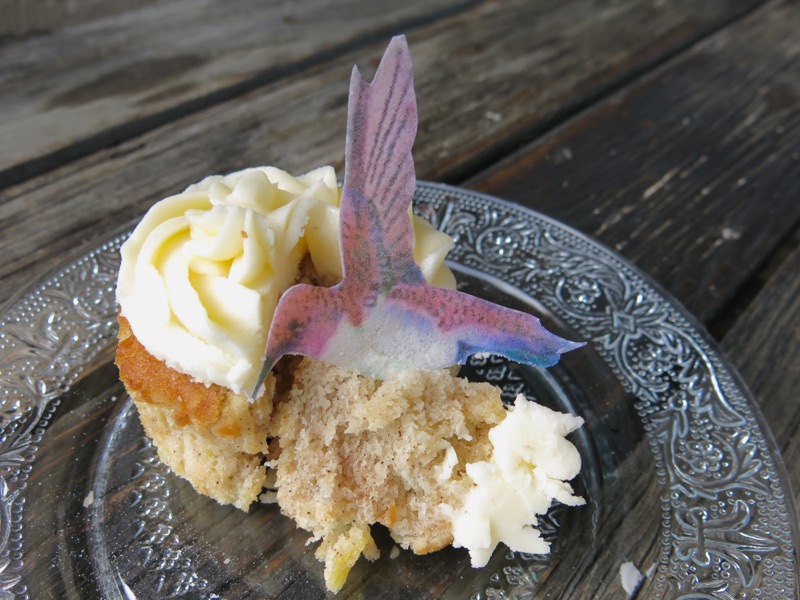 Now was the time. And, I do believe I found the perfect little toppers for such an iconic sweet. Do you agree?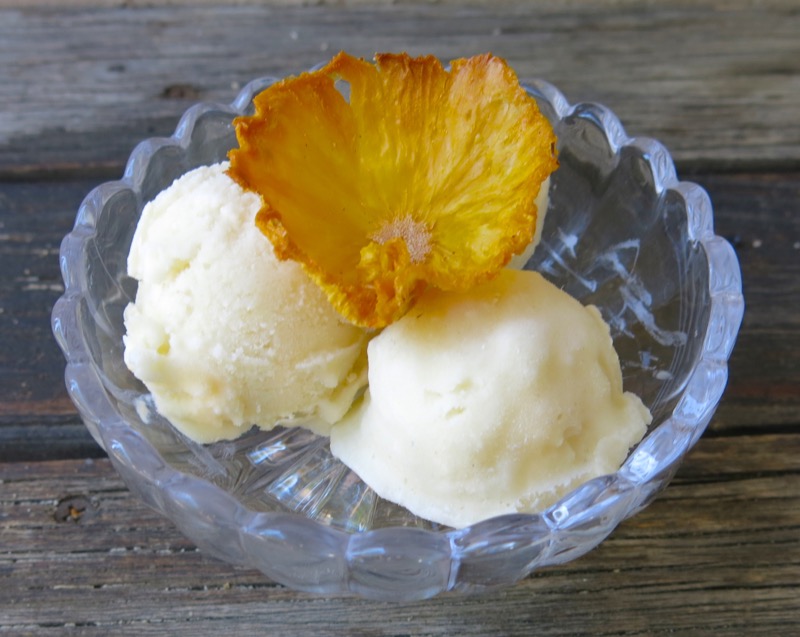 First, I learned how to make Pineapple Flowers to top these little cakes and used the also as a garnish for the Pina Colada Frozen Yogurt: spectacular! And I did top some of the Hummingbird Cupcakes with these flowers, but most were topped with the edible translucent pink empyreal bird. How I love Etsy. I found them there through the company called Sugar Robot.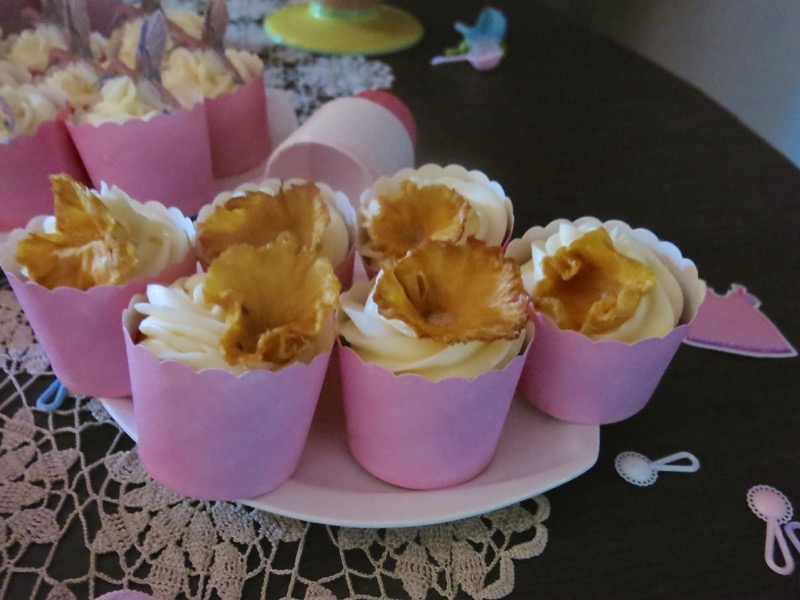 I did not expect a muffin or coffee cake type of tropical fruit spice cake. Or, some might compare it to a carrot cake in density and moistness. Flavour is definitely tropical, but the texture much lighter than some carrot cakes even though laden with fruit, and very moist. The traditional cream cheese icing also places it into the carrot cake family.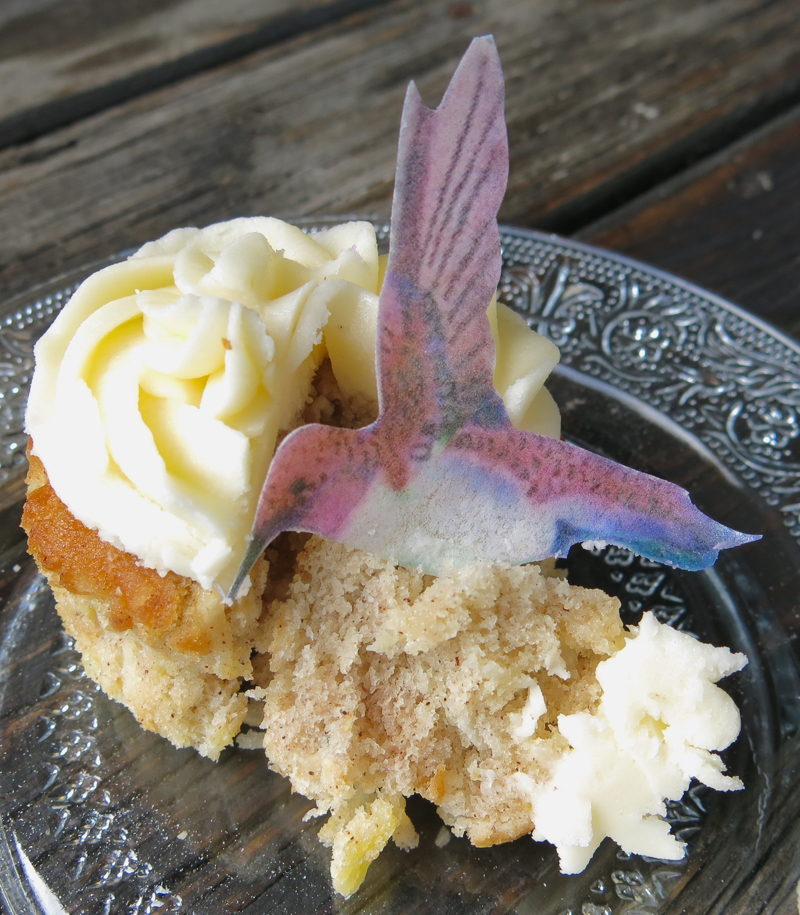 Me being me, however, added coconut flavouring to the icing to marry with the coconut I replaced with the traditional nuts in the cake. I liked it. I wonder how the Hummingbird traditionalists (if there were any) at the Baby Shower found it?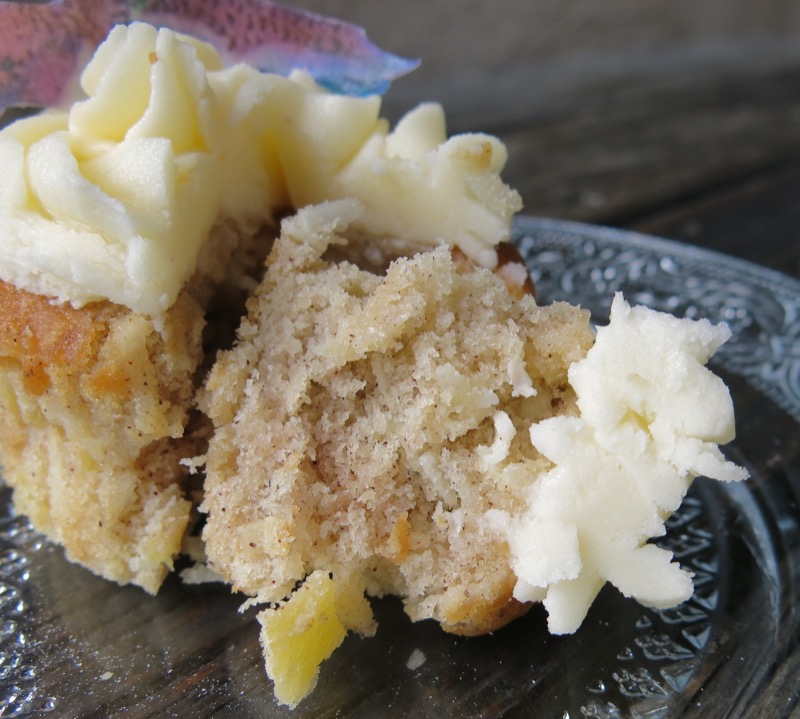 And, I found that this cake has nothing to do with the Hummingbird Bakery. It is believed to have hailed from Jamaica and is deeply entrenched in the American Southern food scene. Who knew? You can read more about the history and origin of Hummingbird Cupcakes. Look at that gorgeous texture!
Hummingbird Cupcakes: Mis en Place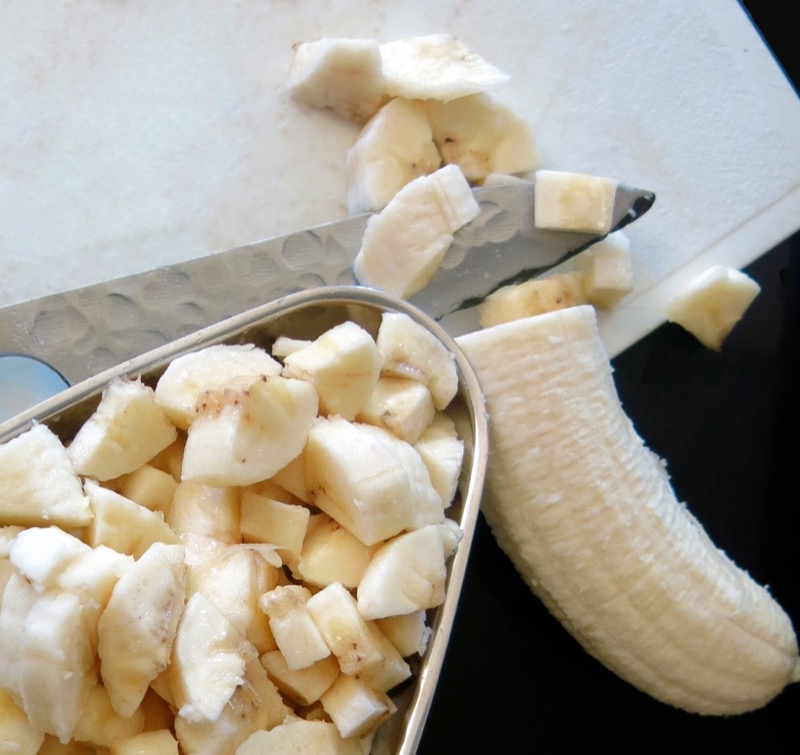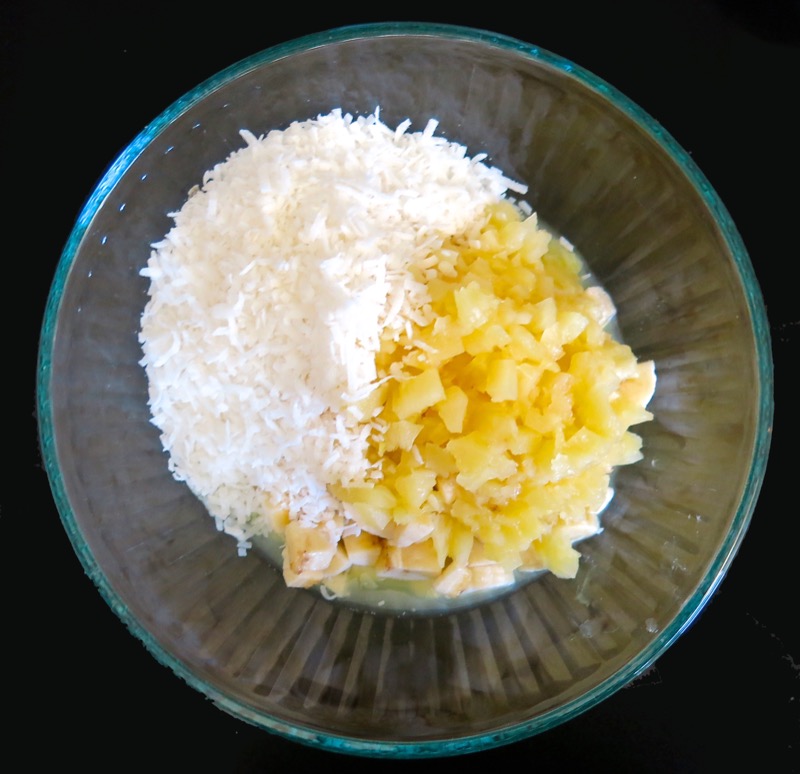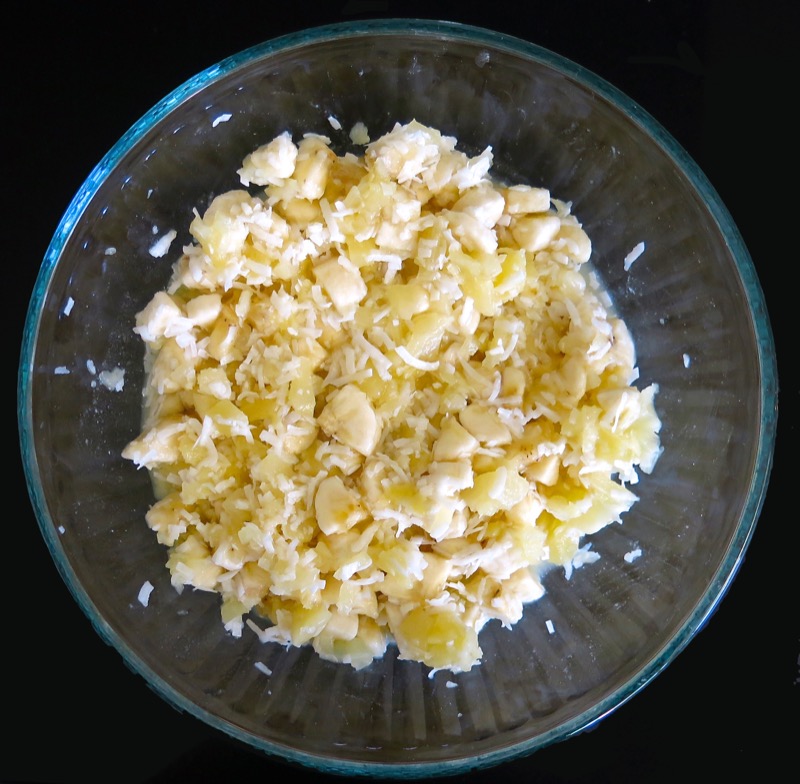 Traditional Hummingbird Cake has bananas, pineapple and nuts in the mix with only cinnamon, yet is somehow reminiscent of a classic spice cake (cinnamon, nutmeg, ginger, allspice and cloves). I do love nuts, but have made the Pina Colada Frozen Yogurt for the baby shower, and thought coconut would be a great replacement for the nuts in the cake. Wouldn't the two be a tasty combination? Mmmm…. a Hummingbird Cupcake with a couple of icy scoops of Pina Colada Frozen Yogurt?
Hummingbird Cupcakes: Mixing up the Batter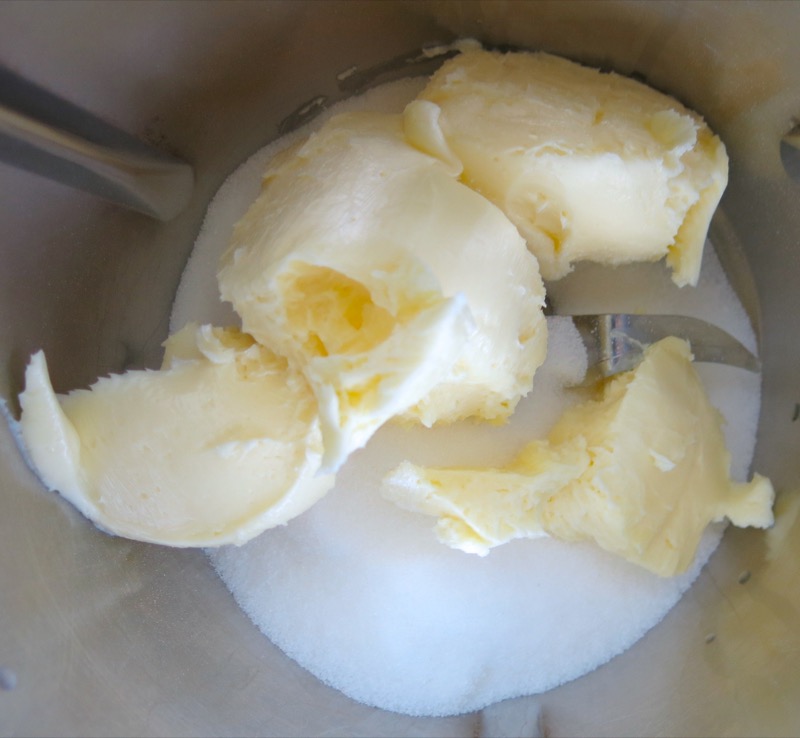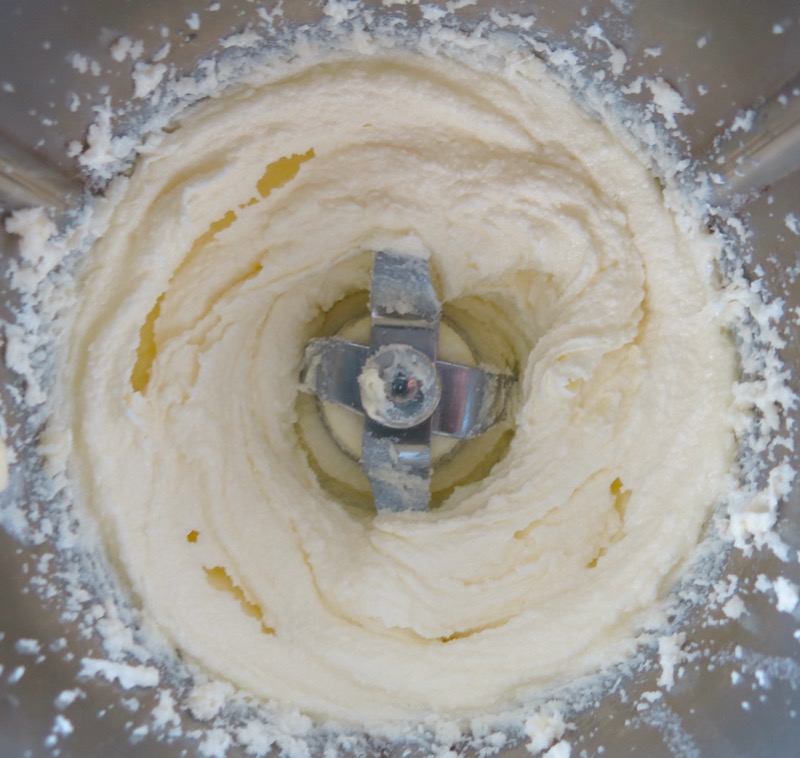 Cream the butter and sugar until sugar is dissolved and ingredients are light and fluffy; a traditional first step for most homemade cakes.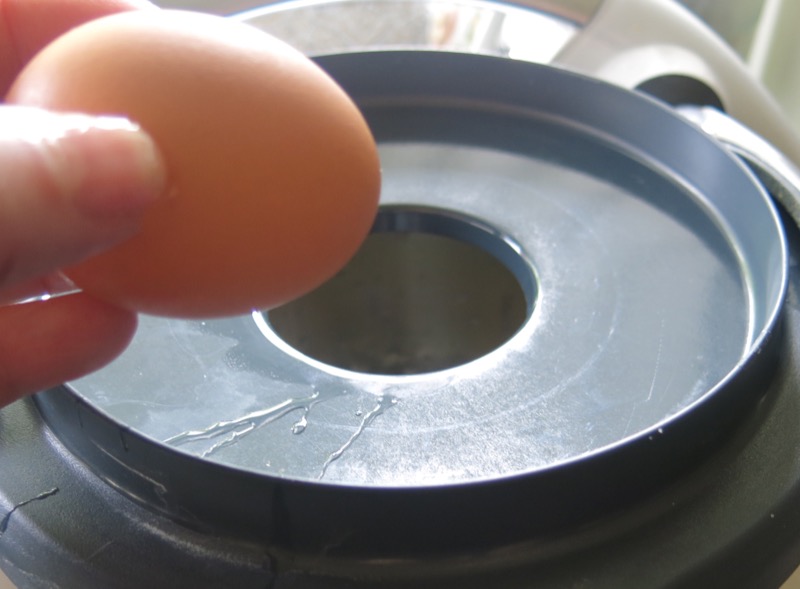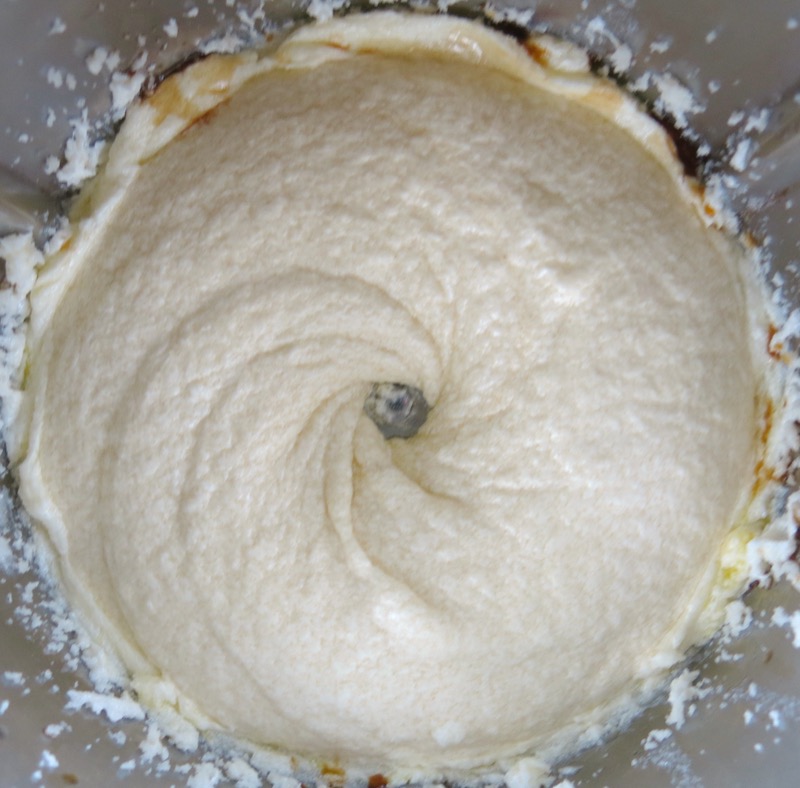 Crack and add eggs through hole in the lid as the machine is whisking the batter.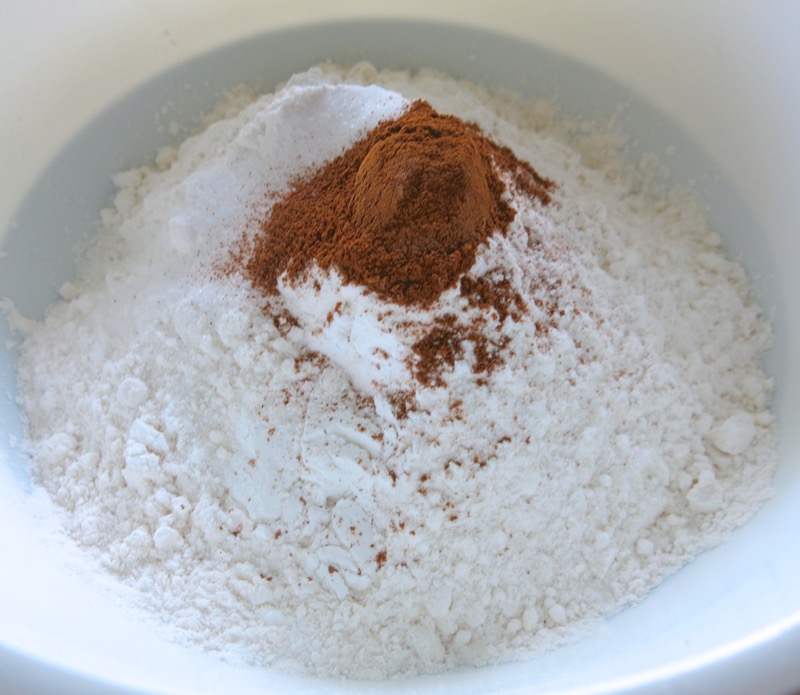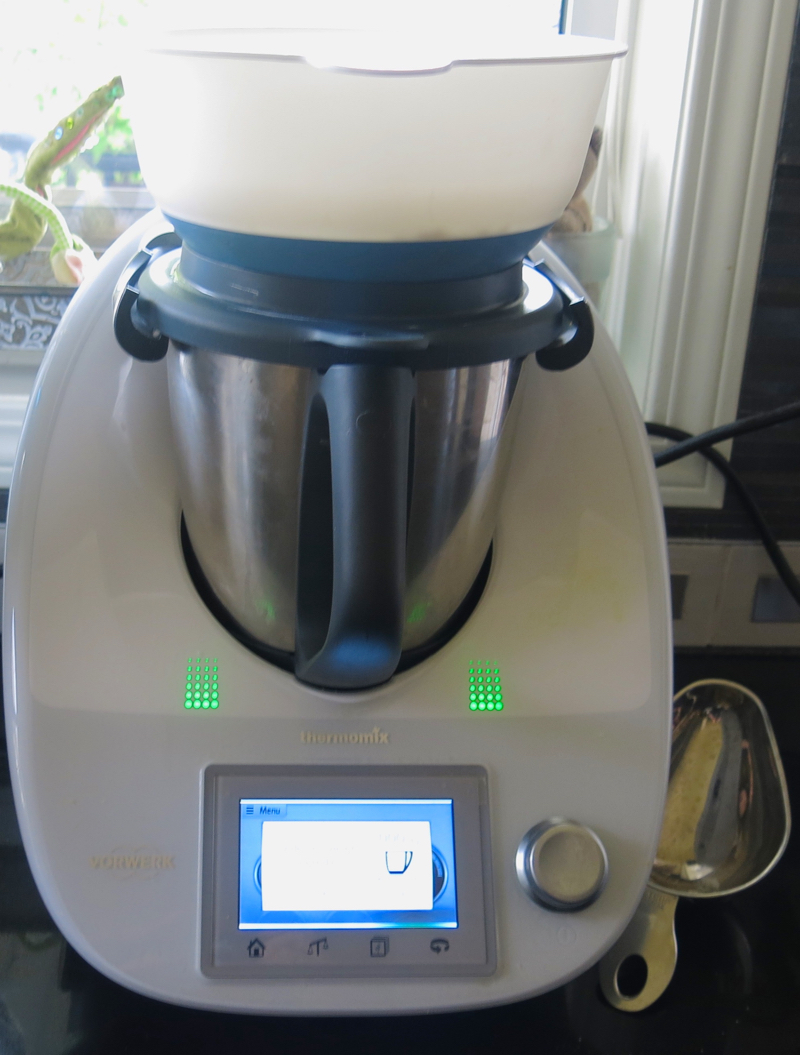 Weigh all dry ingredients on lid of TM bowl in another bowl; sift together, then add to the wet ingredients.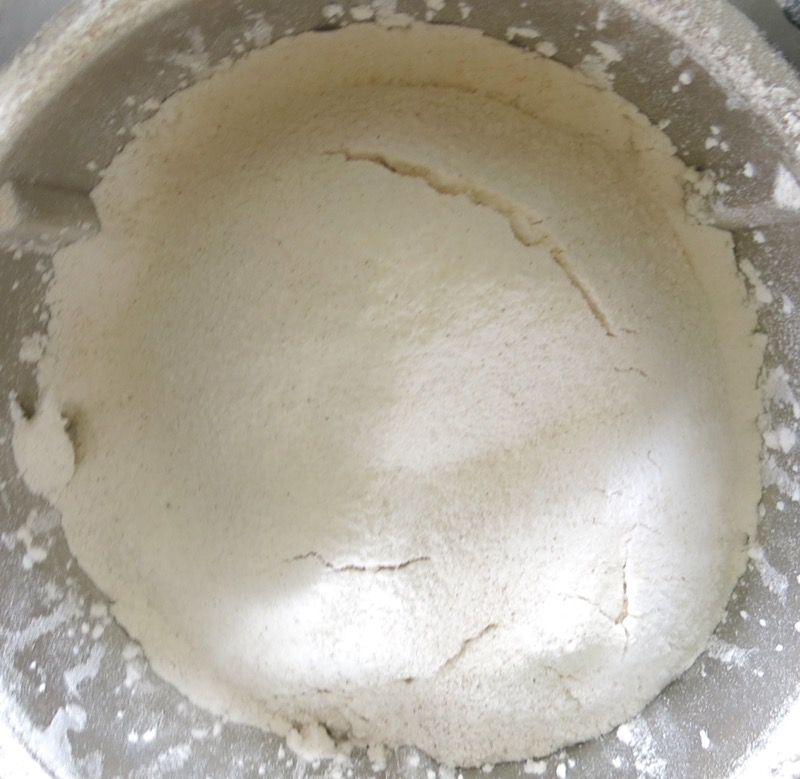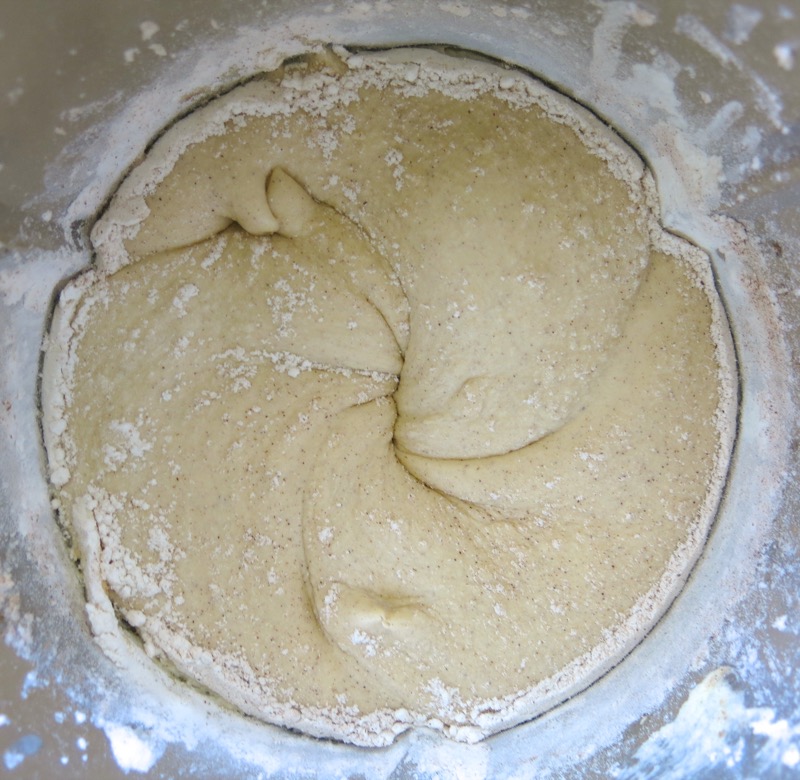 Gently fold together to incorporate in the Thermomix bowl.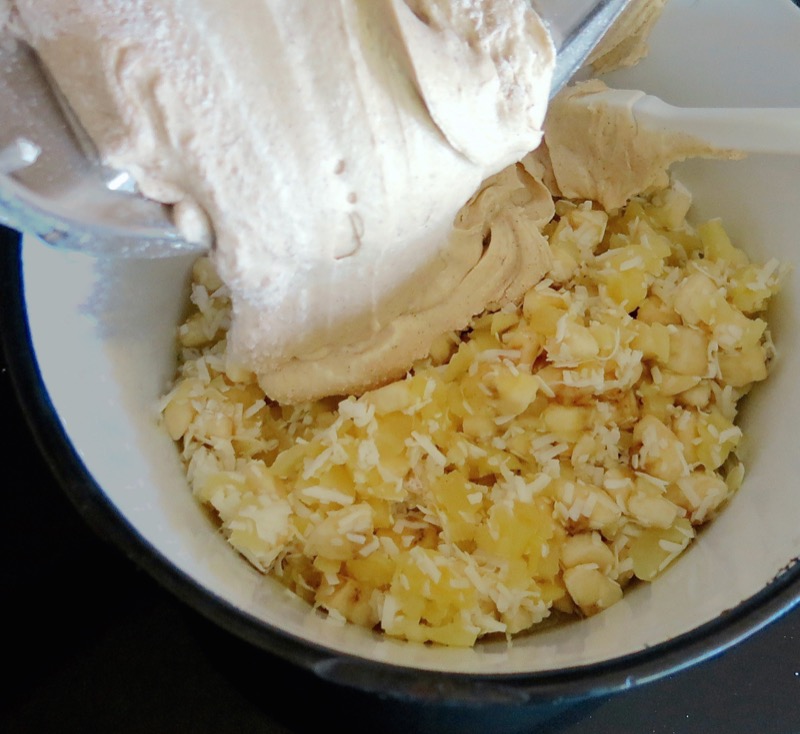 Add Hummingbird Cupcake batter to the fruit mixture that has been weighed and set aside.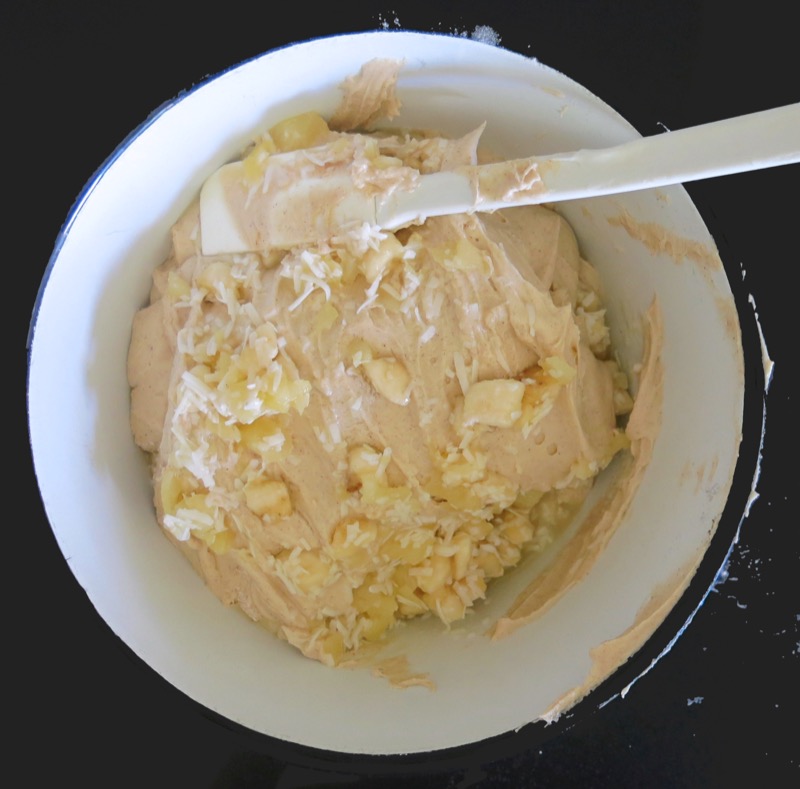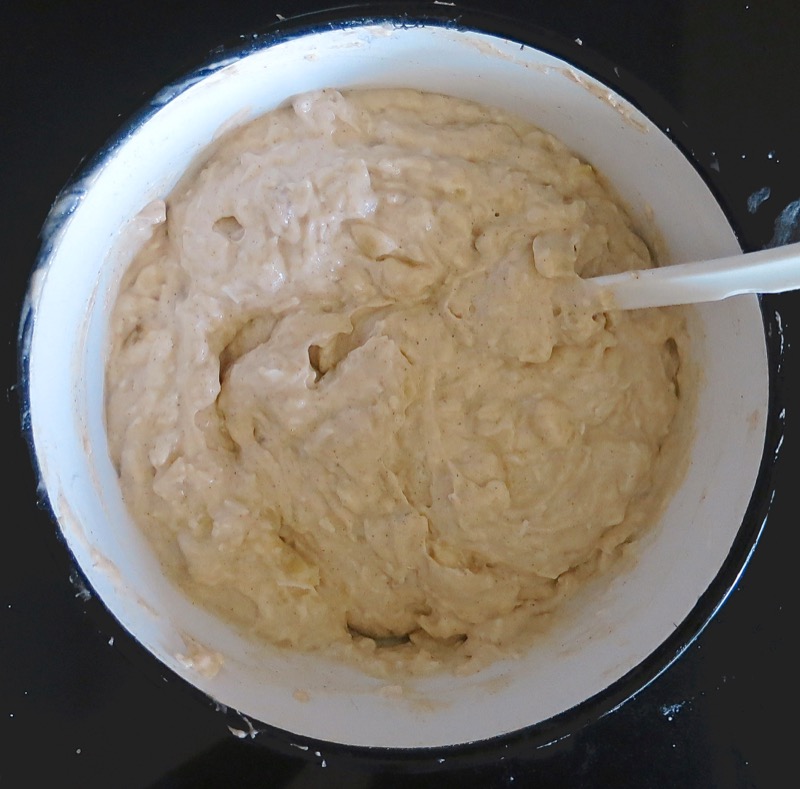 Gorgeous fragrant cake batter is ready to be gently placed into paper cupcake liners with a quarter cup measuring cup til each is about 3/4 full, as in the image, below.
Hummingbird Cupcakes: Making and Baking the Cakes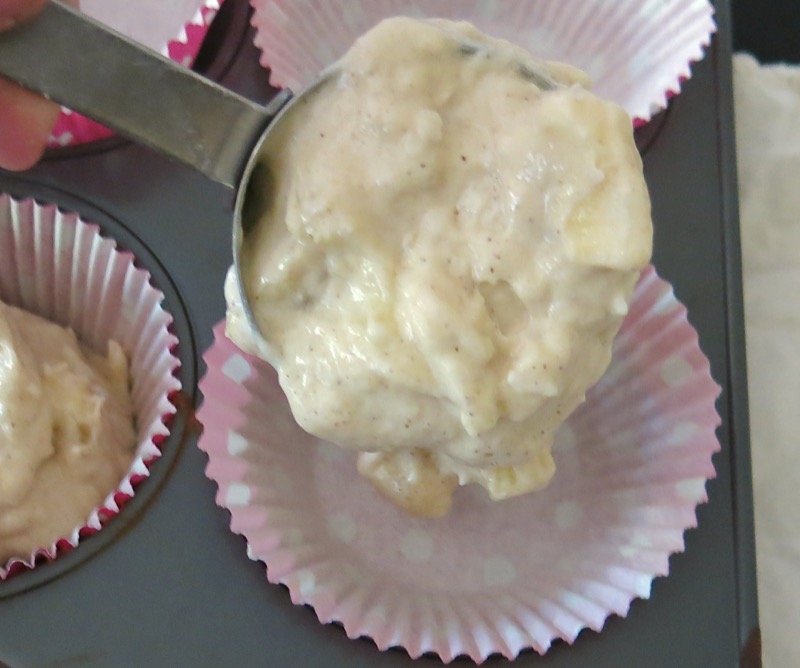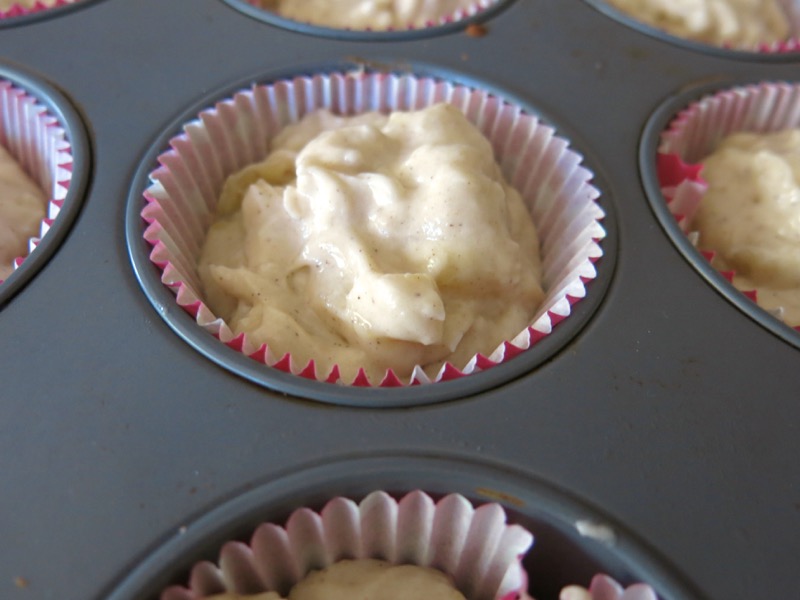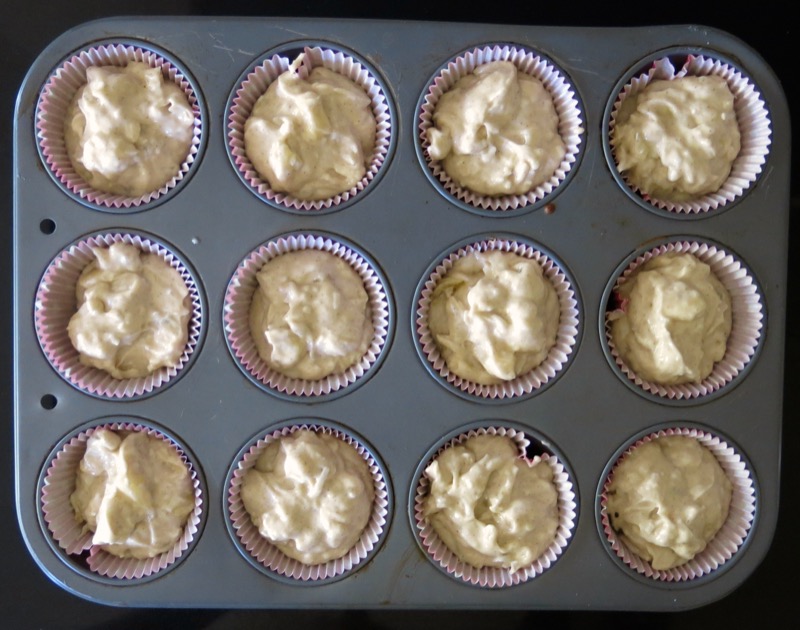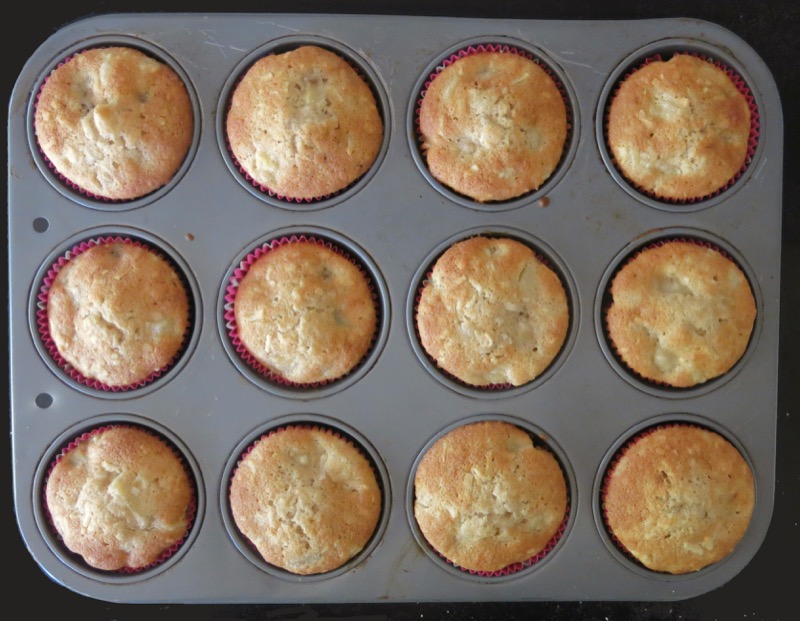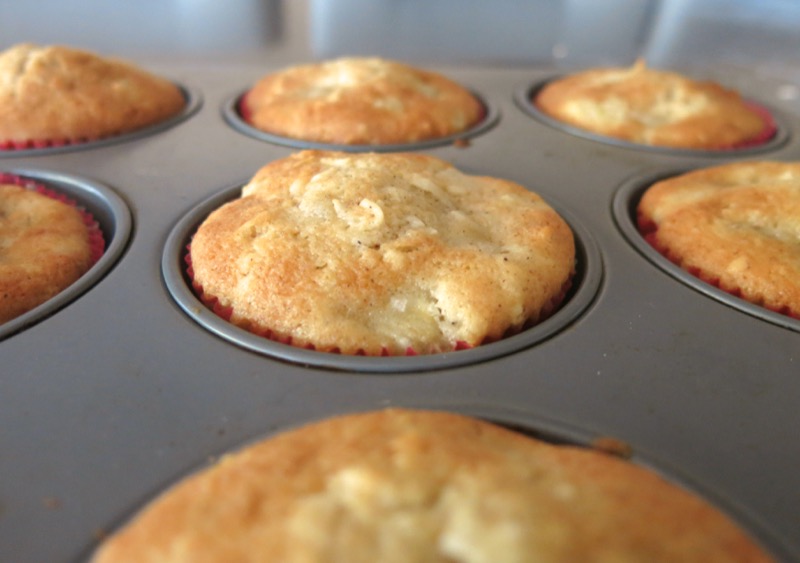 Baked into lovely, delicate, muffin-like cupcakes as each is bursting with fruit and coconut and exceedingly moist and springy.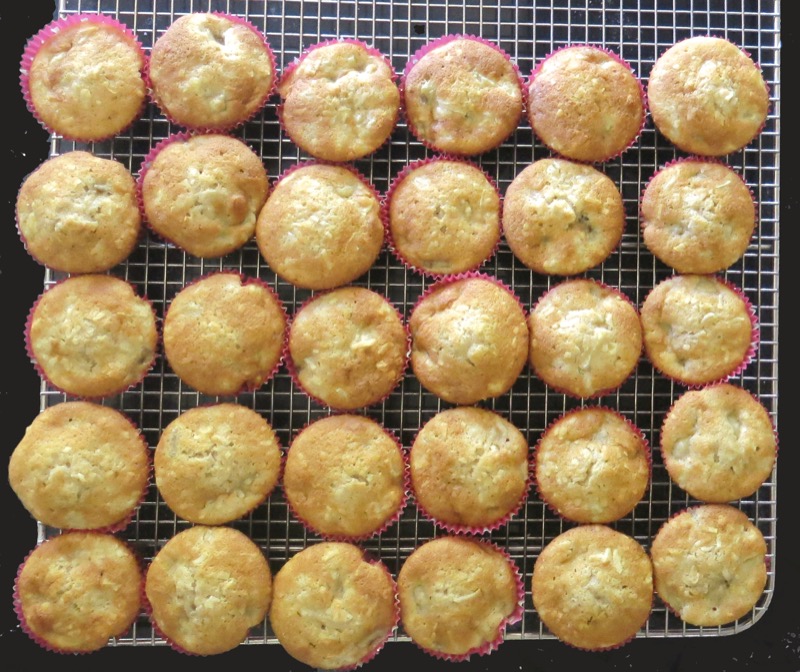 Hummingbird Cupcakes: Decorating the Cupcakes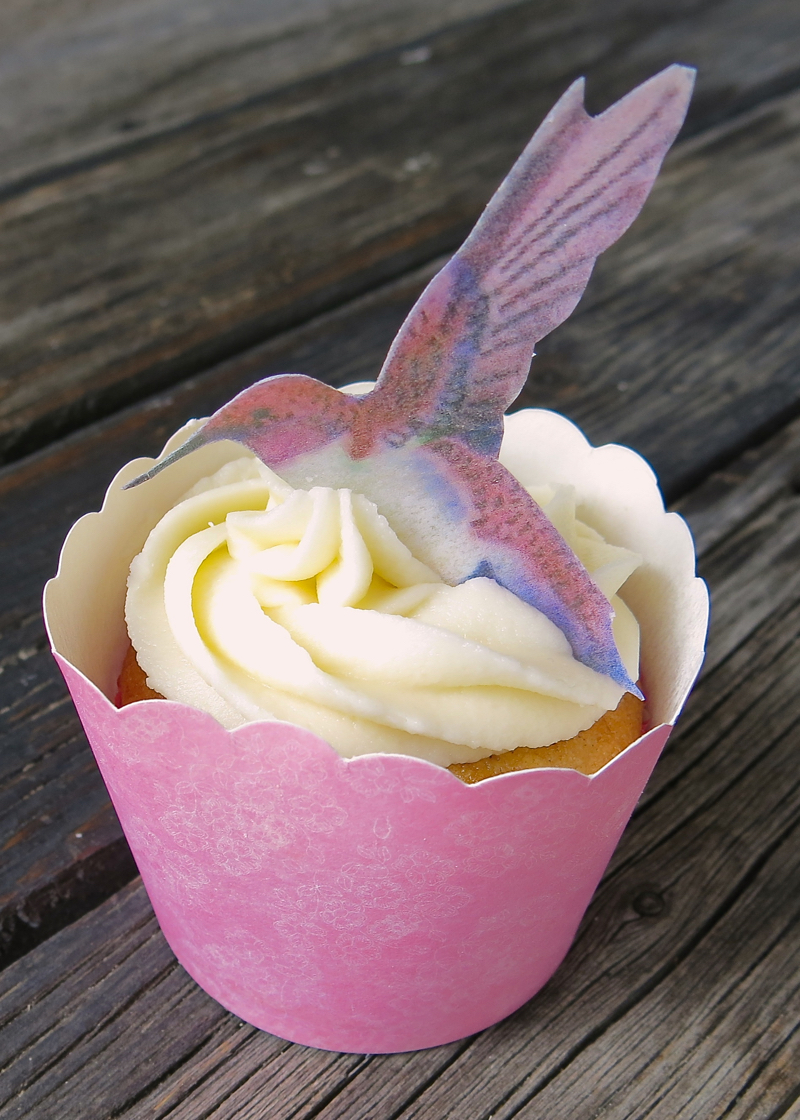 Again, missed the images of making and piping on the icing, but the decorated cake was placed in a little paper wrapper and topped with a special order edible pink hummingbird. I was very pleased with the result.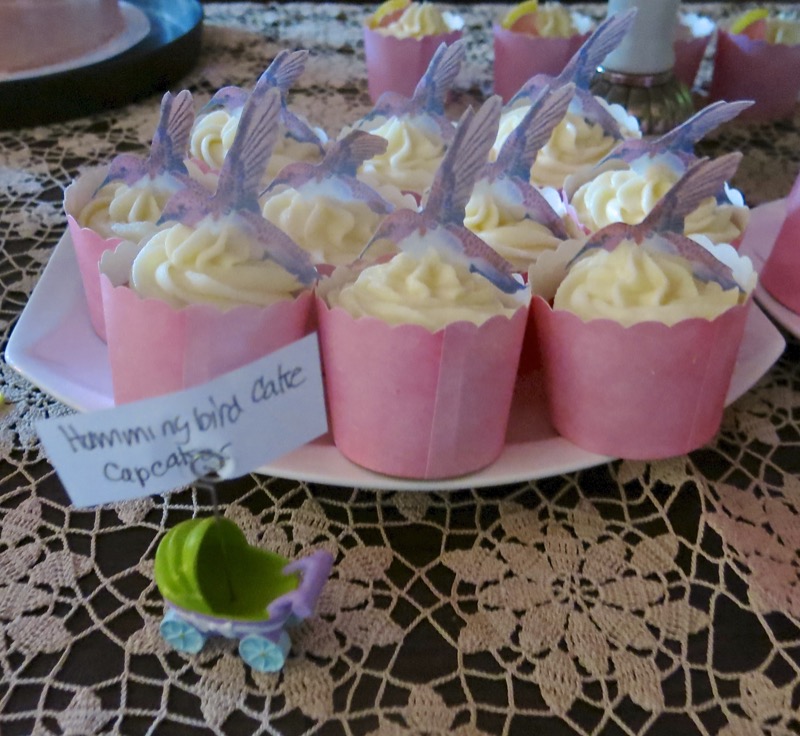 Aren't they pretty? They added that perfect little accent to the dessert buffet. Yet, of course, no one knew the little decorations were edible. Sadly.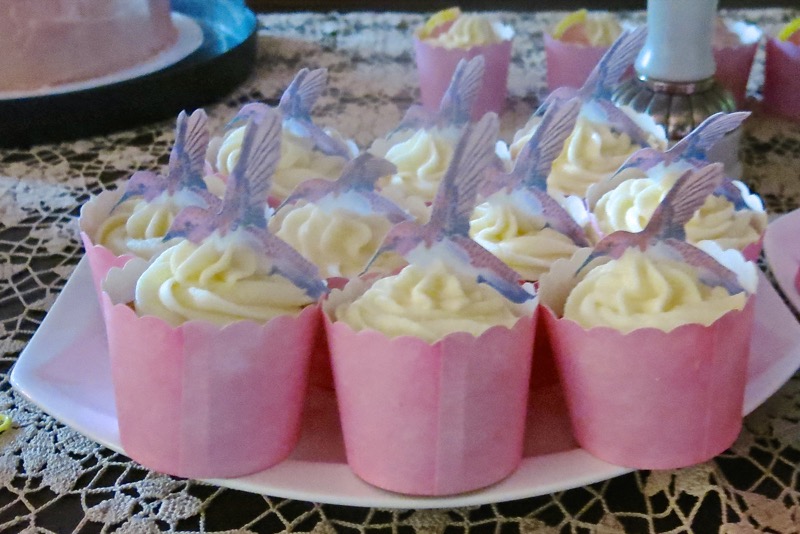 I sure had fun playing with them! Sometimes, many times, and actually – most often, I get such a kick out of photographing pretty food and almost enjoy that more than eating it. Each little cake had a certain personality when topped with a little hummingbird.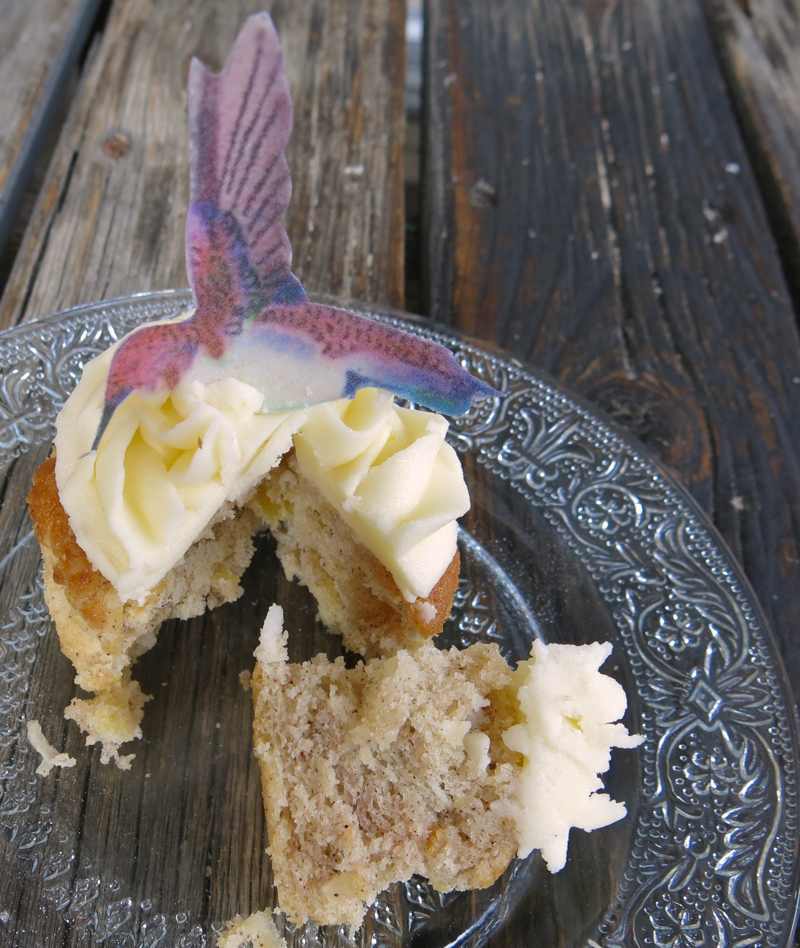 Hummingbird Cupcakes are packed with fruity goodness; you'll be all a-flutter with excitement after one bite of this scrumptious fruity summer concoction!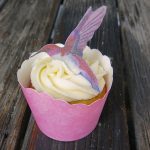 An Ode to Summer: Hummingbird Cupcakes


Hummingbird Cupcakes are packed with fruity goodness; you'll be all a-flutter with excitement after one bite of this scrumptious fruity summer concoction!
Ingredients
Ingredients for the Hummingbird Cake Cupcakes:
375

g

or 3 cups flour

10

g

or 1 1/2 teaspoons baking powder

5

g

or 1 teaspoon salt

5

g

or 1 teaspoon ground cinnamon

300

g

or 1 1/2 cups granulated sugar

225

g

or 1 cup softened butter

4

large eggs

15

g

or 1 tablespoon vanilla extract

15

g

or 1 tablespoon coconut extract

(not traditional, but delicious)

3

large bananas

, smashed (about 120g each)

1 540

mL

19 oz can crushed pineapple with juice

1

cup

pecans

, toasted and chopped which I replaced with 1 1/2 cup or 150g sweet shredded coconut
Ingredients for the Hummingbird Frosting:
1 1/2

cups

softened butter

(3 sticks)

1

cup

sour cream

, strained to thicken

1

teaspoon

vanilla extract

2

teaspoons

fresh lemon juice

8-10

cups

powdered sugar

Pinch of salt

good few drops of coconut flavouring

(not traditional)
Garnishes
Pineapple Flowers

Edible Hummingbirds
Instructions
Instructions for the Hummingbird Cake Cupcakes:
Pre-heat oven to 350F; line muffin pans with 32 paper liners

Sift the first four dry ingredients into a medium bowl; set aside

Place butter and sugar into electric mixer bowl; cream until light and fluffy (3-5 minutes)

With mixer on low, slowly add eggs and extracts; scrape down sides of bowl

Continuing with mixer on low, slowly add flour mixture to wet ingredients until just incorporated; gently incorporate bananas, pineapple with juice, coconut, and pecans

Use a 1/4 cup measuring cup to divide batter between 32 cupcake liners

Bake for 22-25 minutes, until tops are golden and bounce back when touched; cool on counter completely before proceeding frosting (better to err on side of doneness to avoid soggy dense middle)
Instructions for the Hummingbird Frosting:
Beat butter until very soft; turn mixer on low to incorporate sour cream

Scrape down sides of bowl; beat until completely smooth (like velvet)

Add vanilla, lemon juice, coconut flavouring, and salt, continuing to beat; slowly add powdered sugar until frosting reaches desired consistency (thick or thin)

Scoop sour cream frosting into large piping bag with a wide tip circular (clip at the tip end to avoid spillage until ready to frost); pipe onto each cupcake

Decorate with pineapple flowers and edible hummingbirds

Place in refrigerator for 30 minutes for frosting to "set"; cover and store in fridge or at room temperature, for several days. (They are more flavourful at room temperature)
Instructions for the Hummingbird Cake Cupcakes: in the Thermomix:
Pre-heat oven to 350F; line muffin pans with 32 paper liners

Weigh first four dry ingredients into a medium bowl on top of Thermomix; set aside

Weigh butter and sugar into TM bowl; cream for 2 minutes on speed 4

Scrape down sides of TM bowl: cream for 2 more minutes on speed 4 until light and fluffy

Set time for 1 minute and speed at 4; add eggs and extracts through hole in lid

Scrape down sides of bowl; sift pre-weighed flour mixture into another bowl and pour sifted ingredients into TM bowl

Set time to 15 seconds on speed at 3.5 and watch through the hole in the lid for the dry ingredients to be pulled thought the wet ingredients, turning speed slowly to 6

Pour ingredients into fruit mixture that has been pre-weighed and set aside; combine gently by hand

Use a 1/4 cup measuring cup to divide batter between 32 cupcake liners

Bake for 22-25 minutes, until tops are golden and bounce back when touched; cool on counter completely before frosting
Instructions for the Hummingbird Frosting in the Thermomix
Weigh total amount of sugar in a bowl on top of TM bowl; set aside (pulverize, if not using powdered sugar)

Weigh butter into TM bowl; whip for 2 minutes on speed 4 (or longer, depending upon temperature of butter) until very soft

Weigh sour cream into TM bowl; combine for 30 seconds at speed 3.5, or until completely incorporated and velvety

Weigh vanilla, coconut flavouring, lemon juice and salt into TM bowl; set time to 3 minutes and speed at 4

Slowly add set aside powdered sugar through hole in lid until frosting reaches desired consistency (thick or thin)

Scoop sour cream frosting into large piping bag with a wide tip circular (clip at the tip end to avoid spillage until ready to frost); pipe onto each cupcake

Decorate with sprinkles and edible hummingbirds

Place in refrigerator for 30 minutes for frosting to "set"; cover and store in fridge or at room temperature, for several days. (They are more flavourful at room temperature)