Another gift added: Best Customer Incentive in 10 years for TM31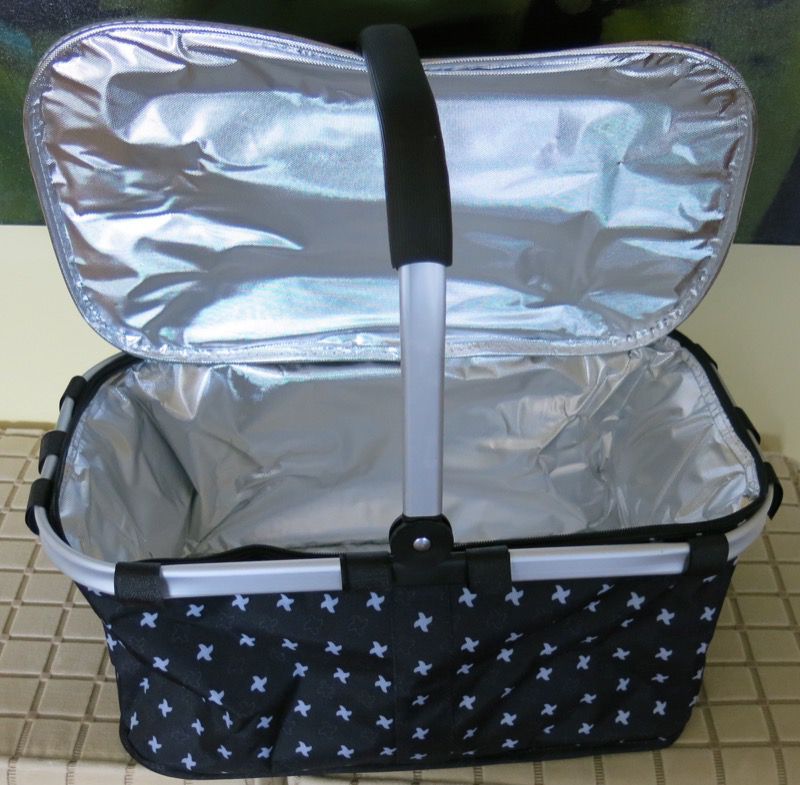 If there was ever a time to buy a TM31, now is the time. Of course, I will put you on my TM5 waiting list if you are sure you want to wait an undetermined time for this sensational life changing kitchen machine. But, you will buy the TM5 for more money (no, I don't know how much more) and there will not be any customer incentives with the new launch. I already have a lot of people on my waiting list, but have sold many more TM31's than those waiting for the TM5 since the TM5 launch September 5th of 2014. This lovely insulated market or picnic basket is an add on to the already incredible incentives offered the last 4 months to customers who buy a TM31 this month. I love mine! (It also comes in orange.)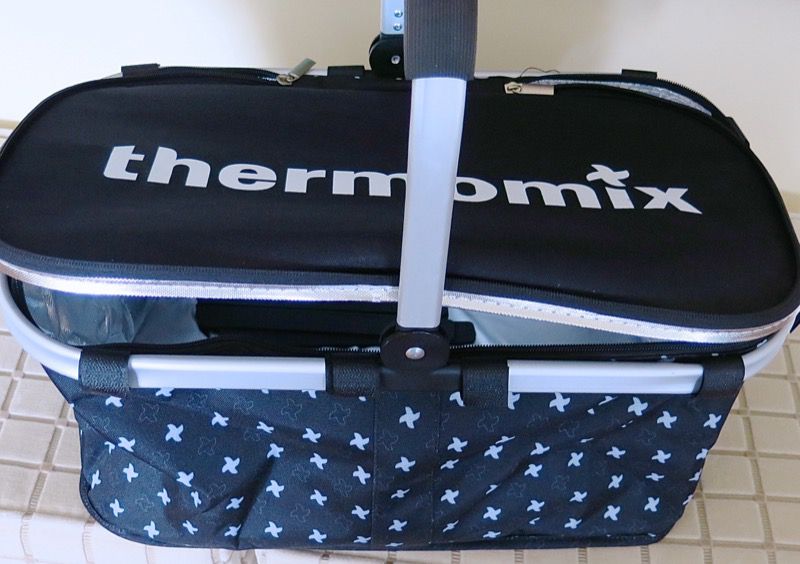 Yes. The Thermomix TM31 is being phased out. Why? Don't ask me. I only sell the machines. I don't make big company policy decisions. But I know a classic when I see one and I know a good thing when I have it. There are classics in many genres. Think cars. The TM31 will inevitably be Verwork's Classic Thermomix machine. I have sold literally hundreds of them over my almost 8 years and not one has gone back to get repaired under warranty, or even within this entire 8 year span. Not one. Now, my colleagues have had a problem or two and I have assisted clients from other countries that have moved here with getting repairs done on their TM31 machines. Yet, problems with the TM31 are so rare and the functions of the machine are so effective that sales have soared beyond expectation throughout the world. Every 2 minutes, someone somewhere was buying a TM31 until the TM5 launch last fall.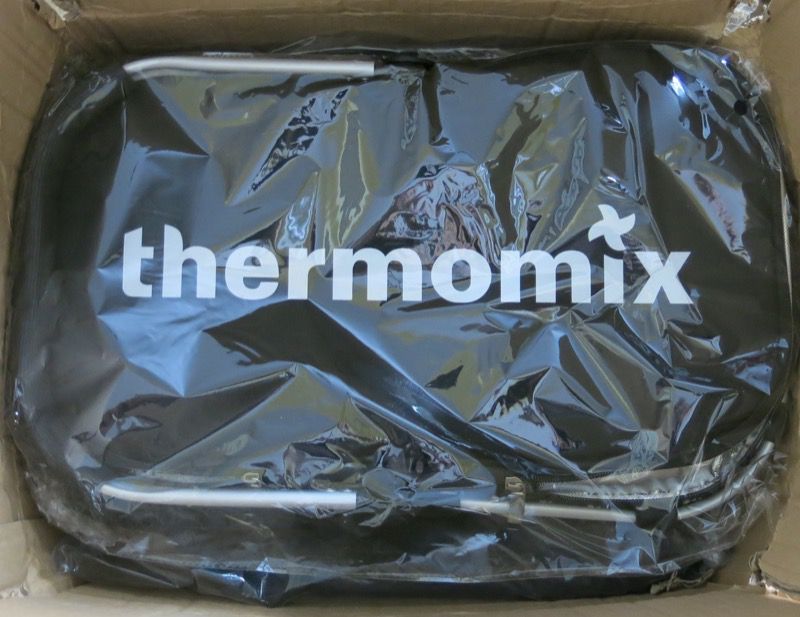 I bought my daughter one. (The baby is due in 6 weeks!!!) How wonderful to open the box and find such an unexpected accessory. Great for transporting food to potluck dinners. Our Australian Thermomix friends don't know what Potluck dinners are. Missing out, aren't they?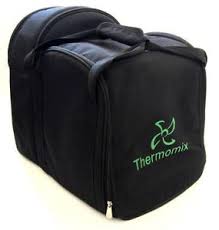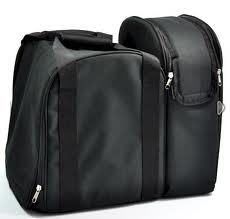 I used to think the carry bag was outrageously priced at 100 dollars, until I bought my first camera bag. The carry bag is gorgeous, made of exceptional quality, there is a place for every part of the machine, even a couple of cookbooks. And, you get one of these, too, if you buy a machine this month.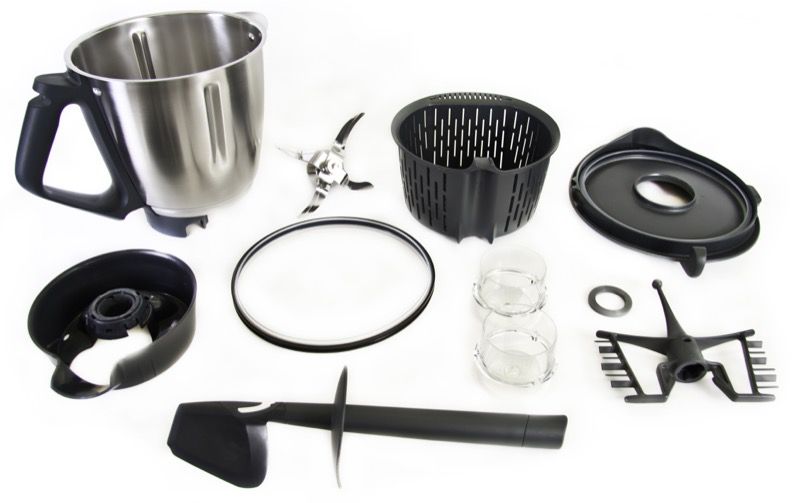 Above are all of the parts that come with the Thermomix Bowl EXCEPT the spatula DOES NOT come with the bow, and only one measuring cup is included, not two as in the photo, above. Again, this month, there is a customer incentive to buy a SECOND bowl (of course one comes with the machine) for 199 plus tax. Do all of the parts come with the second bowl? Yes, they do. Everyone of them. (EXCEPT the spatula DOES NOT come with the bow, and only one measuring cup is included, not two as in the photo, above )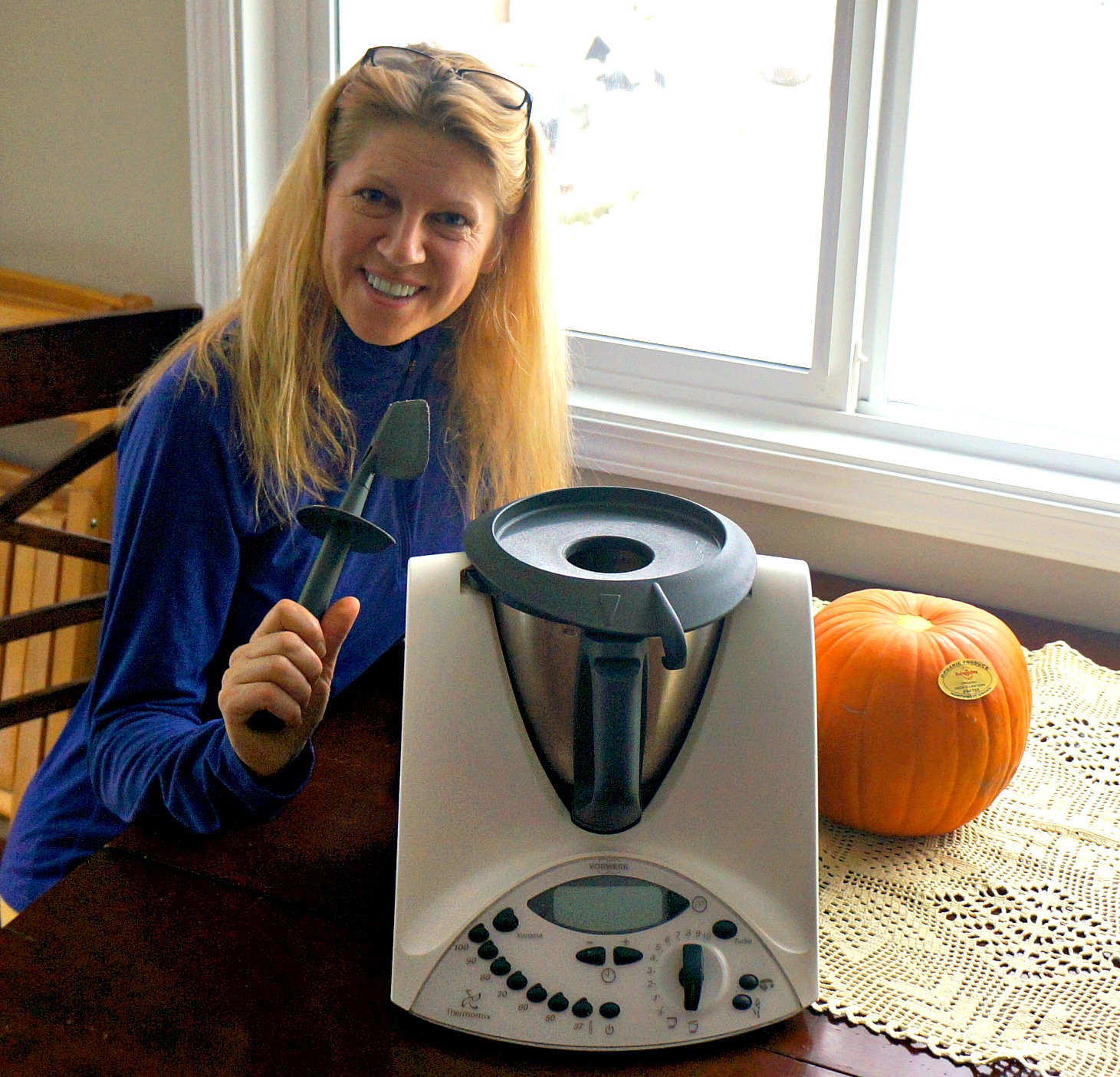 Thermomix owners are happy people. My clients are wonderful and some send me photos of themselves with their new best friend in the kitchen. Seriously, the quality of your life improves with this one purchase. I kid you not. (I need all of the quality I can get at this phase of my life!) Read my client testimonials. Google information and videos of this dynamic machine. You will be hooked.
And, no, I cannot write about how much it costs. That is against company policy and how I get to meet you when you ask. So, what do you get when you buy the machine?
The machine with a full two year warranty,
the carry bag,
two cookbooks of your choice, (We carry different cookbooks than other distributors. Each distributor decides which books to carry. Some have them written for the specific food culture they sell in)
the insulated Thermomix picnic basket and
an option to buy the second bowl for 199 plus tax.
I am not going anywhere. I am always here, at the end of my computer, looking at you with my fingers crossed. Now is the time, isn't it? Yes, the Thermomix TM31 reduces stress in the kitchen, enables a healthier lifestyle, and will save you money over time.
Happy 2015!