Reboot Tuna Salad: A Simple, Quick and very Satisfying Keto Salad for the Total Reboot Program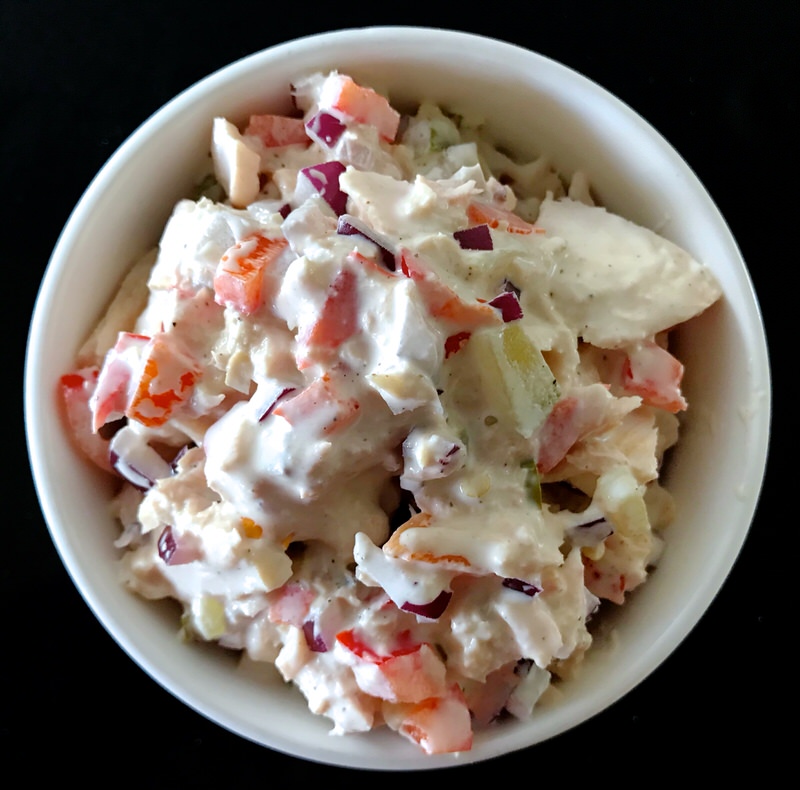 Talk about memories of University days in a bowl! I literally lived on tuna salad. Not this one, but the flavour profile is similar for the one with the dill pickles.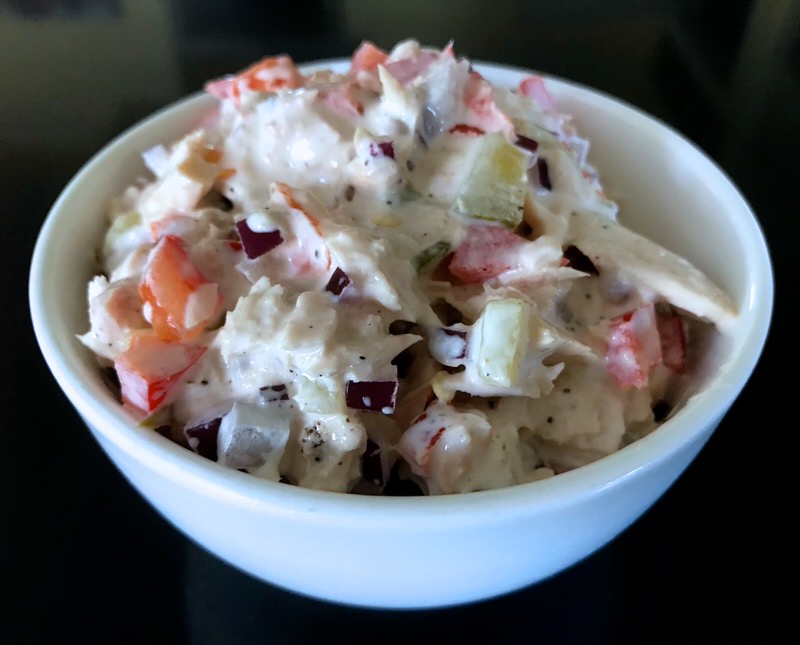 Marie and I would make a great big bowl of crisp green tuna salad with tuna, onions, celery, dill pickles, mayonnaise and small chunks of cheddar cheese. So delicious and revitalizing – and in those days, cheap like borscht.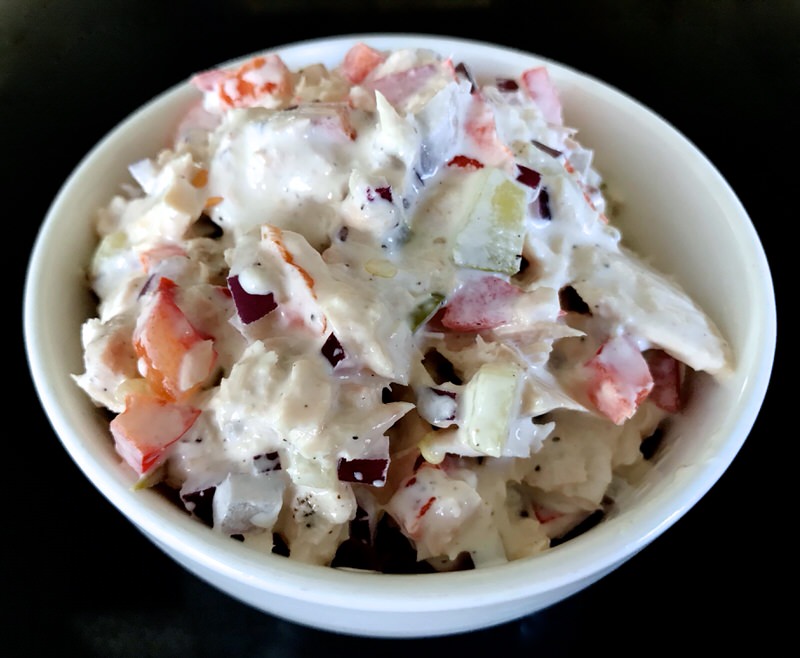 With the bad rap, tuna has had regarding mercury these past several years, I stopped eating it completely. However, after careful research, have found that it is safe to eat it up to three times a month for an adult woman. You might be inclined to ask: Why eat anything with health limitations? For me, the answer is simple: eating wild GMO-free tuna with 0.32 parts per million of mercury on occasion is no more of a health risk than breathing the air in my city. "Canned white, or albacore tuna: Children under six can eat up to one 3-ounce portion a month; children from 6–12, two 4.5-ounce portions a month. Adults, including pregnant women, can safely eat this kind of tuna up to three times a month (women, 6-ounce portions; men, 8-ounce portions)."
Reboot Tuna Salad: Mis en Place for Phase 1 Total Reboot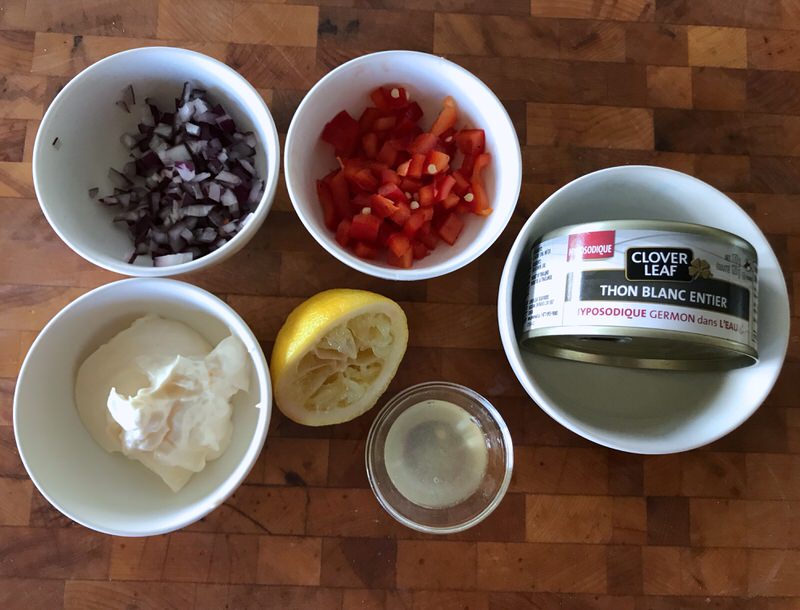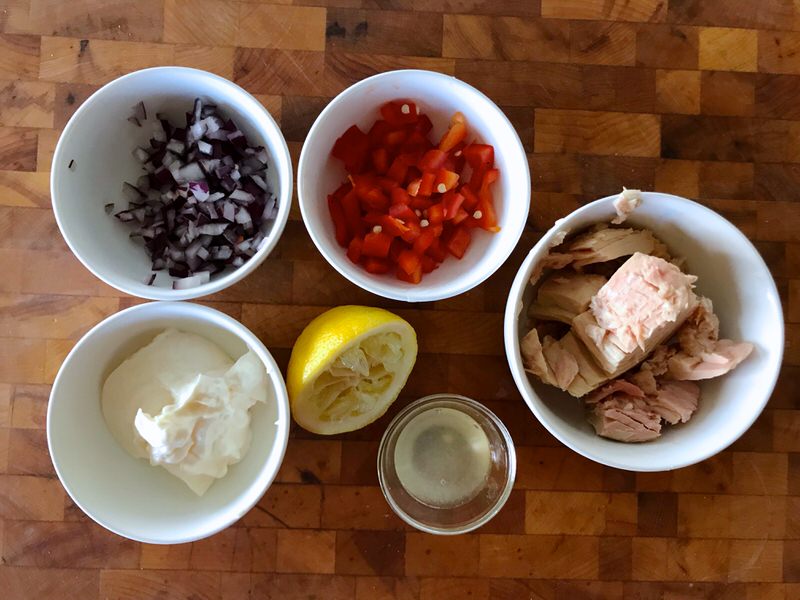 Use your imagination, but keep the carbs to a minimum. You want a crunchy textural addition as well as a sour or tart element to balance flavours. Lots of mayo or less mayo with a good amount of cheese will provide the necessary counterpart to the lean tuna. Season well and a masterpiece is born.
Reboot Tuna Salad: Putting it all Together for Phase 1 Total Reboot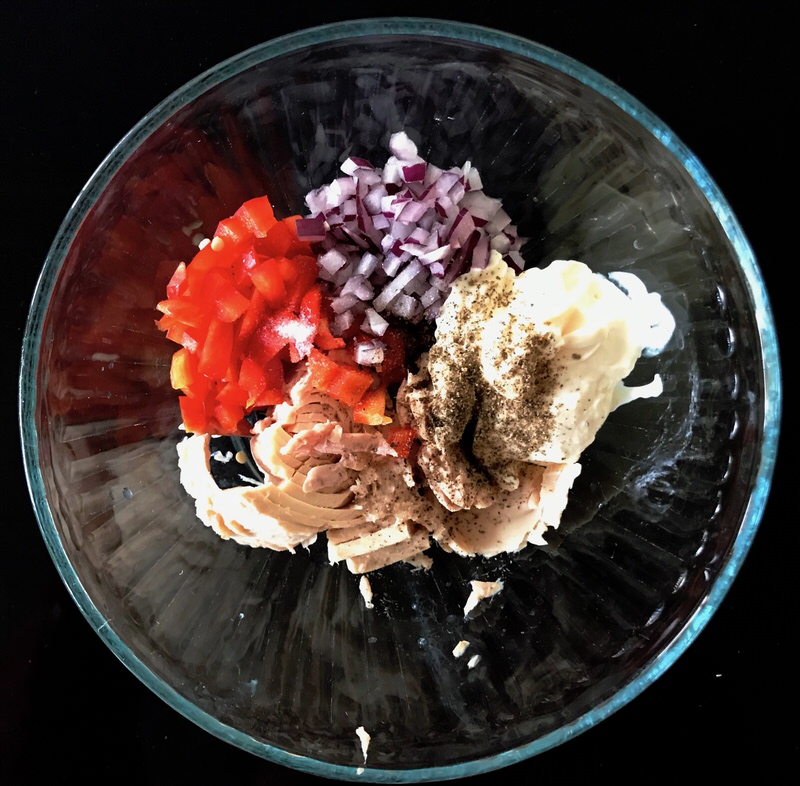 How easy is that. It feels so good to heal my body with healthy food. That is all I used to eat as a young gal. What ever happened?
Reboot Tuna Salad: Mis en Place for Impact Phase 2 Total Reboot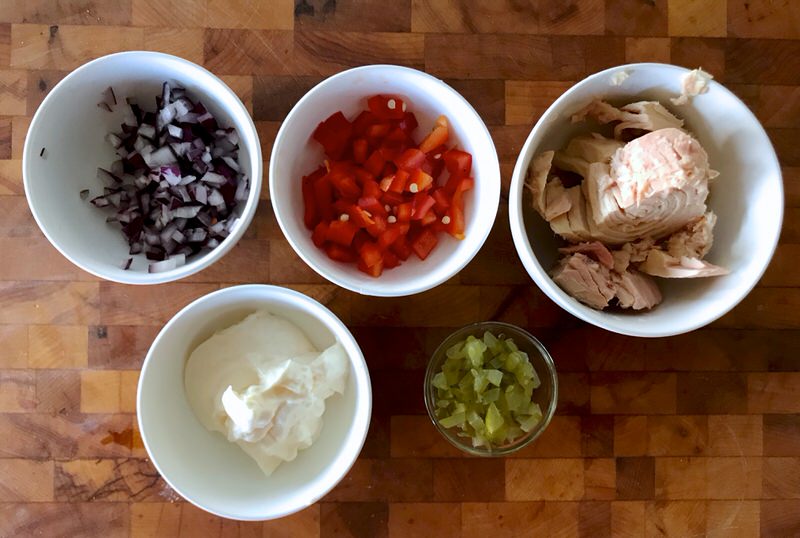 Dill pickles aren't allowed on Phase 1 as it is focused on rebooting gut health. No vinegar allowed, with the exception of Balsamic. These pickles pack a wild and welcome flavour punch that just breathes life into the traditional tuna salad flavour profile. It is zippy and simply irresistable.
Reboot Tuna Salad: Putting it all Together for Impact Phase 2 Total Reboot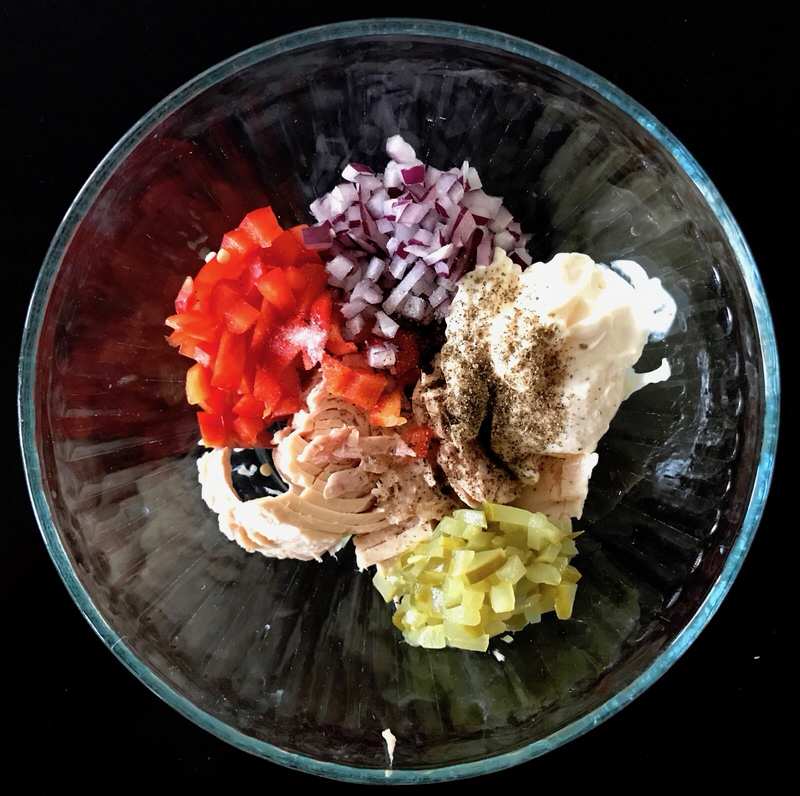 There you have it. Weigh each portion carefully and enter the ingredients into My Fitness Pal as a recipe so you can have your macros in front of you and me in control of the food you eat.
Reboot Tuna Salad: Serving it Up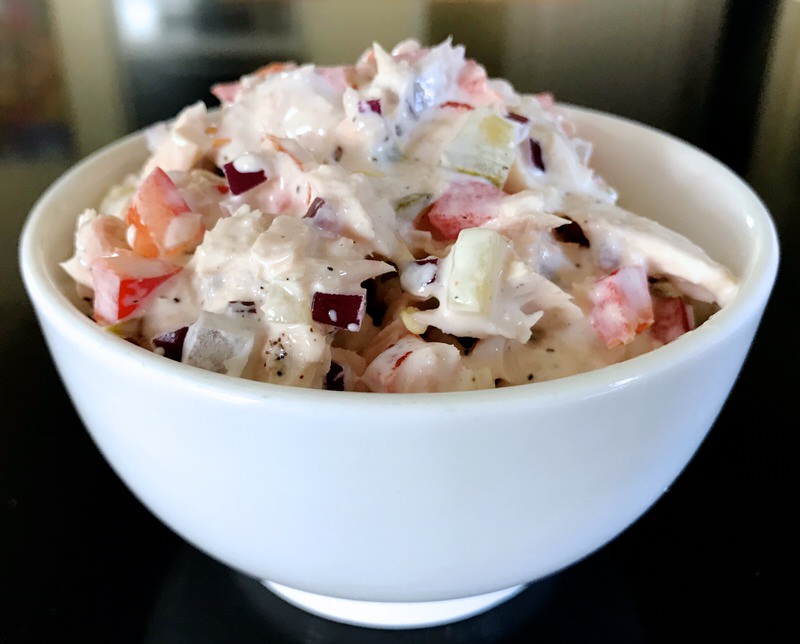 Reboot Tuna Salad! It's so big, I can't eat all that! (But, I did!) Though, not in one sitting. I have 1/2 for my meal and the other 1/2 for a snack later. I could eat 1/2 one day and 1/2 the next. You'll figure out what works best for you.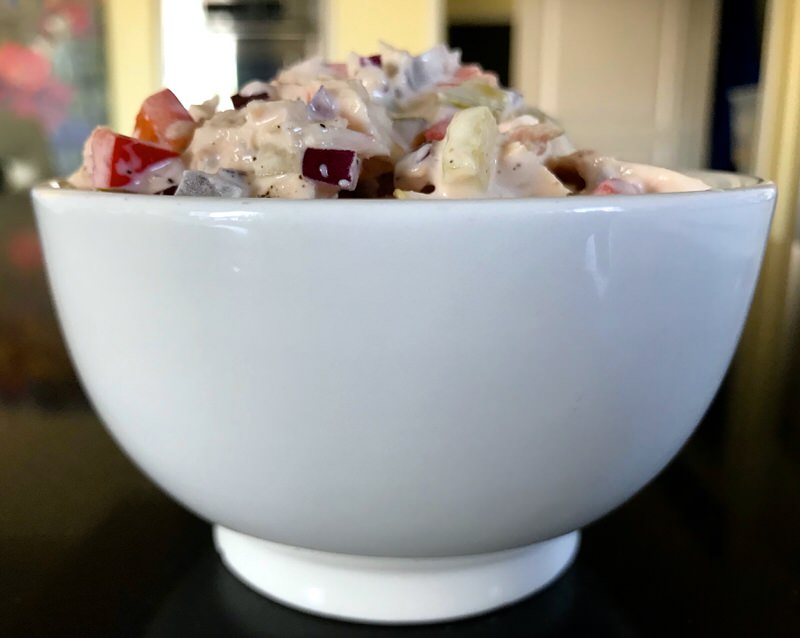 I could increase the bulk by tossing it with crispy lettuce, but don't find that necessary. I just enjoy imagining each cell in my body being nourished by my simple and satisfying little meal and it just makes me happy.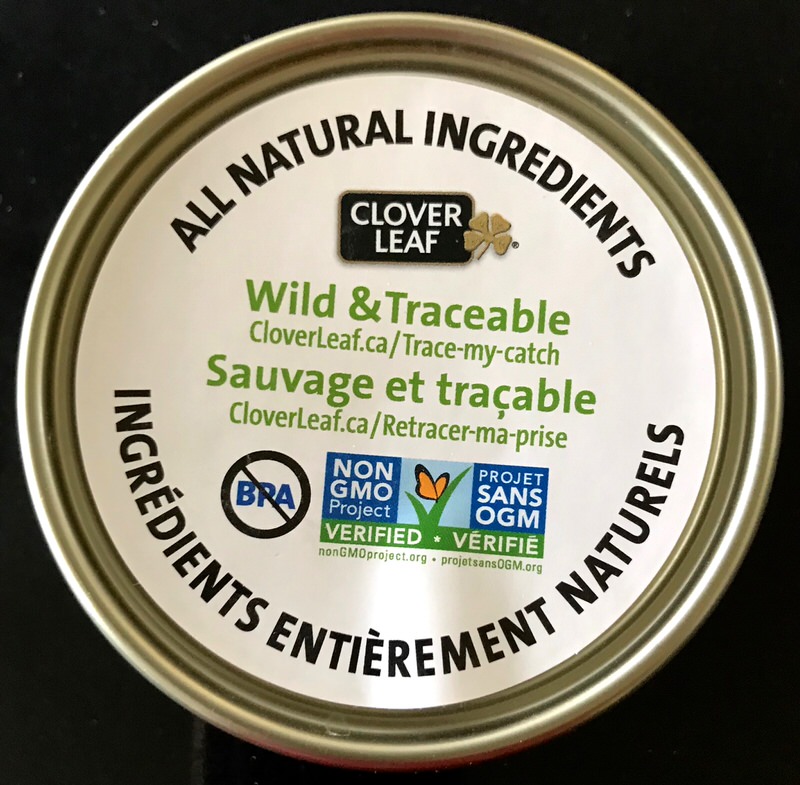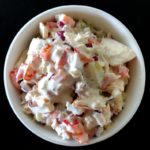 Reboot Tuna Salad
Reboot Tuna Salad is a delicious Keto Salad Recipe for the Evolv Health Total Reboot Program
Ingredients
Ingredients for the Salad
1

can 170 gram Cloverleaf whole White Albacore Tuna

drained

60

grams

or ¼ cup organic GMO free or homemade mayonnaise

25

grams

purple onion

minced

30

grams

sweet bell pepper

minced

(5 grams freshly squeezed lemon juice OR

15

grams

dill pickles

minced)

¼

teaspoon

of salt

to taste

freshly ground black pepper

to taste
Instructions
Instructions for Making the Salad
Place all ingredients in medium bowl; combine well with a fork

Season to taste; serve in a bowl and enjoy, OR…
Alternate Suggestions for Serving the Salad
Add 1-2 cups crisp leafy iceburg or romaine lettuce

Spoon into celery stalks

Roll into butter lettuce leaves

Spoon onto cucumber slices
Recipe Notes
The recipe is perfect for Phase 1 of the Total Reboot Program with the lemon juice and without the dill pickles and perfect for Phase 2 or Impact Phase of the Total Reboot Program with the dill pickles and without the lemon juice.