Keto Beef Zucchini Lasagna: A Family Favourite!

Keto Beef Zucchini Lasagna? Who knew? Who would ever want to mess with a traditional delicious Canadian Lasagna?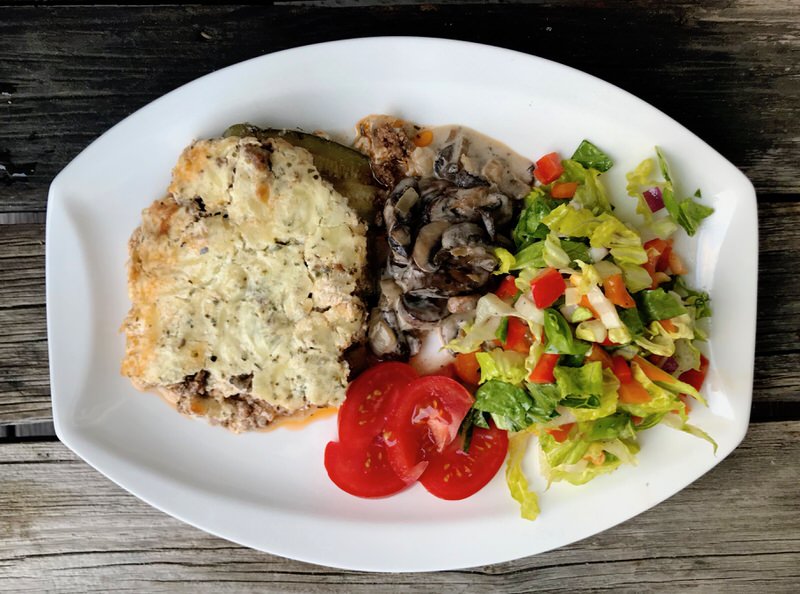 Well, there comes a time in one's life when the most bizarre possibilities are considered when one's health is at stake. And my health? Oh, my goodness. I was in such a personal crisis and felt completely helpless as I believed I had tried everything possible to rescue myself from the deep dark unfathomable abyss I was living in daily because I had tried all I knew. However, I just didn't know about this.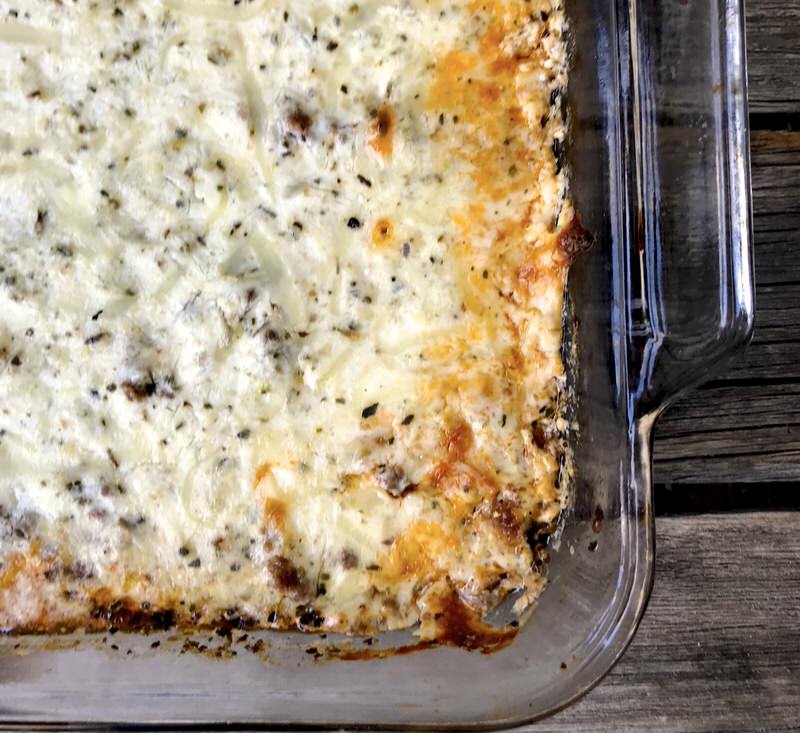 Is this Keto Beef Zucchini Lasagna delicious? Oh, my. It is surprisingly scrumptious. Vanja loves it. Ragan loves it. Mom loves it.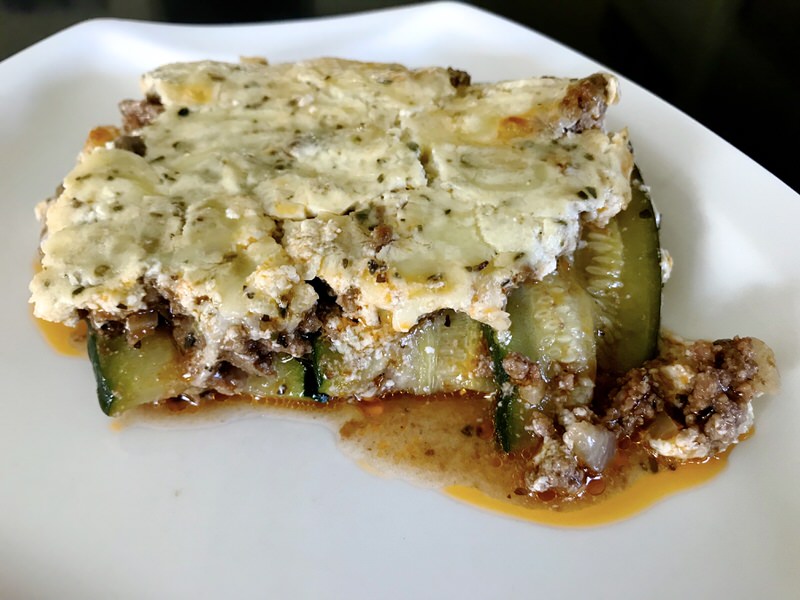 It will absolutely satisfy your craving for that cheesy, unctuous homey traditional lasagna. I was so surprised!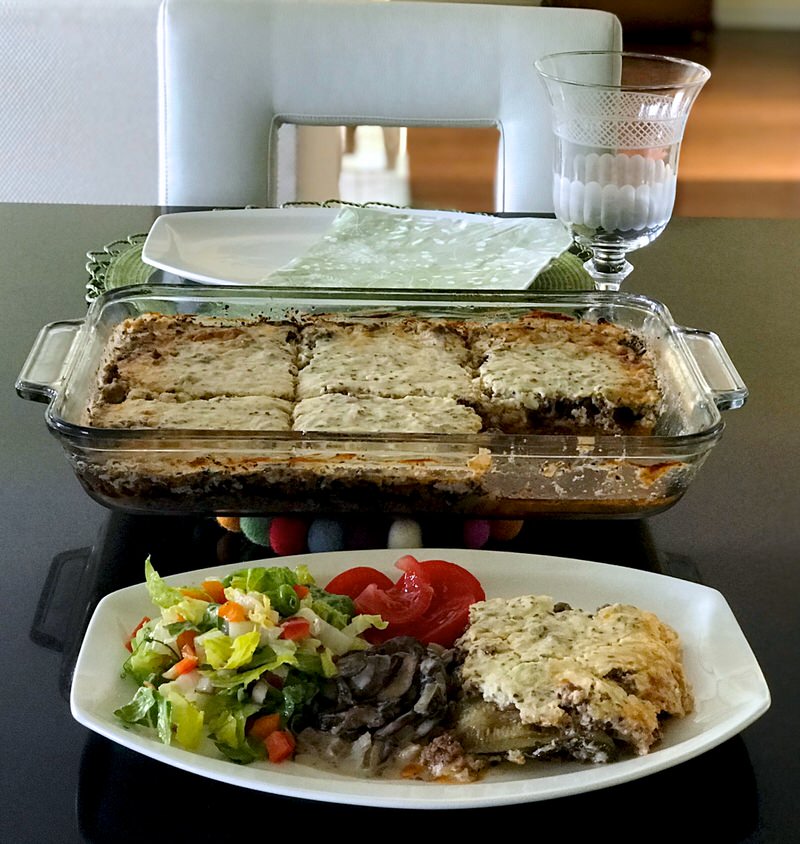 Why this Keto Beef Zucchini Lasagna instead of the Traditional Canadian version? My way of eating has changed drastically since June 2018. I haven't eaten sugar, grains, alcohol, or root vegetables since. Why? I needed desperately to reboot my gut health and had learned about the possibility of regaining my health through a new way of eating with real food supplements I had tried all I knew, yet this was one way I was not aware of. One way that I had no idea would work but was desperate enough to try… and guess what? I am revitalized, alive, have regained hope for my future, climbed out of that seemingly impossible abyss and feel I've discovered something miraculous. Change I never thought possible has found me to be a little of an evangelist. Forgive me.
Keto Beef Zucchini Lasagna: Mis en Place for Filling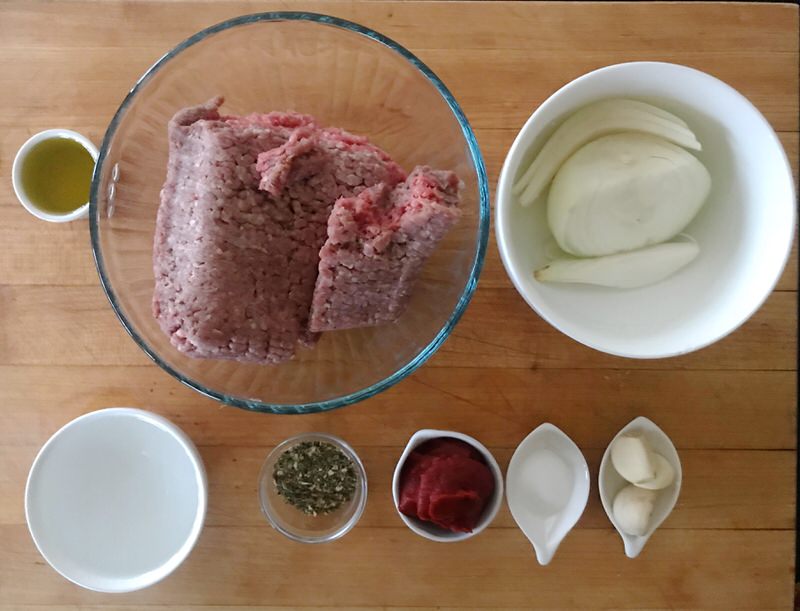 Simple ingredients: grass-fed know-your-farmer beef, onion, garlic, oil, water, tomato paste, herbs and salt. Delicious on its own! This is the healthy and flavourful protein part of the recipe but also some significant fats, too. This is important, as I have found that a "soft keto" fat burning program consisting of 50% healthy fats, 25% carbs and 25% protein has fed my soul, my mind, body and spirit with health and hope. This recipe, as most keto recipes, fits 48 grams fat, 43 grams protein and 11 grams carbohydrates this fits my 50% fat, 25% protein and 25% carbohydrates. A whopping 627 calories per serving (or 314 per half serving) is likely less than a serving of the Traditional Lasagna calorie-wise! You can see the rest of my eating day accommodates for more balance than a keto program which is often 80% protein, or more, as well as plant-based nutritional supplements that make all the difference.
Keto Beef Zucchini Lasagna: Mis en Place for Toppings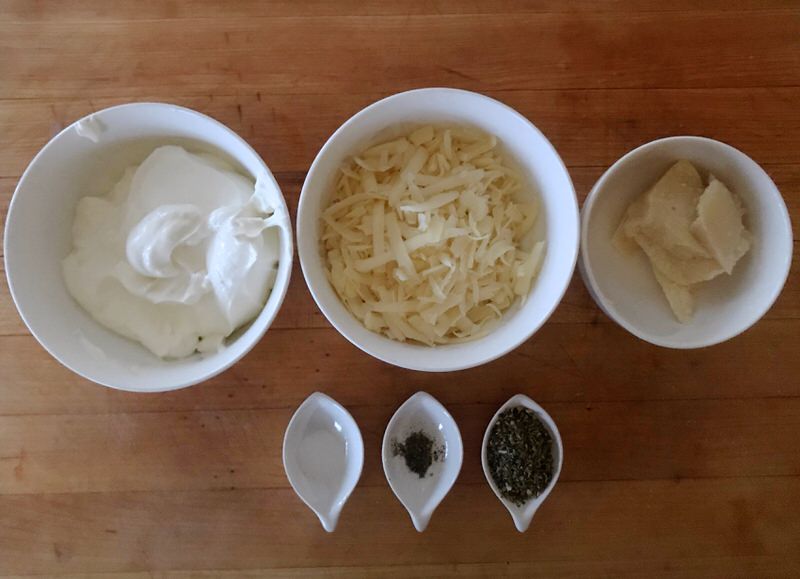 Here is that fatty, unctuous lasagna goodness. Sour cream, mozzarella, Parmesan, salt, pepper and herbs. These ingredients add to the protein part of the recipe, but primarily contribute fat to the whole meal deal. Healthy fats are always best, others in moderation. What are healthy fats? That's another whole conversation!
Keto Beef Zucchini Lasagna: Preparing the Zucchini Layer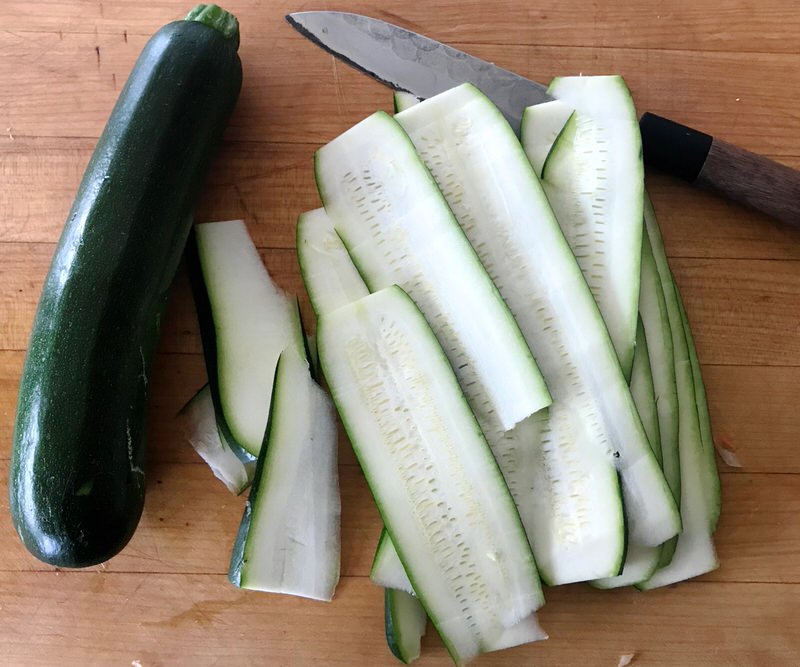 No grain eating means no pasta. How can zucchini possibly replace pasta? Well, it doesn't – yet, it does! Albeit, the taste, texture and appearance are completely different, yet a thin layer of properly prepared zucchini separates the layers and communicates lasagna to the brain. Though the taste experience is completely different pasta-wise, the eating experience is surprisingly similar. The bite looks similar to lasagna, smells just like lasagna and with the velvety cheese topping coupled with the flavourful meat sauce, the zucchini somehow finds its way to compliment the dish in a very similar way to pasta. It is a win-win!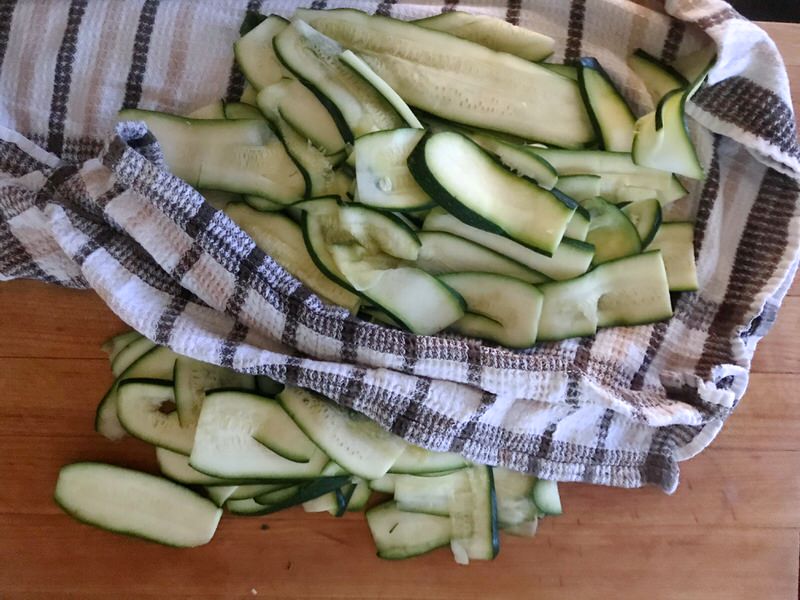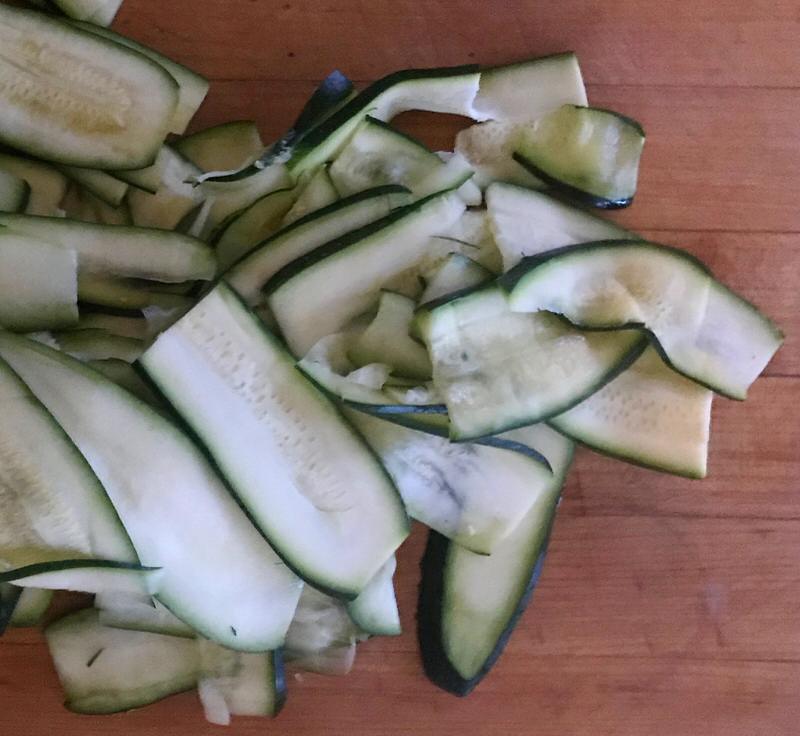 The preparation is timely. We've made this several times now, and I find preparing the zucchini the day prior is necessary to the enjoyment factor. Why? I make casserole dishes in big batches, always. One for today. One for the freezer. One (or two) for Ragan. So, that's 4 -5 medium zucchini to slice thinly with a mandoline (or a sharp knife). Then it must be salted, sit for 2-4 hours, drained and patted dry.
Keto Beef Zucchini Lasagna: Preparing the Meat Sauce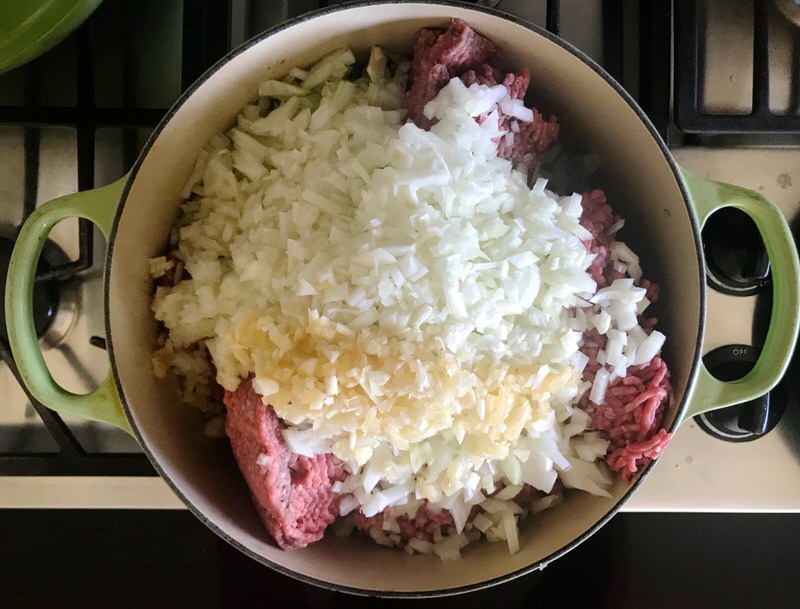 Four times the meat sauce recipe is in the pot, above. It's just as easy to make for as one, for me.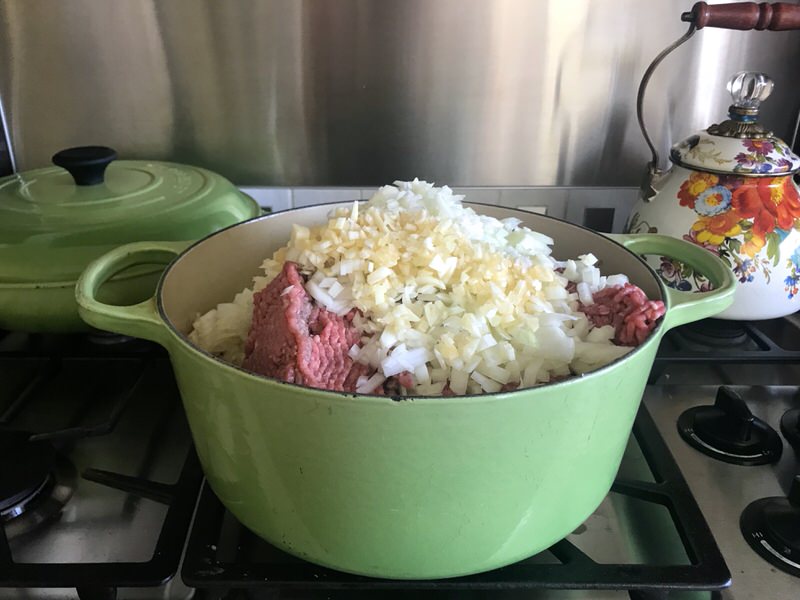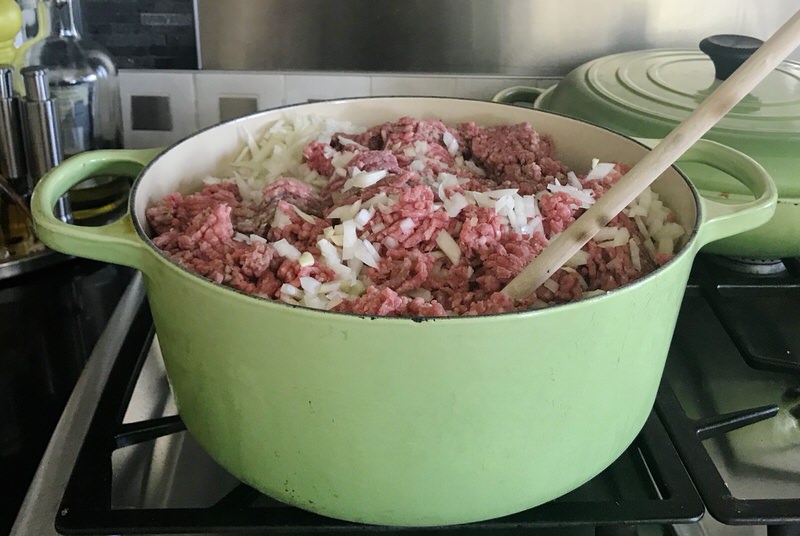 I always take a moment to celebrate the quality of ingredients I am blessed to have access to in Alberta. Beautiful Nature's Green Acres Grassfed Nuveau beef and lovely vegetables from local farms. Long before my change of eating in June 2018, back to August 2007, I have been sure to purchase the most healthy produce and products for our family meals, including GMO-free and organic at all times, or almost all.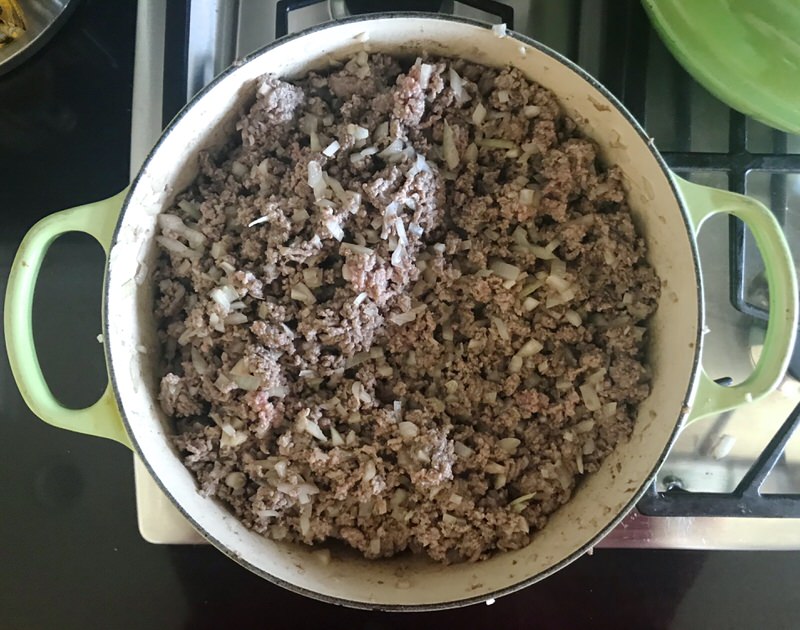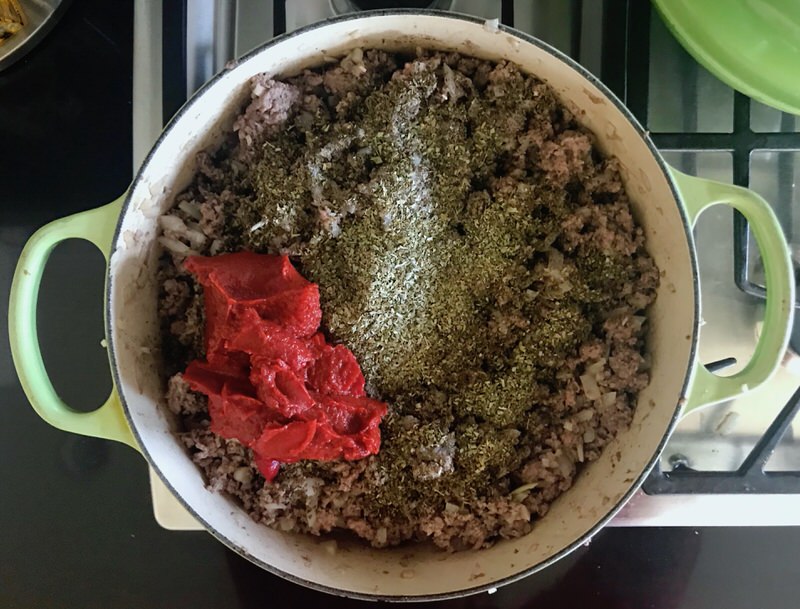 Meat, onions and garlic almost browned when spices and tomato paste is added in.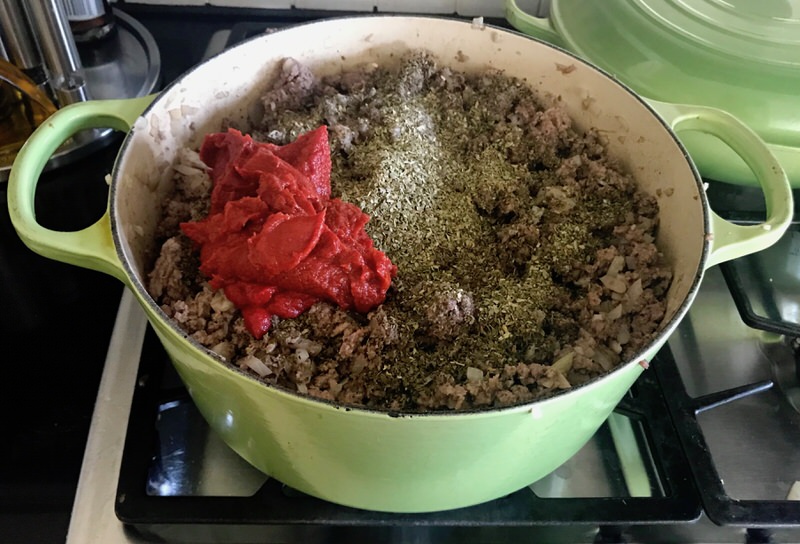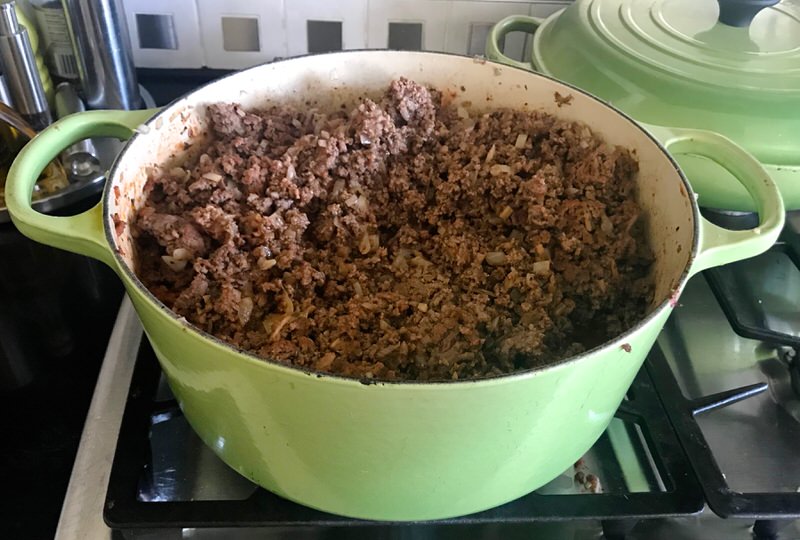 Combined well together to finish the cooking process, the meat sauce is ready. Easy? You bet.
Keto Beef Zucchini Lasagna: Preparing the Cheese Topping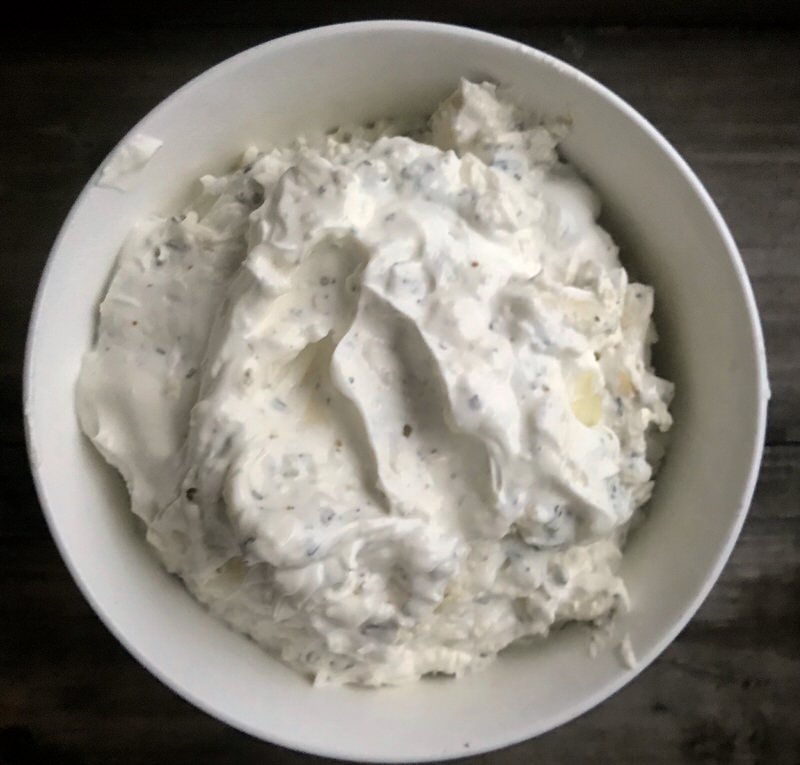 And the topping? Mix it all together, reserving only 2 tablespoons of the Parmesan cheese to top the casserole. Again, easy. So, we have the zucchini prepared the day prior, the meat sauce ready and cooling, and the topping mixed together ready to go.
Keto Beef Zucchini Lasagna: Putting it all Together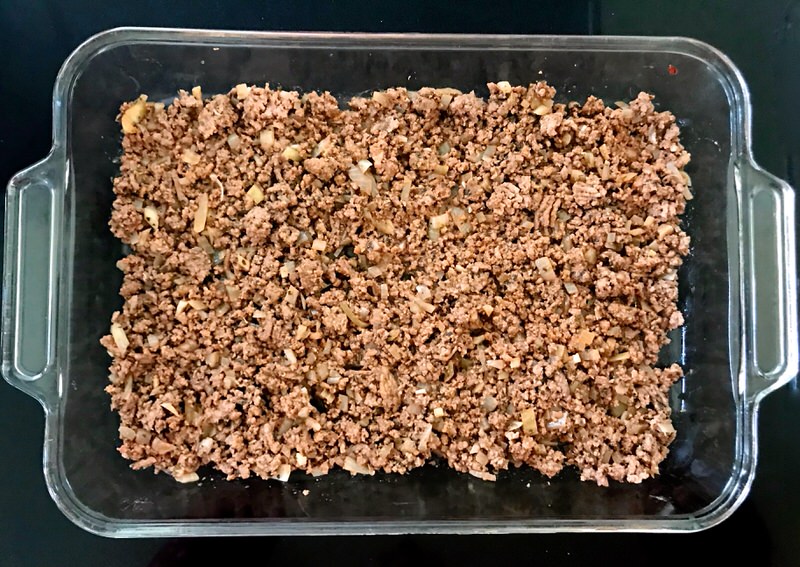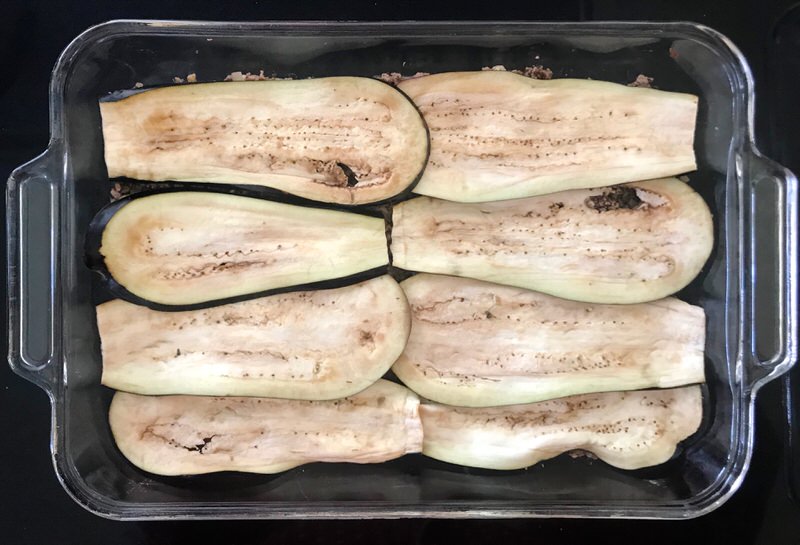 Can you see that this time I tried eggplant instead of zucchini? I likely won't do this again. Though I like the taste a bit better, the difference in taste isn't as significant as the nutritional value between zucchini and eggplant. Shockingly, zucchini has fewer carbohydrates and more protein than eggplant. Protein in a vegetable like this? Who knew? Zucchini (1 medium or 196 grams): 6.6 grams carbohydrates, 2.4 grams protein and 0.4-grams fat; eggplant (one cup chopped): 8 grams carbohydrates, 0.83 grams of protein and 0 grams fat. Above, a layer of meat sauce (2 1/2 cups) followed by a layer of the zucchini (or eggplant).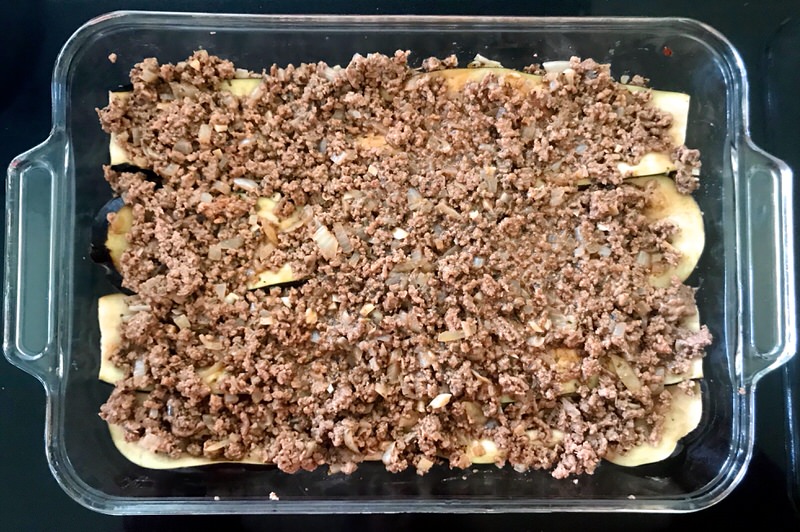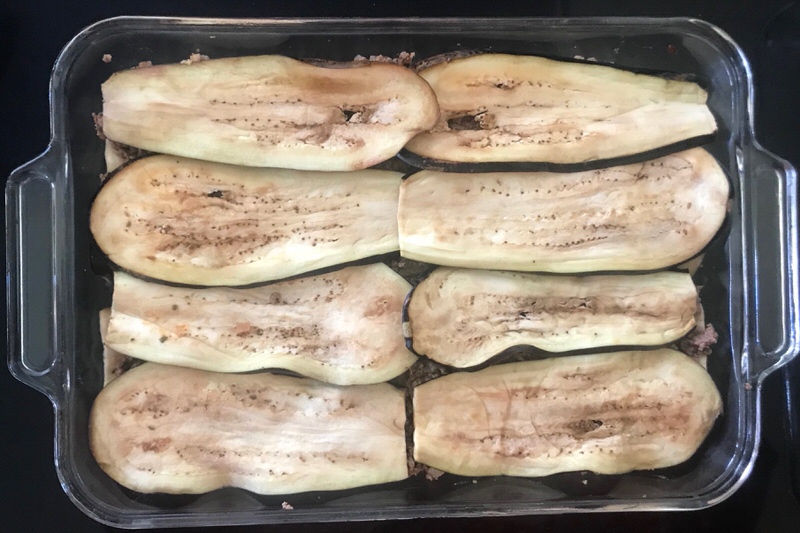 Top veggie layer with another 2 1/2 cups of meat sauce (5 cups per recipe) and then usually the topping. This time, I did an extra layer of vegetables. I learned it is better without the extra layer. Why? Of course more filling, more calories and more carbs with the extra layer, but not necessary. Filling enough and more well-rounded macros for the evening meal without.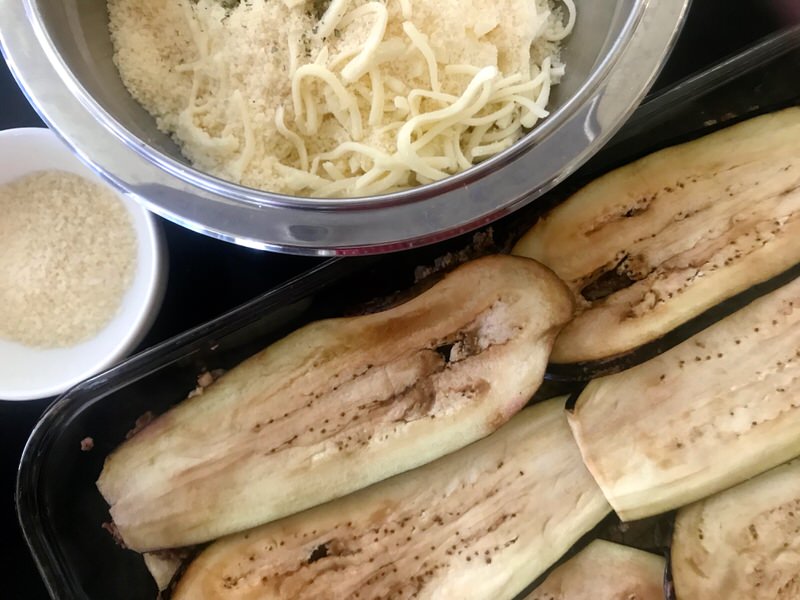 Above, the ingredients for the topping were mixed up and ready to spread over the eggplant.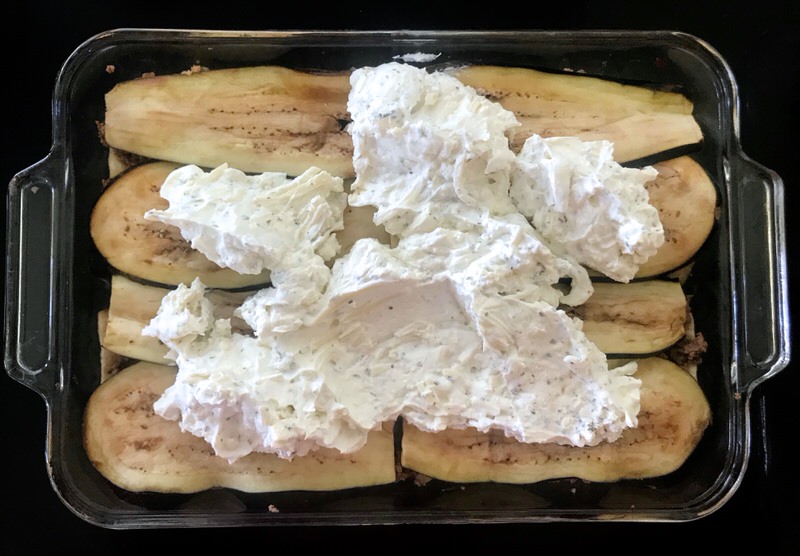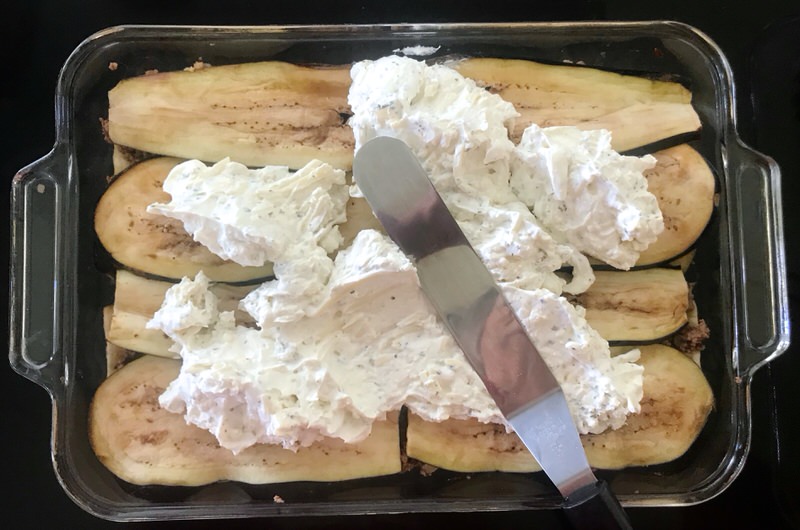 I love my offset spatulas!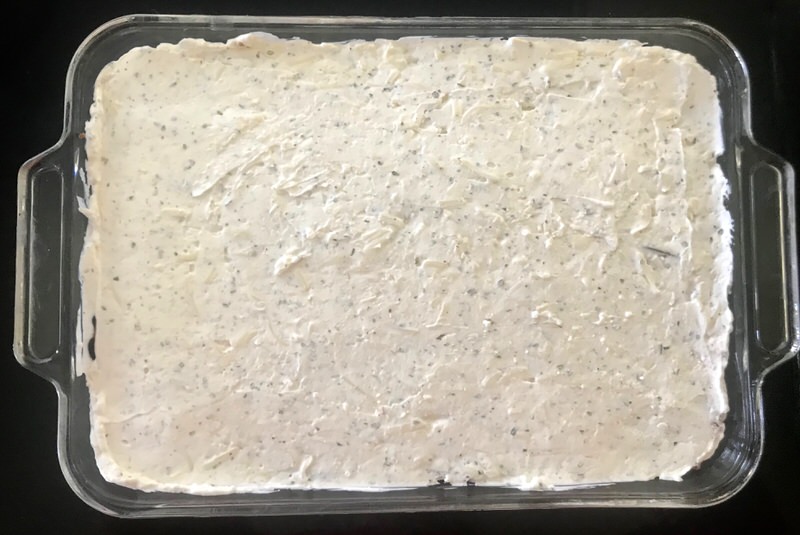 Just needs to be topped with the 2 tablespoons of Parmesan set aside from the topping and can then be baked or frozen.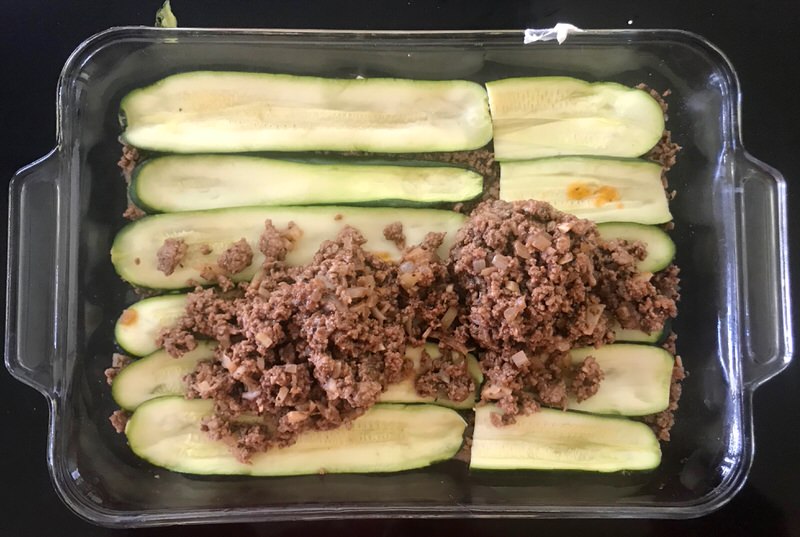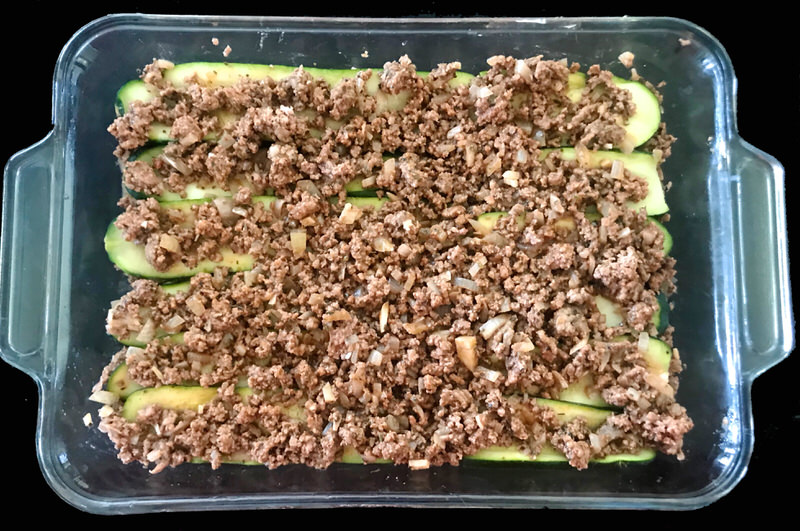 Traditionally, meat sauce, above left, under the zucchini with a second layer of meat sauce topping the vegetable layer.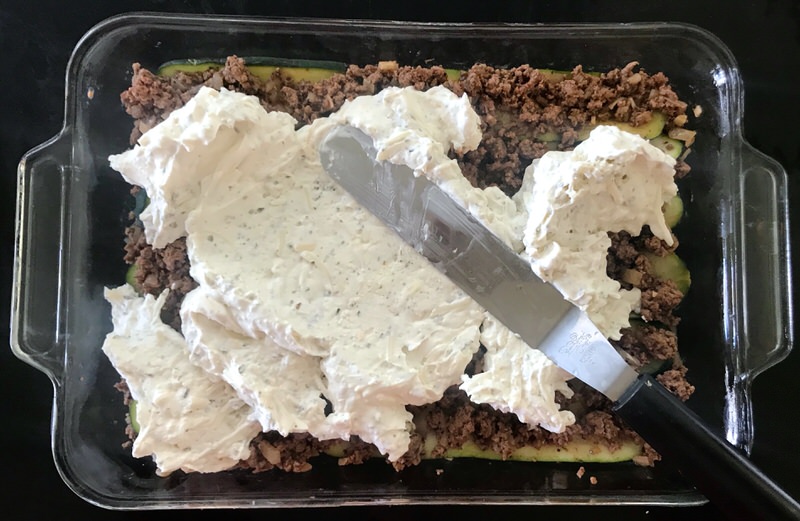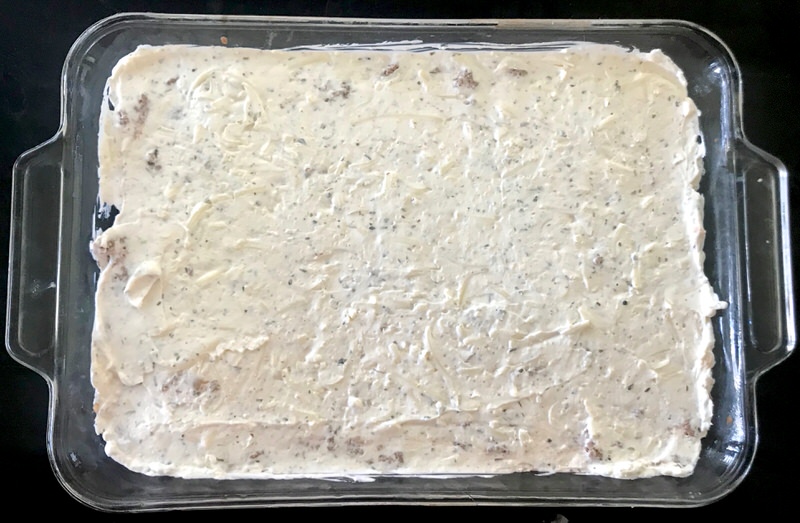 Cheese topping is then spread over the meat sauce. It is not difficult to do if you dollop it in portions over the surface area and use an offset spatula to spread evenly over the top.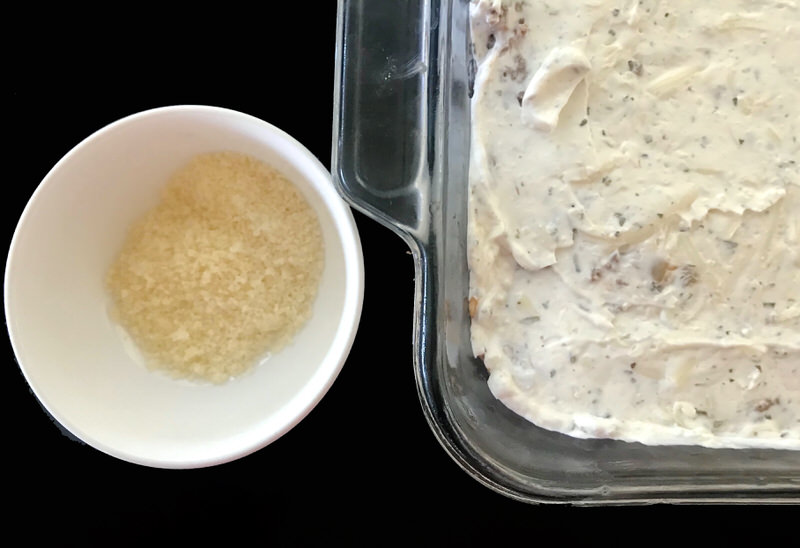 Sprinkle the Parmesan over top, and voilà! We did this with each of the 4 recipes and it took about 90 minutes, total, excluding the zucchini preparation the day prior.
Keto Beef Zucchini Lasagna: Baking and Portioning the Lasagna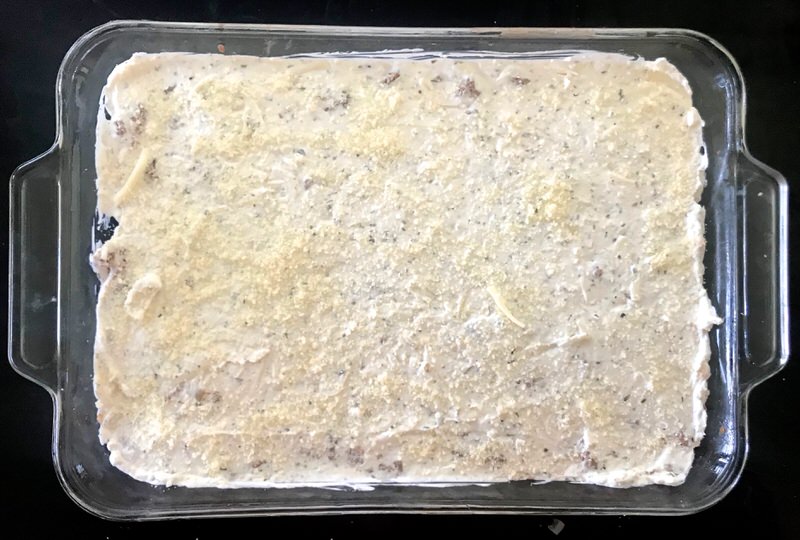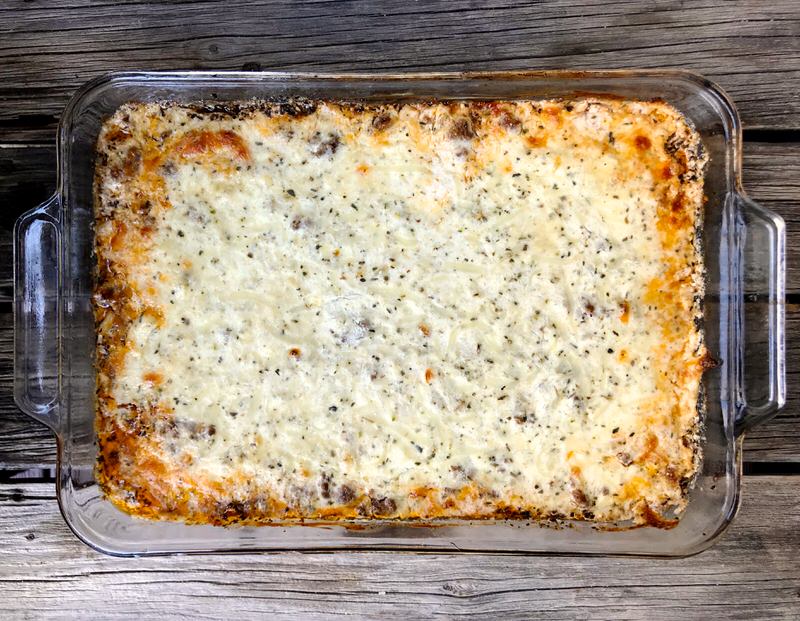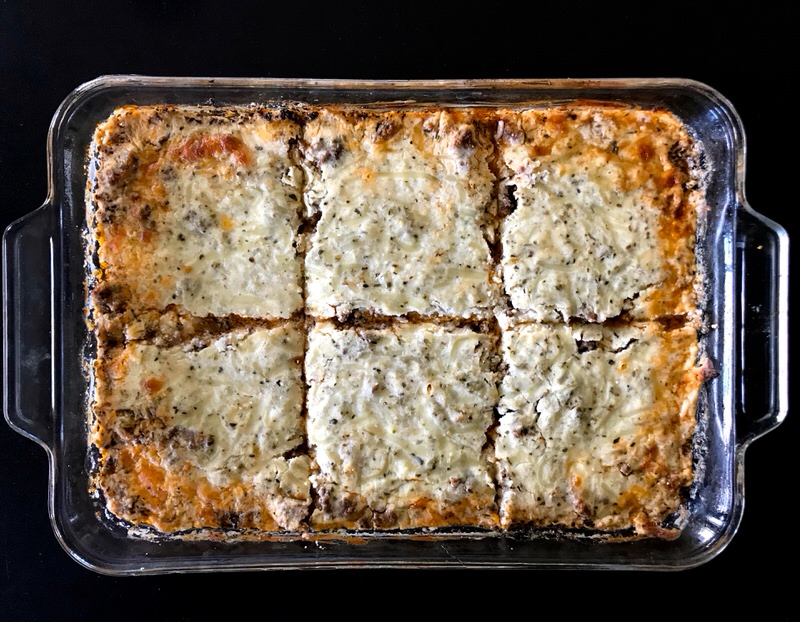 Into the oven, out of the oven, and portioned into 6 servings. I eat 1/2 portion for my daily evening meal as my metabolism is slow so my calorie intake is minimal. However, I have never been hungry – well, rarely.
Keto Beef Zucchini Lasagna: Serving it up!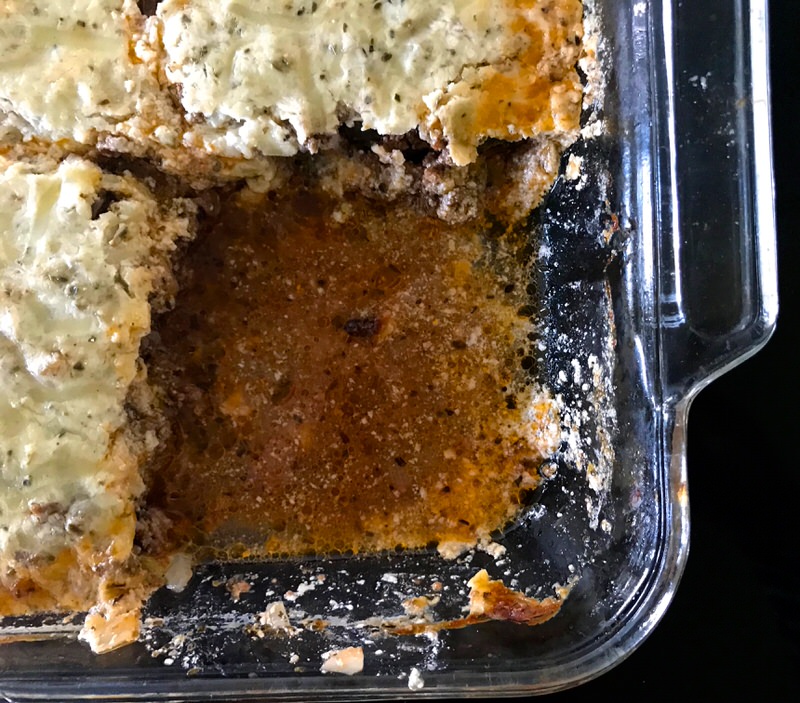 Let it sit for 20-30 minutes before slicing. It will still be warm. Clearly, juicy, too, but manageable and easily portioned.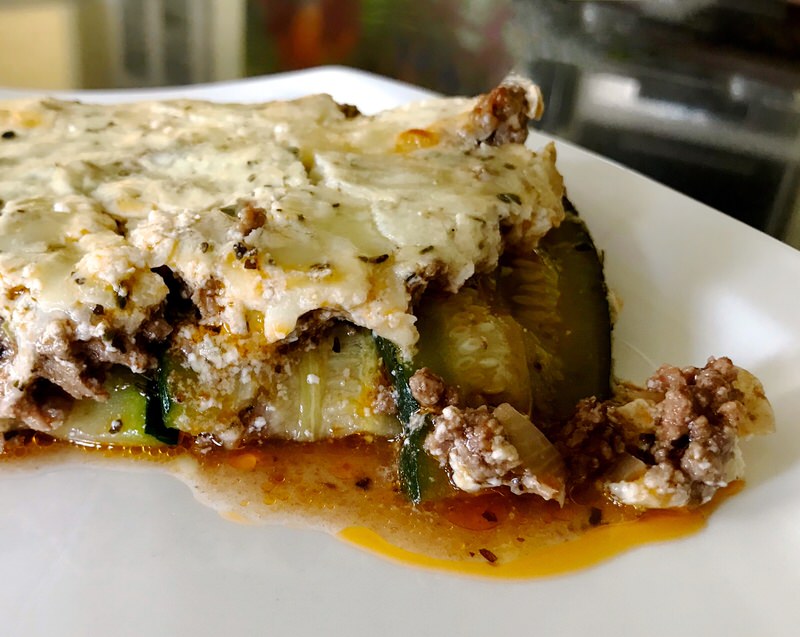 Oooh, mama! Unless you've made it and tasted it, this may not be your reaction, so you must! No?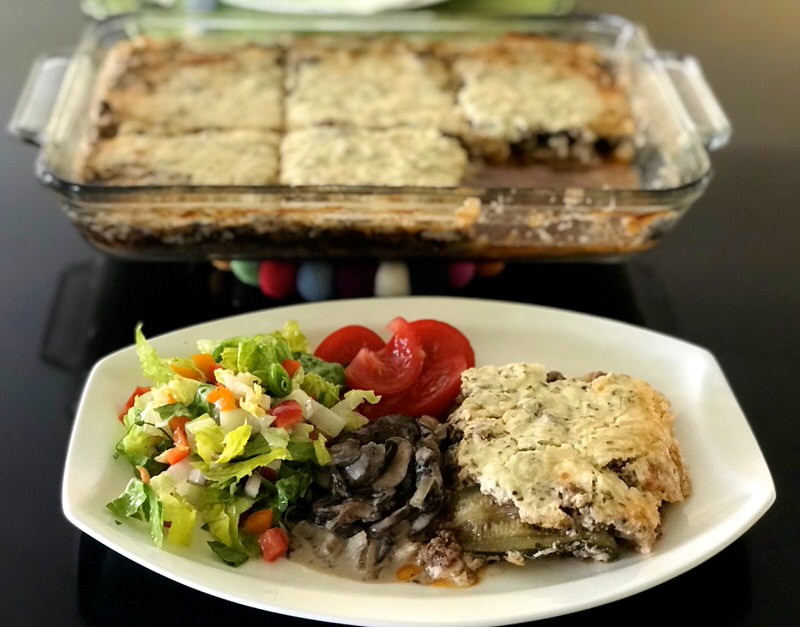 So many friends say to me, "Don't you eat vegetable?" Of course, I do. See? Salad, fried mushrooms, tomatoes and the Keto Beef Zucchini Lasagna!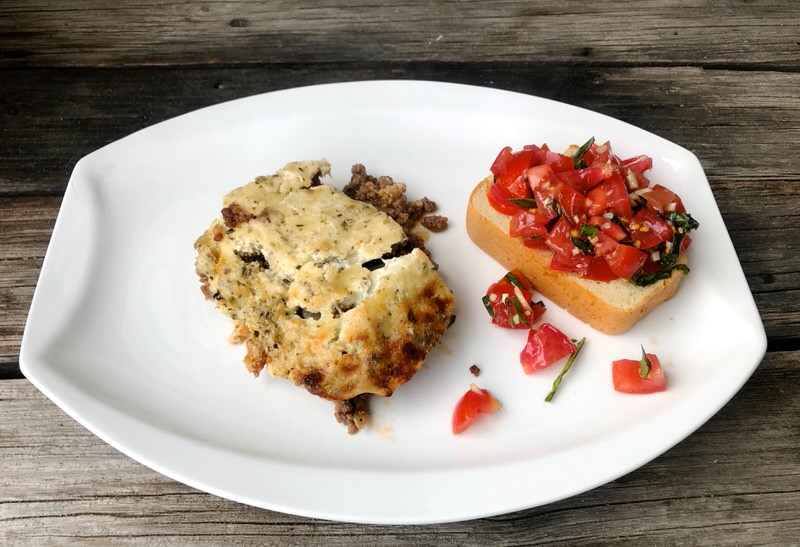 Another time, I served it with some delicious homemade Bruschetta and Homemade Keto Almond Bread.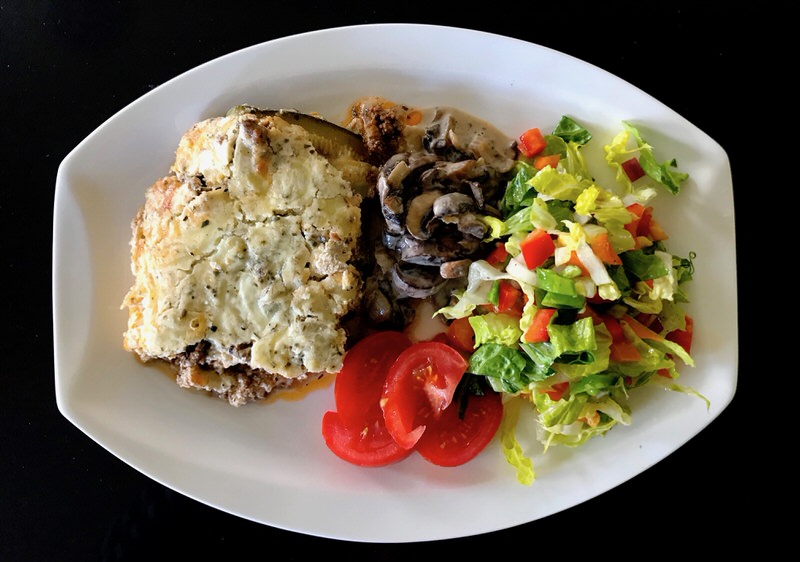 Above, Vanja's portion for his evening meal. Mine is exactly half.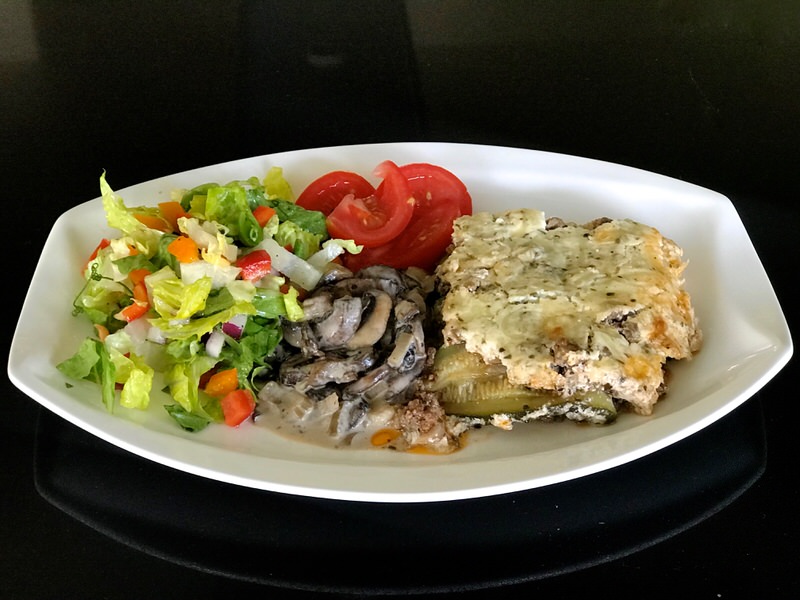 Keto Beef Zucchini Lasagna: Freezing the Leftovers for Another Day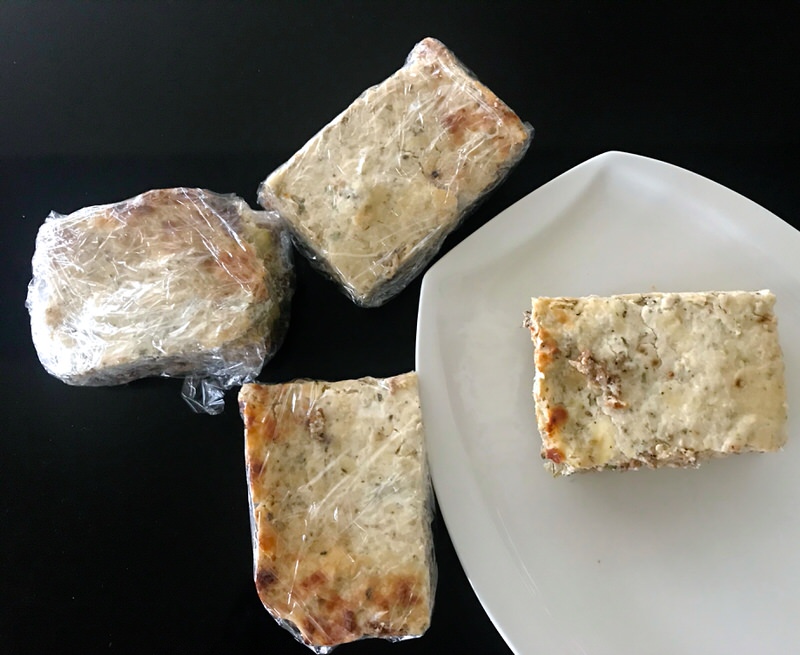 After a night chillin' in the fridge, the slices are wrapped and frozen for easy individual service another day!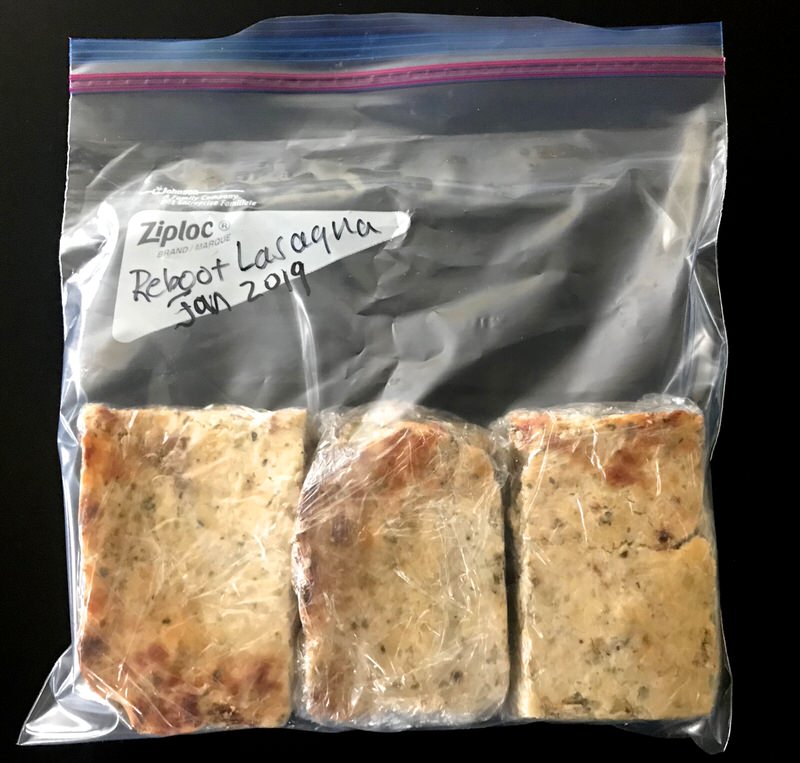 PROJECT 2019: JOIN US! EVOLV HEALTH TOTAL REBOOT PROGRAM
This recipe is part of Project 2019 as this is "the"year! I am refocusing my eating to reboot my gut health and promote an active, healthy lifestyle with Saturday Morning Evolv Total Reboot Support Sessions for anyone who wants to join me.
We've met every Saturday since January 1. Feedback has been very positive and no one has quit after month one, or month two, and most are now in month three! Me? Month 9. I have found that anything I undertake in life that really makes a difference takes determination, perseverance, consistency and a truckload of passion. A group of supportive like-minded people play an equal role in that magic mix toward success.
Introducing Project 2019
Project 2019 Total Reboot Recipes
I found myself on this path through sheer desperation, but it is the passion of feeling new and alive again that is driving me forward every day, one day at a time.
If you are interested in joining us, leave a comment in the section below, and I'll be in touch.
The Total Reboot your Gut Health 28 Day Plan Kit
DISCLAIMER: This is my personal story. I have not been hired by Evolv Health to write these posts, nor am I getting any in-kind gifts for sharing this information.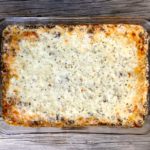 Keto Beef Zucchini Lasagna: Evolv Total Reboot Phase One Recipe
Keto Beef Zucchini Lasagna is delicious and well worth the time to make 2. Freeze one and bake one! Six Large Servings 716 cal, 14g carb, 52g fat, 48g protein or 12 small servings
Prep Time
2
hours
45
minutes
Total Time
3
hours
45
minutes
Ingredients
Ingredients for Sauce
1 ½

tablespoons

olive oil

180

grams

yellow onion

diced

12

grams

garlic clove

minced

850

grams

ground beef

50

grams

tomato paste

2

teaspoons

dried basil

2

teaspoons

dried oregano

1

teaspoon

salt

½

teaspoon

ground black pepper

½

cup

water
Ingredients for Keto Zucchini Pasta
1

large zucchini

thinly sliced, lengthwise
Ingredients for Cheese Topping
2

cups

crème fraîche or sour cream

150

grams

shredded mozzarella cheese

60

grams

grated parmesan cheese

½

teaspoon

salt

¼

teaspoon

freshly ground black pepper

1

tablespoon

dried oregano or 2 tablespoons fresh parsley leaves

minced
Instructions
Instructions for Zucchini (to be done in advance)
Lightly salt slices on both sides; set aside in bowl for 2-3 hours

Drain liquid; pat zucchini slices dry or roll in thick tea-towel to eliminate as much moisture as possible
Instructions for Meat Sauce
Sauté beef in 1 tablespoon of olive oil with onion and garlic in heavy pan over medium heat until browned; add tomato paste and spices

Stir thoroughly; add water and bring to a boil, lowering heat to simmer for least 15-25 minutes until liquid has evaporated

Preheat the oven to 400°F (200°C)
Instructions for Cheese Sauce
Reserve 2 tablespoons of Parmesan cheese; combine shredded cheese with sour cream and remaining Parmesan

Add salt and pepper and stir in dried basil
Instructions for Putting it all Together
Greased a 9" x 9" baking dish with ½ tablespoon olive oil; place lasagna 1/3 meat mixture in bottom of pan

Cover with thin slices of zucchini; repeat ending with meat layer

Spread cheese sauce mixture over meat and sprinkle with remaining Parmesan

Bake in the oven for about 30 minutes or until nicely browned; cool for 15 minutes before slicing
Instructions for Serving or Freezing
Slice into 9 equal portions and serve with crisp green salad

Refrigerate, then wrap leftover individual portions in plastic wrap, place in labeled and dated freezer and freeze for up to three months.
Recipe Notes
6 Large Servings: 716 cal, 14g carb, 52g fat, 48g protein
12 Small Servings: 358 cal, 7g carb, 26g fat, 24g protein

PLEASE SHARE YOUR EXPERIENCE IF YOU MAKE THIS RECIPE
If you make this recipe, please share your experience in the comments section below. Or, if you have other favourite similar recipes that you believe would meet the requirements of the Total Reboot 28-day Health Plan, do tell! Obviously, compiling recipes for this program and working to change the way I think and eat is a process and I know there are many out there further along this journey than me! Chime in!