Assisi with Anne Robichaud: An unforgettable day with "Anna, the Americana"!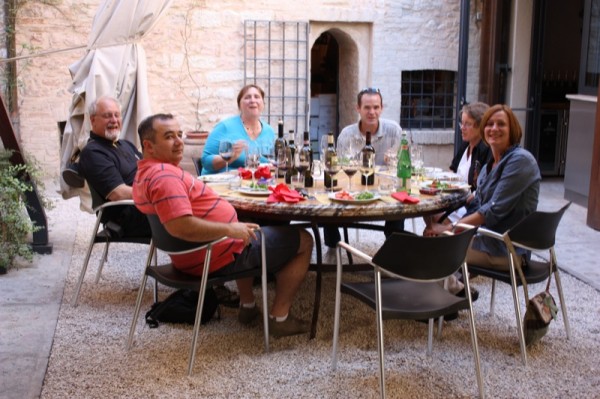 Assisi has held its charm for both of us. It is small, full of allure, but most importantly a spiritual destination for pilgrims since the 1200's when St. Francis was alive until the present.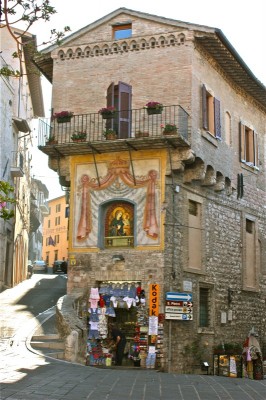 Anne Robichaud is the only guide to move you through the life, meaning and mission of St. Francis. She is so passionate and knowledgeable that she takes you "there" with her. She deeply touched me through her recollections and though I have been through three other tours at various times here, hers is the one I will never forget. Â The stories she shared about the life of this Saint were reinforced later as we toured the ancient village and she retold events in the space where they actually happened. Anne is brilliant.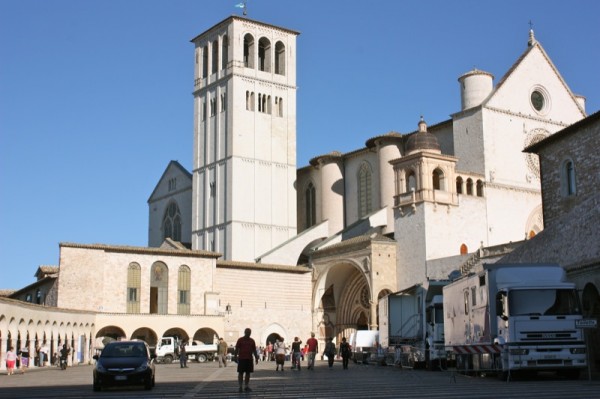 Our tour was October 1; the death of St. Francis of Assisi has been celebrated yearly since he died on October 3 1226. The big trucks are in the area setting up for the celebration. Italians from all over Italy had begun to arrive as had various diocese of monks and nuns. Below is a Franciscan monk (as brown is the colour of the order) using a cel phone. The paradox was too extreme. I had to capture it!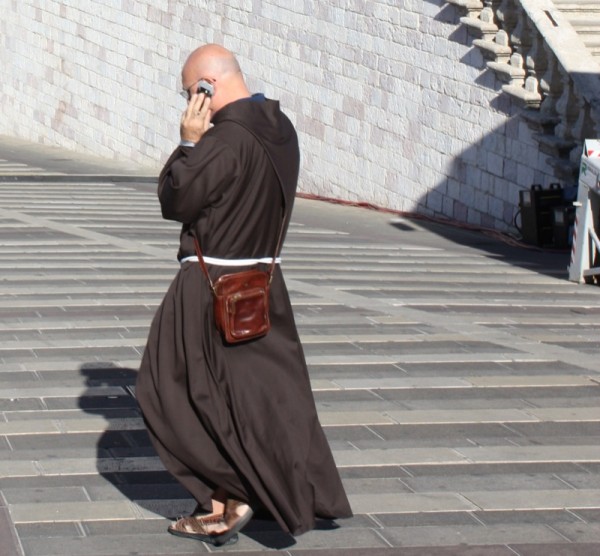 For only 10 days at this time each year, little shops and bakeries around town sell Mostaccioli. This is said to be the favourite treat of St. Francis and one last request of Jacopa dei Settesoli upon his deathbed. The cookies were simply made with eggs, almonds, flour and sweetened with grape must, or mosto (grape juice), left over from wine making. Unfortunately, he was too sick to eat the treat when she arrived. (The incident is recorded in the "Legend of Perugia" page 101.) I was tickled to learn about this precious food tradition and to be there during the ten day period I could buy and try them! They are not overly special by today's hedonistic standards; however, I really enjoyed them with my morning coffee and have included what is thought to be "the" original recipe, below.
It is difficult to ask Anne a question. It was clear that she believed that if you listened to all she had to say she would eventually answer everything you may ask. Below is one of the many profound and intricate frescos on the interior wall of the upper church of St. Francis that Anne breathed to life through her storytelling.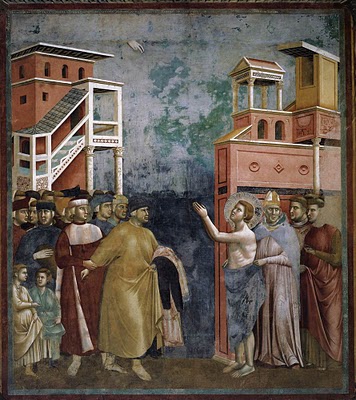 On this day, as we toured through Assisi after an indepth tour of the monestary, we happened upon Graziella Viterbi who was a young Jewish girl hidden in Assisi during the German occupation in the second world war. One of our fellow participants was Jewish, yet this happen-chance was extremely engaging for all. Below is the book at the local bookstore that Graziella's story is in.
Imagining Assisi with St. Francis walking through it and touring through quaint little nooks, crannies and shops was possible in this setting.
The world famous Majolica pottery is made in this area and factories are very nearby: great for a little side tour!
This is the fountain in the beautiful main square of Assisi that should be teeming with townspeople on a Saturday night as most European town squares are. (We went later and were there with only three other locals, clearly permanent fixtures on their shared bench!) To one side of the square, you fill find an arch, below, with frescos painted on the roof. The famous, reasonably priced, Slow Food restaurant "Trattoria Pallotta" is at the end of the hall and down the steps.
I couldn't avoid capturing a little Italian fashion; a wedding was happening. Bows are in and I love this ensemble! Ravishing!
The only negative thing about touring is being whisked past stores you have no time to poke into. This would take me a good while to snoop through! And, Terry, below, was ecstatic that one could just buy a beer and drink it on the street! A little "getting ready for lunch" refresher!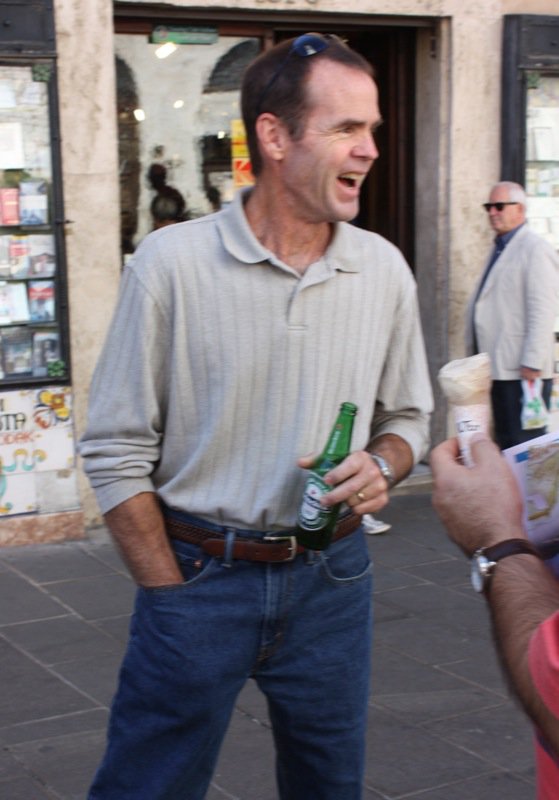 And we were off to Spello for lunch!
It may be a good idea to write your questions down as you think of them, and ask her them at lunch. Her agenda is engaging enough!
I was not prepared for this lunch. Somehow I thought I had booked the tour and the lunch at a farmhouse in the afternoon which was actually happening the following day. No matter. I know that would have been incredible, but so was our tasting, lunch and tour of Spello ten minutes down the road from Assisi. Outstanding.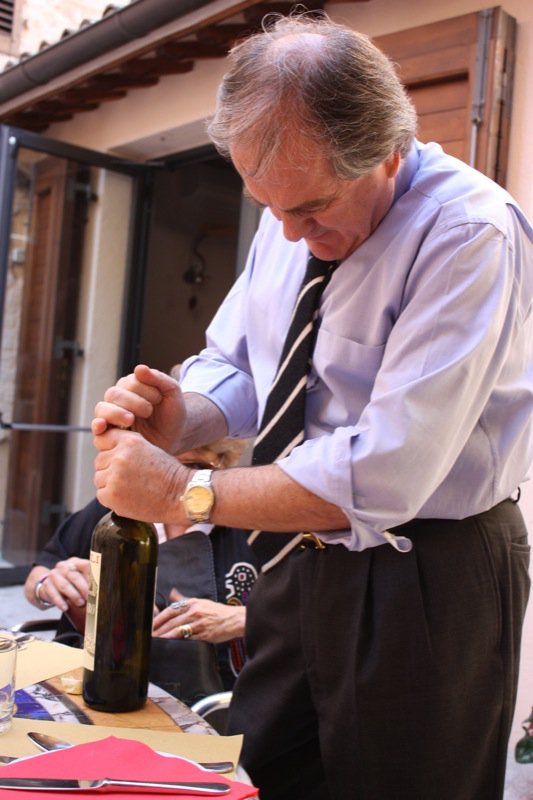 Roberto Angelini was the star of this show at his restaurant and wine cellar, Enoteca Properzio. What a charismatic personality; he was the quintessential host. We felt honoured having him all to ourselves. (I only read the incredible reviews after we came home!) Below, his son presents the Umbrian DOP olive oil specifically from Spello and explains the qualities of it to us. My recollection of his explanation? It tasted really, really good! Yes, I brought some home! We were surprised to see the gal literally drench the warm toast with the oil and then add salt: truly delicious. We came to know this as a traditional plain bruschetta which I love when rubbed with fresh garlic.
Roberto's turn to perform… and he held us all in the palm of his hand. All wines tasted are listed under the recipe at the bottom of the post with their pricing information. This first white Renaro was really lovely: light, crisp and refreshing. Perfect for the moment.
A second olive oil was then presented in the same manner as the first, but with more flair! This oil is from Alberto Cipollini and has recently become well known due to Alain Ducasse's stamp of approval. He uses this oil exclusively at all his restaurants and claims it to be the best in Italy. (Yes, I bought this one, too.)
When the tomato bruschetta appeared, I thought I would be all "breaded out", but one is transformed when in Italy and I found this taste to be deep, light, bright and another slice of toasted bread went down without any trouble.
Time for some red: a young cabernet merlot aptly titled, Young. The taste was so light for a red, yet there was a depth and a resounding orchestra of flavours, apparently. Roberto explained the notes with such finesse, that even though he was speaking Italian, I somehow understood. (Though cannot repeat any of it back to you now!)
More bread! A tasting of each of Alberto Cipollini's special olive spreads made with nothing but his farmed olives and his own olive oil: except the one mixed with artichokes and the one with sun-dried tomato. I found it the best. They were all very tasty. The lightest one was my least favourite, and that was Vanja's favoured one. We do make such a great pair! Of course, he got mine! Each of these spreads is for sale here, and prices listed at the end of the post are for some of them.
Ah! More wine. With each dish, new wine and another lesson of how to hold the glass, breath, smell, and taste… and so many nuances within the precious harvest that I just enjoyed the way the flavour paired with the robust flavours in the food. This was the Sagrantino selected to go with the hearty yet not at all robust bean soup. Everyone enjoyed the "legs" and peering at one another through our glasses!
We all got a lot of personal attention. Let me retract that: we three woman visitors got a lot of personal attention! Oh, the Italian man definitely knows how to tickle a woman's fancy. Tee-hee. The kissing and touching and winking, all in good fun, added a level of carelessness to the afternoon that found us all loosening our ties… even those of us without one.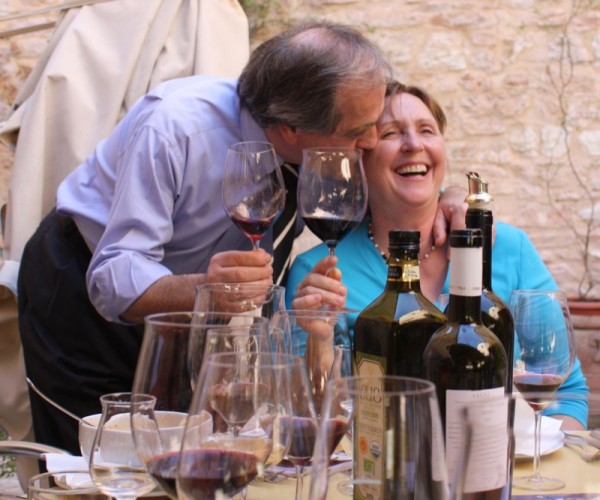 Everyone enjoyed the wine so much that Roberto brought out another Sagrantino at 98 Euro a bottle for us to try. It was far more subtle and sophisticated than the first. Kind of like the older Italian man compared to his son. (Tee-hee!) At this point, most people were getting rather sloshed. A little sloshed, at least. We were not, as we are not wine drinkers. As the temperature around the table rose, the conversation became more colourful and enlivened and no one was too sure what language was being spoken at some points!
The salad was divine. I am a fan in long standing of boconccini and any fresh young cheese; this one was almost burrata-like in the centre. Machéis a tender subtle green that I adore and the tomatoes were studded with salty capers. YUM!. The tuna I could take or leave. It was, well, canned tuna. Apparently, this was a DOP balsamic. I wish I had spent more time looking at the label. Somehow, I missed a photograph of it as it was not left on the table, but seeing the price of it below fills me with regret as it was at least 500ml.
Incredibly, a friend of the owner was also a friend of one of the participants of our tour and happened to be lunching at the same time, completely unexpectedly, from the US.
The meat and cheese dish surprised me. Really. I had eaten enough. Past enough. But the men were definitely looking for the traditional secondo: the meat! This kind of platter is also a secondo on menus, and was really a lovely variety of tastings, again. However, I do think that a meat should have been served as I know my husband would have appreciated it and heard the same from the other couples after leaving.
We tasted Prosciutto di Norcia, then what they call "coppa" and I know as capicola. Following that was a ham made from buck thighs, Prosciutto di Daino, then the traditional wild boar salami, Salame di Cinghiale, and an Umbrian salami, Corallina di Norcia. We bought some coppa to take to Vanja's family. There is nothing like it that I have tasted before: neck meat that is addictive! Anne told us not to eat the meats with the cheeses, "Well, you can, but we don't. The Italians don't." The cheeses were all varying kinds of pecorinos: aged, young, peppered, truffled, wrapped in fig leaves, etc. Each was delicious and vastly different from the other.
Another wine: the Kurni. I cannot recall anything about it. I don't even recall tasting this one. I definitely remember the sweet red at the end of the meal: the Rubacuori. I could not get enough of it. I drank mine. I drank Vanja's. I had a third. It was my first experience with a deep red sweet wine that was not a heavy port… a new taste experience for me, and I truly enjoyed it. But, no. I could not justify paying 58 Euro for such a small bottle. OK. I didn't need to justify it. I loved it. I wanted to buy it. I could not buy it and expect my dear husband to respect me in the morning. 🙂
I appreciate the opportunity to buy what I taste after participating in a tasting. I do not appreciate an entire lunch prepared with prepackaged regional foods for sale. The offering of the list after the meal was somewhat off putting because I wasn't expecting it. To be offered a list of the wines and olive oils to purchase would have been appreciated and appropriate. Or, the opportunity to tour through the shop and buy after.
Then grappa! The men were happy! They had completely forgotten that there wasn't really a meat course. I was (sadly) looking for a creamy bite of Italian luxury. Where was the dessert? Ah… out came the cookies. Darn. But, how can I complain? The dessert wine was extraordinary and the entire meal an afternoon triumph.
Absolutely no doubt about it! Chin! Chin!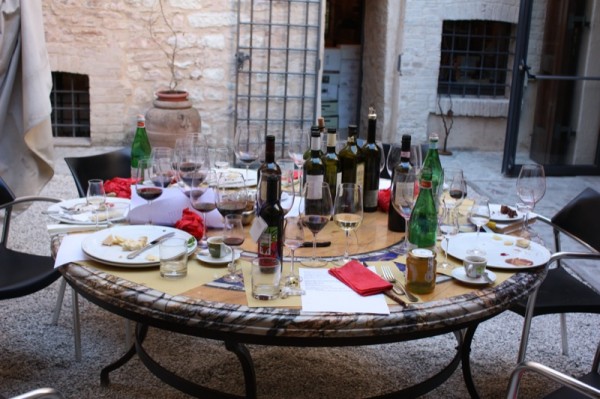 Spello was an unexpected delight for me. Another quaint ancient city with a considerable amount of character and a really good naive artist.
Below, home of a local violin maker….
Anne knew exactly what I was looking for when I asked if there were any naïve artists in the area and even has one of his pieces herself: Paolo Proietti is his name. His uncle's work is absolutely stunning and expensive (Luigi Proietti), but this artist is affordable and the perfect addition to our collection. I deeply appreciate local art that is representative of life in the area and it will continue to provide me a portal back to this place in time from a wall in our home. I am very grateful to Anne for so carefully listening and making the time to get to this artist during our tour.
Time to thank Anne and bid farewell to her and our new friends, Terry and Sandy.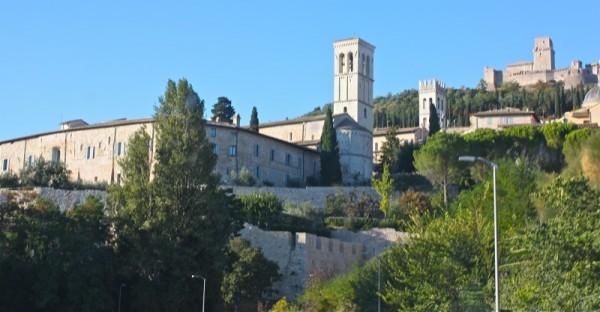 The day was full and tomorrow we will be meeting Constanza in front of the clock tower in old town Siena.
Visions of pecorino and honey, medieval architecture and art, blue skies and rolling hills played hide-n-seek in my head through the warm quiet stillness of this dark Umbrian night.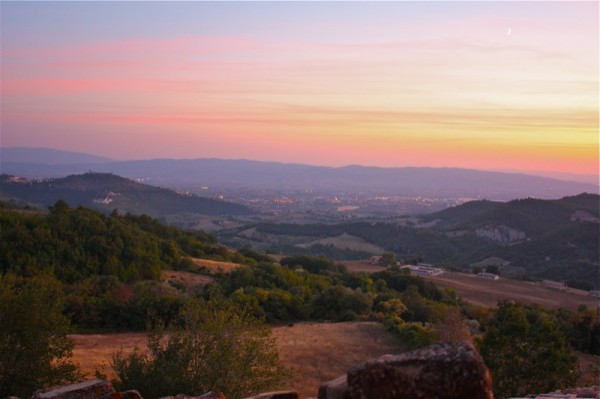 Authentic Mostaccioli Recipe
Yield: about 3 dozen
Ingredients:
1 pound blanched almonds or almond flour
1/2 cup grape must (or honey if not available)
1 teaspoon cinnamon, vanilla, or almond
2 egg whites, lightly beaten
Approximately 1 cup of flour (scant)
Instructions:
Chop the almonds very fine or coarsely grind in a blender or use almond flour (course kind)
In a bowl combine the nuts, must, cinnamon, and egg whites; mix thoroughly
Gradually stir in enough flour to form a thick paste
On a lightly floured surface, knead the paste until smooth and stiff.; roll out to about 1/4 inch
Cut into rounds or diamond shapes about 2 1/2 inches long; place on a lightly buttered and floured baking sheet
Let dry for 1 to 2 hours and bake in a preheated 250

°F oven for 20-30 minutes or until set

Do not let brown
What to buy in Assisi?
olive wood objects: I bought a great serving board
olive oil: I bought both we had for lunch (rely on DOP or your personal palette)
chestnut honey and a huge variety of local honeys
majolica
walnut liqueur: We bought some to bring home
grappa (everywhere)
it used to be famous for lace, but most is machine done now