Sugared Violets: The Ultimate Garnish for that Spectacular Mosel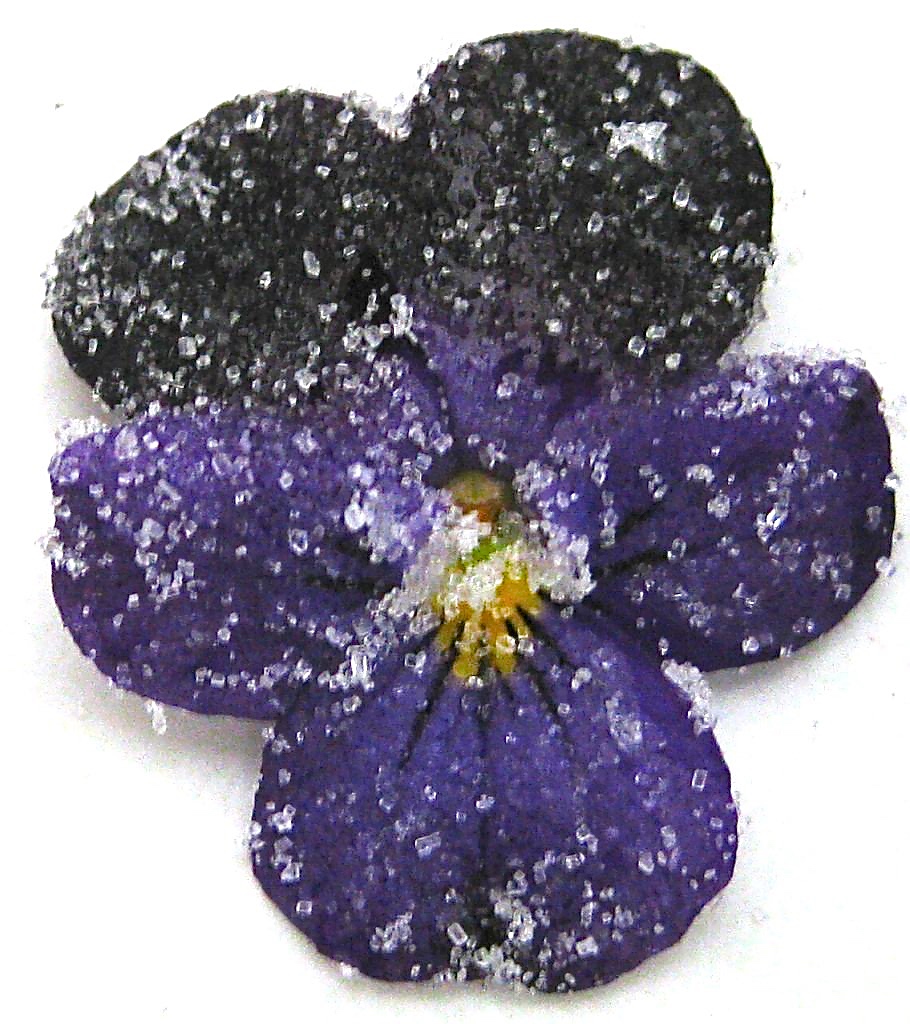 I love violets. I have always loved violets. They are Nature's minute signature of perfection. I never laid my eyes on a blue or a purple flower when I was young, so I am crazy about them. The possibility of their existence seemed surreal. That's probably why I grew to love irises, crocuses, purple sweet peas and the princess of them all: violets. They are so petite and delicate, velvety and sparkly. And of course, intensely purple. And sugared violets: the jewel of all culinary garnishes!
Sugared Violets or Candied Violets: Nature's Little Miracle, the Black Bowles Violet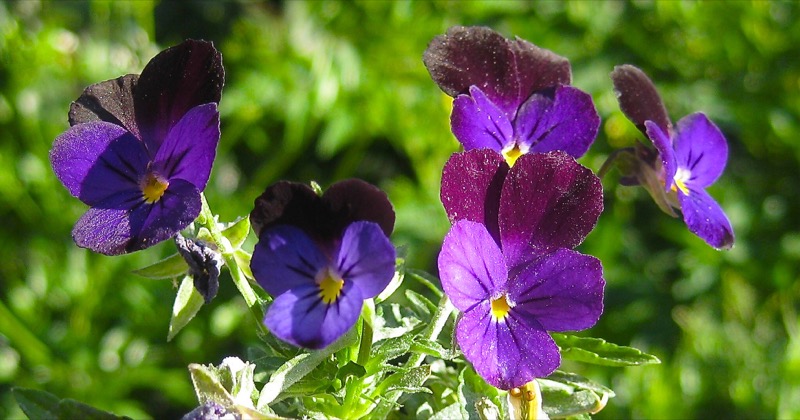 I discovered the flavour of a violet at Glups, that little famous candy store tucked into a side mall on the Champs-Élysées in Paris. It was most definitely a "coming home" moment for me. It tasted exactly like I imagined a violet would taste. The elusive perfumed essence was my violet purple flavour. This was the flavour of my colour purple; however, it won't be present in these sugared violets.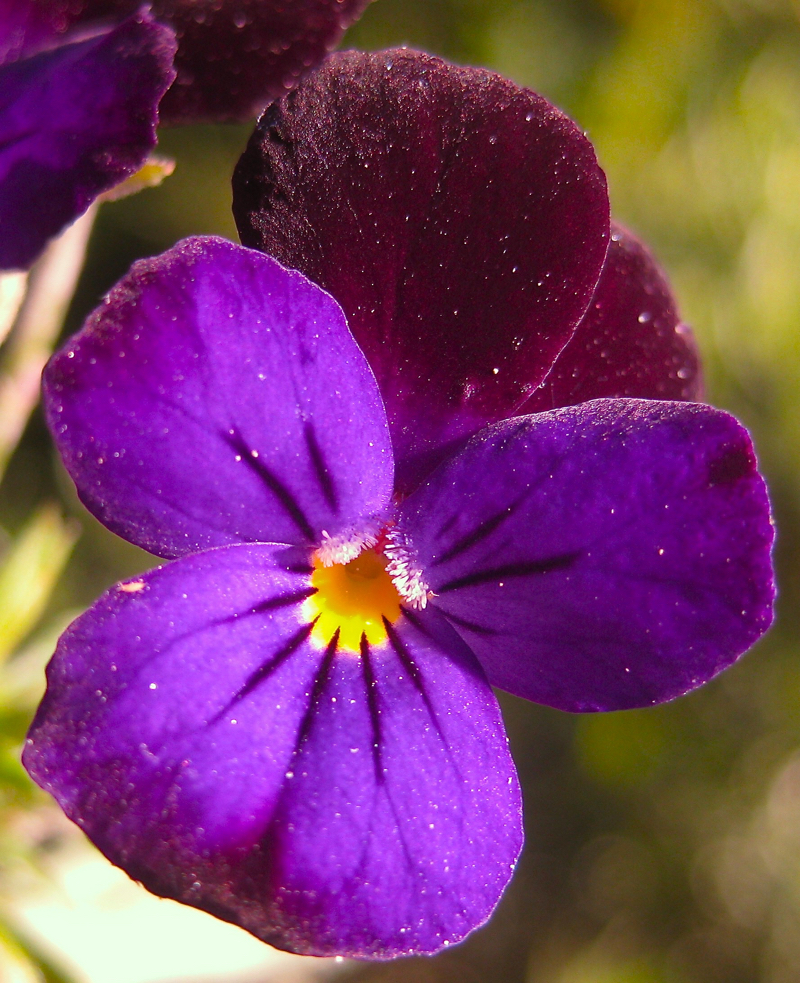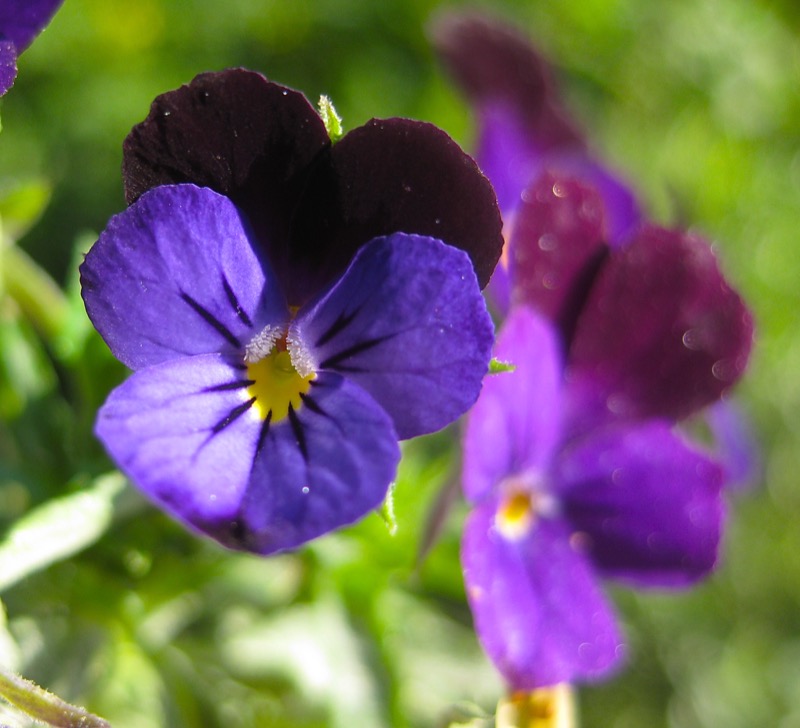 Though Canadian violets have no flavour, they are edible, and most definitely beautiful. This labour intensive handmade garnish will bring you joy in the deep white blue icy crystal cold Winter months when you pull one out of storage and watch it glisten the light and life of summer past as it crowns whatever you have prepared that needs this special little honor atop it.
Sugared Violets or Candied Violets: Mis en Place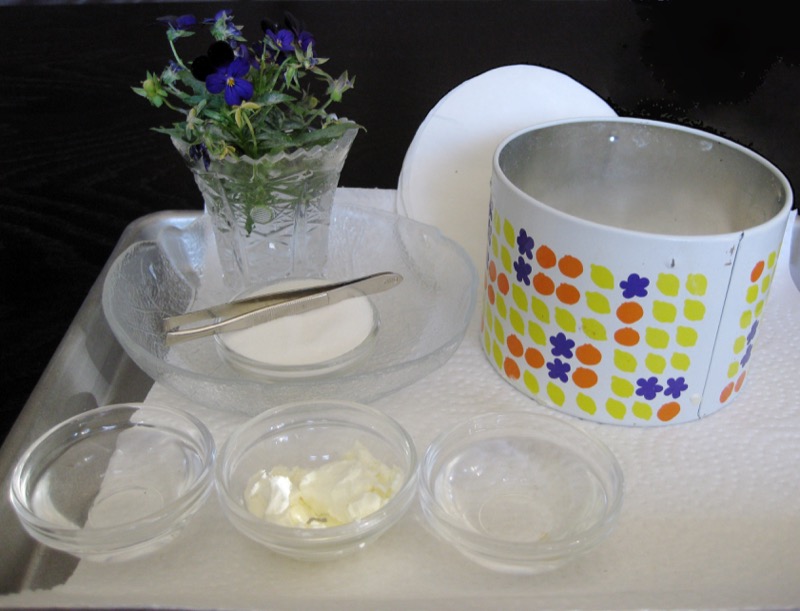 Get everything organized before you pick your violets: a little dish of water to store the buds (or a tiny vase), water to clean your brush and water to mix with the albumin to paint the flower with. Sugar in a small bowl and a larger bowl to catch the extra grains when sprinkled over the violet. An old candy can from is perfect for storing my dried sugared violets.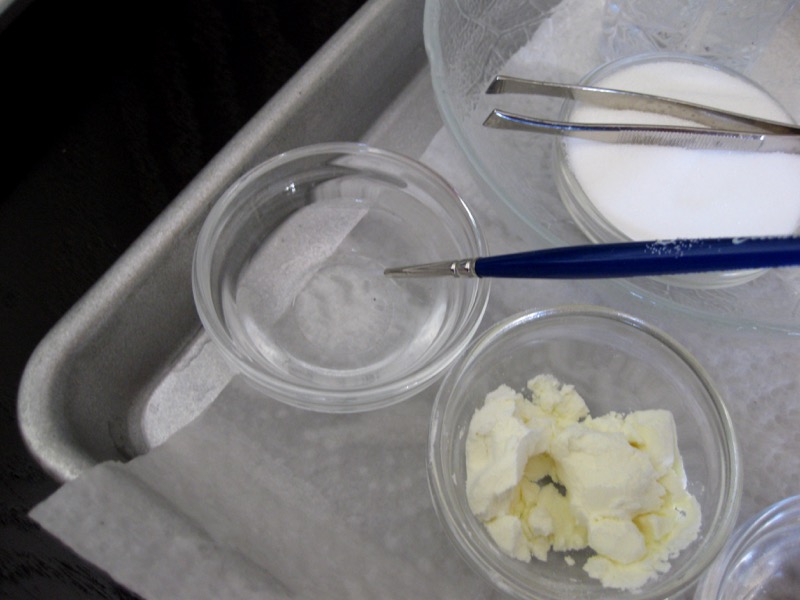 Albumin is available at specialty food stores and health food stores. The amount above is far too much. A teaspoon will do hundreds of violet flowers. The problem is that the paint (water mixed with albumin) will dry up faster than you can use it to paint the flowers.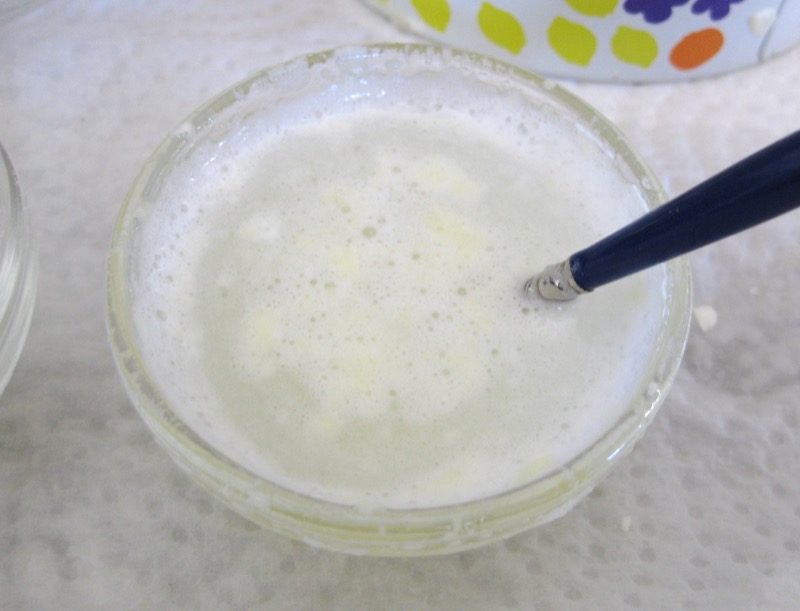 The above dish is the water I use to clean my brush and then wipe it with a paper towel. Only 2 tablespoons of water with one teaspoon of the albumin is necessary to make the paint for the sugared violets. Fresh egg whites can be used, but are not food safe, so the dried is the best choice by far and its shelf life is long.
Sugared Violets or Candied Violets: Sugaring the Flowers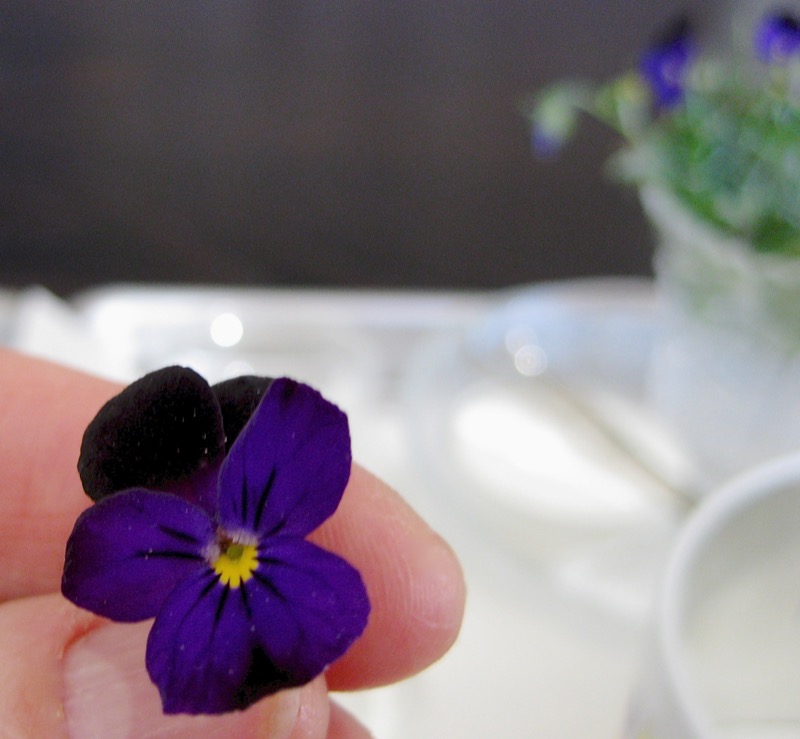 I find this process very gratifying, but it is tedious. It takes a very very long time to sugar violets, so best to choose perfect blossoms.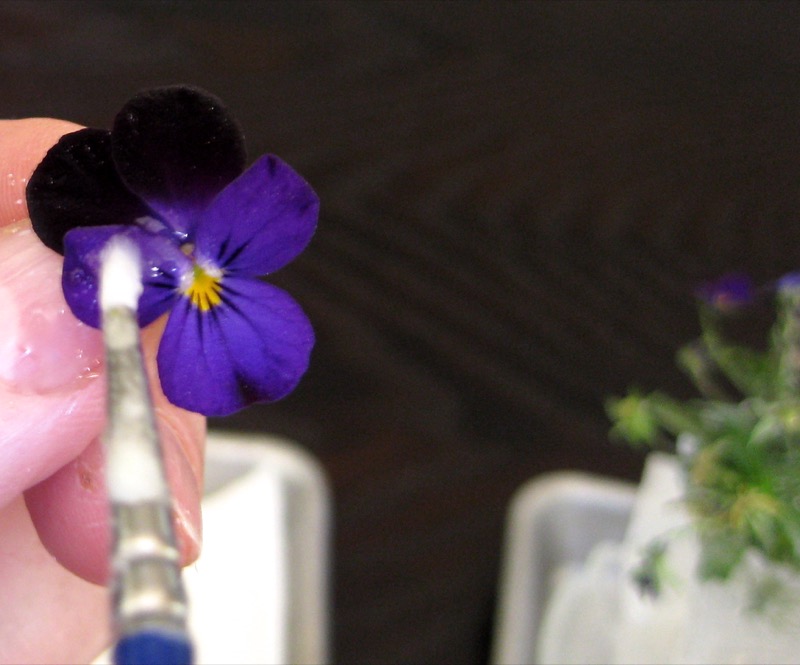 Paint the face of each flower, one at a time.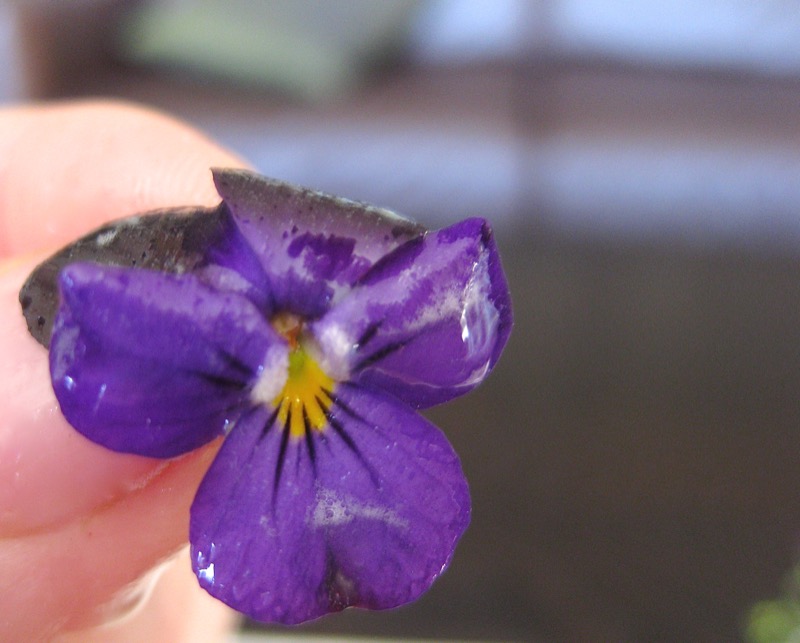 A good does of albumin paint is necessary, yet it does need a good blotting.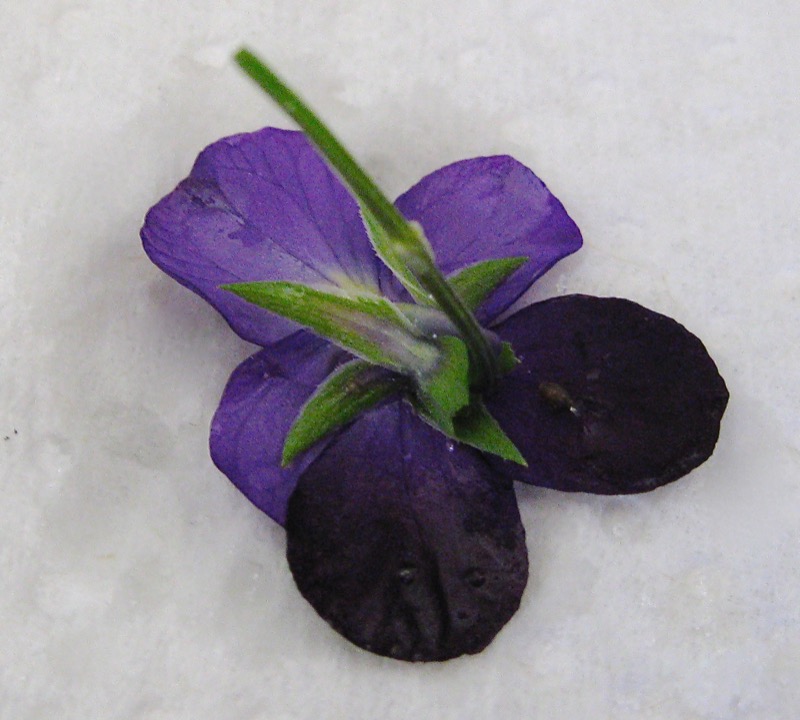 Place face down on paper towel to blot and paint the back side of the flower.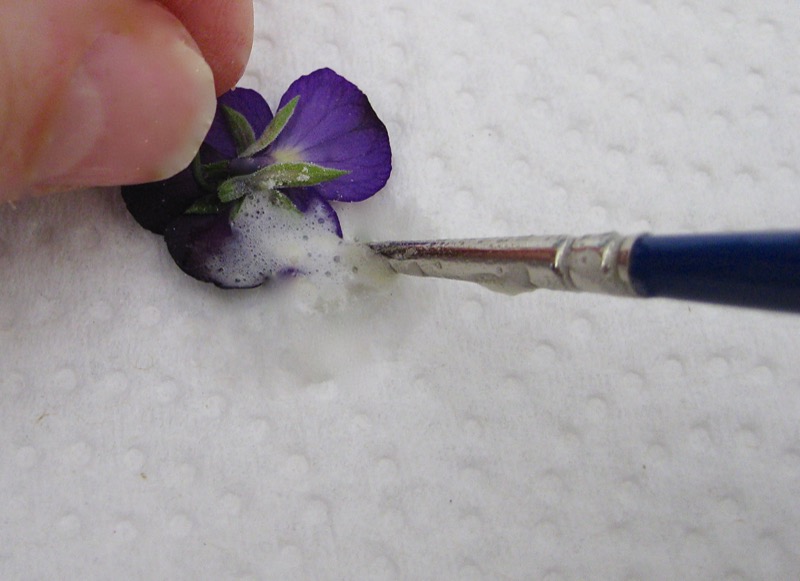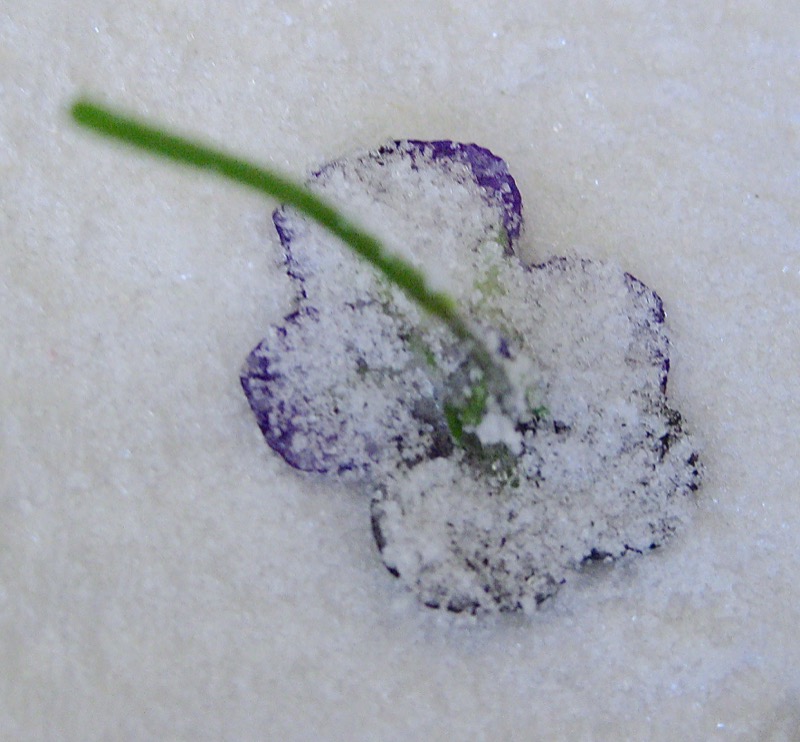 Generously sprinkle with extra fine berry sugar. The generous portion of granules will "soak up" much of the paint and provide structure for the blossom.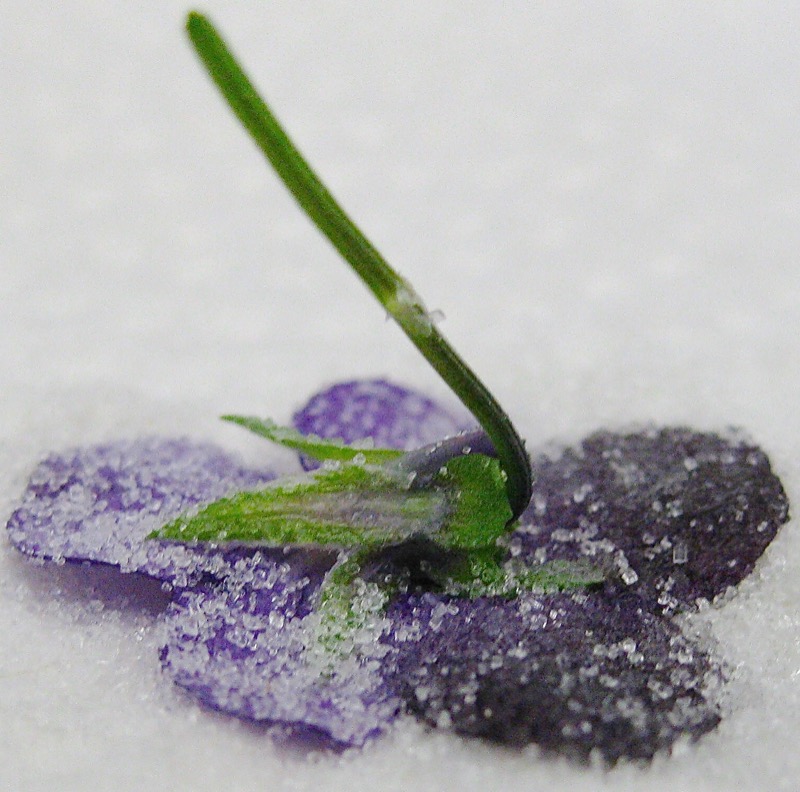 Blow off the excess.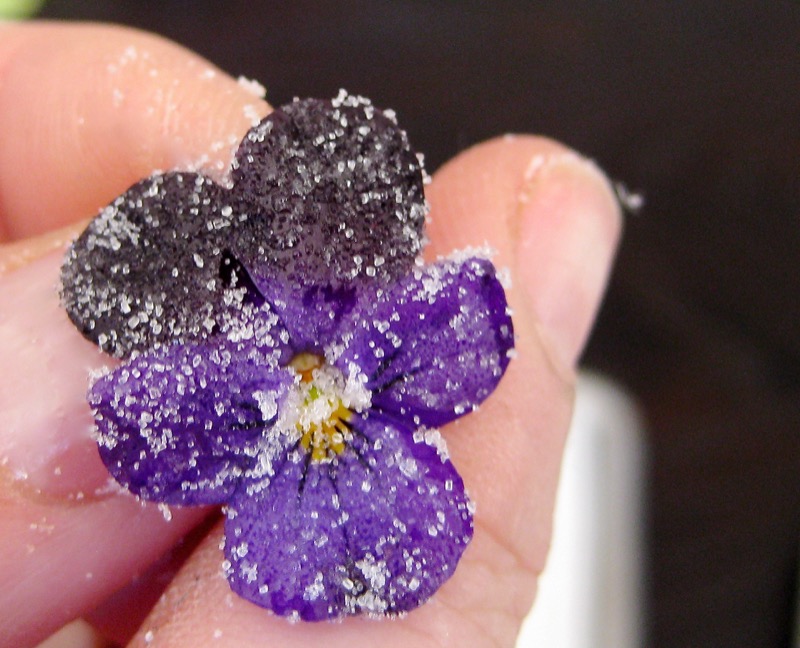 Hold by the stem and carefully, sparsely and slowly sprinkle the extra fine sugar over the face of the painted and blotted flower.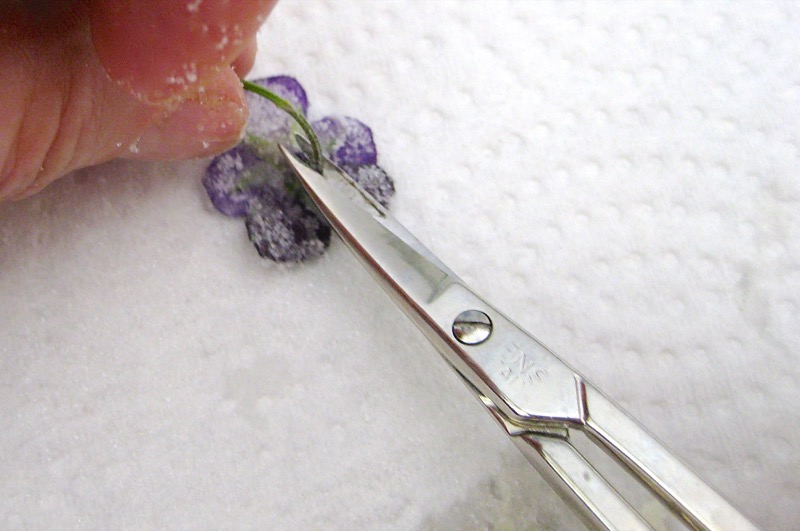 Place gently face down on paper towel and cut off the stem.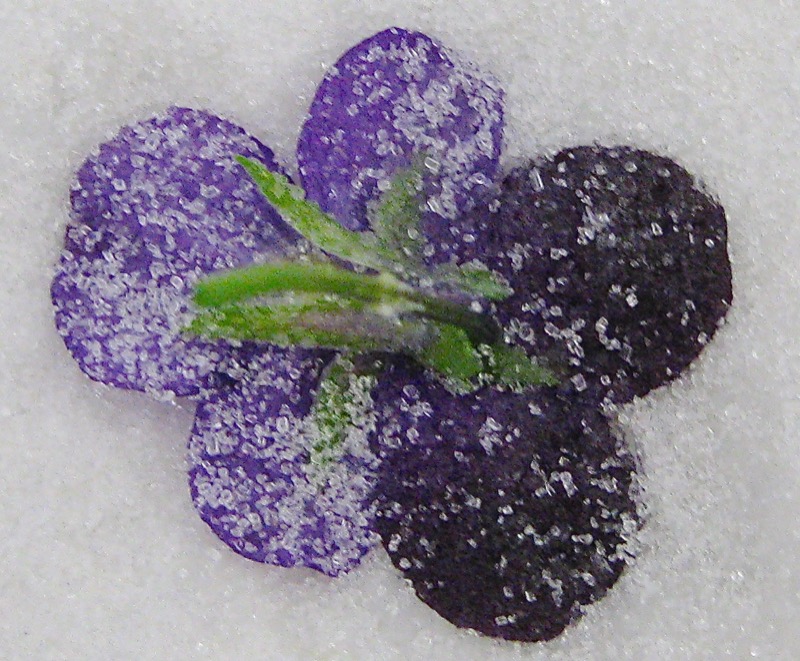 Carefully move to a tray covered with paper towel; place face up to dry overnight.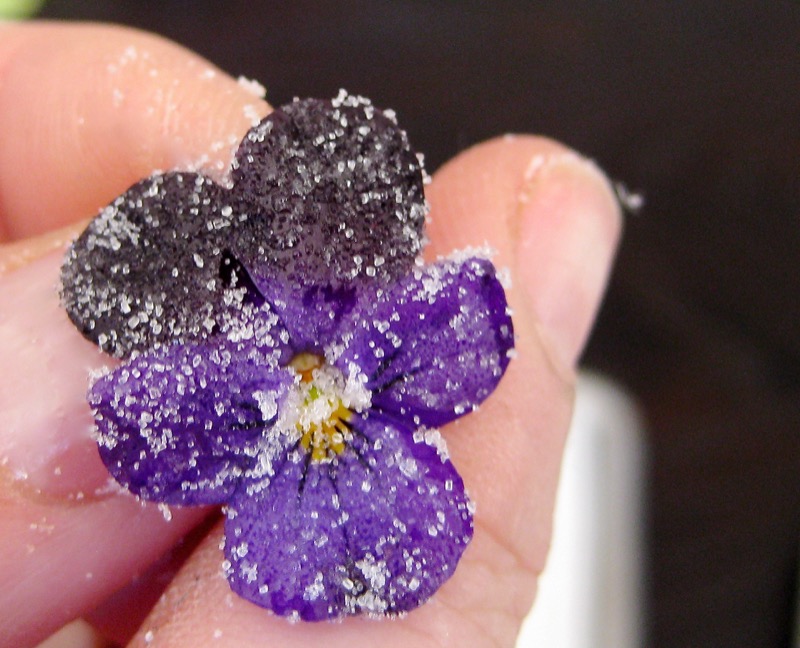 Best to use tweezers when moving after the stem is cut off to avoid removing sparkling sugar.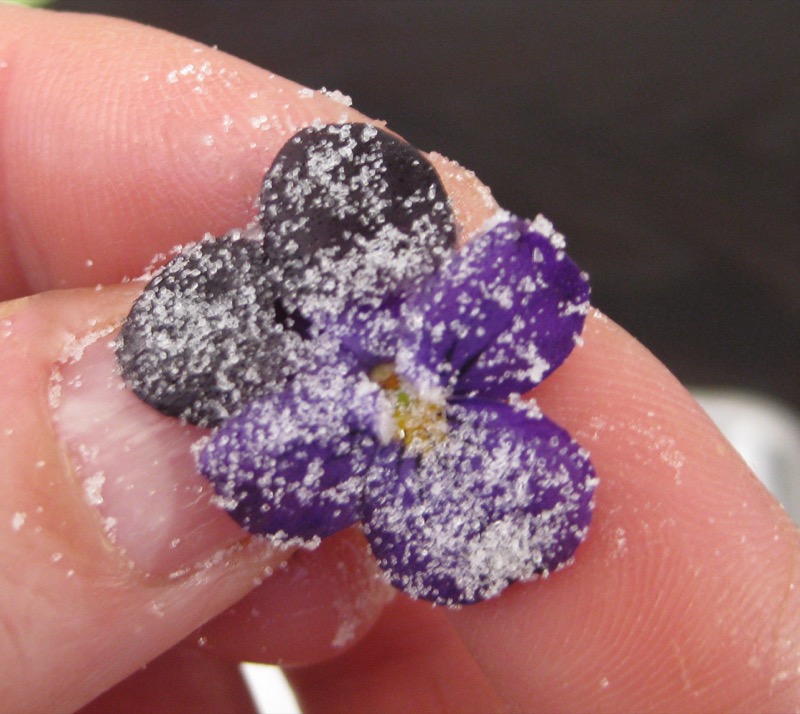 Above, left, is an example of excess sugar which cannot be "blown off" or removed and appears gunky and unappealing: more so when dried. Avoid that.
Sugared Violets or Candied Violets: Storing and Garnishing with the Flowers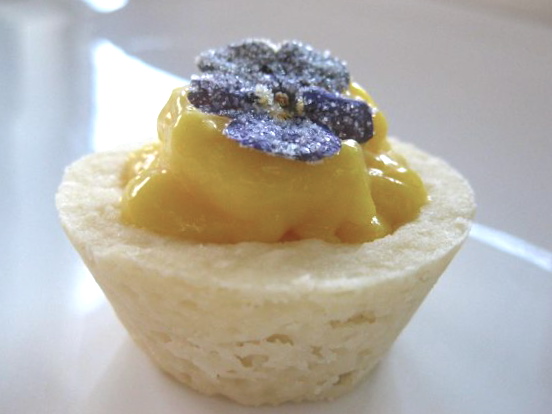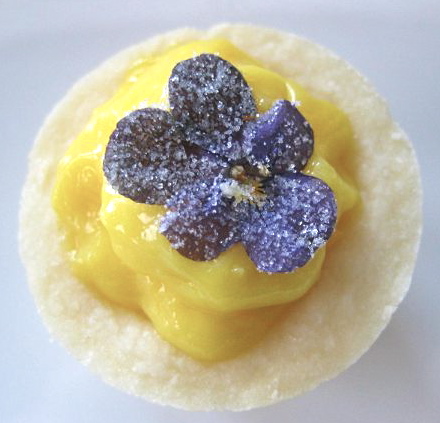 An appealing garnish for a miniature lemon curd tart or on top of a truffle, and so much more!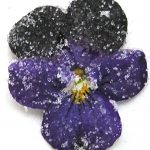 Candied or Sugared Violets


An exquisite garnish for tarts and truffles. In Canada, we do not grow the violettas that are sugared in France with that lovely floral viotette flavour. The violets here are edible, but not flavourful, albeit gorgeous!
Ingredients
Ingredients and Equipment:
violets

, as many as you want to make (Alberta Zone 3 Garden: Black Bowles Violetta)

2

tablespoons

(or more) berry sugar, extra fine

1

tablespoon

dry egg albumen

(fresh egg whites are not food safe)

water

size 0 paint brush

small scissors

tweezers

paper towel

3

small containers for each: water

, sugar, and albumen

a tray to dry violets

(covered with paper towel)

a tin to store dried violets

, preferably with parchment paper layers
Instructions
Instructions:
Prepare work space: have all "mis en place" ready to sugar violets prior to picking

Pick fresh violet flowers, just a few at a time; place each into water to retain freshness

Mix 1 teaspoon dried albumen with 2 tablespoons of water until it consistency of paint

Holding violet by stem, paint albumen onto flower face; place painted side face down on paper towel to blot and paint back side of violet flower

Liberally sprinkle back of violet flower with extra fine sugar

Using stem, pick flower up and carefully sprinkle a minuscule amount of extra fine sugar over face of violet, covering the surface of each petal (too much sugar will appear "gunky and unappealing")

Place flower face down on paper towel again; carefully snip off stem with small scissors

Using tweezers, lift flower; turn it over and place on paper towel covered tray to dry for 12 hours, or over night

Store in cool, dry place when dried, until ready to use (I line a tin with parchment paper rounds and place a layer of flowers on each round and store in the cupboard)