'Tis the Season to be warm and jolly!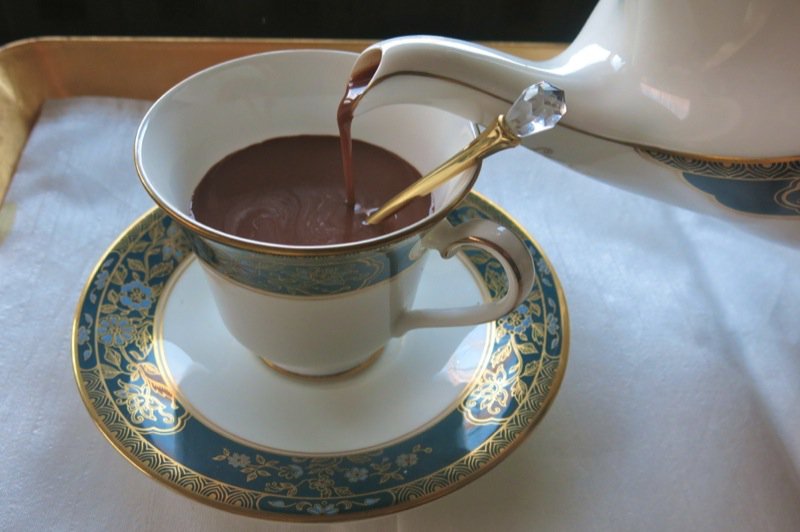 Micah Dew, at Ask My Bartender, has presented Cocktail Trends for the Holiday Season the past 6 years at Christmas in November in the Fairmont Jasper Park Lodge. I missed it, but my new friends and table mates did not. Truthfully, everyone was raving about his classes. And not just because they all left inebriated. He has enough personality to fill many rooms. I will not miss his session next year, and I am excited to share with you a simple enough concoction, yet heard about it from all corners of the lodge during our stay: Micah's Holiday Hot Chocolate for Adults Only.
I first introduced you to my Christmas in November friends in Part 2 of my Christmas in November 2013 series and invited them over for a little Christmas cheer, recently. One often gets much more than one bargained for when attending Christmas in November! As it was a cold, blustery day, I prepared a cup of decadent Adult Only Hot Chocolate inspired by Micah's recipe.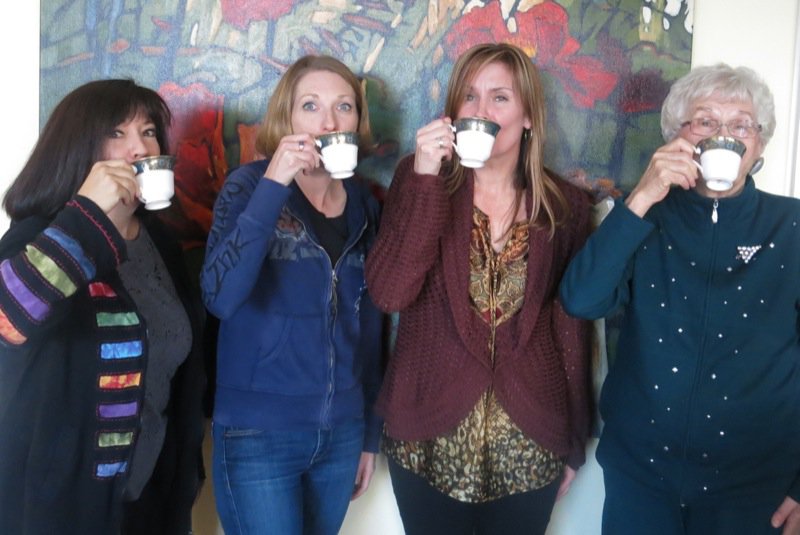 It is effortless to make in the Thermomix machine, but can be made in a pot on the stove. The key is really good dark chocolate and equally good cocoa. I used Valrhona Manjari and Valrhona cocoa. Of course, the service sets up the anti a little, as well. Get your pinkies ready!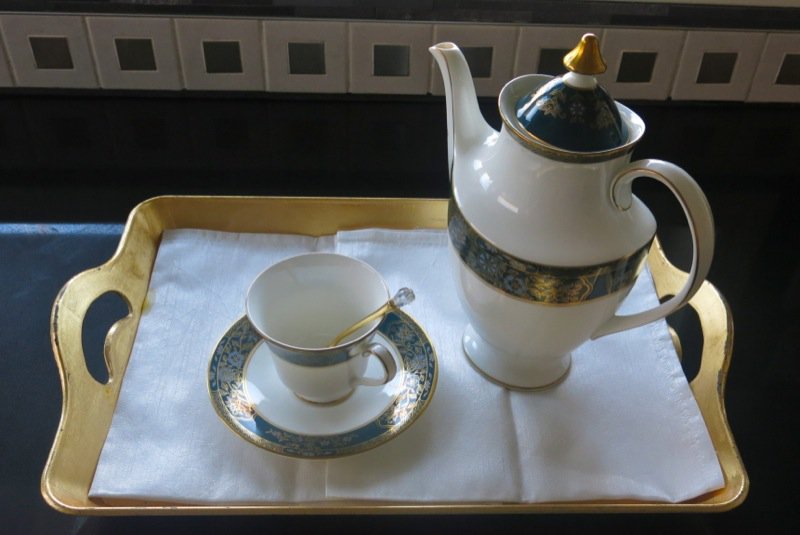 This delectable elixir is a powerful complex concoction with many stimulating and mood enhancing elements that go well beyond the rapture spawned by its texture and flavour. The caffeine in dark chocolate blocks adenosine and enables that pleasant rush of energy to your brain. Dark chocolate also contains the chemical phenylalanine, which stimulates dopamine and serotonin production in the brain, both of which enhance mood. Theobromine is a mild stimulant distinct from caffeine which provides "the lion's share of chocolate's kick and energizes without greatly activating the central nervous system" the way caffeine does. Anandamide is a neurotransmitter that our brain manufactures that temporarily blocks feelings of depression and pain. Chocolate produces this compound and provides additional chemicals that sustain its mood-enhancing effects. Interestingly, the word "anandamide" is derived from the Sanskrit word for "bliss." This neurotransmitter is also produced in parts of the brain crucial for higher thought processes, movement control and memory that are enhanced by chocolate. Phenylethylamine is also found in chocolate and functions similarly to amphetamines in releasing norepinephrine, which increases excitement, alertness, and decision-making abilities, and dopamine, which releases endorphins (natural painkillers) and heightens the mood. Flavonoids are antioxidants in chocolate which may improve blood flow to the heart and brain, prevent clots, improve cardiac health, and act as anti-inflammatories. Chocolate has also been rumoured to be an aphrodisiac. Theobroma cacao is ancient Greek for "food of the gods." Those who came before seem to know best. Here is a very comprehensive article re health benefits, nutrition and buying guide for chocolate. Here is another list of chocolate benefits:
Chocolate contains resveratrol, a compound known to protect the nervous system and brain. It is also considered a key element in healthy ageing and longevity.
Chocolate is an anti-inflammatory food, reducing the inflammation of our body's tissues that can lead to chronic, degenerative illnesses.
Chocolate decreases LDL cholesterol, increases blood flow, and lowers the risk of blood clots.
Chocolate provides minerals such as calcium, magnesium and potassium.
But, I know I didn't need to convince you to enjoy a cup of hot chocolate …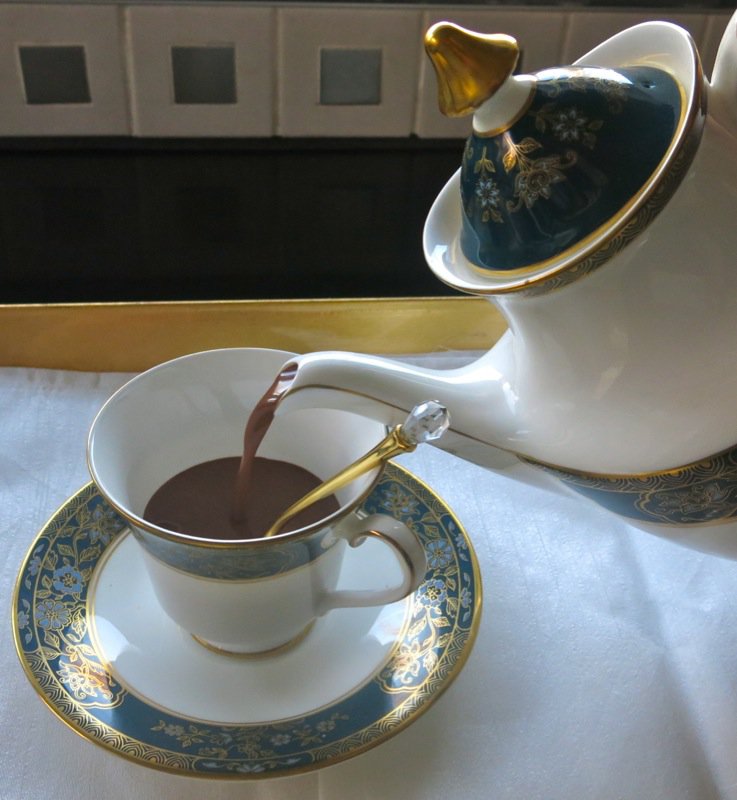 Per person, there is 100g dark chocolate, 5g cocoa and 250mL whole milk… and… Micah's suggestion… a little extra somethin' somethin'…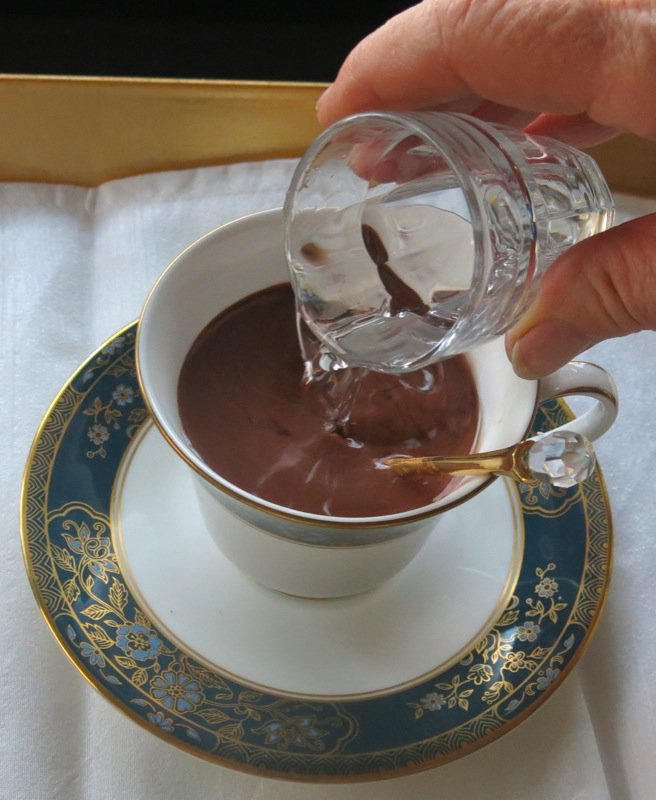 It used to be that Bailey's in a cup of coffee was that decadent warm all over Saturday morning "Hello!". Can you guess that the addition to the hot chocolate is, above?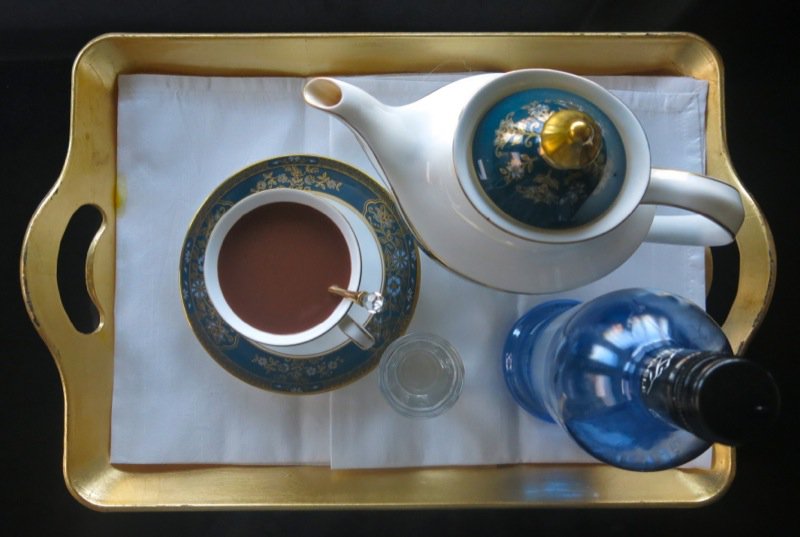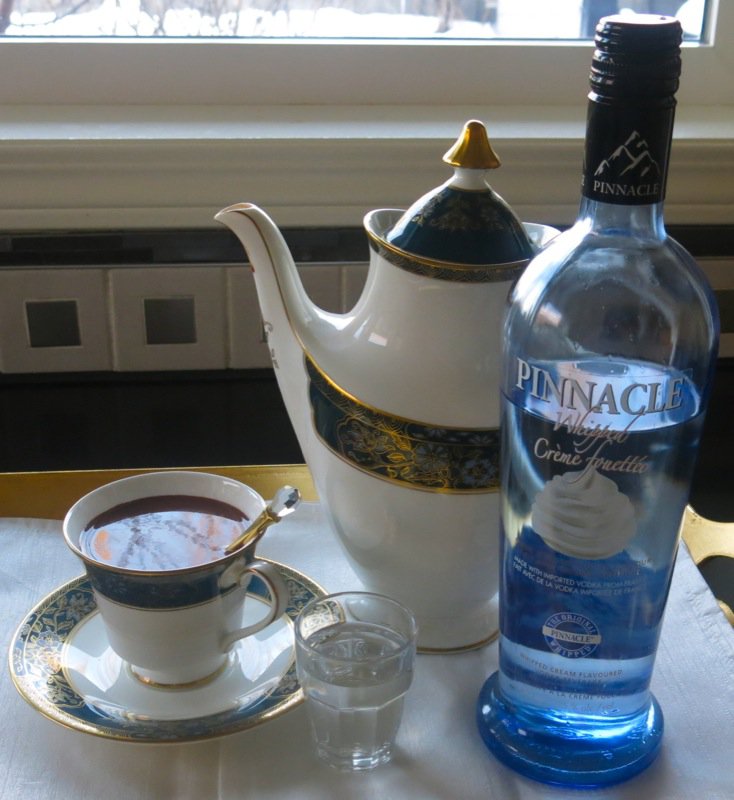 Move over, Bailey's. Pinnacle whipped flavoured vodka with hot chocolate is the hot little black dress for the 2013 season. Chocolate, cream, with a little magic in the cup will truly wow your family and guests after rolling in the snow outside – or just watching it fall…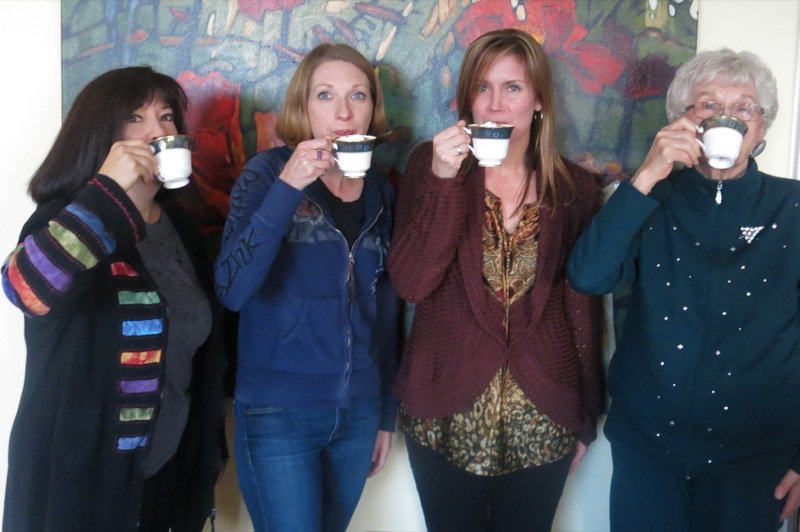 You'll notice mom can't stop sipping her hot chocolate.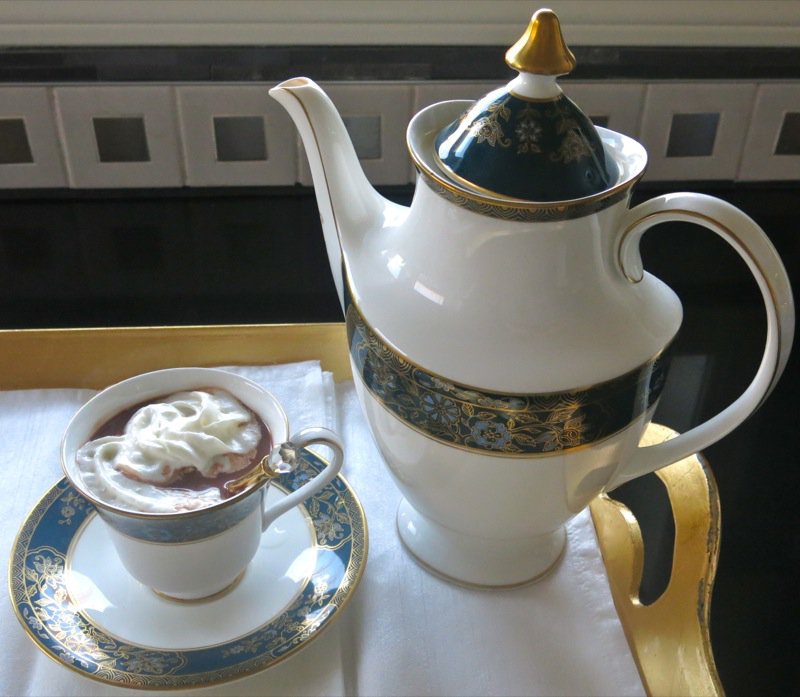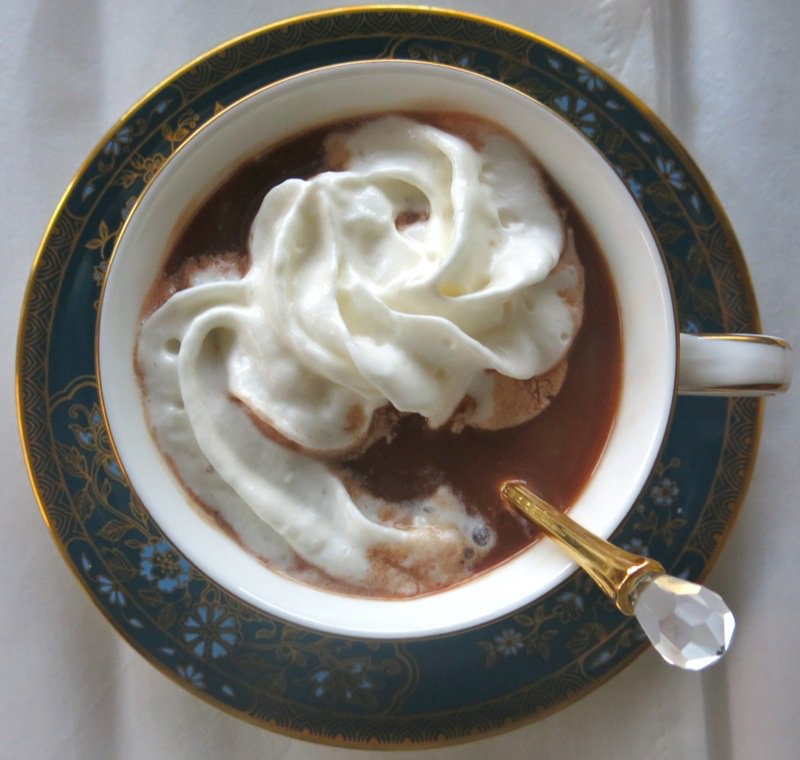 After the gals left, there was plenty of hot chocolate still in the pot, so we had a little fun, just the two of us.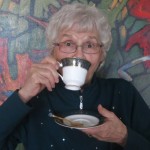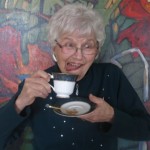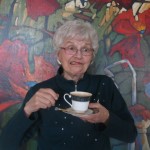 While mom might not have a clue who Miley Cyrus is, she did a darn good impression of her, don't you think? (And these are not the "x" rated photos.)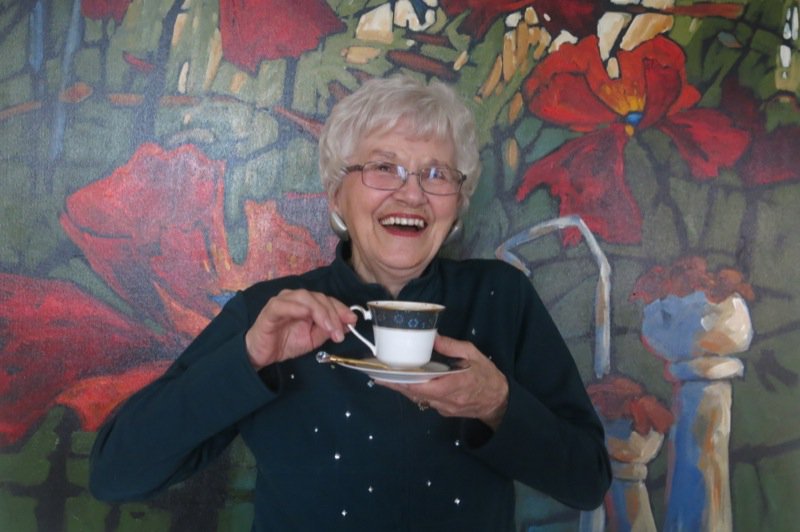 There is an entire recipe book of trendy drinks for the holiday season that Micah gave to his participants and there will be the parties you will not want to miss this season!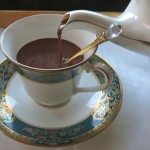 Adult Hot Chocolate
This is the ultimate hot chocolate recipe, and with the Pinnacle Whipped Flavoured Vodka, that "little over the top" where you want to be.
Ingredients
Per person:
100

g

dark Valrhona chocolate

(Manjari calets)

5

g

Valrhona cocoa

250

mL

whole milk

60

mL

Pinnacle Whipped Flavoured Vodka
Instructions
Thermomix Instructions:
Scale the chocolate calets into the TM bowl; pulse three times at 1 second each, until chocolate is completely ground up

Melt chocolate for 6 minutes at 80 C, speed 2-3

Add cocoa and milk; heat for 5 minutes at at 80 C, speed 2-3

Add Pinnacle Whipped Flavoured Vodka into the bottom of a large mug

Pour into large mug on top of vodka

Garnish with whipped cream or marshmallows
Regular Instructions:
In a medium saucepan, stir 1 teaspoon of cocoa into 1 tablespoon of milk until a smooth paste; add remaining milk slowly, stirring constantly to incorporate cocoa

Heat to medium high, until milk just begins to bubble around the edge; turn off heat

Add chocolate and stir until melted into the milk cocoa mixture

Add Pinnacle Whipped Flavoured Vodka into the bottom of a large mug

Pour into large mug on top of vodka

Garnish with whipped cream or marshmallows
Recipe Notes
I make four servings and that usually makes 8 "teacups" of hot chocolate, so the serving for one can usually serve 2