Well, my "soon to be famous" Veal Scallopini!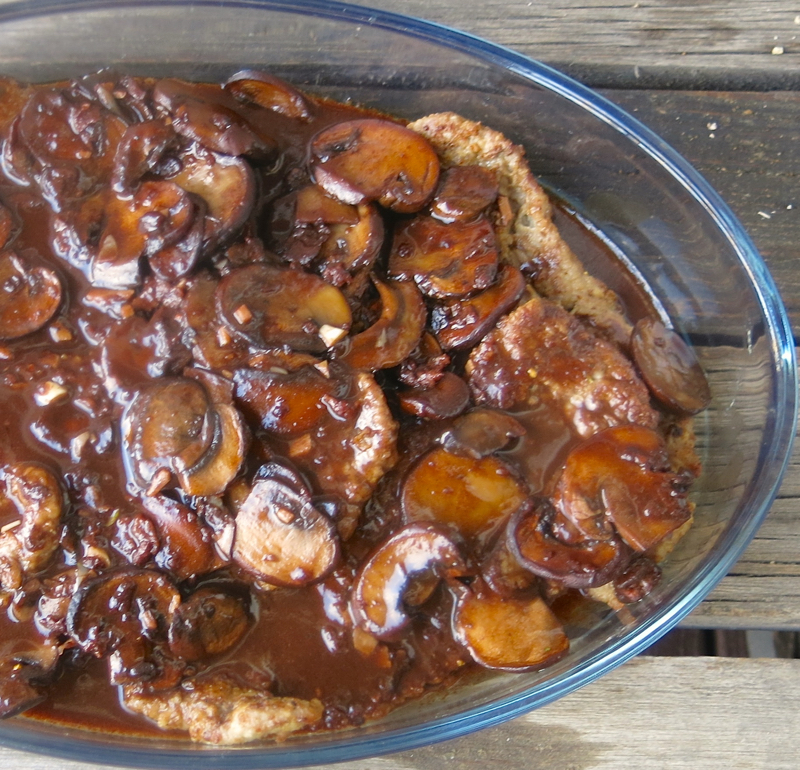 It is just that scrumptious! I was particularly surprised at the depth of flavour this Veal Scallopini gravy presented. I used my veal jus cubes which are like solid gold in the food world, and boy, they certainly pulled through for me on this recipe! Still plugging away at using all of the Minute Steak from last year's beef in our freezer, working at creating novel delectable recipes so that it doesn't seem like we are eating the same thing night after night – though technically, we are. Minute Steak (or Cube Steak in the USA) is absolutely delicious prepared the traditional Canadian prairie way: seasoned, floured and fried, then served with salad, vegetables and a milk gravy. However, for some reason, last year all of our packages of this cut was hidden in the freezer, and I discovered them when cleaning it out to make room for our new meat late last fall. Working my way through it, I have had quite a bit of fun. There have been a triumph or two. This is definitely one of them.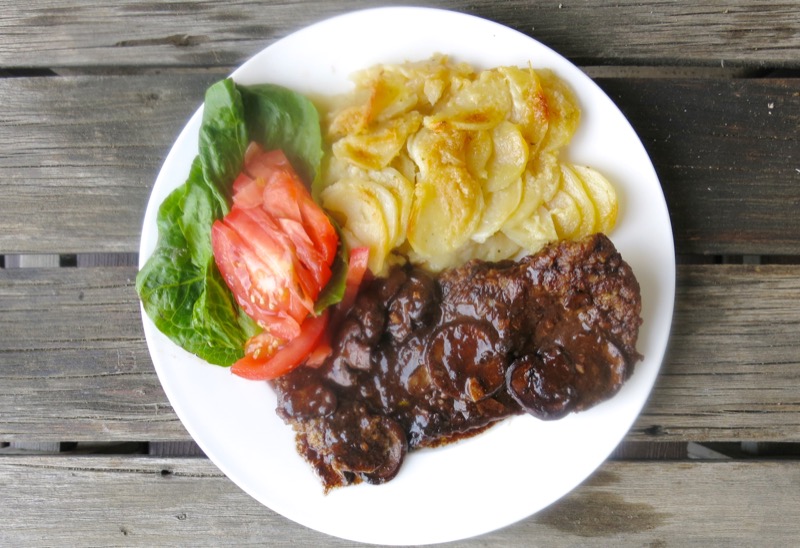 Served with whole fresh green beans, cauliflower and a colourful salad with the scalloped potatoes, the Sunday dinner presentation was much more appealing. I don't just write about food. I cook it for us to eat, and though I work to photograph the food before it is eaten, often enough it is photographed afterward, as today: the beans and cauliflower found their way home with Ragan and the salad was devoured at the dinner. Therefore, I dressed up a plate for a simple little photo, but really want you to know that I do feed my family balanced meals! (It's also why my posts don't look like they popped out of a magazine. We eat this food!)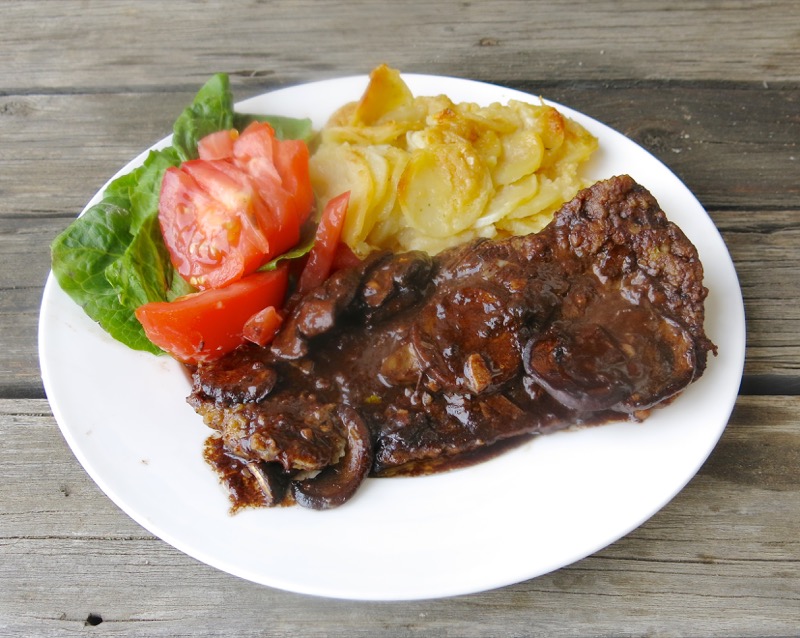 The Veal Scallopini may not be much to look at. After all, it is meat with mushroom gravy. We have all eaten meat with mushroom gravy more times than we care to count. Most often, it is not memorable. Tasty, yes. That's why we make it for our families as often as we do, and we do, right? But, memorable? Not that much. Do you agree? This dish is memorable. It is all about the sauce.
Frying the Mushrooms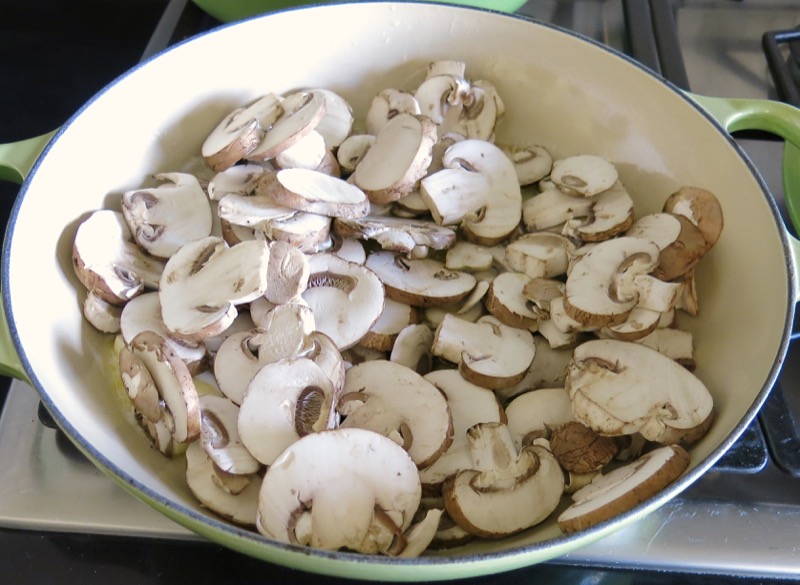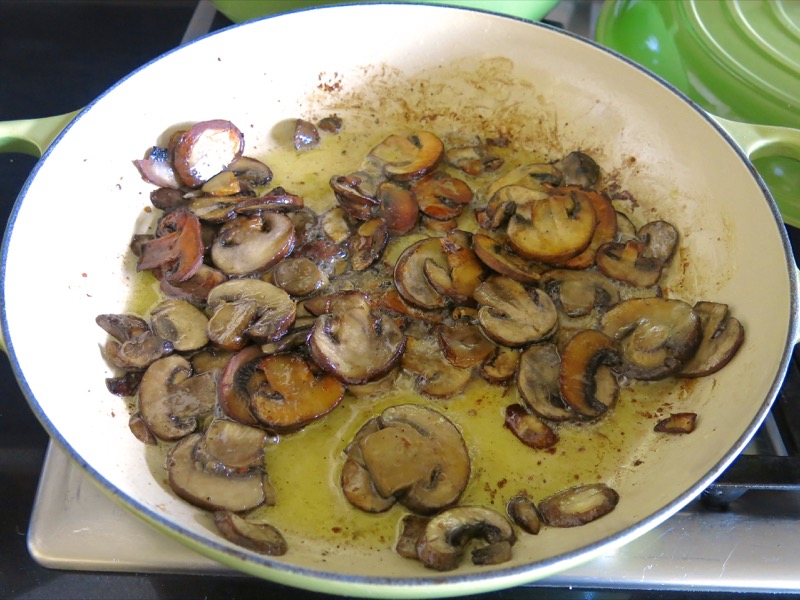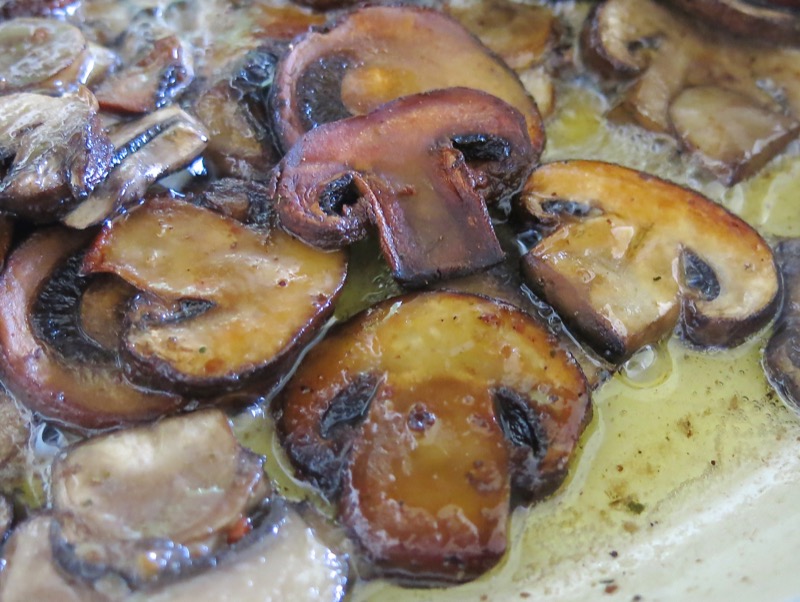 Over medium high heat, for about 30 minutes, turning often enough, the sliced mushrooms absorb the butter, expel their juices, and turn golden. As they do this, they become chewy and almost the texture of a dried mushroom, yet still juicy in the exterior. The flavour is very concentrated. I prefer a strong umami mushroom kick in a sauce for beef. But, if you prefer a bulkier bite, by all means, fry them how you like them. Your dish will still be tasty, it will just be different than this one.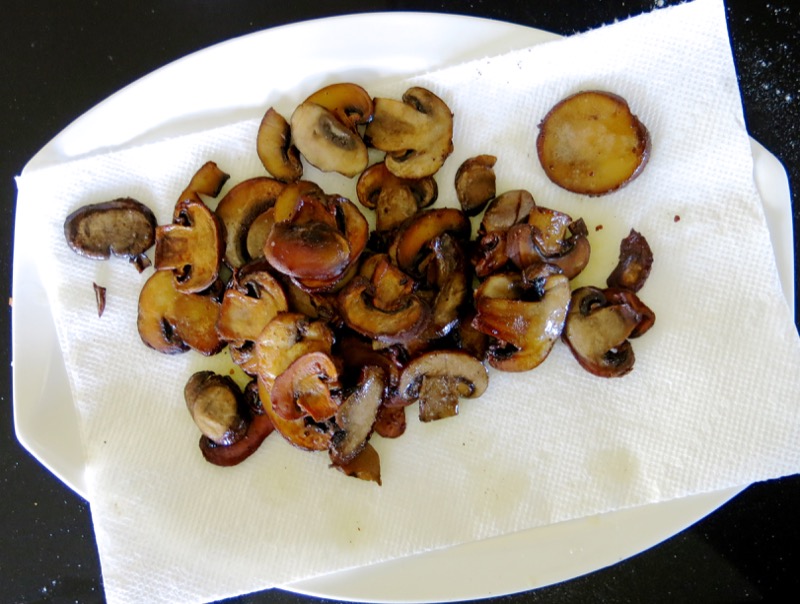 They are then set aside. Above is an entire pound or 454 grams of mushrooms. They do cook down considerably.
Preparing the Veal Scallopini: in my case, the Minute Steak or Cube Steak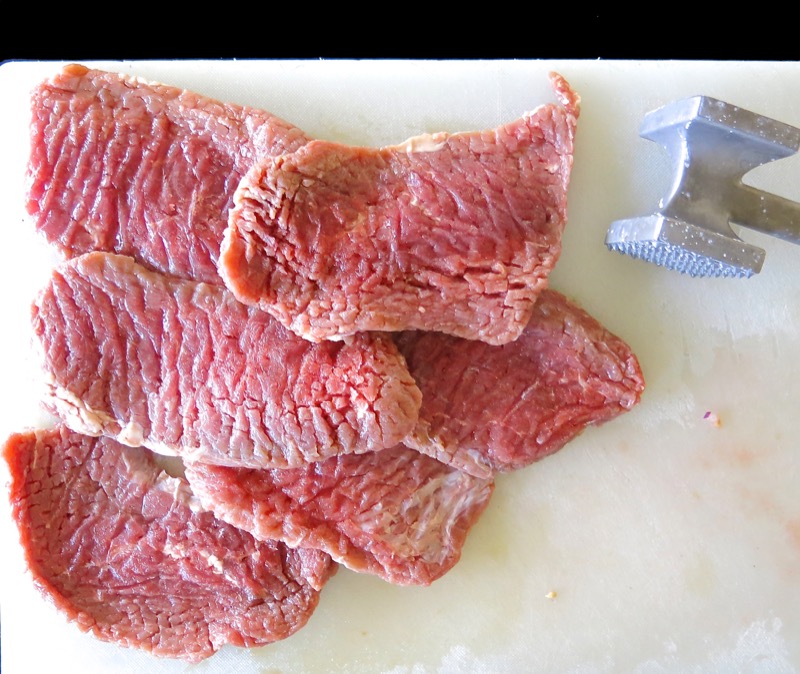 Of course Minute Steak is not Veal Scallopini. But, our beef is Alberta grass fed beef butchered at about 6 months, or even before that. So, though it is not milk fed veal, it is about as close as one can get to a baby cow. There is no force feeding the babies; they lived a very short, but happy life. This beef is tender – like butter – and must be tasted to have a frame of reference for the flavour and texture of this beef. Only in Alberta.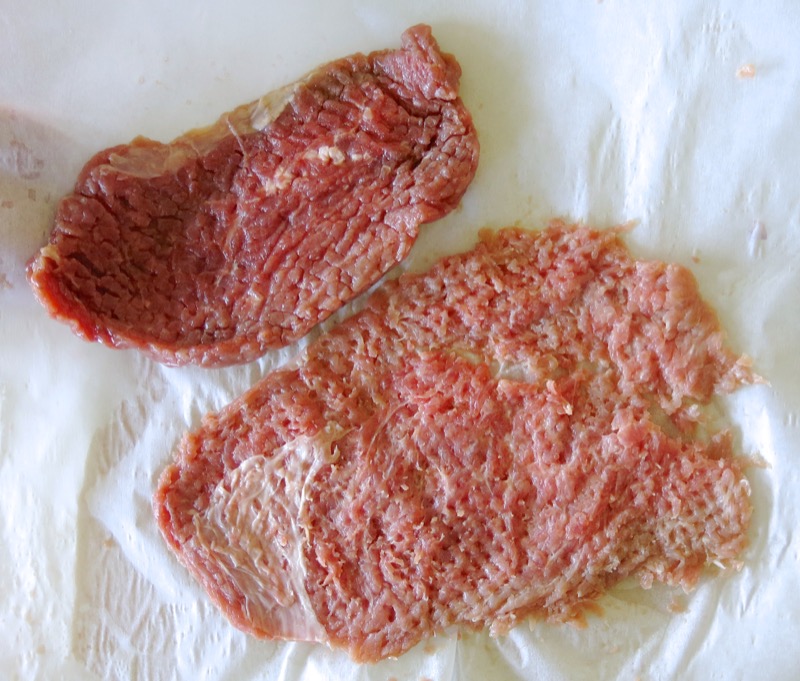 Scallopini is a very very thin cut of beef, usually veal. So, I deviated a bit, and pounded the heck out of my Minute Steak cutlet to get it paper thin. It took about 20 seconds per steak, but definitely cover it with parchment when you pound it or it will spray everywhere.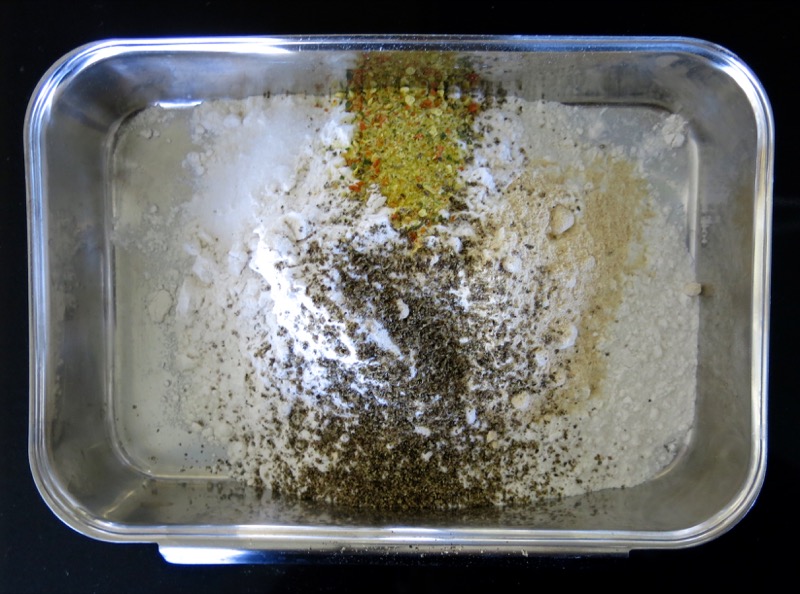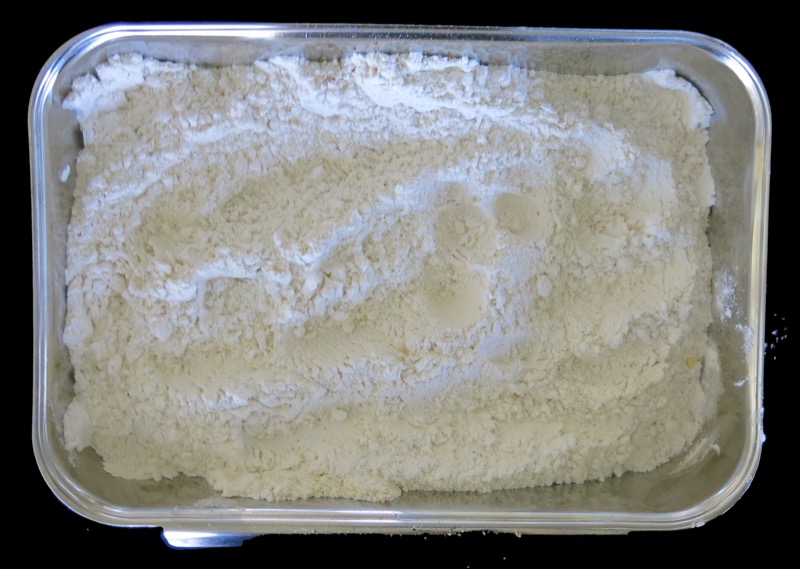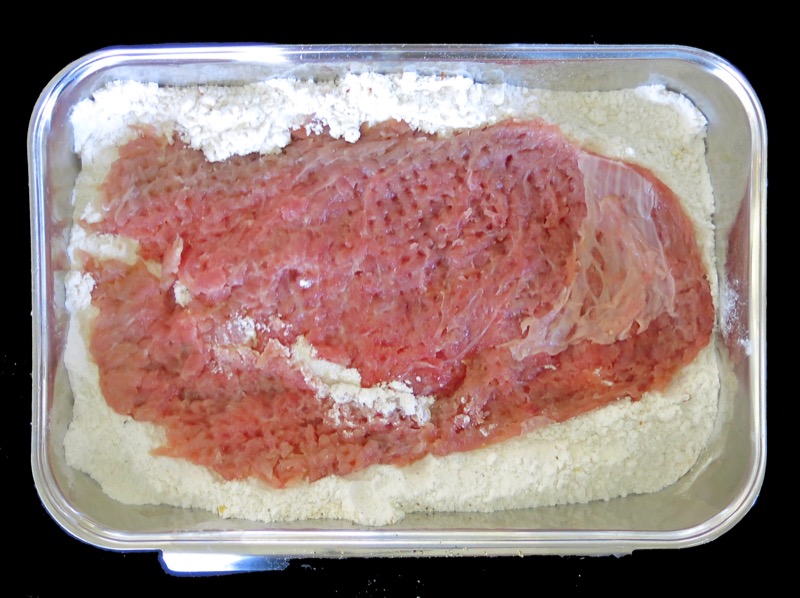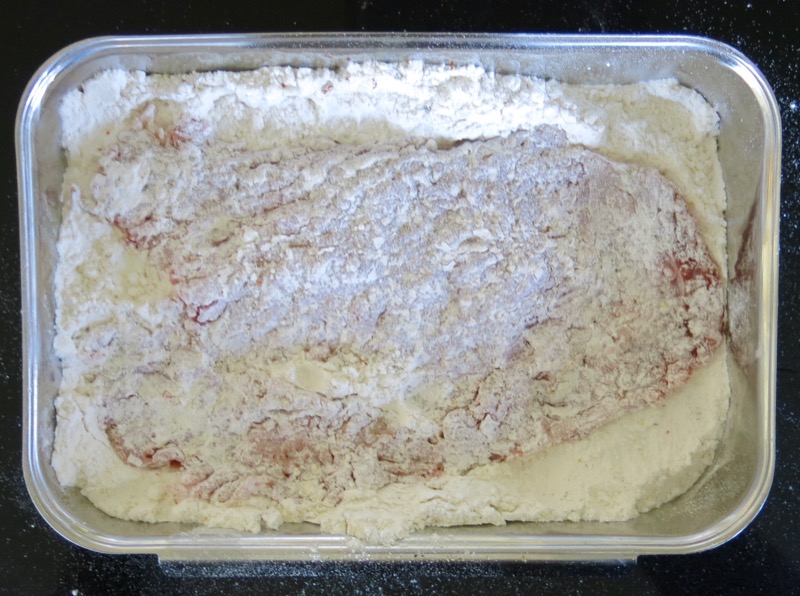 Dredging flour is seasoned, combined and each steak coated thoroughly with it before being placed carefully in the pan the mushrooms were cooked in, with added melted butter.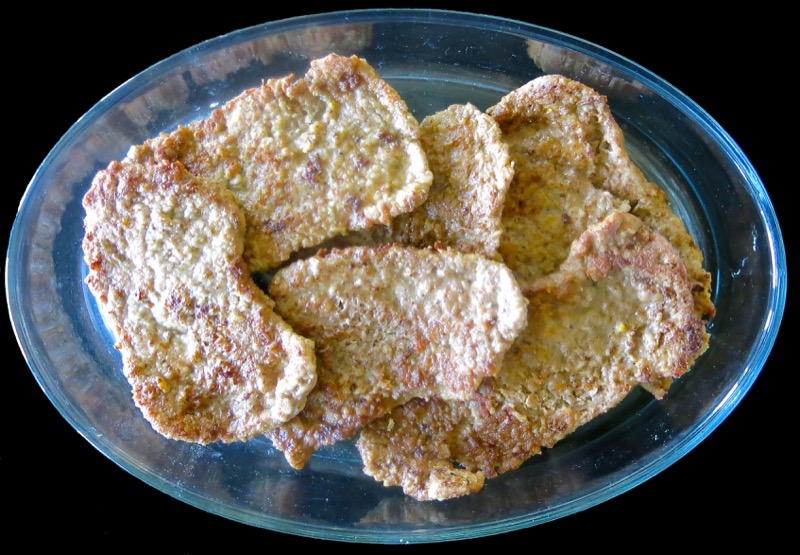 Golden perfection. These are paper thin, so very little time needed for cooking. If they were older beef, they would get tough if over cooked. Veal and this Nouveau beef can take a little longer cooking time, but it is not necessary.
Preparing the Veal Scallopini Mushroom Sauce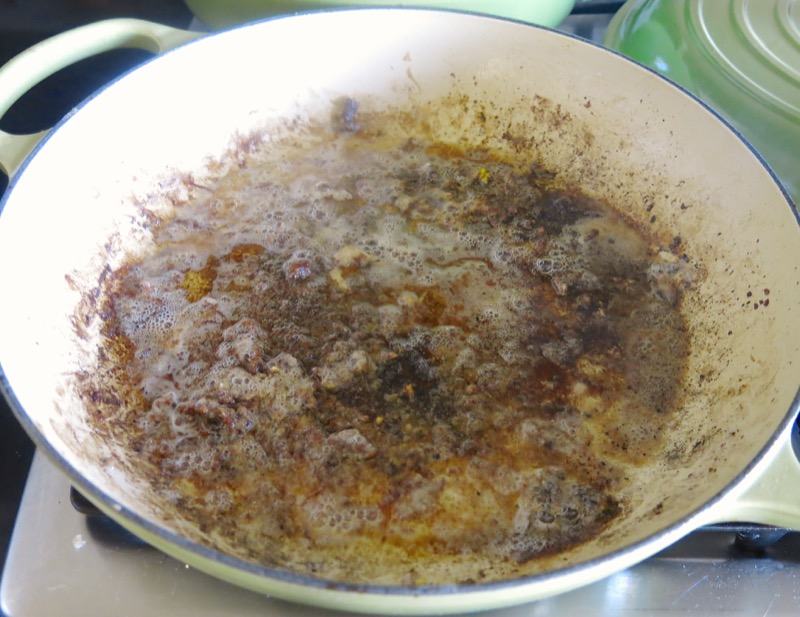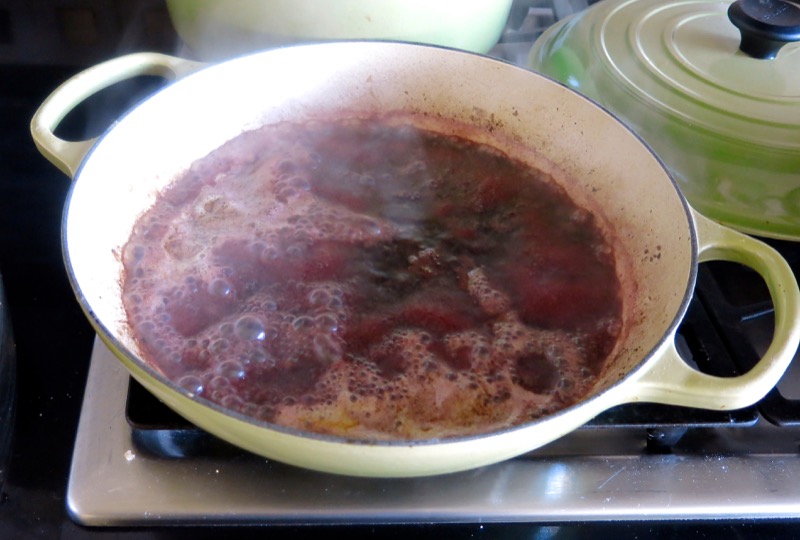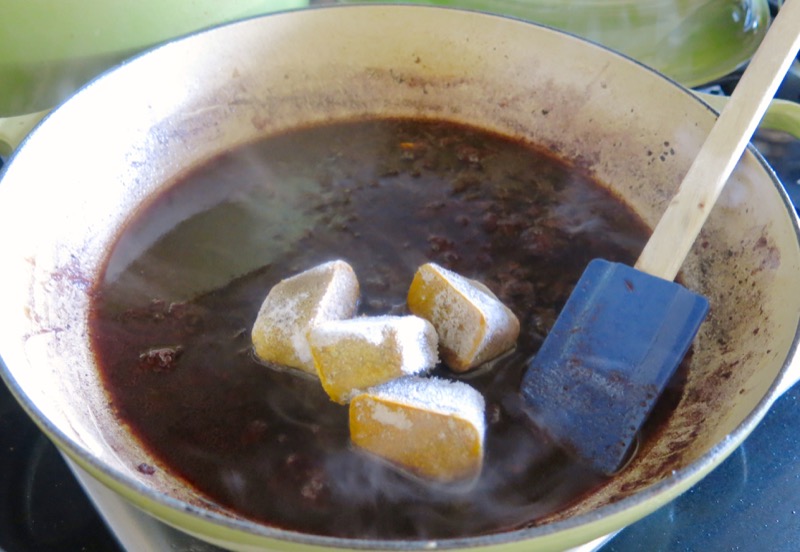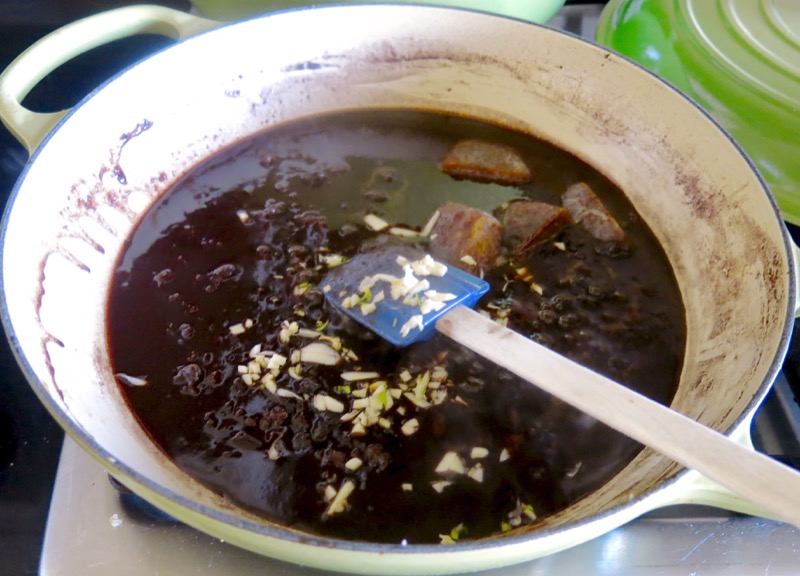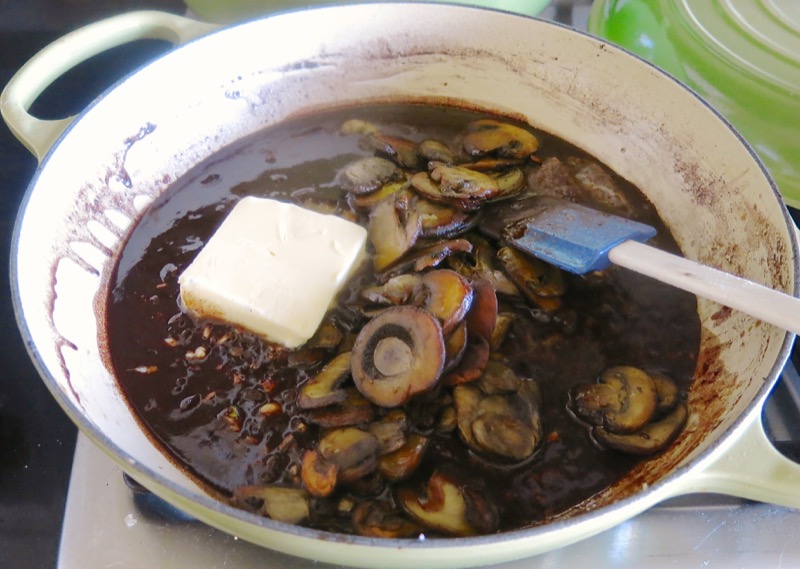 Once all steaks are fried and set aside, the sticky nuggets of beefy caramelized floury bits is de-glazed with red wine. Use a strong hard spatula to loosen all of the sticky bits from the bottom of the pan. Melt the veal jus cubes into the sauce, adding the garlic until the air is aromatic (about 30 seconds), then plop the mushrooms back into the pan and finish with the butter. Oh my. Season to taste. It will need considerable salt and freshly ground black pepper. You may also need a little of water to thin it out, depending upon your desired consistency. The "gravy" is a translucent glaze-like sauce more than a fatty gravy. I tried a little vinegar with a portion of it, and that brightened it up, as well, but opted not to add it in as Vanja would most definitely find that addition a bit too fancy-pants for his liking. It wasn't necessary. It was just a lovely addition. And, this recipe is, as I said, already famous just as it is.
Putting it all Together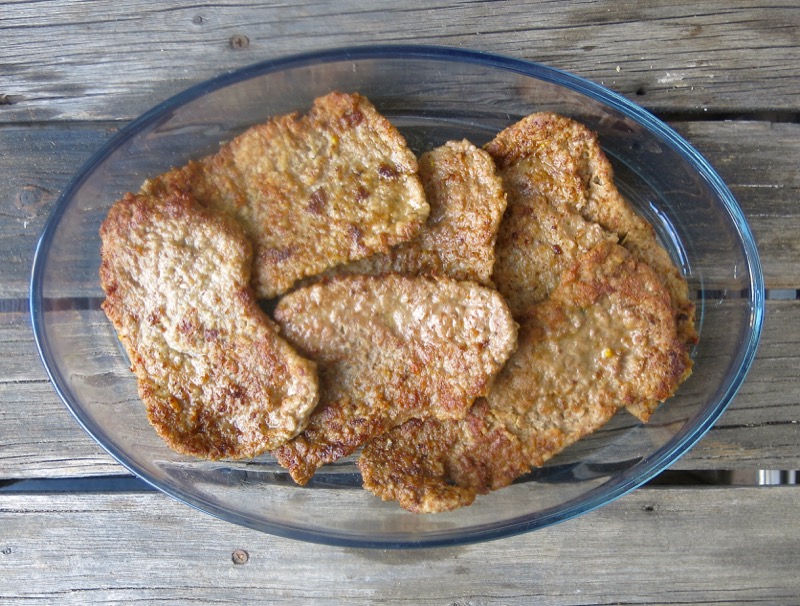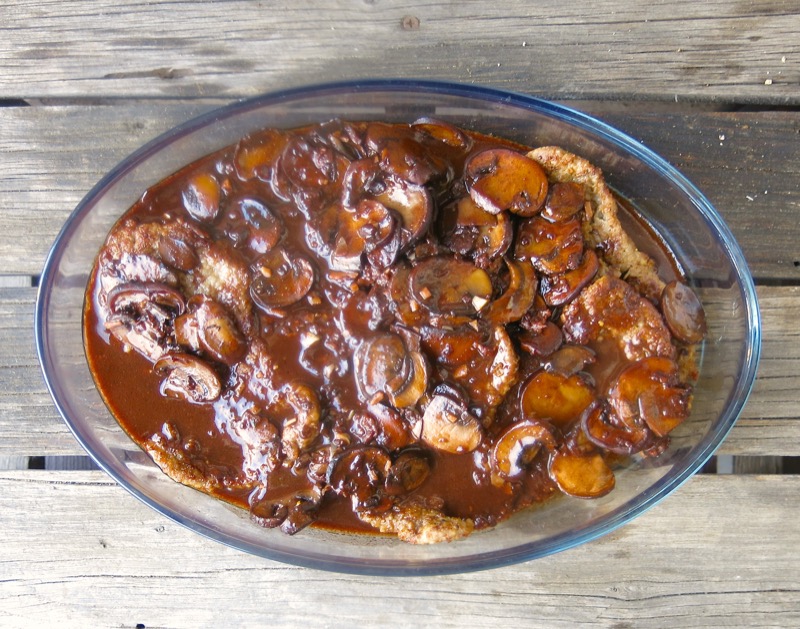 Over the scallopini went the sauce. Oh-oh-oh-OH! Not much to look at, but the aroma!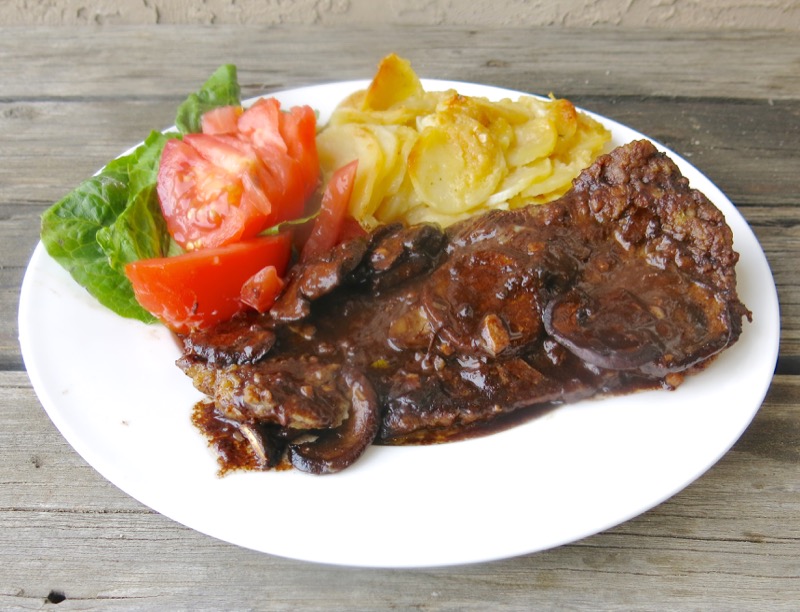 And the flavour! So far, no one has shared any of their Minute Steak recipes… have any of you ever made the veal jus cubes? I cannot express how divine they are. Yes, you have to be around the house a couple of days while making it in the fall. But it isn't hard to make, or that time consuming, either. Just takes intermittent attention and actually doing it. It is so worth it. French Onion Soup. Boeuf Bourguignon… so many dishes that taste like I have slaved over them, like this one, but nope. Just added a little magic to the mix, and "Poof": deliciousness before my very eyes!
Minute Steak Series: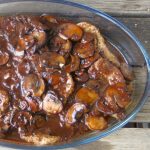 Valerie's Famous Veal Scallopini


With the beautiful Nouveau Beef we buy every year from our favourite farmer, I am able to make incredible "almost veal" scallopini with the most decadent and delicious gravy using homemade veal jus cubes. Definitely worth the effort! Valerie's Famous Veal Scallopini is a restaurant quality, absolutely scrumptious dish easy enough for a weeknight meal - impressive enough for company!
Ingredients
Mushrooms
1

pound

sliced or 500 grams sliced brown mushrooms

¼

cup

butter
Ingredients for the Cutlets
6

veal cutlets

, thinly sliced

1

cup

flour

2

teaspoons

garlic powder

1

teaspoon

Vegeta

½

teaspoon

salt

½

teaspoon

freshly ground black pepper

¼

cup

butter
Ingredients for the Veal Gravy
1

cup

red wine

4

veal stock cubes

1-2

large clove of garlic

, minced

½

cup

water

¼

cup

or butter
Instructions
Mushrooms
Fry mushrooms over medium high heat in heavy skillet 20-30 minutes, turning every 8 minutes, until completely caramelized

Remove from pan; set aside

Do not clean pan; it will be used to fry cutlets
Instructions for the Cutlets
Combine flour, garlic powder, Vegeta, salt and pepper in dredging pan

Place each cutlet between plastic or parchment paper; pound with mallet until paper thin

Dredge each cutlet in seasoned flour; melt butter into pan used to fry mushrooms

Fry one or two cutlets at a time at medium high heat, two to three minutes per side, until golden (do not over cook)

Set aside cutlets; pan will be used to make the gravy
Instructions for the Veal Gravy
Preheat oven to 400 F; rack in middle

Keeping pan at medium high, deglaze with red wine scraping bits of bottom of pan until smooth

Melt frozen veal stock cubes into wine; add mushrooms back to pan

Stir continuously, adding water as needed to keep gravy at desired consistency

Just prior to service, melt butter into gravy; place cutlets into oven proof serving dish

Pour gravy over cutlets; place in oven to heat through for 5 minutes, until bubbly

Serve immediately
Recipe Notes
The Veal Jus Cubes take time, but then you have them for at least a year with so much you can do with them; they are key to this recipe; however, you can cheat and likely get a nice family meal by adding a package of Knorr's Mushroom gravy mix or an International Veal Jus mix. That is kind of blasphemous, yet better than doing an unwrap and zap meal! Then, make the Veal Jus Cubes and note the difference. So healthy and good for you, flavour packed and completely made with real food.
A big eater will have 2, but one scallopini can be considered a serving