Lonicera Japonica: Mandarine

Pluck a petal; pinch the bottom part near the stem and gently pull it out. There should be a drop or two of nectar on the white "string" of the flower as you pull it out. Place it gently to your lips and suck the nectar. The Mandarine Honeysuckle, while a lovely bright orange, has no discernible scent. It does have a sweet swallow of nectar at the base of each petal which is why hummingbirds hover near the vines in the hot summer, long beaks sinking into petal after petal.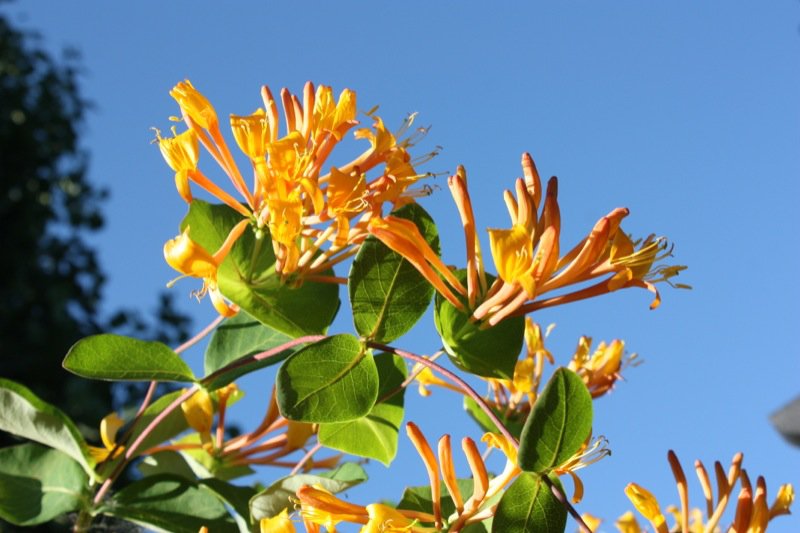 Yet, who has heard of Honeysuckle Sorbet? Not I. Until one evening spying a conversation on my twitter feed with Charmian Christie talking to some gals in the Southern States about eating delicious Honeysuckle Sorbet. Recipe, please. My honeysuckles were not yet in bloom, so I have had time to anticipate this culinary caper.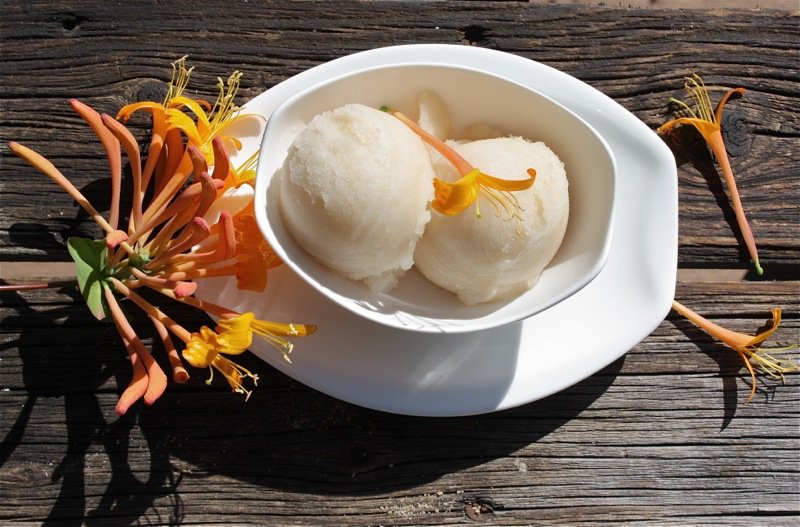 Capturing the fragrance of the flowers in the water is the magic of this recipe. Honeysuckle vines grow wild in many warmer North American climates. In my zone three garden, fortunately I do grow the edible species: Lonicera Japonica. I have the Mandarin variety. It lacks a compelling fragrance, though the sweet nectar is nummy. The sorbet flavour from this varietal does not carry the ethereal floral notes that this sorbet is famous for. However, it is easy to make and was a great experience.
Who is growing honeysuckle in the city (Edmonton) that has a heady floral scent? Now is the time. Call me. Let's make sorbet!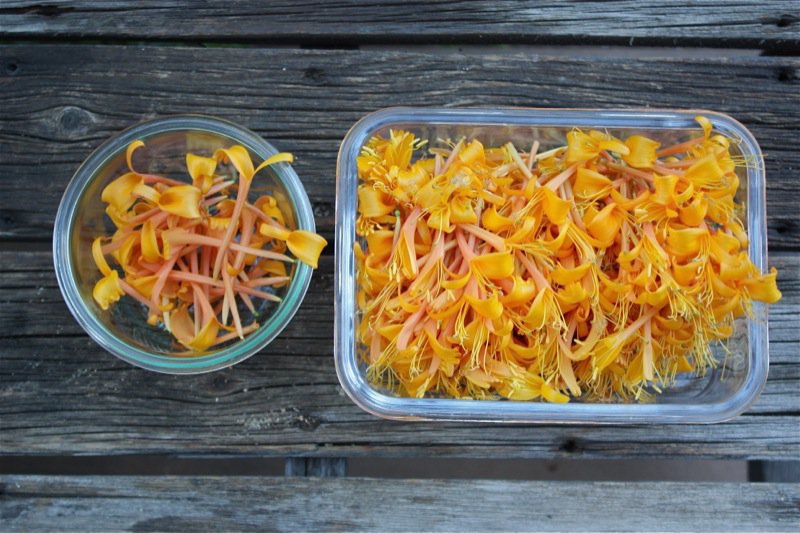 I thought about removing the stamens from every petal, and then decided that only a crazy person would do that. Later, I found a video of Chef Bill Smith making his renowned concoction, and I was right. He does not remove the stamens.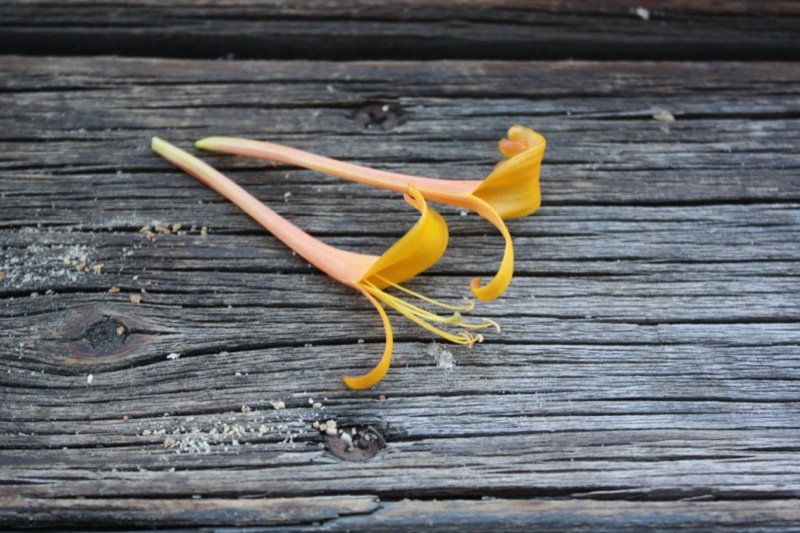 I definitely had enough petals on one of my vines for 4 cups, yet plucked only 2 cups to give a whirl to a half batch.
I covered the petals with cool water and tried to weigh them down into the water, and found that a ziplock bag worked the best.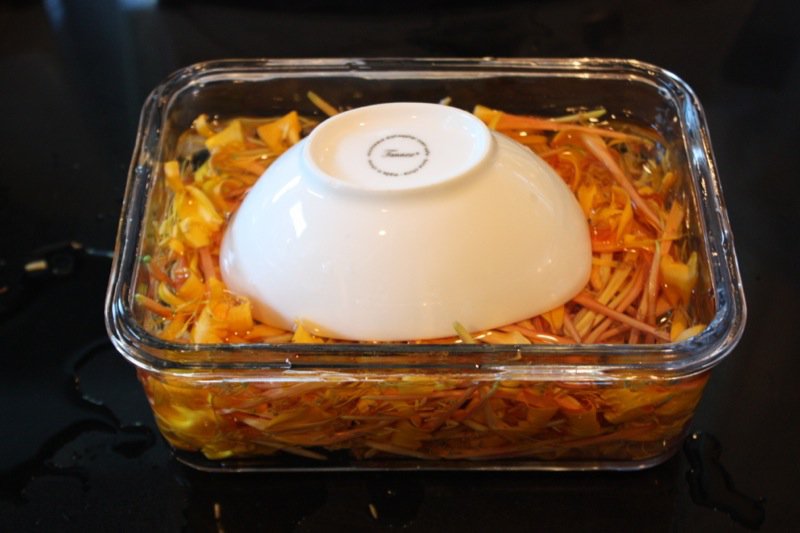 The next day, the nectar had seeped into the water and the petals were ready for the sieve.
I wonder if the pink petaled honeysuckle would create a pink nectar water? The honeysuckle Chef Bill Smith used were white. I have never seen or sniffed them.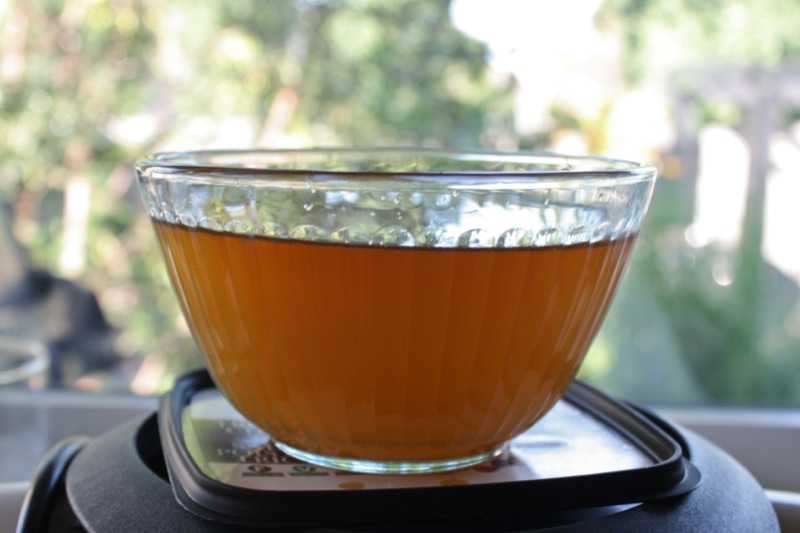 Making sugar syrup is straightforward.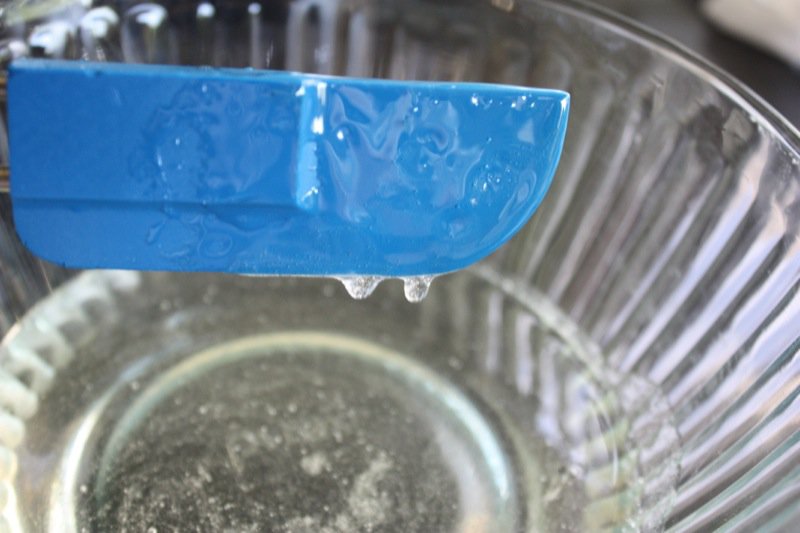 The syrup with the petal nectar water are combined, and chilled.
Twenty minutes in the ice cream machine, and the golden hued sorbet was lovely with fluffy frozen crystals.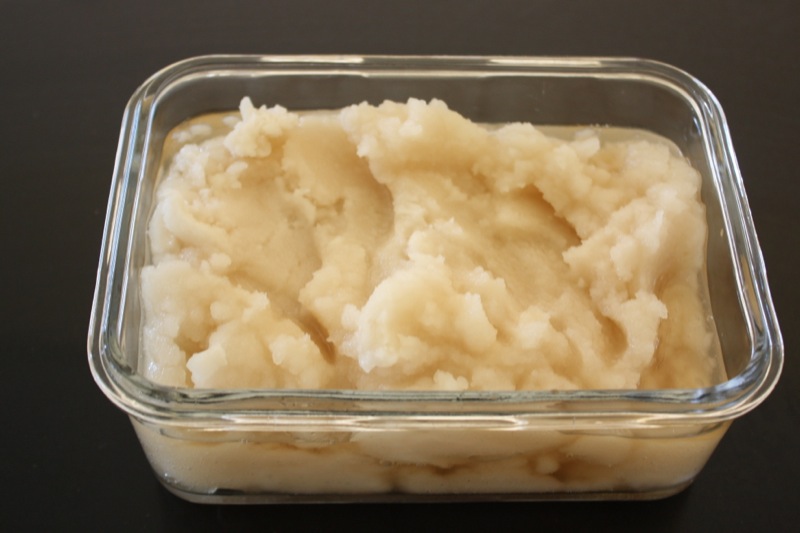 And the taste? It is "good". I was not "wowed", but the flavour I realized is actually much more intense and unique than I expected as I could really not discern a scent. Yet, the sorbet tastes of subtle spicy floral with earthy notes. I am eager to work with this recipe to create floral sorbets using edible petals with scents I adore.
The texture of the sorbet was smooth, refreshing and like silk on the tongue.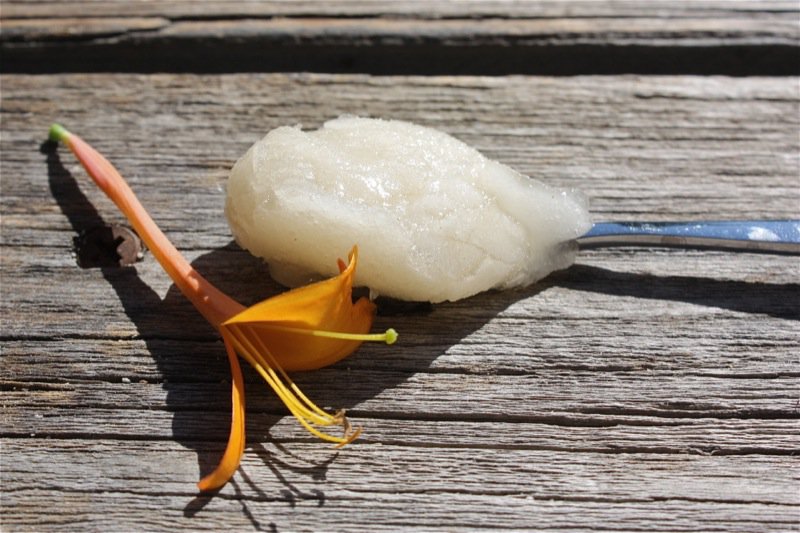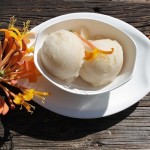 Honeysuckle Sorbet
Ingredients
4

cups

honeysuckle flowers

, leaves and stems discarded, gently, but tightly packed (Lonicera japonica is the edible kind)

5 1/3

cups

cool water

1 1/3

cup

water

2

cups

sugar

a few drop freshly squeezed lemon juice

a speck cinnamon
Instructions
Place blossoms in a ziplock bag and cover completely with the 5 1/3 cups of cold water; seal, ensuring all petals are immersed in water and leave overnight

Combine 1 1/3 cup water with 2 cups sugar; boil in small saucepan until sugar is dissolved and the syrup thickens (3 to 5 minutes at a low rolling boil)

Add lemon juice to prevent sugar syrup from crystallizing; cool syrup completely

Strain honeysuckle nectar water, gently pressing the blossoms to expel all liquid

Combine syrup with petal nectar water; add the merest scent of cinnamon and chill

Churn in an ice cream maker, per manufacturer's instructions; cure for 2-4 hours in the freezer

Keeps for up to two weeks
Recipe Notes
Please note that Lonicera japonica is the edible form of honeysuckle that grows commonly in North America. There are more than 180 species of honeysuckle worldwide. Most species in Europe are not edible.