Comfort-in-a-Bowl on a Cold Day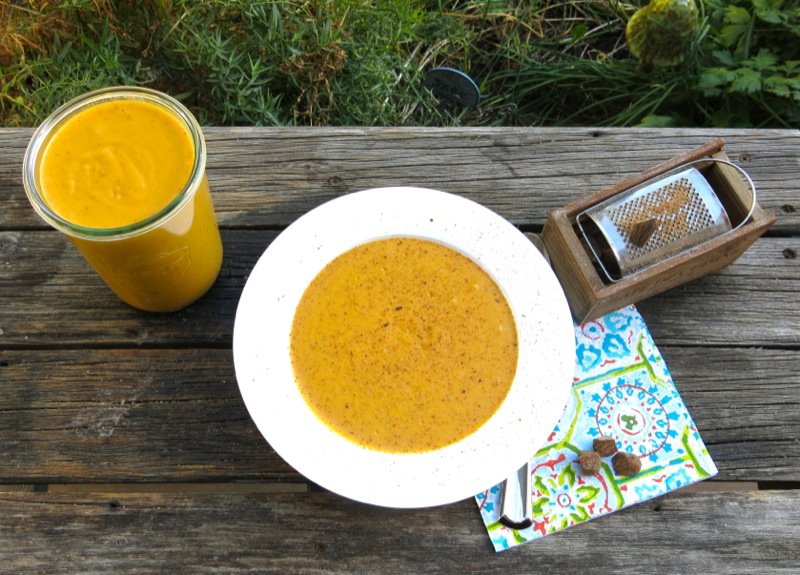 The yam has resurfaced in a variety of ways the last few years. Oven baked fries has become a popular favourite at trendy eateries. I like to mix the yams with the russets when I do oven roasted fries. The big draw is that this rich, sweet, velvety root comes packed with potassium, vitamin C, fibre, and a variety of other "really good for you" nutrients. I was always the little girl at the Christmas table scraping off the brown sugar, butter, and (heaven forbid) marshmallows. Yams are so perfect on their own. The additional sweet stuff is so unnecessary. And the colour is just gorgeous, isn't it? I still love to peel a yam to reveal the unexpected deep orange flesh. It is the rich and velvety smooth texture of this root vegetable that creates the luscious ribbon of flavour on the tongue.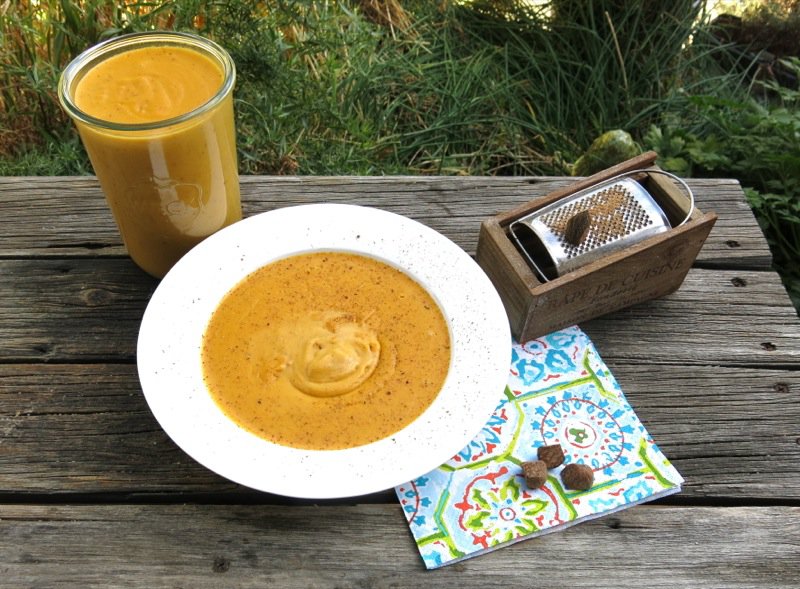 This entry is for Diane. She and her daughter, Christine, were over Saturday. I made them this soup as she had said she was craving this soup, as she had it when she was over another time… and I was so excited that I could make it for her so easily. I always have the ingredients for this soup, but didn't take the time to write it down for her. Diane loved it, and this time insisted I share the recipe, so Diane, this is for you and for all of my Thermomix clients, as this is the soup I use in my demonstrations. It is just that good and that simple.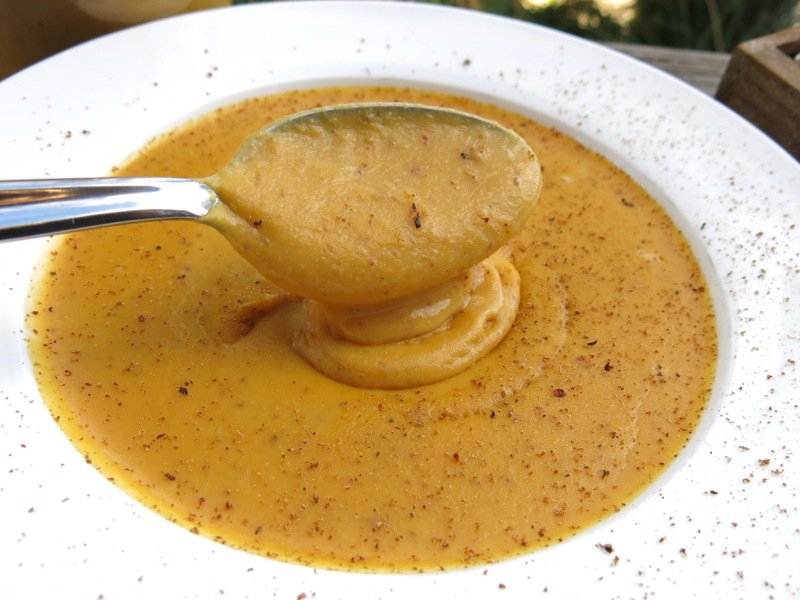 I am sure you can figure out how to make this soup without a Thermomix if you make soup; however, with a Thermomix it is an absolute pleasure. A photo essay follows, but I will include the recipe at the end of the writing. The Thermomix is my new joy this year, and a big gift to myself as I was so ill last year. I cannot tell you how much my health has improved as I am able to prepare healthy meals that I can actually digest with this "kitchen wonder". If you have never heard of a Thermomix, and you are in Edmonton, or Alberta, contact me for a demonstration! If you are from somewhere else, leave me a message and I will connect you with a consultant in your area. Many find it costly, but it has actually saved money for me. It is all about what you like to do and what you enjoy. I love cooking and this machine has widened the possibilities in my little kitchen laboratory about 1000%!
Start by mincing the onion, (garlic) and ginger; scrape down the sides, and

sauté

…
..for two minutes at 100°C, speed 2. It heats quickly and will be steaming within the first minute!
Smell it! Mmmm… Open the lid, scale in the yams, potatoes, and chicken broth. Make sure all are cubed evenly for best cooking. Smaller for faster cooking time, larger for a slower cooking time. The cashews were supposed to go in when the potatoes did. Woops!
Boil for 10 minutes at Varaoma temperature, speed 2. This is the part I love. The soup cooks, gets stirred constantly and the Thermomix calls me when the time is up! "Sweet Valerie, come open me!" The 10 minute time will only work if the potatoes are cubed quite small. I test them with a fork. If they mash, but are a little resistant, the soup is ready to purée. I do this for one minute from 0-10 (that takes 15 seconds to get to 10 the first time, and then 15 seconds more on 10), then on Turbo for 30 more seconds. I like it velvety and smooth. Time to add the milk, and then season with salt and pepper after puréeing the soup.
Can you feel the silky smooth texture? Nothing purées with greater precision than the Thermomix. I have just finished making a batch and I am craving it again! I think I have to go and have a bowl. I love it with a bit of fresh nutmeg grated over the top or a dollop of
my homemade yogurt.
Yum. Yum. Yummers. ENJOY!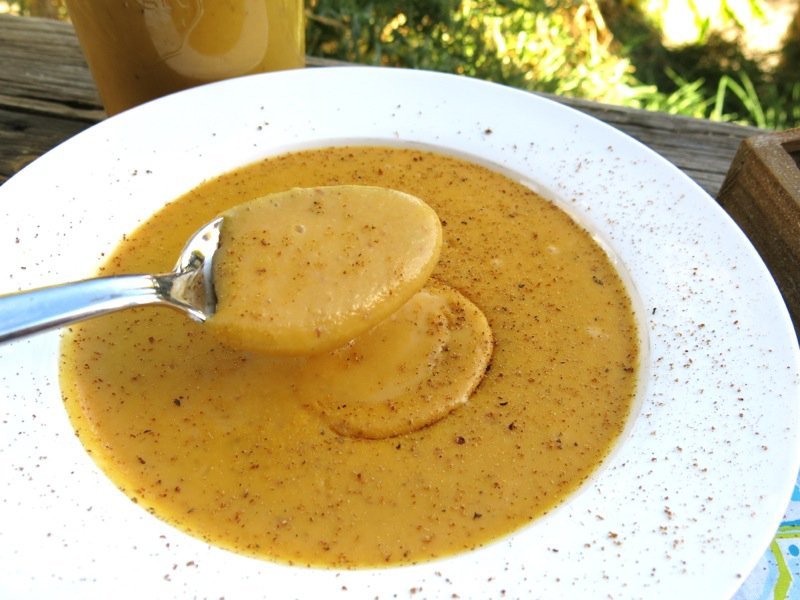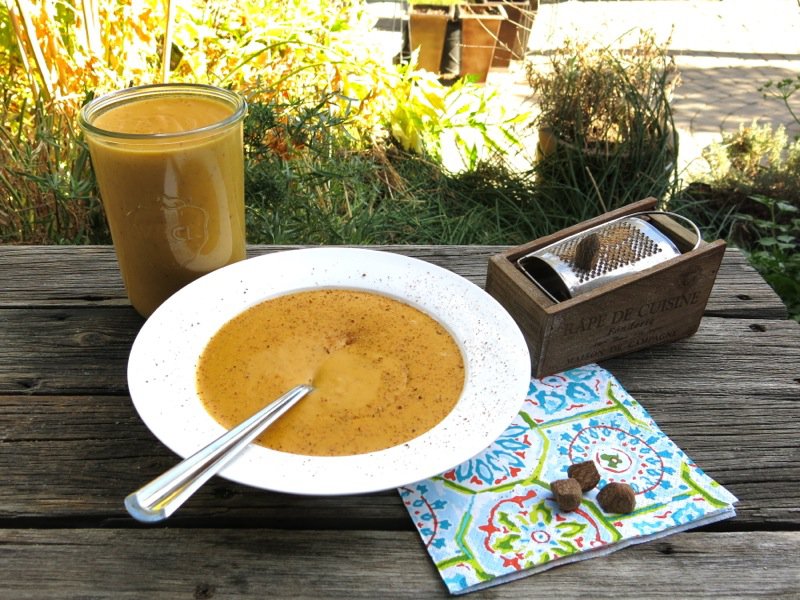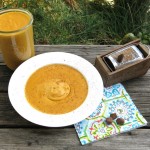 Thermomix Sweet Potato Soup with Yams
This is comfort in a bowl: rich, velvety yams scented with ginger. Divine, low fat, and smoother than silk on the tongue.
Ingredients
50

g

onion

10

g

ginger

, washed and unpeeled

20

g

olive oil

400

g

yams

, roughly cubed, washed and unpeeled

200

g

potato

, roughly cubed, washed and unpeeled

30

g

roasted

, unsalted cashew nuts

450

g

chicken homemade or organic

, free range stock

200

g

whole milk

1

teaspoon

salt

pepper to taste

whole grated nutmeg

(optional)
Instructions
Scale onion and ginger into TM bowl; chop for 5 seconds at speed 0-7

Add oil, and sauté for 3 minutes at 100°C at speed 1

Scale chopped yam, potato, cashews, stock and salt into the TM bowl; cook for 12 minutes at 100°C on speed 1

Pulverize for 30 second at 0-10, two times (one minute, total)

Scale in milk; add pepper to taste; blend for 30 seconds at speed 2

Serve garnished with freshly grated nutmeg
Recipe Notes
The smaller you chop the potato, the faster the soup will cook; as I am preparing this for a demonstration, the cook time is shorter as I took longer with my preparation before the client arrived. To save preparation time, chunk the veggies and extend the cooking time.
I also cook until the yam is just beginning to mash; is is a firm mash. Then I puree to preserve the nutrients as much as possible.