Ahi Tuna From Ocean Odyssey at City Market Downtown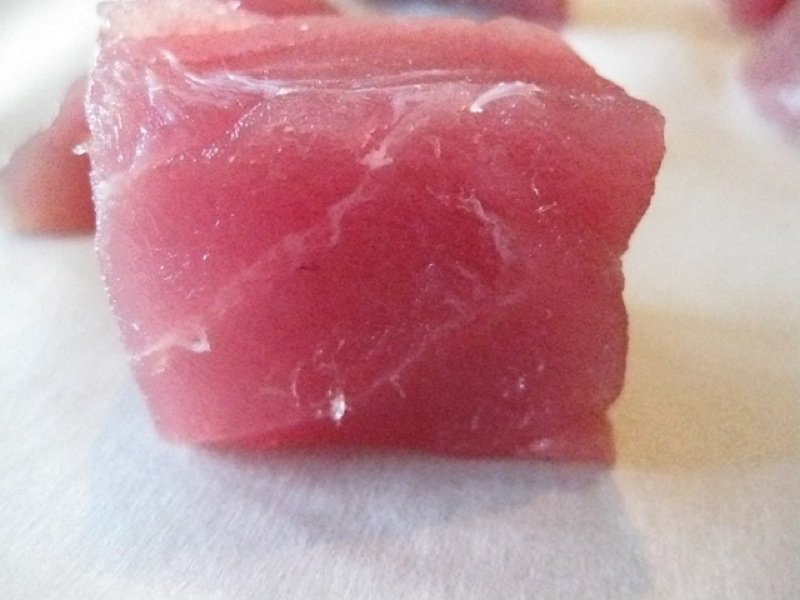 Last Saturday, when Vanja and I were at the
City Market,
I became very excited when I saw that
Ocean Odyssey
had sushi grade tuna! We were having Mike and Colleen, and their two children, Brenna and Josh for dinner on Sunday. What a great appetizer this would be: simple, delicious, and nutritious! I was delighted, excited, and ignited! Even Vanja's sour face couldn't deter me. "œI know you hate raw fish, honey, but you will love the main course!" I purred slyly. Then, I spotted the Ahi they had fresh from Hawaii! Double the pleasure, double the fun, right? How to choose? I bought both. Here's the Ahi.
Sushi grade tuna is frozen, anyway. The industry standard is to flash freeze is to below minus 35 degrees Celsius. Our home freezers are usually from minus 18 to minus 22 degrees Celsius. The extreme freeze supposedly kills all worms, eggs, bugs, etc"¦ I still love it. But, for Sunday, it would be Ahi. I had never had my hands on such a lovely fillet before. Simple is best. Many do eat it raw, but I know there is a risk there, so, I decided on little simple bites with black sesame and a squirt of lime cooked for 1 minute at 500 degrees F.
A sauce would be fun. Hummm"¦ Minced garlic, salt, juice of one lime, zest of lime, a little mayo, a little wasabi"¦not bad. A little bite of it bit you right back! Kind of defeating the delicate flavour of the tuna. I put it away and forgot about it.
Kitchen sparkling, candles lit, music on; I'm in the mood, bring on the company! And they arrived even before Vanja. I just love it when we have "œThe Oswald's" over. It's a full evening of free entertainment! I can never get them over often enough. I think it has been a year! So, am I ready to treat them. I have been waiting a YEAR for this! Hugs, kisses, the most beautiful tulips, wine, and then, TA-DA! I said casually, "œI'm just getting a little Ahi tuna ready for our appetizer, want to watch while I prepare it?" The room froze. Faces fell. Composures dropped. Dead silence. Only a nano-second of it, but I noticed. I managed to squeak, "œOh, somebody doesn't like tuna?"
"œAh "" none of us." was the well meaning, sensitive reply. Colleen must have noticed my momentary withdrawal, and she then responded, "œJosh'll eat it! He eats anything, don't you Josh!" (Isn't that child abuse? Oh, who cares!) "œGreat! Thanks, Josh!" "œI'll try it, too," Brenna piped in cordially. Well, you get the idea. I recovered; they recovered, everybody tried it, no one liked it. But, I am always positive. It was a great education for me. It really was too tender and delicate to serve with the sesame on both sides. Works great for salmon, not for tuna. The sauce was recovered from the back of the sink and everyone really liked it with the sauce. (Do you see me grinning?) I just cannot believe how gorgeous this fish it. So pure and perfect.
I did zest a little lime over them, and Mike said it gave it a nice zing. (Can you see me grin, again?) They are gorgeous, though, aren't they. I did love the fish, but the black sesame was just too much. I know I said that already, but it really was.
Here's a few candid's of Josh. OK, you can never catch a candid of a kid anymore, but he was certainly investigating his food! Now, what did he REALLY think?
Don't hold back, Josh! Geeeeze! Anyway, we did have grilled pizza for the main, and I had a lot of fun cooking that for them, and that, they all enjoyed! Hopefully ,we'll see them here again before another year rolls by. Hopefully, the pizza made up for the "œone minute sushi"!