Start the car: three ingredients! Get to the store and make this now!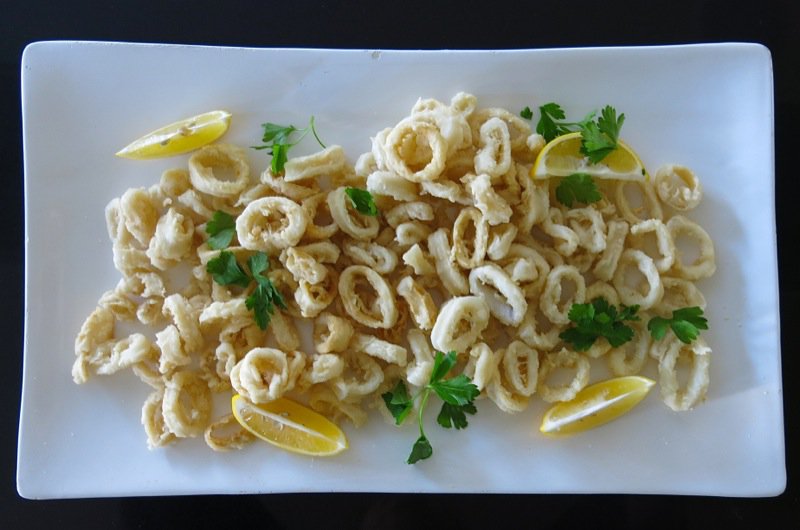 Vanja and I both enjoy a great dish of calamari. We order it often when we travel. It is a celebratory treat, yet so easy to make. I like to make it in the summer when I can plug the deep-fried in out doors to avoid any inside splatter. This is a great summer crowd-pleaser. Exceptionally easy to prepare and make to order during an outdoor party. I also make it for our family Christmas Feast of the Seven Fishes Dinner. You will see the tentacles are missing, but they are my favourite bite.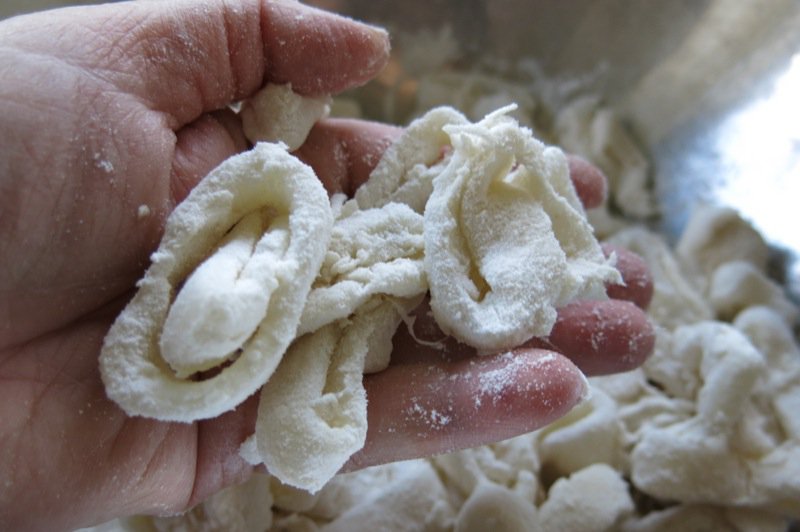 I have found a brand of frozen calamari that is prepared and ready to go: simply thaw. But, the tentacles are not in the bag. I do clean my own squid, but that is a whole different mind-set. I will make the time to do that when the Classic Italian Fried Calamari is the focus dish for the evening. If I want a quick and effortless, still from scratch version, I buy the prepared packages. I actually always have them in my freezer. They are small and about 400 grams per bag which I find feeds one person very generously for a main, but is just not enough for two. Who has calamari for a main? We do, for a special treat, once or twice a year, with a great side salad to justify the calories. I am not providing a photo of the bag or the name of the kind of calamari I buy like this as it appears to be sustainable and Canadian, according to the package, yet I know how our Canadian laws are regarding seafood and don't want to promote a company unless I am certain that their labeling means what it appears to mean. I cannot find a website, so it isn't reassuring at this phase, and I may be back to cleaning all of my squid.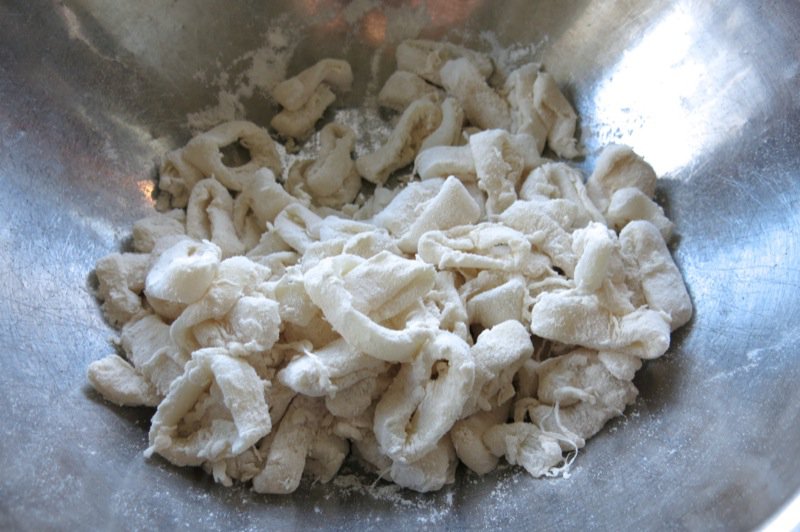 Cleaning squid is easier than peeling and de-veining shrimp, but still a bit of a process. Then again, preparing a kilo for a small family gathering isn't an issue. It is prepping for a crowd that is a little disconcerting. I have never fried fresh squid living in the Alberta prairies, and I never expect to.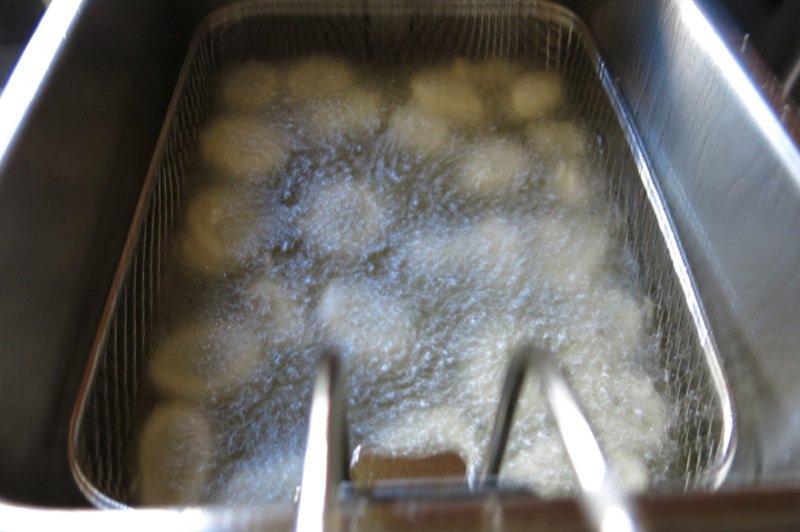 Wash and pat dry the rings and tentacles. Toss them in the flour in small batches just before frying: when the oil reached temperature (375°F). Use a slotted spoon or a spider to remove them from the oil after one minute: no longer. The calamari will be a delicate golden colour as in the photos, not the dark golden colour you find in restaurants that batter the calamari. This is the classic Italian method for preparing this dish. No heavy batter. Simply floured, fried and seasoned.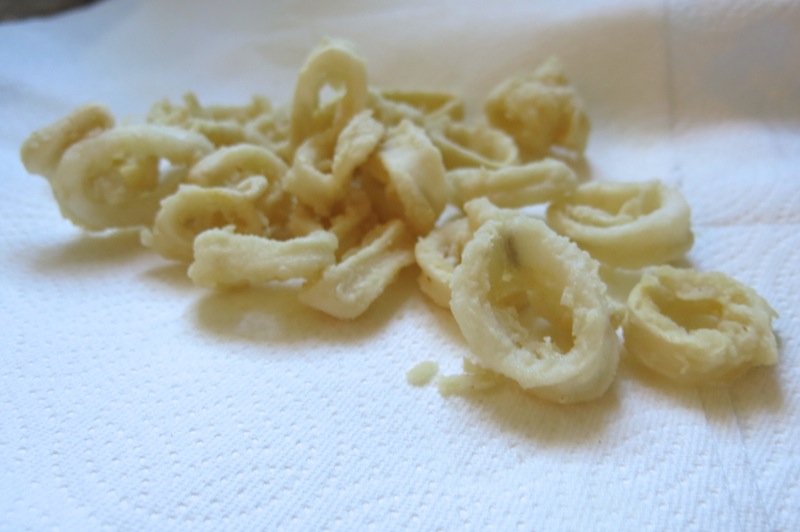 The first time I made this recipe, I was concerned that they didn't look "done", but that was several years ago and this is a much more common approach now, often used in restaurants so the pale colour isn't as "scary" and "foreign" as it has been in the past. Tasting them made all the difference. Crisp. Light. Tender. Sublime.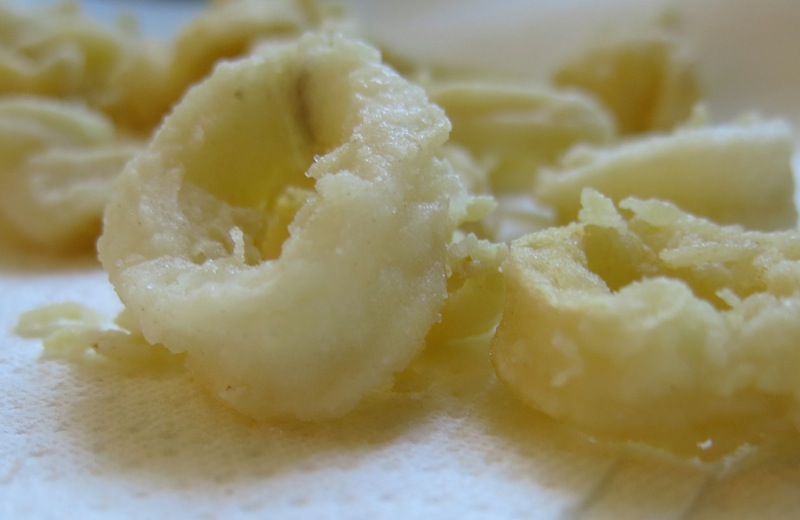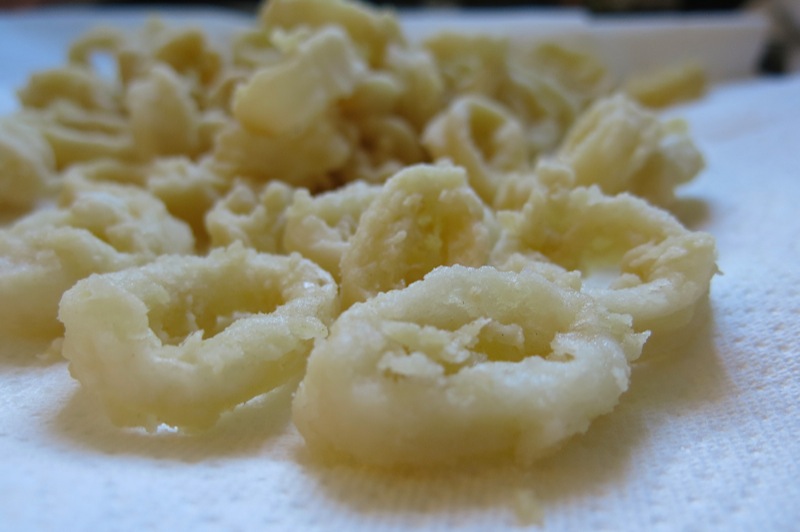 A little light salting immediately out of the frier and then to the table. I love them with a squirt of fresh lemon dipped in a garlicky aioli. I often make it from scratch and have it in the fridge, but didn't do that this round. Instead, I made a cheater version and have included the recipe, below.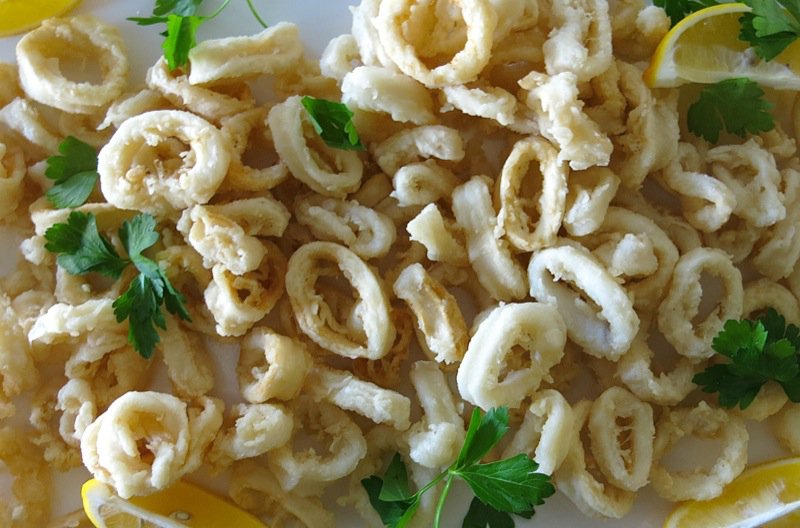 Best hot from the frier, of course, but surprisingly, the entire platter disappeared by the end of the evening as little fingers kept helping themselves as they passed by. They are still very tasty at room temperature the same day.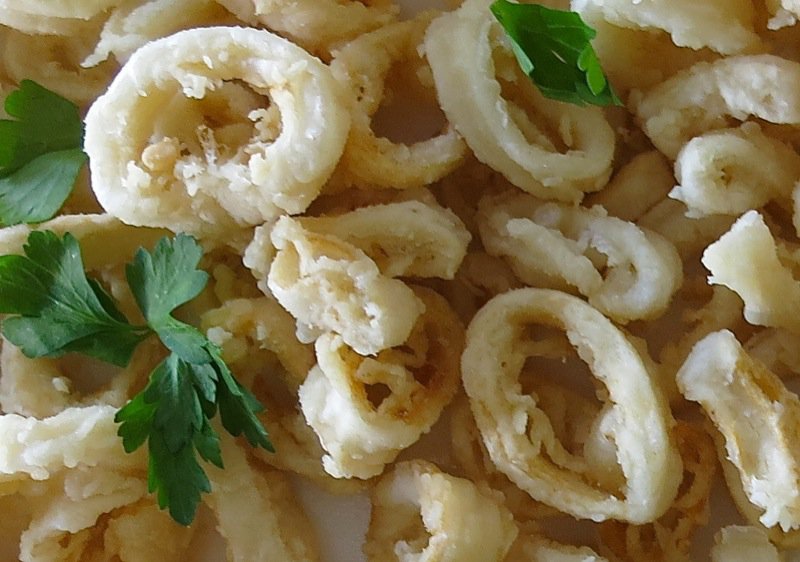 I have also enjoyed calamari at Greek restaurants with Tzitziki sauce, but my preference is the aioli. Yours?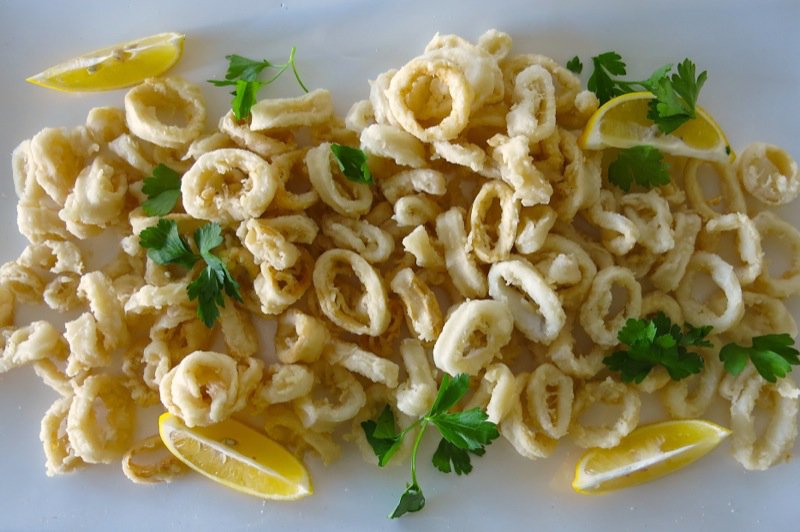 There is no doubt about it, this dish will grace our family holiday table for many years to come – and the beauty of this recipe is its humble roots and easy preparation. For those reasons and our love for the flavours, we make it often at our house. Vanja would say, "Not often enough!"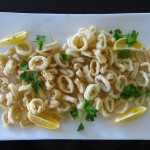 Crispy Classic Italian Fried Calamari: Calamari Fritti


This recipe is a classic Italian recipe for fried calamari: simple, crispy, delicious.
Ingredients
1

kilo calamari rings

, or 1 kilo cleaned calmari rings and tentacles

1

cup

all purpose flour

GMO free oil for deep frying with a high smoking point: grape seed oil and canola oil work well

Salt

Lemon and flat leafed parsley leaves

, for garnish
Instructions
Clean calmari by taking out the spine and innards, pulling off the skin, cutting off the head and saving the tentacles

Cut the body into 1/4 inch rings; rinse and pat dry calamari

Toss in flour when oil is at temperature

Place oil in deep frier or pot; heat to 375 F

Toss calamari in flour in small batches

Deep fry small batches immediately after tossing in flour for 1 minute to 90 seconds per batch (Do not over fry, or the calamari will become tough instead of tender: taste to test your preferred cooking time)

Place on paper towel to drain fat; salt each batch

Serve immediately with lemon wedges and aioli for dipping, sprinkled with parsley
Recipe Notes
If purchasing uncleaned frozen calamari, preparation time will increase to 30 minutes.
This calamari will be a very delicate golden colour, as in the photographs, not the dark golden colour often served in restaurants with a heavier batter.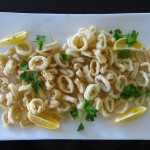 Simple Cheater Aioli


This is a quick solution to a Classic Italian Aioli recipe.
Ingredients
4

large cloves garlic

, minced

1 1/2

teaspoons

salt

1

cup

good quality mayonnaise

(homemade is always best)
Instructions
Place salt on top of garlic on cutting board; using a fork, press the salt into the garlic until it is emulsified

Add the garlic salt mixture to the mayonnaise, to taste (do not add it all at once)

Serve with deep fried calamari: excellent for dipping