We needed a girlfriend fix, and Janet hooked us up for a gorgeous lunch at her house Monday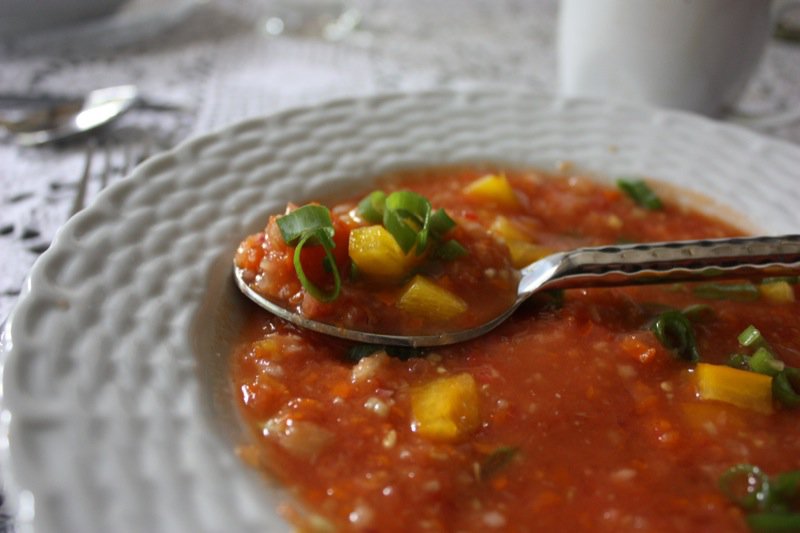 I have a core group of girlfriends that usually get together several times a year. They are who I share my girlfriend life with and the circle I am growing old with. We have always celebrated birthdays and used to celebrate births. Now, we celebrate marriages and births of grandchildren. Many of them have other homes in other places and are gone for a good portion of the year, so it was wonderful to get together for this luncheon that Janet put together just "because".
After all arrived, Janet served the most wonderful cold soup with a variety of tasty and colourful accompaniments that she had prepared from her finds at the Old Strathcona Farmer's Marke,t on Saturday. We served ourselves then sat in her grand dining room to share in the lives of one another.
Angie brought her little grandson. Oh, my he has grown. He was quite the little gentleman and relished the lunch along with the rest of us.
Citrus scented water seems to be a trend this summer. There are large jugs for sale at Costco and Winners and I am seeing these crystal cold jugs brimming in the most sophisticated environments inviting relaxation and renewal.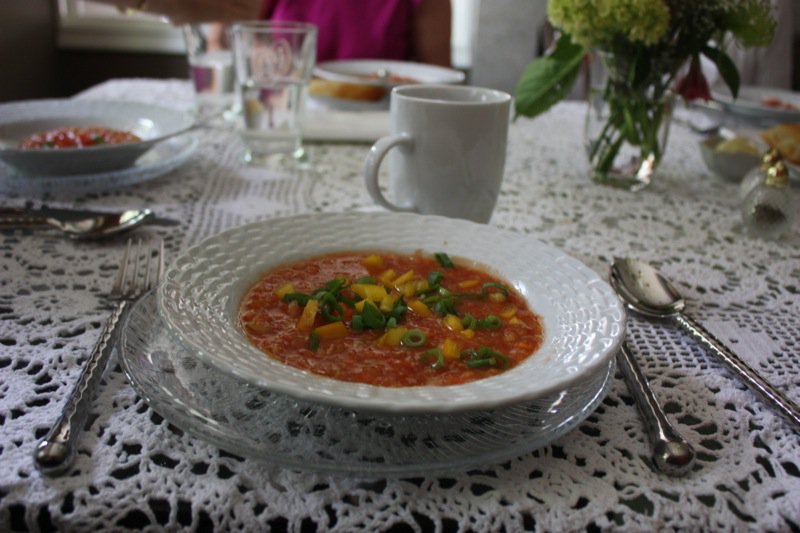 This is the life.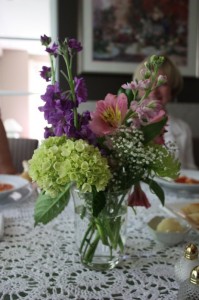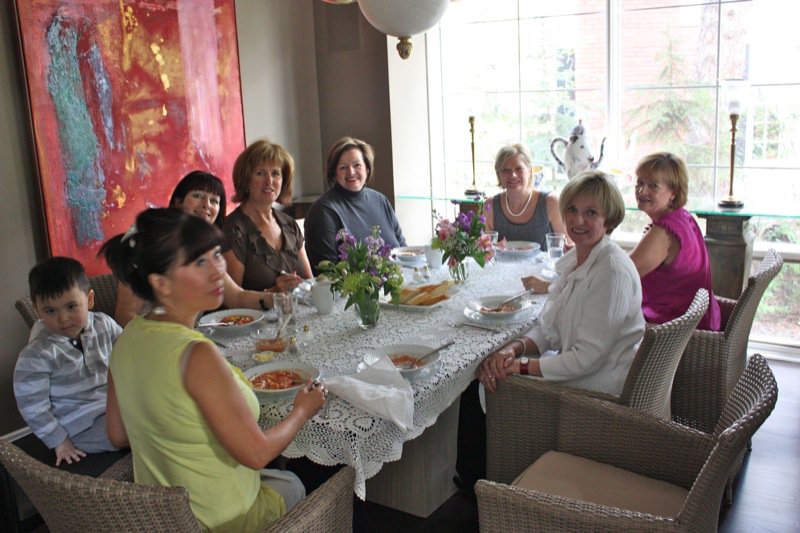 And then, two beautfiul quiche were served with a tender sweet spinach and strawberry salad: the perfect afternoon ladies luncheon.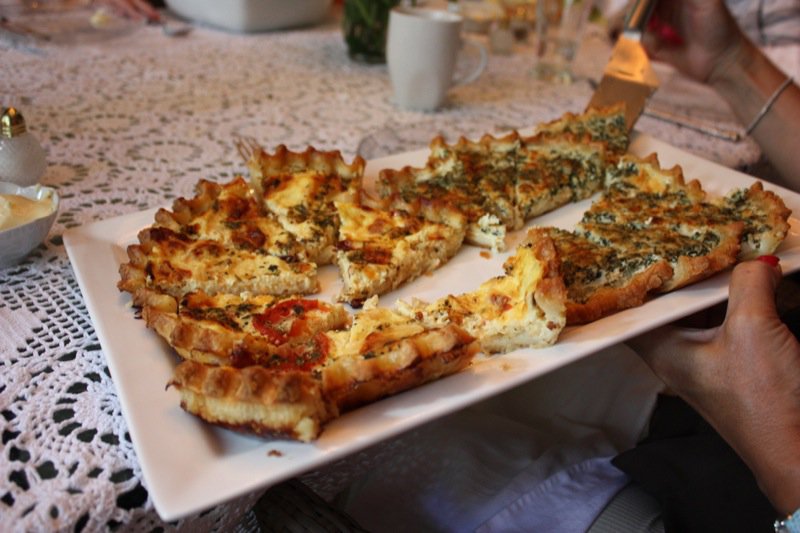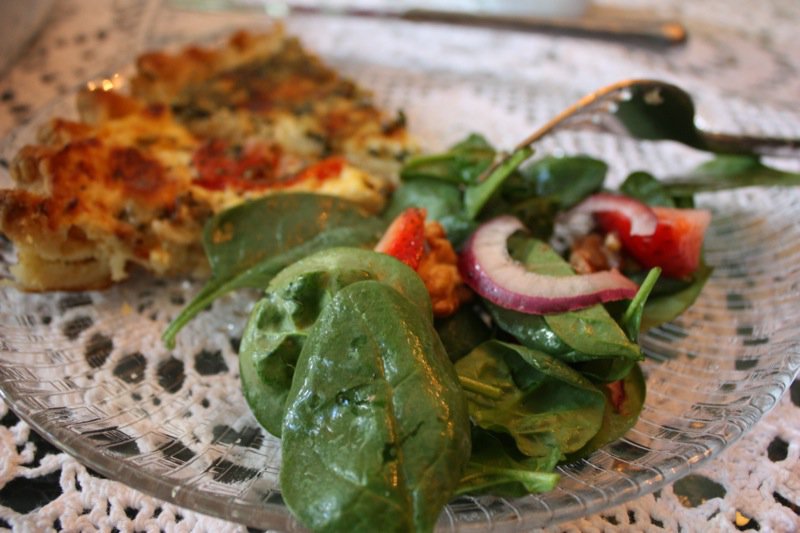 And for dessert? More laughs. More visiting, and memories of our youth as Janet served a true retro lemon slice that breathed a whole new level of energy into the room. More coffee? More tea? And we lingered until late in the lazy afternoon ….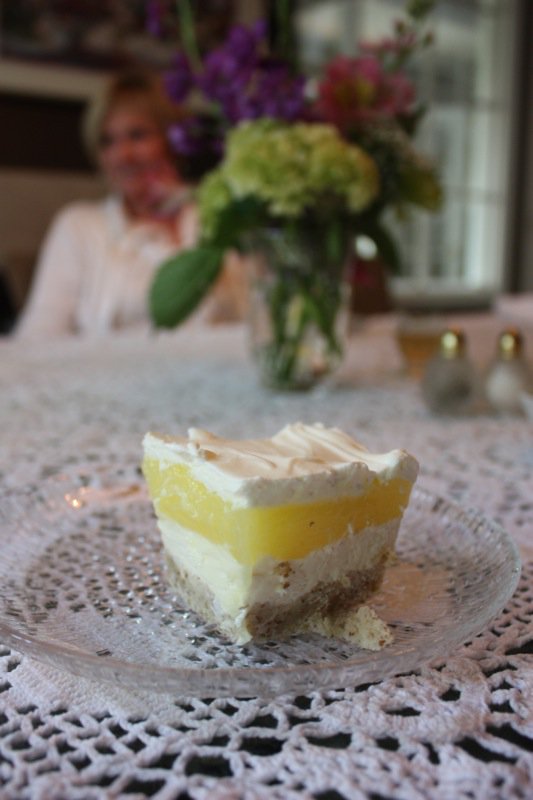 The perfect ending to a beautiful Victoria Day weekend for me. Thank you, Janet, and my dear friends, for this peaceful reprieve.
Janet's Gazpacho Soup Recipe
Ingredients:
3lbs yellow tomatoes
1lb red tomatoes
1 english cucumber peeled
1 orange pepper
1 garlic clove
2 cups tomato juice
1 tablespoon paprika
1/2 tsp cummin
1/2 cup olive oil
1/2 cup lemon juice
1/2 tsp salt
pepper to taste
Instructions:
Reserve 1/2 cup tomato, english cucumber and orange pepper
Blend all of the ingredients; do not over blend (see photo)
Refrigerate overnight; serve with reserved veggies
If desired ,serve a small bowl of baby shrimp to add to the garnishes