Belated Happy 2012: The importance of cooking with friends!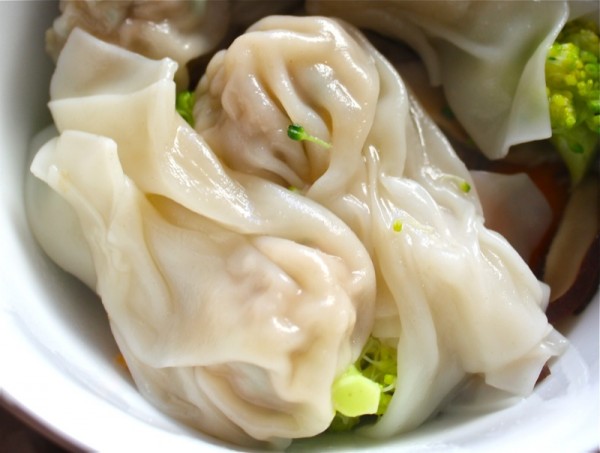 A new year is here and we know it will be another delicious one for all. Sunjeeta kk from Lite Bite organized this wonderful virtual party #Welcome2012 and I am late, late, late! But, I have arrived! And boy do I have a impressive recipe to share with each of you to kick of 2012. More importantly, a story of friendship all wrapped up in a wonton!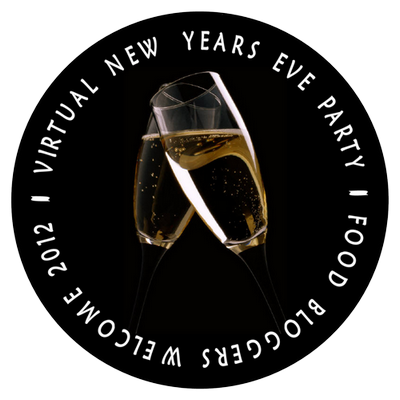 I met Ming last year when she enrolled in one of my Taste Tripping Cooking Classes with her friend Edyta. This was the first time I met someone that I didn't know that really reads my posts carefully and thoughtfully. It was so vitalizing. And, then, she is such a lovely person. It is rare to meet someone so like-minded and so attention-to-detail oriented. Guess what happened next? She came to another class! At this class she and my mom got visiting and I got wind of an offer from her to teach us how to make Wonton Soup. Due to our busy schedules, the invitation was issued for a day during the holidays, and what an inspiration it was.
Ming also invited her dear friend, Edyta, and then took us on a fieldtrip to TNT at West Edmonton Mall to shop for ingredients. That was also an eye-opener for me, even though LeQuan had taken me for a full day tour in Edmonton's China Town; that day, we weren't shopping for a specific recipe. This was very helpful as I am now fully confident that I can shop for the ingredients and make this recipe again completely on my own: maybe not as delicious as Ming, but certainly, yummy!
Ming then volunteered to "be me" at Eat Alberta (an event that I founded and am chairing for the first three years) as I needed someone to shadow me and possibly take over my responsibilities due to the severity of my asthma at the time. I had full confidence in Ming by then. I hadn't spent much time with her, but I knew her well (as a teacher knows a student). Ming was tenacious and possessed an insatiable appetite for knowledge. Her attention to detail was second to none, and to top it all off, she was kind. She would be perfect (far better than any "me")! I was truly blessed. I found through my time with her at this event that I had actually underestimated her capacity to take initiative and to understand what needed to be done. She surpassed my fervid expectations. She provided a calming influence and a clear head. She was a gift. And, as every unforgettable student does, she taught her teacher so much.
Ming is the quintessential team player. She carefully considers any responsibility she accepts and then takes each very seriously. She will be there. Her work will be done. It will be exceptional. The more I got to know Ming, the more I found there was to know and appreciate and learn. When Ming invited my mom and I to her home to learn how to make Wonton Soup, I knew it would be an exceptional experience, yet it was more than that.
Arriving back at Ming's house, groceries in hand, we began slicing and dicing: each of us given a different task. Ming even had a package of Nature's Green Acres ground pork to contribute to our shared belief: buy locally. It cannot always be achieved, particularly when making an ethnic dish; however, even here, she had this special locally farmed pork. The BBQ pork that we had just picked up at TNT was really delicious. Pick up the duck and the pork fresh from the barbeque first thing in the morning. (Well, around ten am when they get it all out of where they cook it.) There is no comparison in the flavour and texture of the meat purchased at this time of day: tender perfection!
Once the scallions, ginger, shrimp and pork were in the bowl, Ming began combining the mixture with the most appropriate tool for this task: chopsticks!
And, instead of a shot of Sherry in the traditional Wonton filling, Ming adds her own zing: tequila! And, the aroma, once added, was unquestionably and irrevocably scrumpdillyicious! Actually, the tequila added a significant, yet subtle depth to the surprisingly fresh aromatic scent in the bowl. Corn starch was added to bind all together and then more mixing until the concoction combined completely and becomes light and loose and fluffy, or as the Chinese would say: "fa".
The broth was made another day. That is the only way to make homemade stock or broth. This was a delicate, subtle broth with a light burst of flavour. Ming made hers from this site though wasn't happy with the fact that hers was somewhat cloudy. I thought it was beautiful, but she says that the best Wonton soup is made with a clear broth. I'm not sure mine will ever be clear, but it is good to know.
Do you remember seeing these old Tupperware utensils? Somewhere deep in my memory archives there was a flicker of recall. Ming had three and proclaimed them to be the best utensil for wonton making. Can you imagine coveting a Tupperware utensil? You can use the end of a spoon or anything similar, really. She made it look so easy that it actually was easy! The hardest part was not putting too much filling into each wrapper.
I completely understand the grandmothers of old who used to get together at one house, then the next, and the next, to prepare food for the winter. We had ours done in less than an hour and enjoyed such frivolity in the process: so unlike making these at home, alone, for hours. They freeze beautifully, too, so you can make enough for the entire season and have a delicious, nutritious and economical meal in minutes on a cold night when you don't want to cook!
It was really hard to monitor the size of the wontons without a standard sample. Ming's advice was "about 1/2 teaspoon full, or a little less." You can clearly see that I started making mine far too big.
Ming had a couple surprises up her sleeve, and one was that she was now going to teach us another way to make wontons: deep frying them! To do this, in Ming's words, "They need to be pretty." Each of these wontons is shaped to look like an ancient Chinese coin called a Yuan which is a symbol of good luck! Each looked like a hat or a little boat. Gorgeous.

We still had quite a bit of filling left because the package of wrappers we had purchased had less in it than usual. It would have been perfect for two of those packages, or one of the more common wrapper packages at the grocery store.
Ming had reconstituted only two large dried shitake mushrooms. I have never seen such lovely ones. She had them sliced and ready for the soup along with a carrot, a bit of broccoli, and some slices of barbecue pork. At this point, the vegetables went into the broth to cook or blanch, but for only a few minutes: there is to be a bit of a crunch left along with the vivid colour. The water the mushrooms were reconstituted in was also added to the broth sans the grit.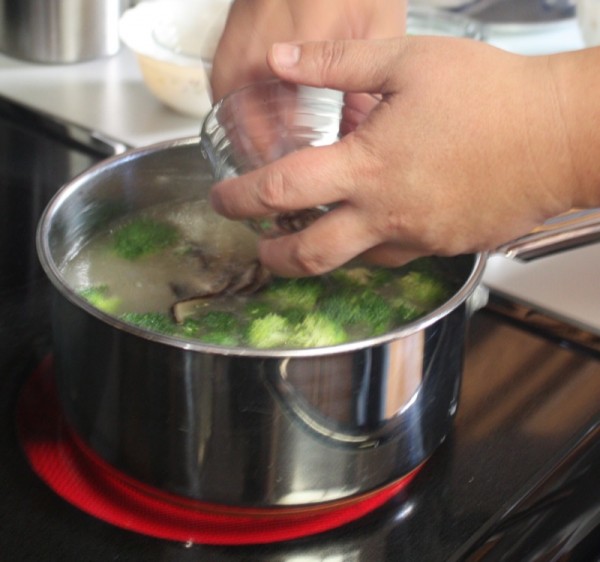 At the same time, we started deep frying our won tons.
The pork was already divided into each bowl; the cooked vegetables were divided into the bowls and the wontons replaced them in the broth.
When they float to the top, they are done. It doesn't take long! The wontons were also divided into each bowl, too!
We certainly had very generous servings of pork, vegetables and wontons! I was not complaining. There is nothing like fresh homemade wonton soup! The steamy fragrant broth was gently ladled over each bowl that was finally topped with slivered scallions. The colours, aroma and pillowy visual appeal had us each sink into a chair without invitation, big spoon in hand.
Kai Fun! (or Bon Appetite)
MMMM! MMMM!
My friendship with Ming is wrapped up in a wonton. What a wonderful place for it to be! I will, forever more, think of Ming whenever I make or eat wonton soup. What a gift. I certainly hope we will enjoy many more culinary adventures together, but for now, this was a deliciously unconditional labour of love bundled in little pillows of joy!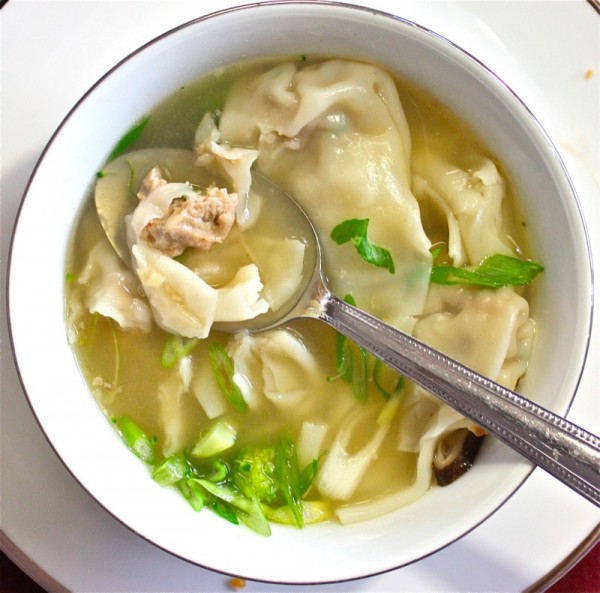 Ming's Wonton Soup Recipe
Ingredients for the filling:
1 pound ground pork
10-12 large minced shrimp (about a 1: 4 shrimp to pork ratio)
3-4 green onions, finely minced
1 -2 tablespoons ginger, freshly grated (to taste)
1-2 tablespoons of soy sauce
1/2 to 1 teaspoon sesame oil
salt and pepper to taste
spash of sherry or any other light coloured spirit
1-2 tablespoons of cornstarch for binding
Instructions:
Mix all of the above vigorously until the meat "puffs up", or loosens once it is completely combined: until it is "Fa" (in Chinese: fluffly)
Use about 1/4 to 1/2 teaspoon of filling for each wonton (less filling when you make the deep fried ones)
Place on parchment lined cookie sheet for freezing, then into ziplock bags with date labels once frozen
Ingredients for the soup from Tiger sand Strawberries:
"The Chinese method is very similar to the French method, but it is much more usual for there to be a mixture of meats and bones in the basic stocks of the Chinese kitchen."
Please read the post at Tigers and Strawberries to understand a Chinese Stock as i will not go into it here and it is a very compelling read!
4 pounds of pork bones and meat
a slice of ham with a bit of ham bone
8 pounds of chicken bones and meat, including either necks and backs or feet
water as needed
6-8 scallions, trimmed and rinsed, white and light green parts only
3 medium carrots, peeled and cut into thirds
3″³ chunk fresh ginger, peeled and cut into three parts
about 1/4 cup light or thin soy sauce
1/4 cup Shao Hsing wine
Instructions for soup as written by Tiger sand Strawberries::
Trim excess fat and any obvious bloody bits from the bones and meat; rinse all in cold water and put into pot large enough to hold them all
Add cold water to cover, set on stove, turn heat to high and bring to a simmer, then a boil
Boil for ten to fifteen minutes, allowing scum and impurities to gather as a dirty foam on the top of the water
Remove from heat, and with tongs, pull out bones and meat and put them into a strainer; p[our out all water and discard
Rinse the meat and bones thoroughly with cold water, rubbing as necessary to remove the collected scum from their surface
Scrub out pot; return meat and bones to pot along with scallions, carrots and ginger
Add cold water to cover and put on stove on medium heat and bring to a simmer maintaining a very bare simmer with the water shimmering and tiny bubbles collecting around the solids and the sides of the pot, then bursting slowly
Allow to cook like this for at least six hours (nine is better); while it is cooking, check to make certain it is not boiling, and skim any foamy scum that collects at the top (there will not be much, but there will be some). You only need to do this a couple or three times
When it is finished cooking, remove the bones and meat with tongs or skimmer; remove meat and save it if you want
Discard bones
Put about four to six layers of cheesecloth into a colander and put this contraption over another pot (you may need to use several pots to collect all of the stock from the stockpot) and strain the stock in it
Scrub out the pot, and return the stock to it.; cool it down as quickly as you can (set the pot into the sink along with a bunch of ice and water and stir the pot until it comes down to forty degrees)
Then, cover and refrigerate overnight
In the morning, or sometime the next day, skim most of the fat off the top of the pot, add the soy sauce and wine, and put the pot back on the stove, turn the heat to medium low and stirring, bring to a simmer
Add a bit more fat to the stock as the surface of the liquid stock should be dotted with swirls of golden bubbles or beads of liquid fat; too much makes it greasy, but too little makes it flavorless
Package and freeze for use in soups, sauces and braised dishes later
Note: As this is clearly a lot of work, make a big batch!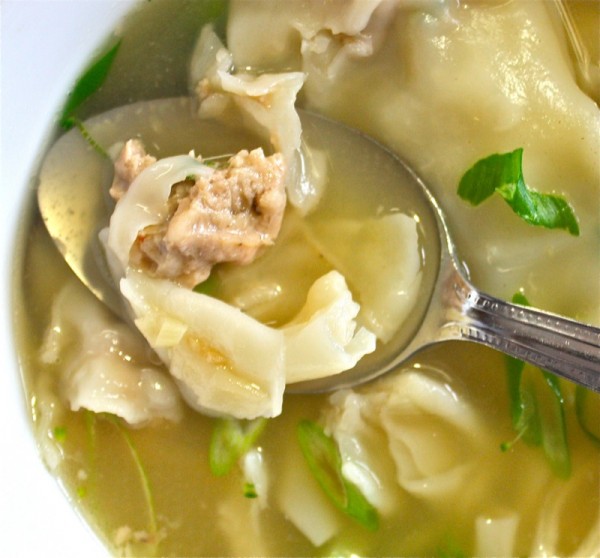 Thank you, Ming! xox