A Flavour Explosion and a Fantastic Multi-Use Barbecue Sauce
These finger-licking, bone-chewing, lip-smacking ribs have been slathered in this sauce, bathed, baked and basted in it, and are the beautiful caramelized sticky mass that one would be proud to share with loved ones. Wouldn't you feel loved if I made these for you? I hope so! I would be thinking about how much I care about you when I was making and baking them smothered in this Chipotle and Fresh Horseradish Barbeque Sauce!

Start with the garlic. Every good sauce starts with garlic, and lots of it, I think! And you will see that I chopped the peppers and the celery. The recipe works best when you chop these by hand before putting them in the TM bowl.
But, after peeling the horseradish, in it goes. Don't forget to chop it into smaller pieces first.
Is that not beautiful? Perfectly minced! I love my Thermomix! And, suddenly, it's done! Beautiful, isn't it?
This recipe makes exactly two litres. And, OK, it is not so "suddenly" done. But, almost!
I used baby back pork ribs, cut individually, and bake them at 300F, turning them every twenty to thirty minutes. After the first two turns, time for the sauce.
And I keep saucing and turning for rwo and a half to three hours, until the meat is sticky tender.
These, like everything, are best fresh. I froze them out of necessity for the staff party. They can be frozen with very good results, so that is good news! I always make a lot when I make them, and usually do freeze half because they take such a long time in the oven. I have never regretted it, and they have never been in the freezer long. There is always a party or a dinner that I can pull them out for.
Last spring, Mario, my nephew, was thrilled to come home to an Alberta BBQ rack of rib meal after a hard day of work on the farm!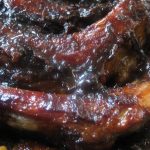 Chipotle and Fresh Horseradish Barbecue Sauce


This is a Canadian Foodie Original Recipe; I made multiple batches for the season Servings: Makes 6 cups
Ingredients
20

g

fresh chives

, minced

135

g

fresh horseradish

, grated and peeled

3

large garlic cloves

, crushed

400

g

bottled chilli sauce

200

g

molasses

110

g

soya sauce

25

g

brown sugar

20

g

Dijon mustard

65

g

fresh lemon juice

150

g

chicken stock

100

g

water

10

g

Tabasco sauce

10

g

course salt

20

g

Worcestershire sauce

¾

tsp

. red pepper flakes

60

g

Anaheim pepper

, seeded and chopped

90

g

green bell pepper

, seeded and chopped

10

g

canned chipotle peppers in adobo sauce

, minced
Instructions
Instructions for the Thermomix:
Peel and chop garlic in the the TM bowl at Turbo speed for 1 second; set aside

Clean, chop, weigh and mince horseradish in TM bowl at Turbo speed for 1 second; set aside

Mince and weigh chives; set aside

Place remaining ingredients into the TM bowl and bring to a boil for 13 minutes at V on speed 1-2; then simmer for 12 minutes at 80°C on speed 1-2

Purée for 30 seconds at speeds 1-10, until smooth

Add chives and horseradish, and stir for 10 seconds on speed 3 until blended

Use immediately, or store in sealed container in the fridge for four days, or freeze
Instructions:
Peel and chop garlic; set aside

Clean, chop, weigh and mince horseradish

Mince and weigh chives; set aside

Place remaining ingredients and the garlic into a non-reactive heavy pan and bring to a boil, then reduce to a low bubbling boil, stirring to avoid sticking to the pot, for 20 minutes, or until thickened; cool

Purée in blender until smooth; stir in chives and horseradish

Use immediately, or store in sealed container in the fridge for four days, or freeze