Waldorf Salad (four servings)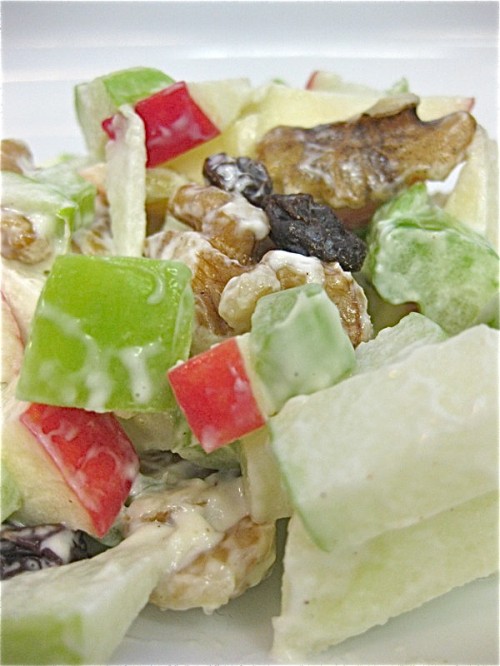 This salad is high in fibre and everyone needs to eat more fibre!
Waldorf salad [WAWL-dorf] was created at New York's Waldorf-Astoria Hotel in 1896 not by a chef but by the

maître

d'hôtel

, (dining room manager) Oscar

Tschirky

,.The original version of this salad contained only apples, celery and mayonnaise. Chopped walnuts later became an integral part of the dish. Waldorf salad is usually served on top of a bed of lettuce.
Ingredients:
1 cup of apples, washed, sliced (not peeled)
1 cup of celery, washed and diced
1/4cup of walnuts

1/4cup of raisins

1/4cup of mayonnaise
4 Lettuce leaves
Tips:
Choose an apple that you really like. Sweet apples like Gala, Pink Lady or Golden Delicious are the preference for most young palates
Choose a nut that you really like, or a variety of nuts; almonds will be too hard whole, but are lovely in this salad when sliced (leave the skin on)
Cut the celery a bit smaller than you cut your apples; it is more dense
Instructions:
Prepare all ingredients
Combine ingredients in a medium bowl and mix well
Serve each of the 4 portions, 1/4of this recipe, on a small lettuce leaf
Enjoy with your friends as a snack, or a side with a sandwich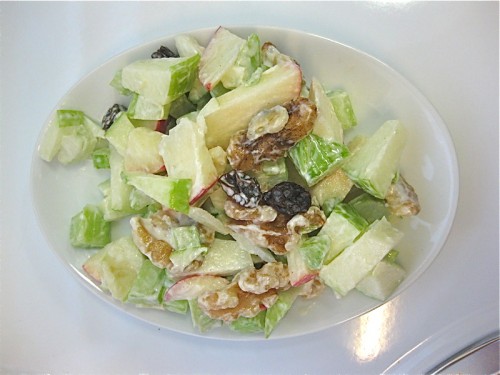 Traditionally served on a leaf of lettuce, but is also great on its own!
Thinking out of the box:
use pistachios and dried cranberries instead of walnuts and raisins, or
add 2 tablespoons of raw sunflower seeds
Share your "Thinking out of the box" ideas! And, get cooking!