Happy Valentine's Day from The Brûlée Blog and me!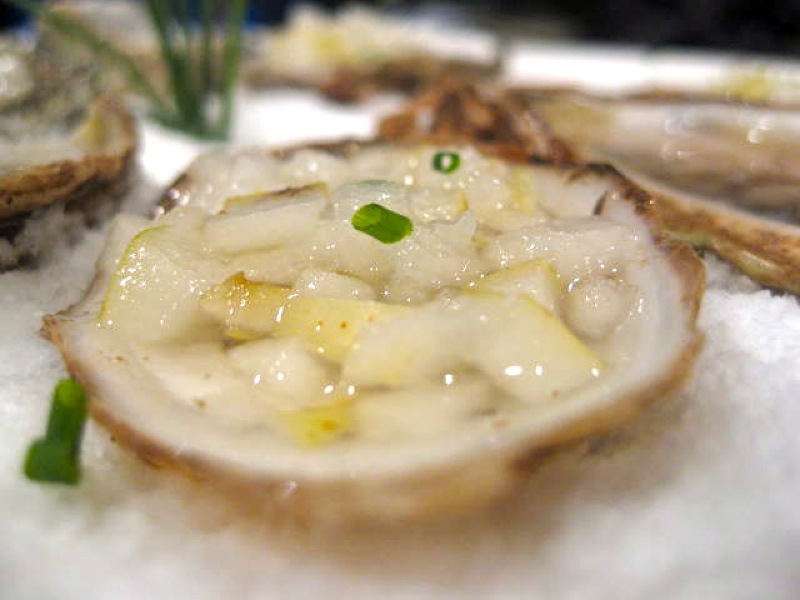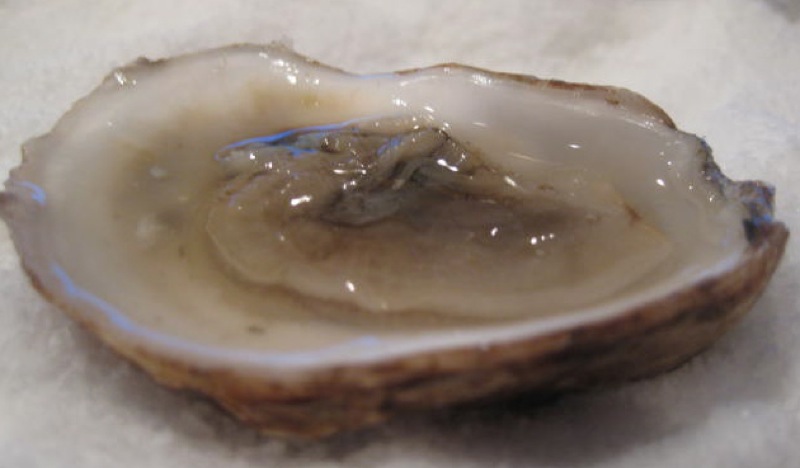 What else, but oysters? Look at the oyster liquor in the Malpeque Atlantic Oyster from PEI above. Tasting it took me back to Boston last March: sitting in the Union Oyster House on a rainy afternoon just before heading out to the No Name. The East Coast breeze whispering outside of the window and drizzling rain dripping off of my nose added to the taste of the sea when I slurped back the entire 1/2 dozen effortlessly on my own. I have had a love affair with oysters since I was a very young girl. My grandfather would order them for Christmas, and every year, four gallons would be flown in for him to pick up from Port Lady Smith or Duncan, British Columbia. These would come in one gallon paint cans for about ten dollars each (a lot of money in the late 50's and early 60's) with no wrapping on them except the packing sticker; they were freshly shucked with their liquor inside, and were a smaller exceptional varietal of the Pacific Oyster. My dad would get a pail from Grandpa and open in like a kid with a bucket of candy; take one out at a time, and pop it into his mouth, grinning with unadulterated pleasure. Of course, I wanted some. There is nothing like the smell of a fresh oyster, or its taste of the briny liquor. That was the beginning.
So, when The Brûlée Blog suggested oysters, I was in! Let me back up a little. I was reading one of her posts in January, and saw she got The Momofuku Cookbook for Christmas, and so had I, so I suggested we select a recipe from it and each post it. I was so excited when she agreed as I tend only to read my cookbooks and I really need to cook from them. She chose the Freshly Shucked Oysters with Pickled Asian Pear and Black Pepper on page 134 of the cookbook. We decided to post them on Valentine's Day as oysters are an aphrodisiac and I thought it would be a great V-Day dinner appetizer. So, here we go!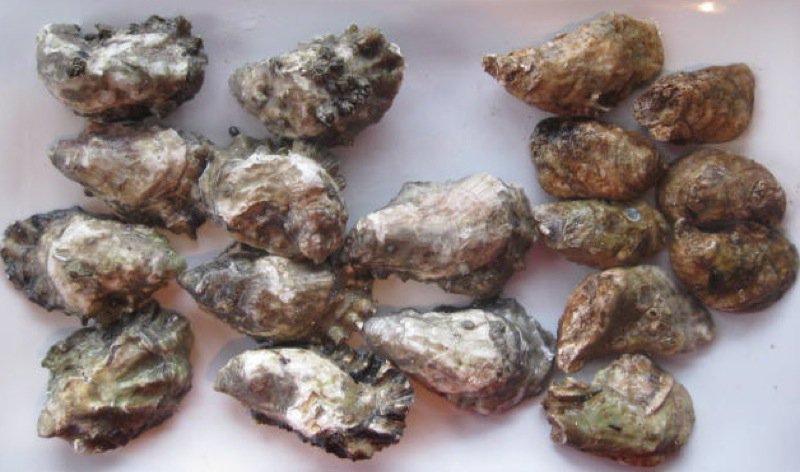 I had heard that whenever you want great seafood, go to Fin's. I just could not recall "Fin's" until my fellow slow food member, Mary B, reminded me. It was well worth the trip out to Sherwood Park. They had two varieties of fresh oysters flown in just that morning. A Pacific (and the name currently evades me), and an Atlantic, the Malpeque. So, "eight of each, please". A dozen fresh scallops and two pounds of fresh cod later, I was home.
The Malpeque grows wild in Malpeque Bay on Prince Edward Island and considered to be one of the saltier oysters due to the coldness of the water. According to Wikipedia, it is very popular in Europe, where it has won many awards for its flavor and texture. Its very delicate texture is said to almost dissolve in your mouth. The meat is said to have a very crisp, lettuce-like flavor with a clean finish. I found it delicate with a very clean finish. It was a little saltier than the Pacific. The other was definitely larger, as Pacific oysters are, and more full bodied in flavour. That is bold and lush and bright and pure. Both were excellent, yet I tend to prefer the smaller one. I think I am in the minority.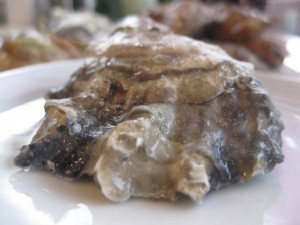 Pickled Asian Pear Mignonette
Ingredients:
2 Asian pears, finely chopped
6 tablespoons of sugar
2 1/4 t salt
1/2 cup rice vinegar
1 cup steamy hot water from the tap
Instructions:
Wash, and finely chop the pears
Fill a jar with the finely chopped pears
Mix all of the other ingredients in a bowl, stirring to dissolve the sugar and salt
Pour, still hot, over the pears, and cover
Will be ready within an hour, and must be eaten the same day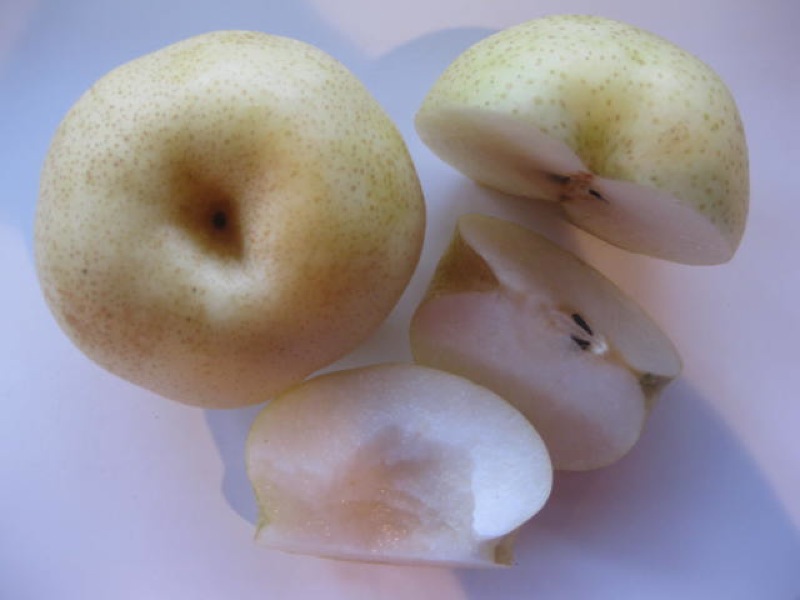 Preparing the pears reminded me of something I had eaten at The French Laundry this summer. Honestly, I could not remember what I ate, but I definitely recall the mouth feel and the impression that the texture of the perfectly cut vegetable made. The cut was brunoise. I don't have the skills (yet) for that, and I was in a bit of a hurry, so you can see that my dice wasn't even. And even does make a huge difference to the mouth feel. Next time, I will try to take more time, especially with Asian pear; this is the perfect item to brunoise.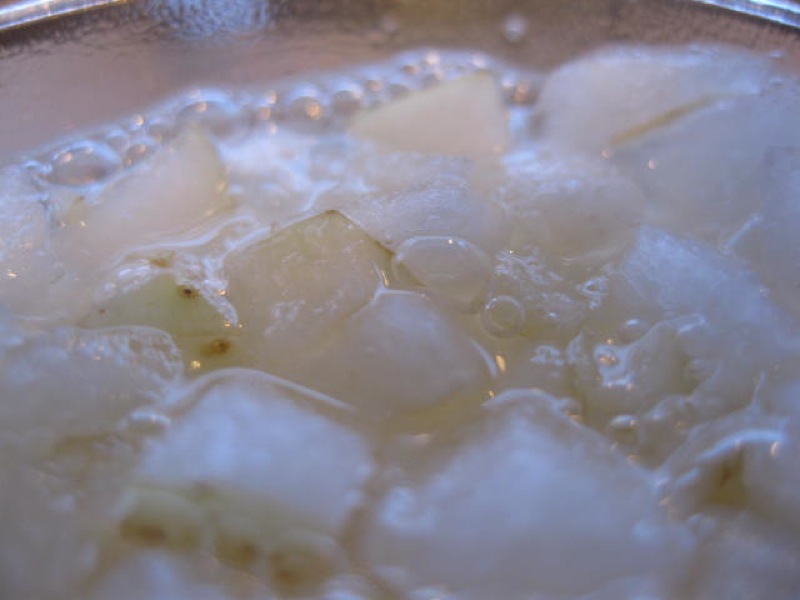 Beautiful. Simple. Easy, and clearly not strong enough to overpower the oyster flavour. Yum. So, to while this sits for an our, under the watchful eye of Beavie, off to shucking!
Shucking the oysters was something I have done before, but not for a long time. What a shame! This time, Vanja did it, and did it perfectly! He could be a pro!
Place the oyster shell on a cloth, flat side up and then place the point of the shucking knife into the hinge, and try to open it "like a car door" says Momofuku.
Sometimes you have to work around the top of the shell a bit; always keeping the knife blade pressure toward the top of the shell so that the meat doesn't get injured.
Then lift off the shell with care to not loose any of the liquor.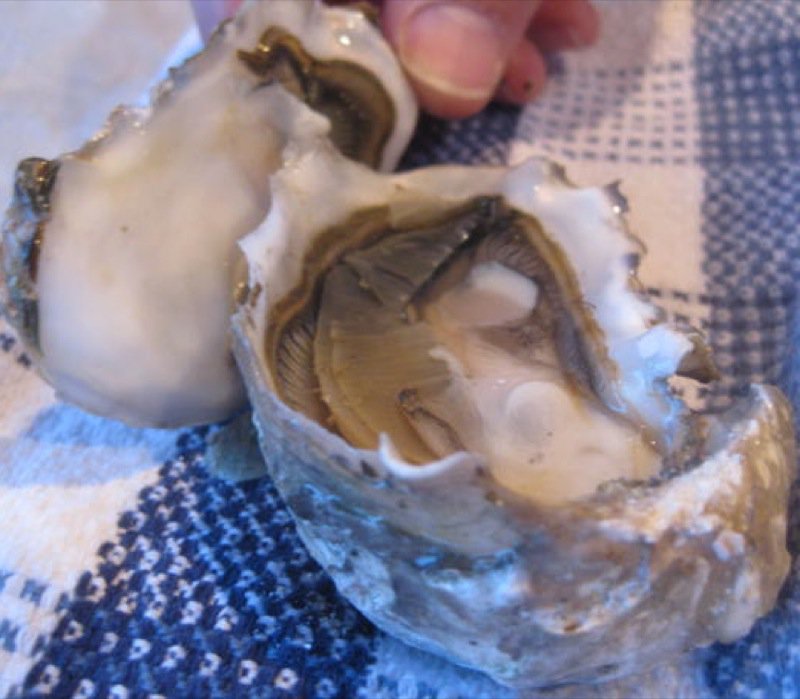 What a beautiful sight. Generally speaking, the larger the oyster, the easier the shucking. That was true in our case.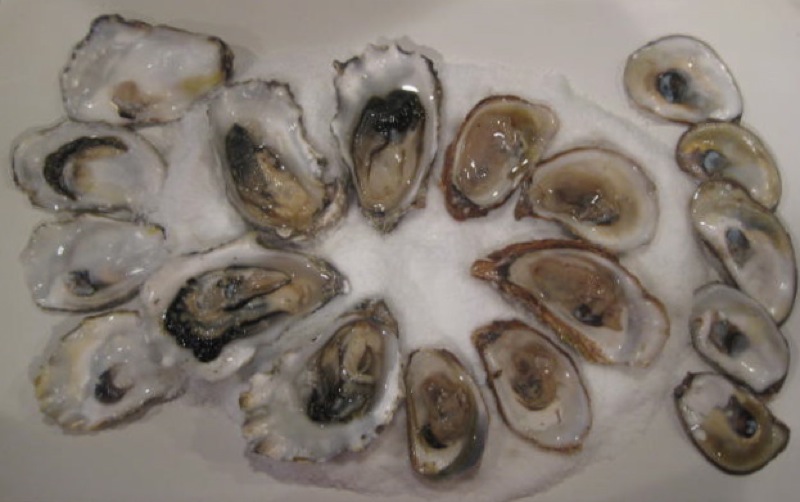 I had to include the top shell. They were too beautiful to discard. I placed them on Kosher salt; the easiest solution. So, we are ready for the Pickled Asian Pears and Freshly Ground Black Pepper.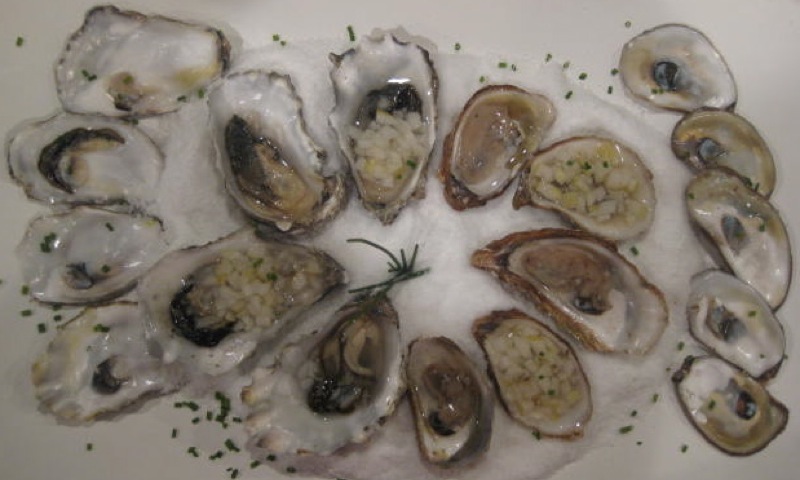 And there we go! I did leave half without any garnish, and added a few chives for colour on the plate. Vanja tried his first raw oyster and was truly surprised at how mild the flavour was. He was expecting something raw and slimy and completely unappealing, but instead found that the briny flesh was a gentle reminder of the sea and complimented completely with the crisp little bits of sweet and sour bits of Asian pear. I loved the heat the pepper added. He would not add the pepper.
I actually ended up finishing off the bottle of drained pickled pears later in the evening watching a movie… spoonful, after crunchy spoonful. Yum, yum, yum! Well, the book did say they were only good on the same day they were made. Someone had to eat them!
All in all, so many positives from this joint endeavor:
Collaboration is so much fun. I cannot wait to see what The Brûlée Blog has written in her post, and learn about her experience; I am also looking forward to part two – when I choose the recipe (sometime in March)
I finally got to Fin's! Friday night dinner was the best cod I have ever eaten, and the scallops were unbelievably divine.
I made an oyster stew with the left over shucked oysters, and the ones not eaten, as dinner plans had changed, and there was only my sweetheart and moi dining on the platter; the stew was the perfect pleasure for my dad who loves these little critters.
I learned (again) how hard it is to make a self set deadline in the midst of everything else I want to do!
I used my Momofuku Cookbook, and I will be using it again whenever The Brûlée Blog and I can find a date that works, and a recipe that interests us both. I want to do the Ramen…but it is such a complex process, that it may have to wait until summer. (Unless someone wants to teach me how!)
So, Eat, Love, and Be Happy!
XOXO
Valerie