In Honor of David Adjey and the Date with David Adjey at NAIT March 16, 2010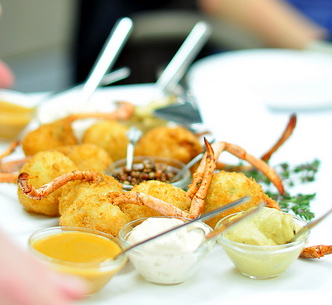 The beautiful photo is taken by fellow blogger, Nikki, from The Read Onion. She is an amazing photographer and got the only photo of David Adjey's signature Lobster Fingers, made by moi, before I whisked it away and placed it before him. She also took the beautiful photo of the lovely Isabelle from The Little Red Kitchen helping herself to one.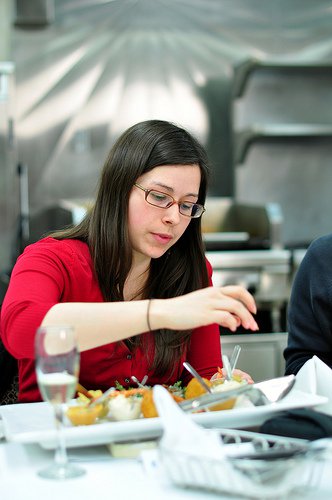 When invited to this event by Diane Begin with NAIT, I knew I had to learn more about Chef Adjey before attending. I also knew I had to make him something. That is what I do and. And, what better way to honor him than to put myself through a new learning experience by creating one of his signature dishes from his latest cookbook: Deconstructing the Dish. I chose his Lobster Finger which is a part of his Trout meal because I saw the episode of Restaurant Makeover where he made these and I thought the idea was brilliant. Now I had a reason to make them.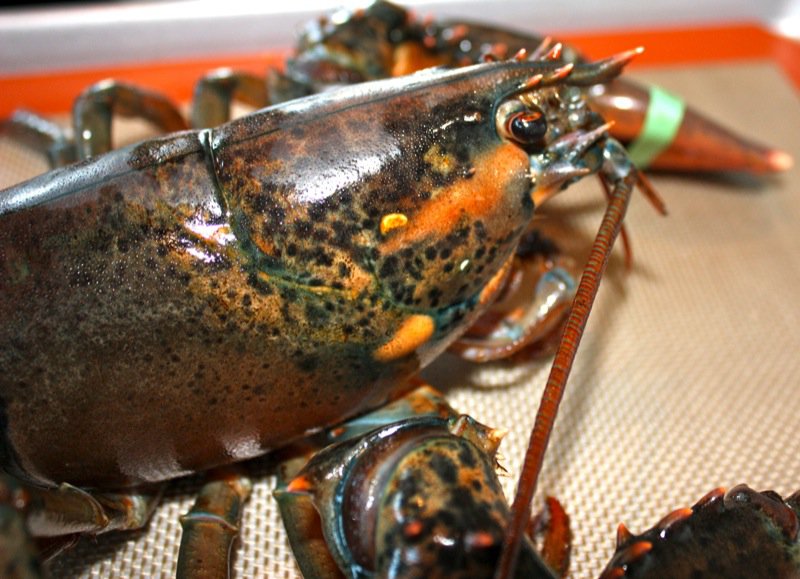 Dinner was Tuesday. It needed to be as fresh as possible, so immediately after school I drove out to Fin's in Sherwood Park to pick up the major ingredients. I didn't expect that I would be able to make the Lobster Sauce and I wasn't going to have a kilo of shells, but asked in case they had them. They carry them all of the time. Good morning, Valerie! And shrimp shells, too, which I bought for some Shrimp Bisque for another day. So, two huge fresh lobsters, a couple of bags of the black tiger shrimp, double bunches of lobster and shrimp shells later, I was headed home to get started.
I had cooked lobster many times before, but never a fresh one. I wasn't intimidated. I was just concerned that I didn't over cook it, or under cook it. I had 4.2 kilo of lobster and knew that the water had to be at a hard boil before I put them in, and that I wasn't to start timing the cooking until the water comes to a soft boil. I used a chart on how long to boil them as the instructions I found said it was done when the tentacles of legs were loose to a pull. Mine never were. The last photo above shows the water is beginning to heat again after plunging the lobsters in.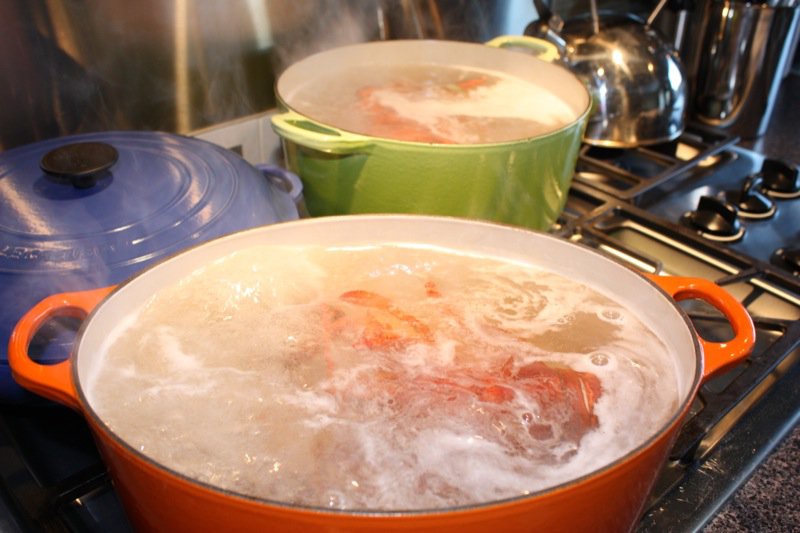 It took a considerable length of time to get the water back to a soft boil and then I kept it on high, and took both out after 16 minutes. The charts indicated less time, but nothing was loose of wiggling on my little creatures, so I cooked them a touch longer, then plunged them into ice water. Look at the steam rising off of these beautiful specimens. I took a quick photo and then back into the ice water to stop the cooking process.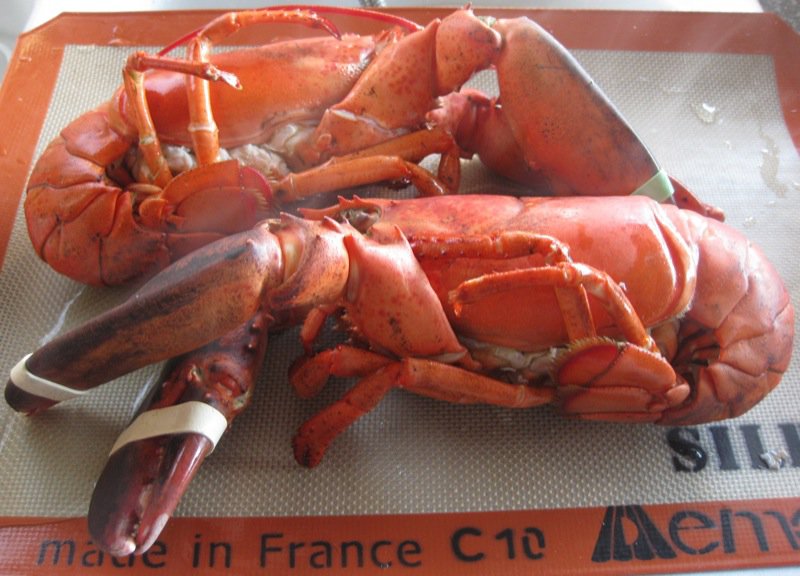 Turn the lobster over, and bend the tail off of the body. It pulled away revealing the the greenish substance you see, called the "tomalley" or liver, inside of its body. Many consider it a delicacy. I thought it was delicious.The tail is gone, so there is the body and the claws left.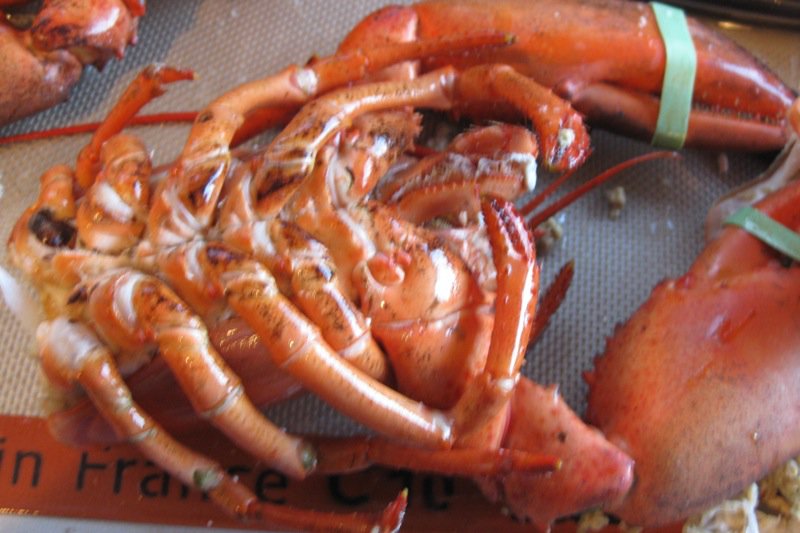 Remove the claws in the same manner the tail was removed. Yes, it is that easy.
Not so easy to get the meat out. But, as the claw shells aren't going on display, a quick smash with the side of my knife enabled me to rescue the delectable morsels. All that is left is the body and I need the legs for the "Lobster FIngers". There is so little meat on this lobster, that there was nothing to salvage from the body except the shells and the tomalley.
Pull the back away from the legs. Set aside the back and the tomalley to work at separating the legs for the individual presentation. Turn it over, and cut down the middle with a knife.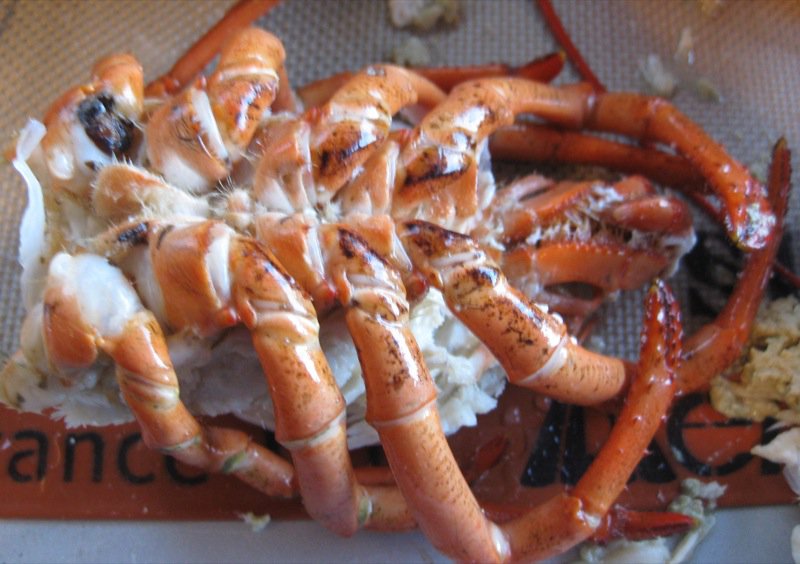 Separating each leg is now very simple. There is a white cartilage that protrudes out of the end of each leg. I removed most of it, and left on just enough to hold the meatball I will be attaching shortly.
At this point, I packed up the fingers, cleaned them, and refrigerated them until the following day. Dinner Day. Chef Adjey Day. A school teaching day.
I turned my time to step two of this little after school project: Making the meatballs that would later attach to the legs.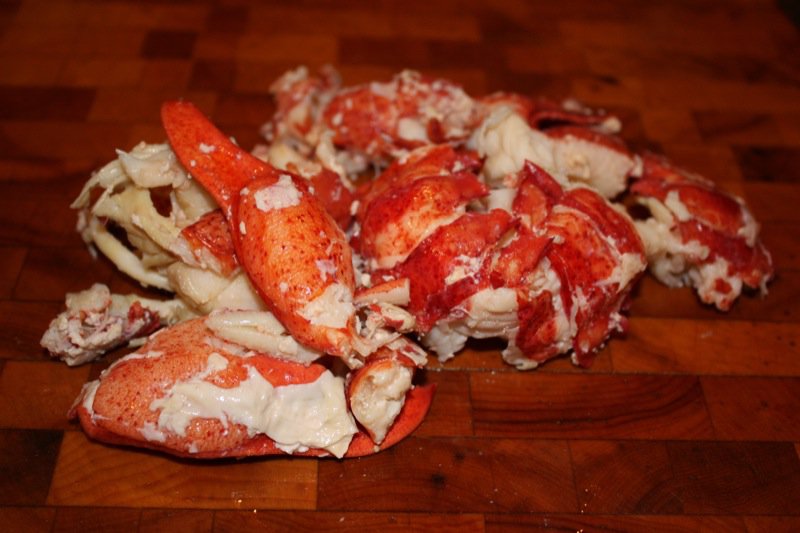 Between the two lobsters, I had 9 ounces of lobster meat: enough for three batches of Adjey's recipe. I only had legs for two batches, so I just made a set of the balls without their artisan appendages.
I cleaned, deveined, and removed the tails off of the beautiful black tiger shrimp. I scaled them into my Thermomix and whizzed them until they were a paste. This was part of the binding that was added to the lobster meat.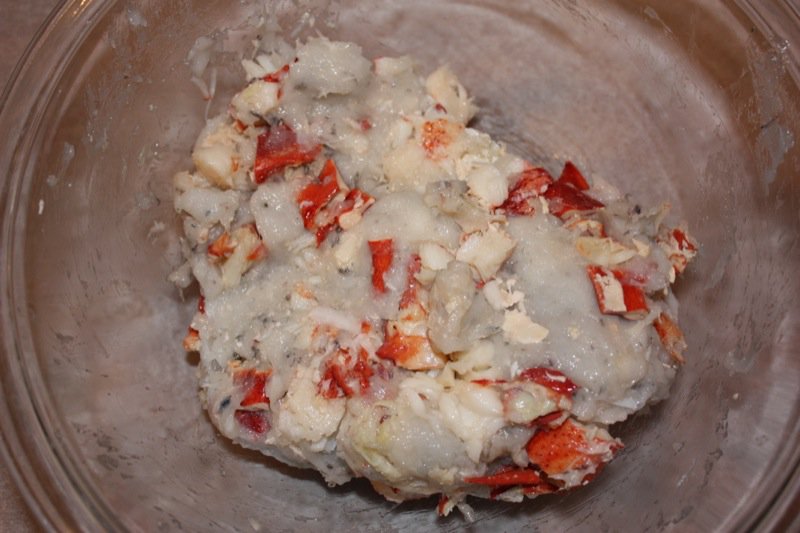 Into the refrigerator this went while I made the cream binding. I found it very much like making Spanish Croquettes. The Spanish recipe has more butter and flour and less cream, but the idea is the same. And, as I kept cooking to reduce the cream, the result appeared very similar.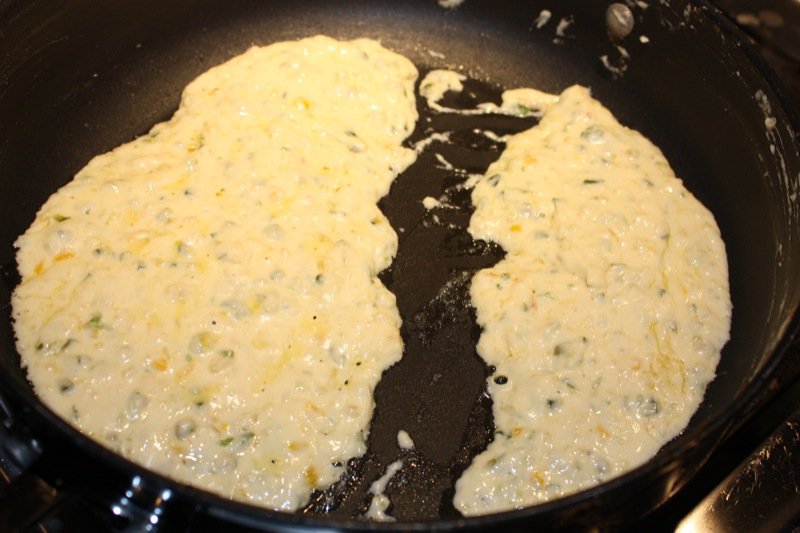 The cookbook said to cook it for 8 minutes until all of the liquid completely disappeared. I cooked it for 12 minutes, and the fat was starting to separate from the cream. I had to use it as it was. I believed this would make a beautiful meatball with the shrimp and lobster as I have made Spanish Croquette's with nothing in them but a very similar bechamel and the final product was excellent. I placed this mixture in a bowl and refrigerated it to chill completely before mixing it with the shellfish mixture. This is the step Chef Adjey said I didn't do correctly when he tasted my Lobster Finger. I would like to see how his looks when he makes it, so I know what he means. This was definitely cooked to its maximum as the fat was beginning to separate out of the cream.
So, I packed up everything in the morning to take to school and complete just prior to out dinner with Chef Adjey. I will add, that while I was doing all of this, I was also making the Lobster Sauce to be posted next. So, that got packed up, too. Last class of the day I have my grade 9's. They were making their first homemade pizza. They had made the dough and the sauce in two other classes. Today, they were reaping the reward and putting it together with some shredded cheese. Thus, the class was short, and simple.
I got out my lobster to get started after class with my Catering Club. Most of my students had never seen a lobster, and were completely enamoured with the legs and the idea of what I was doing. Class ended, the Catering Club students came, and we got started (after scrubbing hands with aprons on, and hair back).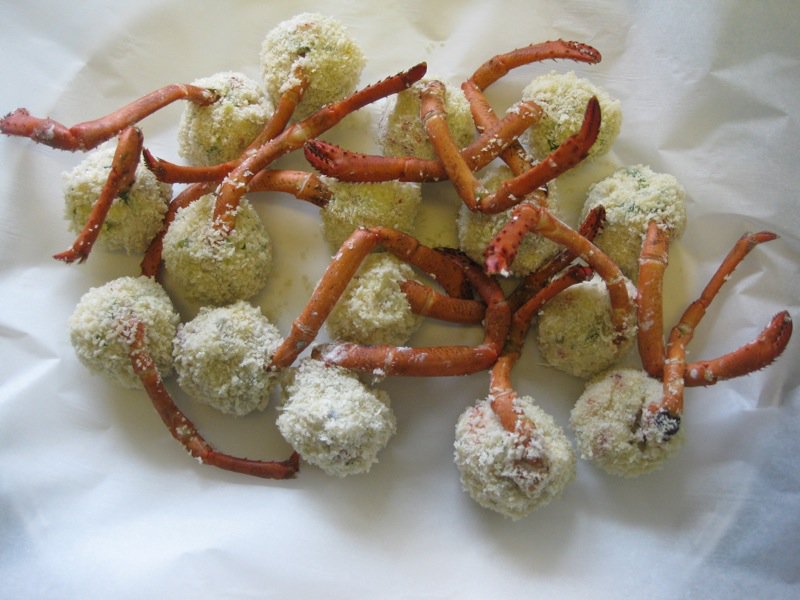 The cornstarch Adjey suggested to use on your fingers and on the end of the leg worked like a charm. The lobster mixture connected beautifully to it, and then I rolled it in the suggested panko crumbs. This is what I know one of my mistakes was. I "should have" just left the little balls enrobed in the cornstarch until all were completed, dunked them into the batter, and then rolled them in panko just before frying. I don't have much experience with deep frying. The instructions make assumptions that you would know what to do as the batter and the panko is listed only in the ingredients of this recipe. There are no further instructions on what batter to use, or what order to do this in. I learned.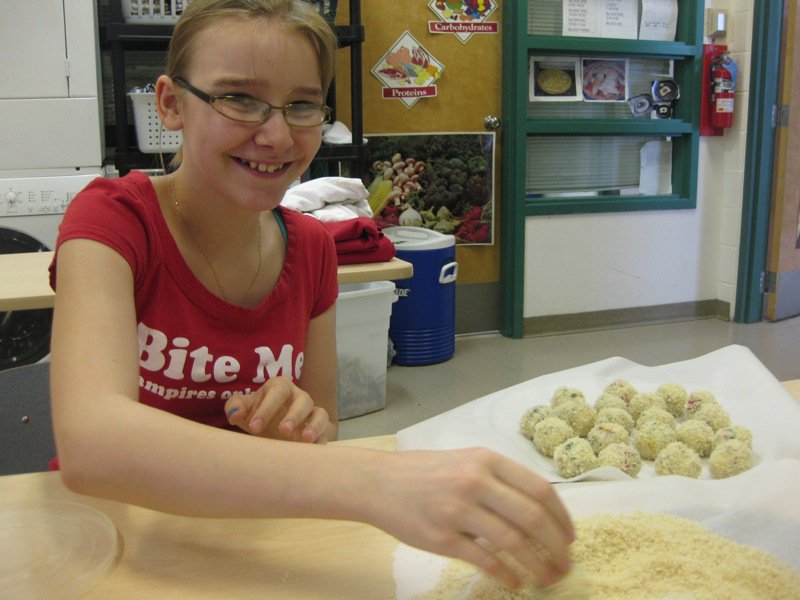 Here is Bailey doing the extra balls that I didn't have legs, or "fingers" for. It is always so much more fun to cook with someone. I love the chatting and the storytelling that accompanies the process.
We got the oil in the frying pan to temperature; got the assembly line going. Unfortunately, all little balls had been covered with panko, so this is when we learned about what I "should have" done.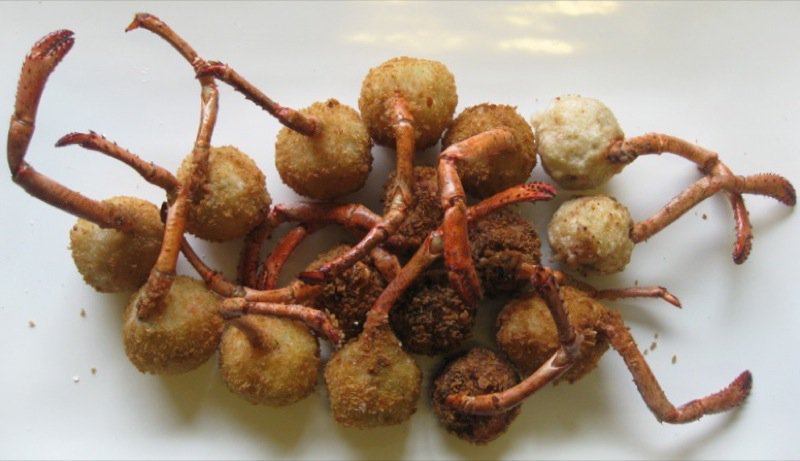 The dark ones were fried without the batter. The light ones were fried with the batter over the panko. The "just right" ones were fried with a second layer of panko over the Tempura batter. Obviously, the "crust" was going to be heavy to bite into with all the armour around this delicate little ball. Darn! It would have been light and lively had I simply left them, dipped them in the tempura and then the panko and fried them. I even think Chef A may have said I did everything perfect if he had eaten one like that. But, of course, I am not sure.
What I do know, was that the centres did taste lovely, the outside was crusty, and chewy and unappealing. And, I know why. To learn so much was extremely gratifying. I was outrageously disappointed that I wasn't taking a perfect example of my work, and his idea, to him. But, I was taking a tray full of good intentions and a whole lotta love for the ideas he has inspired me with through watching him develop recipes on TV.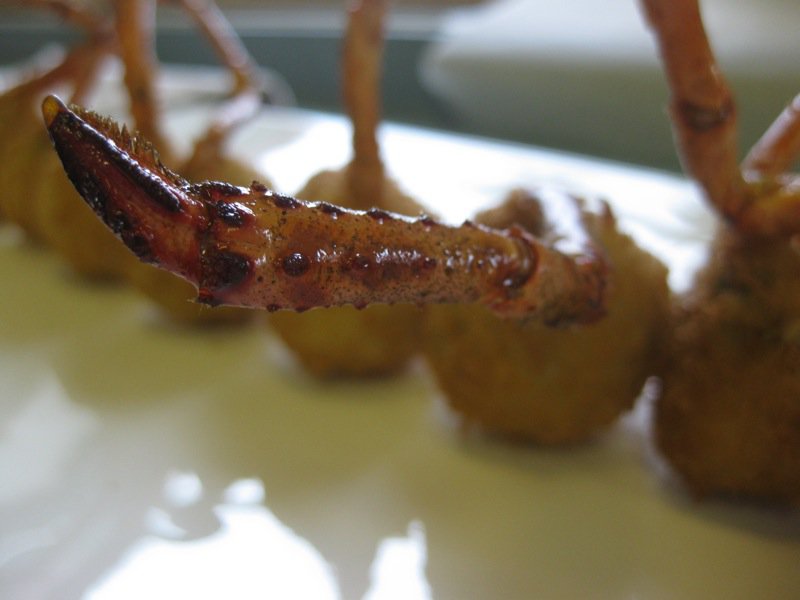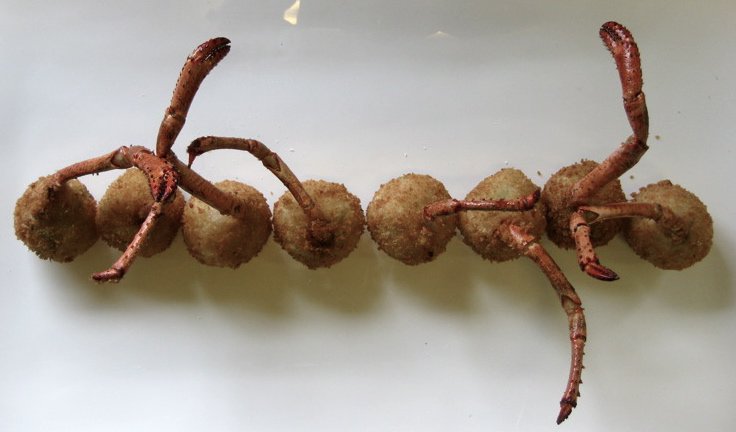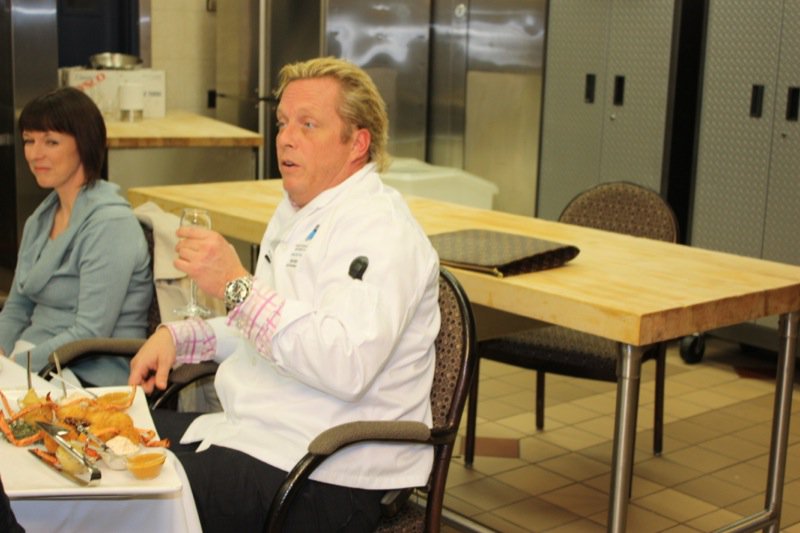 You talkin' to me?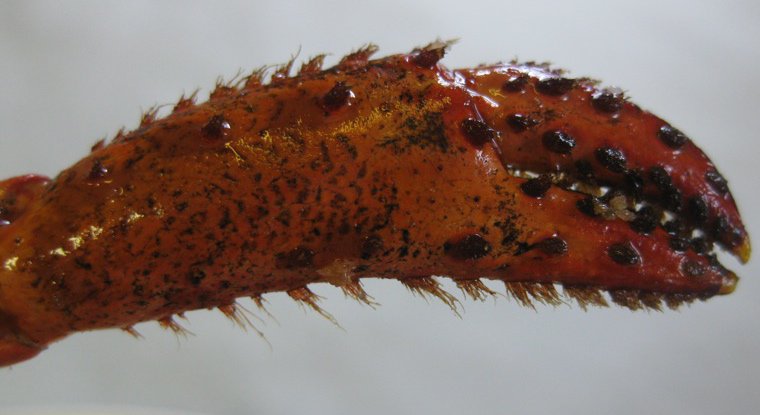 David Adjey's Lobster Finger's Recipe
Ingredients:
75g fresh lobster meat (tail, claws and knuckles)

125g raw tiger shrimp, peeled and deveined

5ml sweet butter

15ml sweet yellow pepper

15ml Poblano pepper

1 scallion, minced

15ml all purpose flour

250ml whipping cream

2-3 sprigs of fresh cilantro, leaves only, chiffonade

8 lobster legs, washed and trimmed

30ml cornstarch

1 cup tempura batter

panko bread crumbs

Instructions:
Cut lobster meat into 1-2 cm chunks and place in non-reactive bowl

Scale shrimp into TM bowl, and pulse until puréed; add to the bowl of lobster, cover, and refrigerate


Melt butter in small sautépan over medium heat; add yellow pepper, Poblano pepper, and scallion

Sweat without adding any colour; about 3 minutes

Add flour and stir until well coated

Add whipping cream and cook until all liquid has completely evaporated; about 7-8 minutes

Cool completely

Add the cream mixture, and cilantro to the bowl with the lobster and shrimp; gently combine

Dust the meat end of the lobster leg into the cornstarch; gently dip the tips of your fingers into it, as well

Wrap 25g of lobster meat around each leg (and I did measure)

Press the mixture firmly into an egg shape around the leg with your cornstarch covered fingers

Here, Adjey says fry… I say make the tempura, dip each ball into the tempura, then into the panko crumbs and fry until golden brown; about 3-4 minutes

Drain on paper towels and keep warm until ready to serve

; serve with Lobster Sauce and Pink Peppercorn Aioli
Tempura Batter Recipe (I love this simple and light batter)
Combine equal portions of each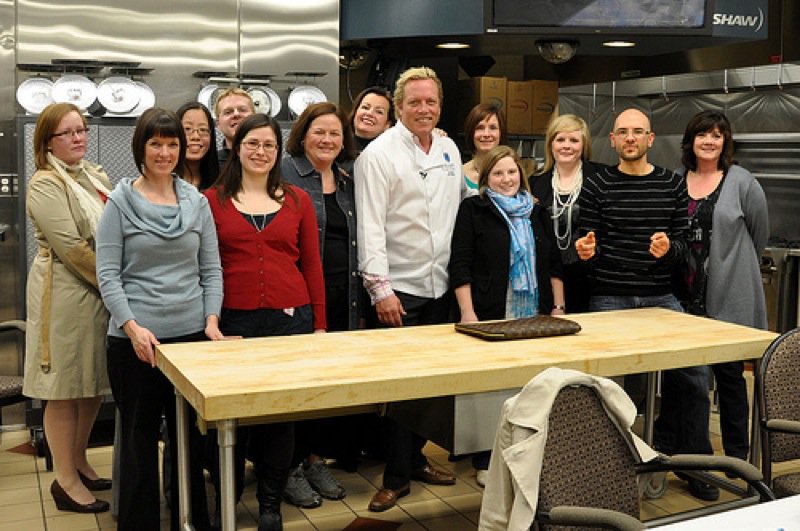 And then, there were three. But, they are gorgeous, aren't they? This idea was absolutely brilliant.