A Canadian Foodie Original: inspired by…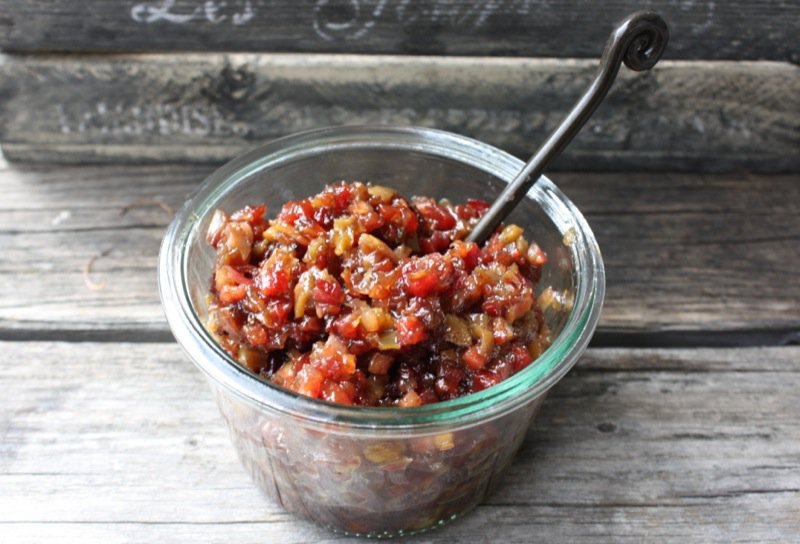 Everybody's making it. I cannot resist. Besides, I am on appetizer duty for Cathy's Birthday Dinner, tonight and I just got the sweetest little miniature frying pans in the mail which would be perfect for this concoction.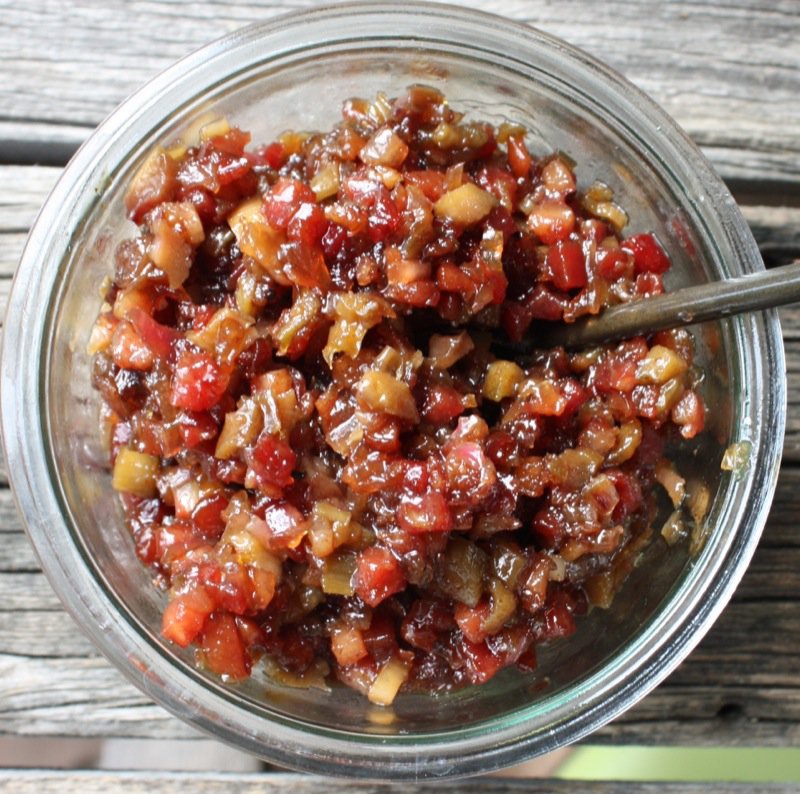 Gotta make Chef JiJu's Fresh Artichoke Dip, too. That means I have to have a dipping or slathering stick: Cornbread! Yup. Picked up the cutest little mini rod iron cornbread pans, too. Each vessel has its own story, but are coming together for this evening's party.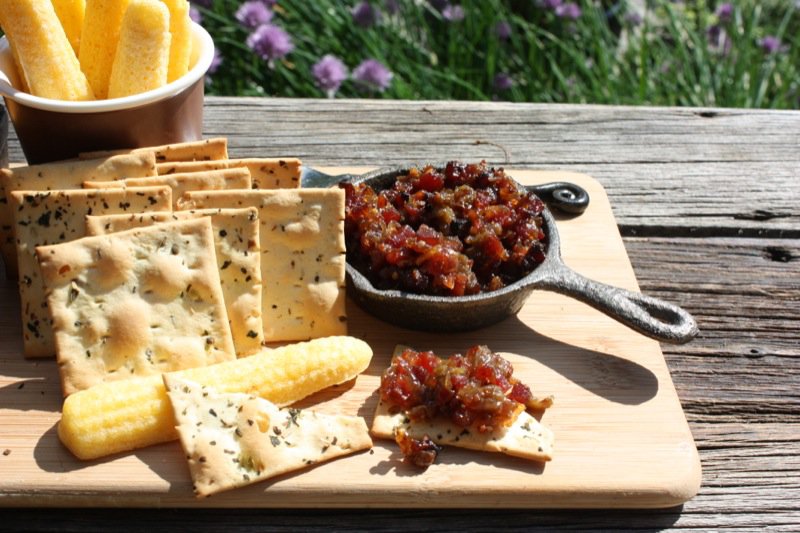 …"came together" for the party, actually….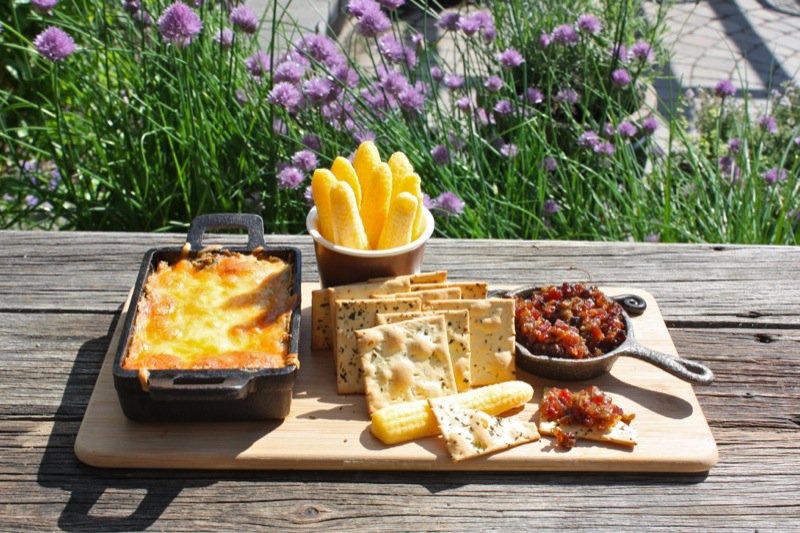 Is the Rhubarb Bacon Jam not irresistible in the miniature cast iron frying pan? As if it wasn't already addictive….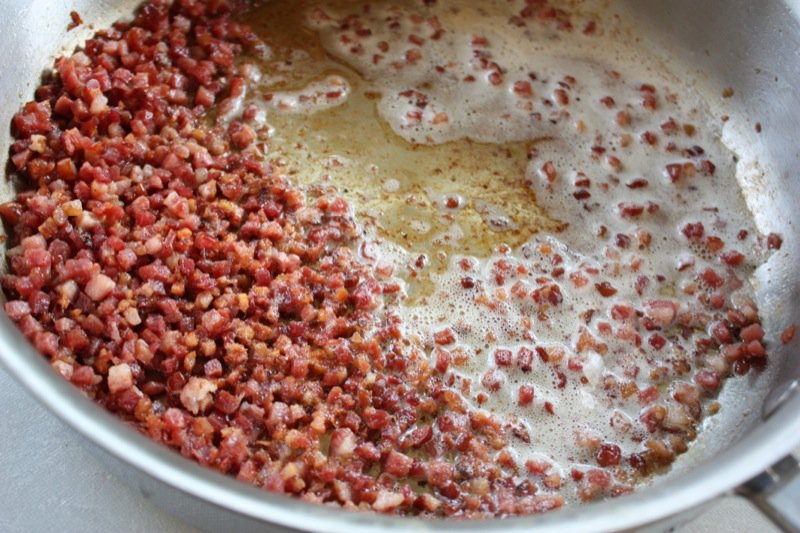 My students originally created bacon "jam" way back in 2010 for the Slow Food Edmonton Grilled Cheese Olympics. I'd never seen it anywhere, and neither had they. It just evolved as they were working through flavour combinations and testings in class and after school every day for about 6 weeks. Somehow, no one gets tired of grilled cheese. Especially, with bacon. They created all sorts of concoctions, but it was the seeds and garlic (heavy on the garlic) spread that rocked our socks.
Allan Suddaby made a rhubarb onion jam for Eat Alberta by simply mixing portions of each jam: he has yet to give me the promised recipes!
Jan, from Family Bites, just posted a Bacon Jam recipe that inspired me to concoct my own. Dinner with Julie has a very similar recipe on her site, so it must be yummy. Therefore, that is where I am going with this. Rhubarb Bacon Jam: a combination of all these flavours. The rhubarb beside the bacon, way above, gave me away, right?
I am making only a half batch today; it is all I need and I only have half a pound of bacon.
Woops! Forgot to add the gorgeous Brassica Grainy Mustard. I was almost afraid to, as the jam was so scrumptious without it… so, I started with one teaspoon and went with two. YUMMERS. The half batch made a generous amount of the jam.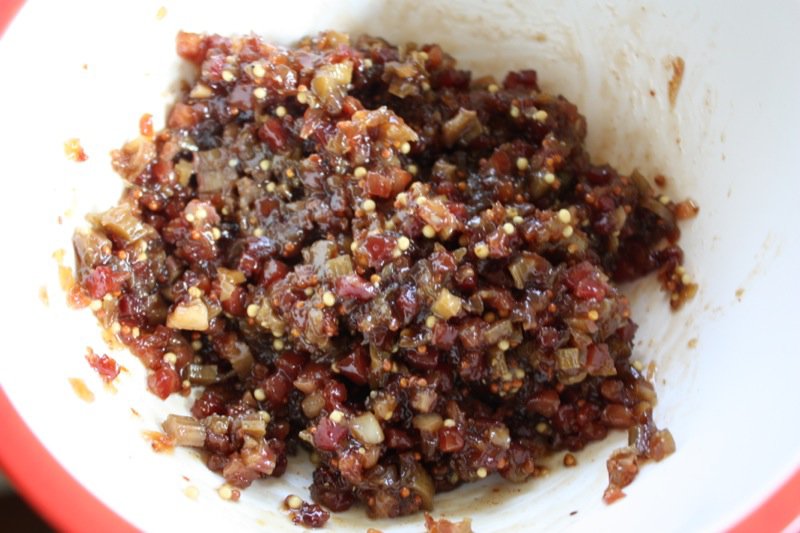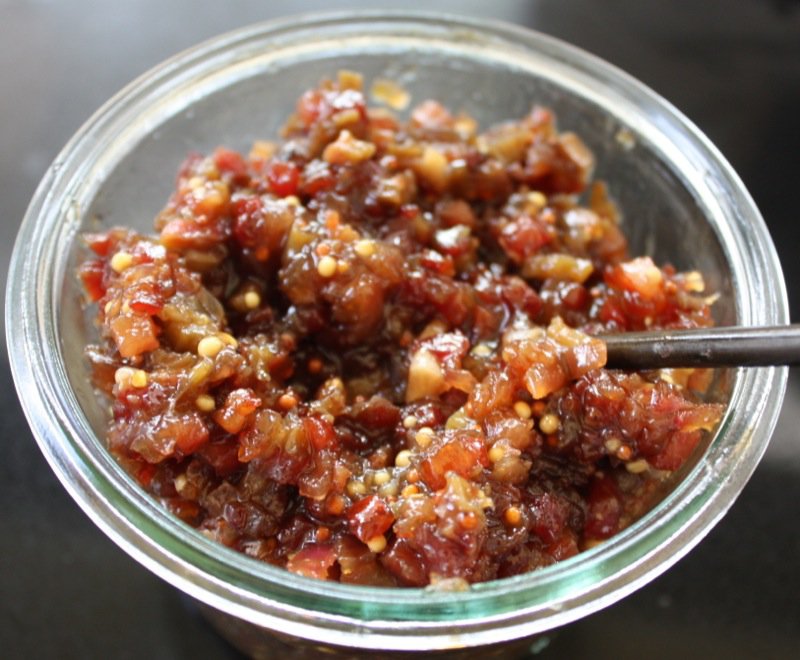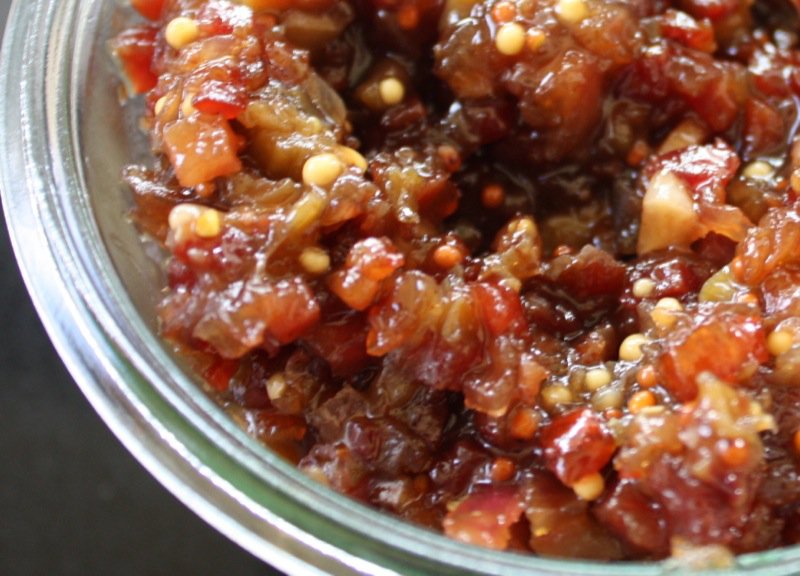 How does it taste? Bacon is the predominant flavour, as it should be. There is a strong scent of vinegar, but that doesn't translate when tasting. The onion, garlic and rhubarb cannot be individually discerned. The concoction is sweet, tangy, and savoury. It has a bit of a bite as the texture isn't smooth or crunchy. It is a bit chewy. I hate to confess. I could eat it by the spoonfuls. I think it will be the perfect partner to the French Artichoke Dip and Mini Cornbread Sticks I am serving it with at the party tonight. I'll be sure to let you know!
Rhubarb Bacon Jam
Ingredients:
400g good-quality bacon, chopped into lardons
200g fresh rhubarb, finely chopped
200g of onion, finely chopped
4 garlic cloves, minced
1/2 cup packed brown sugar
1/2 cup strong espresso
1/4 cup maple syrup
1/2 cup cider vinegar
1-2 tablespoon(s) grainy mustard
Instructions:
Fry bacon over medium-high heat until crisp, but not overdone(fat will be rendered); transfer to paper towel-lined plate
Drain fat, if you have too much; add rhubarb and onions to bacon fat and sauté until onions are translucent and rhubarb begins to soften (no more than 5 minutes)
Add garlic and sauté 30 seconds; stir in brown sugar, espresso, syrup, vinegar, and add bacon back into the pan; bring to a simmering boil and cook, uncovered 30 to 45 minutes until reduced to a thick jam-like texture
Add grainy mustard to taste (complement the flavour balance with the mustard, as needed: start small)
Store in jar(s) in the fridge or freezer and use as desired: great hot, or cold
Thank you my dear students, Allan, Jan and Julie for your inspiration!