A Regional Canadian Food: The Coveted Saskatoon Berry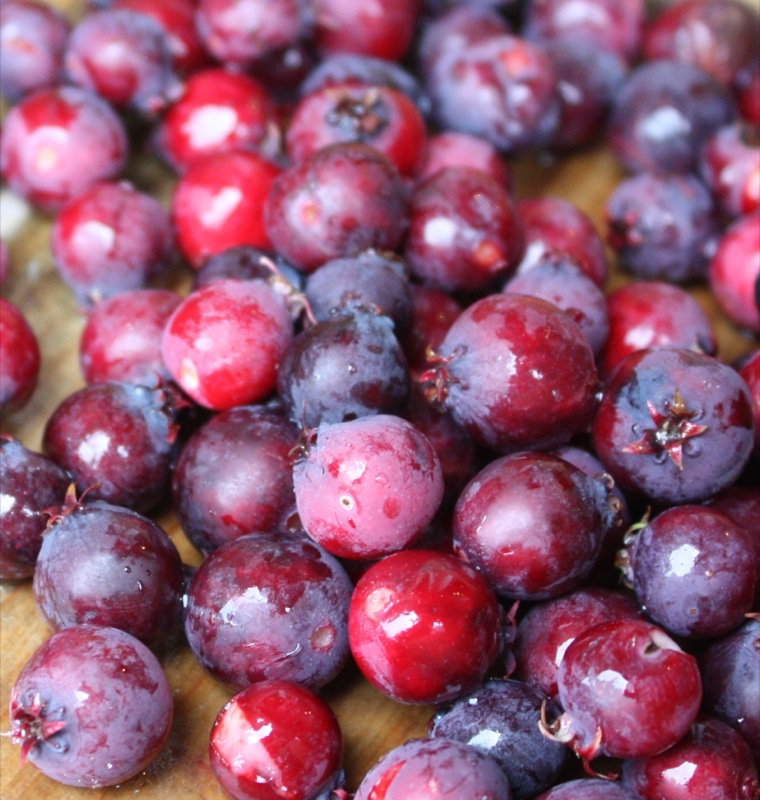 This is a Slow Food Canadian Ark of Taste food. The Ark of Taste travels the world collecting small-scale quality productions that belong to the cultures, history and traditions of the entire planet: an extraordinary heritage of fruits, vegetables, animal breeds, cheeses, breads, sweets and cured meats. The Ark was created to
point out the existence of these products,
draw attention to the risk of their extinction within a few generations,
invite everyone to take action to help protect them.
In some cases this might be by buying and consuming them, in some by telling their story and supporting their producers, and in others, such as the case of endangered wild species, this might mean eating less or none of them in order to preserve them and favor their reproduction. When I was young, wild Saskatoon berries could be found in abundance along almost any and every side road up and down rural Alberta. No more. They are indigenous to our region, a very special regional Canadian food, but the importance of the wild Saskatoon berries to our regional food heritage and culture most definitely requires attention as urbanization is depleting our source. Farmed Saskatoon berries are much more common now. People go to u-pick berry farms and pick them or buy them there or at farmer's markets. These are a bigger berry with a rounder flavour. There are many varieties of farmed Saskatoon berries and each has its own unique flavour profile. The wild ones are smaller with a more vivid, intense flavour and the seed imparts a faint breath of almond.
Oh, and if you think these taste like blueberries, you are wrong. Why do people compare Saskatoons to blueberries? It is like comparing a raspberry to a strawberry. The only thing they have in common is their colour, almost. And their shape. Kind of. They are nothing like blueberries. Saskatoons sing. They are clear and concise and wild and loud and strong and free.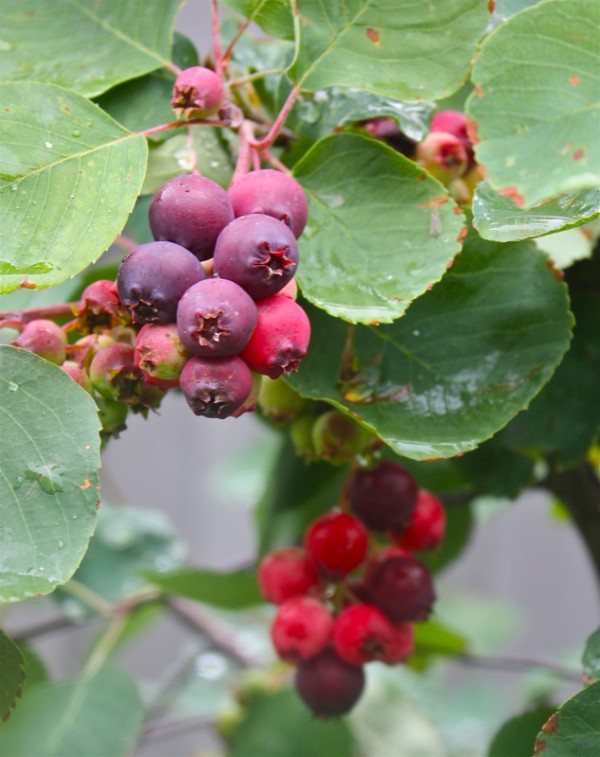 The name itself is derived from the Cree word "Mis-sask-quah-too-mina", sounding very similar to "Saskatoon". The city of Saskatoon was actually named after the berry. The berries were a staple for both Aboriginal people and early settlers. They were enjoyed fresh, or steamed and mashed and then left to dry into a brick-like consistency to enjoy over the long winter. Pieces of these berry-bricks were then chipped off as needed and added to soups, stews, mixed with fat or simply boiled to reconstitute them. An excellent read about the history and the health benefits of the berry is here.
Mid July to the end of July are usually when these berries are ripe for the plucking in my neck of the woods. The bushes blossom in May and some berries are ready to pick by the end of June, but most at the end of July. By the end of the first week of August, these berries are finished. I do have some in my back yard, but go crazy when I get a call from a friend that they have found a patch ready for the plucking alongside their farm or on a country road. I drop everything and go. That is just the way it used to be. This was such a precious berry favoured by everyone and stocking up for the winter meant dropping whatever you were doing and getting your berries picked when the time was right.
The quintessential celebratory Saskatoon berry dish after plucking the bushes bare is that bowl of cold washed berries with thick, heavy farm cream. No sugar required. Just the berries clinging to that thick cow cream on an old farm spoon. Oh my. Oh my. Grandma did know how to celebrate the mosquito bites and prickle bush scratches after a long picking and after one bite, everyone knew it was so worth it all.
This past summer, mom and dad were over for a barbeque in our yard at the end of July to celebrate Vanja's birthday. Dad looked over at the Saskatoon bushes laden with sun-hot purple ripe berries and said, "Hey, you'd better get those picked before the birds eat them on you!" Knowing that these are my dad's all time favourite berry, I pulled down a branch and plucked a large handful and poured them into his hand. His eyes lit up just like a little child offered candy as he tipped his head back and trickled them all into his mouth. Those were the last fresh off the tree Saskatoon berries my dad ever had. Of course, I didn't know it at that time, but I did know I would never forget how the back of his throat purred as he uttered that somewhat gutteral, "MMMmmmmm!" while savouring them. I always got such pleasure feeding my dad as he showed such appreciation and loved great food. That is probably why I love making Saskatoon berry pies. They are famous in these parts, because everyone loves them, but my dad really-really-really loved them and it always made me happy to see his eyes light up when he was given a slice of warm-out-of-the-oven fragrant Saskatoon berry pie with some vanilla ice cream. My mom always made the best, but now I do, thanks to her guidance.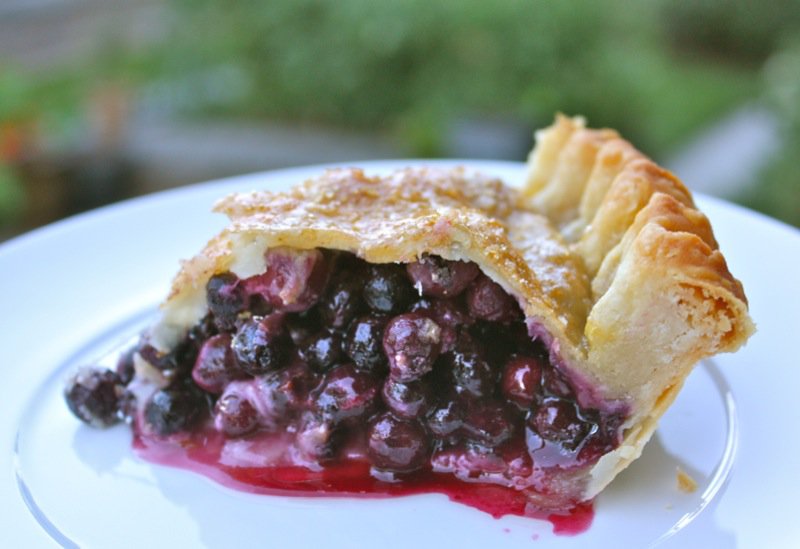 If I was really on the ball, I would have Saskatoon berry ice cream with the warm pie. That is really the only way I like it. Saskatoon berries are delicious with heavy farm cream, but for some reason, the flavour of the berries in ice cream is muted and not at all as pronounced as the colour. I have yet to make a sorbet with the berries which I am certain will sing their song.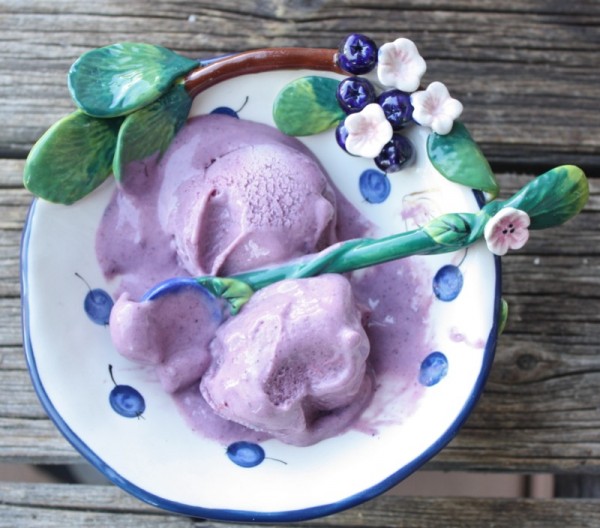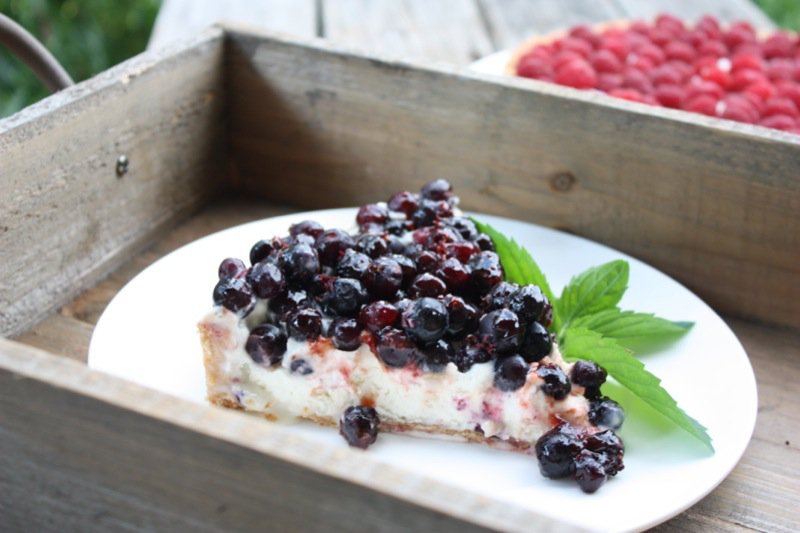 A couple of years ago, after returning from a summer in France eyeing and adoring the French raspberry tart, I came home with a mission. I created a simply divine recipe for a fresh Saskatoon berry French tart that I can hardly wait to make each season since and I can promise you that this is a new family recipe that is tradition in our house now. These fresh berries are spectacular this way and it is the next best thing to that bowl of berries and heavy farm fresh cream that I have ever eaten.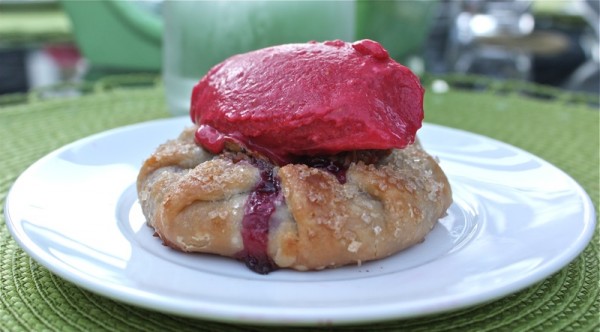 Another one of my favourite seasonal berries is the raspberry. Can never get enough of it, either, so the Sasktoon berry galette with a raspberry oatmeal crunch topping with the raspberry ice cream is a quick recipe to make for unexpected company. (If you have a Thermomix machine as that will make the ice cream in 30 seconds. Otherwise, you will have to have some in the freezer for it to be a quick recipe. 😉 )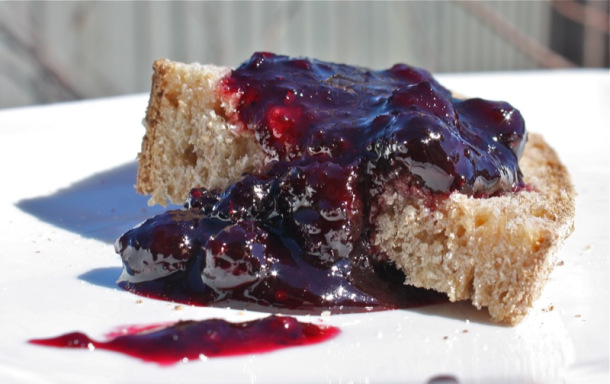 Every family that eats jam where Saskatoons are grown used to have their cupboards laden with this delicious and multipurpose concoction every fall. Still, there is nothing like the homemade version: lots of fruit and not so much sugar. This is a berry you must taste to understand as its flavour is as distinct as that of the strawberry, or the raspberry. This is a Canadian flavour and the farmed bushes are now sold and grown throughout many other regions of the world. But, this is our berry. It is our flavour. Oh, Canada!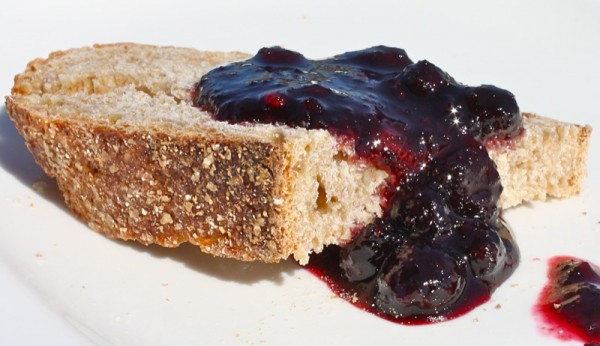 This post answers Challenge 10 of The Canadian Food Experience Project that began June 7 2013. As we, the participants, share our collective stories through our regional food experiences, we hope to bring global clarity to our Canadian culinary identity. The round up of all individual challenges is published in the middle of every month, here. (I did include some of my words written about these berries in my other posts, but there is merit in reading all the links if curious about the berries.)