Seafood is an indulgence on the Canadian prairies and the festive holiday season is the perfect time to indulge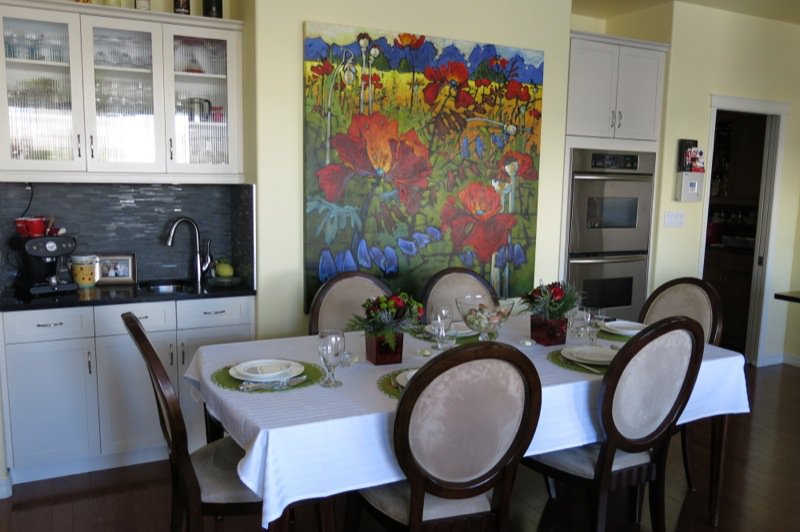 'Twas the night before Christmas, or the day before Christmas eve, this year. Lauren and Aaron arrived over 24 hours late, exhausted from sleeping on the airport floor waiting for flights to go out during the ice storm over the Eastern seaboard that delayed the entire country the weekend before Christmas. My nephew was extremely ill and couldn't make the annual trip from Blackfalds to Edmonton for dinner with his wife. My dad was too ill to be moved out of his house and my sister simply too exhausted to attend. The roads were terrible. It was cold. But how can I complain when fellow Canadians in Ontario were experiencing the worst ice storm in years without heat and power for 10 days over the holiday season? I do not complain. I simply explain that this year the feast was enjoyed by my own intimate nuclear family: the 5 of us.
The semi-formal annual feast morphed into a casual, relaxed holiday family meal which was truly a gift and a rare moment during the frantic moments a holiday can bring.
When I was a child, Christmas eve was just another evening. Dad might work. Mom would be cleaning and wrapping and cooking. There was no celebratory meal or any carol singing. Every magical thing imaginable would happen on Christmas day. I could never sleep that night, I was so filled with excitement.
As my children grew, and I was a single parent, we celebrated their preschool Christmases the same way, at mom and dad's house. My sister would come up with her husband and son. But, as the girls started school. mom and dad purchased a home in Arizona and started wintering there for a few years. My sister and her husband spend Christmases with her husband's family and I was alone with my gals. So, our tradition changed.
I was single. I had many single friends. Christmas Day was sacred time with children, but Christmas Eve was a time to share the festivities of the season and provide my own children with a sense of extending family during this traditional family time. Oh, what fun we had. My single men friends would be the ones who would come. Sometimes with a girlfriend and sometimes with another lonely pal. Depending upon what school I was at, the single staff members were invited and always welcome. Traditional turkey fare was the menu.
Over time, my sister and her son joined us for a couple of these Christmas Eve dinners. Our children were older and I started to buy fun little personal gifts one might tuck into a stocking to gift during the dinner. I've always been a serious sort during family occasions and make the time to say a little 2 minute speech of sorts at the beginning of these meals expressing love and thankfulness to all in attendance. Somehow, the idea to get the guests to write down questions evolved. We would write them, put them in a pot and pull them to answer throughout the meal. These were hilarious and serious all at once. Sometimes the meal would seem to take forever, but no one minded as the conversation was compelling and the laughing endless. I would have the side wall lined with bags, a guest name on each, and if the questions drawn were answered to "my" satisfaction, a gift was presented. More laughter, and sometimes tears. Oh, what fun we had.
Mom and dad eventually sold their property and returned to Edmonton for Christmas, joining us for our Christmas Eve festivities. That was when the singles were no longer invited and the time became sacred family time. Christmas started at 4 pm Christmas Eve and continued for the next two days. No interruptions, please.
About three years ago, Lauren wasn't going to be home for Christmas. The first time ever. Ragan wanted to spend it with her future husband's family. Mom and dad, Vanja and I were alone… but my sister and her son and his wife were coming for dinner Christmas eve. Because it was very difficult for me to not be with my own gals at Christmas, I decided to thwart the family tradition and do something different.
One year, Luciana had invited Ragan, Lauren and I for Christmas dinner when it was her year to have her entire extended family to her house for the meal. I got to see how my dear friend of 46 years now, celebrated the holiday meal with her Italian family. Calamari, shrimp, marinated seafood salad, scallops, and then the entire traditional turkey meal, as well. This was the impetus for my new idea that one Christmas Eve three years ago: The Feast of the Seven Fishes.
Historically, La Vigilia is a Roman Catholic tradition that started in Southern Italy with fasting to anticipate the birth of the baby Jesus on Christmas Day. The fast would end with Holy Communion during Midnight Mass. As meat cannot be eaten during the fast, they indulged in seven different types of fish or "fishes. Why the number "7"? One can only guess. It is the most repeated number in the Bible, appearing over 700 times. It represents completion: "By the seventh day God completed the work he had been doing; so on the seventh day he rested from all his work." Genesis 2:2. The completion of God's promise of the coming of the Messiah through baby Jesus could be reason for seven fishes. Some families serve 13 fish to represent the 12 apostles and Jesus. Others, only 11 fish, leaving out Jesus and Judas.
For me, it represents the transition from childhood to adulthood for my growing children and their independence from our family. The first Feast of the Seven Fishes in our house was completely self serving. It was a wild divergence for me to focus on new food and a new traditional meal as the family habits shifted, to ease my aching heart and to create a new memory and new beginning with all of us. It has a very personal connection to my friend, Luciana, and to our own family love for seafood. Vanja and I are so blessed to be able to offer this incredible indulgence to our family and last year, the table was filled with every one of us.
This year, there were five. And that was just as lovely, though my heart did ache for mom and dad to join us as dad's love for seafood is fathomless. I was tickled silly when he asked for shrimp and enjoyed them so much when I took some over for him to enjoy later this same day.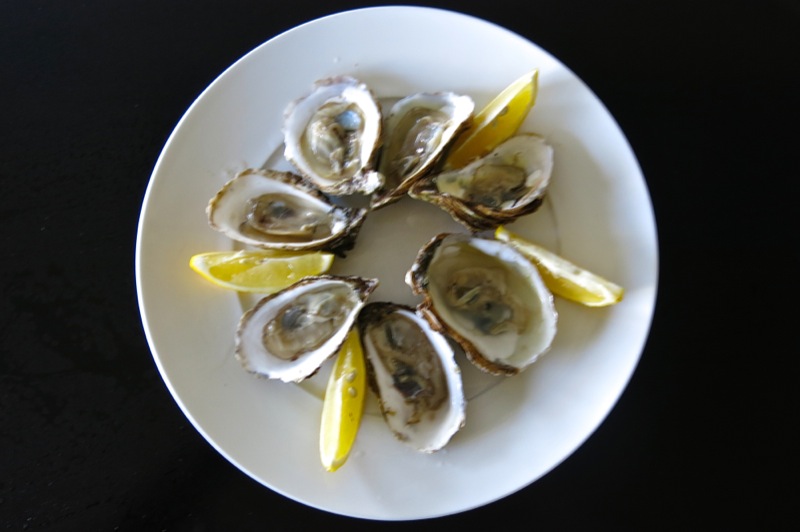 This year, I asked myself, how can I spoil my family and indulge every ultimate pleasure at this meal? Prince Edward Island's famous small, sweet, briny Malpeque Oysters on the half shell were a must. They are my ultimate pleasure. Thank you, Vanja, for taking on the shucking this year. It was a crazy day. He watched a video on YouTube and came out a champion! We have a long family history of fresh oysters at Christmas, so these were up first.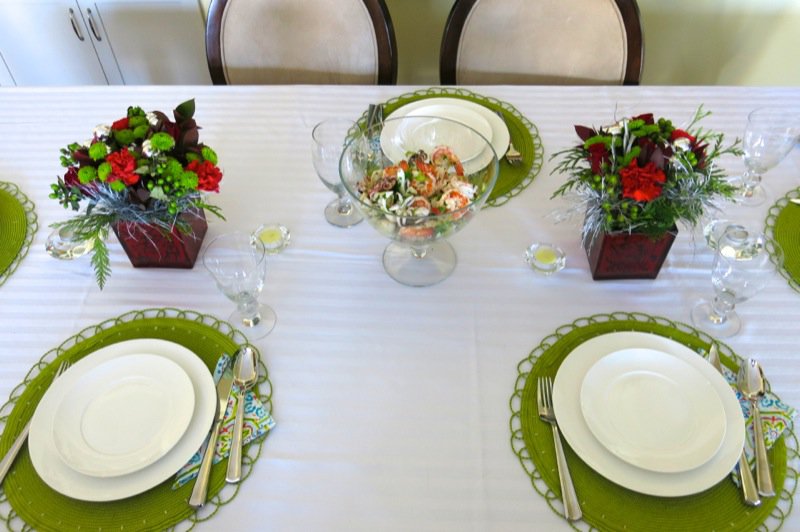 The Marinated Poached Italian Seafood Salad was already on the table and part of the first course. I loved watching Lauren, Ragan and Aaron each taste their first raw oyster on the half shell. I didn't even have a mignonette prepared. It was that kind of week, but there is no need for a mignonette with a feast like this. If I am feasting on raw oysters, then I want at least a couple of mignonettes to enjoy with the whisper of the ocean and the pearly flesh of this fruit of the sea.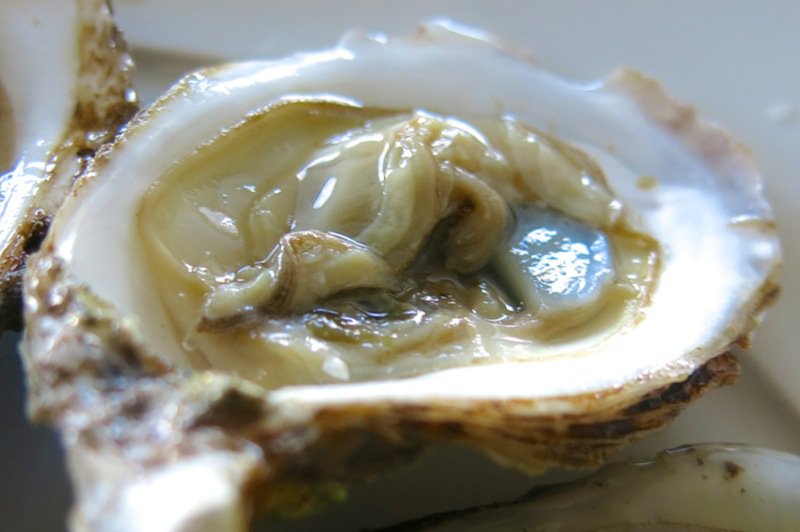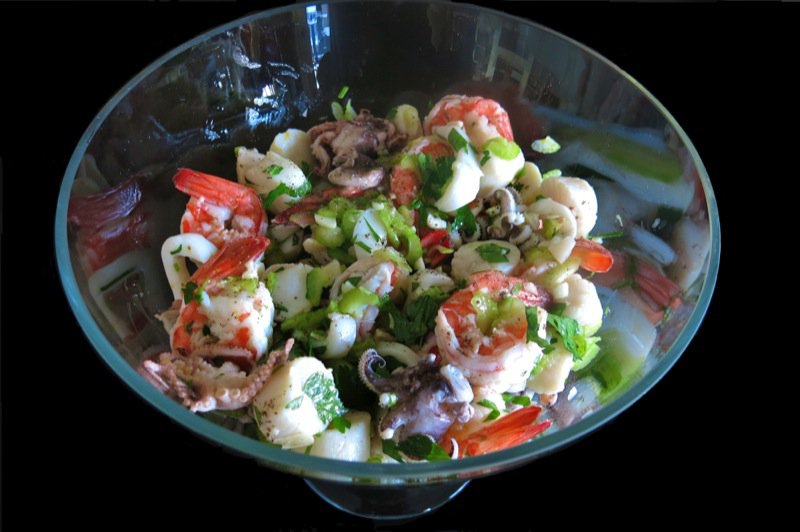 I have told the story of this salad with the recipe for it and was delighted that everyone loved it. I truly did not expect this. I completely expected that noses would be turned up at this dish. How my family has evolved!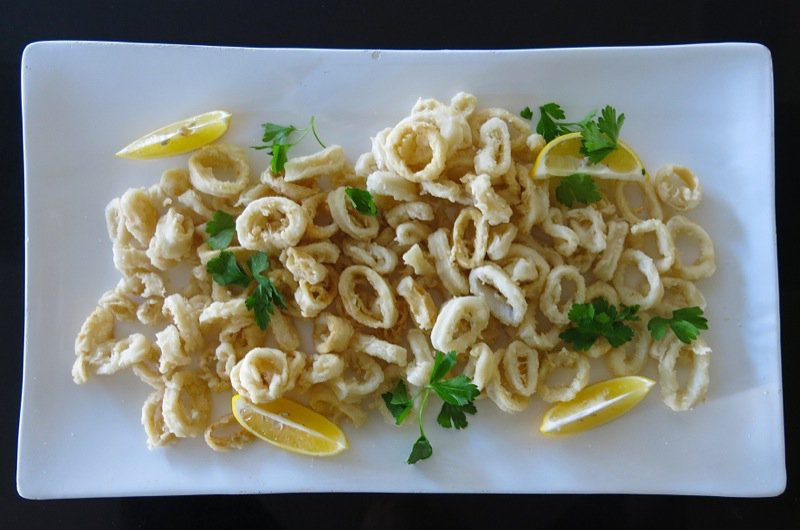 I was manning the calamari station. Lauren and Aaron had set the table. The dipping sauces were out. Cheater aioli was the first one up for the Calamari.
Oh. We pulled the dining table out of the dining room (just behind the wall with the painting in a private lovely completely enclosed room) to make space for family meals at the table while I cook as there isn't enough space at the island for all of us. Love that there is room to do this during the holidays.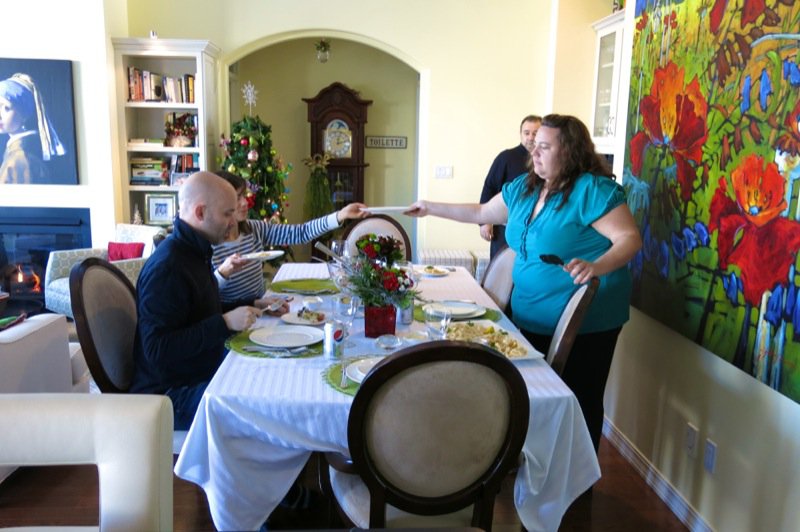 I do believe the image below celebrates Lauren's raw oyster triumph.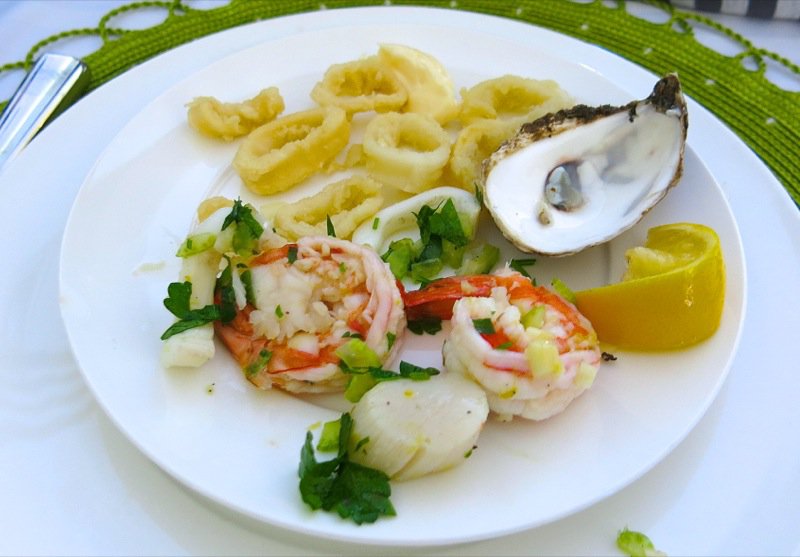 Once I knew my crew had their fill of hot and crispy classic Italian calamari, I started frying the shrimp and kept it coming until they chanted: "Enough!" in unison. We all discovered how delicious this was with the butter garlic sauce I had prepared for the lobster. I had also prepared a simple fresh ginger with melted butter for the seafood and apparently mixing the two was also a hit.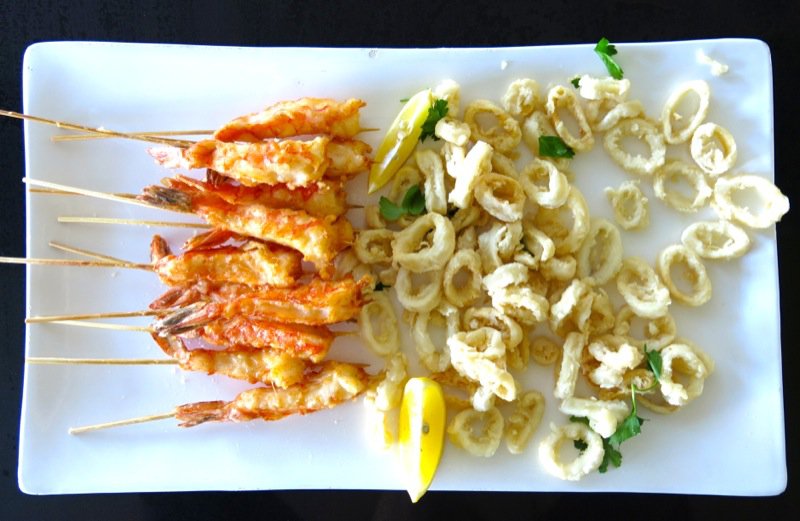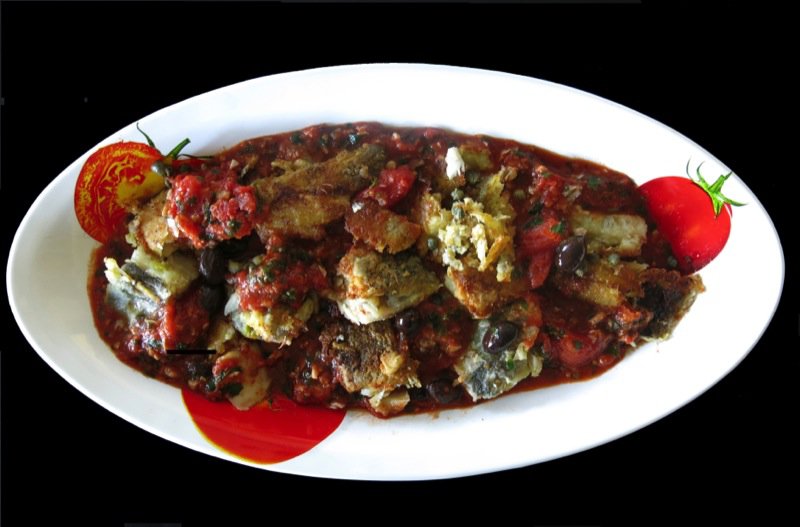 Ah! The Baccala! One cannot have the Feast of the Seven Fishes without Baccala. At least, that is what I think. This year, I made Baccala with Tomatoes, Capers and Olives or Baccalà alla Napoletana. It was served with the shrimp as part of the second course or seafood wave. No one liked it. Only me. It was delicious. One day, their palates will mature. (It is an acquired taste and reading the recipe will put all of this into perspective.)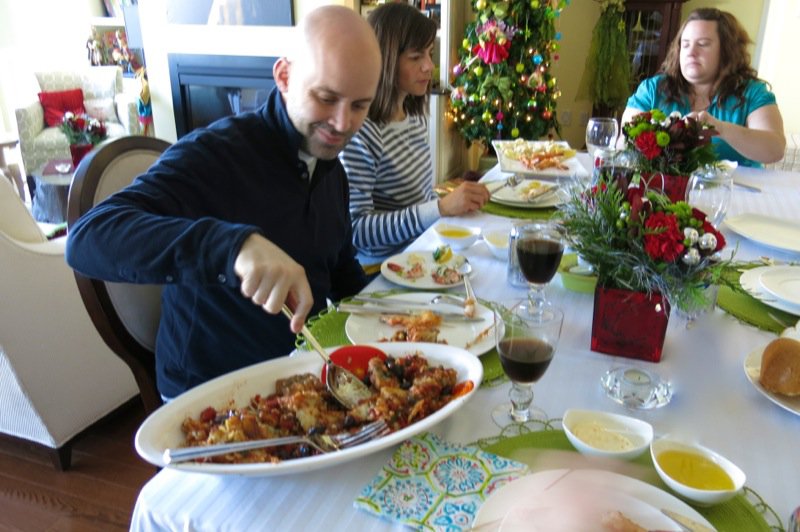 The casual setting for our lovely lunch was such a simple pleasure.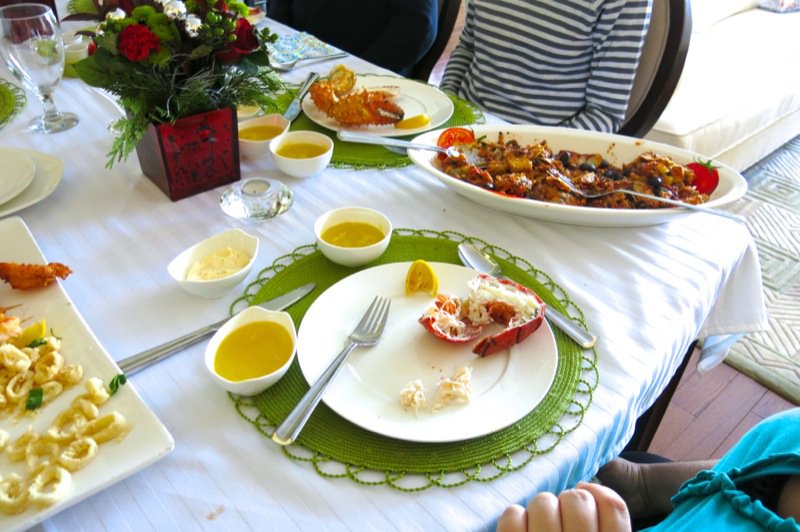 Next up, in unison, and for the grand finale: dishes six and seven. Alaskan King Crab legs and lobster tails.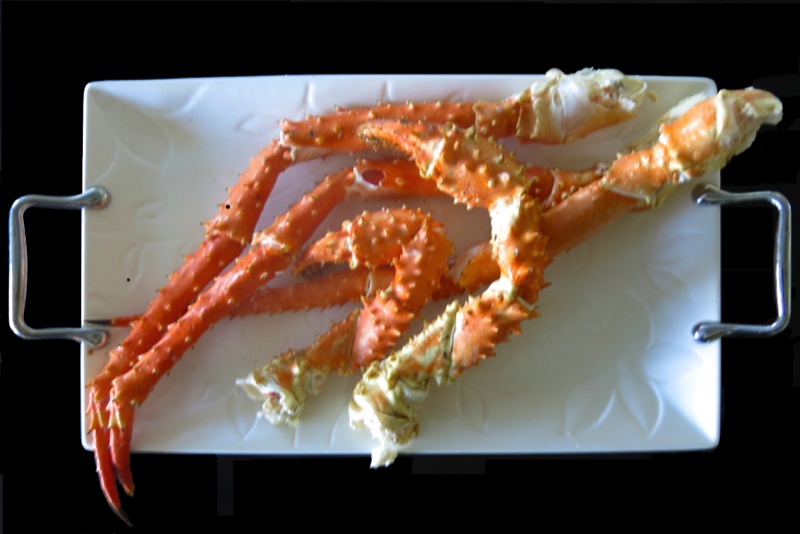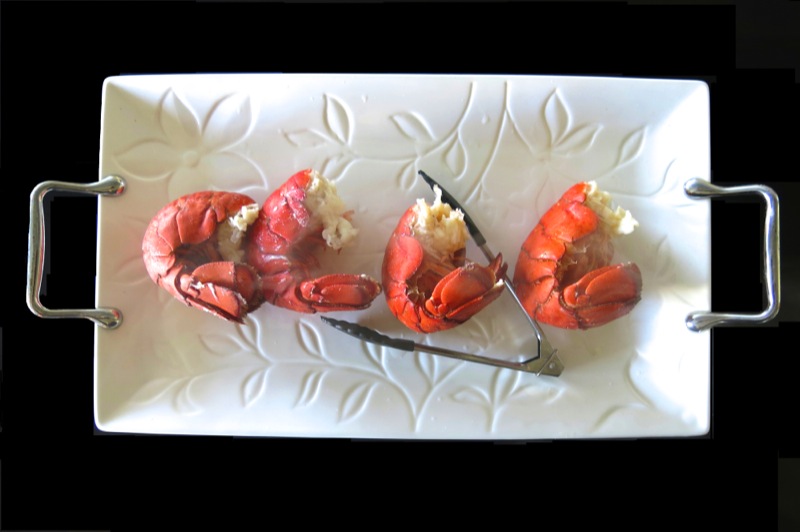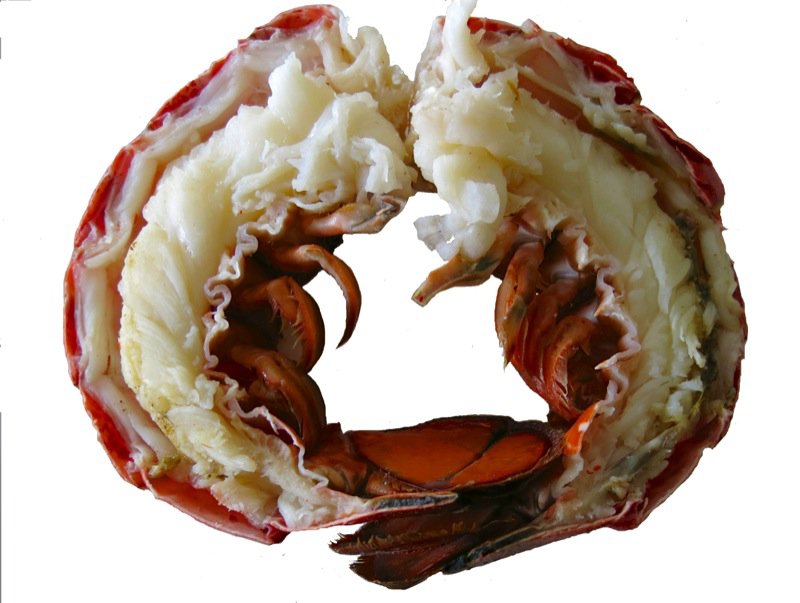 When I cook, I cannot eat. But, am eternally edified. I nibbled on a calamari, or two, and sat to join the family after the last two fishes were served. What a pleasure. The bright, sunny Winter sun streaming though the window. Shells and skewers scattered on the table. Sleepy, satisfied cherubic faces smiling gratitude to momsey as she sat and took a long cold drink. What more can one ask?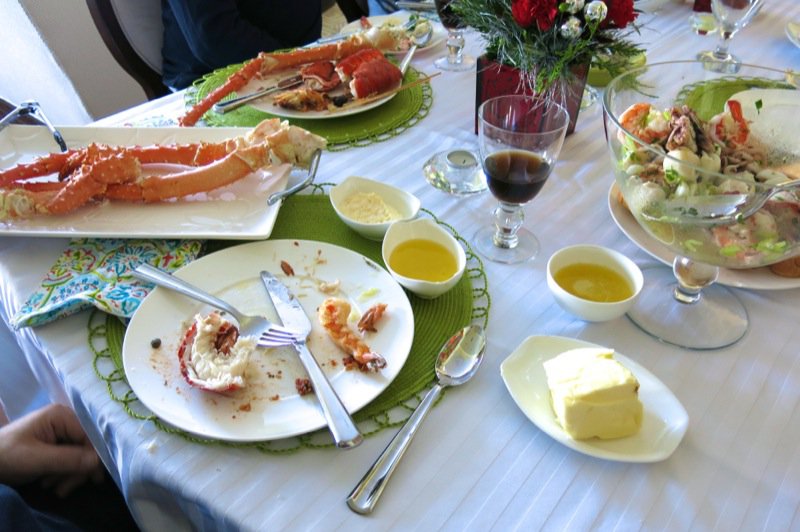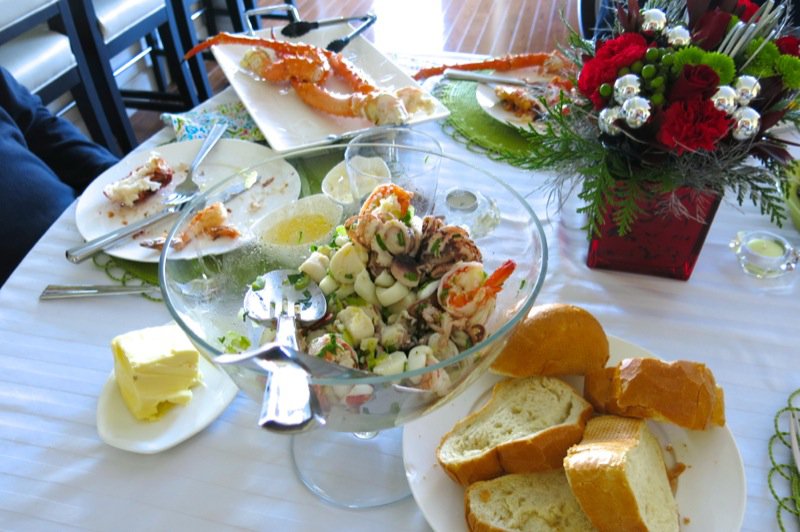 The Feast of the Seven Fishes was fait accompli for yet another year. And the significance of the number seven at our house?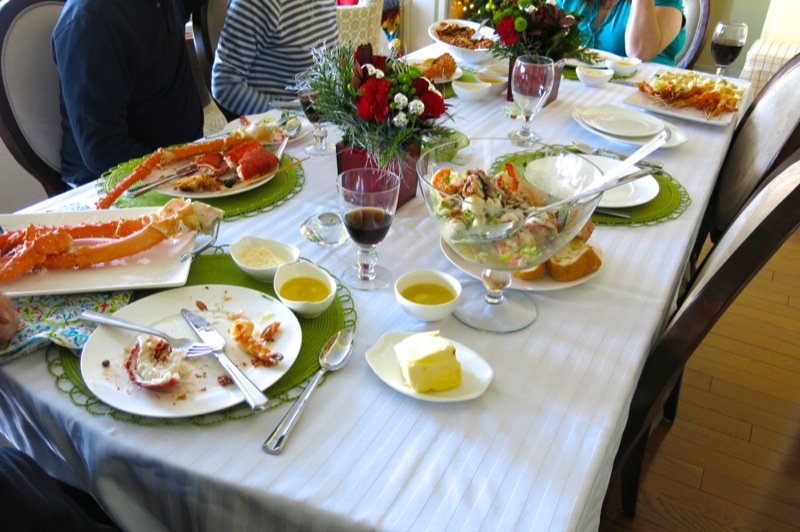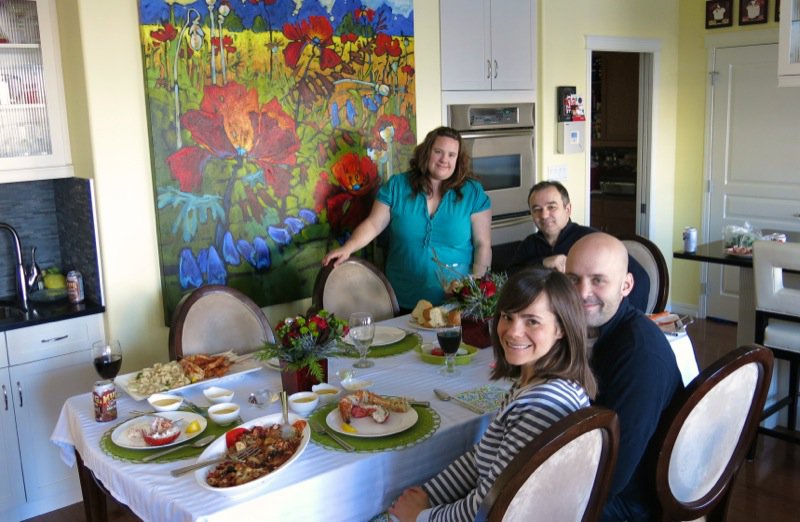 On the seventh fish, she rested. God bless us, everyone.