Day Four CIN 2010: Homemade Paneer, Pakura, Fresh Mango Chutney and Bal's Mom's Chickpeas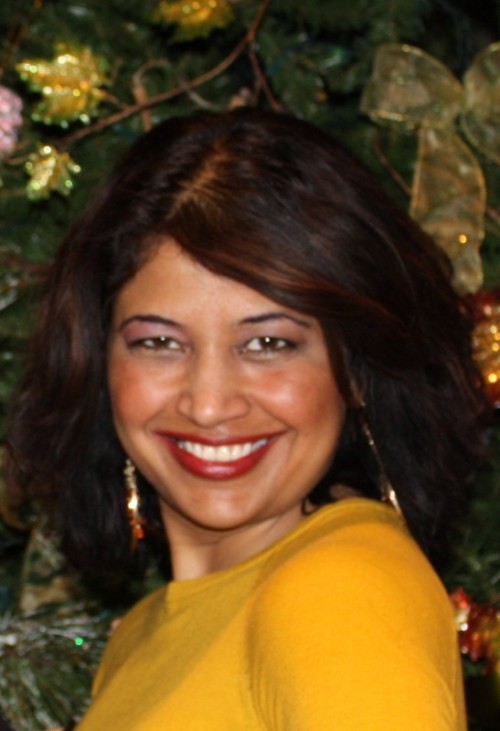 I confess. I was right beside her in the above photo, but cut myself out of it, as I too often do…. and, this is not about me. It is about Bal. Just look at the Paneer Pakora below. Is your mouth watering. It tastes even better than it looks.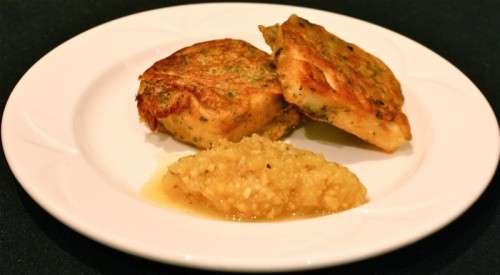 Bal is a valiant woman. I, too, was a single woman raising my children for many years on my own. I know how hard it is. But her story is so much more than that. And it is a story well worth listening to. It is a story that seems unbelievable when you meet Bal, but then you look into her eyes, and you know it is true.
Bal Arneson is the author of Everyday Indian and apparently very famous in India and the US, she told us with a twinkle in her eye! Honestly, I had never heard of her before, and I am a Food Network Fan! She is the host of the Food Network's recently launched "Spice Goddess" where she demystifies cooking with Indian spices and shares some of the special dishes prepared in her village. She believes that meals can be healthy and nutritious without compromising flavour!
Originally from a small village in Punjab, India, Bal Arneson learned how to cook from her elders when she was just seven years old, over coals in a small clay pit. She was up in the middle of the night to milk the cows and the bison, do the laundry, prepare the meals for the day and do what women do in her village for their honourable (and sleeping) men. She was cooking by seven, and making the full family meals by nine years old. This entailed forming coals for the cooking pit from cow and bison patties every morning. "Oh, yes! I would make the best patties!"
Bal had a tenacious and independent spirit that thirsted for knowledge and believed in equality. When her brothers would climb the trees, she would climb the trees. When they would laugh and romp and play, she would laugh and romp and play. However, every time she did anything her brothers did, she was beaten. Every time. It didn't stop her. But, itwas difficult to understand. Why? Why? Why? She would ask and none of the answers made any sense to her.
When she was twelve, she was pulled out of school. "That is it." her father said. "You have done all you are to do." her mother said. Why? Why? Why? She would ask and none of the answers made any sense to her. She has so many chores as she was growing older and more able and they needed her to do this work. Finally, after so much begging on her part, she was allowed to continue her schooling – but, only after all of her chores were done. There was no compromise for her.
And her fate? To be married to a young (well, not so young) man living in Vancouver who went back to India to get her. When she was 20, Bal immigrated to Canada and soon after, had a little girl. "A little girl? What is the matter with our ugly daughter in law?" Girls were shunned and she was to produce a boy! It was not until a few years later that she learned about genetics and chromosomes and understood it was he who orchestrated this daughter, not she! Truly! It is hard to believe she was so naive.
She ran away. She did not want her daughter to go through the life she had. "They are all crazy." was the comment she repeated many times about her family.
She returned to school, cleaning houses during the day and going to school by night. She now has her Masters in Education and was working with autistic children very successfully in Vancouver until one day she was flipping channels and came upon a Michael Smith show. "What is he doing there? I can do that? That looks so easy!" So, she wrote to him, and told him her story.
By now, she was remarried to "a white guy" and had a wonderful and satisfying life. Suddenly, she is on a whirlwind back and forth from Vancouver to New York where her office and studio is. She has just launced a line of spices, though she only every uses one or two.
She was glowing, and funny, and bitter, and bright. Her food was light and lovely and as bright with flavour as she was with humour. She has really turned me on to Indian cooking, and hopefully, as you read about my time with her, she will do the same for you!
I snuck in early, as usual, after my incredible Kitchen Tour (to be posted) of JPL Kitchens and the wonderful "small" breakfast and found this set up. I chuckled as I saw her trying to nourish herself in between planning!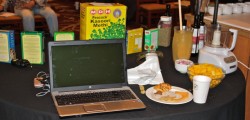 I had no idea what this was, but I certainly should have: paneer!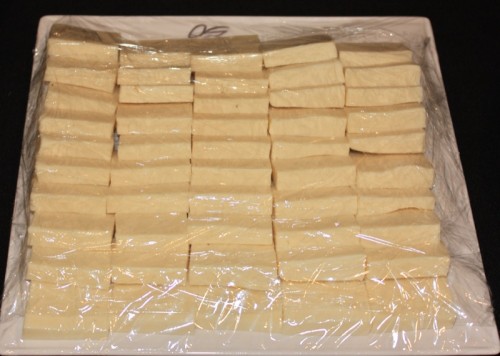 Drawing on the culinary knowledge she gained in India, as well as her own natural talents gained from her time in Canada, Bal would regularly cook up healthy, quick, and delicious dishes for family and friends. It was not long until Vancouver's food community took notice of her incredible talent. Cooking stores and local television stations began asking her to share her tricks for making healthy Indian dishes. After giving numerous cooking classes, making several television appearances, and inspiring many newspaper articles, Bal's recipes were in such demand that she decided to write a cookbook.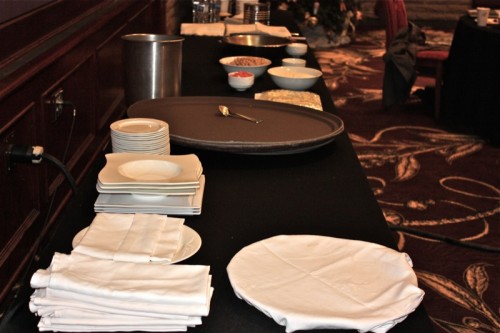 In Everyday Indian, she shares her recipes and her fresh approach to food and cooking which fit so well with today's busy, health-conscious lifestyle. With a successful career in cooking and food, and support from many well-established companies like Denby and Cuisinart, Bal feels like she's come a long way from her childhood in India. Though she rants (and rightfully so) about her crazy family and the discrimination and shunning she has suffered just by being herself, and a woman, it is clear that the food from her home gives her much pleasure. She speaks of her mother's food with such warmth it is really difficult to understand that warmth is not also attached to feelings for her mother. But, it is not. It is for the food. And, there is the dancing. The music and the dancing clearly gave her joy as a child and she carries that with her, and shared it with us this day.

What are all these spices and herbs and aromatics: ginger, garlic, fenugreek leaves, onion, cayenne pepper, cumin, coriander…. I am not sure what all of them are!

Sitting silently, I looked up, and there she was chatting with her Chef for this session (below). Absolutely gorgeous. The night before was the Grand Ball and she had danced up a storm there. She already had my admiration.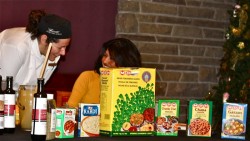 And, then she began.
Words of Bal Arenson during this session:
This is all about healthy Indian food without butter or cream and without a long list of spices (without butter and cream was her reoccurring mantra)
We have been cooking like this for centuries, since ancient years, in the Punjab
And I want to say something special about women here: we don't survive, we thrive
However, modern day women in this society…you've screwed yourself double! We do it all and our other job begins when we come home!
Have any of you had corporal punishment: hello yes, every day! That was my life as a child.
Grade 8: that was it for my education, or so they said.
At home, I was so surpressed
I would work with the cow dung to make make patties and the patties were used for bbq pit
We got up every day at 4:30 to milk the cows and bison
We were all done around 10-11; then too hot and it was siesta time (I miss that here!)
I had to get up and do all the work and iron my brother's turbans
However, I was the first girl in my mom's side who went to school and did grade 10; then I got to 12… then did first year of college"¦ I knew I would be handed off to a husband and then I would be handed off to slavery for the rest of my life
I was born into slavery
When I left my first husband the first thing I did was shave my pits! Indian women are hairy!
I came here by an arranged marriage by the age of 18 and as soon as I gave birth to my daughter they said, "This ugly daughter in law can give brith to only daughters"¦." Later on, I took biology and discovered it was the sperm that decided gender!
My culture suppressed me and I didn't want my daughter to experience what I was going through, so I ran away with my daughter and went to a shelter for one night only. I called my mom at the village and she said, "You have brought us so much shame!" She is crazy. Why should I serve my brother first just because he has a penis? I was always questioning and always beaten. So, I was rejected and said, "OK, fine. You guys are all crazy and that's it."
I wanted my daughter to see me as a strong independent woman and rejected welfare as I had been dependent all of my life upon someone. Thus, I would clean homes and at night I would learn English"¦ and now I have my masters in education and work with children in autism and am on the Food Network! There was only one chef picked from all over north America to for food tv network in the US and they picked me!
I am the first Indian show and it is called The Spice Goddess and it is doing above average (more than Rachel Ray)! I am the Spice Goddess, people!
I launched my 100% certified organic spice line and a percentage will be going back to my village to support woman and children there
I was just interviewed by Canadian Home Journal and the woman asked me, "What was your biggest indulgence after moving here?" My answer: maxi pads! Truly!
I will be on the NBC today show next month with Matt Lauer and they want me to be a CBS monthly guest with Katie Couric! I just met her a couple of weeks ago!
I don't tell you these things to brag; I tell you because if you dream a dream and work to make it happen, it will.
So, here I am cooking and sharing what I learned from my great grandma in the village
You will peer through a window into my culture
I like to begin with yoga and meditation, and if we had more time, that is exactly what we would do
Then some cooking with a break into a Ballywood dance followed by more cooking; that would be my perfect class
Back home, woman weren't allowed to exercise; only through yoga
My great aunt would take us (the girls and women) to a room and take us through guided meditation and yoga every day; other woman in the village would come, too
I have learned to let mother earth or mother nature take care of you; let go of your control and let it take care of you: the energy will take care of you
Everyone: stand up on one foot then the other, breath in, and out, and in, and out…. ah! there. Now, sit back down and let's begin.
Let's Make Paneer:
Cheese was a privileged food to have in my village (Valerie: how come? Bal: how come you only have turkey at Christmas?)
It is a food associated with celebration to me though we had plenty of milk at home all of the time, we only made paneer for celebrations
Or the birth of the boy; then paneer was made
Then it was made into paneer
When I interviewed with Canadian Living and was telling them that we dug up a pit to cook in with cow dung patties I made myself, they asked me, "What is your favourite appliance?"
How am I supposed to answer that? At home, we had one clay pot that was used for everything!
We also had one knife, well….not a knife, more like a machete!
So I just answered, "I cooked in a pit for 20 years of my life and made amazing food so don't worry about what my favourite appliance is. I just need a pit and a pot."
I just got back from New York as a judge for Iron Chef America and they told me I was the new "Paula Abdule"!
For paneer, I use regular milk: whole milk or 2% (not skim)
The milk is boiling and I am now adding vinegar
See? It has only been 5 seconds and the cheese has already separated
You now need cheese cloth or regular tea towel and a strainer (Valerie: just like making yogurt cheese)
Press it with something really heavy to get all of the whey out and leave it for 20 minutes
Boil milk for paneer on low to medium heat, not high or it might burn
Above she is pouring the milk onto the strainer lined with cheese cloth. Below, she moves it into a block shape and wraps it up.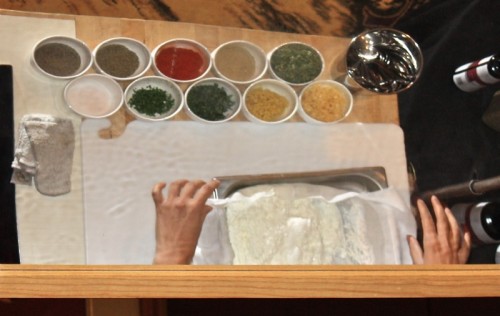 Below, it is wrapped tightly in a rectangular shape.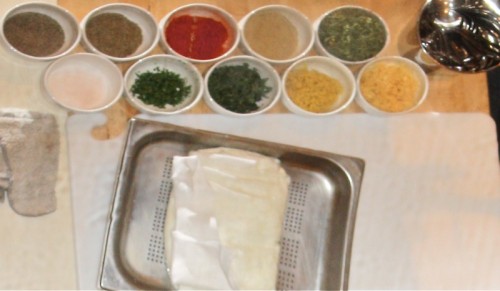 Bal places a heavy can on top of her paneer to squeeze all of the whey out of it.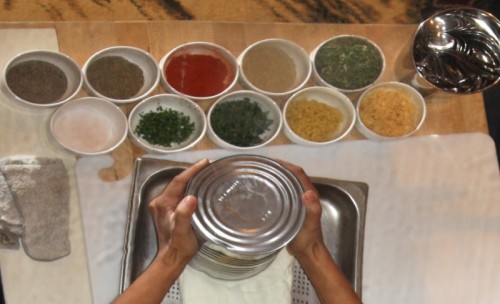 She is the most entertaining and expressive story teller! She mesmerizes you with her beauty and her tenacity.
Let's Make Pakura
I still have the philosophy of a village woman; I still believe that anything that is in a jar with a lid on is made like that to add shelf life and I stay away from anything in a jar, or canned or bottled
Health benefits of Indian food are amazing if cooked authentically
Chick pea flour, marsala, salt, Spanish paprika (sweet), Fenugreek leaves (take the dried leaves in your hand and crush them)
Batter needs to be nice and fluffy and crispy ( so there is no BP and no soda)
Add yogurt (to add fluffiness) and water
In my village we made many trips to hand pump to get water all day long; we would start the barbeque pit with cow patties to heat the water You would never waste water after all that work
This was your bucket for your hair and your body and that is all you got and you respected that bucket and used it wisely
Look at the consistency of this pakura batter; it should be similar to pancake batter
Think about it: you could dip shrimp in it, or vegetables, or chicken fingers, or fish and chips! All would be so delicious in this batter!
Dip paneer in, cover it, and place it to the side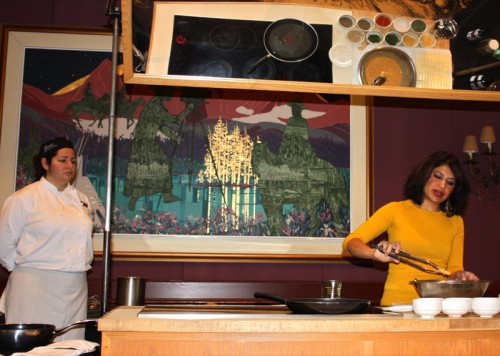 Regardless of your number and your religious beliefs, or how you grew up: hold on to what you believe in
If you are a woman, no matter what culture you belong to, you are screwed!
"Why do we have to go through all of this hardship? Because we can!"
See? Look at this beautiful pakura! It is not even spicy, just very aromatic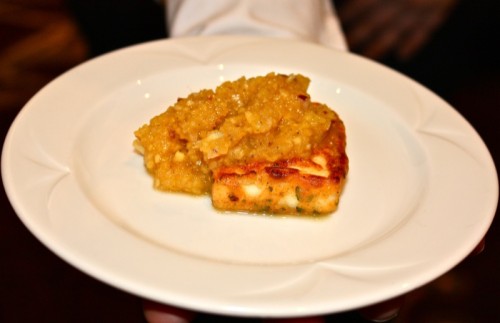 Let's Make Chutney to go with our Paneer!

I love mango; I use it for every thing
We use this for ketchup; I make individual chutneys with all kinds of berries instead of ketchups
I will make Mandarin orange ones when I go home; I use whatever is in season
Today, we add mangoes, onions, pineapple juice: I like the acidity of pineapple, but we need liquid and salt and masala (masala is a mixture of spices)
Each household has their own different recipe for masala according to the palate of that house; that is what each of you have to create for your house; it is good for 5 "" 7 days
Indian Food is natureopathic and so good for you
Himalayan food is part of the culture is re aso spiritual
Food should be accessible; it is precious, it is spiritual, it should be honoured and revered
Garam marsala is one thing that my mother made: she was crazy, but she made the most amazing food ever – not because of her long list of spices, or that we had cream or butter, but because she had a good masala: tumeric powder ( don't get it on your clothes) and garam marsala is all you need
Don't follow my recipe, follow your own palate and make another one for your palate
Coriander, cumin, cardamom, cinnamon "" that is the base
Chat marsala is the same with the cumins and corianders, but also has dried mango powder and dried pomegranite powder
The recipe on food tv network and in my new cookbook (Valerie: that we all got the day before as a free gift at lunch)
I use chat marsala for vegetable dip or fruit dip
(Valerie: Bal blended all of the Chutney ingredients for a few seconds and it was done )
Woman weren't allowed to eat meat in my village; it was only for men (but, I tried goat curry and man it was good)
I was a vegetarian, so lentils and beans and seasonal vegetables was what I ate
By the time I was 7 I was cooking and by the time I was 9 I was cooking full meals
Yes, master master master because with every mistake, I got slapped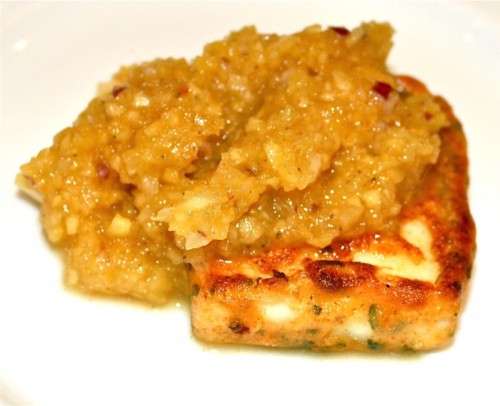 I was not expecting this to be as light and lovely and bright and gentle as it was. I did not expect to want to jump up and make this food as soon as I got home, but that is exactly what I felt after tasting this. The paneer is heavy. I do find paneer dense and heavy. What do I have to compare it to? Bocconcini. But, it is nothing like Bocconcini, either, to me. It is paneer: a dense curd. And, with this delicate batter, so flavourful! Someone asked, "Can you add herbs to paneer?" Bal, "Yes, of course, and many things as you can imagine and they will all be delicious." I am making paneer!
And the chutney? Four words: EX-TRA-ORDIN-ARY!
Let's Make the Chickpea Dish!
I always use grape seed oil because you don't taste anything, it doesn't produce any chemicals and it cooks at high smoke point, no flavour
In go the Garlic and ginger
The key to Indian food is not a long list of spices: just no butter, no cream and only 20 minutes in the kitchen "" then get out!
So what to do when you have your 20 minutes?
On medium heat, add a little oil and fry the ginger and garlic until it is almost brown
Toast the masala to release the essential oils; sprinkle in the cumin seed and toast it
Sprinkle in the Spanish paprika and the fenegeek leaves; then mix
Prawns and coconut milk with this would be great, wouldn't they?
Or, add tuna right on top, remove from the heat and you have the amazing tuna
Now, add tomatoes and take another pan: add oil to it
Add tomatoes and add chick peas to first pan
Slice fresh paneer, with basil, tomato, and lemon and salt
Fry the paneer in the second pan so that the bottom is browned and then it can go on a cookie sheet and stay in a freezer for 3 to 6 months
Now the fried paneer went into the chick pea mixture
Always start with a half a teaspoon of a spice or herb, then you can add more, never butter or cream
Add a few spices and toast them first and you will have dinner in 20 minutes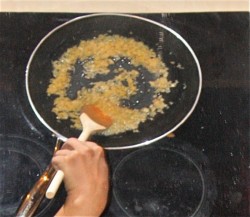 The recipe for the chick pea dish did not have paneer in it. Was it better with paneer? Absolutely!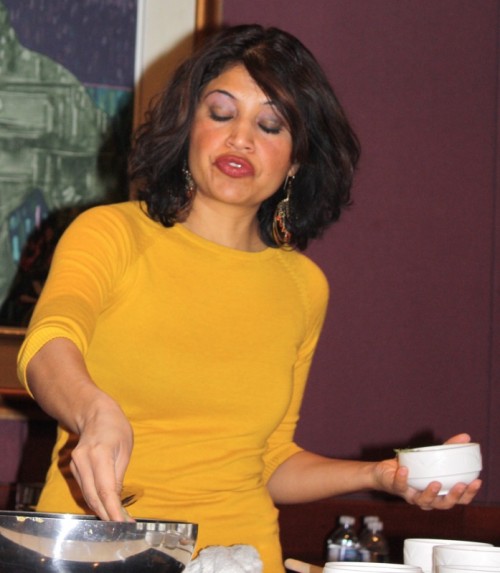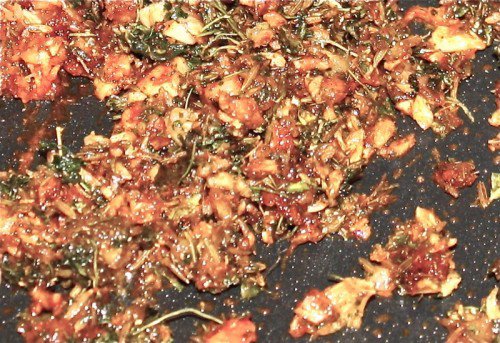 This is a bit of a wet toasting, but Bal actually had each spice in its own section of the pan tossing gently for about a minute before mixing them all together.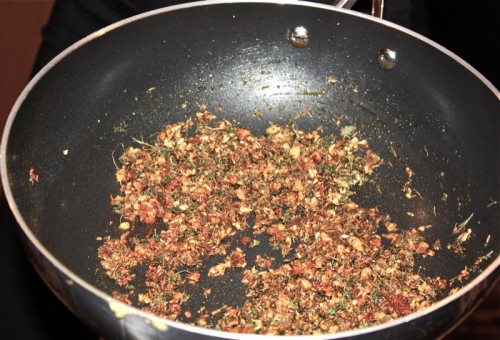 Has she adjusted to her new environment, or what? Bal, you almost do not look comfortable with a frying pan in your hand. It is clear you know what you are doing, but you have climbed so far out of that pit in your village it is truly difficult to imagine you there…. except for your stories.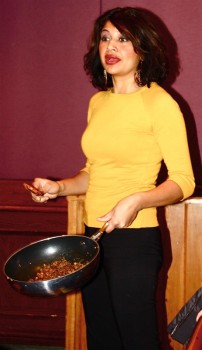 …and your passion.
I was wondering if we would get to eat the FRESH paneer, and yes we do! It will be the one in the chick pea dish!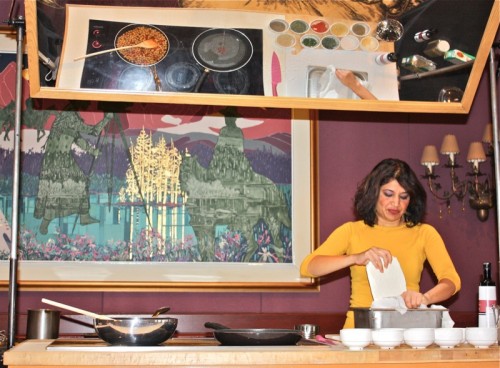 I was mesmerized. It was like magic before my very eyes that she was able to make this in 20 minutes. But, I saw it, and she did. Now I will. (You watch!)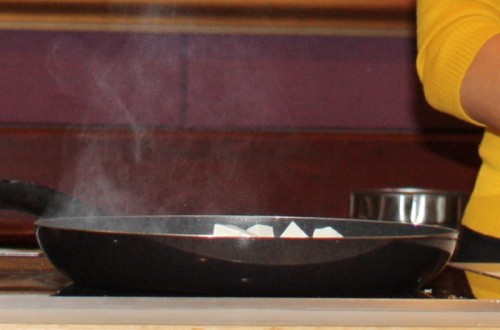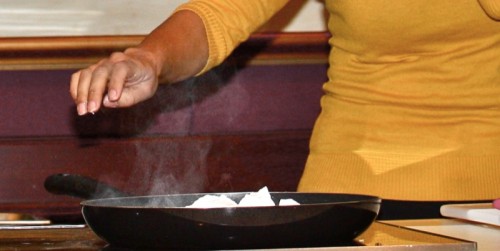 Bal is captivating. She blends her humour with her horrors to effectively I found myself actually laughing, often, about her childhood and young adult mis-adventures. But, really, they were not funny. That is the beauty of Bal. She weaves her story around you and through you and you don't even realize how strong and valiant she is until the fabric of it rests upon you, and you feel it.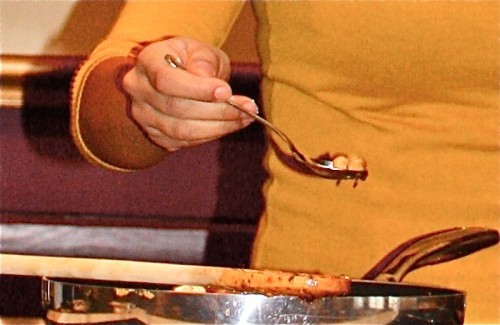 Valiance is a character trait that is very hard to come by. I have come by it, though, in some of my women friends, and I value it. The picture below makes me smile.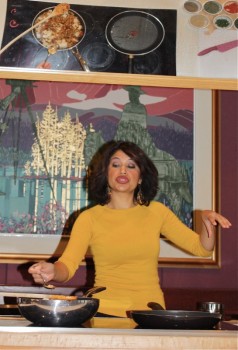 There is a poem by Duncan Campbell Scott that I recite when I think of these valiant women. And she dances.
And we dance.

And she feeds us…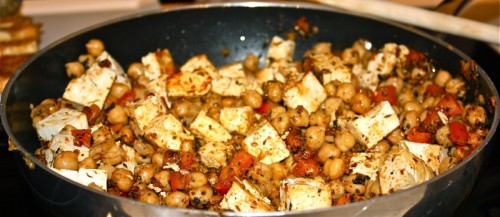 body and spirit…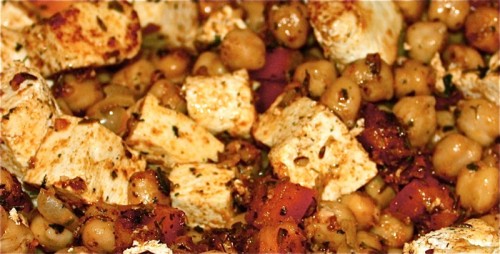 and we eat,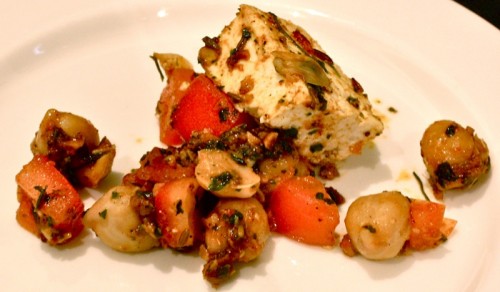 together.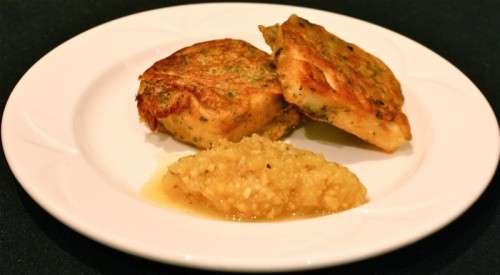 The Forsaken
I
Once in the winter
Out on a lake
In the heart of the north-land,
Far from the Fort
And far from the hunters,
A Chippewa woman
With her sick baby,
Crouched in the last hours
Of a great storm.
Frozen and hungry,
She fished through the ice
With a line of the twisted
Bark of the cedar,
And a rabbit-bone hook
Polished and barbed;
Fished with the bare hook
All through the wild day,
Fished and caught nothing;
While the young chieftain
Tugged at her breasts,
Or slept in the lacings
Of the warm tikanagan.
All the lake-surface
Streamed with the hissing
Of millions of iceflakes
Hurled by the wind;
Behind her the round
Of a lonely island
Roared like a fire
With the voice of the storm
In the deeps of the cedars.
Valiant, unshaken,
She took of her own flesh,
Baited the fish-hook,
Drew in a gray-trout,
Drew in his fellows,
Heaped them beside her,
Dead in the snow.
Valiant, unshaken,
She faced the long distance,
Wolf-haunted and lonely,
Sure of her goal
And the life of her dear one:
Tramped for two days,
On the third in the morning,
Saw the strong bulk
Of the Fort by the river,
Saw the wood-smoke
Hand soft in the spruces,
Heard the keen yelp
Of the ravenous huskies
Fighting for whitefish:
Then she had rest.
The rest of the poem can be found here.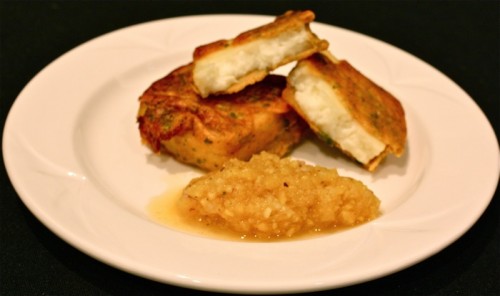 The traditions of Bal's homeland live within her and she shares all the goodness she has chosen to retain. The rest, she has left behind, and she is clearly facing a wonderful new beginning as the new "Celebrity Chef on Food Network Television"! "I am the Spice Goddess, you know!" she announces with a wink and a twinkle and that ever-so-charming graceful wiggle that only Bal owns.
Paneer Recipe
Ingredients:
4 litres of 2% milk
1/2 cup plain white vinegar
one 20 inch square piece of cheesecloth
Instructions:
Bring milk to a boil over medium heat in a large pot
Add vinegar; stir until mixture separates into solids and liquids
Drain the mixture through a sieve and a cheesecloth
Wrap the curd with the cheesecloth; place in a sieve and place a heavy weight on it
Let the water drain from it completely for 20 to 30 minutes
Remove cheese cloth and cut into small cubes; use immediately or store in a covered container for up to 5 days
Note: Pan frying with a skiff of oil helps to keep the paneer cubes from falling apart: cook with grapeseed oil over a medium hot pan until golden and do the same on the other side. This will freeze and thaw very well; wrap tightly for the freezer.
Paneer Pakura Recipe
Ingredients:
1 cup chickpea flour
1 tsp (or more) fenugreek leaves
1 tsp Chana Masala
1/2 tsp Spanish paprika
1/2 tsp salt
1/4 cup (approx) water
1 pound paneer
2 tablespoons grapeseed oil
Instructions:
Mix first five ingredients together in bowl; add enough water to give the mixture the consistency of a thin pancake batter (see photo, above)
Cut the paneer into rectangles and dip into the batter to thoroughly cover entire piece
Heat oil over medium-high heat in non-stick pan; fry paneer on both sides until golden brown
Serve immediately with chutney
Fresh Mango Chutney Recipe
Ingredients:
1/2 cup pineapple juice
1/4 cup red onion, chopped
1 tablespoon fresh cilantro, chopped
1 teaspoon Chat masala
1/4 teaspoon salt
1 cup (approx.) mango, cubed
Instructions:
Place all ingredients, except the mango, into a food processor and blend until the consistency of a paste
Add mango; process until coarsely chopped
Chill well before serving
Note: this will keep three to five days in an air-tight container in the fridge
My Mother's Chickpeas Recipe
Ingredients:
2 tablespoons grapeseed oil (high smoking point, and no flavour imparts from it)
1 large onion, chopped
2 tablespoons finely chopped garlic
2 tablespoons finely chopped ginger
1 tablespoon cumin seeds
1/2 cup chopped fresh tomatoes
1 green chili, finely chopped
2 tablespoons Chana masala
1 tablespoon Spanish paprika
1 teaspoon salt
2 cups cooked chickpeas (or one 14 ounce can, drained and rinsed with fresh water)
1/4 cup chopped fresh cilantro
(Bal also threw in the fresh pan fried paneer, and tossed it with this recipe before serving)
Instructions:
Place the oil, onion, garlic and ginger in the frying pan over medium high heat and cook for three minutes; move aside and add cumin seeds to toast for one minute
Move ingredients in the pan to toast all other spices for a minute in their own space inside of the pan
Stir in the tomatoes, chili and salt; reduce heat to medium low and cook for 5 minutes, stirring regularly
Add the chickpeas and cook for another minute; turn the heat off and cover the pan with the lid to sit a few minutes before serving
(Bal also threw in the fresh pan fried paneer, and tossed it with this recipe before serving)
Garnish with a sprinkle of cilantro
Serve with brown rice or Papaya Chicken
Note: Chickpeas take a long time to cook, so I usually make a big pot, and freeze them. I soak them overnight in hot water and boil them the next day for an hour, or until they can be crushed easily with a fork, then package and freeze.
Beavie didn't meet Bal. He was mad at me when he saw her photos!