Coconut Macaroon Cookies will forever be called the Tu-Ra-Lu-Ra-Lu-Ra at our house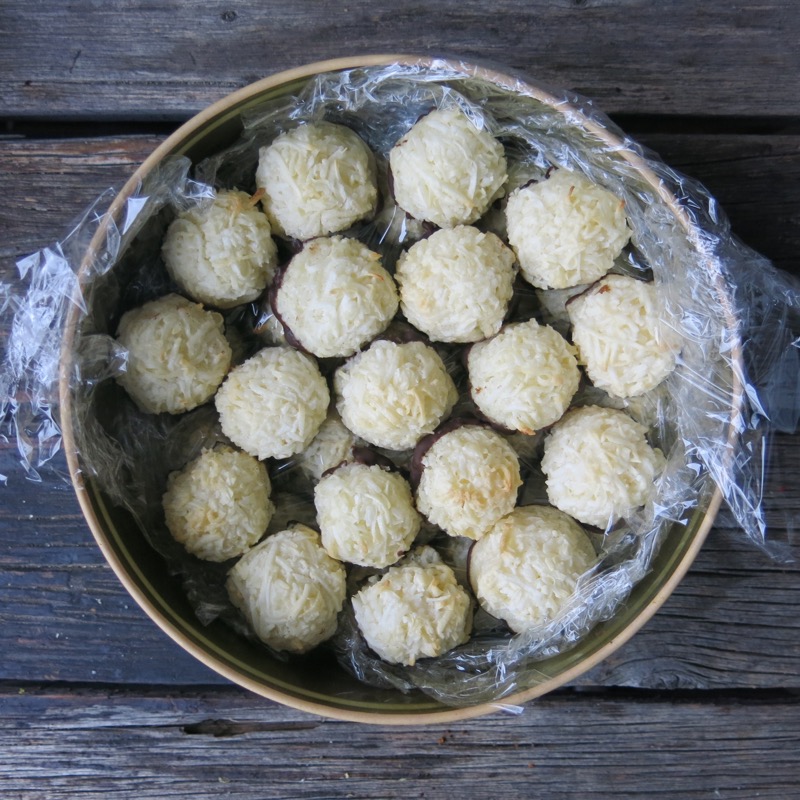 Happy December 3rd! Have you noticed I am trying to keep up with a post a day for a good while this month? Well, it's the 3rd, and so far, success! Homemade Christmas Cookies are facing extinction and are such a fundamental aspect of our Canadian cultural identity, that I work fervently every Christmas to motivate the younger generation to revisit the times of yore when flour and sugar hung in the humid air of busy Canadian kitchens throughout the country the month before the holidays. Those days, wherever you would go during the holiday season, a plate of delectable and gorgeous holiday cookies would appear on the table with a cup of coffee or tea. It was expected, and it was also a quiet competition among the housewives up and down every street. Whose Christmas Cookie platter was the best?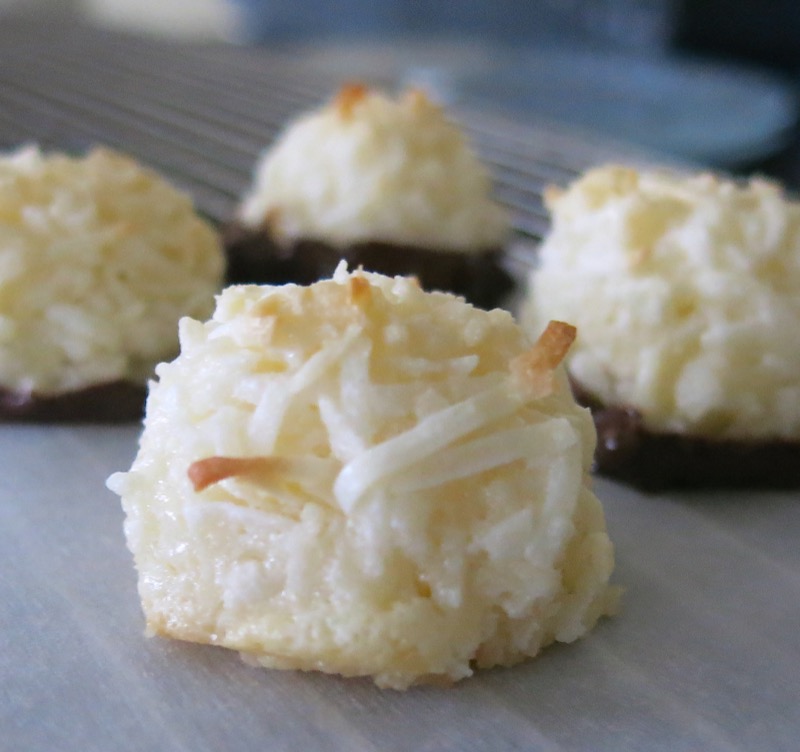 It was my mom's, of course. Every year. I like to add a new treat to the traditional mix each year, and this year, please allow me to introduce you to the Chocolate Bottomed Coconut Macaroon Cookies heretofore known as the "Tu-Ra-Lu-Ra-Lu-Ra". Why? My dad loved all coconut desserts. There was a time when a local grocery store would make these. He would swoon when mom would come home with a tub of them. I can still hear him purr. "Mmmmm. Soooo good." His voice would quiver and the back of his throat would go into a little vibration coupled with giddy guttural sounds of pleasure most definitely reminiscent of the purr of a wild beast.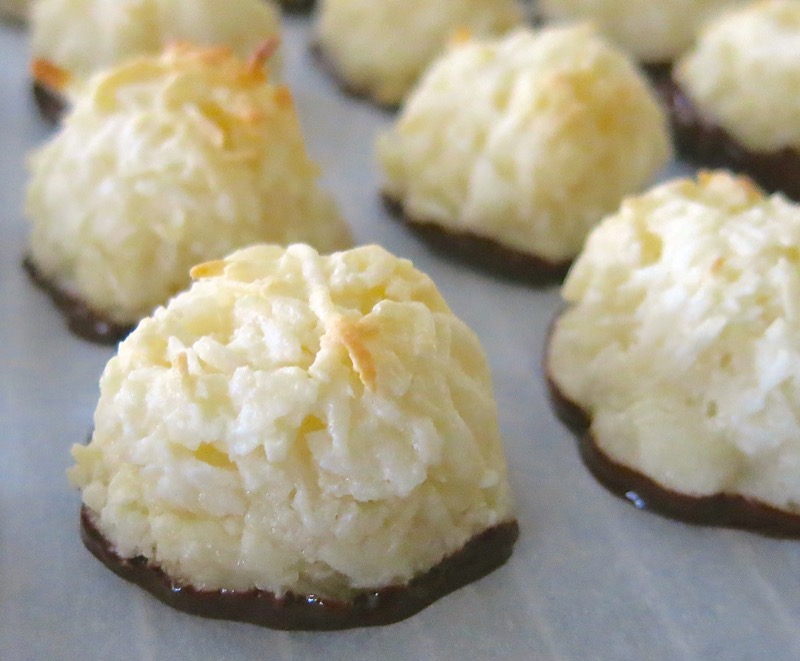 When Prince William was born to my daughter, my dad had passed the year before. I would sing dad's Irish Lullaby to William: Tu-Ra-Lu-Ra-Lu-Ra! And he began to recognize that song, over time, as belonging to my dad. We began to call my dad "Tu-Ra-Lu-Ra-Lu-Ra" when looking at his photos and talking about him. So, the name of this cookie on our family platter is all too fitting. Our precious Prince William will enjoy Great Glammas and "Tu-Ra-Lu-Ra-Lu-Ras" along side "The Happiest Christmas Tree" on Gramsy's Christmas Cookie Platter every year. When planning my yearly platter, I try to do a positive and a negative cookie side by side. That is, if I am doing a rum ball, then I want a white circular somethin' somethin' to pair it with. It just so happens I am revisiting our favourite rum ball recipe of all time this year, so the Chocolate Bottomed Coconut Macaroon Cookies, aka "Tu-Ra-Lu-Ra-Lu-Ra" appear to be the perfect partner on all fronts. And, bonus: Vanja is crazy about coconut, as well!
Chocolate Bottomed Coconut Macaroon Cookies: Making the Dough
Mis en place, above: combine milk and coconut, below.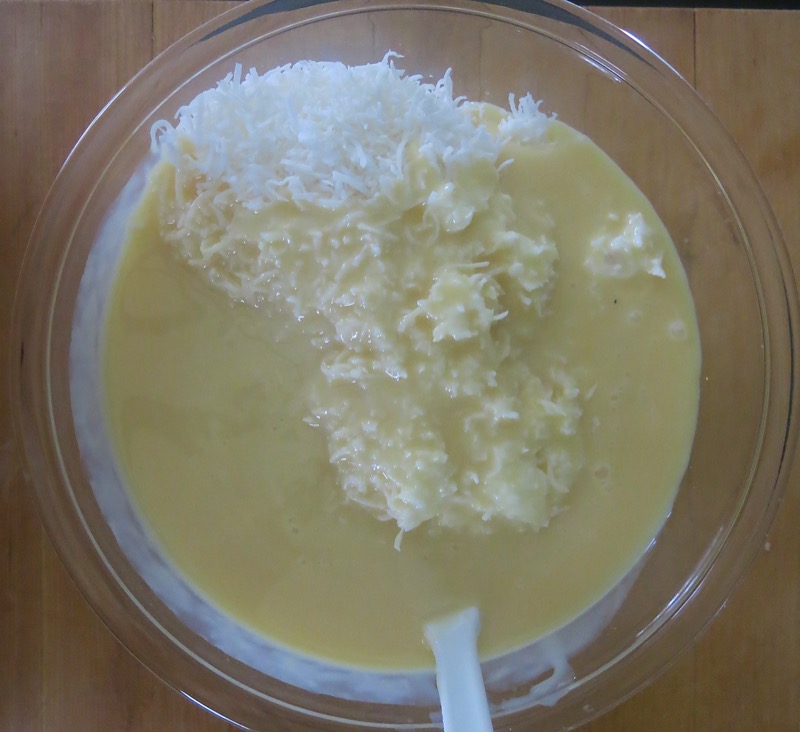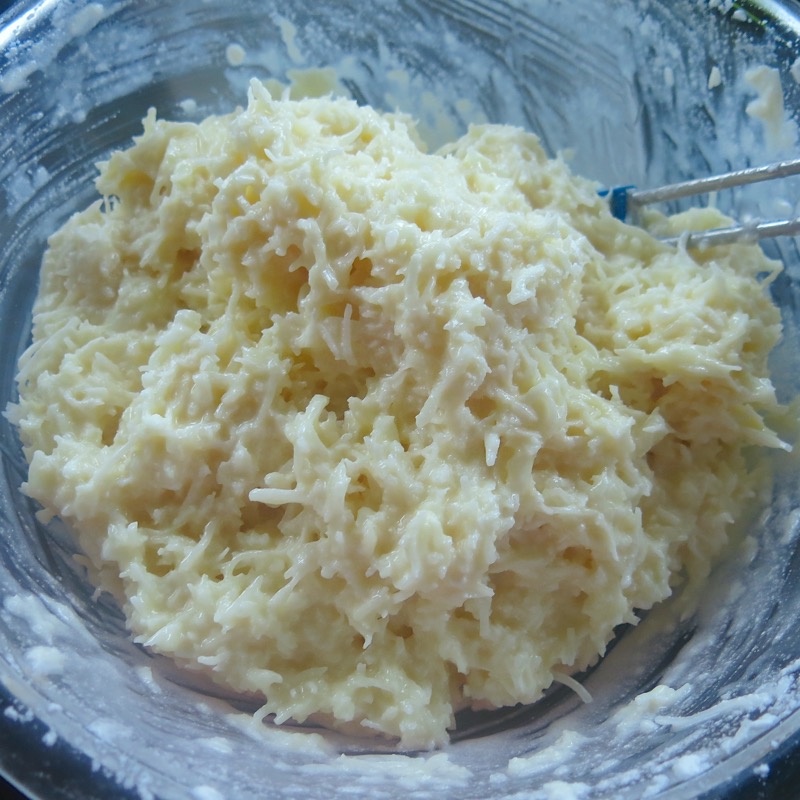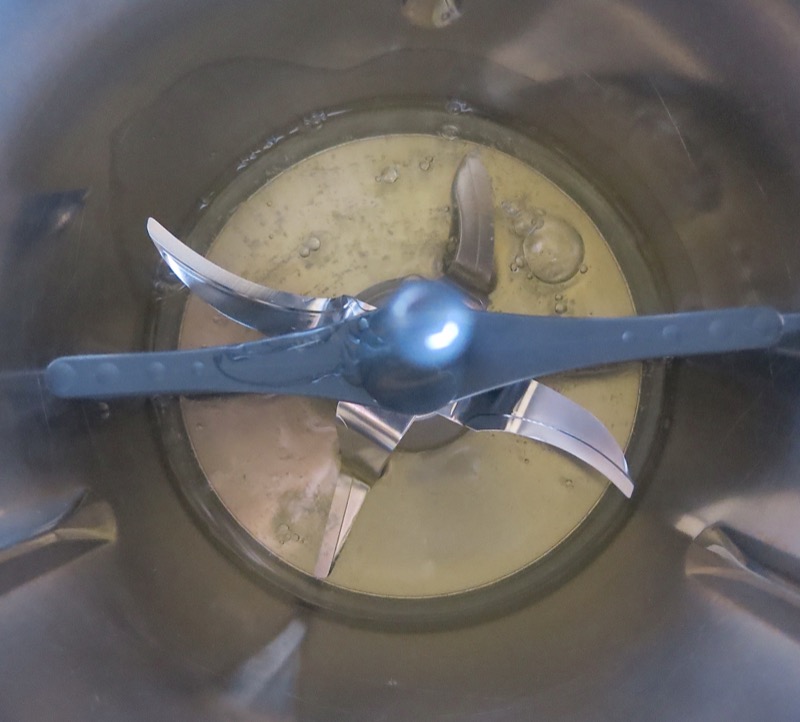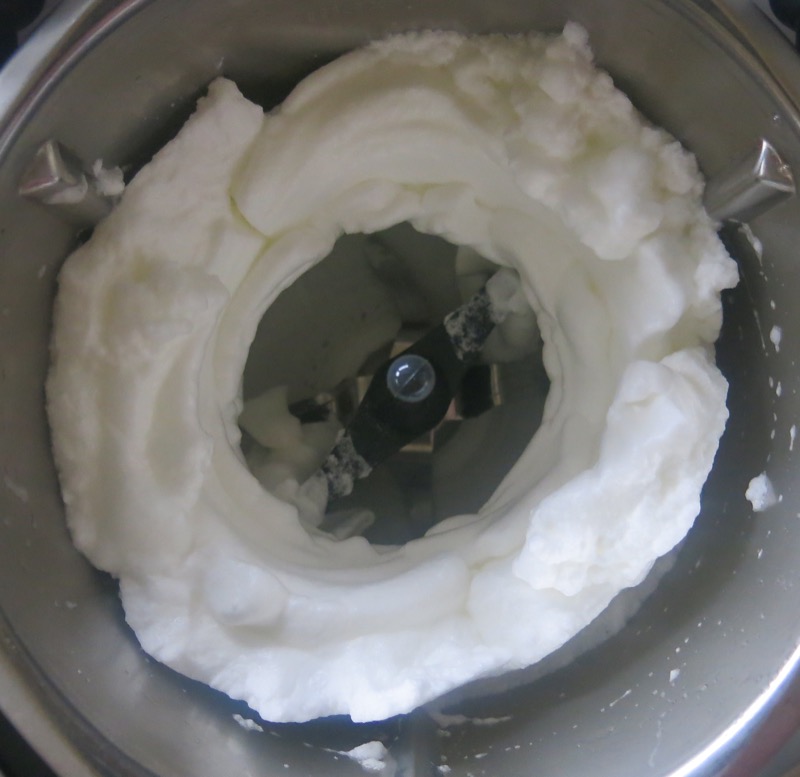 Whip egg whites with salt.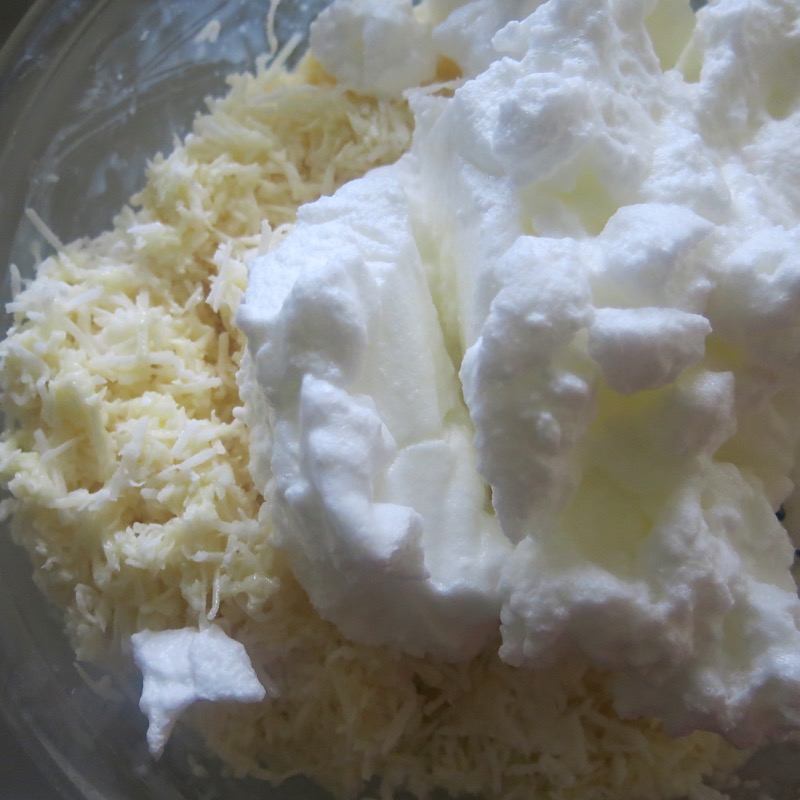 Gently fold both together and that's all there is to it.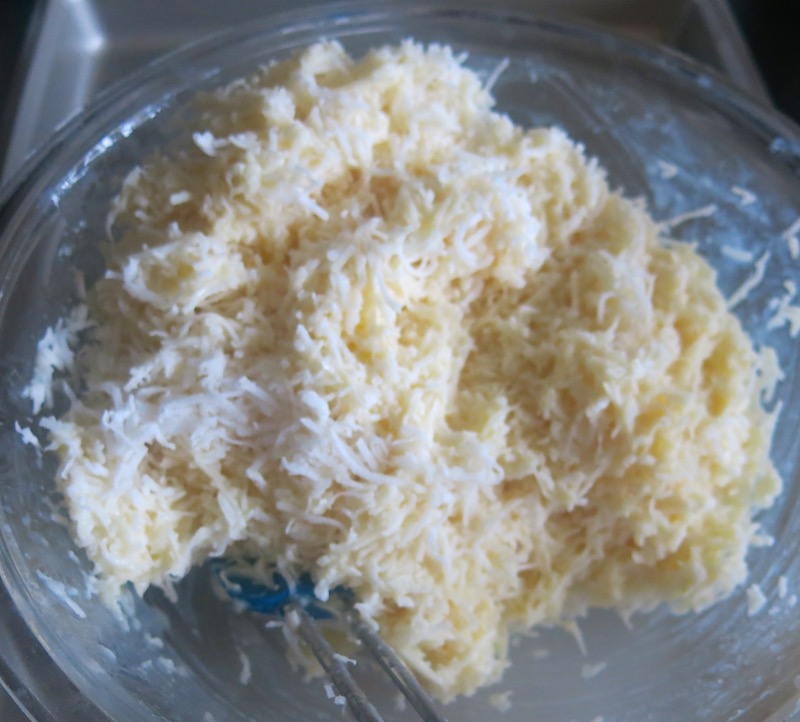 Chocolate Bottomed Coconut Macaroon Cookies: Making the Macaroon Cookies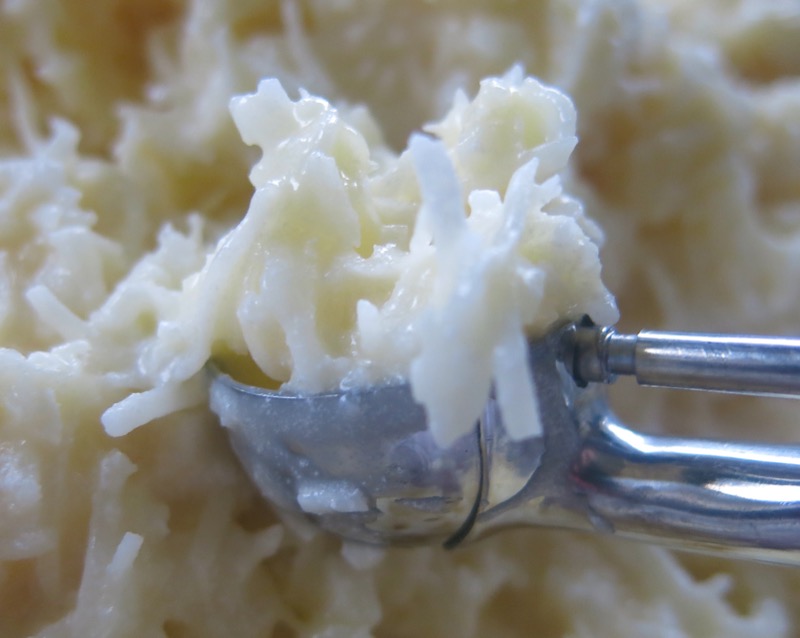 I like a very small ball as I like small miniature cookies on my Christmas Cookie platter, so use a scoop to keep size consistent.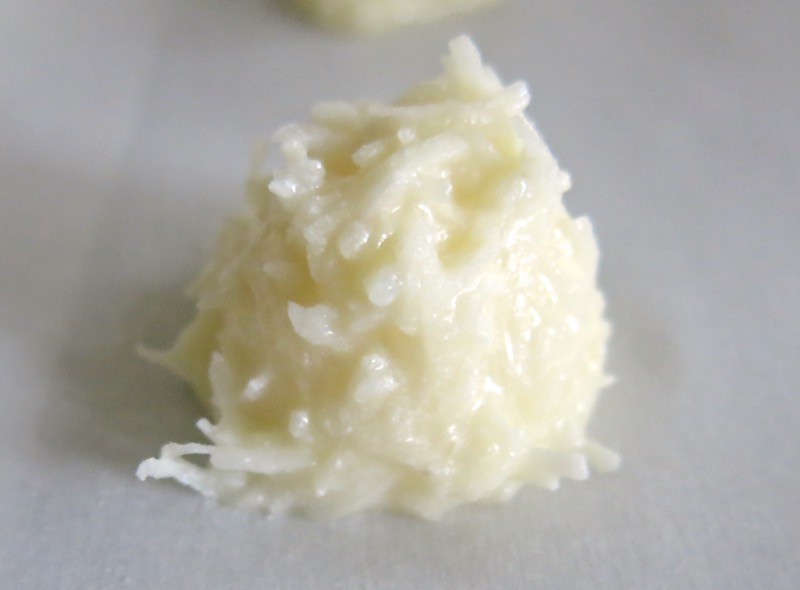 Can you see a bit of puddling happening, above. That doesn't bother a lot of people. It bothers me. I want a tidy and perky little mound, not a sloppy droopy macaroon with poor puddling posture.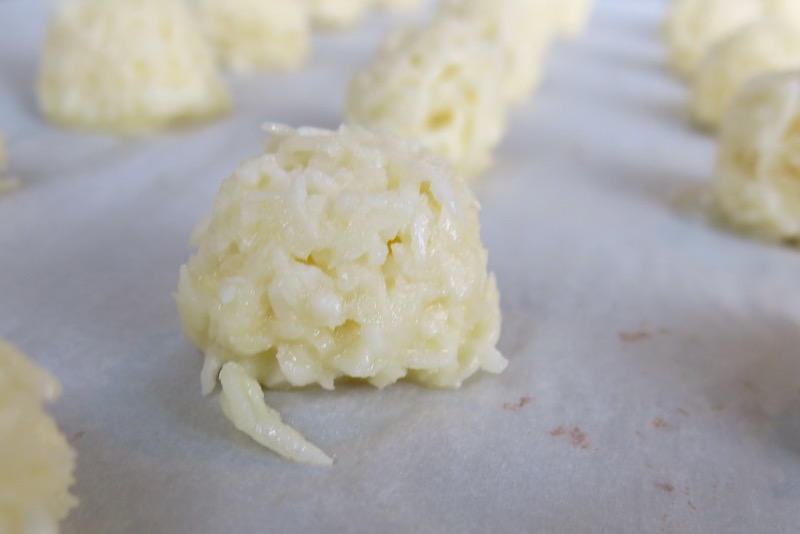 The difference is apparent between the photo above and the one above this. The puddling is gone. I let the balls sit for about an hour in the fridge, then prepared a second cookie sheet with parchment paper. I lifted each ball up, rolled it and placed it on the fresh cookie sheet, leaving the little puddle behind.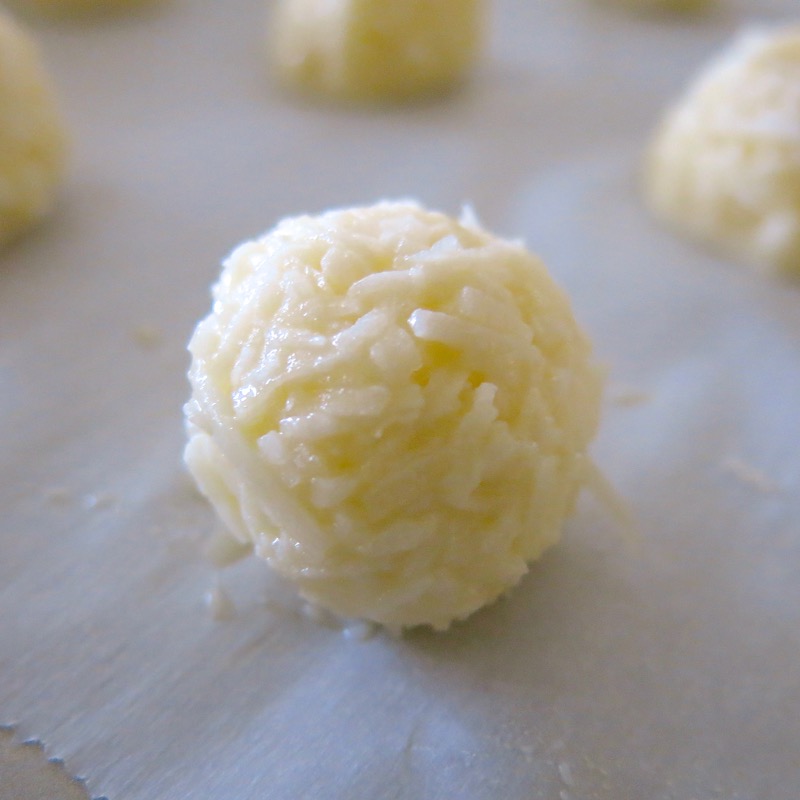 I like tidy. If messy doesn't bother you, leave out this step, but it made a big difference to me. Of course, I baked a batch or two or few to learn how to make them look how I wanted them to look.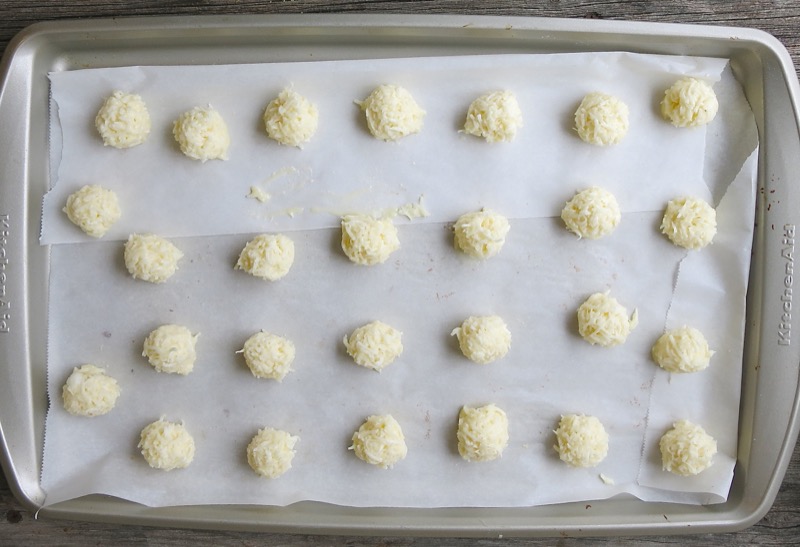 Unbaked above; baked, below. I could have baked them longer, but was going for a delicate brown. Their bottoms are very brown, I like the whiter look and they are most definitely "done".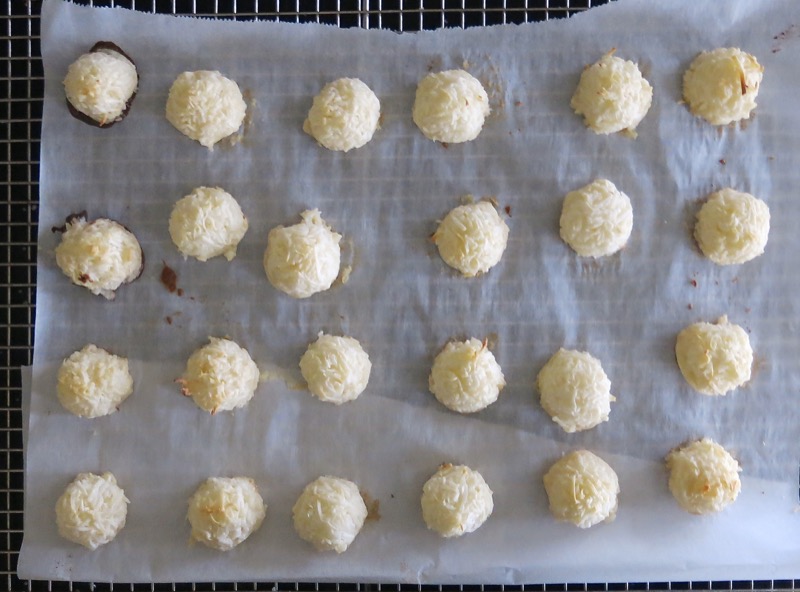 Chocolate Bottomed Coconut Macaroon Cookies: Dipping the Macaroons in Chocolate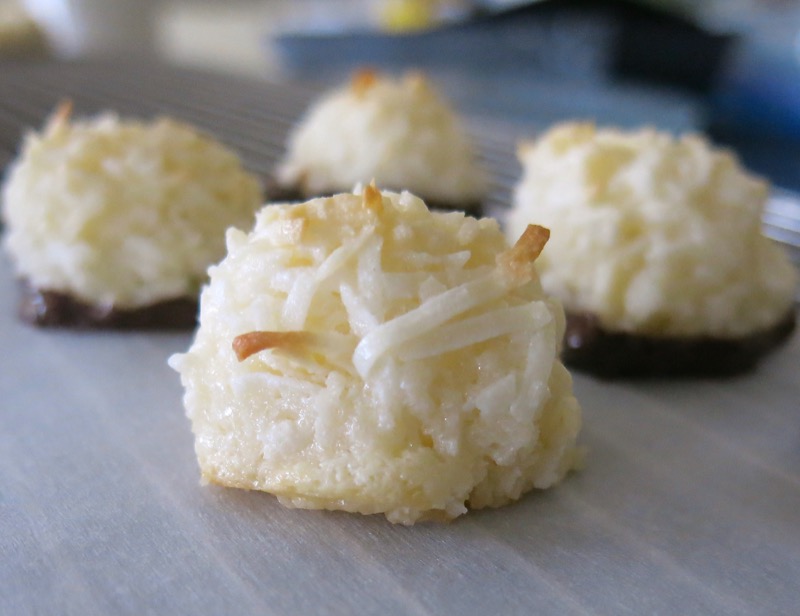 No droopy feet, or little puddle, above. Look more closely, and you may see an edge that I trimmed. Not easy to see unless you are looking. A couple will need some "tidying up" once out of the oven.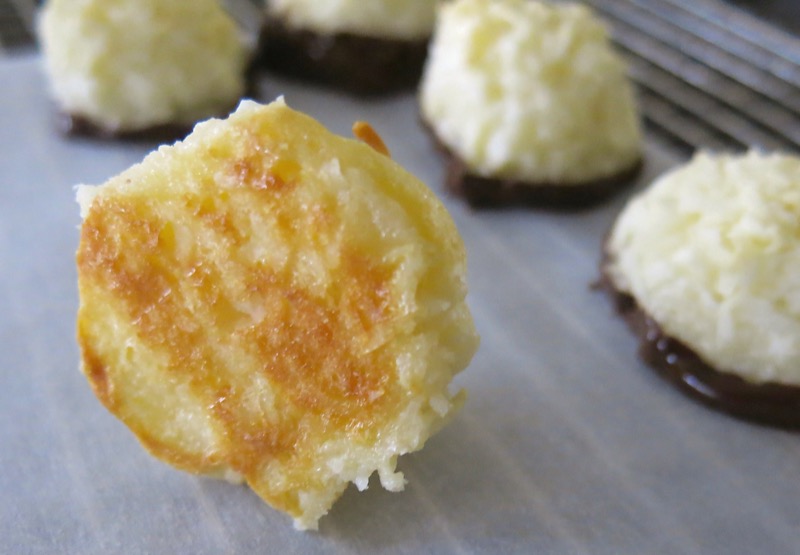 Golden bottom, and maybe the little side snip is more visible now?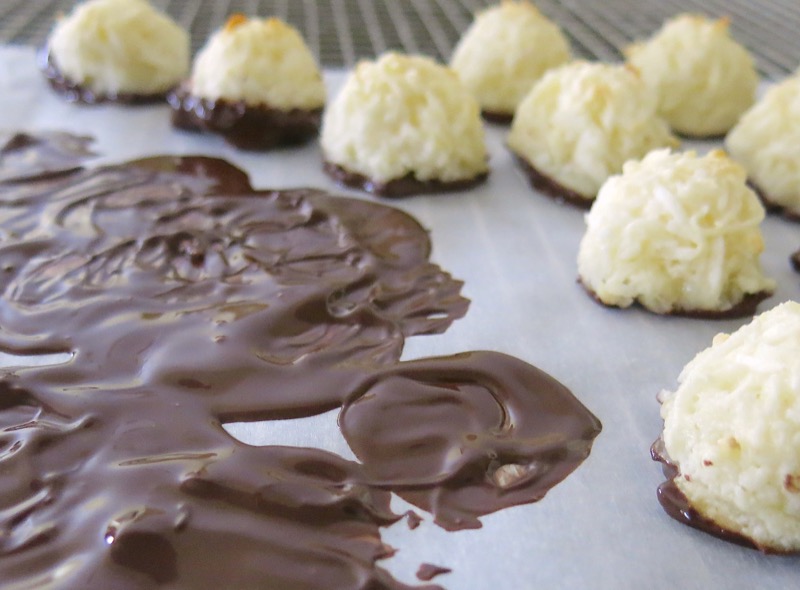 A careful dip in the melted chocolate will hide all sins and add such a lovely compliment to this chewy moist coconut macaroon. Joy! You are seeing my dabbing paper, above. There was some serious "dabbing" going on as the melted chocolate was rather warm. Best this way, as it leaves a much thinner coating. The Chocolate Bottomed Coconut Macaroon Cookies are small and delicate and need only a sliver of chocolate. The idea is to partner with the coconut, not overpower it, thus the dabbing. Onto the parchment until the dripping stops and the chocolate foot will not puddle. Then, over to a fresh spot on the cookie sheet to set.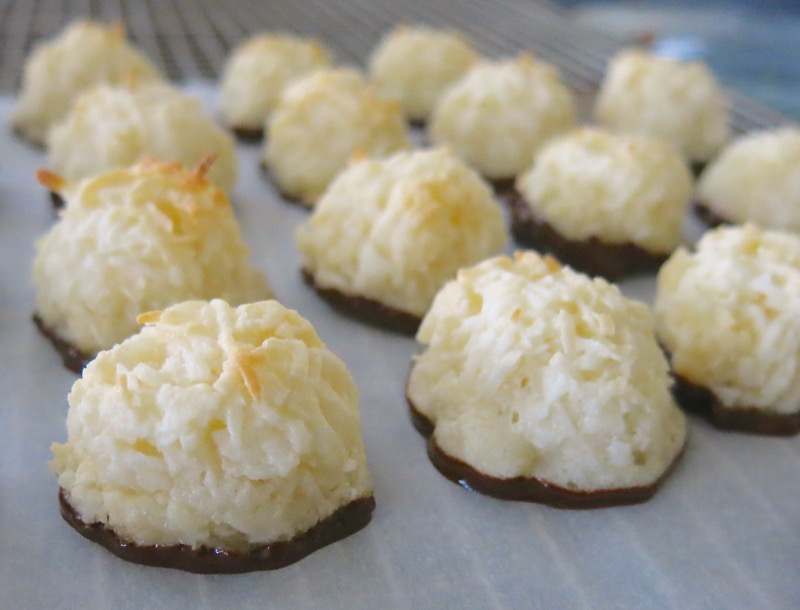 My first couple were a little high and thick, but the learning curve is minimal.
Chocolate Bottomed Coconut Macaroon Cookies: Preparing for Storage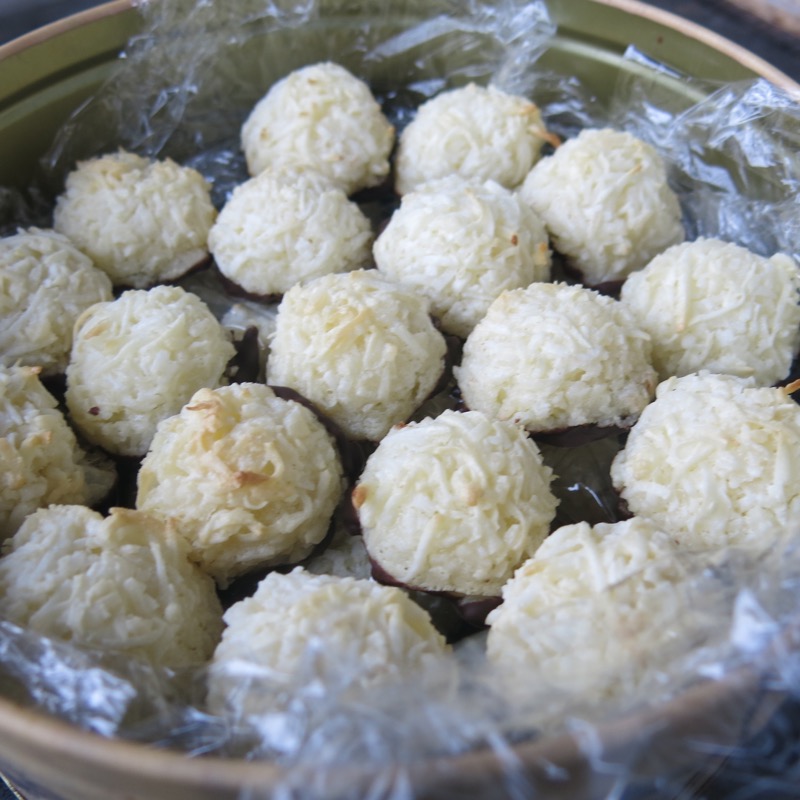 Once chocolate is cool, and lifts off the parchment, I place the Chocolate Bottomed Coconut Macaroon Cookies in storage containers in layers with plastic wrap between each layer, seal tightly, and freeze until ready to serve. I cannot wait to get these on the platter beside my rum balls. I think the partnership will live a long and flavourful life on our family Christmas Cookie platter! Moreover, I will think of dad every time. His twinkling green eyes. His love for good food and his excitement every Christmas morning.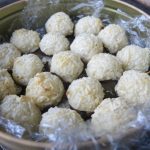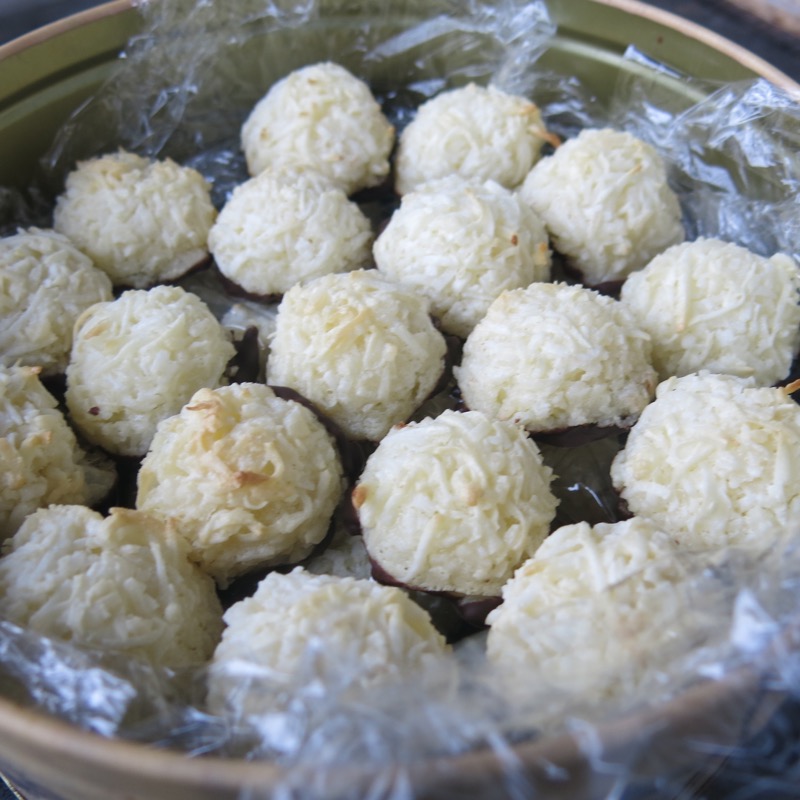 Chocolate Bottomed Coconut Macaroon Cookies aka Tu-Ra-Lu-Ra-Lu-Ra's


Chocolate Bottomed Coconut Macaroon Cookies: an ode to my father and a lovely addition to the Christmas Cookie Platter. Chewy little gluten free snowballs!
Ingredients
Ingredients for the Macaroons:
10

ounces

or 550 grams sweetened flaked coconut

10

ounces

or 285 grams sweetened condensed milk

1

teaspoon

pure vanilla extract

2

large egg whites

, room temperature

1/4

teaspoon

salt
Ingredients for the Chocolate Bottoms:
4

ounces

or 115 grams of excellent quality dark chocolate
Instructions
Preheat the oven to 325 degrees F

Combine coconut, condensed milk and vanilla in large bowl

Whip egg whites and salt on high speed in bowl of electric mixer fitted with whisk attachment until peaks form (not soft, not stiff, but medium peaks)

Carefully fold egg whites into coconut mixture; drop batter onto sheet pans lined with parchment paper using small 1 inch diameter ice cream scoop

Alternatively, chill batter, scoop dough and roll into small balls; refrigerate for 15-30 minutes on cookie sheet prior to baking for best shape (no slumping unwanted puddle at the base)

Bake until golden (about 12-13 minutes for this size); cool on rack
Instructions for the Chocolate Bottoms:
Melt chocolate carefully in microwave using manufacturer's instructions; dip bottoms only into chocolate

Place on sheet of parchment paper a couple of times to expel excess chocolate; place on parchment covered cookie sheet to dry
Instructions for Storing
Store in air tight container in freezer until ready to use; layer macaroons between layers of plastic wrap
Recipe Notes
To avoid puddling around base of cookie:
- scoop dough with 1 inch ice cream scoop or melon baller; place on parchment covered cookie sheet and refrigerate for an hour
-excess liquid will pool at bottom of each ball; roll by hand, leaving puddle on cookie sheet and replace parchment paper before baking