Lunch, Bubble Tea and A Shopping Tour: Come shop with LeQuan and I!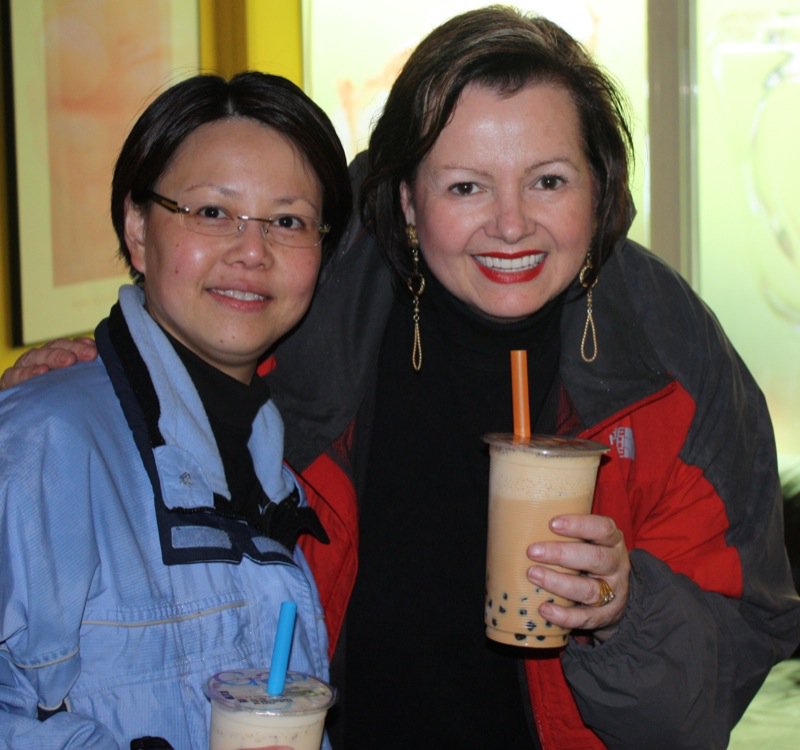 Help me understand how to use some of these ingredients and please describe their taste or flavour for me if you are familiar with them!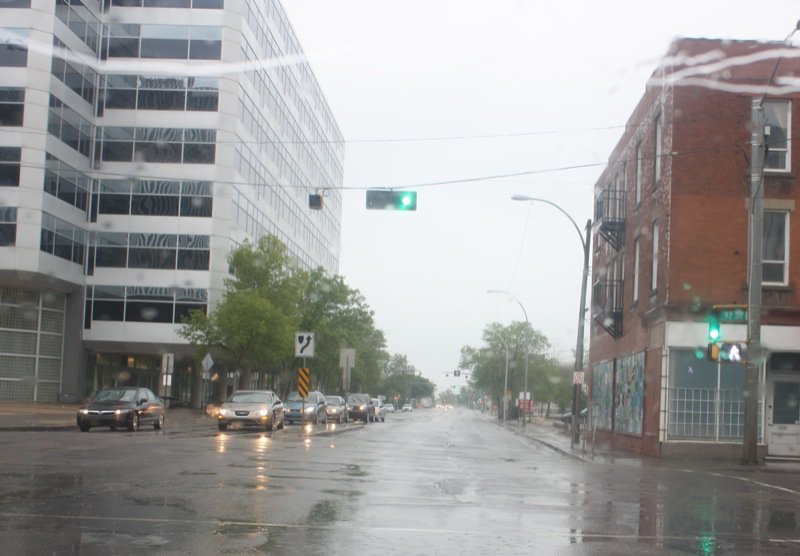 Another rainy weekend in Edmonton! The third one since we have had any sun, but I have a smile on my face because I am driving to meet LeQuan from Luvtoeat for lunch and our tour of Chinatown in our fair city. I am an avid reader of her site and immensely enjoy the up close and personal view into her family life and have learned a great deal from her Asian cooking experiences. Through our cyber relationship, I asked her to take me shopping, and she accepted. Today is our day! Yay!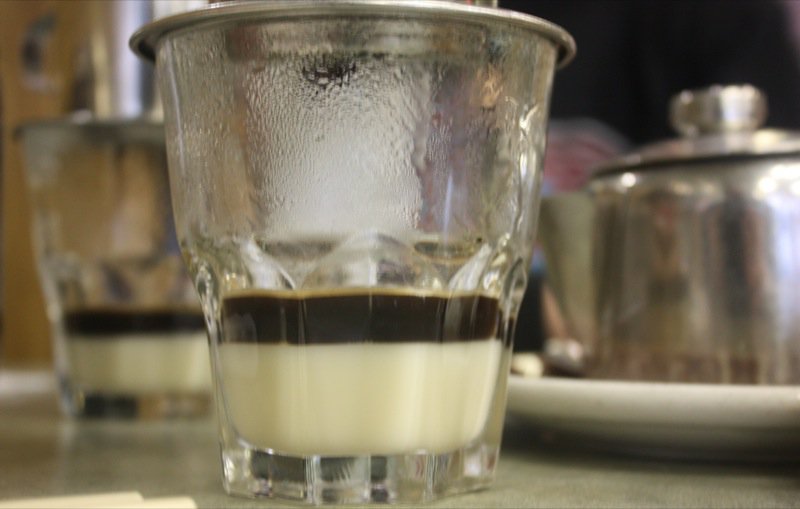 She had suggested a lunch first at a Vietnames restaurant and I was happy about that because I love Vietnames food. We met at Pagoloc. I had Beavie as my identifier and LeQuan wore her Superman shirt as she has a Superman fetish! I spotted her immediately in the back corner by the cashier. Her smile is as bright in person as on her site.
"Would you like to try a Vietnames coffee?" Would I? Absolutely! I have heard about it, but never tried it. It arrived at the table and immediately I somehow recalled it had sweetened condensed milk in the bottom of it. The filter was dripping the strong coffee onto the milk. LeQuan ordered iced, and I, hot. Hers came the same as mine, but with a glass of ice on the side. I was as excited as Beavie to see this pleasure.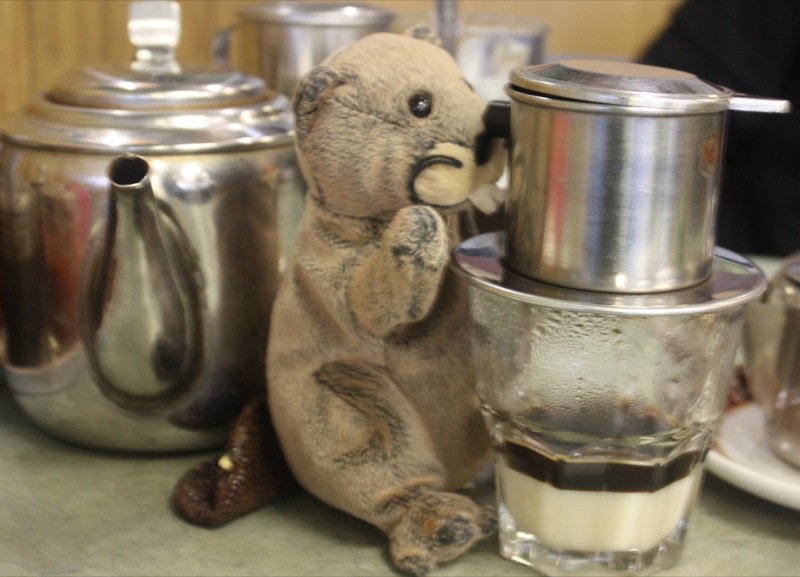 What to order? Hmmm. LeQuan was an excellent guide. She knew I wanted an adventure and a learning experience. She explained the items breifly on the menu. I am a soup person, especially here. I recalled having the most wonderful Satay Soup years ago when I worked downtown in the Curriculum Department and we could walk to some restaurants nearby on Fridays. It had been a very long time. I saw Satay soup on the menu and got excited. LeQuan also suggested a vermecelli dish. Theyare all numbered and described in detail. It woudl take a long while to get throught his menu and be a very fun place to go with a crowd to try more items. However, it isn't necessary. The food is varied enough and flavourful enough to be completely satisfied with one dish. I was!
I orderd the Satay Soup and leQuan ordered a vermecelli dish, number  . The service was incredibly fast. A beautiful fresh stem of purple basil appeared on top of bamboo shoots for my soup immediately upon ordering. I would not have known what to do with it without LeQuan to tell me. A carrot and fish sayce drssing appeared with it to dress up LeQuan's meal. Now, for a taste of the coffee.
Woops! Mine was not filtering. I wouldn't have known that, either. Maybe I "should have". It is common sense, but anything new is always a bit intimidating. LeQuan had the gal fix up my coffee and it filtered beautifully. YUM! If you have never had a Vietnames coffee, go and do it now. Absolutely delicious. Decandent though. Definitely a very rich and sweet treat. LeQuan thought I might need a little hot water to temper the strngth of my coffee, but I loved it just as it was. She mixed hers with the ice, and was enjoying it, too. It was the perfect remedy for the cold and blustery day whirling outside.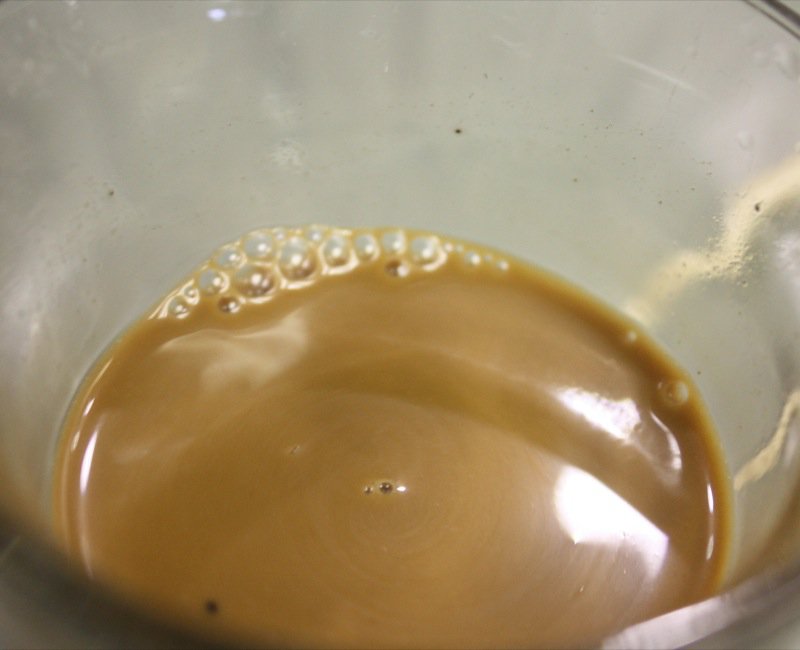 Our meals appeared so quickly, I was shocked. This little gem of a restaurant would put the fastest of the fast food restaurants to shame. Seriously. The soup was exactly as I expected it to be. LeQuan directed me to tear off the basil leaves and add them to the soup and then add the bean sprouts and mix it all in. I have always loved cold crunch with heat. There is a pasta dish that I make adding a lot of raw fresh chopped items just before serving that I need to share soon.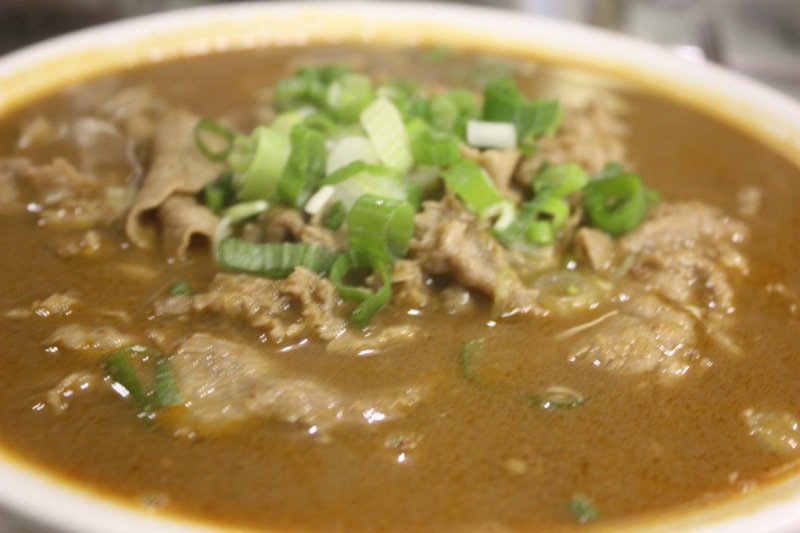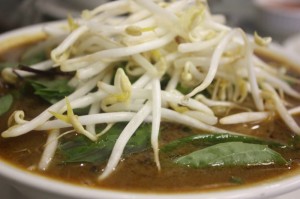 This gorgeous, healthy, flavourful and fragrant dish was mine! All mine. YUM. This was not too spicey and so satisfying. Under all of the beef, in the bottom of the bowl, lay a lot of vegetables that I would not have expected to find: little hidden treasures. All fresh and flavourful. Le Quans vermecelli bowl was huge with noodles. She ordered the Pagolac Vermicelli Combination 5A. There seemed to be a few treats on top, but it would not be enough for my meat eating man at a lunch. He would clearly have to order a different meal. It was more than enough for LeQuan. She took all of the meat off, added her carrot and fish sauce dressing, and tossed her salad. That is when I realized that there were not as many noodles as there appeared to be. Hidden under them was a fresh leafy salad that she was now tossing with her steamy noodles. What a healthy delight!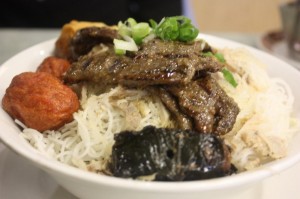 "Would you like to taste any of these items?" Actually, it had not crossed my mind, but I really would love to. The leaf wrapped around the meat was called lalop shishkabob and LeQuan was pretty sure the leaf is lalop leaf. It was a completely new flavour profile for my palate. it was SO delicious. I definitely want to learn how to make these. If anyone reading this has a recipe or knows where I could learn how to make them, please let me know. They are one of the most unusual and delectable savoury bits I have tasted in a very long while.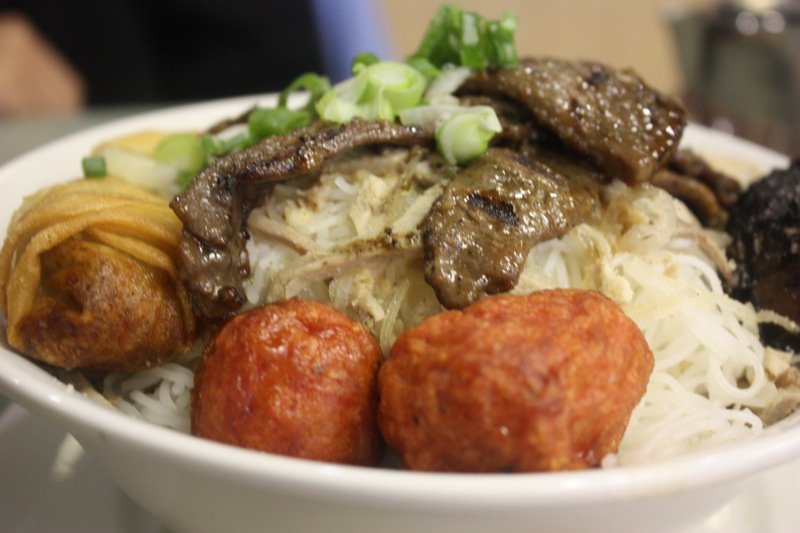 The meat was seasoned beautifully. I could have eaten heaps of it. I knew right away that Vanja would love these flavours. Most people would. I found the red meatballs "OK". They were very dense and just not that appealing to me. We later found them in the grocery store prepackaged for at home use.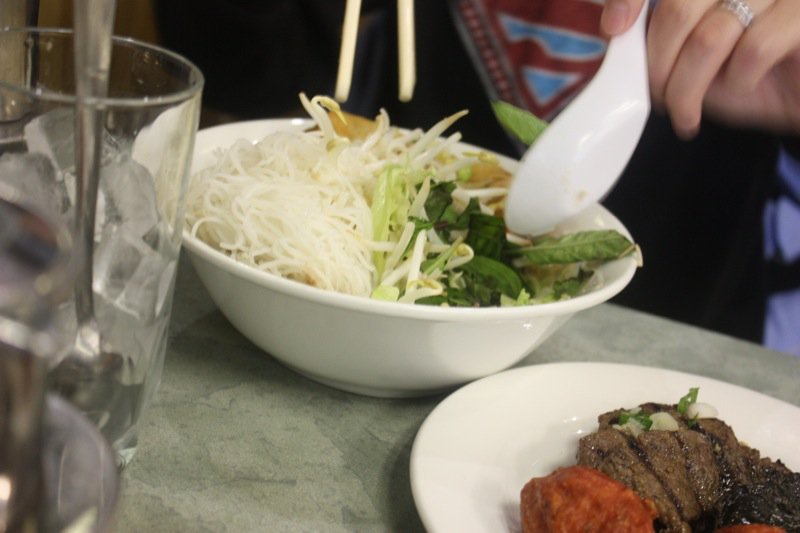 See how much salad was under the noodles?
After our meal, and a good bit of visiting, we were off in the rain for a trip throughout China town. LeQuan is going to show me her favourite finds.
We were passing by a store front  that she pointed out made really good Vietnames submarines, so I wanted to stop in for a minute. I didn't knwo there was such a thing. They used a typical bun with other very fresh fillings. This would be a fund sandwich if i worked in the area. That isn't so easy to do with leQuan. She knows a lot of people, i learned. Here, she was greeted like family. I wanted to investigate more, but another time. I took some photos of a lot of the sweet gelatin treats. I didn't feel comfortable asking too many questions here as they were busy. There was a barbeque shop inside of the same location, but they are two different businesses sharing one space.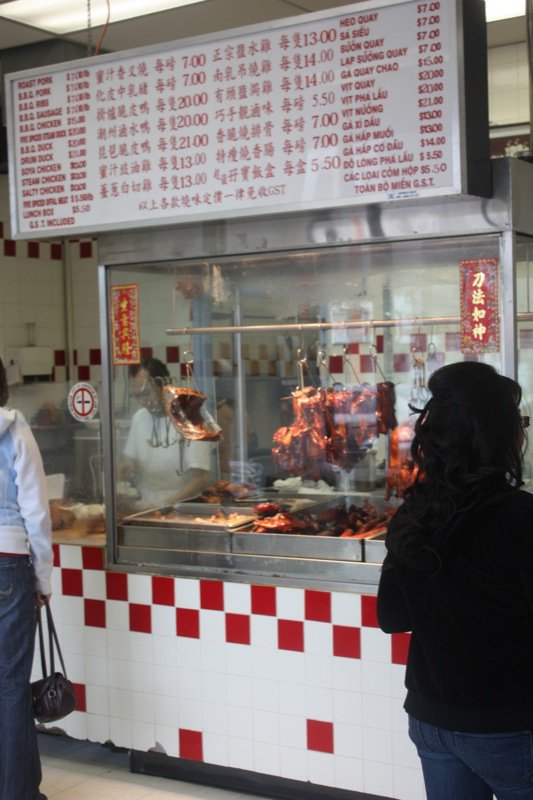 In moments we were inside of the famous and infamous Lucky 7 Chinese Supermarket.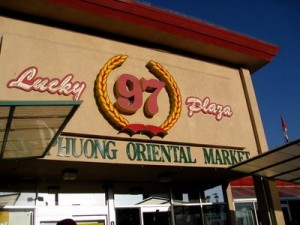 It was huge and bright and spotless and immediately I was surprised at the low prices: three bunches of green onions for ninety nine cents. I can't recall the last time I saw them at this price. And the watercress was beautiful and fresh and plump. If I knew i could get watercress like this, I would have certainly had watercress sandwiches at mom's 80th birthday tea! I bought some just because it was so gorgeous. And the kale was also jumping up at me! I have been wanting to do some cooking with kale.
The carrots were enormous, and then the Asian produce reared its head. Everything was new and foreign to me. So many interesting products: lotus root (cu sen) below. I have heard of it. Have I eaten it? I am not sure. What does it taste like?
There was one package of the most lovely water chestnuts. They are completely out of season. They are usually available right after Christmas around the Chinese New Year. If you have never peeled and eaten fresh water chestnuts, I would highly recommend trying them. They are sweet and not sparkle with crunch when fresh. Adding them to any recipe where you would normally use the canned ones brightens the flavour. There is just no comparison.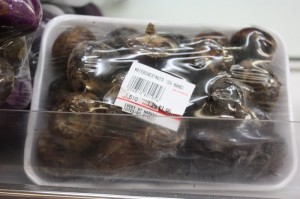 And what is this? Bap Chuoi: banana blossom. LeQuan hasn't eaten it. What does it taste like? What is it used in? It is a lovely shape.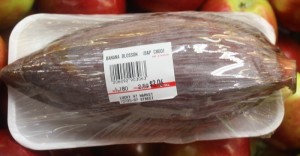 I recognized the Thai eggplant and the Asian long squash. I have not eaten either, but believe I have an understanding of their flavours and possibilities.
Baby Gai Choy: fresh and leafy and similar to bok choy in appearance, but neither of us had eaten it, or the Cho Gai Big below. Again, somewhat similar in appearance. The Bitter Leaves (Rau Dang) have a very pretty shape and the leaves look crunchy.
What is Yu Choy Sum?
I recognized the pea shoots below! They were bigger than at the farmer's markets, but still tender looking. And Jute Leaves are next . What do they taste like? What are they used for. I swear, if these weren't packed in plastic, I'd be tasting all of these leaves. I commented to LeQuan that this is a massive variety of green leafy vegetables that I have never seen and she said that there has been an influx of a host of new leaves and leafy vegetables that she isn't even familiar with appearing at this market lately.
Yam leaf and Malongai follow.
Water Celery (Can Nuoc) looked very similar to the land celery.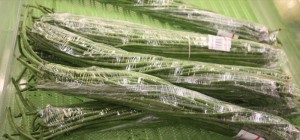 I was on familiar territory with the Chinese Long beans, and I have even eaten them. They are delicious and similar to green beans. Garlic chives follow: I grow those in my own garden. The reddish leaf is Fin Shen Choy and LeQuan said that it turns the water a bright red when it is cooked, but the leaves stay green.
Tong Ho looks like what LeQuan described to me as water spinach. I will ask her to confirm that for me when she reads this post. She told me that she prefers the flavour of water spinach. I brought home two kinds to try, but she said that this didn't look as fresh and lovely as usual, so it didn't get into the taste testing bundles. To the right is a leafy vegetable called White Ong Choy. I should tell you that if you double click on each image, you can get a great close up view. Many of these items have two names. One in Cantonese and one in Mandarin, maybe? I am not sure, as they are both written using the Latin alphabet.
Piper Samentosum is labeled as an herb (lower right), and followed by the most texturally appealing bean I have ever seen called Wings Beans Dau Rong. leQuan was not familiar with these, either.
Below, left, is shredded banana blossom. This is the inside of the banana blossom that I introduced at the onset of this grocery trek. LeQuan, nor I, have ever tasted this. An herb called Bong Thien Ly follows and the leaf looks so pretty and substantial. The texture is holds appeal through visual reference, alone. I would love to know more about it. I know that this is a reocurring theme this post, but hopefully, information will flow her from my knowledgeable friends and readers in the Blogoshere.
Little Mint is followed by Rau Hung Dui which looks like what i call English Mint. It grows proliferately in my garden at home.
Excitement! I have never seen fresh Galangal. I have used the dried form of it in a wonderful Thai Chicken Soup that my friend, Rae, used to make and shared with me. Fresh can only be better. And, next to it, similar excitement: fresh tumeric root. I did see this last year in the market at the Ferry Building
, but today, I am taking it home. I can at the very least, taste it!
The aisle with the greens is about three times as long as this photo: double-ledged.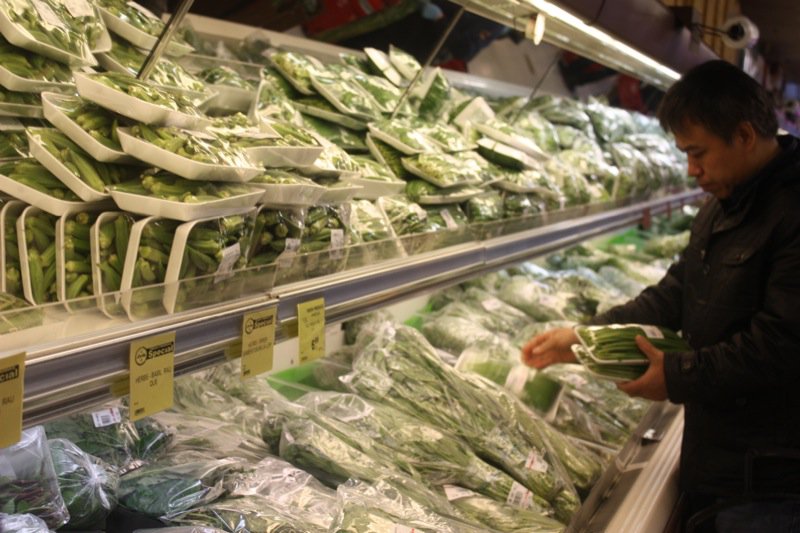 Asian Herbs in a Bag was the label on this, accompanied by Ngo Gai as a more specific identifier. Neither of us had heard of this herb, yet it appeared titled as an "all pupose" Asian herb.
The Taro Stems (Bac Ha) were incredibly porous.
The bins of shredded vegetable went into a bag for home, too. I wanted to make Vietnamese Spring Rolls! But, when I do, knowing that these are available will come in handy. The one on the left is Green Papaya, or unripened, shredded papaya. It was very gently flavourful, and crisp. A lovely crunchy texture for any salad. The carrots were tasty, too. I made a coleslaw salad with these vegetables the following day: tasty, nutritious, and easy.
Ah! Fresh sugar cane! That also went into my bag. I forgot to check for the canned ones, but they must be there, too. I use these for skewers for a Vietnamese Chicken Meat on a Stick recipe. Actually, it is the same meat mixture that I use for my meatball lollipops. I just wrap the meat around the sugar canes after slicing them into thin skewers and then deep fry them. LeQuan said that Pagoloc also serves a skewer on sugar cane with a shrimp meat mixture on it. Next time! The bean shapes below, right, are used in Chinese desserts.
The fruit section was also foreign and interesting. First, there was the Taiwan Guava, followed by the Sapodilla. When I am shopping at Superstore, or any market, and I come across a fruit or vegetable new to me, I buy just one and take it home to try. Today, there were just too many.
LeQuan got very excited when spotting the Sweet Soup Ka Dai. Her eyes lit up as she shared how much she loved it and how good it was. She helped me find the best package: soft to the touch, but not too soft, and home it came with me. While we were finding the best package, another gal spotted this fruit and was as excited as LeQuan. "Oh! I love these! They are so good! I haven't seen them for a long time!" And she was sorting through the packages herself like a child in a treasure box. The Rambutan, or Thai Lychee, as I know them, were also there looking gorgeous and fresh. My daughter, Lauren, introduced me to these after she lived in Thailand for three months a few years ago. I really do enjoy them, but not enough to seek out and buy. They are refeshing and very similar to the Chinese Lychee fruit.
I spotted the Mangosteen (Hang Coc) and asked LeQuan about it. She said that it was also delicious. Almost as good as the Sweet Soup, so I bought a package of this, too. I have heard of it, and it was definitely on my "to try" list. I was not passing it up. How was I going to get through all of these bits and bites? The Elephant mango is next, and below that is a green Kum Quat (Tac Nac). As they are called Green Kum Quats, I believe they are not going to turn orange. (Do you see me grinning?) At first, I thought they were key limes. Another "next time".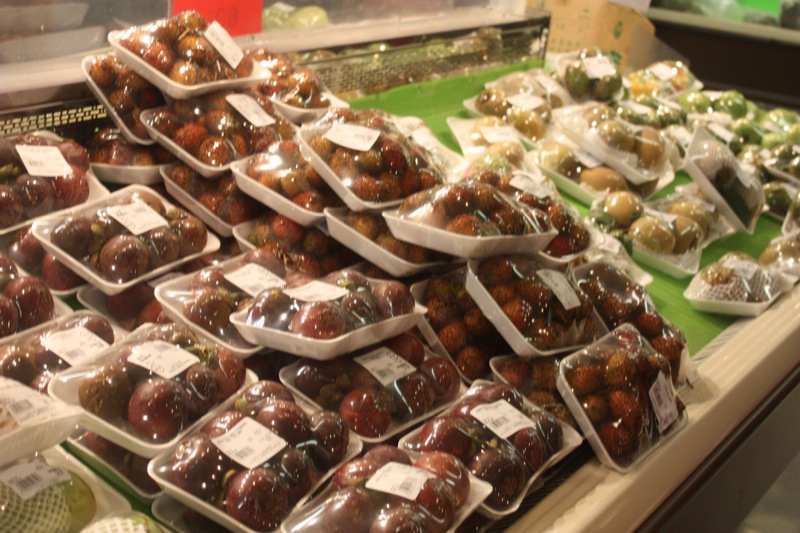 Something for Vanja? Dried deep fried pig fat. I thought he would like it. I bought him a bag. I recall buying a bag of this as a child called something like Bacon Rinds. This was not very tasty and he didn't like it. I assume it is just eaten as a snack. Bacon Rinds used to taste better than this, but probably had a lot of additives in them. The Dragon Fruit looks so beautiful. On the inside, it is white fleshed with small black seeds, but not very flavourful at all. And, very expensive.
This shopping experience has really sparked my imagination and opened my eyes. I have been introduced to more foreign green plants than ever before in my life, a large variety of foreign fruit, and now I am in the roots section and there are no carrots, potatoes, turnips, or parsnips. There is taro root, and ginger root and jicama. I have used jicama and find it to be a great root in a salad when shredded.
When I do another root vegetable roast, I will be back. I am pretty sure that these roots do not roast like the others, but I will try and I will learn.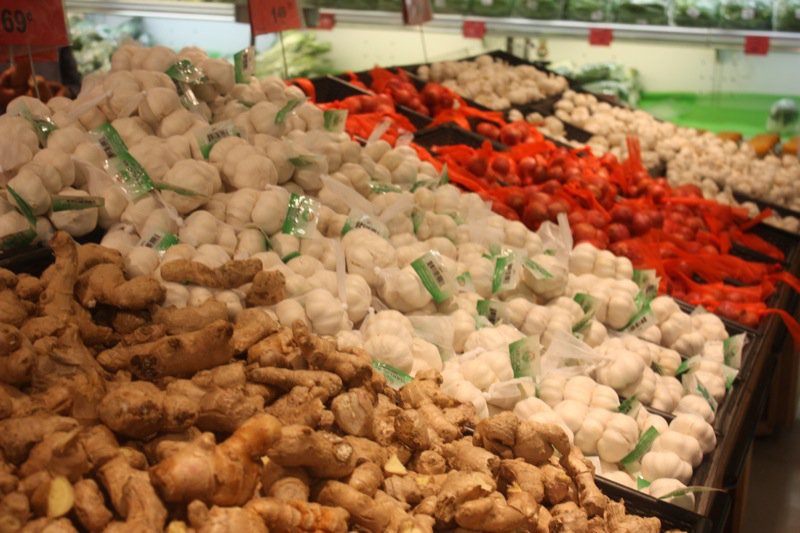 The large and stinky infamous Durian was frozen… one was bursting open. LeQuan said that they freeze it so that it won't smell up the store. It is difficult to understand how enjoyable it would be to eat durian. LeQuan said that it smells horrific and tastes heavenly. With smell so associated with taste, that is so difficult for me to understand.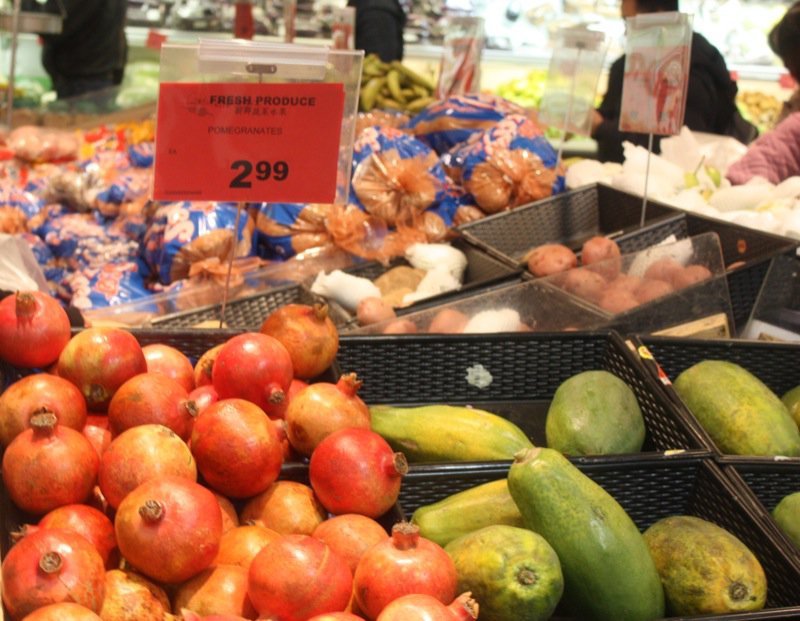 Even pomegranates out of season. Why? Are they such an important ingredient to an Asian food culture that we need to trek them half way around the world? I have been asking myself that question a lot, lately. At first, I am excited to see them, and know I have the choice to buy them here out of season. Next, and rationally, I am deeply concerned about them being here.
The freezer is full ove almost everything that I just saw fresh. That was the real surprise. There were beautiful and fresh okra; here they are vacuum packed and frozen beside the mushrooms that are vacuum packaged and frozen.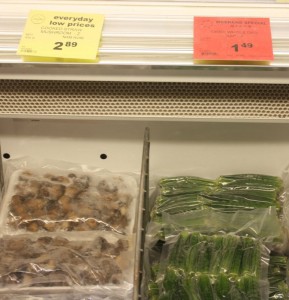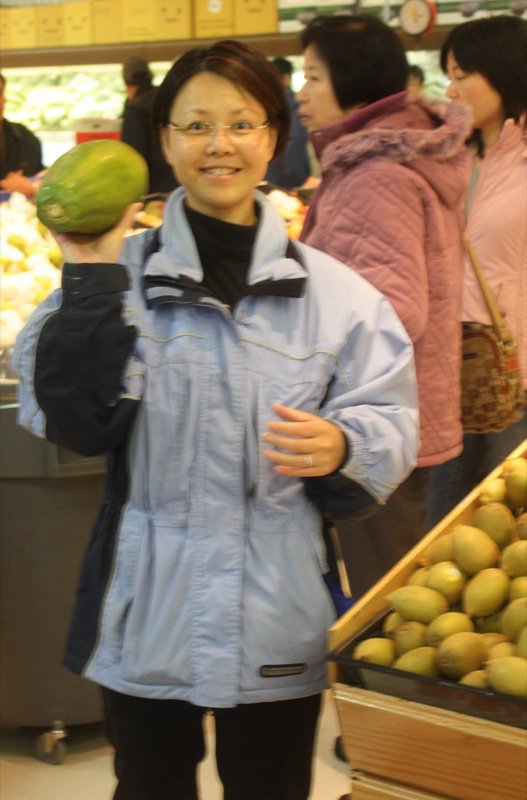 A papaya for Kayla. She loves them.
Around the corner, the frozen shrimp: all kinds and all sizes. LeQuan prefers to use the ones with the heads on as there is so much more flavour in the heads. I have never done that, but am not squeamish about that at all. I have just never used shrimp with the head on, but bought some to do it now! At the end of the aisle, there was shrimp the size of small lobsters. We were ogling at them, and then another woman was by and as enamoured with them as we were. I have never seen shrimp this big anywhere. I didn't buy the biggest ones. There were three to a box. I bought a couple of other boxes of very big ones, and cannot wait to use them. Cleaning shrimp, squid, lobster and other shell fish has been something I have done and know to do. So, that doesn't intimidate me.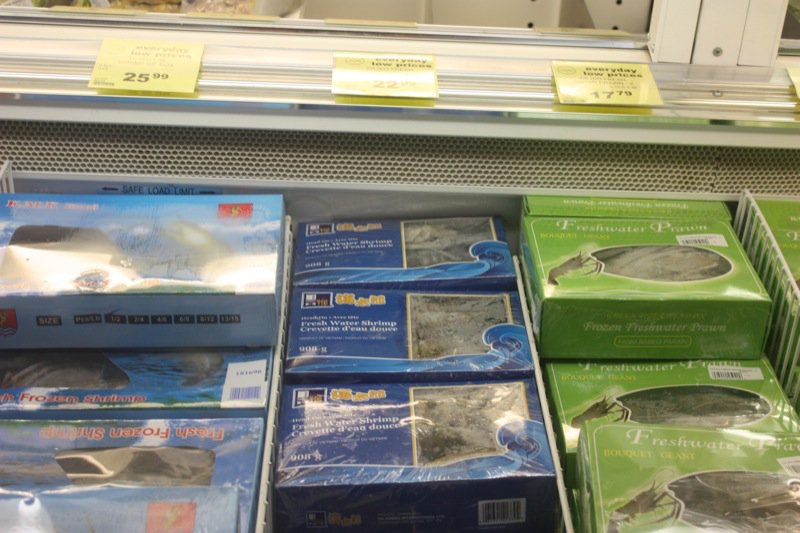 At first, I was so excited to see the fresh fish. But, upon close inspection, the eyes were not clear and bright, but glazed over and the fish was not so fresh. I was surprised by this and wondered why the fish would be so "dead" looking and still have appeal to a purchaser.
The salmon heads had bright eyes and would have made a great fish soup. I found some more fish lips! A different kind than I found at The Borough Market in London, in March. Fish lips twice in a short while is surprising! I will stick to Fin's for my fish.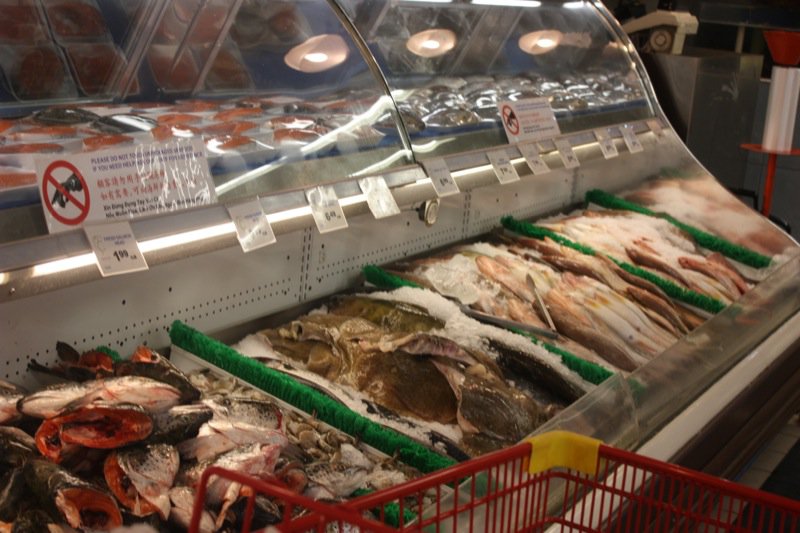 Fish tofu… every kind of tofu imaginable can be found here. Beef feet! Look! Hoof on. And below, left, chicken feet and a lamb belly. I wonder if you could compare that to a pork belly.
The short ribs and ox tail looked really fresh. $4.89 and $4.99 a pound, respectively. Considerably cheaper than any other place in town. I use short ribs for my Beouf Bourgignon and oxtail often for soup and braised stews. I'll have to write about those family specialties. I sometimes want all small oxtails, and sometimes all large ones. This has taken several trips over time to several stores in the past, so this is a great discovery for me. The photo to the right has beef shank and then beef kamcord for $3.89 a pound each. I have no idea what beef kamcord it. I barely caught them on the right side of the photo.
Tripe anyone? I have made and enjoyed tripe soup, yes I have. Not for a long time, and no desire to get back into it, but I would never turn down a bowl of "Chorba di Borta" with the special garlic sauce to go with it, should I ever be offered one. Pig ears? They were next with the pig intestines behind them. Everything looked very fresh. I was keeping my eye out for caul fat. This seemed like the perfect place to find it, but it wasn't to be found. Does anyone know where I can get caul fat in Edmonton?
Pig tails: $1.69 a pound.
Pork belly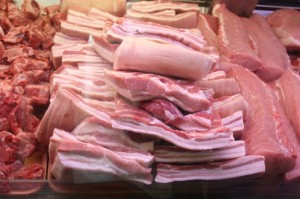 Pork feet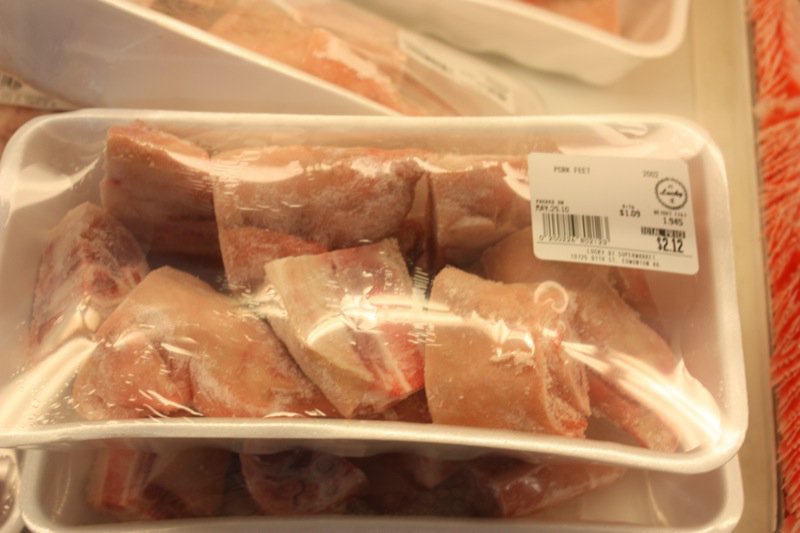 This was a very busy and well staffed meat counter. There were continuous line-ups while we were there.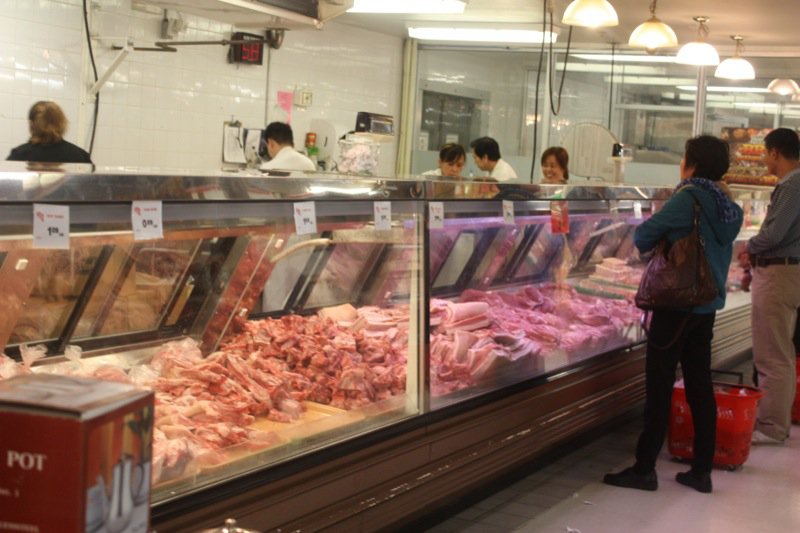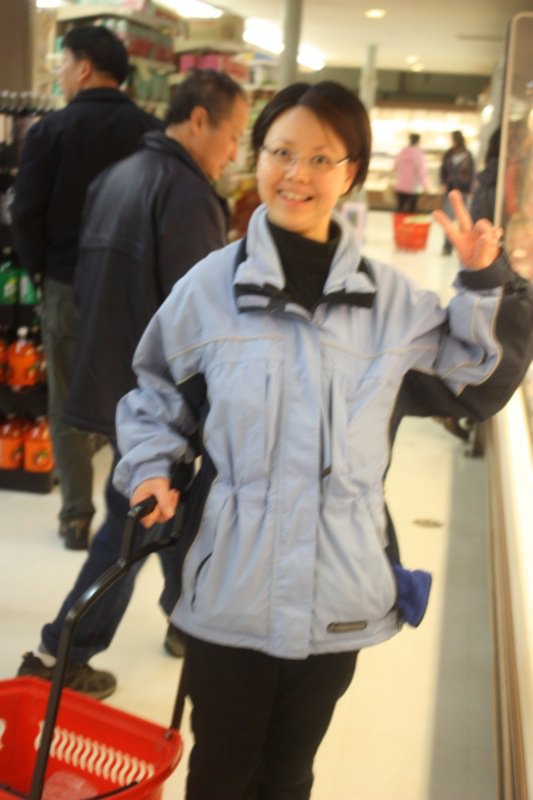 My cart is getting full and LeQuan is keeping perky and helpful and fun to be with.
Chinese Barbeque. DOUBLE YUM! I am crazy over the Chinese BBQ pork very thinly sliced, and the duck: heaven. But, as everything, it depends on the chef. LeQuan finds the best BBQ inside of this store. I bought Vanja some of the ribs. He did enjoy them, but as a pig man was disappointed in the age and size of the pig. He said it was clearly a very big pig, and he prefers the little fellows. The skin was done to perfection, he said. I also bought 1/2 a duck for his supper and he did enjoy it, but there was a lot left over that I sliced thinly for another meal. It is important to note that when you buy the BBQ here, you pay here, and cash. When I went back to get my stash, it had already been sold to someone else. It didn't take me long for them to get together another parcel. I noticed that a few young non-Asian couples were lining up to buy the in house made white long sausage. Everything looked tasty – and fatty.
The ribs are above to the left. The liver, above to the right. It was definitely liver from a big animal. The Asian Delicatessen followed with a host of dishes that were varied. The braised eggs with pork belly looked interesting.The fish in vegetables was gorgeous. All followed by the pasty bean and rice sweets.
I do not know what Vietnamese Sour Nem is. Do you? Below, left, is Vietnamese sausage wrapped in leaves, and beside them, the red meatballs that LeQuan had with her lunch.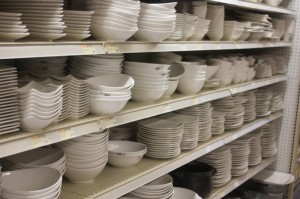 These white dishes are almost as pretty and definitely as cheap as I can buy at the Alberta Gift Show and half of the price of the white dishes at Winners. Definitely THE place to buy white dishes. But, I have all I need….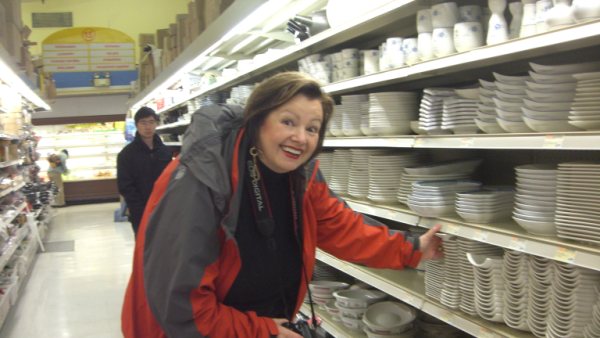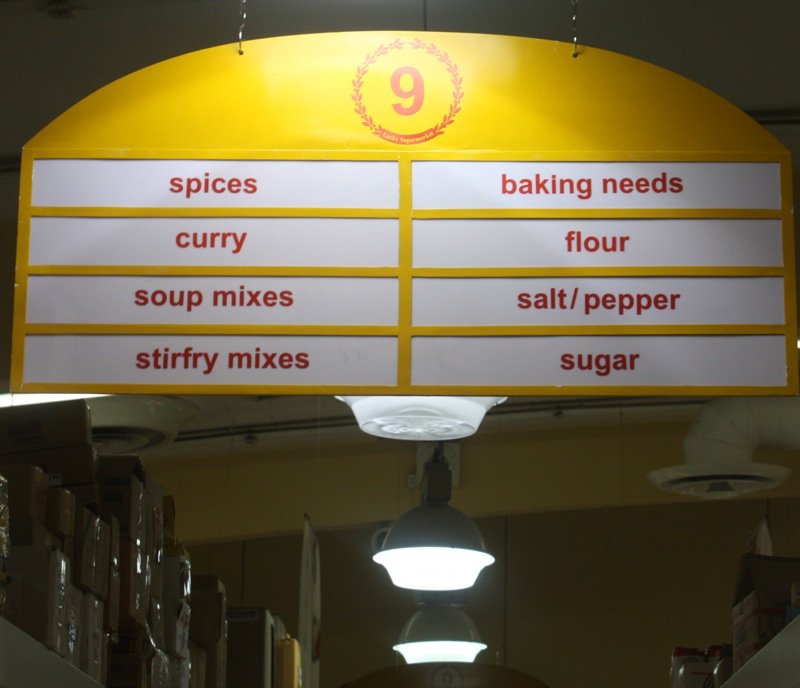 Abalone Sauce: LeQuan pointed this out and says she uses it in her stir-fry dishes now and then. In my cart it went. Abalone is an endangered species. That I know.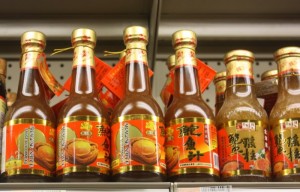 LeQuan noticed the price difference int he Oyster Sauces below. The far left one is over $4.00 and the Panda brand one is almost half of that. The ingredients on the side of the jar were telling. The first listed Oysters as the first ingredient: the Panda Brand listed sugar.
Look! Palm sugar! I wish I recalled the recipe I was searching all over the city for this sugar for last year. I went everywhere and could not find it. I refused to order it on line. I do not recall the recipe at all. Only that I really wanted to make it, but could not find the sugar. I bought one of each kind. I might remember the recipe!
The store also has a full working bakery in it that produces really great looking Italian like bread and buns.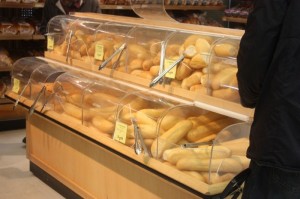 Annatto Seed! Taste of Beirut just listed this as an ingredient in her summer soup Gazpacho recipe. I had never heard of it. She called in Annotto pepper, but it must be the same thing: in my cart it went.
As we turned the corner, there was a huge bin of Monosodium Glutamate called: Umami Seasoning. I laughed out loud.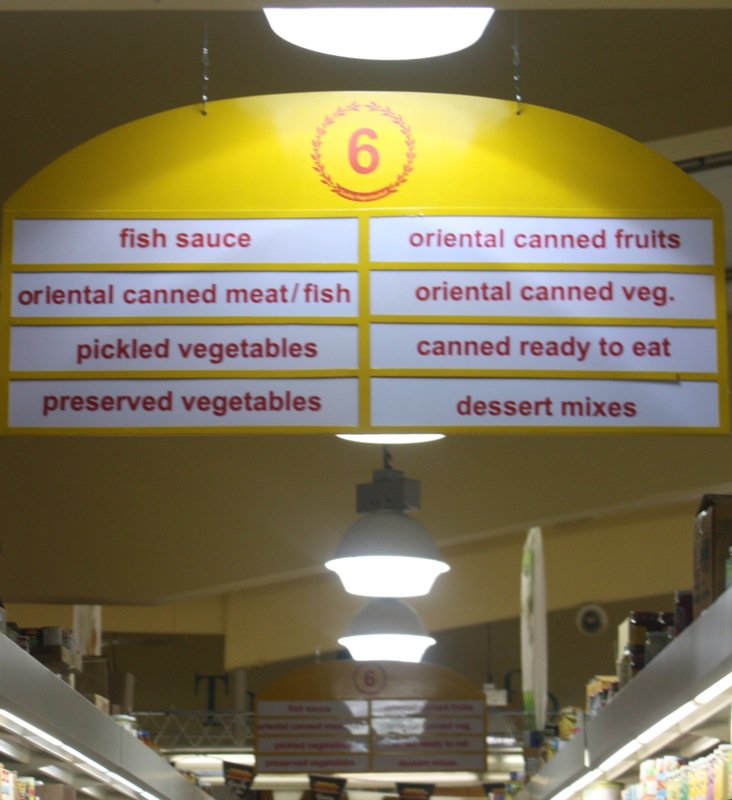 Pickles in plastic bags.

The banana flower in a can, and below, fermented black beans. I really appreciated LeQuan pointing these out as I used them years ago with a friend who was teaching me how to cook some authentic Asian food. I know they last forever, I love the taste, and I can use them in a variety of recipes.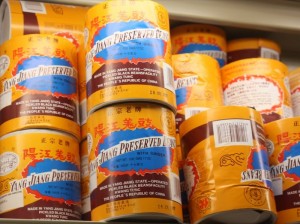 Everything that was fresh and frozen is also pickled, and more.
LeQuan said that the lemon (above, right) is used to soothe sore throats buy adding it to warm water and drinking it.
Does anyone know the difference between the two rice flours below. LeQuan and I both use the red one. The green one identifies itself as a "glutenous" rice flour. What does that mean and how would the consistency or use of it differ from the red one?
I use the fish sauce on the left; LeQuan does sometimes, but says the one on the right has a greater depth of flavour, and is definitely her fish sauce of choice. I love using fish sauce. It smells terrible, but adds tremendous value to dressings, sauces, and specific dishes.
I have never seen the rice paper preparation layers before. They sell for $10 dollars and make it possible to prepare 10 papers at once, separated between these plastic discs. I have not made rice paper salad rolls in ages. Every one loves them. I will have to get on this. LeQuan uses the rice papers with the rose or the ones with the elephant on the front of the package.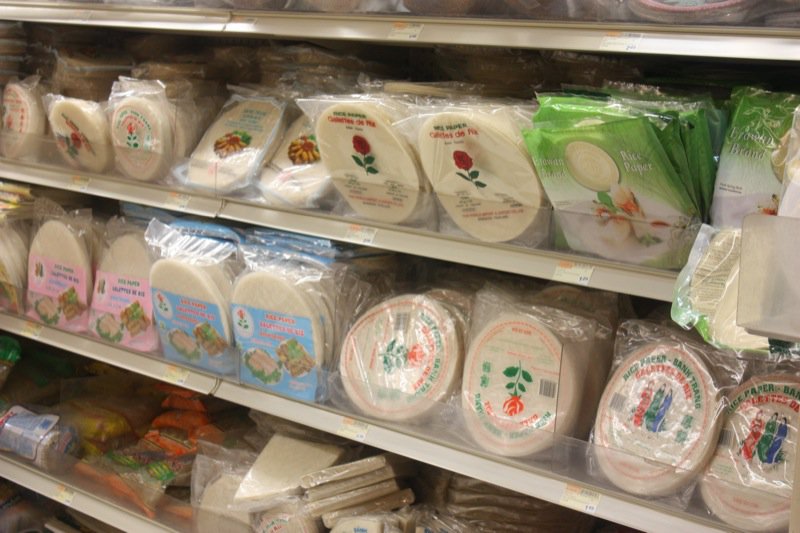 Dried beef and dried shredded carrot.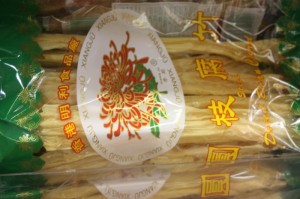 This Dried Bean Curd (above) is deep fried and is used in a special meal that LeQuan's mom makes. I don't think I have ever eaten it, but I have seen it in many stores and been very curious about it.
Dried shredded turnip, papaya, carrots, lily flowers… everything fresh and shredded is here dried and shredded. The dried Chinese Chestnuts below look really good. I wonder how they compare to the ones I buy at the Italian Centre Shop to use in my Porcini Mushroom Soup?
Bubble Tea! Tapioca! All kinds, all shapes, all colours! I have never seen anything like this. I couldn't resist buying a bag of colourful large tapioca for my students to play with back in our kitchen lab at school. You can buy instant Bubble Tea kits here, and the giant straws to pull up the giant tapioca pearls through. This would be a great lesson for my grade 9 Foods class. Once I learn more about it, I have no doubt I will be back to stock up for school so I can teach my students how to make their own Bubble Tea! I need to learn about the nutritive value!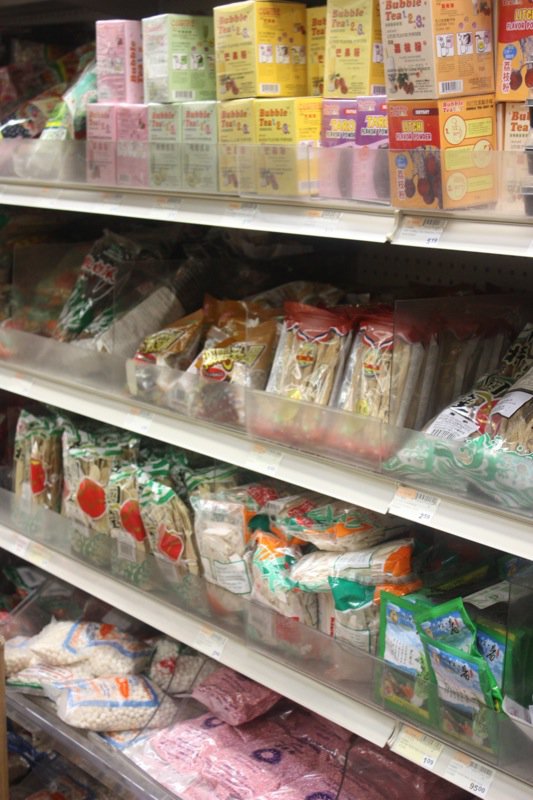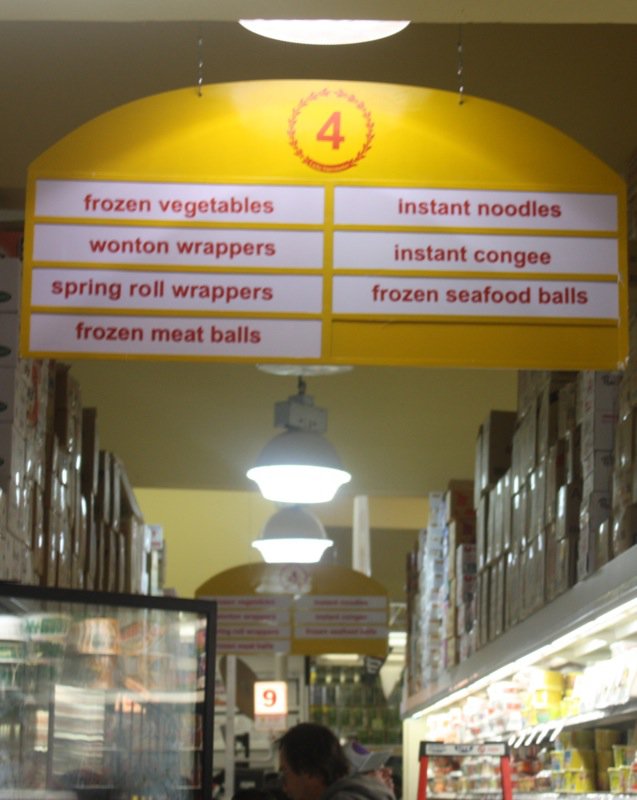 Now I know where I can find packaged spring rolls! When Lauren, my daughter, lived in Thailand, she took a cooking class and came home and taught it to me. It was not easy to find these. And frozen onion cakes? Who knew? They are not even deep fried (thought I know they are made like puff pastry, but rolled between layers of lard). A package went into my cart. Kayla likes them, too – so they must be good.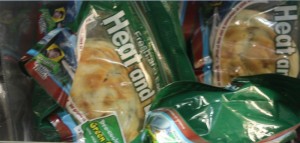 What is this seed? What flavour does it resemble?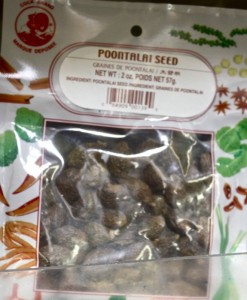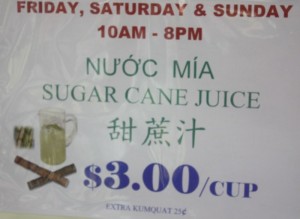 I wanted to buy a cup, just to taste, but forgot as I rushed back to get my BBQ. Darn! "Take a picture of your bill!" Great idea! A pricey little fieldtrip, but I got a whole pile of great groceries for $104.22! I was thrilled.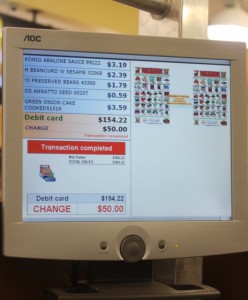 Out into the blustery day, laden with bags, we trudged toward our cars, stopping at a little bakery on the way for a peek. Once the bags were out of the way, LeQuan took me to a Chinese Pharmacy to pick up some dried scallops. I had just read her last post and she had created a very unusual, to me, recipe with dried scallops that sounded really delicious: Conpoy and Dried Mushroom Sauce on a Bed of Spinach. The store was mildly reminiscent of my day in Chinatown in San Francisco last August. There is really nothing like Chinatown in San Fransisco. It is the largest one outside of China and though I had a full day there while Vanja and Lauren went to a ball game, I really needed a guide. It was crowded and so interesting, yet so many of my curiosities went unanswered. This little place had great apothecary jars filled with all sorts of goodies, too. The dried scallops were lined up as we came in from smallest to largest ranging from $40 dollars a pound to $65 dollars a pound. I bought a half a pound of the mid-range sized at LeQuan's suggestion. The camera battery was dead, so no photos in this store, but very interesting items to see for making soups and brews of all kinds.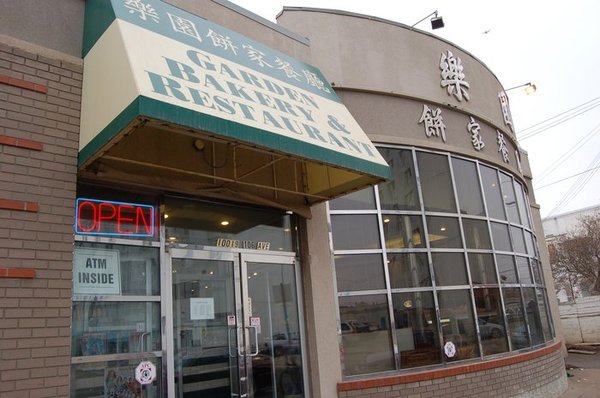 Ah! Now to the bakery. Is LeQuan not the sweetest and most amazing guide? I would definitely say this was a first class tour, second to none. I had no idea there was such an incredible bakery here. The items were absolutely gorgeous to see. I went to take one, not watching others first. Woops! The protocol is a tray with tongs.
Coconut buns, bean curd cakes, and even Swiss Rolls!
The egg tart is famous here and a specialty item that everyone flocks to this Bakery for. It was really delicious, but not at all sweet. So, a perfect flaky light crust and lovely creamy filling, but needed sugar for me. Then, it woudl have been a top notch French tart, instead of an Asian one, I guess.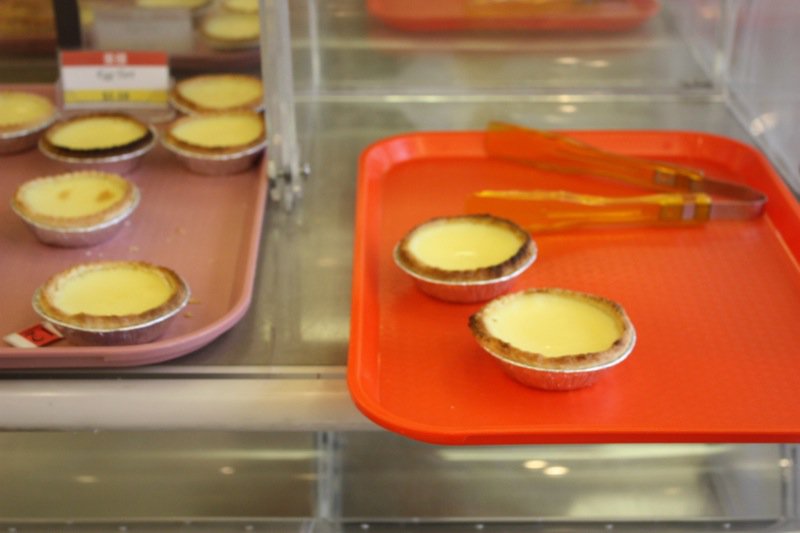 So interesting to see creative Asian fillings with puffed pastry.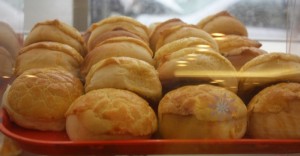 The more traditional pastries, breads, cookies, biscuits, and steamed cakes were all here.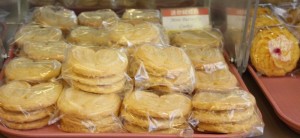 I was surprised to see the Palmiers, above. They are as French as French can be. Vanja is a coconut fan, so I bought him some treats.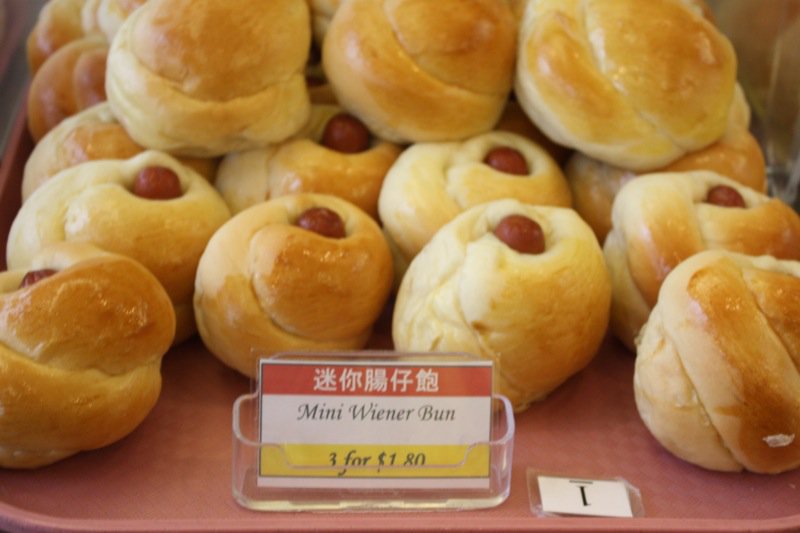 But no piggy for him, today. ALl pastries and filled buns were three for $1.60 which I thought was incredibly reasonable compared to other bakeries of this calibre.
LeQuan recommended the taro filled bun, above, left. Everything from this bakery was superb. The taro flavour was interesting. Not delicious to me in this bun, but I liked it.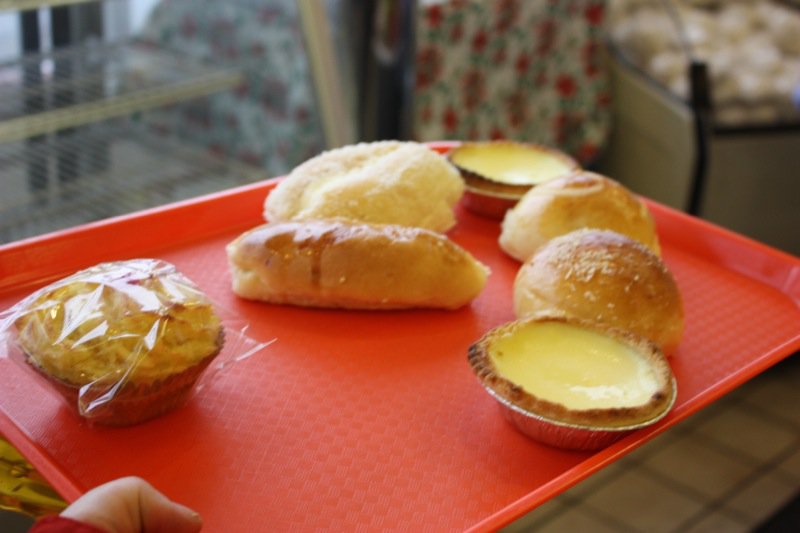 My picks.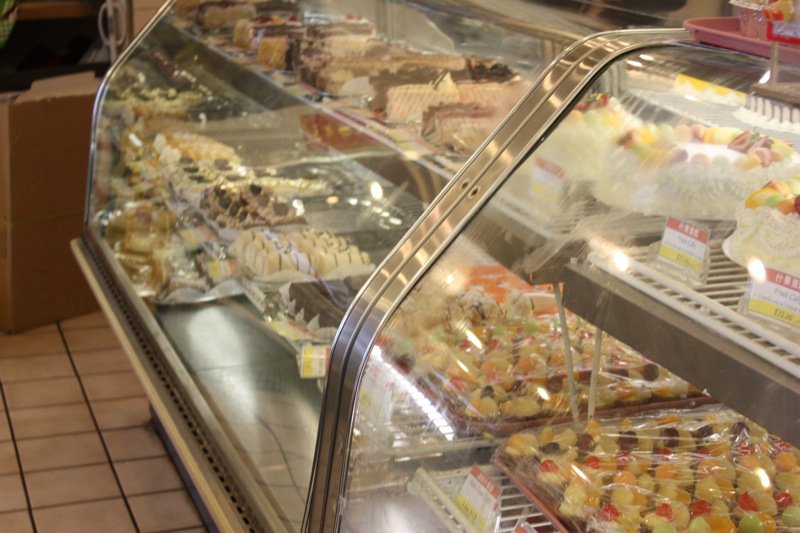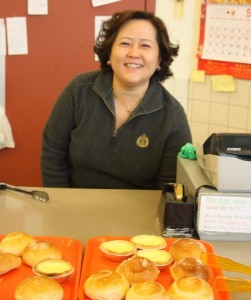 And the friendly service was also second to none. A really fun little stop and the perfect compliment to my other packages for home. Now, for our Bubble Tea: my first!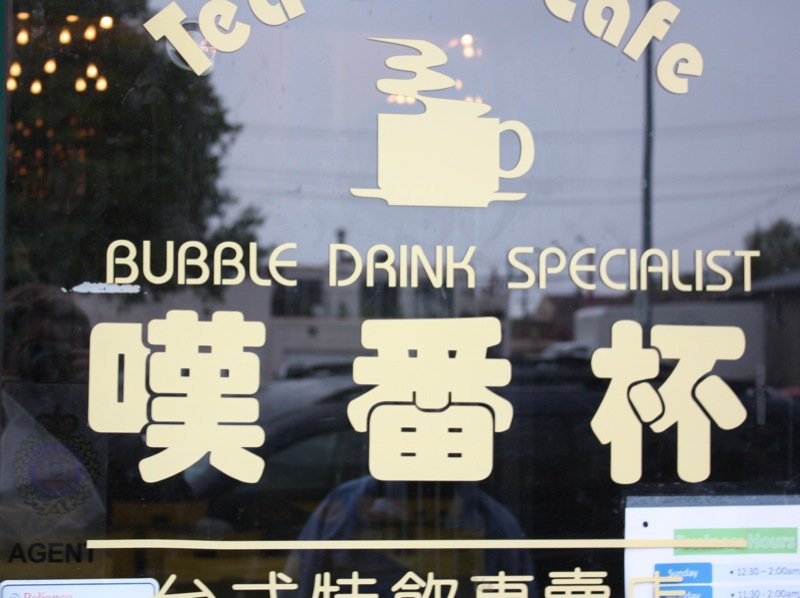 LeQuan knew right where to go. The store was bright and cheery and empty. It has been in this location for 10 years. I learned that Bubble Tea is a fairly new invention as it was introduced about 20 years ago in Thailand. I had a traditional, plain Bubble Tea with the dark tapioca pearls in it. It had English Rose Tea in it with some milk and the pearls. It was a little bit sweet with a very unusual texture and a really fun drink. LeQuan ordered a Durian flavoured tea with coconut jelly bits in hers instead of the starchy tapioca. Nice to know about the choices. Hers tasted like a thick smoothie, to me, and mine was more like a tea. I could not detect any durian flavour (not that I would be able to identify it) but, nor could she. It was just a sweet milky smoothie.
We sipped, and sat, and savoured out day. It was a very special experience for me. Meeting LeQuan through our food writing in this way for this kind of intimate sharing was definitely a twenty first century experience. I have found a friend who will hold my hand and guide me through my learning curve in my quest to conquer aspects of this cuisine. What a blessing. Big hug.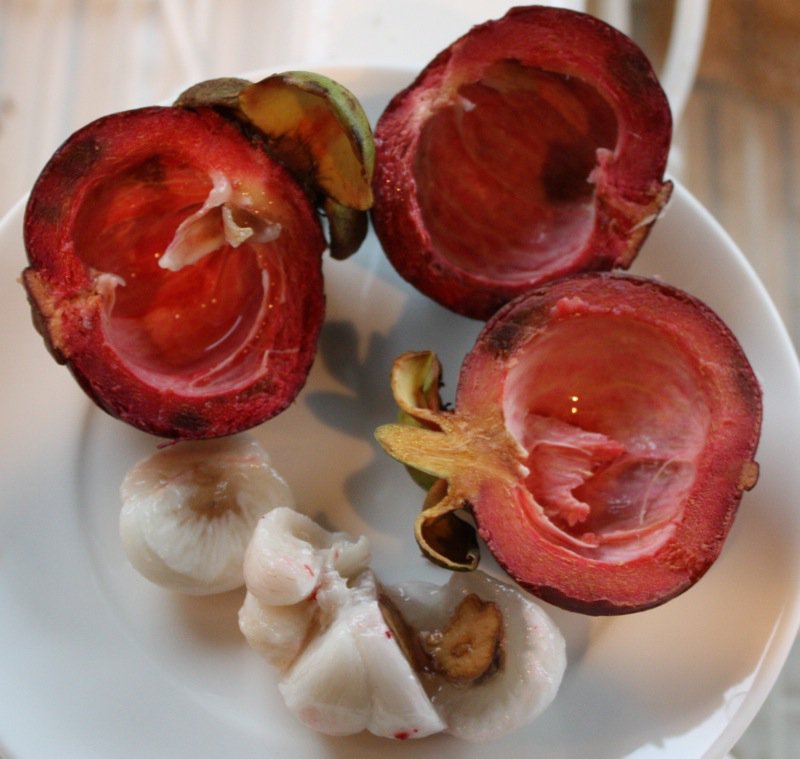 And the mangosteen was barely out of the car before I was washing it and tasting it. It is so beautiful. The white flesh around the black seed is the edible part. This flavour was exciting and unique and completely new to me. I did try (go ahead, laugh) the brilliant flesh inside of the skin as It looked like it must be edible. No. It was dry and puckery like a choke cherry or unripened persimmon. What a shame as it is so gorgeous.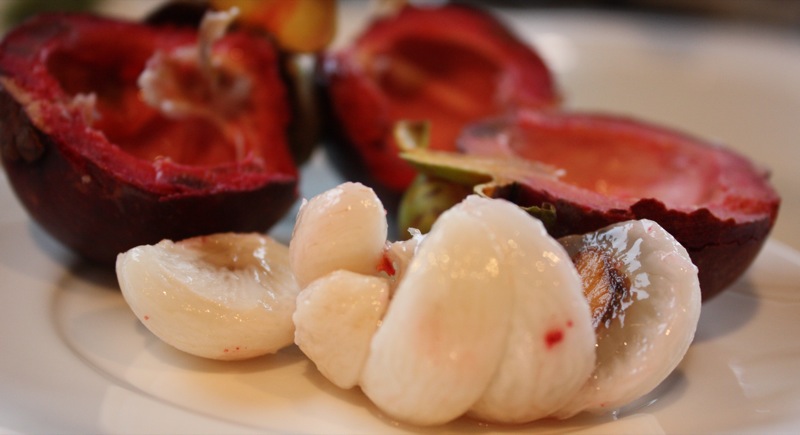 The sweet soup fruit was next. The pineapple looking skin pulled easily away from the white flesh surrounded by countless large black seed. A labour intensive feast. This was also tasty, but very subtle in flavour to me, and not as bright or delightfully different as the mangosteen. The flesh was very filling. That was surprising. There was not much of it, once the seeds were expelled, yet it was a filling fruit.
Vanja's duck and ribs with a pork beef bun was the perfect celebratory meal for him at the end of my busy afternoon. He enjoyed it, but wasn't thrilled with my savoury finds. The taro filled bun is pictured below. He was thrilled with the Bakery choices I had made. Especially the puffy coconut filled bun. That brought a surprised smile to his lips.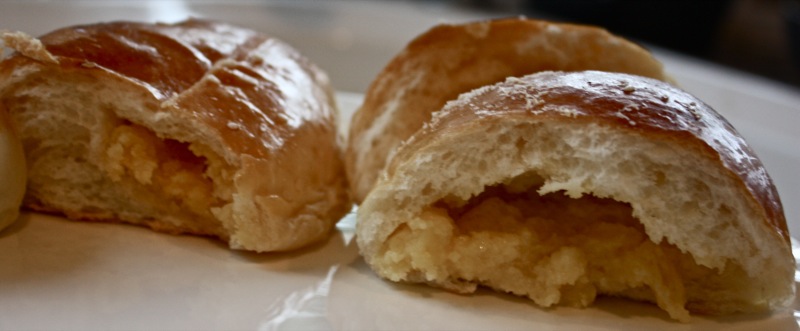 Beavie was long gone. Sleeping in my pocket for hours. If you are still reading, you deserve a medal. This post will serve as a huge reference to me for my future Asian cooking endeavors. I hope I get some answers through my readers. I wonder how many will actually persevere through the reading? It is definitely not my best work with regard to audience consideration… but, this day was for LeQuan and I. It was a celebration of culture, food, sharing, and friendship.
Thank YOU, LeQuan. Big hug. Now, what can I do for you?