The quest for the Ultimate Meatball has been accomplished: All in preparation for the Sunday Supper Smackdown with That Jew Can Cook!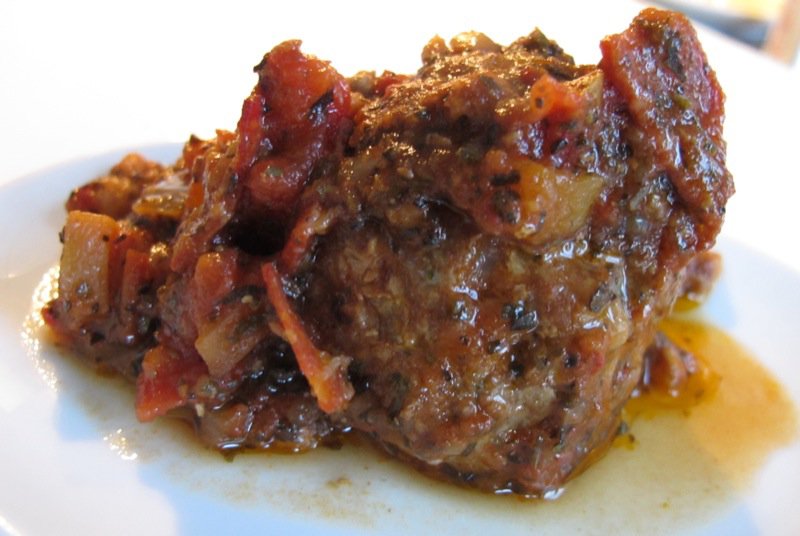 Just look at that meatball! Succulent and savory and lean and fatty and bursting with a serious umami hit. This is one serious bite of flavour.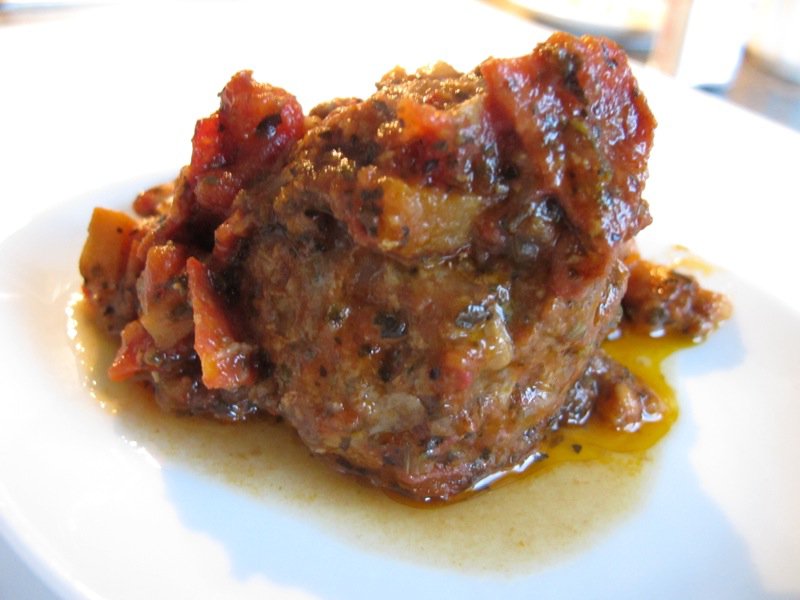 This was no simple undertaking. But, it wasn't difficult, either. Finding good veal in our city is difficult. I hadn't planned this part well, so bought two spermarket packages of veal to grind on my own. It is unfortunate that I don't have a butcher that I can count on to access good veal on a whim. It needs to be ordered well in advance.
Fortunately, I have my 2000 year old grinder that I use when making ajvar every year, so grinding my own was not a problem. Anything this basic in food preparation provides me with an intrinsic hit of self satisfaction and independence.
I have my extra fatty pork ordered from Irving's Farm Fresh (City Market and OSFM), and my ground beef from Jerry Kitt's First Nature Farm booth at the Old Strathcona Farmer's Market added to the veal.
Look at all that Alberta farm raised goodness! And then, the seasonings!
Yes! This is what it takes to make the ULTIMATE meatball. Excellent ingredients: cracker crumbs, freshly grated cheese, onions, garlic, eggs, milk and a great combination of herbs and spices.
Freshly chopped flat leafed parsley, freshly grated Parmesan, finely chopped onions and finely crushed soda crackers.
Soda water does make a difference. The meatball bursts savoury juicy goodness inside of your mouth when you bite into one if soda water is used.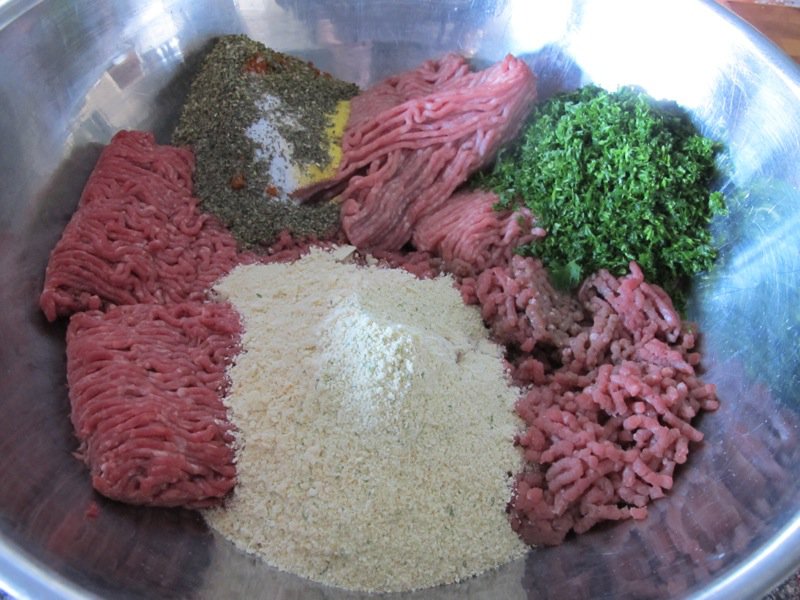 Did you get all of that? Here is my palate in a bowl.
I used to make them smaller, but after all of my trips to Italy, I have learned that the only small meatballs are the ones we make in North America. These are probably still small to most Italian areas, but they are a very substantial size.
Half went into the oven for this evening meal, and the other half onto cookie sheets to be flash frozen (as close as possible to this in a home freezer) and then packaged into freezer bags for the Sunday Sauce.
While they are cooking, out come the knives and cutting boards to make my basic tomato sauce.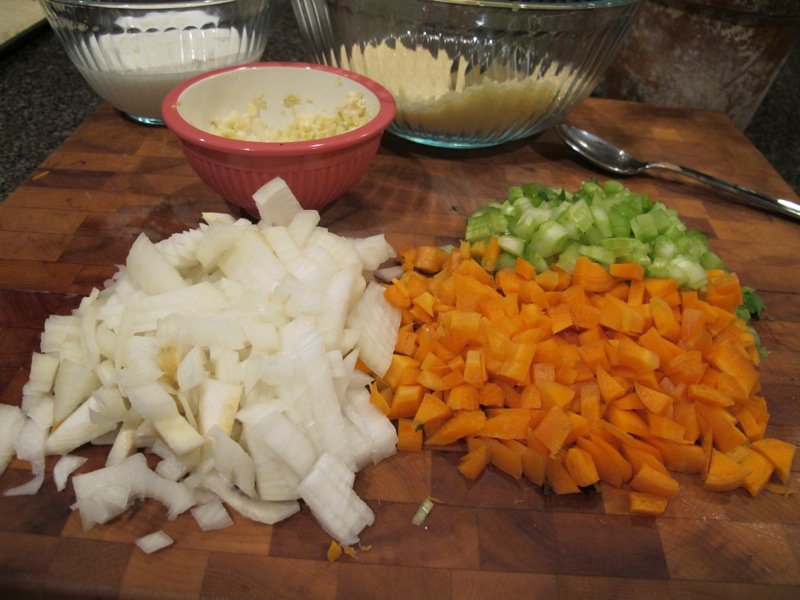 The meatballs simmer in it until it is thick and lush. The water is put on for the pasta, and voilá: The Ultimate Meatball!
Toss the sauce with the pasta, sprinkle generously with freshly grated Parmesan cheese and dive in!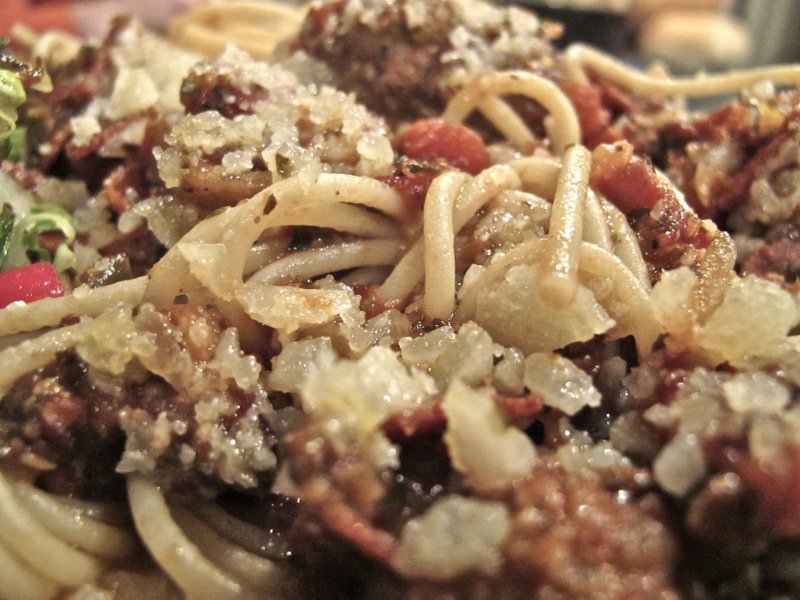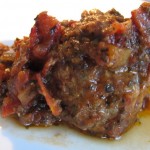 The Ultimate Meatball


This is an ACF Original Recipe. I have challenged myself to work through tasting many balls to arrive at this Ultimate Meatball Recipe. It is everything a meatball should be. Bold. Flavourful. Unforgettable and most of all: second to none. See for yourself!
Total Time
1
hour
30
minutes
Ingredients
800

g

ground beef

800

g

ground pork

800

g

ground veal

1 1/2

cups

finely minced onion

1/4

cup

minced garlic

1

package Saltines or salted soda crackers

, crushed finely

1/2

cup

Parmigiano Reggiano

, finely grated

1/2

cup

chopped fresh flat leafed parsley

1

tablespoon

kosher salt

2

teaspoons

(start with 1) freshly ground black pepper

2

tablespoons

freshly ground sweet paprika

2

tablespoons

Vegeta

3

tablespoons

oregano leaves

3

tablespoons

basil leaves

6

large eggs

, whisked well

1

cup

soda water or Club Soda

1

cup

whole milk
Instructions
Mix all ingredients, except eggs, club soda and milk, until well combined

Add eggs, club soda and milk; gently mix all ingredients to combine

Let mixture rest for 30 minutes (at this time, the crumbs will absorb the liquids)

Roll into larger main course sized balls (about an inch and half in diameter) and place on parchment covered baking sheet

Freeze individually, and then remove and repackage in labelled and dated freezer container until ready to use, or...

Bake on cookie sheet at 400ºF for 18-22 minutes, or until brown, or...

Gently brown all sides in frying pan with a little oil; simmer in choice of sauce until done
Recipe Notes
If you are looking for "The Ultimate Generic Meatball" leave out the herbs and cheese. The combination of fatty meats with onions, garlic, salt, pepper and cracker crumbs is sheer perfection - but on a totally different playing field.
The meatballs can also be poached in the sauce instead of cooked in the oven first. The flavour is the same, but the texture is completely different as there is no outer skin on the poached meatballs. Both ways are delicious.
Beavie did! YUM!