Another Christmas cookie, Rugelach with Preserved Cherries, on "the list" finally made!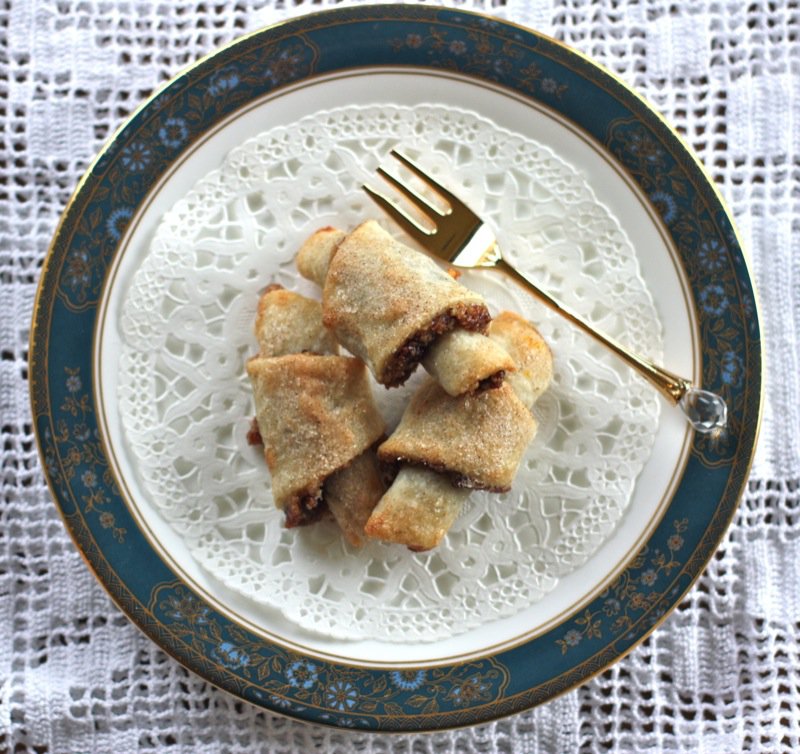 Now I understand what the excitement is all about! I have never tasted this cookie, but have been hearing rave reviews of it for years. How good can it really be? I put it on "the list" and planned to bake it, eventually. That list is long. Yet, this was the year. I was inspired by having so many of my preserved Evans cherries to use. As these cookies have a variety of fillings and often use raisins, I decided my cherries would be the perfect substitute. I could find any other rugelach filling recipe that used cherries. Ah-hah!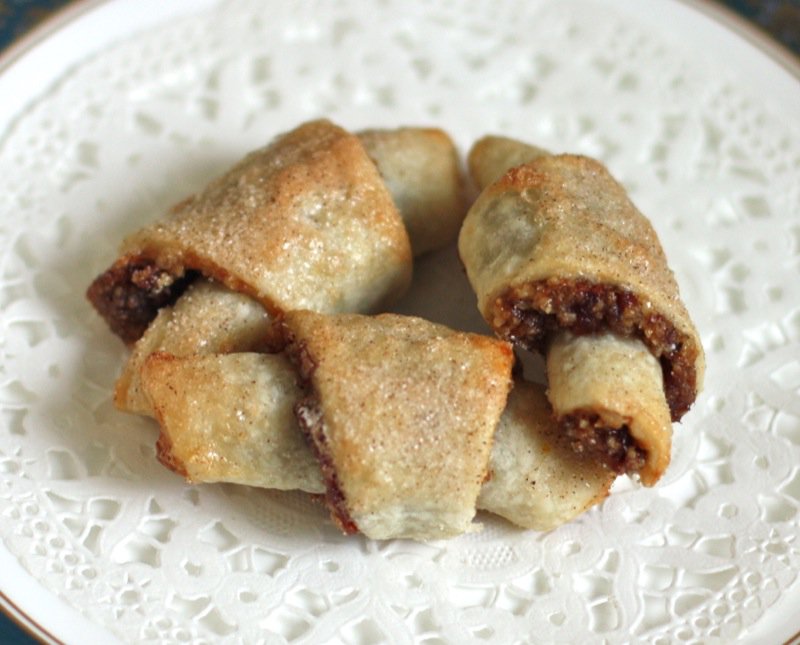 I am a bit of a perfectionist when it comes to my Christmas goodies. They have to each be perfectly formed, very pretty, and incredibly delicious. I didn't expect these to make it to "the" plate as every person I had seen make them on TV had the filling all over the cookie pan; every post I have read about them celebrates the rustic quality of this cookie and to not fuss about the filling spilling. I was still concerned. I don't like things to look messy.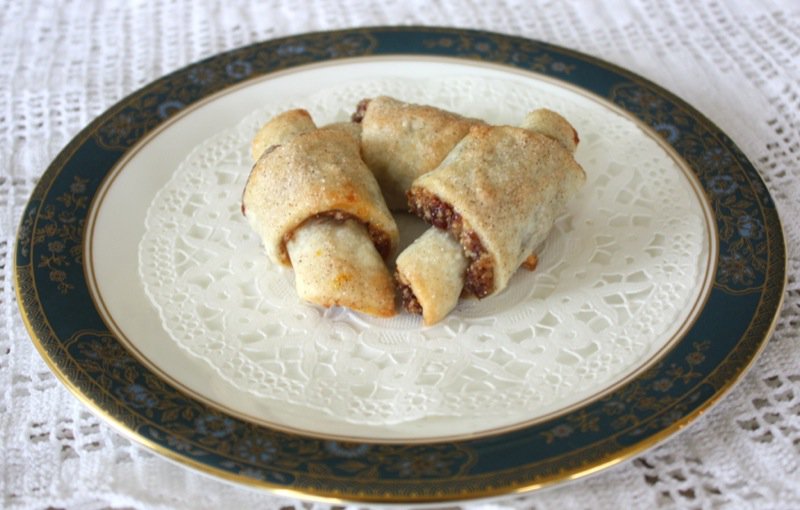 Somehow, I was very blessed in my kitchen this day. These cookies are in a category of their own. Outrageously delicious. Unexpectedly so. The texture is very "pie-like". Not like a tart, but like a pie! Truly. Who knew? I supposed thousands, but not me. I am smitten. Completely.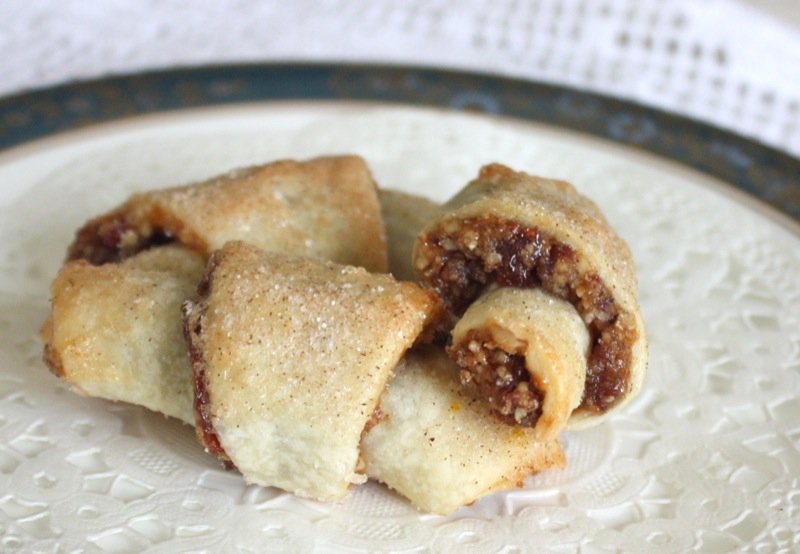 And the cherries? Ooooh, baby! They really rock and roll these rugelach! Puckery Perfection.
The dough is very easy to make, so I didn't expect the exceptionally supple tender texture that gives way to the substantial filling.
These gorgeous preserves are not showcased in this cookie. You would never guess they were in it as the filling combination comes together to create a new "somethin' somethin'" that begs the question: "What is in this filling?" So, they do make all the difference. It was actually a little hard for me to chop them up, as they are so beautiful whole. Fragrant toasted walnuts, freshly ground, with two sugars and the cherries is all she wrote. That is it.
The filling must be evenly divided into four portions and set aside while one round of dough, earlier portioned into four, is rolled into a nine inch round. I portioned quarters a bit prematurely. It didn't seem to make a difference, but I didn't do it with the remaining three rounds. I did try to portion my ingredients per quadrant. Two tablespoons of homemade apricot preserve per disc of pastry spread with an off set spatula; the filling sprinkled over that. I also had the idea of not adding filling onto the point to avoid spillage (and mess), but noted that the jam seemed to run, anyway, so filled the centres of  the remaining discs. The difference was indiscernible.
It is important to press the filling into the dough, gently, at this point (above).
Each quadrant is cut first, then divided into three equal portions. Each disc makes 12 cookies, thus the recipe makes 48 cookies. Just the right amount for the holidays! After sprinkling on the filling remember to push it gently into the dough. This is important to avoid mess and spillage. I was very impressed with the consistency of this filling and with the workability of this lovely dough. These rolled up effortlessly and were set in the fridge to cool for 30 minutes before sugaring and baking.
The time for the dough and filling to firm up in the fridge is really important as it ensures that the cookies will hold their shape and be as elegant as possible.
They do not take long to bake and are quite soft to the touch when taken out of the oven. I was pleased that there wasn't any spillage. They don't look so lovely in the photo below, but they are definitely "refined and dignified" enough to make it to "the" goodie plate. I didn't expect that, and am so pleased and excited to have discovered what I know will become a new family favourite. Vanja lit up when he tasted one. He liked it! He liked it! That is rare and a double bonus.
I keep all of my goodies tightly wrapped in plastic air tight containers just out the back door in the ever present Canadian Christmas Freezer.
The greatest thrill is that they do present as a fairly humble little bundle. However, the taste experience is so unexpected that the delight cannot be contained!
They are not a messy cookie, and the taste experience has completely changed the way I view this cookie. It now see it as delicate and refined. This means I will also be guarding the prettiest ones and making sure they get to the company plate! The company plate has transitioned itself to the Christmas Eve Family Plate, so it is all good!
Rugelach with Preserved Cherries
The filling for this traditional holiday cookies is A Canadian Foodie Original. This tender pastry filled with flavourful preserved cherries is an unexpected delight.
Ingredients
Ingredients for the dough:
2

cups

all-purpose flour

1/2

teaspoon

salt

2

sticks

(1 cup) unsalted butter, softened

8

oz

cream cheese

, softened

1/4

cup

granulated sugar
Ingredients for the filling:
1/4

cup

brown sugar

¼

cup

granulated sugar plus 3 tablespoons

1

teaspoon

cinnamon

, divided into 2 halves

1

cup

apricot preserves

3/4

cup

preserved sour cherries

, chopped

1 1/4

cups

walnuts

(1/4 lb), finely chopped

Milk or egg wash for brushing cookies
Special equipment:
parchment paper; a small offset spatula
Instructions
Instructions for Dough:
Whisk together flour, salt, and sugar in a bowl

Beat together butter and cream cheese in a large bowl with an electric mixer until combined well

Add flour mixture and stir with a wooden spoon, then use a flat spatula on the counter top, folding the dough gently onto itself until it forms or sticks into a ball

Gather dough into a ball, cut into 4 portions (about 180g each) and wrap in plastic wrap

Chill for one hour minimum, or longer, if required
Instructions for Filling:
Line bottom of cookie sheet (preferably a jelly roll pan) with parchment paper

Combine 1/4 cup of the granulated sugar, the brown sugar and ½ teaspoon of cinnamon (i put in 1 whole teaspoon), stir well; add the cherries and the nuts to the bowl, combine; portion out 4 equal parts and set aside

On a floured board, roll each portion of dough into a 9 inch circle; spread each with 2 Tablespoons of strained apricot preserves using a small off set spatula

Sprinkle with 1/4 of the entire filling, pressing the filling lightly into the dough on top of the preserves

Cut the circle into quarters, then each quarter into thirds to have 12 equal wedges

Starting with the wide edge, roll up each cookie, placing point tucked under on the parchment lined baking sheet

Chill for at least 30 minutes and up to one hour

Put oven rack in middle position and preheat oven to 350°F

Brush each cookie with egg wash or milk (I used egg)

Combine 3 tablespoons granulated sugar with 1/2 teaspoon cinnamon; sprinkle on cookies

Bake for 15 to 20 minutes, until lightly browned; remove to wire rack and cool

Store in air tight container
If you have a favourite filling, share it! If you have never tasted these, you must. If you have tasted them, let's hear about it! Start the conversation!