Local producers and farmers are paired with excellent local chefs and restaurants to create a bite of local food heaven for attendees to indulge in.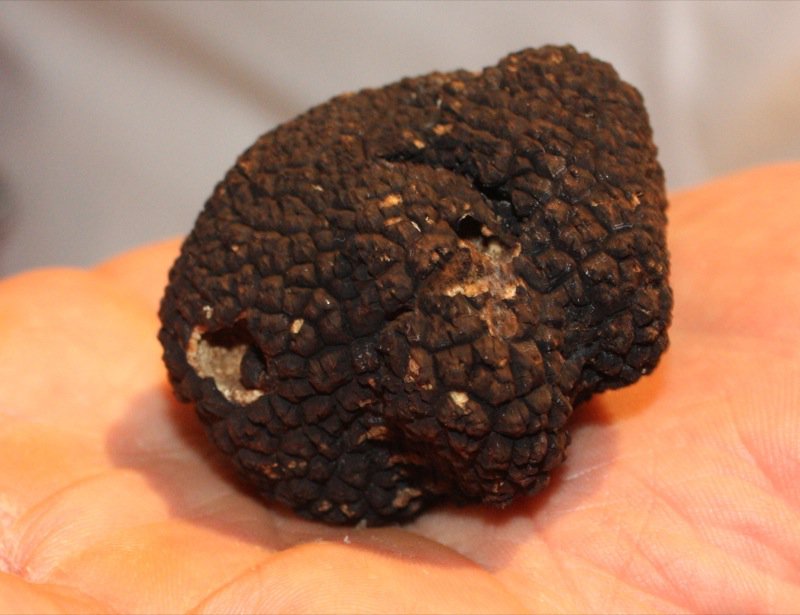 Look at this amazing Black Summer Truffle, above, from Mona Foods. It sells for under two dollars an ounce, so this palm full is between twenty five and thirty dollars. YUM! They had two chefs working with their food this year and sported truffles at both locations.
Indulgence Edmonton is a spectacular local food and wine event organized by a select committee of Edmonton Slow Food members headed by Mary Bailey. Slow Food Edmonton  is a non-profit, educational organization that began in Italy in 1989. Its members are dedicated to supporting and celebrating the food traditions within the Edmonton area. Distinct animal breeds, heirloom seeds, fruits and vegetable, beer and  other artisanal products are all part of our local cultural identity. Red Fife Wheat is Canada's only Slow Food internationally recognized heritage food item and for the first time this year is presented for tasting at the Italian Centre Shop table. They also sell the wheat at their shops for milling and baking with.
Canada's first presidium, Red Fife wheat, is the result of the work of farmers, millers, researchers and bakers who, together with Slow Food have successfully increased seed stocks and re-commercialized this wheat on the brink of disappearing. Today more artisan bakers are using Red Fife wheat and a growing number of consumers are demanding this heritage wheat bread.
The presidium helps to ensure ongoing quality, promotion and the use of Red Fife across all of Canada. This flavorful and hearty wheat fed Canada from the 1860s to the 1910s, and now once again, it is being enjoyed by a diversity of Canadians from coast to coast.
Slow Food Edmonton believes that pleasure and quality in everyday life can be achieved by slowing down, respecting the convivial traditions of the table, and celebrating the diversity of the earth's bounty. The goal is to put the carriers of this heritage on center stage and educate the public and our membership on the importance of these principles. This is something Indulgence certainly achieves. This is its 10th year and the event consistently sells out!
Canadian wine is thoughtfully paired with each dish at Indulgence to provide the quintessential Alberta food and wine experience. This is THE event each year I make sure not to miss. Tickets this year were $50.00 and that included 21 small artfully plated bites (and in most cases, large bites) and a series of 2-3 wine selection to pair with each. That is absolutely a bargain!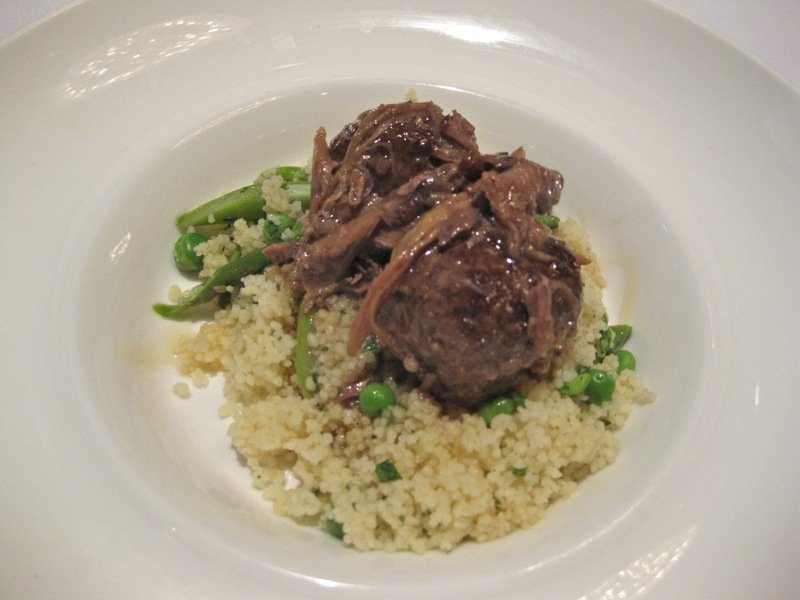 Cathy, Wendy, and I headed for the first booth that was the most accessible: right in the middle of the room we found ourselves in front of Blair Lebsack of Madison's Grill presenting Four Whistle Farm lamb meatballs and pulled lamb shank in the sauce with a white balsamic mint glaze, asparagus, and sweet pea couscous. The wine pairing was a Joie Farm 2008 Riesling. I didn't go near the wines. I would have loved to had the evening been 4-5 hours. But, within the two hour time frame, if i was going to enjoy a tasting of wine with my bites, I would never make it to each tasting. That would be a lovely evening, but my objective was to make it to each one. Wendy and Cathy got to know each other well, as they did do the wines and we lost each other on and off all evening!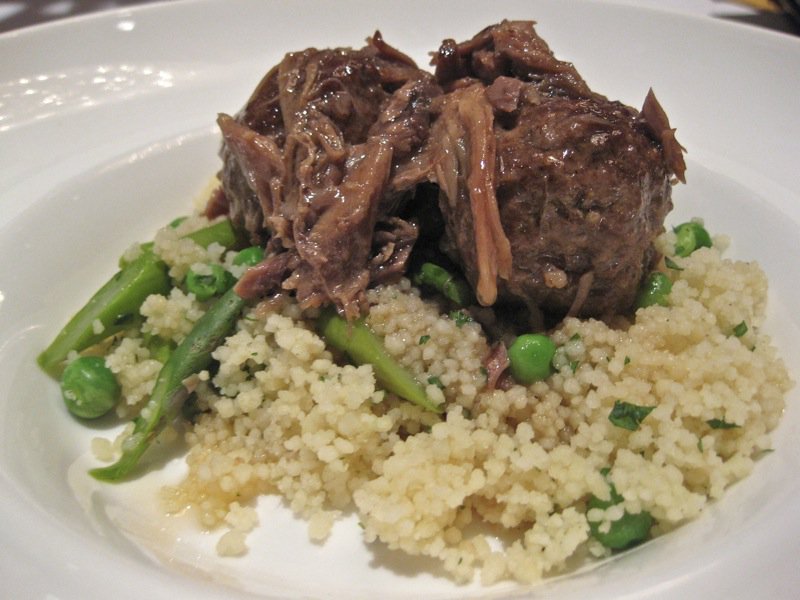 The lamb was a beautifully plated dish and exceptionally flavourful. I have never liked ground lamb, so this was not a dish I would choose or order. But, the meatball was actually a surprisingly light and succulent bit of lamb. The shank in the sauce was far too strong for my palate. However, lamb lovers would probably go nuts over it. This was a very generous serving, and I knew to only taste even though I wanted to eat more. I did not like wasting my food, but found myself again and again leaving a half eaten plate.
Morinville Greenhouses had an incredible display of herbs and plants. James Marles and associates outdid themselves! Wendy commented that she could have taken everything home with her and was particularly coveting the large potted lavender. Who wouldn't? I made sure to let her know that they are at The Old Strathcona Farmer's Market every Saturday! I buy almost all of my herbs from him.
Teresa Spinelli and Angelo, her amazing Baker, were presenting the Red Fife bread for tasting from the Italian Centre Shop. Their display was reminiscent of the open air markets in Europe. Nostalgia set in and I could barely leave their table. Their bread was outstanding, and at the end of the evening, it was put into baskets and the batons were given away to the guests to take home. Now, that is indulgent!
The bags of wheat can be now purchased at the shop on a regular basis.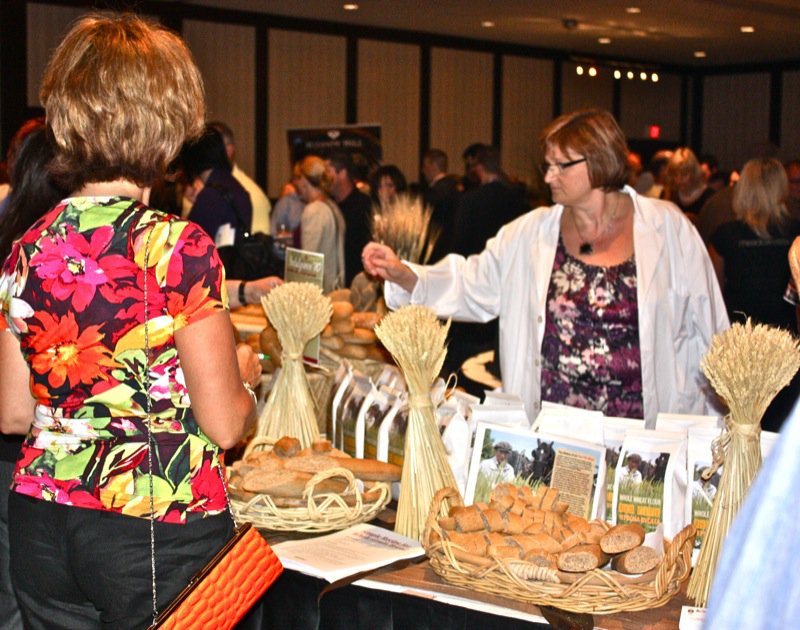 There's Cathy lined up in her beautiful Spring colours for her bite (why did I constantly lose her when she was dressed to be spotted in a crowd?); Angelo is below.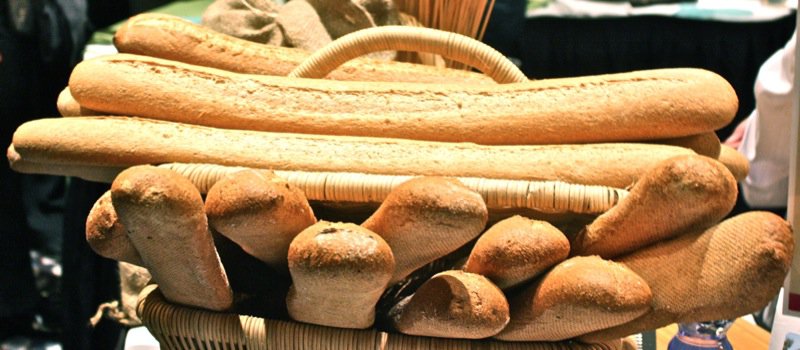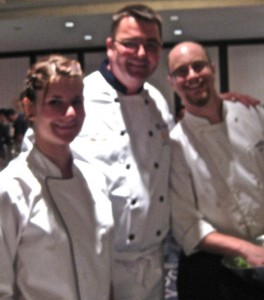 The staff at the Red Ox Inn absolutely surprised us with their salad. It was one of our top tastings of the evening. They were paired with Sylvan Star Cheese and created a bright and lively salad of arugula, Sylvan Star Gouda, candied walnuts with a perfectly acidic and savoury pear vinaigrette. The golden beets were an unexpected contrast. The flavour combination was powerful and really delicious; the eye did not expect the golden tendrils topping the arugula to be the deeply earthy beet. This was accompanied by a Gouda-walnut biscotti which was so well worth thanking the chef for, and I did! The entire dish was "lick the plate clean" good. The wine pairing was Church & State 2009 Pinot Gris.
Just a little advance notice: Watch the Slow Food Edmonton website for this trip to be posted for you to book a seat! Sunday, September 26th SFE will be hosting a fieldtrip for the day to Sylvan Star Dairy Farm and cheese making facility with a cheese tasting and lunch, then on to Bles-World Dairy Farm and yogurt making facility for the afternoon with a tasting. A stop at Eco Cafe on the way home for supper will complete the trip. Continental breakfast enroute, lunch, dinner, transportation on a motor coach and the two farm tours will be included in the cost of 75 dollars a person.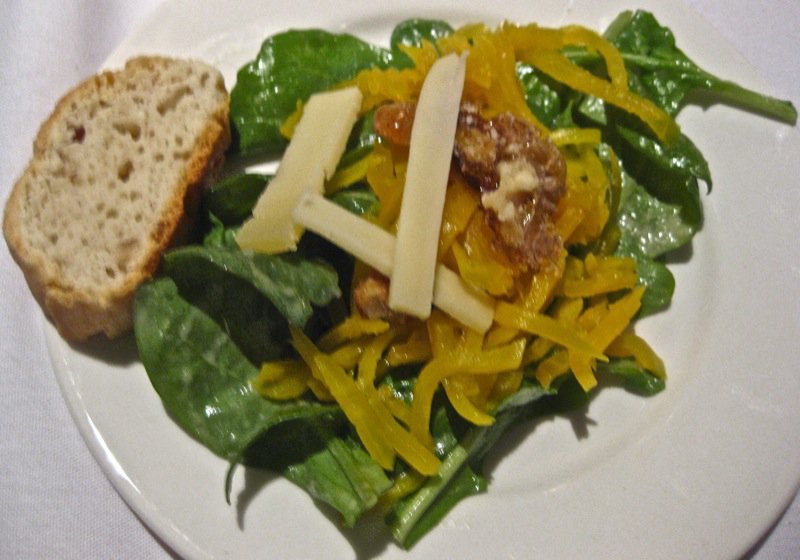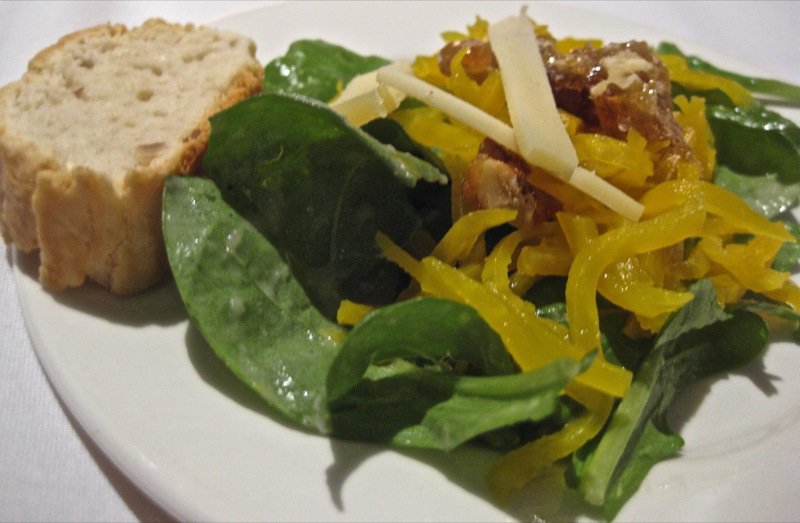 I couldn't leave. I had to watch them work for awhile as they were clearly enjoying their work and were so good at it… I lingered…
Now on to 4th and Vine Wine Bar and Bistro . They were paired with O Sol' Meatos. They made the little cracker each tasting was resting on: it was a Pecorino Walnut cracker and do I want the recipe. We all stopped and looked at one another at that bite. The crackers were absolutely perfect. They were substantial enough to hold the meat and toppings, yet light and airy and crisp and flaky and, oh, so flavourful..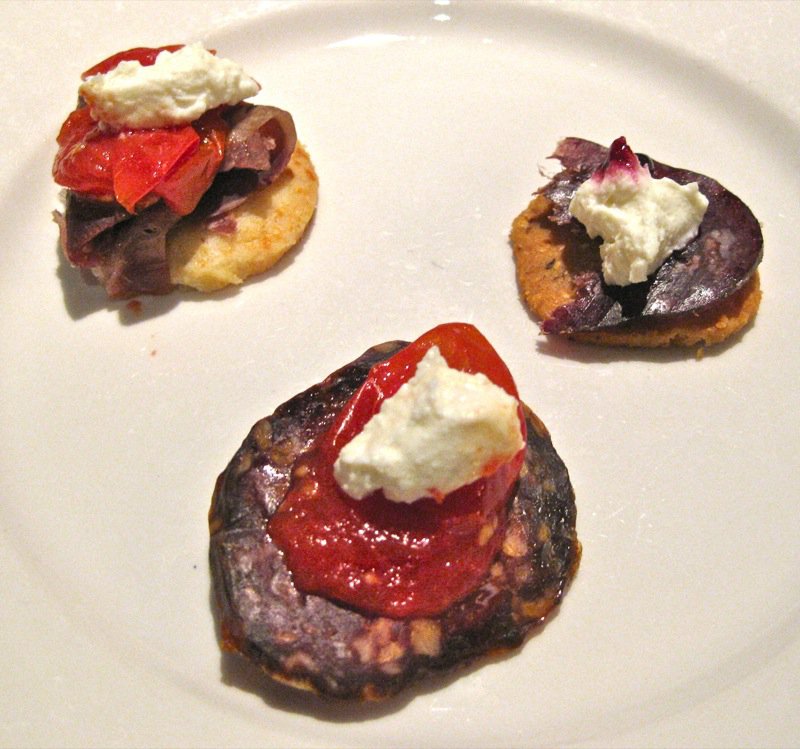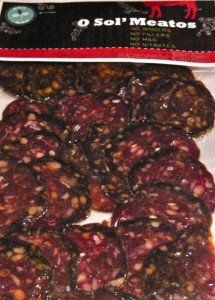 I love artisan meats. Vanja's family has been making them since the beginning of time, and he has introduced me to such a variety of charcuterie that I have become a little bit of a connoisseur, if I do say so myself. The selection offered from Sol' Meatos air-dried charcuterie was really lovely. Two were a dry cure and the soft sheep's cheese with the house-made walnut pecorino crackers topped with cherry tomato and shallot confit was a great bite. But, the meat would most likely be best on its own. It is a substantial flavour and a toothy bit of a bite requiring some serious savouring and chewing. All to be expected for a dry cure, and all worth it. The cracker and toppings were long gone while the meat was still being enjoyed. Black Hills 2008 Nota Bene was the wine pairing here.
Another little advance notice: This summer, Vanja and I are making our yearly trip to his family home in the former Yugoslavia. We will be making artisan sausage there this summer… but, not dry cured. It will be a fresh sausage and one that he has made all of his life when there. His father has a smoke house and cures the most amazing meat on his own… as almost everyone in the region does. This summer, his father will be getting pigs that will be there during our visit. (Yikes. last year it was 50ºC while we were there. Can you imagine the sweet smell of little piggie pies at 50ºC?).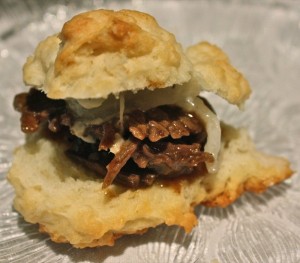 Culina's bison brisket was slow-cooked in a balsamic barbecue sauce served on a biscuit with horseradish-spiced marinated onion pickles. This was one of our top four tastes of the evening. Talk about a WOW factor. The onions were really delicious: not sweet, not strong, just perfectly tangy. The bison was earthy, but not gamy. It was deeply flavourful and the flaky buttery biscuit was the perfect partner for it. YUM!
I then came upon Mr. Happy. I don't think I have ever seen Alan Irvine without a smile. I was laughing so hard, I couldn't get a photo of these fellows that wasn't blurry. I just missed the chef kissing his buddy on the cheek!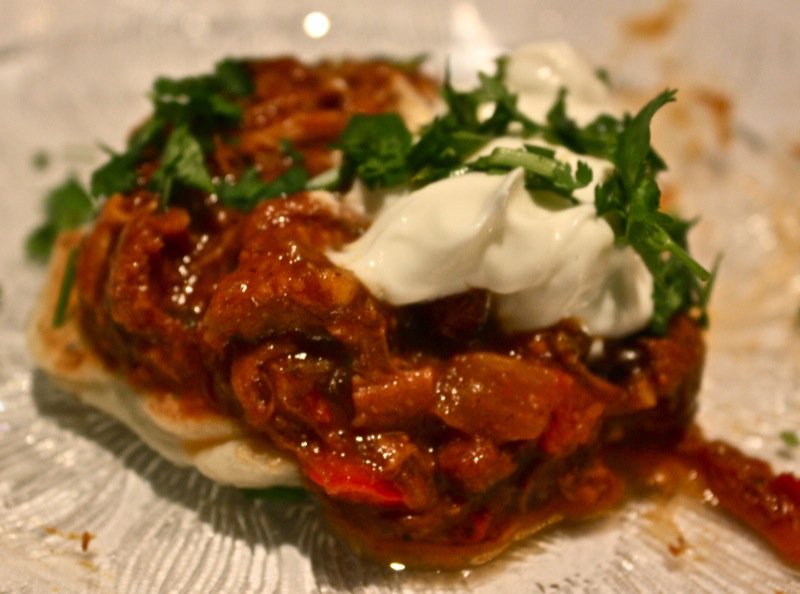 Tzin Wine and Tapas Ltd created an outrageously flavourful bite of Irvings Farm Fresh pulled Berkshire pork chili on a blueberry buttermilk miniature pancake topped with salt-roasted shallot and smoked cheddar cream. Talk about scrumptious. The Berkshire boar has the fat marbled so well through it that it is my pick for pork, always. Their products can be found at both the downtown and Old Strathcona market every Saturday. The pancake was too flimsy to hold the substantial serving atop it, and there was far more topping than pancake; however, when I ate the pancake with some of the pulled pork, the combination was incredible. My thought: make the pancake bigger, and wrap me up some filling! YUM! I heard many comment that this dish was their favourite.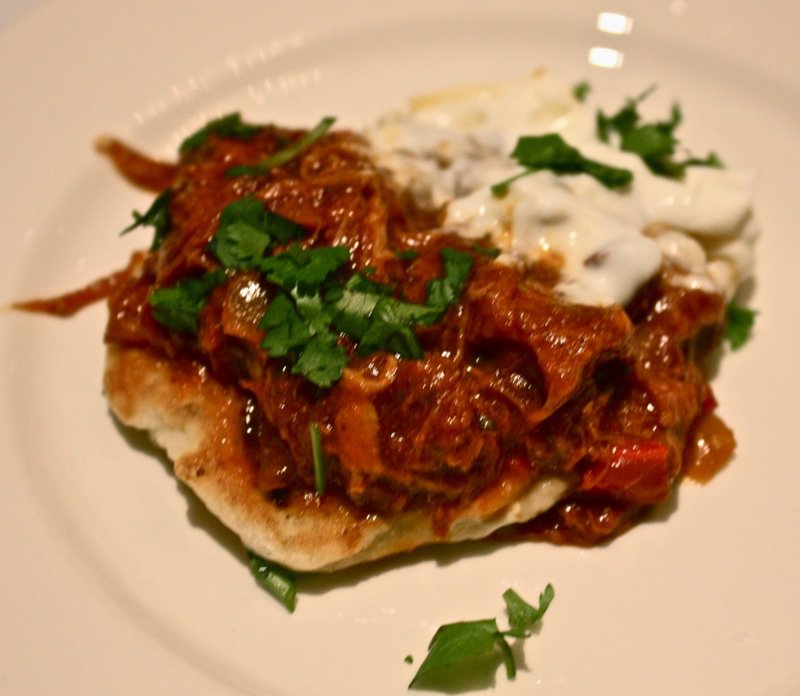 Greetings to NAIT students from The Manor Casual Bistro. I was so pleased to see them participate in this event as that is what Slow Food is all about. I hope the students learned aboutt he organization from their teachers, too, as well as the importance of buying locally and using fresh local produce in their food. They were paired with some very friendly farmers from Natures Green Acres. The cranberry and honey mustard-rubbed braised Nature's Green Acres nouveau beef brisket was topped with Sylvan Star Gouda and garnished with sauerkraut and caramelized onions on an organic spelt sourdough slider. Really good. The wine pairing was Desert Hills 2007 Merlot.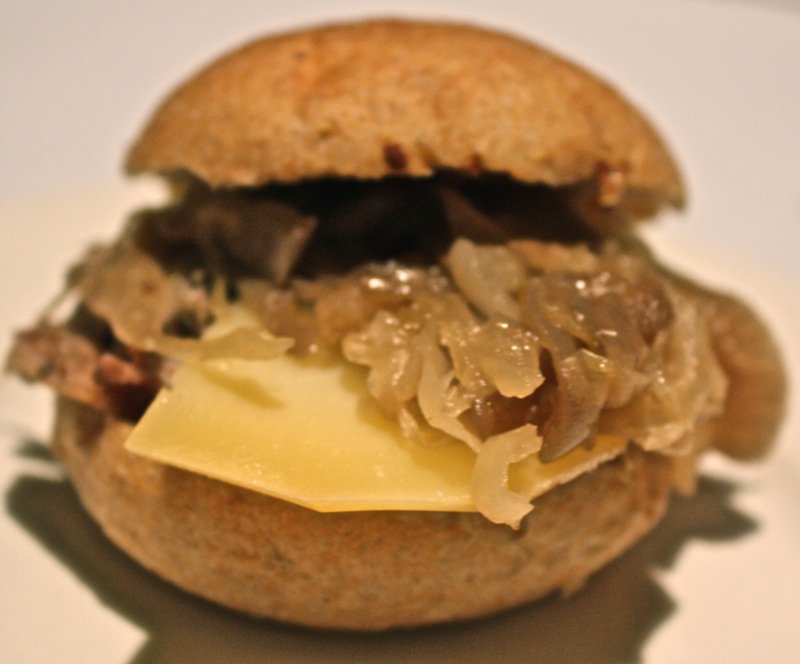 I ran into Tara and her friends, my fellow Slow Food friend (and chocolate taste tester). There were so many people I knew here. It was wonderful to see them and talk about our favourite flavours of the evening as we celebrated our local bounty.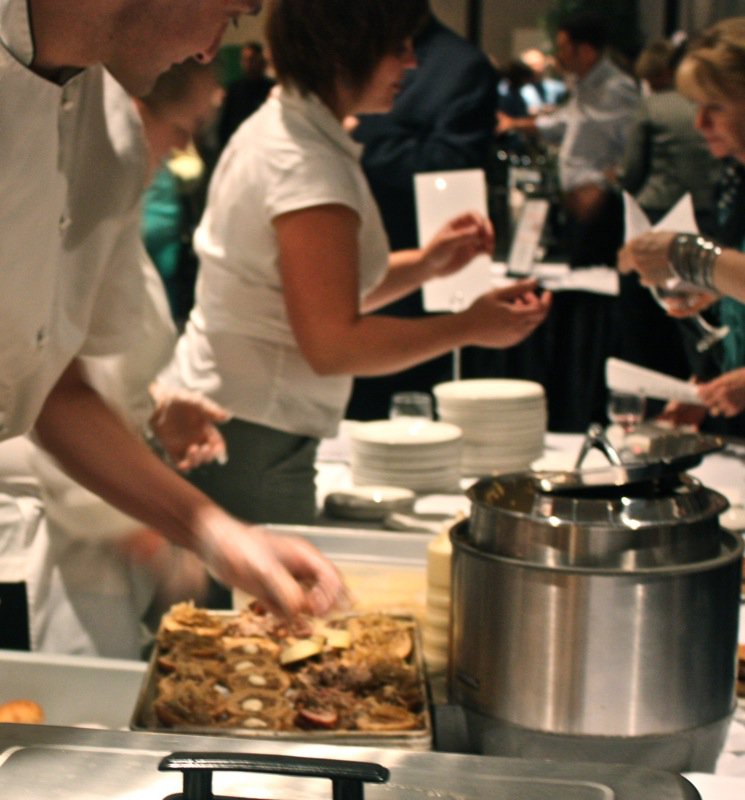 Oh, my! Look at that beautiful summer truffle from Mo Na Food. Whenever I get to the City Market downtown, I never miss them. They had ramps this spring, and then huge fresh garlic elephant chives (pictured with my duck confit). I have bought all kinds of wonderful berries from them, and they will even source rose hips for you in the early fall. Jack's Grill partnered with them to make an incredible umami laden broth of Mo Na mushrooms with duxelles garlic green crostini. The elephant garlic chives were used, too. I loved the idea of this dish. It was novel, and I like novel. It also was in serious need of salt. It wasn't just me. I checked. A little salt would have sung and swung this dish to a whole other level.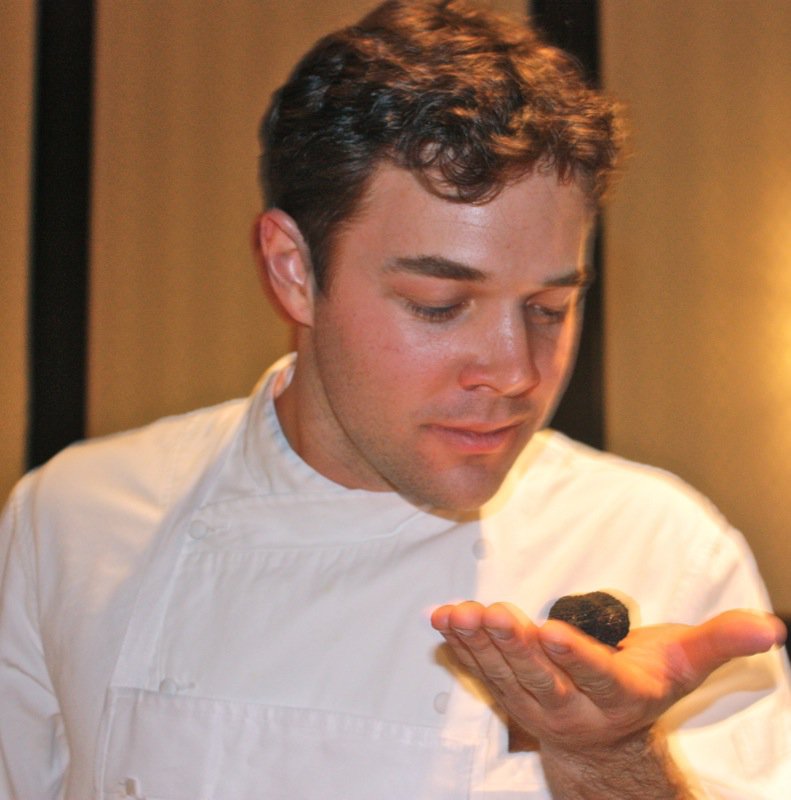 Chef Ben from Jack's is losing himself inside of a truffle! He cooks at Slow Food's annual picnic at Greens Eggs & Ham every August. An event not to be missed. Talk about farm to table!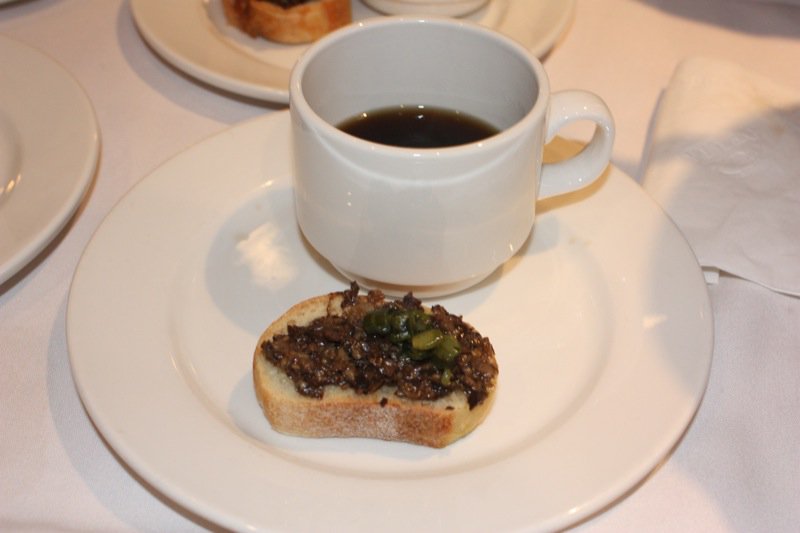 Chef Tony Le and LUX steakhouse+bar wowed us all with another one of the top tasting dishes of the evening (we had four of these). This was Irving's Farm Fresh second restaurant working with their amaxinf Berkshire boar. And what did they rustle up? Braised Irving's Farm Fresh Pork Belly accompanied by a tart and crisp confit of Granny Smith apple with Peach and Sour Cherry Jam that breathed a whole new life into the already succulent and deeply delicious (on a primal level… grrr… step away from my food….)Â garnished with taro root frites and tarragon. The tarragon also added that scent of licorice that was incredibly special, and then it was gone. Brilliant dish. If I was not in public, I would have been licking my plate. The wine pairing was the Ex Nihilo 2008 Riesling which was encouraged as a taste pairing enthusiastically by the chefs serving the food.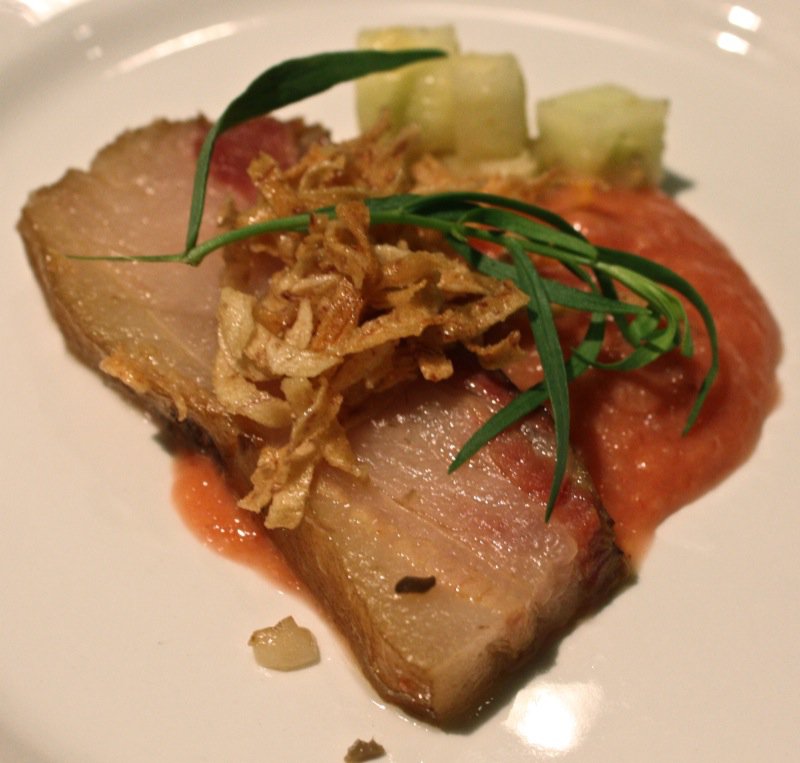 I did not eat the fat. I am sure it was like candy.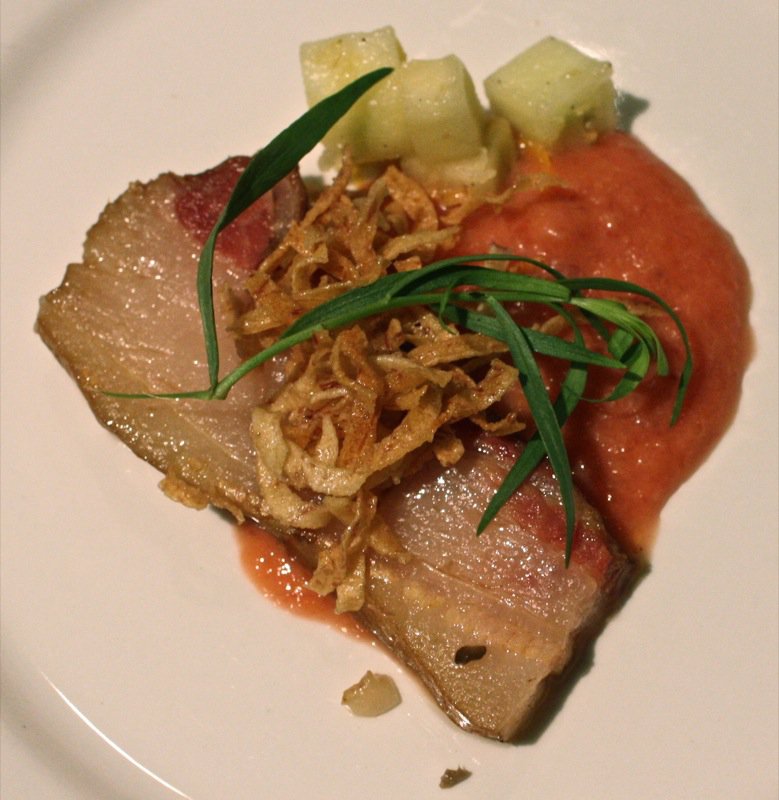 More friends. Sharon and Matt were enjoying the evening with a few of their friends and family! No time to visit. We were all too busy noshing. I really value Cathy's opinion, yet we hardly shared notes this time. Here she is again carefully tasting something.
I saw the greens first, and had to snap a shot. It is just that time of year. Mine are sprouting in the garden. They are seasonal. It is so exciting in our winter climate to have seasonal greens! L2 Grill was a very friendly group of people. Their food was plated beautifully and they were having a cheery good time cavorting with all of us. I met their two young students from Italy and was very impressed with them for taking on the opportunity to have young apprentices work with them. What a wonderful opportunity for the students. They were paired with Carmen Creek Gourmet Bison and created a hickory-smoked Carmen Creek bison strip loin with a chanterelle and beefsteak mushroom ragout, and watercress potato crème. I think I see and tasted tomatoes in there, too. It was really very good. I loved the artistic plating and will definitely remember to do this myself with my potatoes. The wine pairing was the Tinhorn Creek 2006 Oldfield Series Merlot.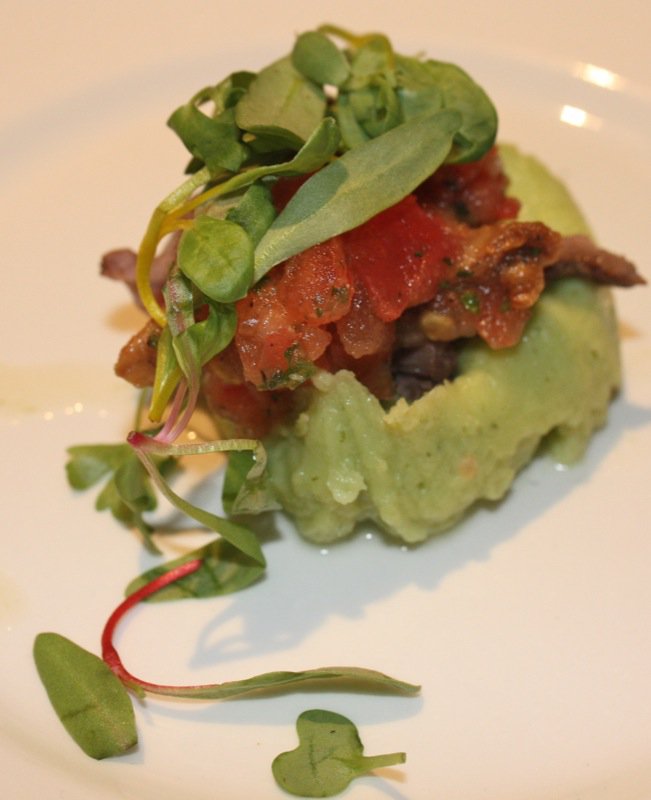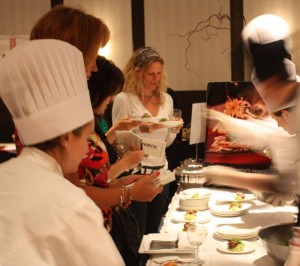 Lit Italian Wine Bar followed with a deep fried risotto ball that had Mona Foods wild arancini mushroom in it with house-made rustic tomato cream sauce and white truffle oil. I do not know about Lit Wine Bar. I was really happy to see them participating in this event. But, I did not taste any white truffle oil. The mushrooms were difficult to detect, and the morsel was barely palatable. Now, this is not a competition at all. It is a celebration of fresh local food and an opportunity for our chefs and restaurants to meet and work with our local suppliers and farmers. So, that was definitely a success. However, Lit is going to have to get some seasoned palates in their kitchen for some good feedback, or they will be in trouble. This dish was a great idea. It looked wonderful. Mona Foods has excellent products. There needed to be a few more steps in the development of this bite.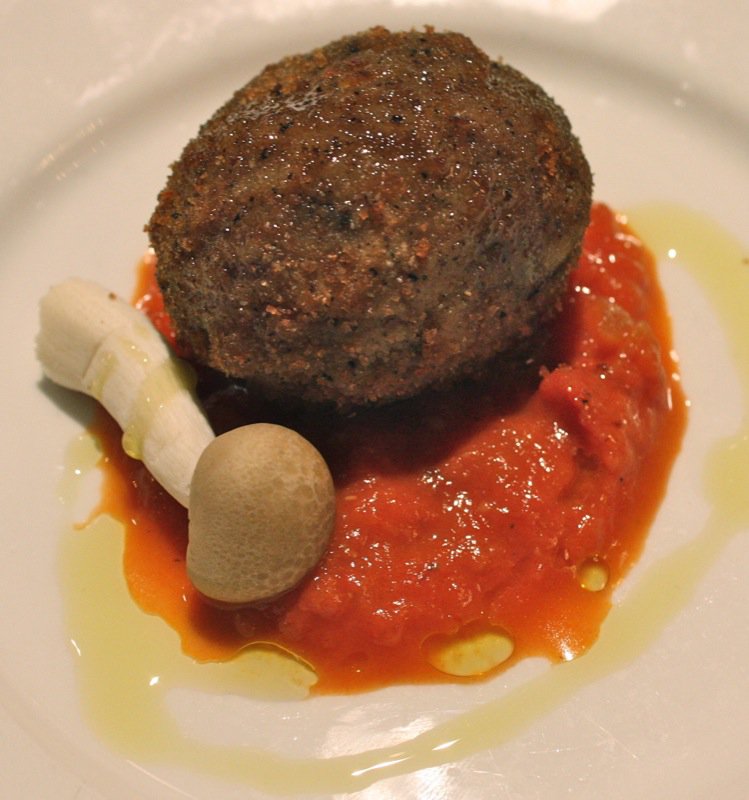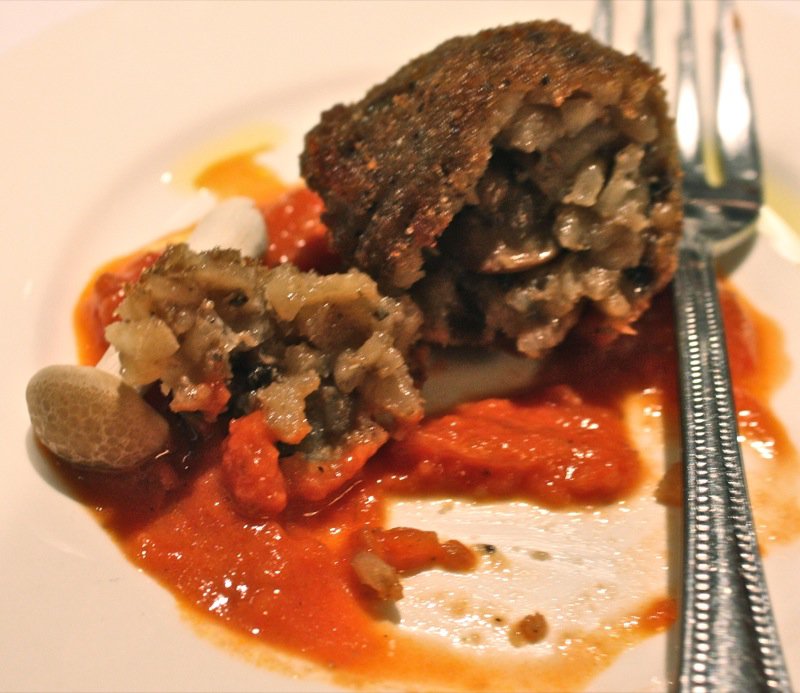 I was so thrilled when Mary Ellen and Andreas's dish was another of our top tastings (we had four and this is the fourth – not in order of likes, but in this post). I know I love their products and buy them all of the time, but it was exceptionally gratifying to bite into the soft, piping hot fritatta and actually utter a gutteral "YUM!" without thinking about it. Moriarty's Wine Bar was paired with Greens Eggs & Ham and did they ever do their products justice, using many of them in this multi-layered bite. A Greens Eggs and Ham duck and chorizo flatbread truffle (and I think the truffle is a play on words) spread with a heritage greens pesto and then topped with a duck egg frittata that included chorizo, caramelized onion, and smoked gouda garnished with paprika crème fraiche and a beet chip. WOW. Gorgeous, and delicious. Really delicious. And did I say piping hot?
Look at this cute little hot dog! It was refreshing to see something so different in the plating category. A few tables served on napkins. This was one, and it was so appropriate. 4044 Restaturant (Delta Edmonton South) served Waskwei Creek Farms White Tail Venison smoked with blueberry relish. I thought this was a great idea. Saskatoon relish might have been more local… and more tasty (to me, I love them) but this was a fun bite. The little meat morsel on its own as very gamey and dense. I remember having venison fro the first time in my life at indulgence last year that I found palatable. It is usually not my thing..

Caught Mary Bailey having a few giggles during her busy night. And then to Blue Chair for a cookie. They worked with Highwood Crossing and created a cranberry basil Highwood Crossing organic oats oatmeal cookie which was probably brilliant and should have been served with the lime tequila aioli in a dipping cup on the side. After so much rich food, a cookie would have been nice, but struggling under the unctuous citrus aoli I found it difficult to even pick one up. However, it was my goal to taste everything. I was really full already and probably loosing some taste perspective by now. You can see that the aoli is breaking down as it sits on the plate. Not a pretty site. I took a finger lick, and it was probably good when it was cold and fresh. The cookie flavour was not discernible, and I didn't try too hard to taste it laden under that fat. I like novel ideas, and this was novel. i just don't think it worked. But, the staff looked like they were having fun, and maybe this was brilliant in their test kitchen under proper food storage and serving conditions. Not now. The beer pairing was Alley Kat Brewing Belgian Style Tripel. Nice to see Alley Kat here with their brilliant home brewed beer!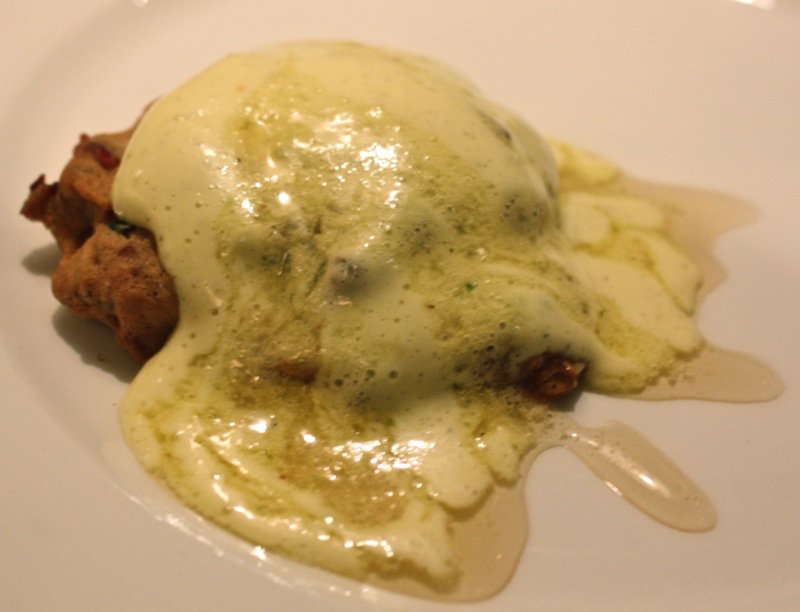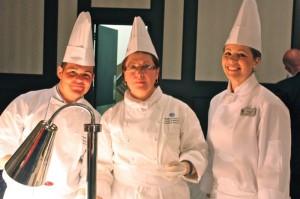 No one was way back in the corner when I got there, and the three chefs were looking kind of lonely. The food was looking exceptionally yummy.
The Shaw Conference Centre was paired with Hog Wild Boar and created a really unique and delicious Hog Wild wild boar tourtiere on a confit rhubarb salad with asparagus and Sauce Soubise (aka white sauce) with wild boar jus. Sound complex? It was. The filling needed tasting and testing and was always nummy… but, complex and earthy and definitely wild. I liked it, but my friends were "widl" about it. The wine pairing was Gray Monk 2007 Odyssey Merlot.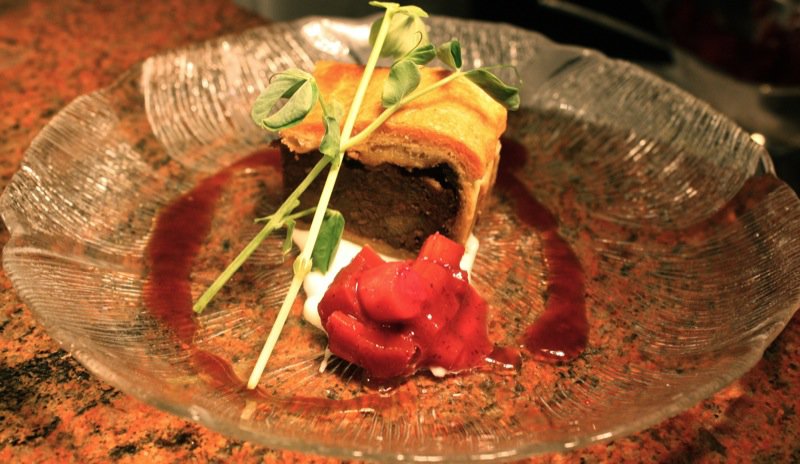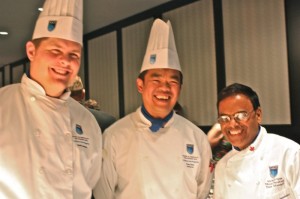 Hello, Chef Hong! NAIT again.This time NAIT School of Hospitality and Culinary Arts. I have visited with Chef Hong trying to get NAIT students involved in Slow Food. This is a start, but we need to do more. They were paired with Sunworks Farm and created a Sunworks chicken roulade with wild mushrooms, pistachios, and apricots on a fresh corn waffle with cranberry and apple relish. The reslish was really delicious. The waffle was definitely fresh once. Not now. It was cold and floppy. The meat was dry. I buy Sunworks chicken often and I think you would have to work to have it this dry. My goodness! Such beautiful produce overcooked. Ah, well. I was really happy to see the fellows out and enjoying themselves as they seemed to be. Keeping the food hot, or creating a dish meant to be served at room temperature might be a better bet for next year… Grat plating idea, though! The wine pairing was Mt. Boucherie Estate Collection 2008 Pinot Gris.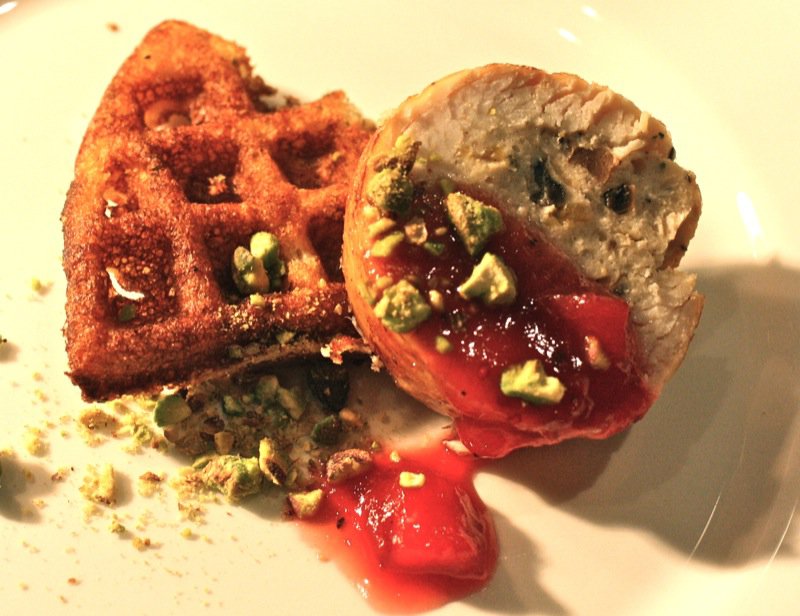 I had never seen, nor heard of Creations Dining Room. Apparently they have been up and running for six months. i was impressed with the artful plating and the flavourful dish. Creations Dining Room and Lounge was paired with Paddle River Elk and created Paddle River Elk tenderloin wrapped in boar bacon with chocolate jus, chokecherry glaze, and an Alberta rice crisp. WOWSERS! It was really a tasty bite, too! The wine pairing was Blasted Church 2007 Cabernet Sauvignon/Merlot.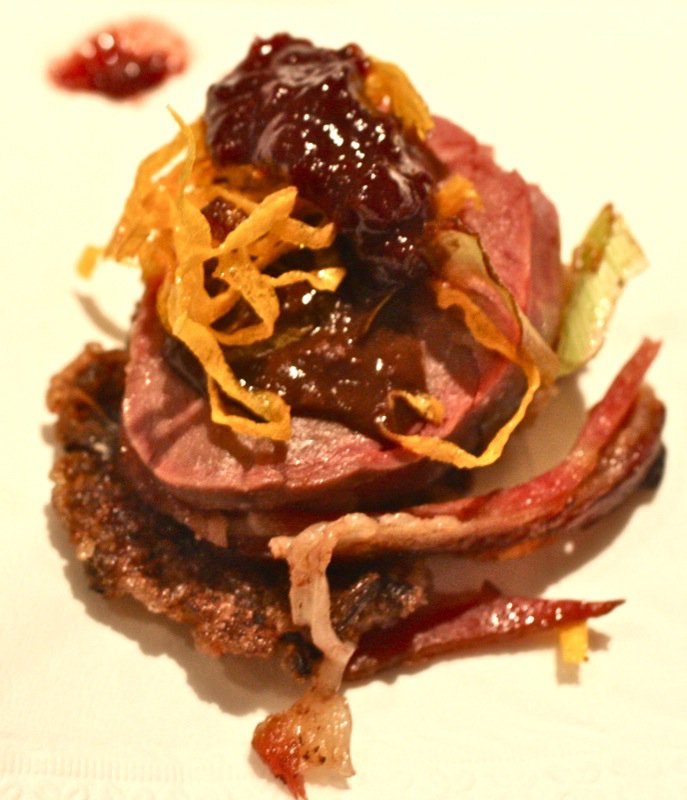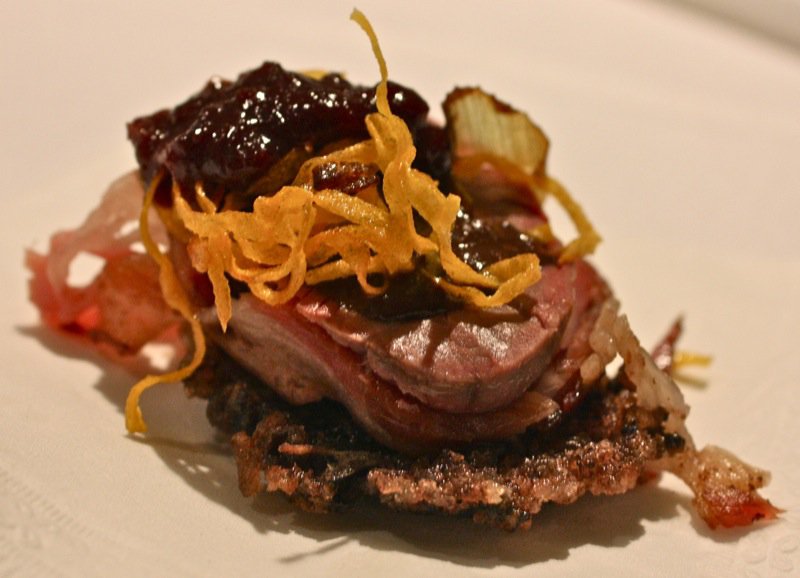 More foodie friends: Chris with Sarah. Read more about indulgence and Chris's take on it here. It is an interesting read. The we have the Newget Kompany gals with their many kinds of absolutely delicious nougat.Each of us received a hearty cupful of every variety to sample. YUM! Really good nougat, and lovely fun gals, too!
I was excited to see Gwen from Inspired Market Gardens! She has sold me all of my tomato plants this summer and has had some incredible heirloom plants that I cannot wait to produce fruit! She is a wealth of knowledge. She was paired ith Leva Cappuccino Bar again this year, and Lavender Gelato was artfully served with lilac flowers. A gelato is just what the doctor ordered as it was hot and I was in grave need of somethig cold. So much so, you will find no photo here. There is one below… It was a lovely treat. The wine pairing is my absolute favourite: Domaine Pinnacle Ice Cider. I love the sparkling one, too.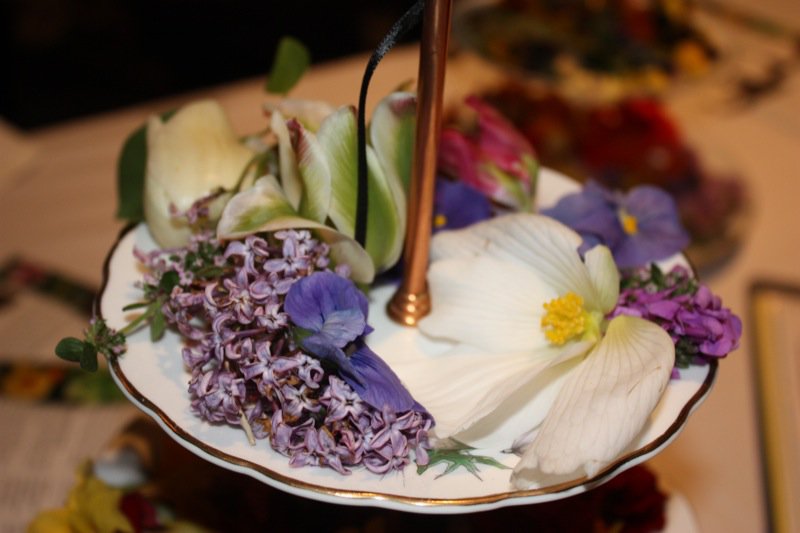 Leva Cappuccino Bar & Inspired Market Gardens:
Inspired Market Gardens Lavender Gelato.
Wine pairing: Domaine Pinnacle Ice Cider
By this time, I could eat no more. I was in need of a cold bottle of water, and was laying the last bites down my arem to take with me to the lobby to sit and admire and taste after getting a bottle of ice water from the gift shop in the lobby. d'Lish urban kitchen was paired with Spring Creek Ranch and served a small bite (perfect for this size of an event) of barbecued Spring Creek Ranch brisket on corn bread. Their beef is always good. This bite was very rich and the cornbread quite heavy. This would be a perfect cocktail bite. You want strong flavours and a bit of weight in a small bite before a meal. But, by this time of the night, it was just too much. I am pretty sure that my palate was definitely on overload and not computing anything logically any more. However, it didn't stop me from trying! I loved the idea of the cornbread and the brisket.Â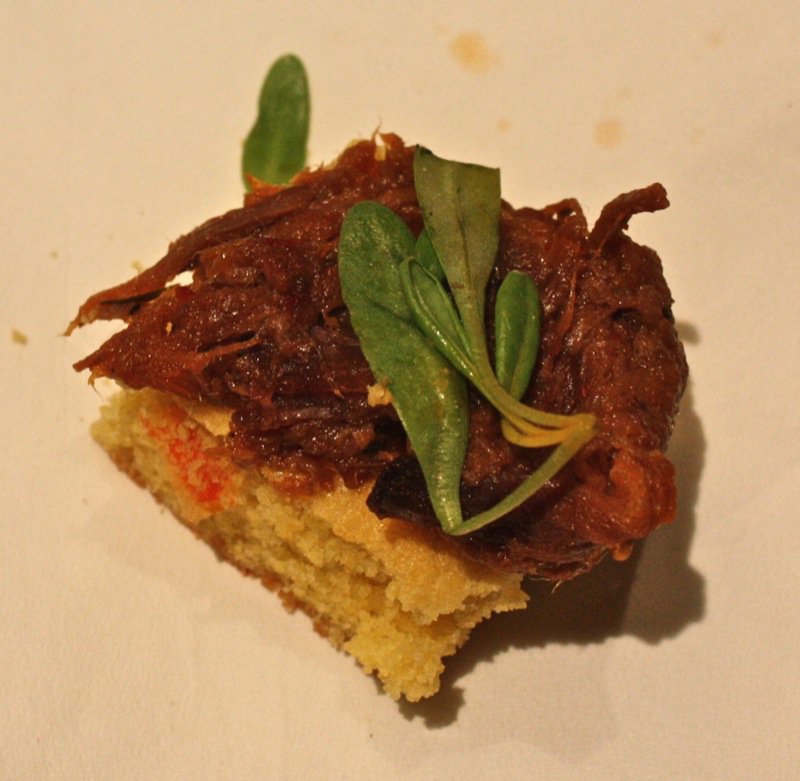 Skinny Legs and Cow Girls chef was off putting to me. The salad was stellar. My friends were wild over it. I thought it was really tasty, but can make this kind of salad quite easily on my own. The off putting part was the conversation I had with him regarding his producers. He did not locally source his greens. This is the main ingredient. He said it would be far too expensive for an event of this size. I asked if he used locally sourced greens in his restaurant. He said he does not. Now, I know they charge ample for their food there. Finding out that locally sourced food was not a priority was not winning me over. He said the pumpkin and hemp seeds were locally sources, as was the honey from Lola Canola. Clearly, he can make a mean salad. But, he really missed the point of the evening. (Maybe someone will send him this link!) And, Lola is a fantastic local supplier who deserved her product to be showcased at its best. She has many different varieties of her honey. I missed seeing her at this booth! You can find her product at the City Market downtown in the summer. The greens with strawberries, berries, red onion, pumpkin and hemp seeds tossed in Lola Canola honey poppy seed chili vinaigrette was paired with Cave Spring Cellars 2008 Niagara Peninsula Riesling.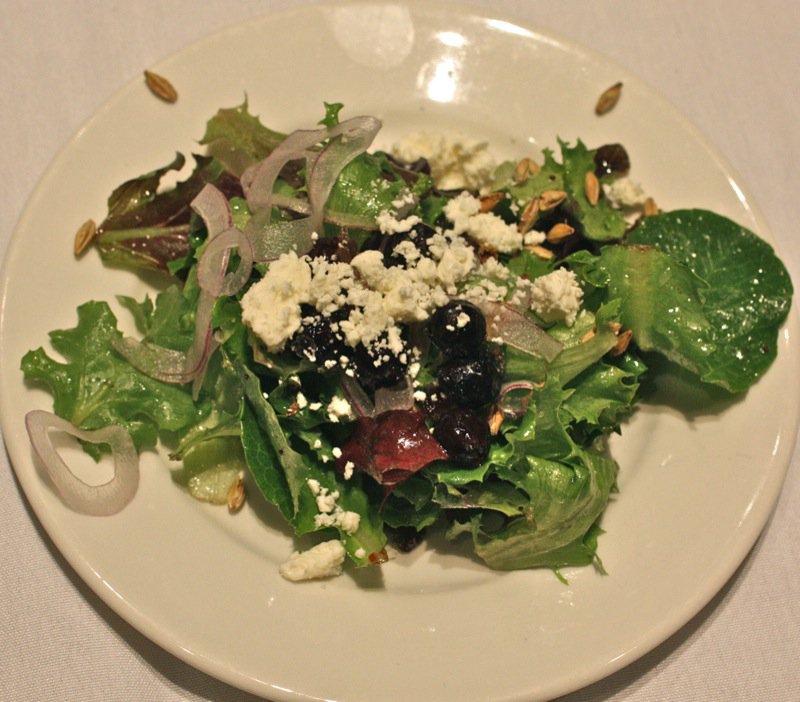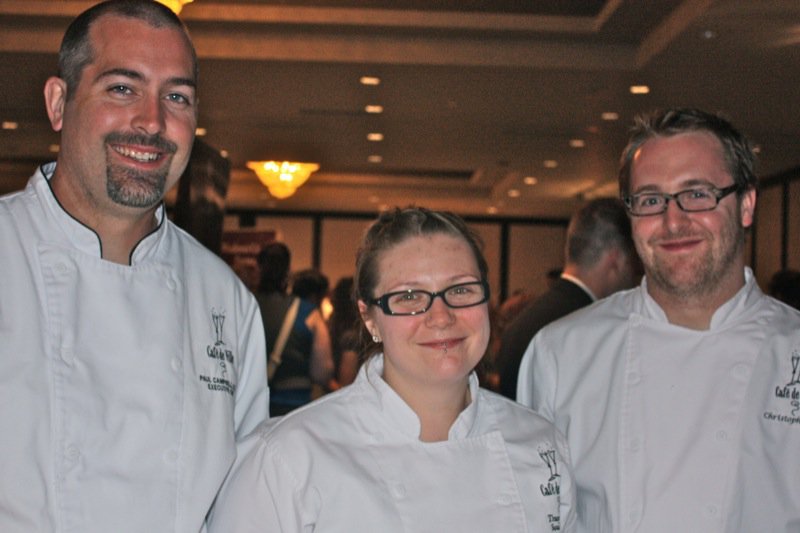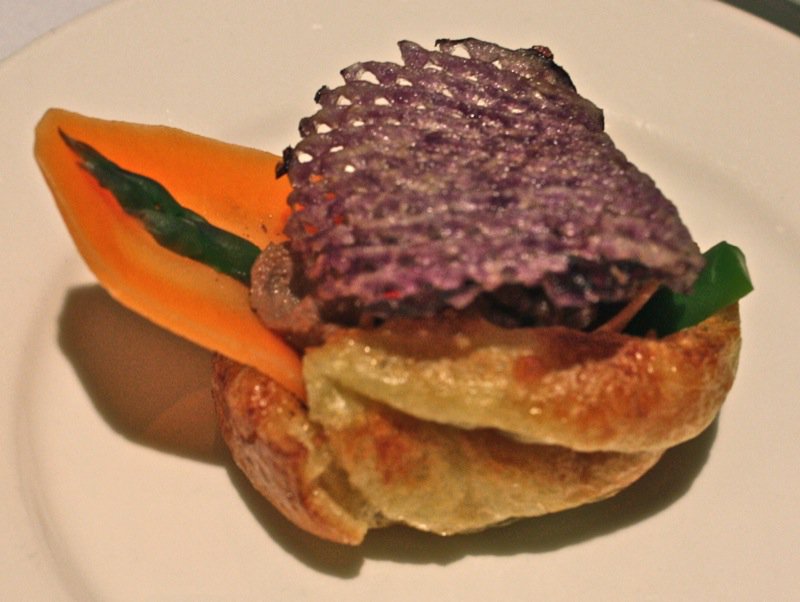 There were many many many beautifully plated dishes this evening, but this one gets my vote for the best. It was not the tastiest. Not in our top four, but look at the beauty here. And, the idea was so thoughtful. Cafe de Ville created a spiced-crust roasted Belle Valley Farm Alpaca with Yorkshire pudding soufflé and Shiraz pan jus that was paired with Mission Hill 2006 Shiraz Reserve.
Absolutely stunning.
And finally, the food laid out on my arms put to rest on this table, and i sit. Ahhh… I wasn't even working tonight. Though it took a lot of concentration and effort to have so much fun! There is the ice cream that I forgot to photograph close up.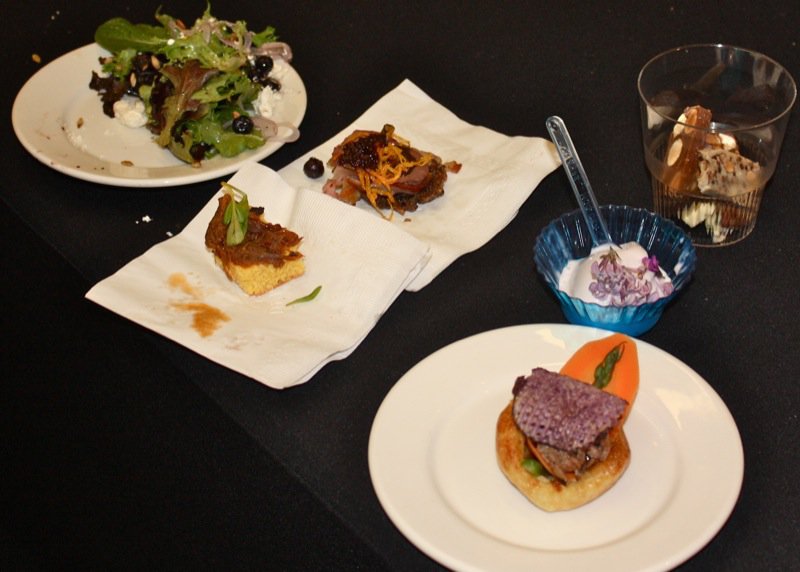 Sitting at the table where the gals took our tickets was a great idea. In walked Maria and Jeff! What fun to see them. You just have to look at her to know what a good time you have with her. She and I had a wonderful day baking bread with her red Fife Wheat flour!
The evening is about to wrap up. The entertainment added more than a touch of class to the event.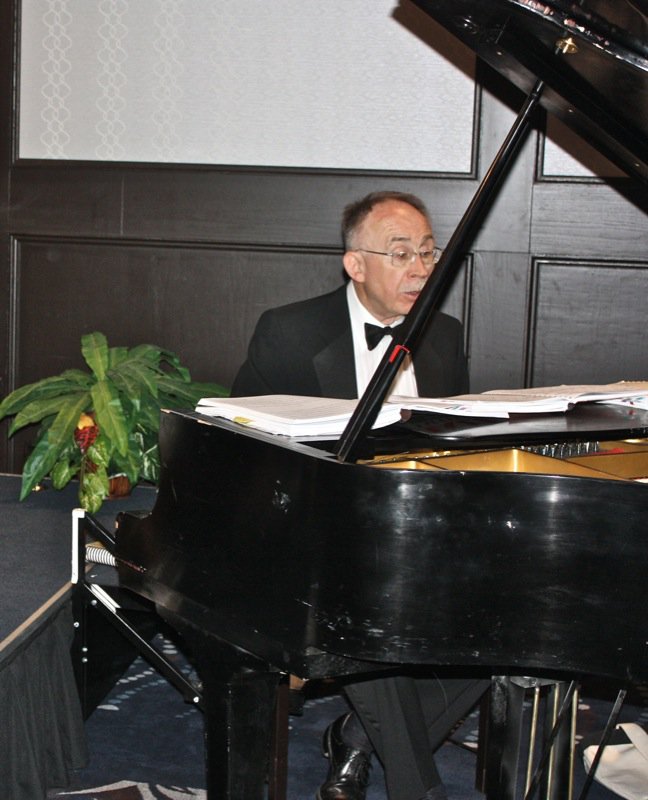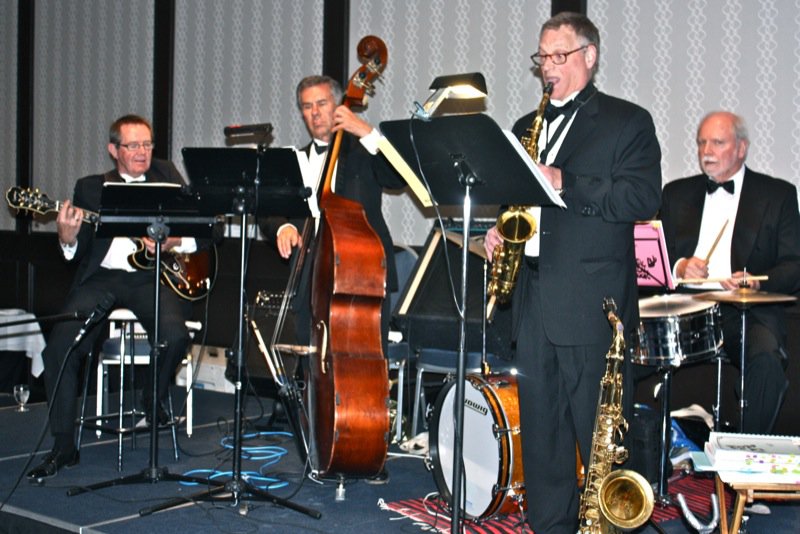 All wines tested and tasted and sampled and sipped were available for sale at a good discount.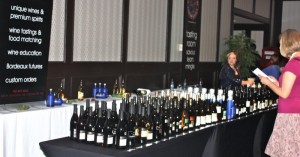 There was a great silent auction and an excellent raffle prize and the draw was made.
Here is the winner! And I had just bought my ticket!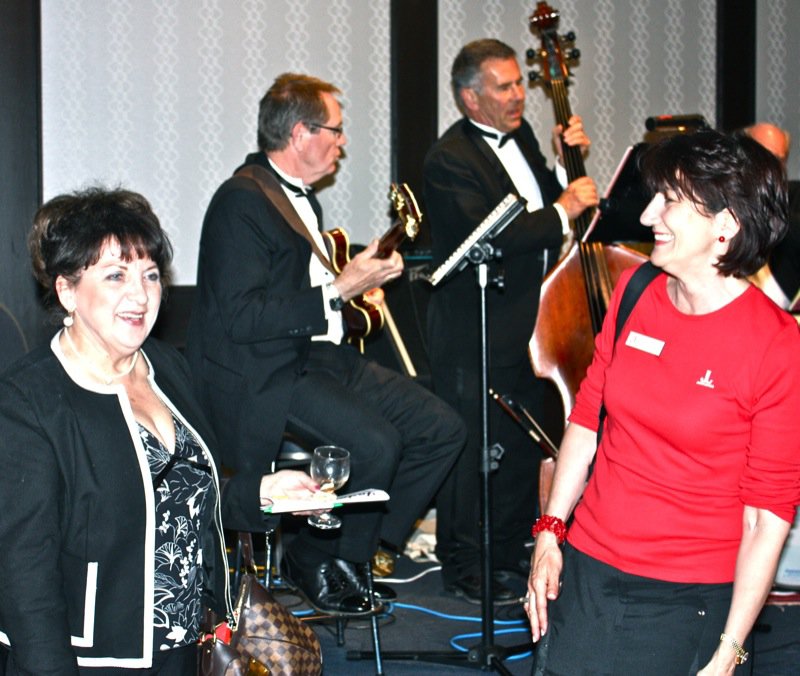 Thea and Todd came in after all was complete as Thea had to work. Chef Tony served them up a sample of his Berkshire boar pork belly. Todd just opened his mouth and let the airplane fly in. Thea's eyes grew as big as saucers at her first taste. It was that kind of night.
Filled with friends, and fun, and farmers and amazing food. Most of all, it was filled with the irresistible pleasure that sparkles over one after an evening celebrating and appreciating local produce, producers, chefs and our community with friends and like minded people. We are truly so fortunate in these prairies to have all that we do… and it is certainly worth celebrating – at least once a year!