Snenokle means "eggs in snow" in Serbo-Croatian.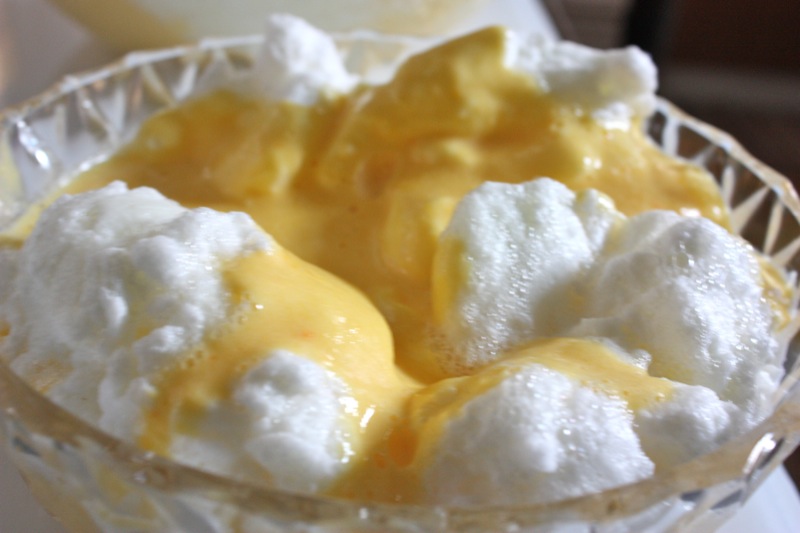 In France, where it is thought that this dessert originated, it is called Å"ufs à la neige ("eggs in snow") or île flottante (floating islands). In Hungary, it is called Madártej (Floating islands) and the Hungarians may challenge the French regarding the origin of this creation. In Serbo-Croation it is called Snenocle and those from the former Yugoslavia won't challenge anyone about the origin of this dessert. They don't care who created it. They just love to make it with their hand picked farm eggs with the darkest yolks possible. Vanja's brother, Igor (Now, don't laugh; think about who created a stigma attached to this honorable Eastern block name, and why…), loves this delicacy, so Pava (Vanja and Igor's mother) always has it waiting for him every time he arrives to visit her. I have been there many of these times, and was graced with a "taste" of it. But, no one else was every given any. It was his. From his mother's hand, for him. No one else liked it as much as he, and that is how this family works: sacrificing for one another, even these little things.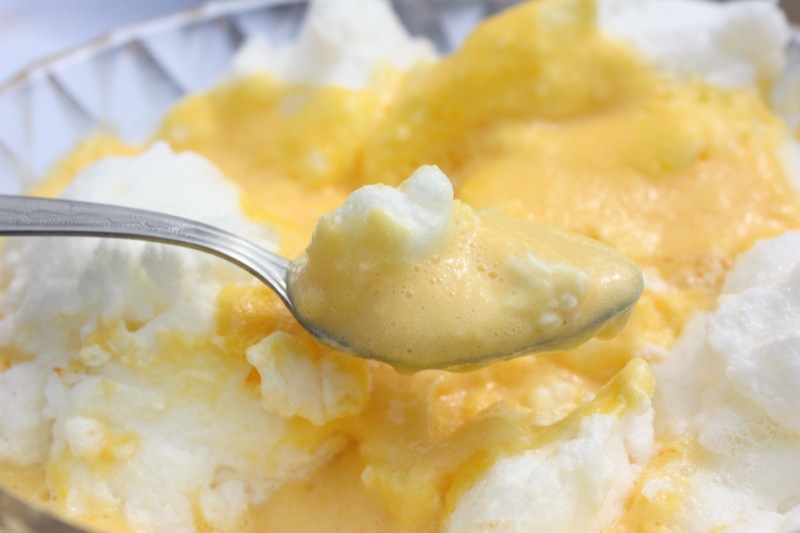 After one taste, I was hooked. I wanted some! But, would never let it be known. I just asked year after year if Pava would show me how to make it. Every year, the answer was "Yes, tomorrow!" and she would make another batch the following day, but would forget to summon me. Or choose not to. I was never sure.
I don't speak her language. She doesn't speak mine. But, we respect one another. She is a hard working loving mother-in-law. She is four foot nothing and a force to be reckoned with. The stress of the Bosnian war has taken its toll upon her. The folded and deepened lines on her small and wizened face tell that story. She is stubborn and strong and can be incredibly annoying, but she does have the best of intentions.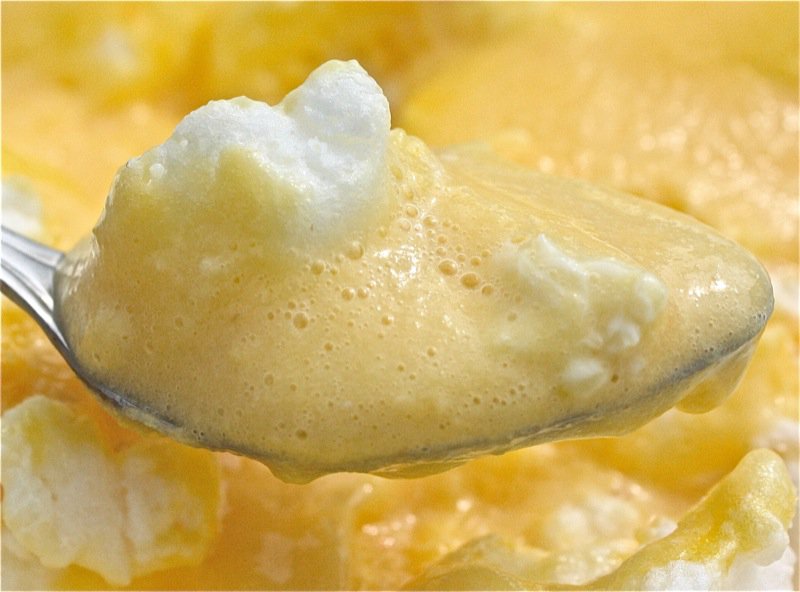 This time, I arrived in Bijeljina and there was a surprise waiting for me. Pava is not short on drama. She is actually over the top in that area, but not alone in that department, in this culture. There was a big production and over-the-top presentation as she came out of the kitchen and around the corner producing: TA-DA, this dessert for me!
Igor had not joined us for the first leg of this visit, and I was basically in shock. First of all, why for me? Second of all, why all the drama? I learned later that she had been pestering Vanja about something she could do for me, and this is what he suggested, reminding her that I had wanted to learn to make this for several years. That was very kind of Vanja and a very loving gesture from my mother-in-law. It was light and lovely and wonderful. I am completely hooked. And, the second gift: I got my lesson the first day back from their 50th anniversary celebration (which I will post another time)!
Vanja was gone with his dad the next day and had left me to learn how to do this from Pava by myself. Did I say she and I speak different languages?
I have learned enough nouns and simple Serbo-Croation to manage. We had a wonderful time. Whether we really understood each other or not, we will never know, but we both thought we did! First, some eggs were from one of her sisters and others from a niece. We had just returned from their 50th anniversary celebration in Kozarci and stopped on the way out several times at several places to say good-bye to several people. (That's what they do. Sound familiar to anyone?)
By the time we were on the road, we had eggs from many, and garden vegetables, and fruit and whatever else people could find in their house and stuff into our car as we were trying to drive away. That is part of the culture of this loving and generous people.
Today, Pava told me that she was making a huge batch. I could see that. She was using ten eggs! The litre of milk went into the pot.
This was heated to almost boiling, but not quite: scalding.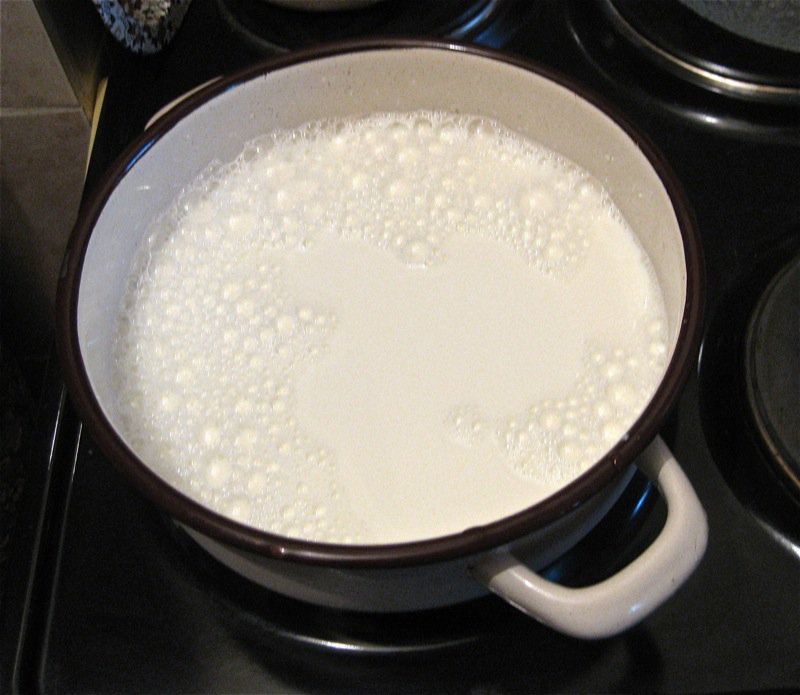 As the milk was heating, she cracked open her niece's eggs and flapped her arms and cooed and ooed and ahhhed and chortled about how gorgeous the zumance (yolk) was… divno jaja! Divno jaja! Vidi! Vidi, Valeriski (why I get called this is beyong me)! She was saying, "Gorgeous eggs! Look, Valeriski! Look, Valeriski!" I was responding back with all of the depth of understanding I could muster: "Da! Pava! Da! Divno jaja!" Meanwhile, I was having a heart attack.
I had never seen an egg with an orange yolk. Deep yellow, yes: orange, never. Was it good? I smelled it. "Ah, Valeriski! Super!" ("Super" is a Serbo-Croation word, too.) It didn't smell bad. I asked her in my rudimentary way, "Zasto orange?" (Why orange?) and she answered,"Jedu kukuruz." "Ne razumem, Pava." "Jedu kukuruz." That is the way it is with Pava and I. I tell her I don't understand, and she repeats it. I tell her I don't understand and she repeats it again, either slower, or louder. I probably do the same with her. Eventually, she said, "Jedu Proja." Then I got it. Proja is a traditional Serbian dish similar to Italian Polenta, made with cornmeal. "Ah! The chickens are fed corn!" "Da! da! da!"
Apparently, (once Vanja returned I double checked my understanding of this conversation) the villagers and farmers take great pride in the colour of their yolks and the redder, the better. This is created by feeding the hens almost completely corn.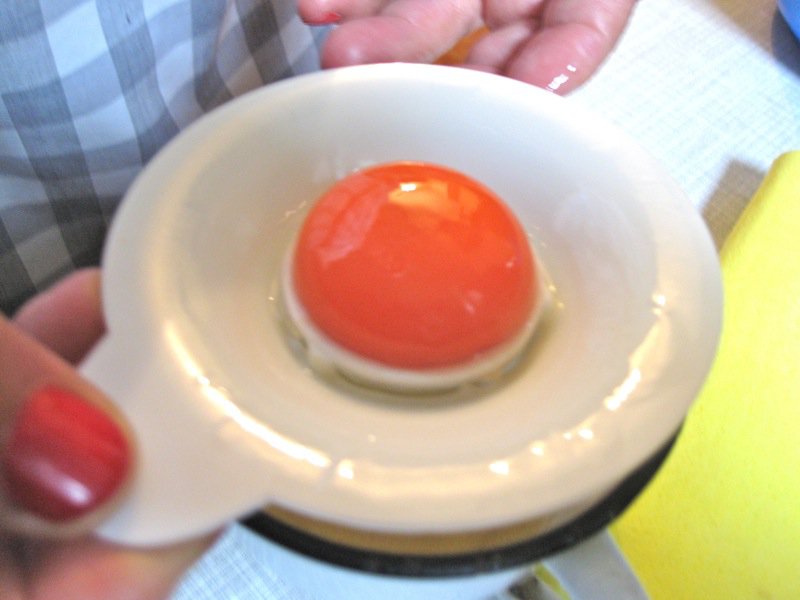 The photo below has not been altered. The colours on my computer are very similar to how they were that day: a yellow yolk, dark yellow yolk, an orange yolk, and a very intense orange (or almost red) yolk. If I didn't take the photo, you would have never imagined that my description was true. Or, would you? These yolks, and more, were added to the sugar, and the whites were separated from them, and set aside.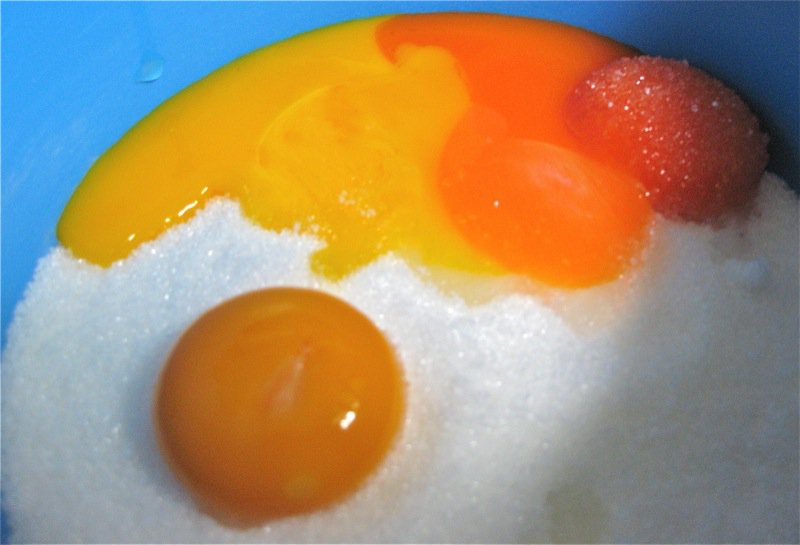 There is not doubt about it, I was enchanted by the colour of these yolks. They definitely peaked my curiosity.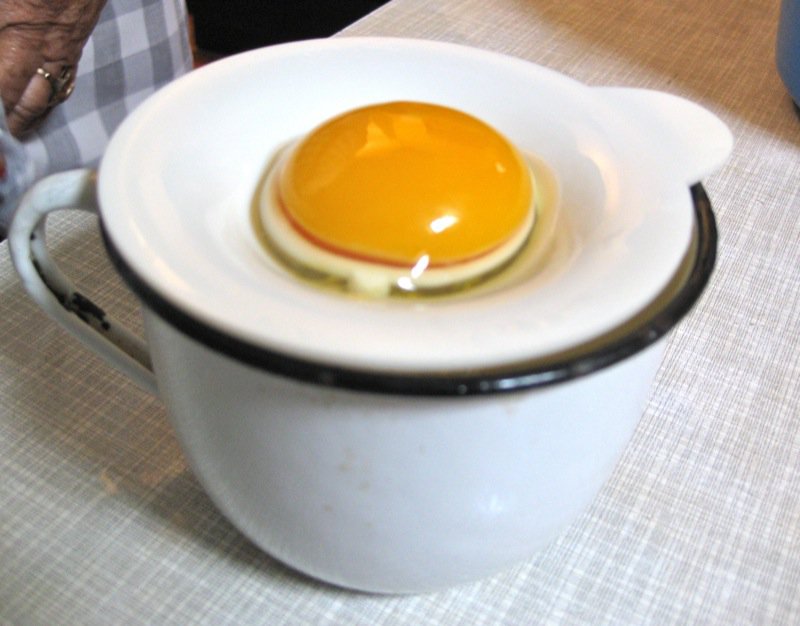 In this country, one can still not find vanilla. The mega stores have cropped up the last five years, and some western ingredients are available, but few. Vanilla sugar in small packages is what is used when vanilla needs to be added. Vanilla beans are available, but not vanilla extract. Pava added two of these into the yolk and sugar mixture as this was such a big batch.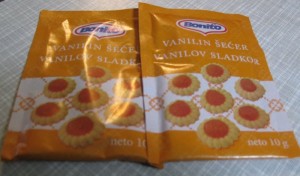 She then beat the egg whites until they were still. It didn't take her long.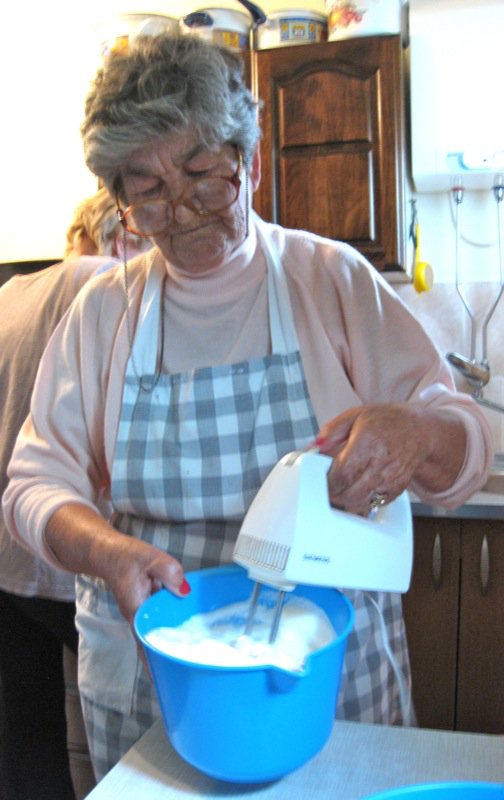 She showed me the stiff peaks.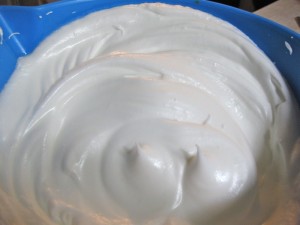 Then she held the whites upside down over her head and looked at me and said, "Ah? Ah!" with a triumphant smile. "Bravo!" I clapped. (I can do drama, too!)
Time to poach the islands in the milk. She took spoonfuls of the whites and gently ladled each into the scalding milk until the surface was full of them. They would puff up in a minute or two, and as that happened, she would turn each one over.
You can see the concave shape they are placed in first, and as each is turned, a convex shape emerges.
Pave didn't leave the clouds poaching as long on the second side as she had on the first and when it felt "done" she ladled it out with a slotted spoon and sat the clouds, or islands, aside.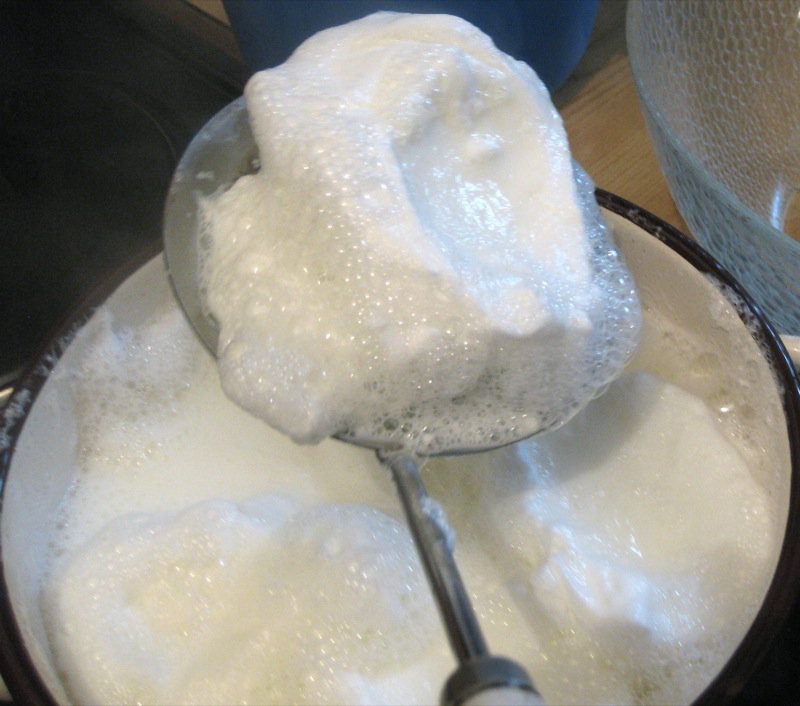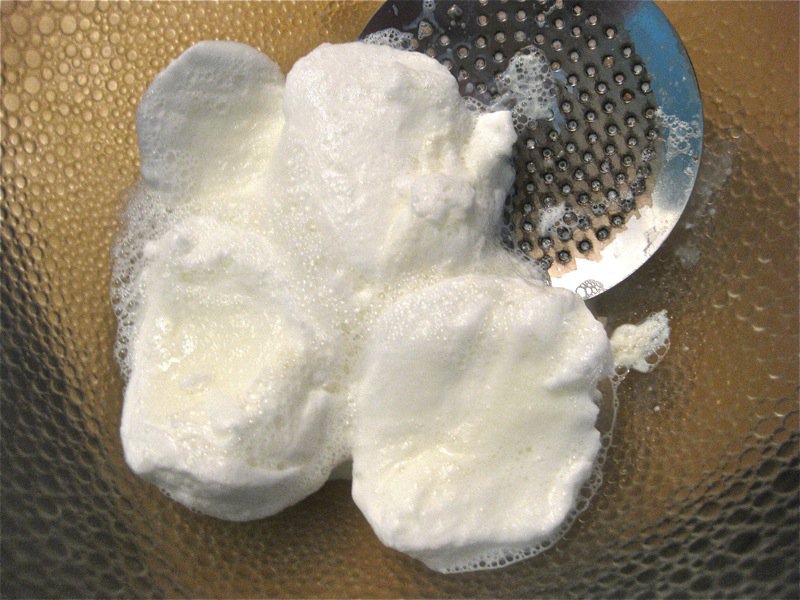 And so it went until this bowl was empty (below) and the tray (above) was full.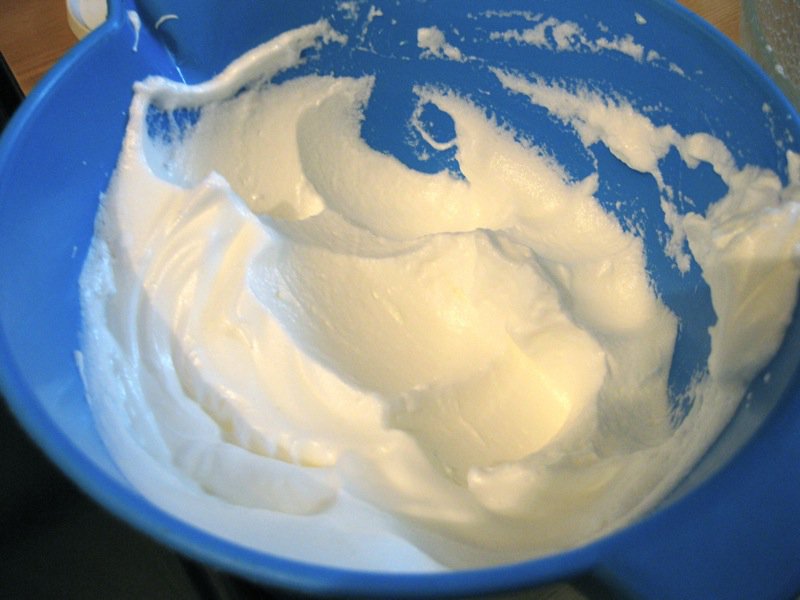 The are looking very good!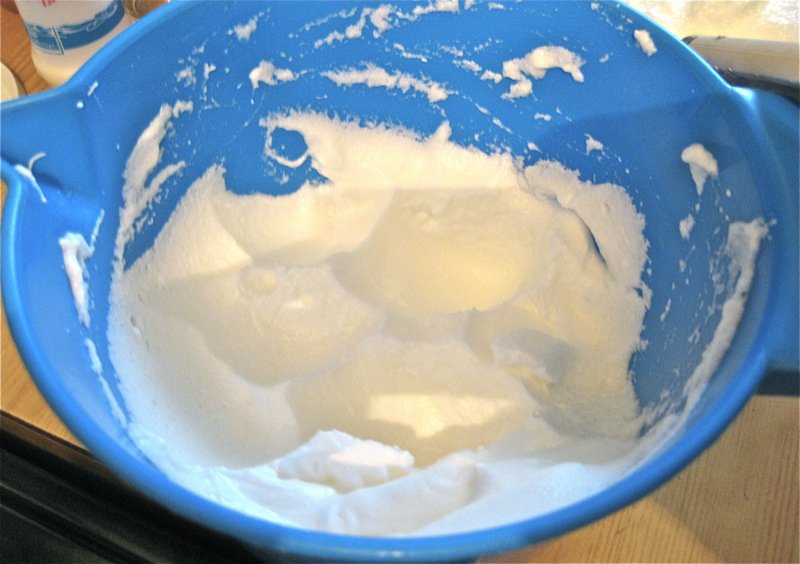 The yolks and sugar had only been partially beaten at the onset. Now she added a little flour to thicken it, and beat it until very thick and brilliant yellow. This mixture was tempered into the milk mixture that had originally poached the eggs.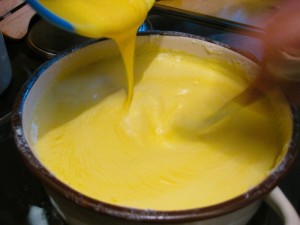 It was cooked until it thickened and was velvety and smooth and lush. The clouds have been divided into two bowls.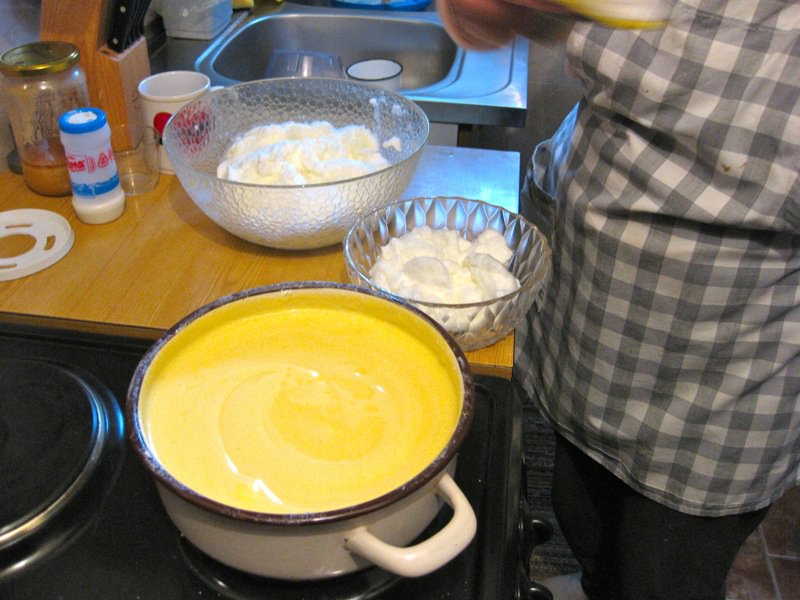 Pava pours the yolk, milk and sugar mixture (Crème Anglaise) onto and between the islands.
Absolutely gorgeous.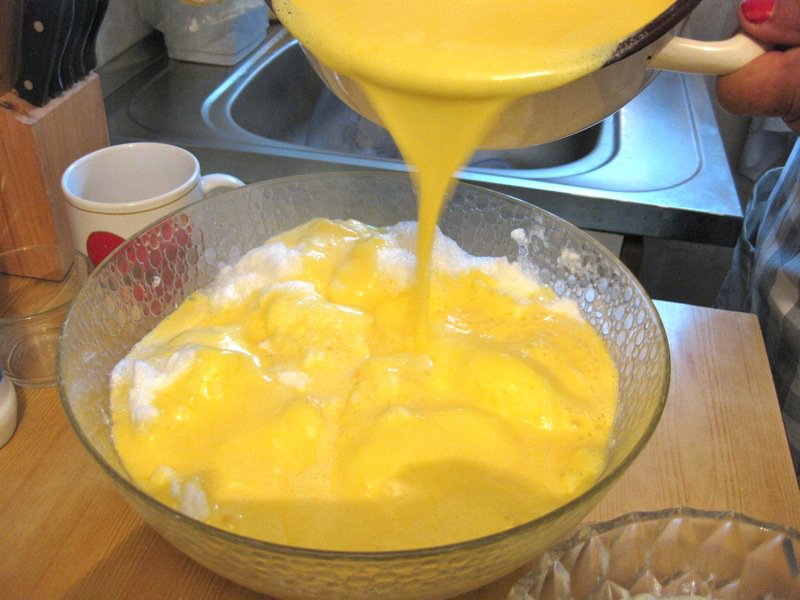 I was impressed by the ease with which Pava did this.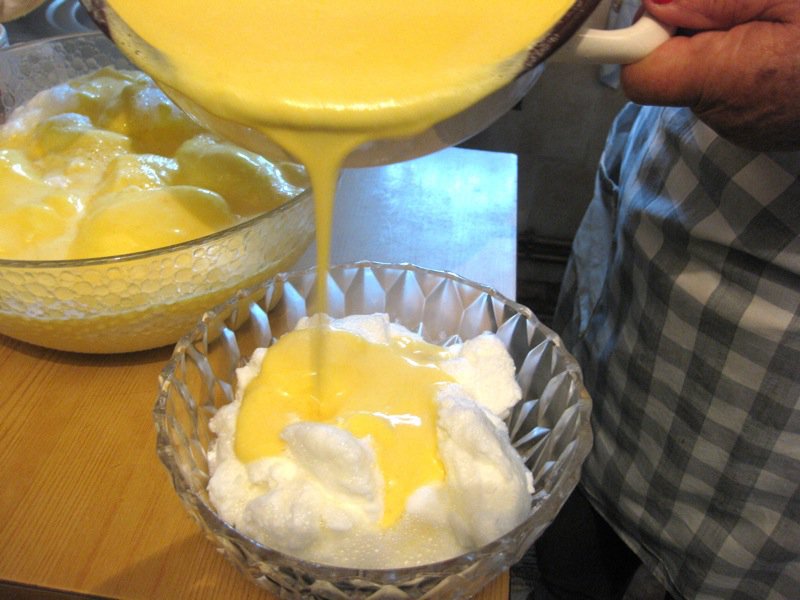 And now, they must sit until room temperature, and then go into the fridge.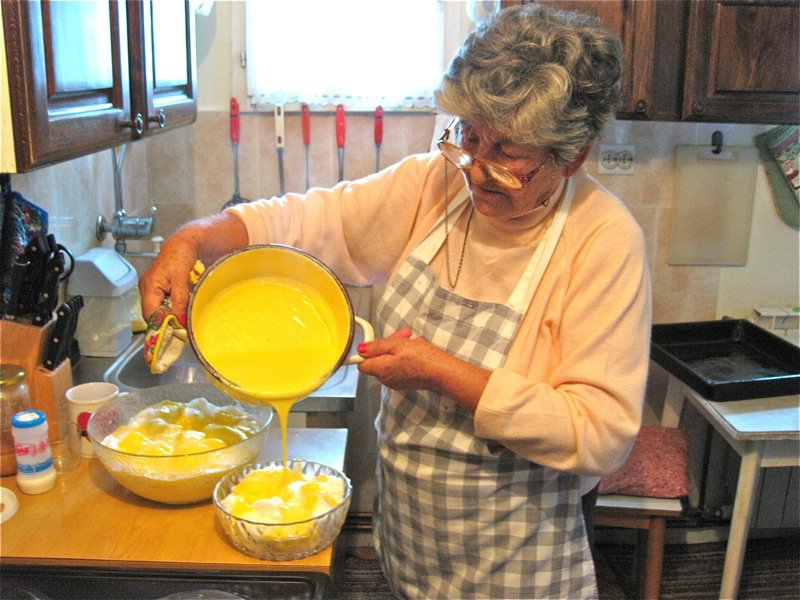 I believe she made these five times while I was there. Between this, and her ajvar, I was in heaven. They will never look this gorgeous here unless I use food colouring, or unless someone knows a farmer who has eggs with red yolks.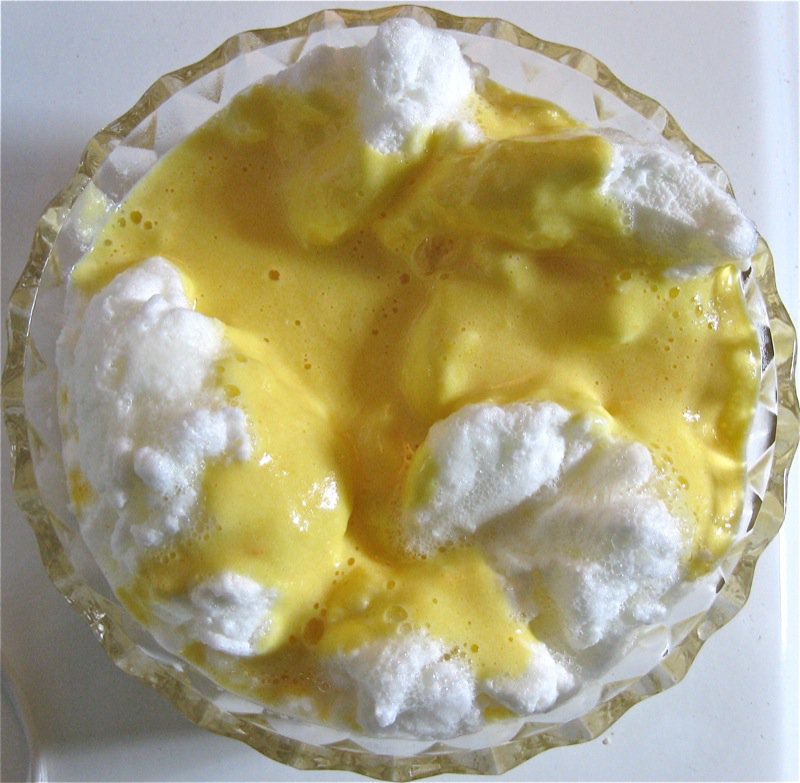 Many hot nights in the Bosnian summer, this delicate labour of love was a welcome bowl of chilled light summer comfort. Lucky, lucky me. And, no one else would eat it. Not even Igor. He had his, and I had mine. I guess I am definitely part of the family, now!
Floating Islands Recipe (serves 8)

(Pava says: use 4 eggs in 1/2 litre of milk for 2 people, and adjust other measurements, accordingly)
Ingredients:
1 litre whole milk
10 eggs
1 heaping tablespoon of sugar per egg yolk
5 heaping tablespoons of sugar (to add to the 10 whites)
2 vanilla sugar (seeds from 2 vanilla pods)
2 tablespoons of flour (to add to the yolks with sugar)
Instructions:
Separate eggs
Place the whites in one big bowl (you will need to beat these into stiff peaks in this bowl)
Place the yolks in a medium or large bowl (you will need to beat the sugar and yolks in this bowl)
Add the 10 heaping tablespoons of sugar to the yolks
Add the 5 heaping tablespoons of sugar to the whites
Put the litre of milk in a big pot on the stove with the vanilla seeds and pods; scald the milk, and set aside for 10 minutes infuse
Strain the milk (Pava didn't do this, but she didn't use vanilla pods); and reheat to scalding, but do not boil
As the milk is heating, beat the whites until stiff
Using a large spoon (tablespoon from place setting), scoop "clouds" of white into the hot milk to poach; adding more until the surface area is full
Turn these after a couple of minutes in the same order they went into the pot in; poach for another minute ]
Using a slotted spoon, scoop our the poached clouds of egg white and place on a plate; continue until all whites are done
Beat the sugar and the yolks together until frothy and thick
Add the flour to this mixture, and combine
Add some of the warm milk to this mixture, and beat it in to temper the mixture
Slowly add the tempered yolk mixture to the the warm milk, stirring rapidly to incorporate it
Keep the heat at a medium, and stir constantly until the mixture covers the back of a wooden spoon (thickens nicely)
Place the clouds into one or two large serving bowls, or several small ones
Pour the yolk mixture over the clouds accordingly (into small or large dishes)
When the portions are room temperature, chill until serving time
These can be enjoyed at room temperature or cold.